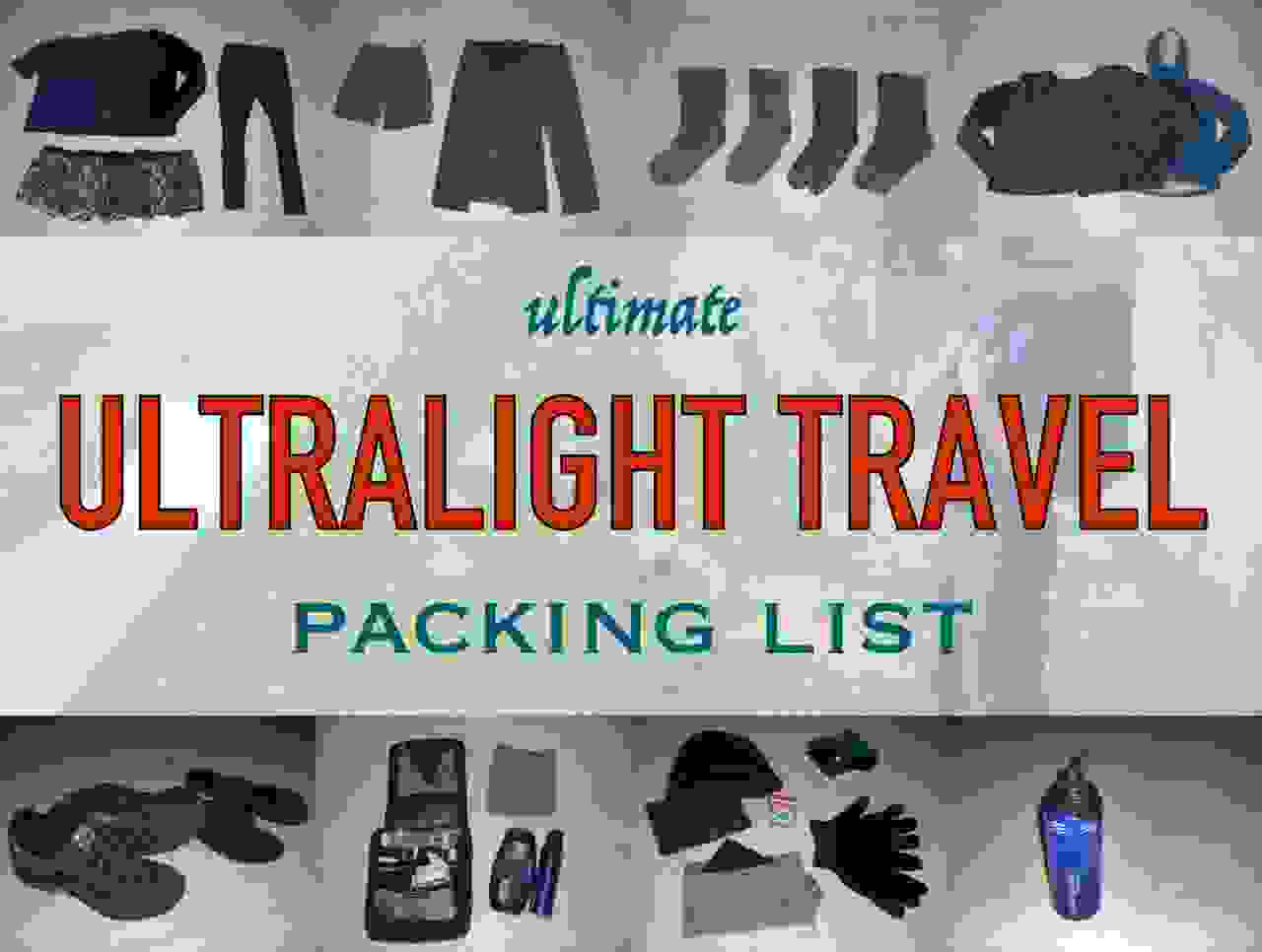 Quite a few times I've heard backpackers complain about weight limits or maximum bag allowances on airlines. They haul 40-pound monstrosities that limit how comfortable they are, how fast they can run to catch the train, and how often they have to take a taxi because their bag is too heavy. They end up going a little slower, seeing a little less, and paying a little more. When they look at mine, they ask me where my "real" bag is.
I have traveled around the world on extended trips up to 9 months long with nothing but a 20 liter daypack, through summers, winters, jungles, cities, and everywhere else. It weighs less than fifteen pounds and fits in the overhead compartment on the plane.
I never have to worry about lost bags, check-in times, or waiting by the conveyor belt. I am the first person in line for customs, and stroll right in. I spend nothing on laundry or taxis. I am the first to finish packing every morning. I never spend more than five seconds trying to find something at the bottom of the bag. I wander around for hours with my pack, just because I can. I've gotten to the point that I really don't know how to do it any other way, and my scrawny shoulders continue to thank me.
It's a fun game I like to play with myself find to be an amusing intellectual challenge, but despite year after year of life on the road, I have met less than half a dozen people who do the same thing, and we are endlessly perplexed. Sadly, I have never been able to convince anyone to follow this plan. But I'll give it one last try. It's for your own good.
How to pack for ultralight travel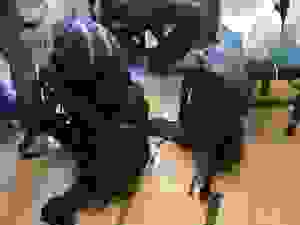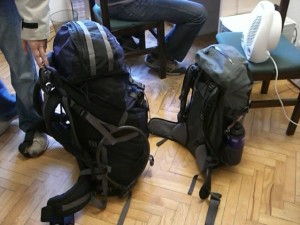 When thinking of things to pack for a trip, most people bring everything, "just in case," and end up hauling a bag full of garbage they never use. Don't do that.
Not a single person I've ever met has said "I wish I brought more." You can spot the seasoned travelers simply by bag size. Instead of thinking about what to add, think about what you can cut. You know who else said that? Oh, just Bruce Lee is all.
Your limit should be the same as the airlines: 22" x 14" by 9", or 45 liters (though it's slightly smaller on certain no-frills European airlines). This will keep you in check (and allow you to reap the benefits of carry-on-only travel), since it's all you can take, and it's more than you need. If I got by with 20, you'll get by with 45. Trust me. Just peruse this page and assume you'll include twice as much.
1) Shopping for Ultralight Backpacks
For quite some time, the only options available were hiking packs, and while they're quite good at what they do, a few companies have started designing what I consider travel-worthy backpacks (carry-on size, with a fully opening zippered panel, so you can pack it like a suitcase), which work great when you want to open everything up, instead of traditional top-loaders that need to be emptied completely to find something down at the bottom.
Since travel often requires lots of packing and unpacking, and somewhat less walking, it generally makes more sense to get a backpack optimized for travel, rather than hiking (unless you plan on hiking with it, of course). Check out a list of favorites here.
Wheeled suitcases aren't a terrible idea, especially if you have back problems, but just remember they add weight and you'll go crazy on cobblestones.
2) Ultralight Travel Clothing Basics
People constantly ask "how can you have enough in a daypack to travel for a year?" The thing is, you're not packing for a year. No one is.
The secret is to pack the same gear, no matter how long the trip is. I bring 3 sets of clothes, wash whatever outfit I'm wearing when I take a shower, and hang it up to dry overnight. And you don't even need to do manual laundry. If you bring a week's worth of clothing and do laundry once a week, you can travel forever. It's that simple.
You might get stuck with a sink wash sooner or later, which is why everything should (hopefully) be high-performance and versatile, wicking sweat and drying quickly, which cools you in summer, and warms you in winter. Try not to bring separate clothes for hiking, lounging, and clubbing. Just get clothes that look good and feel good. They should be suitable for any social situation. It's a tall order, but it can be done.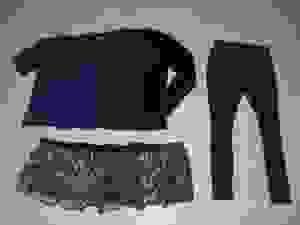 Shirts: No cotton. It soaks up sweat and stays wet all day. Get polyester or merino wool t-shirts (read more about why merino is everyone's favorite here), both of which wick sweat and dry quickly. Polyester should have an odor-control treatment if you plan on making any friends. Though I won't judge you, it's nice to have a fancy shirt for special occasions. I'd skip warmer thermal underwear. You can only wear them in winter, and you'll probably bring t-shirts anyway, which dry faster after a sink wash. Leave the insulation to the outer layers, which you don't need to wash as often.
Underwear: Let me tell you, "performance underwear" feels just as good as it sounds. Spoil yourself. Again, make sure it's quick-drying, lightweight, odor-resistant, and comfy (take a look at a list of favorites here). In winter, long underwear works wonders. You'll only need a single pair if you wear regular underwear underneath, so you won't have to wash the heavier one as often.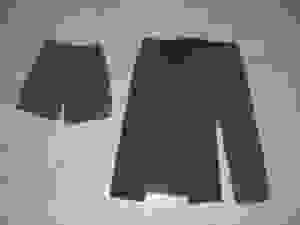 Pants and shorts: Travel pants, ideally, should be lightweight, wrinkle-free, water-resistant, quick-drying, and look completely normal, despite having a few hidden pockets for hiding valuables. There are literally only a few that actually do this (which is ridiculous), but you can find a list of good travel pants here. Try to find pants that don't look too silly, so you won't have to bring extra pants for fancy fun times. If your pants fit, you can skip the belt, and for guys, quick-dry shorts double as swimwear. You can cut some corners here, as cotton pants won't hold you back so much if you have an umbrella, don't mind washing rarely, or have laundry facilities. Given the rarity of truly travel-worthy jeans, don't feel bad bringing regular jeans.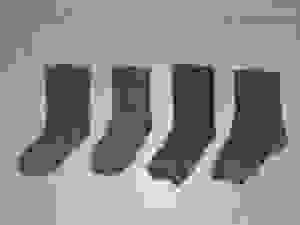 Socks: I bought a pair of merino wool socks and threw out all my white cotton gym socks the same day. Seriously. Merino wool warms in winter, cools in summer, insulates even when damp, dries quickly, resists odor, and is soft and plush and wonderful. I've found nothing more comfortable for my feet. Most socks blend merino with polyester and other materials, and work well. I bring two ultralight pairs for summer use, and a warmer pair in winter, worn over the lighter ones so I don't have to wash the heavy ones as often.
3) Outer layers
Layering is crucial. It's better to take a few lighter pieces that you can layer together, rather than a heavy one you can only wear in Antarctica. You may have your own comfort system on this, but here's what I recommend (or check out my winter travel gear list for details):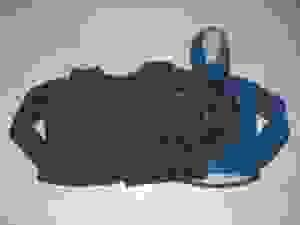 Inner warm layer: Find the lightest fleece or wool sweater you can find, comfortable when it's cool, but not cold. I look for close fits to layer more easily, and a high, snug neck so I can skip the scarf.
Outer warm layer: For winter travel, goose down or synthetic insulation jackets (those big puffy ones) are one of the best ways you can shrink things down. Goose down is triple the warmth of fleece for the same weight, and packs down to half the size, meaning a medium-warmth jacket weighs 8 ounces. Synthetic insulation isn't as warm or packable, but it dries faster and retains its insulating qualities when wet, whereas goose down does not, which is why I have thus far gone with synthetic. Since it is encased in a nylon shell, it works well as a windproof outer layer, while the fleece sweater on the inside will be comfortable against your skin.
Rain jackets: I don't have much to say here, and umbrellas work well enough anyway. I just look for light weight, comfort, a hood that covers my face, and enough venting to keep me cool (take a look at some ultralight rain shells, some of which are half the weight of standard jackets). Don't get something insulated that you can only wear in winter. Layer instead.
Wind jackets: Climbing up a windy mountain on a chilly day calls for something windproof that won't overheat, and a wind shell is the only thing that fits the bill. I wouldn't call it a necessity, but mine is about 3 ounces, and I wear it all the time.
4) Travel Shoes
I met a guy with separate hiking boots, running shoes, evening shoes, and sandals. Here's an idea. Why not buy shoes that look good and feel good?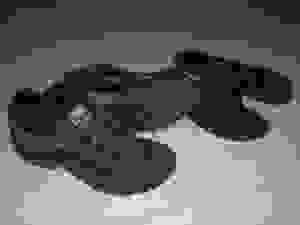 There's not much reason to bring serious hiking boots, which are designed to support 50-pound packs, which you won't have. A nice-looking, tough, comfortable shoe that fits properly and offers good support will be suitable for all occasions. Especially if they're waterproof.
One pair of shoes, end of story (probably leather, described here). And one pair of flip-flops or sandals. Comfy but light.
Women's fashion is less forgiving. If you have to bring a separate pair of evening shoes, just make them small. If all it's got on top are straps that can lay flat, perfect. Only bring one pair. Anyone who calls you out on repeat clothing will be another scruffy backpacker who will be in no place to make comments.
5) Travel Accessories
Again, anything you stuff in here should add value, not just weight. So far I've avoided packing cubes, but they're not a bad idea.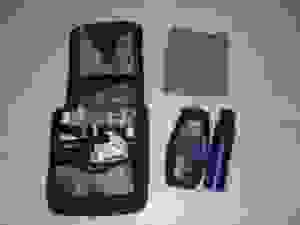 Toiletries: I travel with nothing but airplane-sized bottles (maximum 3.3 ounces, or 100 mL) so I can take them on the plane, and reuse them on each trip. When the bottles run out I buy a larger one, refilling the mini so I can throw the big one away sooner. This way I might have one or two big bottles at any one time, instead of my entire supply being oversized (though an all-in-one bar soap is great for solving this problem). Check out a comprehensive toiletries list for details.
Travel towel: This is another of the most significant ways you can cut size and weight, as huge cotton towels are big, heavy and dry slowly. Microfiber towels are light, small, super absorbent, and wring out 90% dry. You can even get by with a washcloth-sized micro towel which will fold up to the size of a napkin, though it'll take some extra time to dry yourself off. Definitely get one of these. They're cheap and enormously efficient (though I've recently discovered linen towels are even better).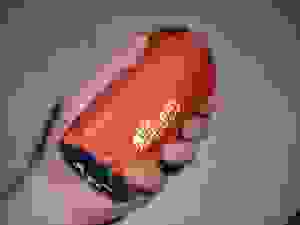 Sleeping bags: This is another one of those "surely I must need this" items that people end up never using. 99% of people stay in hostels and never use their sleeping bag. If you're worried about hostels that require you to rent sheets, I've traveled for 15 months and spent maybe $3 on them. It's not worth the extra weight. If you want to be a little warmer, you can sleep in your long underwear, or you can get a bag liner, which is incredibly lightweight and small, and will keep you warm enough indoors. If you really need a sleeping bag, you can find some that are the size of a 1 liter water bottle and weigh 1 pound. But if you don't plan on camping, forget it.
Daypack: I try to avoid bringing an extra bag, but now that we have ultralight options that fold up into their own pocket, I'd recommend it. You'll do a daytrip or climb a mountain and you'll want to bring a jacket, food, water, maps and whatever. I had one made by Sea to Summit that holds 20 liters, weighs 2.4 ounces, and fits inside a coffee mug.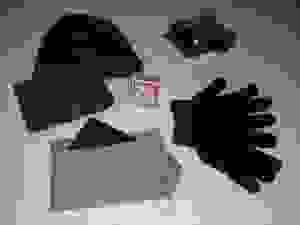 Other extras: I'd recommend a money belt (unless your pants have security pockets), a deck of cards, a nice small camera (or smartphone), a journal, sunglasses, an outlet converter, hat, gloves, and two books (it's hard to find a book right away once you finish), or an e-reader. Those are all the extras I ever use. Umbrellas aren't a bad idea if you don't want to spend $100 on a rain jacket. Just remember that if you want to add extras, think about how often you'll use it, and if it'll be worth it.
Budgeting for ultralight travel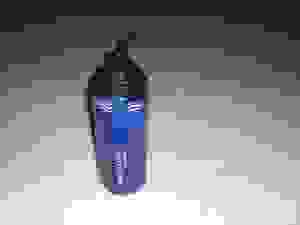 Poor? So was I. Patrol eBay and watch for sales. Besides, you shouldn't buy more than a minimum of gear. Three backpacking outfits shouldn't be too expensive, and you might have a few running shirts already, and some warm clothes, and good shoes. Some of it you'll wear back at home after the trip, especially the socks and underwear.
If you have to cut corners when packing for a trip, regular cotton pants and shorts will be fine, as long as you're not washing too often and rainstorms don't ruin your day. You can skip the rain jacket and bring an umbrella, and winter gear can be cut outside of winter. I wouldn't cut the travel towel, since it's less than $20 and will save you lots of space and weight, and quick-drying base layers are kind of a necessity for this to work, unless you're doing machine washes once a week or so, in which case it'll be fine.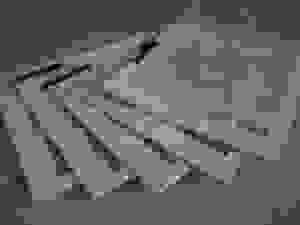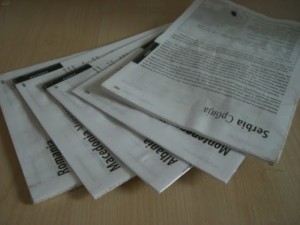 You should now be a thoroughly converted ultralight, minimalist backpacking genius. Once you do this, it's hard to go back. This method is forced upon all travelers on Rick Steves' tours, many of whom claim it's impossible ahead of time, but talk about how great it is after. This strategy has close to a 100% success rate. And whether you're packing for Europe, or Asia, or India, summer or winter, it's always the same.
Oh, and by the way, the photos displayed here represent absolutely everything I took on a 9 month trip (except the camera), from temperatures below freezing to body-temperature sunshine. Towards the end of the trip, someone asked if there was anything I would have added. I said no. Someone else asked if there was anything I would have removed. I said no. I was super proud of myself.
Eventually I added a few things: A packable daypack, an ultralight wind jacket, a collared shirt, and swapped the emergency blanket for a sleeping bag liner instead (which is still just optional anyway). Overall weight was almost the same, and these items can be extremely useful.
Hmm. Talking about all this makes me want to go shopping. I've been working on getting my year-round pack down to about 12 pounds…