Have you ever wondered why rain jackets come in fluorescent colors with racing stripes and other ridiculous nonsense all over the place? Well, me too. I don't mind bright yellow if I need to signal a passing ship in the night after capsizing in a storm, but if I'm just walking around town on a regular day, shouldn't I have options that look a bit more subtle?
Well, Uniqlo feels pretty much the same way, and their Blocktech rain jackets are exactly the sort of functional/fashionable items that travelers will adore.
And they almost…almost got it just right.
The Uniqlo Blocktech Parka
This is the Blocktech Parka, a standard zip-up rain jacket like you might find in a camping store: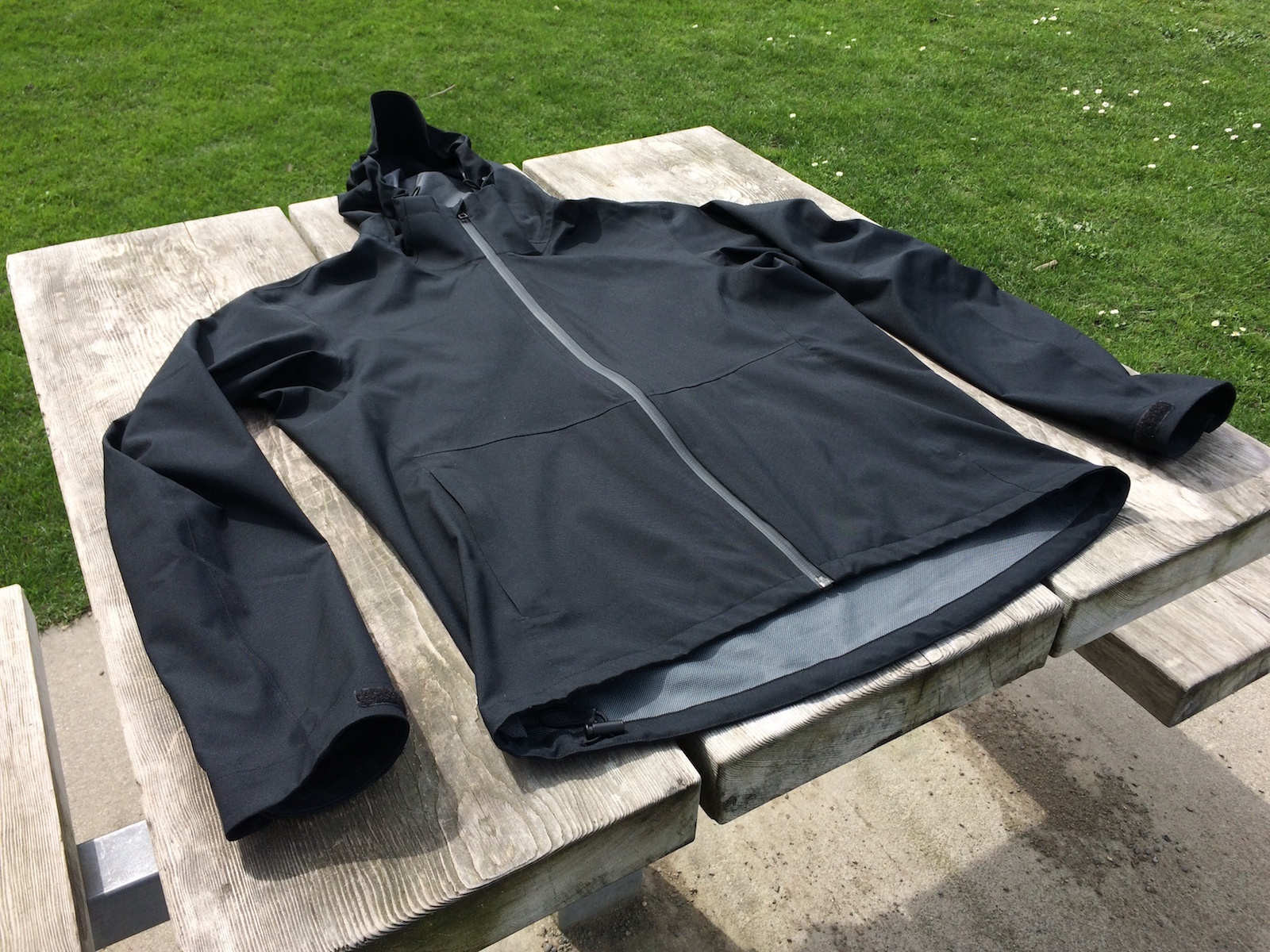 They've got trench coat styles featuring the same fabric, so those are worth checking out too, but this review is just for the parka.
What's it look like?
Notice the complete lack of any weird logos, fluorescent striping, and other pointless nonsense: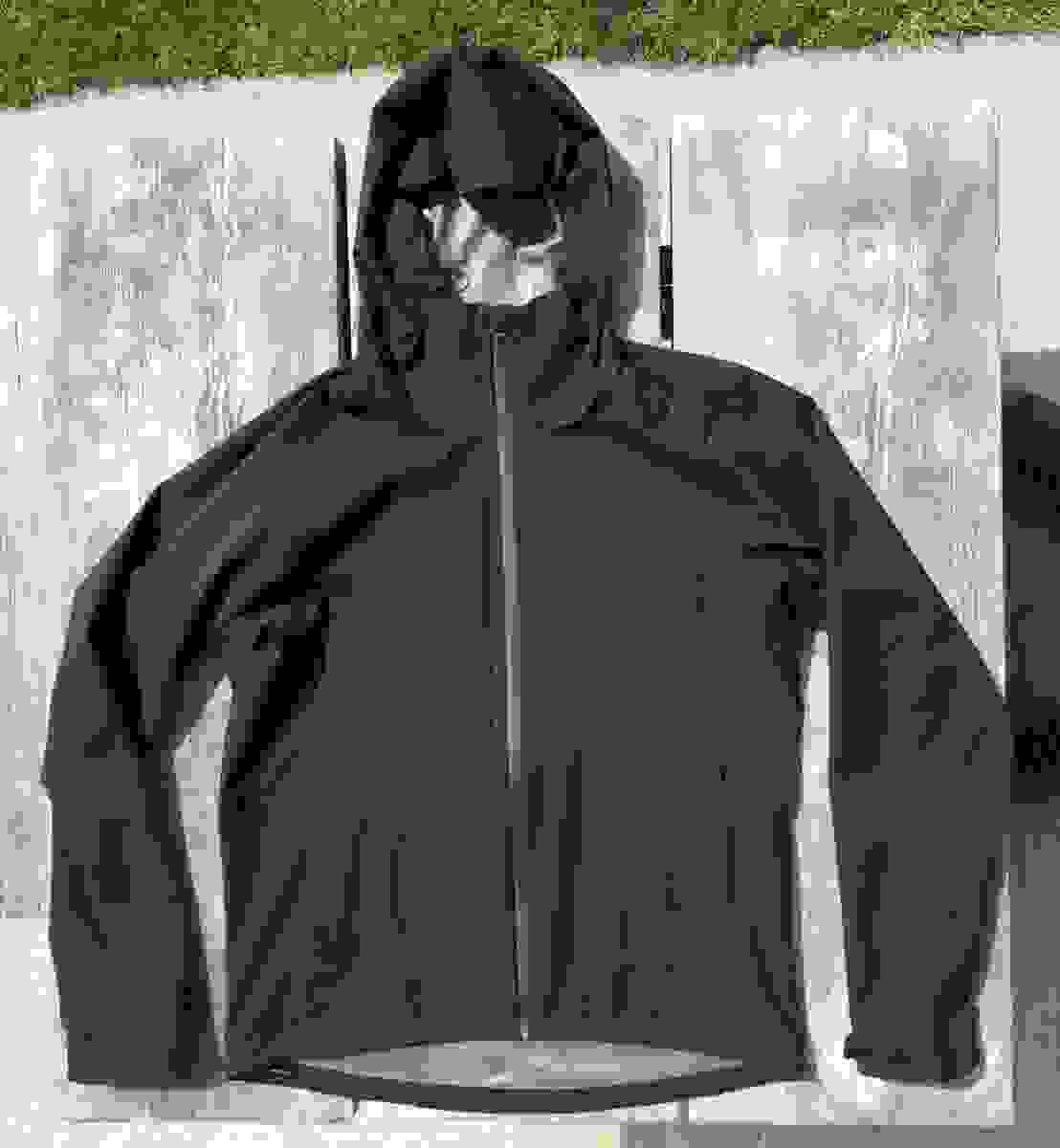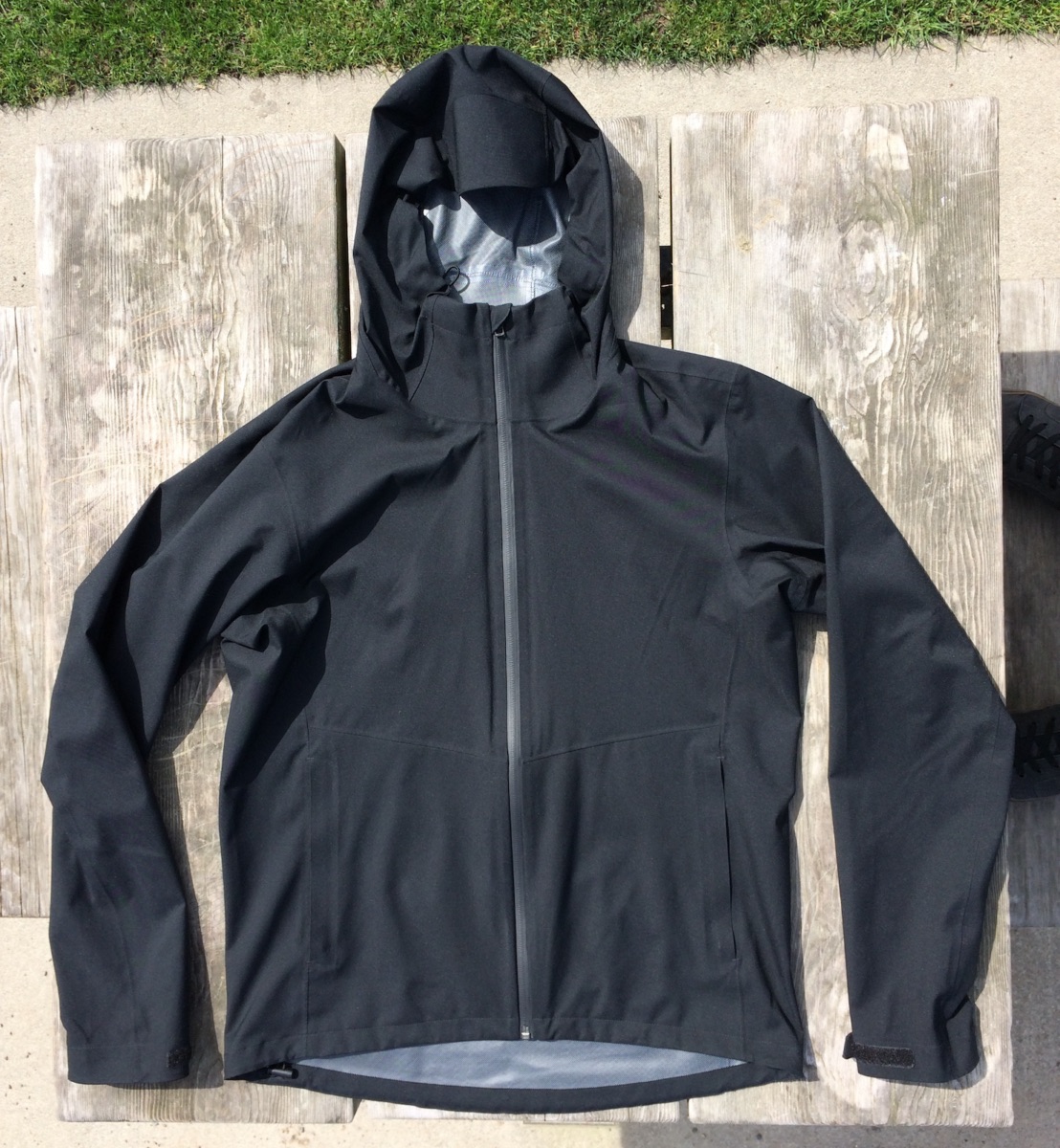 The back is nearly the same, with the only superfluous extras being those reflective squares down by the hip, though they're small enough that they don't ruin my day:
Mountaineers don't care too much for style points, but travelers might want to look nice for a night out, and subtle is definitely the way to go.
What are the features?
Two zippered hand pockets, and that's about it. It also has an adjustable hood, cuffs, and hem, but nothing else.
I like how the zippers are hidden, though: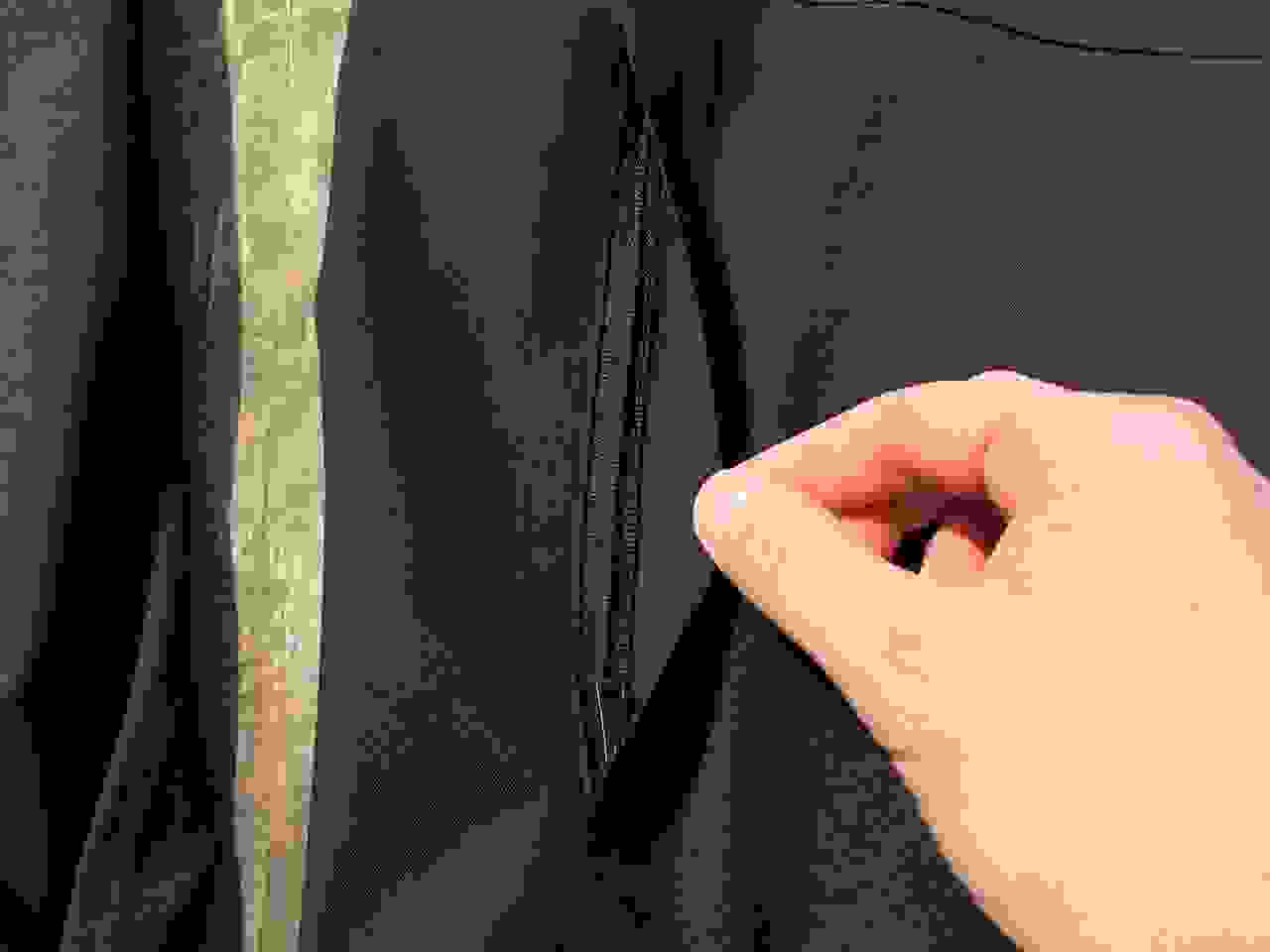 It's lacking a chest pocket and underarm zippers, so you'll have to decide if you can do without those. But with its lightweight fabric and minimal features, it weighs in at just 11 oz (312 g), in a medium.
And with all that minimalism, it rolls up quite nicely: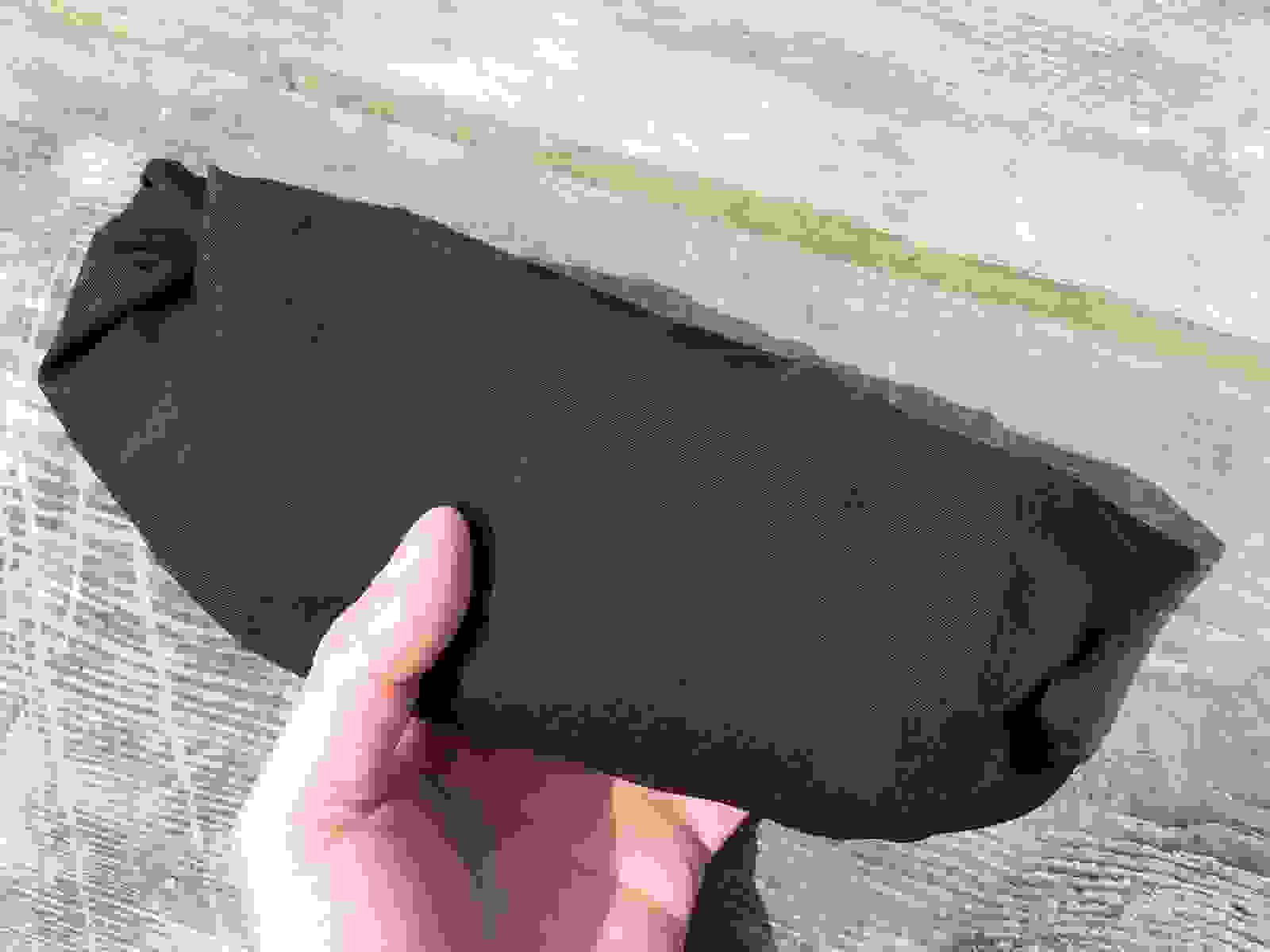 It's not designed to stuff into its own pocket, but I prefer the hood-stuff method anyway. Just one shake of the wrist and it's fully deployed.
So what's so great about it?
THE FABRIC.
This is without a doubt the best waterproof rain jacket fabric I have ever experienced. It does everything a typical rain jacket can do, but at the same time it's soft, pleasant, quiet, stretchy, light, thin, packable, durable, and still extremely affordable.
Take a look: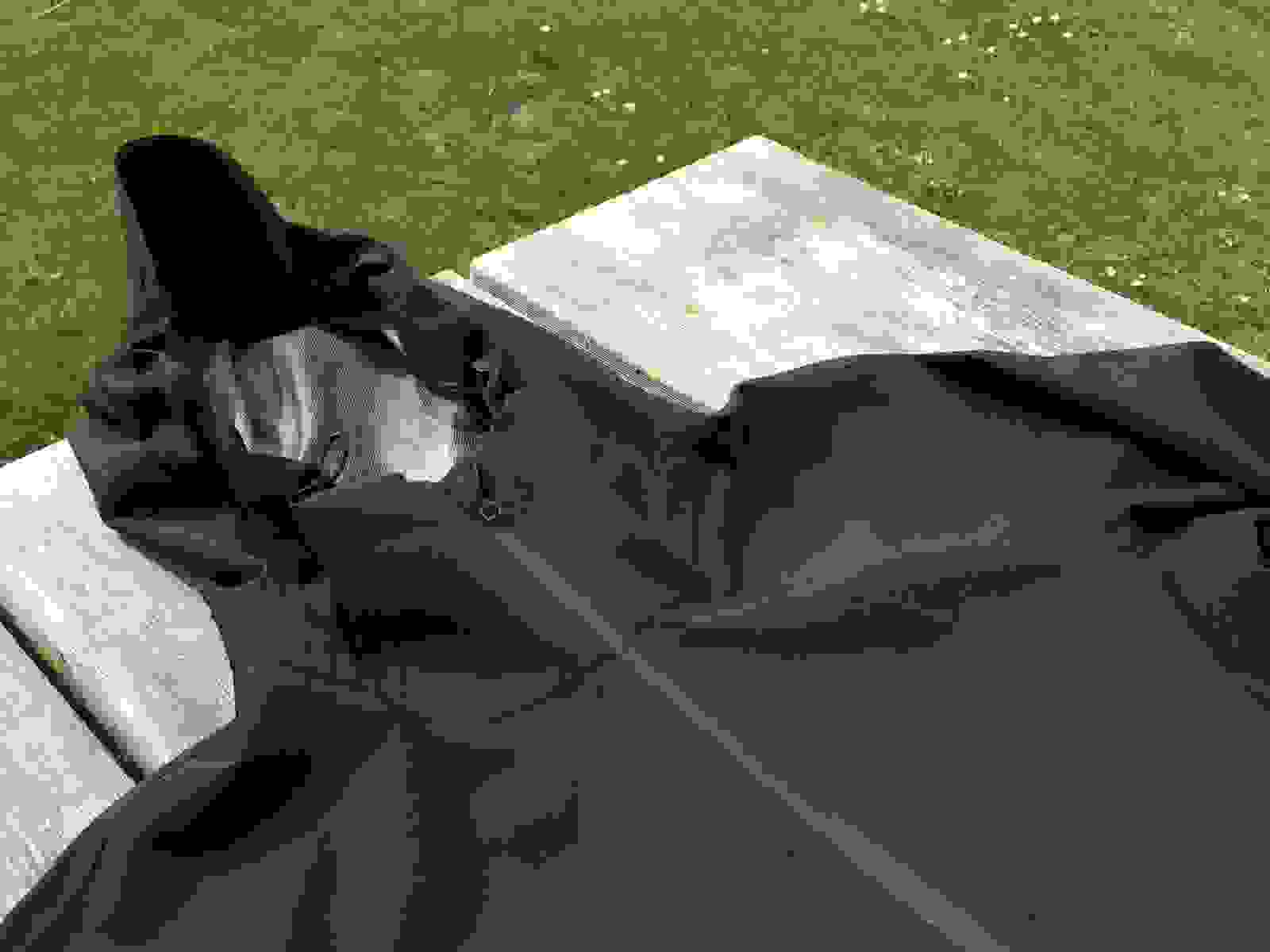 The biggest functional difference is the stretchiness of the fabric, at about 10% horizontally, and 20% vertically. Not only is this more comfortable, but it's also more durable, as stretchy fabrics aren't as likely to break under pressure.
It's also quiet. You know that typical rain jacket crinkle that sounds like a plastic garbage bag being scrunched up? This jacket has a lot less of that. It might seem like a minor point, but if it can still perform admirably in all other ways, then why the hell not?
And it does. I've owned this for about a year or two, and it can handle the rain about as well as anything else I've used, which makes me wonder why stretchy rain jackets are so rare.
The surface texture is also just nicer. Take a look at a closeup, where you can see the individual yarns of the outer fabric: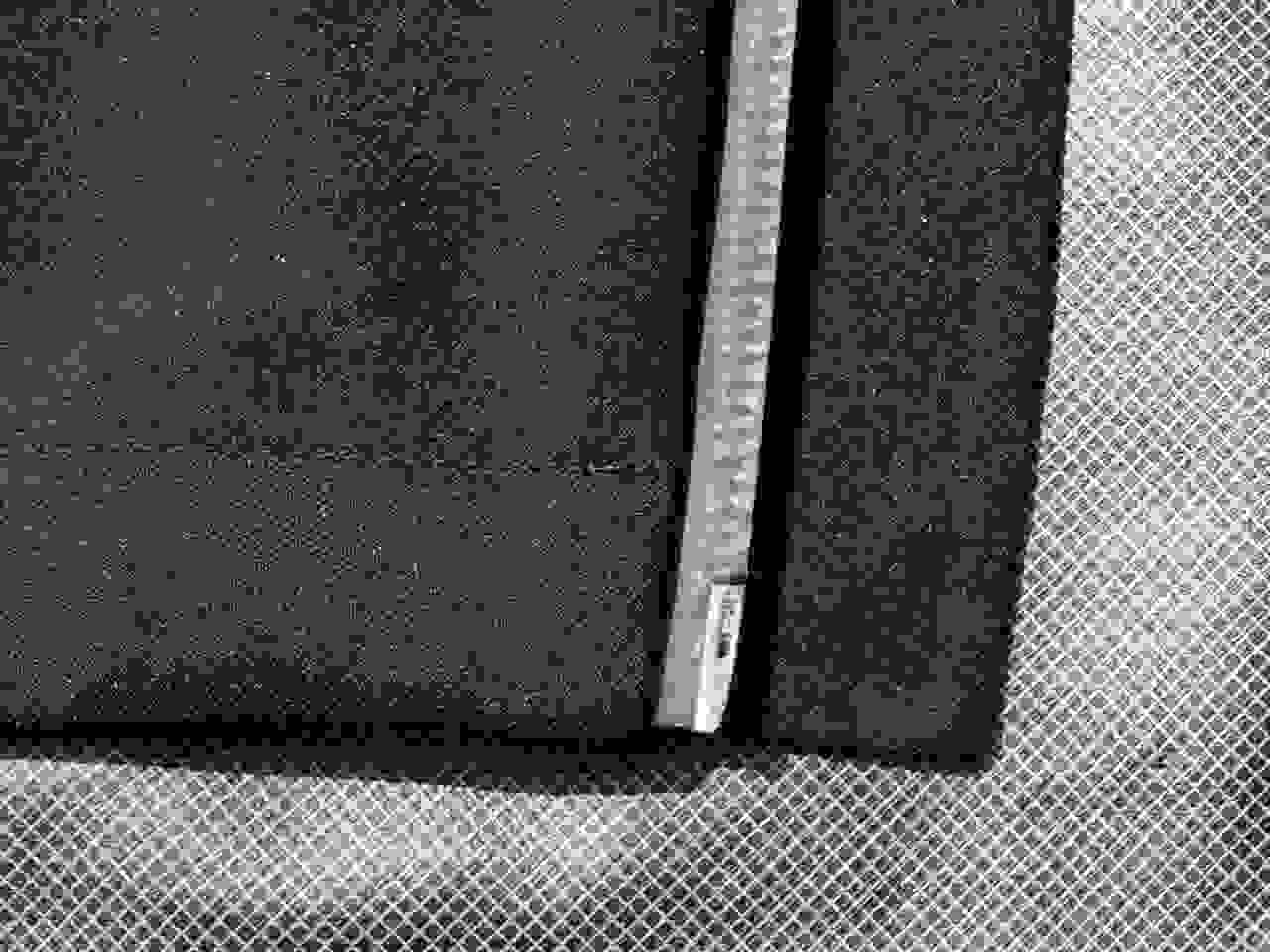 Thick, visible yarns make the fabric look and feel natural, instead of that slick, slippery, shiny surface you'd get with a more typical synthetic fabric. Obviously everything is visible if you look really close, but it should be about the same thickness as a typical thread you see in your regular clothing to achieve this effect.
The inner surface is visible there too, and although it's a bit difficult to describe, it's almost…rubbery. It's a weird sensation, but I find it just a bit more pleasant than the slick plasticky feel you'd get with a typical rain jacket interior.
Bottom line: Everyone should steal this fabric. Today.
So what's the problem?
The hood.
It's not big enough to cover a whole face. The brim should be sticking out a whole extra inch or two, and it would be a million times better.
Take a look at the comparison here, between the Uniqlo Blocktech Parka on top, and a Marmot rain jacket underneath: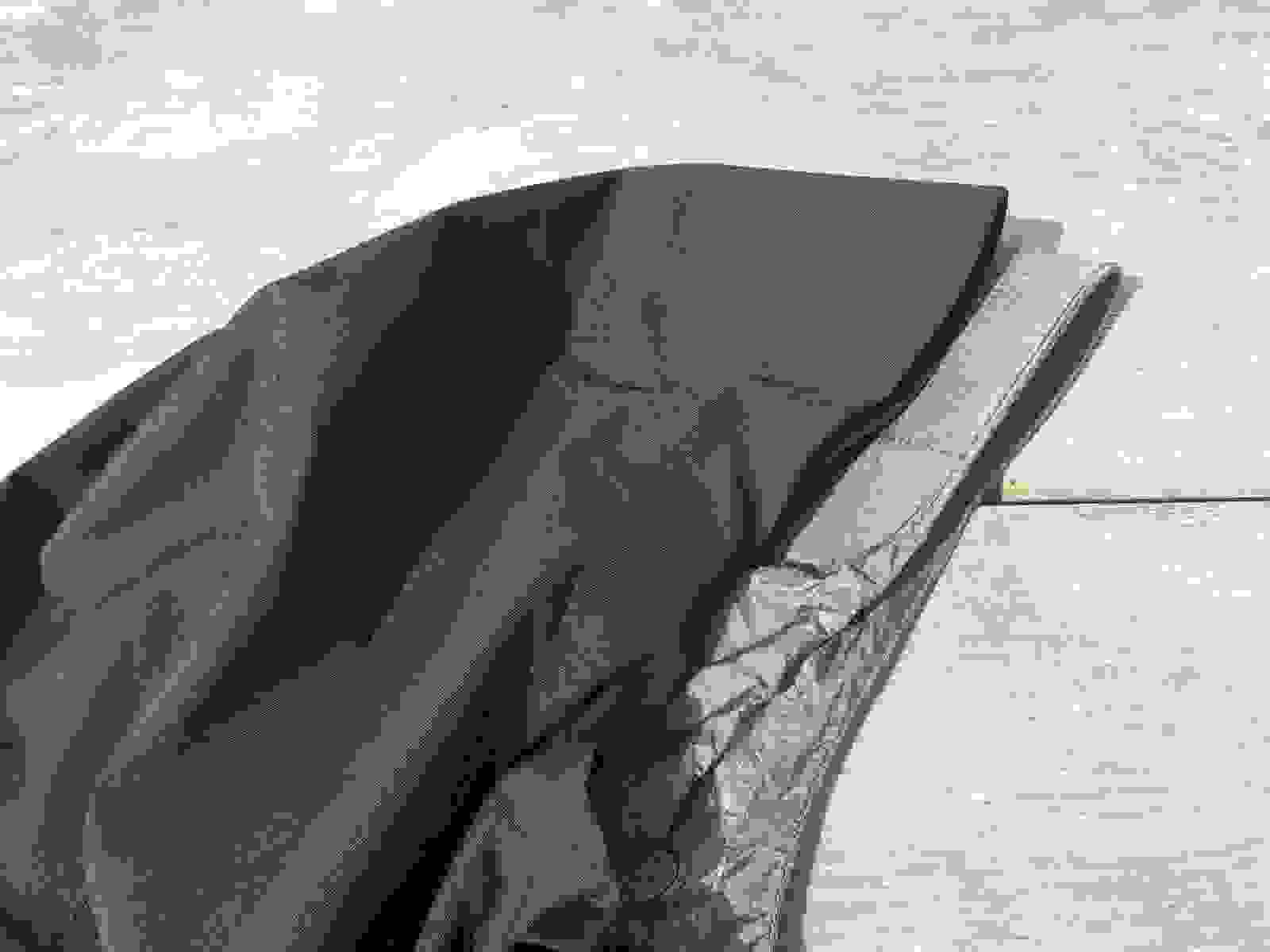 The Marmot hood sticks out just far enough that I barely feel the raindrops. The Uniqlo, on the other hand, really needs an update. I wear this jacket all the time, but I still hurry under awnings if it's raining, which kind of defeats the whole purpose of a rain jacket. They really need to fix this, as it's almost…almost…an absolute deal-breaker.
They did update a previous complaint of mine, which is the one-way-only adjustable shock cord in the hood. I had to tie a knot to tighten both sides: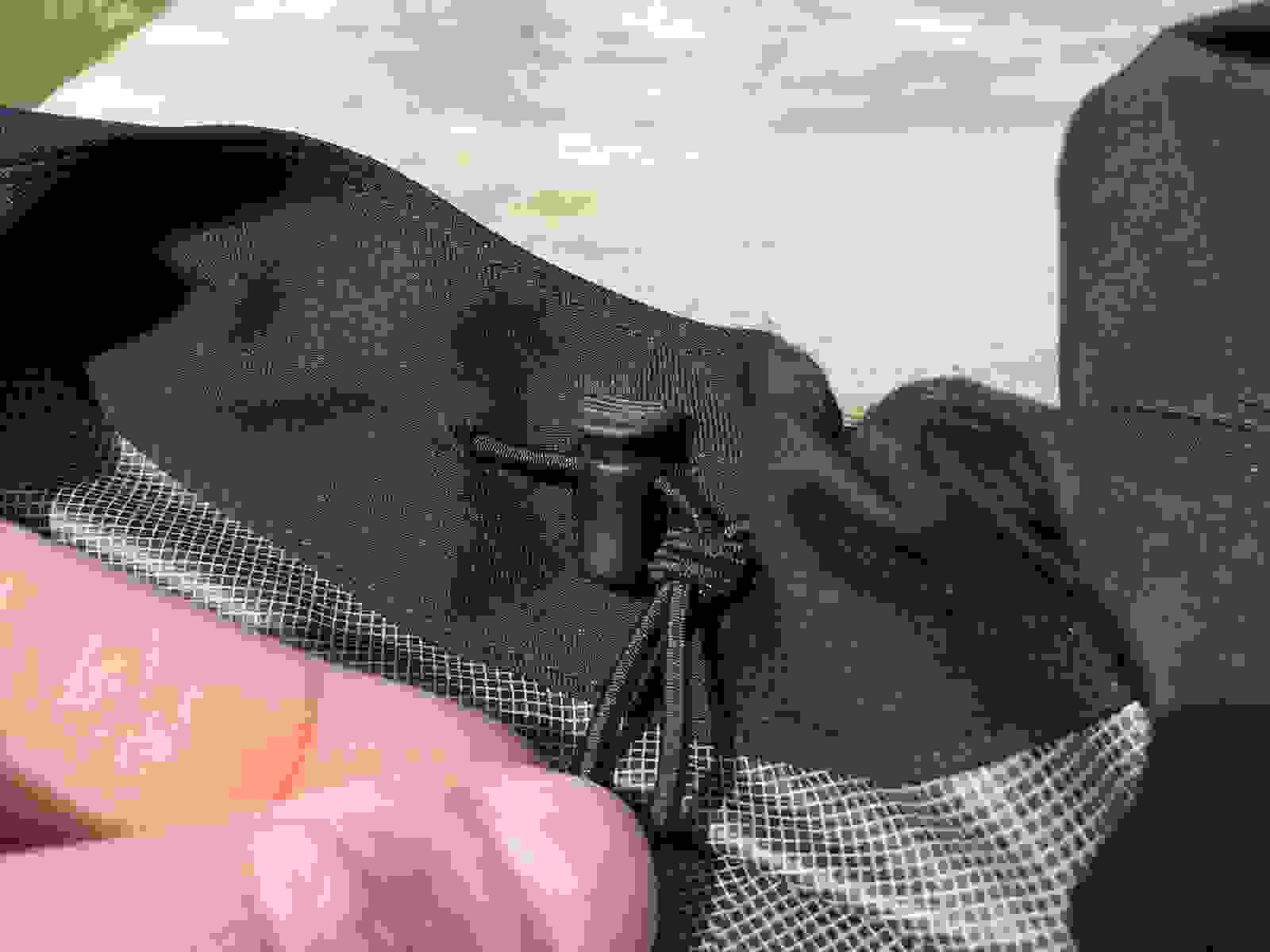 They've updated this component with a new one, but as far as I can tell, it's still uni-directional. They've shorted the chin flap, so it might need less adjustment down there anyway, but still, it's effortless to make this type of cord adjustable in both directions.
Minor complaints?
As with all Japanese (and East Asian in general) clothing, the zipper is left-handed: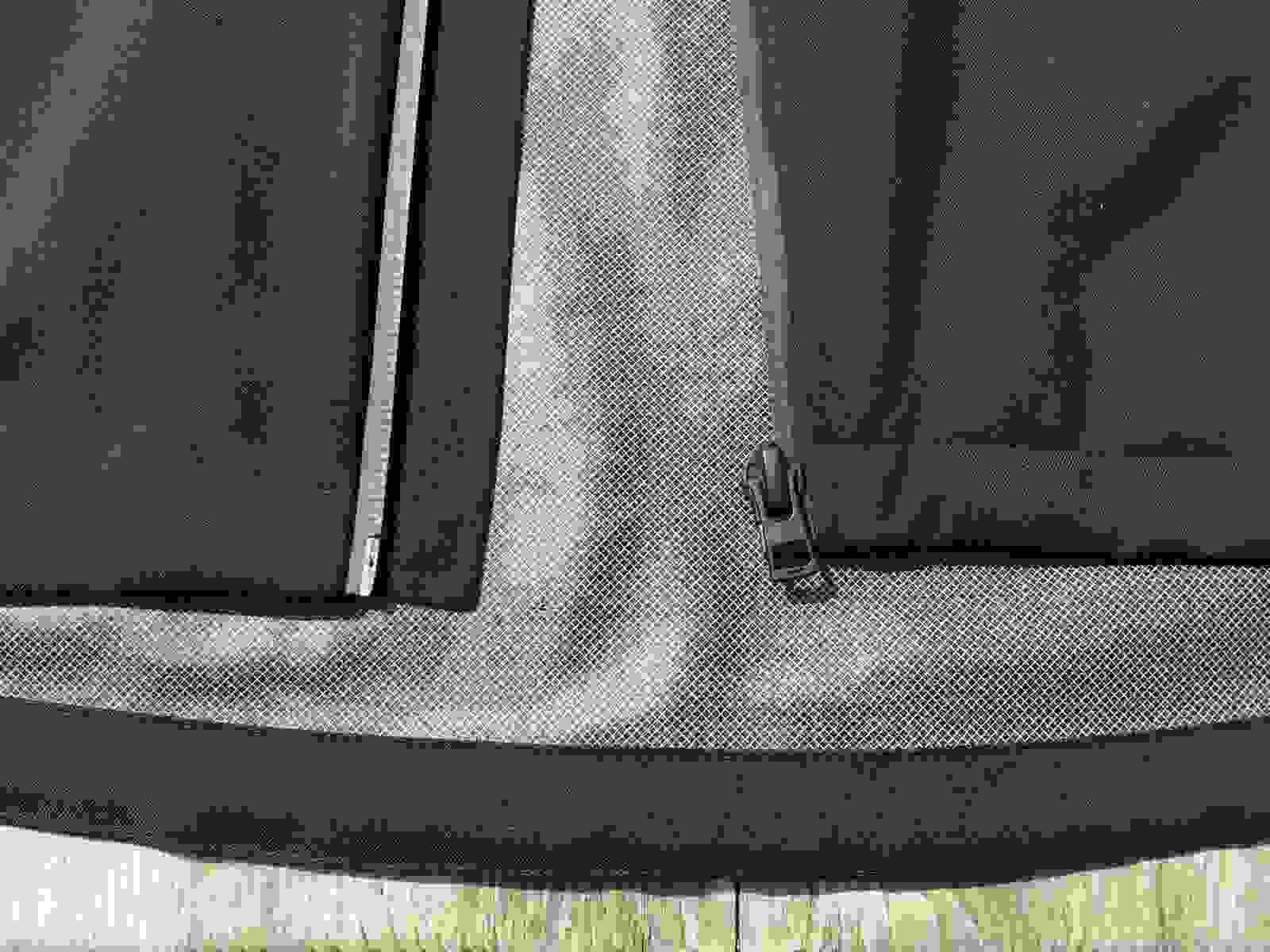 I don't know why this is, but lefties, this is for you. That zipper handle could be a little bigger, though. It's hard to find sometimes.
Another minor quibble is how the cuffs have a velcro-type adjustment, but no elastic: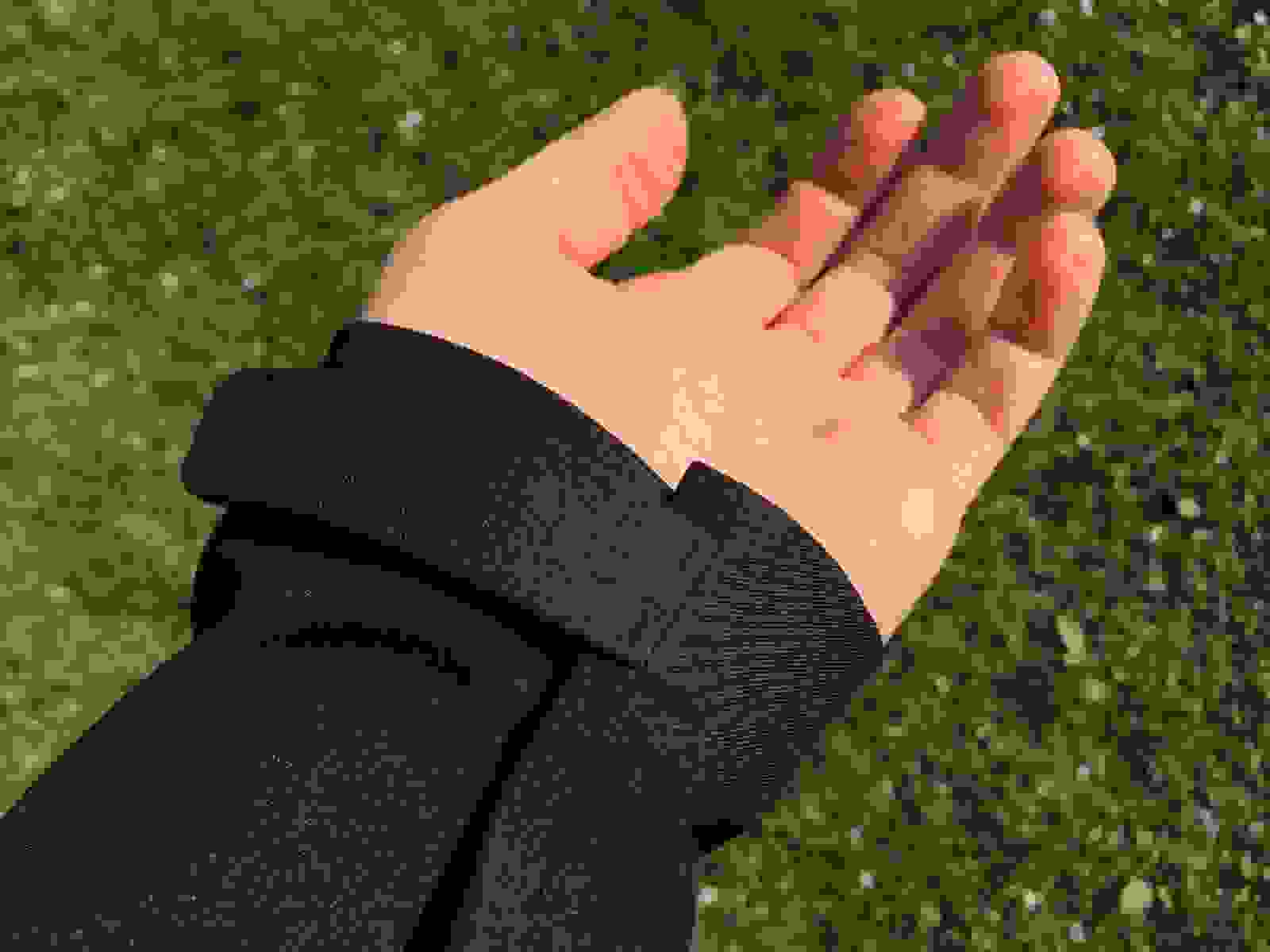 The fabric itself is stretchy, but getting the perfect adjustment (tight enough that it won't fall over my hands, and loose enough that I can yank it up to my elbows), was a little tricky, and elastic cuffs would have fixed that.
How's the fit?
Tiny. I usually wear a small, but I could barely get into it, and it was extremely difficult wearing additional layers underneath. Going up a size made it just right.
Conclusions on the Uniqlo Blocktech Parka
I really adore this jacket, except for the fatal flaw of the tiny hood. They really need to fix that. It limits how often I want to walk around in the rain, and it would have been so easy to change. If you're planning on using it for more casual circumstances, or…have a small head, then you won't run into this problem.
It is otherwise wonderful. Like I said, this is my absolute favorite waterproof/breathable fabric. It keeps the rain out and lets moisture escape like any other rain jacket, but it does it with a fabric that's soft, quiet, and stretchy, with none of that slick, plasticky feeling and scrunchy noise you'd get with a typical rain jacket. It's more stylish, more subtle, and more normal as a result, and it makes me wonder why nobody else ever did this in the first place…and at just $70, it certainly wasn't because of the cost.
I still wear this all the time, but if they ever make the brim two inches bigger in front, I'll go out and buy a new one immediately. In the meantime, they have a number of styles, for men and women, which you can check out here.
And like I said, everyone should steal this fabric.