Okay, so admittedly I had a bit of a predicament here, as I wasn't entirely sure that tea infuser travel mugs are the best piece of gear in the universe to take with you whilst galavanting around said universe, but my dorkily accumulated expertise on the subject knows no earthly bounds and thus demands narcissistic recognition.
Besides, a high quality vacuum-insulated tea infuser travel mug is not only spectacular for keeping drinks hot in the winter, but also for keeping ice water cold in the summer. The fact it also makes tea is effortlessly easy to ignore, and you can just swap out a regular water bottle for this instead, and you'll gain the added bonus of having an awesome travel tea mug with no additional hassle. Win win!
So, here are my picks for the…
Best tea infuser travel mugs
1) Espro Travel Press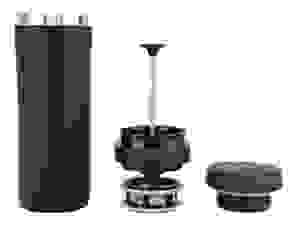 This is a relative newcomer, but definitely a major improvement to the French press style of steeping either tea or coffee; once the tea is steeped, you press down the plunger (with different components for steeping tea or coffee), which presses the leaves into a confined area, and stops them from over-steeping. The result is a better flavor, and you don't have to remove any insert to start drinking. The filter is also much finer, which is especially great for tea drinkers, as it makes the brew a lot cleaner than typical French presses.
Better yet, the cap fits over the top once the plunger is down, which isn't the case with most French presses. This means it won't leak if you toss it into a bag, as long as the cap is screwed down.
12 oz (0.35 L)
Stainless steel
Vacuum sealed
360° drinking
Tea or coffee steeping
No need to remove brewed coffee or steeped tea
The Amazon listings seem to be 3rd party sellers, so the prices are occasionally wildly incorrect, perhaps also because it's a Canadian company that sells the product, so it's generally available through intermediaries. If something goes weird, just visit their site too.
2) Timolino TeaGo Mug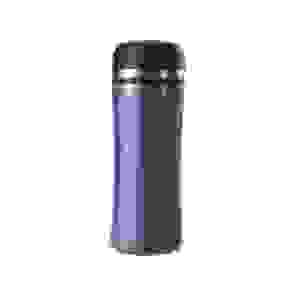 This has been quite a reliable one for a long time, and although I've seen a few other designs since originally writing this list, it's still a great choice for people who want something simple, and reliable. Just steep the tea in the insert basket, and take it out when you're done.
12 oz (0.35 L)
Stainless steel
Vacuum sealed
360° drinking
Hidden chamber in the cap (for extra tea, or sugar)
Removable tea infuser
Drinking ports in the lid (rather than one gigantic opening)
The final point on that list is an important one, since it not only helps prevent hot drinks from spilling all over your face, but it also minimizes the amount of cold (or hot) air that can trickle into the chamber and ruin everything. Also, the cap comes off after just a brief twist, rather than having to rotate it a million times in order to take a sip. It's a nice touch.
I also like the fact that it's small, but you can find this one (and, as of somewhat recently, a larger version) from David's Tea, which has more colors as well.
3) Highwave TeaMo XL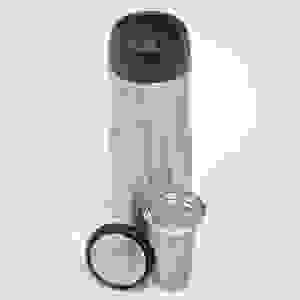 This one is rather similar when compared to the Timolino pictured above, but adds a push-button locking mechanism that adds another layer of protection to the whole procedure.
16 oz
Stainless steel
Vacuum insulated
360° drinking
Locking seal
Removable tea infuser basket
Hard-to-spill drinking ports
The locking mechanism means you can take off the cap and leave it upside down on the table, then leave the tea infuser nesting inside it, while leaving the mug on the table by itself, where its lock button will prevent it from spilling (and losing heat) even when the cap has been removed.
It sounds a lot more complicated than it actually is. Short version: It'll work great.
4) Libre glass and polycarbonate tea mug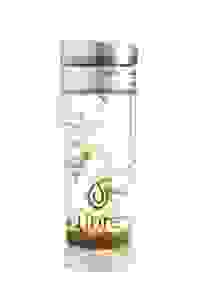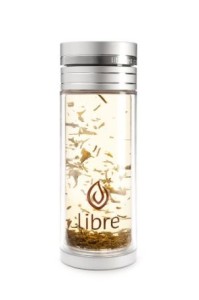 This is an interesting design, which modified a fairly popular all-glass version made by other brands so it would suck a lot less. It's glass on the inside, and indestructible polycarbonate on the outside.
Available in 9 oz and 14 oz bottles, or 10 oz mug with handle (0.26 L, 0.41 L, and 0.29 L)
Glass inside
Polycarbonate outside
Tea infuser hidden in the lid
The lid is actually where the tea goes. You stick the tea leaves in the cage, fill the mug with hot water, close it up, and turn it upside down. When it's done, you turn it right-side up again, and the tea is no longer in contact with the hot water, so it can't oversteep.
On the downside, it doesn't insulate nearly as well as other designs, especially since you have to remove the entire cap to drink. This makes it good for hanging out somewhere, but not so great for bus rides, since it's also easier to spill.
Also: Hot water can get stuck in the lid. When you turn it upright, the surface tension can hold it in there, so make sure to tap it to make the water fall out before you remove the lid, or you might spill it all over yourself.
5) Aladdin Tea Infuser Mug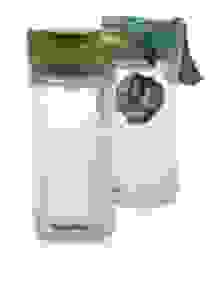 This one's pretty clever. You flip a switch to drop the infuser into the chamber, then switch it back to remove the tea from the hot water.
12 oz (0.35 L)
Snap-open sippy lid
Microwave and dishwasher safe
Vacuum sealed
BPA-free plastic construction
Some of the above versions have the issue of either needing you to remove the infuser basket, or needing you to drink a certain amount of tea, so that the level of water drops below the tea leaves, so the tea can't oversteep, This one skips that problem by having the drop-in mechanism, which is helpful if you're taking this onto a bus and can't deal with daintily leaving an infuser basket somewhere.
6) Any French press travel mug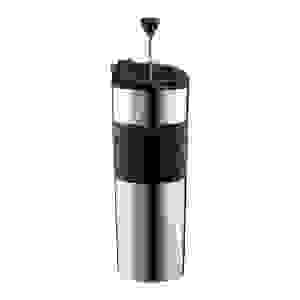 Okay, so this one might be even better if you're a huge coffee junkie as well, though on the other hand, many of the above options (particularly the ones with fine filters) work well enough for coffee too. If you shove a French press plunger all the way down so it squishes the leaves, it prevents them from contacting the water any further and becoming oversteeped.
The recent newcomer Espro listed above is probably a better choice at this point, but this sort of design has been around for a while, and it's certainly reliable.
This one features:
15 oz (0.45 L)
Stainless steel
Vacuum sealed
Flip-top drinking port
Rubberized grip
Built-in plunger
Dishwasher safe
Keep in mind it might not provide a perfect seal, so don't fill it up with boiling water and then throw it in a bag or something. That would be bad.
7) Contigo's Tea Infuser Insert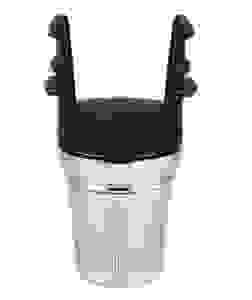 So if you're a big fan of Contigo travel mugs, you'll be a big fan of this little accessory. You just stick it into a Contigo mug with some tea inside, and you can steep the tea right inside. Then you remove the insert, and drink.
Contigo mugs are pretty famous for their heat retention, so you might want to change the brew time to a be a little quicker, but then it'll stay warm for quite some time.
The Contigo has also been updated since its original design; the well-known model, known as the West Loop, had a feature added that makes it easier to clean, as well as a locking mechanism that prevents the top from opening just from grabbing it. Both of these additions made it into a much more usable product, and it's popular enough that's easy to find quite cheaply, too.
More tea infuser travel mugs?
There are probably billions out there, but I excluded quite a few because there are simply superior alternatives listed here, particularly since many of the options are made entirely of glass and are a horrible idea for traveling around. So these are some of the best options out there for great tea infuser travel mugs that'll last as long as any other item you love to bring along wherever you go.
Or a somewhat related note, check out my picks for best portable water purifiers if you're off to the wilderness and want crystal clear water wherever you go.