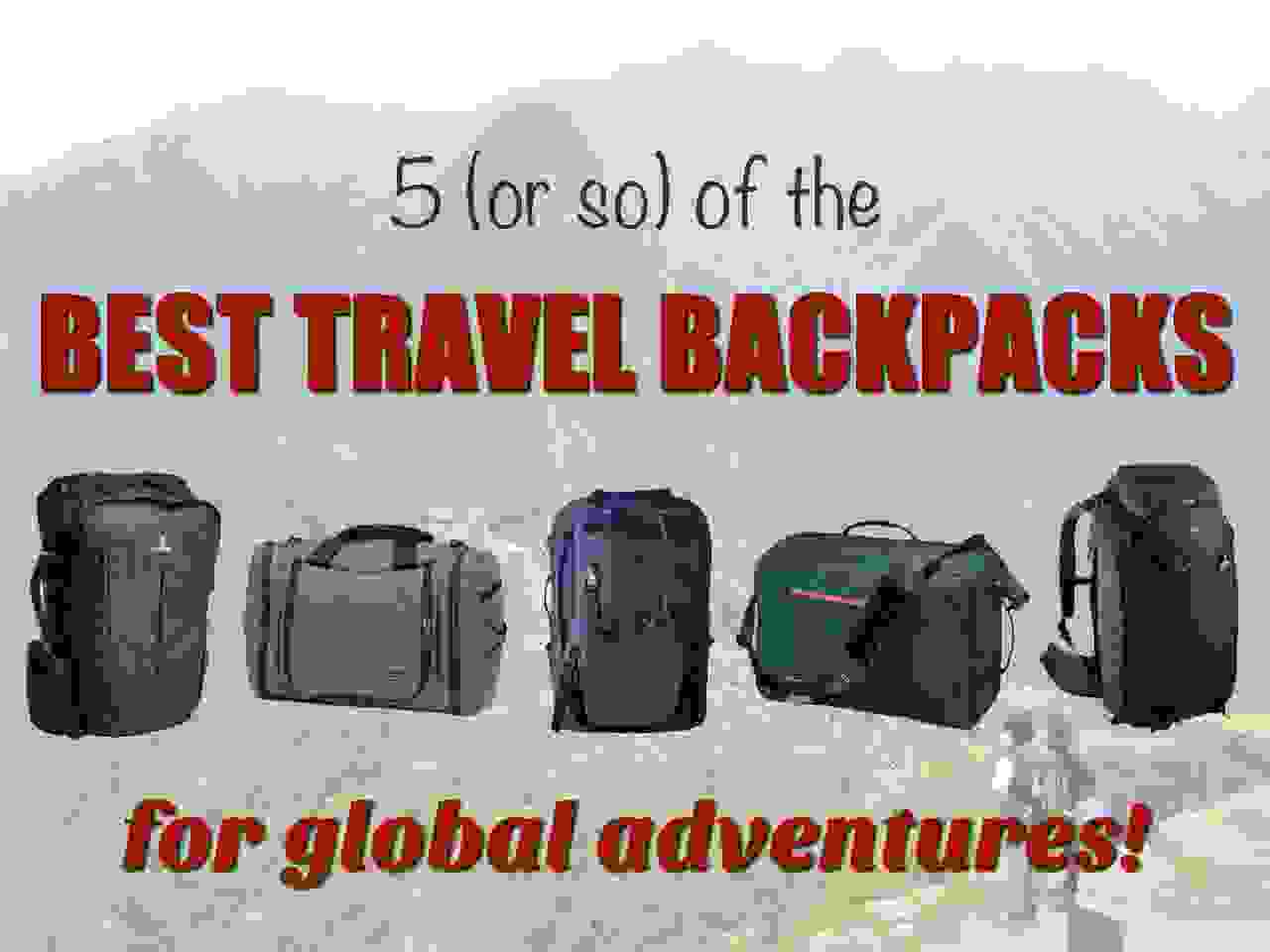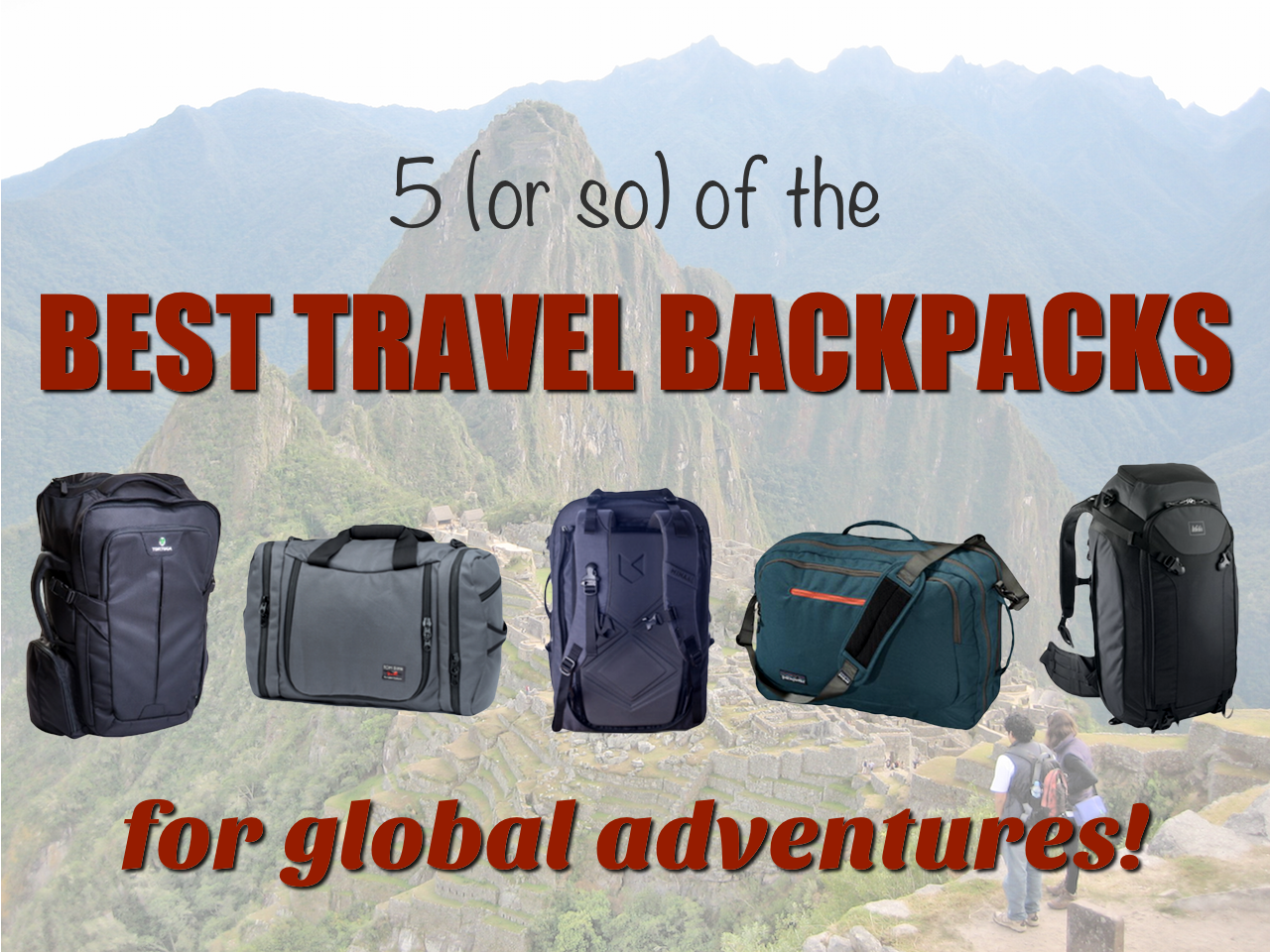 One of the most important things a backpacker can find is a great travel backpack. It holds all your gear, it's with you almost all the time, and in some bizarre, anthropomorphic way, it's your best friend. I still remember the feeling of coming back from my first solo backpacking trip, and walking around without a backpack. It felt wrong. Like something was missing.
Over the years, I've gone through packs like nobody's business. I've never used the same pack for more than two trips, and no matter how many hours I spend either online or in the store, it seems like finding the right pack is always going to be a horrific ordeal.
Discomfort, poorly designed features, dangly straps, sizing issues, and all manner of nonsense have thwarted my path at every turn. It's tough finding something that fits you properly, and I think, given the high user ratings of certain packs I hate, maybe I just have a bizarrely crooked spine and it's not their fault.
But I refuse to let them get away with rant-free ease.
"Travel" packs barely exist
Part of the problem is that, up until very recently, the only options were top-loading hiking backpacks, or wheeled suitcases. Other options like duffel bags or school backpacks exist as well, but these are rarely suitable for round-the-world travel.
But since these were the only options, accepting their flaws was all I could do. And besides, high-quality hiking backpacks will stand up to most abuse, and they'll be super comfortable if they fit you properly. But they're not ideally suited for travel. Hiking packs work, but we've only been using them because nothing else was better.
The problem(s) with hiking backpacks:
Now don't get me wrong; hiking backpacks are great, and I've used them on plenty of trips. Some designs have none of these flaws; it's just that they usually do:
Packing inconvenience: Hiking packs are usually top-loading, cavernous cylinders that swallow your gear and you have to dig everything out to find whatever's at the bottom. You can mitigate this problem with packing cubes, but suitcase-style openings are so easy to manufacture that it's insulting how rarely they're implemented.
Extraneous strap dangle: Hiking packs have all sorts of compression straps and attachment points. These are useful for walking around, but they'll get scratched up when you throw them in the luggage compartment for a bus ride. And I'm including shoulder and hip straps here, too. If you ever have to check your bags for a flight, they'll come out a little more damaged every time.
No locking mechanism: Top loaders usually use a drawstring opening, which offers no security whatsoever against unscrupulous hostel bunkmates. This problem can be mostly solved with a laptop sleeve that can lock itself to a bed, but lockable zippers would be easier (though I've softened this requirement, as zippers can be easily bypassed, even when locked).
And in many cases, plenty of hiking packs have dumb design errors anyway, even if you're just hiking.
The problem(s) with so-called "travel backpacks:"
Several companies design what they call "travel backpacks," which have better features, solving some of the problems listed above, but they generally screw things up in the meantime as well:
Size: They'll make them so gigantic that you have to check them on a plane. Some of these "travel backpacks" go up to 80 liters. I've done RTW travel with 20. The carry-on max of 45 liters is plenty! Who the hell needs 80?!?!
De-hydration pockets: They'll skip the damn water bottle side pockets and then where the hell do they go?!?!?
Filthy dirty lie "panel" loading: They'll forget to make the suitcase-style opening go all the way around, thus defeating the purpose of the panel in the first place.
Sigh.
Which is why I'm so gleefully pleased that certain companies have been designing travel backpacks. Correctly, I might add.
I don't know why the other people didn't bother doing it before.
What the best travel backpacks get right
I've compiled a list of some of the best travel backpacks for carry-on use I can find. These packs are made for travelers, not hikers. They've got panel-loading convenience, not top-loading caverns; they've got lockable zippers, not drawstring uselessness; they've got carry-on dimensions, and minimal, hide-away straps, not monstrous bulges and streamers hanging from every angle. They can be carry-ons, or they can be checked luggage, without getting ruined.
Oh, and they're not ugly. To me, that counts. Who the hell ever thought fluorescent orange was sexy? The 80s? Yeah, stay there.
I've organized this list by type. Let's begin:
Option 1: Full size and full-featured
These packs have everything you could want; maximized dimensions, panel access, a laptop compartment, and lots of internal and external organizational pockets. There's nothing missing.
1) Tortuga Outbreaker Backpack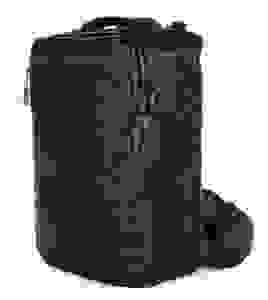 Tortuga was started by a random team of people who found themselves complaining about how they couldn't find a travel pack that wasn't awful. They've been outfitting nomads ever since.
Expected features on this pack include the full-length panel-loading design, to allow plenty of easy access to everything inside, and the dedicated laptop compartment opens fully flat, so you don't need to remove your laptop at the security conveyor belt. The inside has even more pockets than the outside, and several compartments (the important ones) feature locking zippers. The "organizer panel" compartment is my favorite feature, with slots for pens, cards, and other small items, and the sheer number of pockets, both inside and out, will offer more organization than anything else you're going to find.
Tortuga is currently on the third version of this pack, and the new design has a height-adjustable suspension system, meaning it will fit people of all sizes. It also has a seriously padded hip belt, which is rare for these packs, along with a seriously cushioned back panel (with raised ventilation) and shoulder straps. It's the most heavy-duty suspension system of any travel pack out there, and although it's significantly heavier as a result, it's going to excel at carrying heavier loads. They've eliminated the ability to stow the shoulder straps and the suitcase handle, however, emphasizing its backpack features exclusively. The side grab handle is also gone, replaced with an extra mesh pocket.
It's available in 35 and 45 liter capacities, to match the carry-on size requirements of European budget carriers, or North American airlines, respectively. I would say that because the pack features such a heavy-duty suspension system, it actually makes more sense in the 45 liter version. With a full load at that size, you're definitely going to appreciate the extra cushioning, but at 35 liters, it might feel like overkill, especially since this is one of the heaviest packs out there.
Though Tortuga has released lighter packs, I much prefer the shoulder straps on this model, as they're much more comfortable on me than either of the new ones they've released. If you're looking for a 45 liter pack, this is as feature-rich as it gets, and definitely one of my top choices at that size.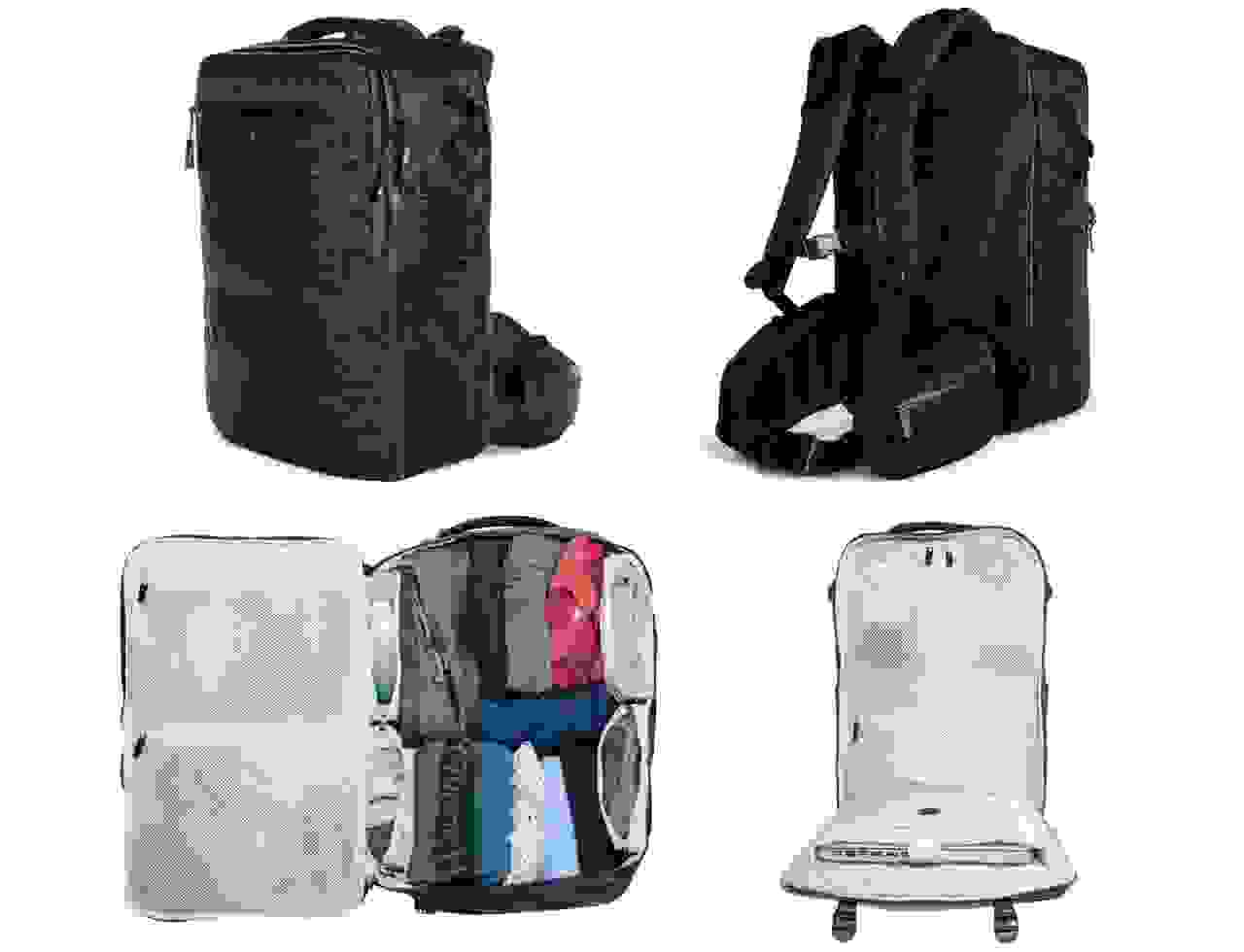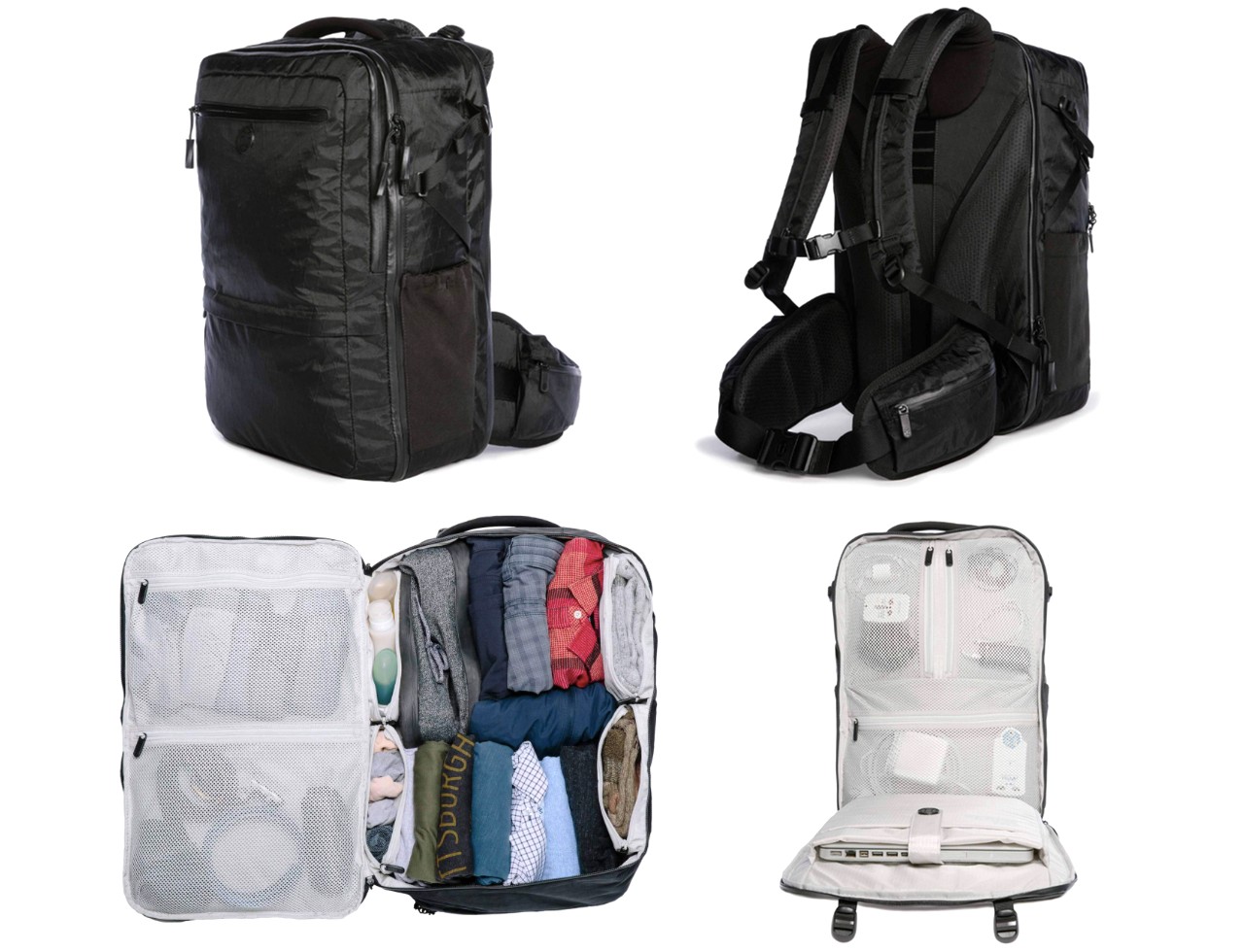 You can get it from Tortuga. Their blog is also great, with all sorts of packing and travel tips.
Update: I received a test sample of the 35 liter version of this pack, and put it to the test! Check it a detailed review here.
2) Rick Steves Convertible Carry-on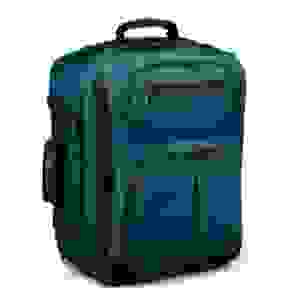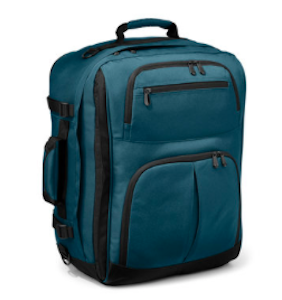 Long before anyone else got started in the carry-on travel backpack game, Rick Steves was galavanting around Europe with his own personal travel gear, designed exactly the way he liked it.
He gave it the features that later became standard on other packs, such as a fully opening panel that allows easy access to everything inside, along with hide-away backpack and waist straps, and suitcase-style grab handles. Exterior pockets are also quite generous, including a dedicated laptop compartment that became a later addition in an updated version.
But it has a few extra touches, such as a separate interior compartment for shoes or dirty clothes, and includes two mesh bags and a removable documents pouch, which you can remove and take with you instead of leaving it in a room. Lastly, the pack is sized to accommodate North American carry-on dimensions, but can expand with a compression zipper in case you stock up on too many souvenirs.
It's easily the most affordable option on this list, although they do recommend using packing cubes inside to create more structure along the back panel. If you don't, it can sag quite a bit, putting the weight on your shoulders instead of your hips. The compression straps on the side help with this quite a bit, so just make sure to pack it right, or it'll feel heavier than it really is.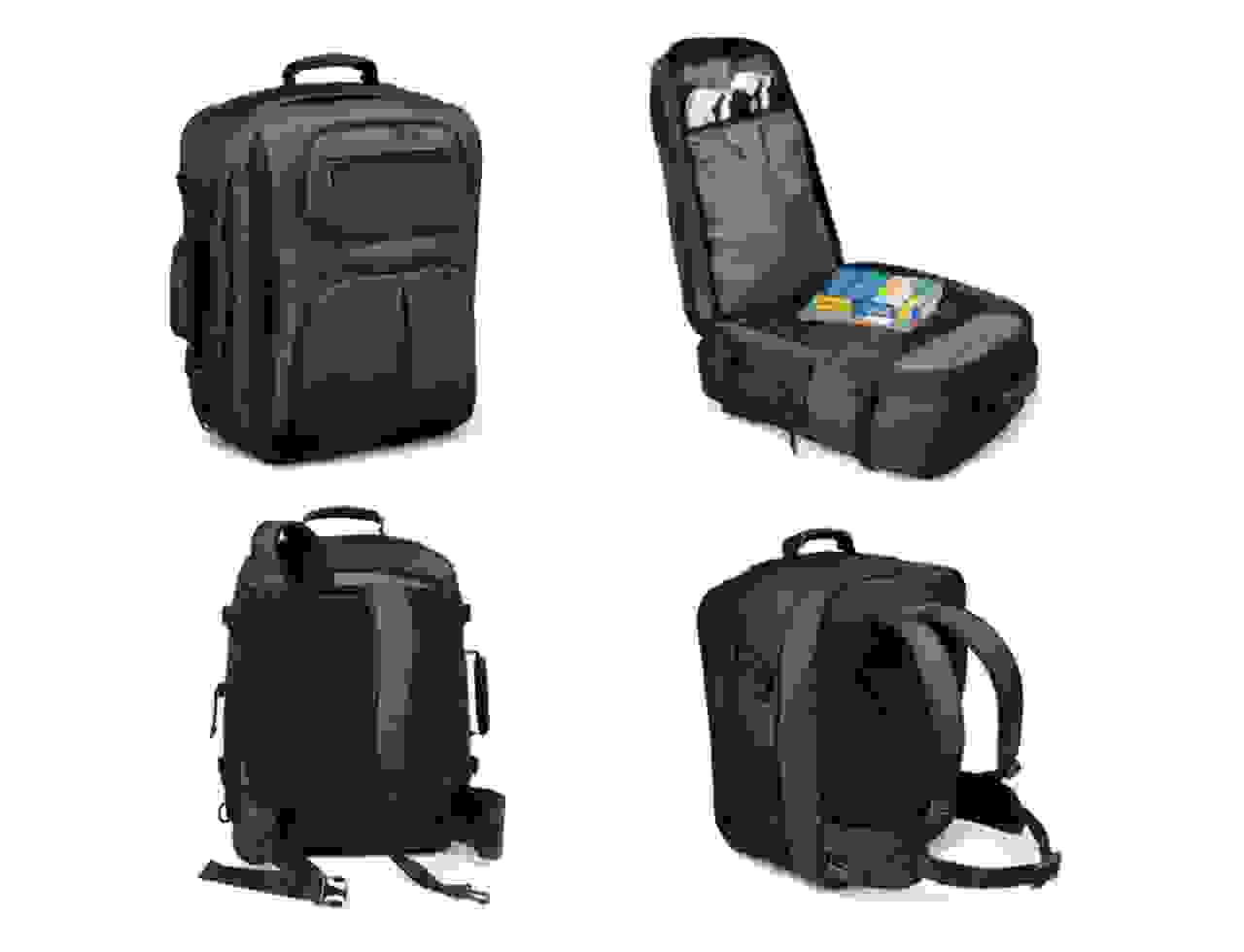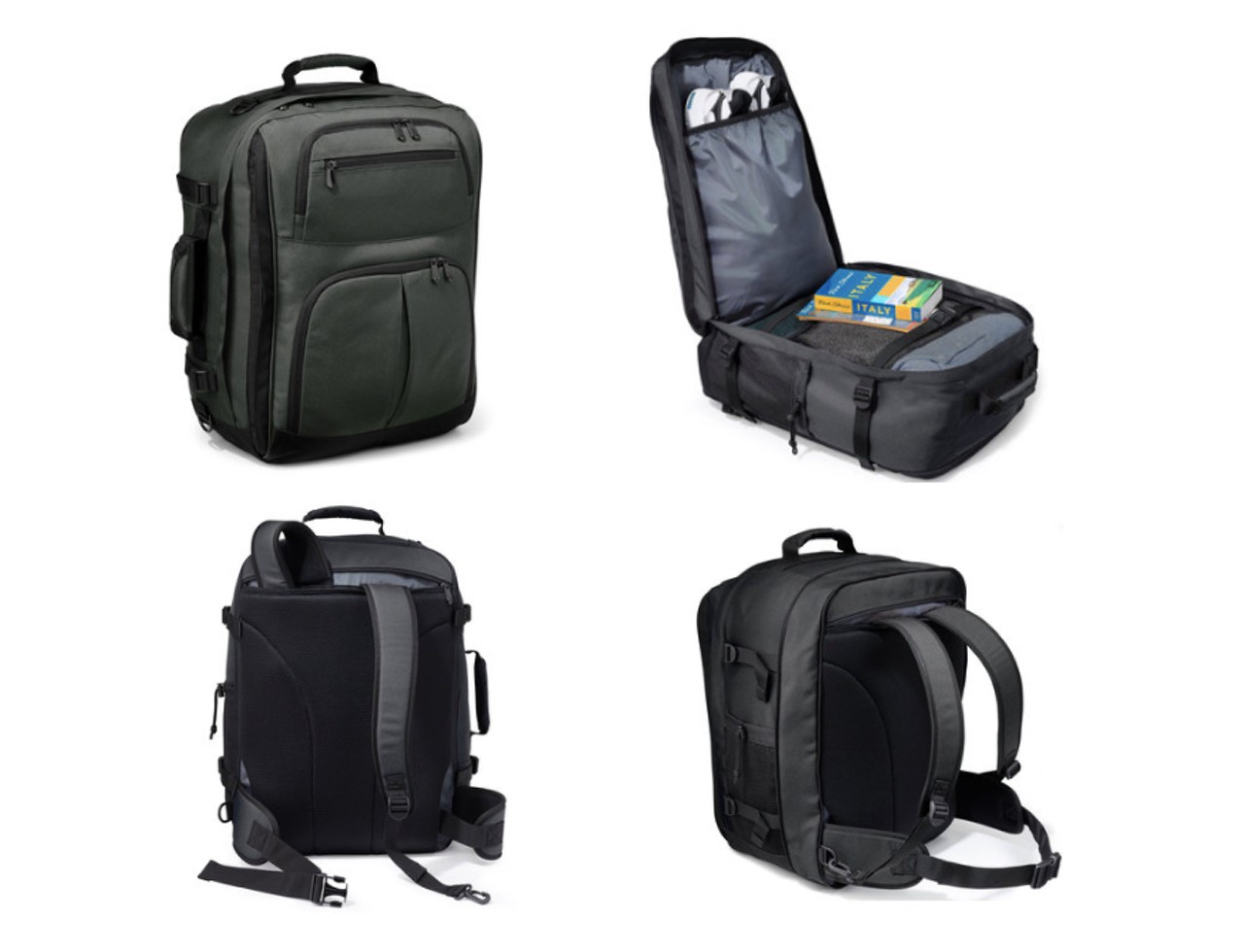 You can pick it up here.
3) Pacsafe Venturesafe EXP45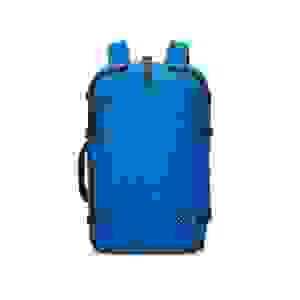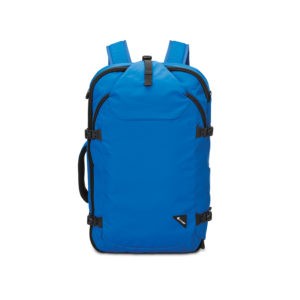 Pacsafe is known for its anti-theft approach in everything they do, and this pack is no exception. Not only does it have lockable zippers, but it has zippers that are resistant to the "pen trick," which is a method thieves can use to break into a pack, even if it's locked. It's a huge nuisance that travelers need to know about, but it's solved here, by placing a redundant set of teeth on the opposite side of each zipper, which prevents a pen from breaking through the chain. It also has slash-proof materials, to prevent hit-and-run theft.
Beyond that, it has a fully-opening suitcase-style main compartment, a laptop sleeve and organizational area in the front, and tuck-away straps. The carry-on dimensions, multiple grab handles, and compression straps make it portable, and versatile.
Pacsafe currently makes this version in a few different sizes, and they have other Venturesafe models available as well (such as the Vibe and X40), but I think this one has the best combination of features, especially in terms of organization. The others are lacking some extra compartments, for example, making this one the most recommendable of their selection. I wouldn't say it has that much organization, but the organizer panel goes a long way toward keeping everything neat and tidy.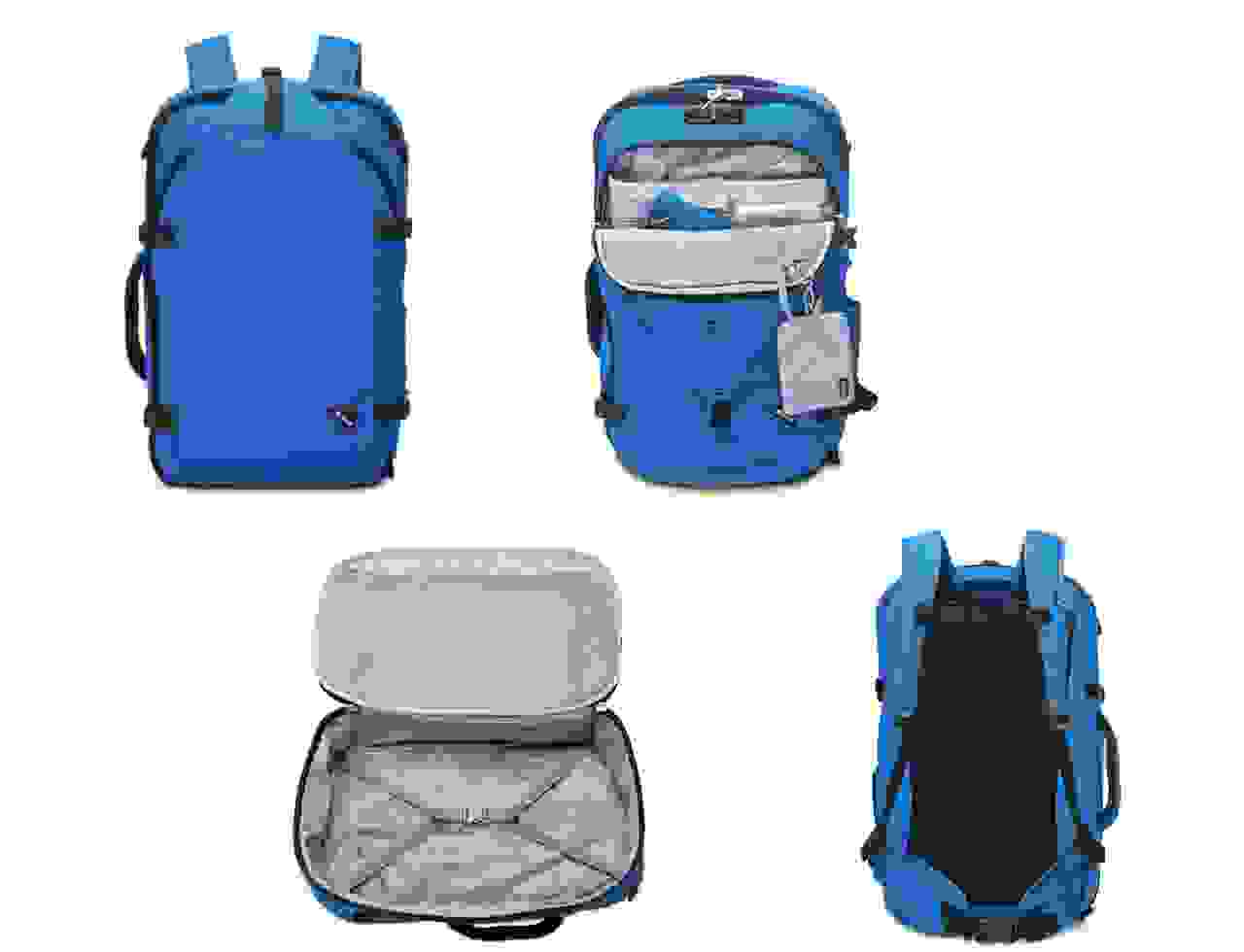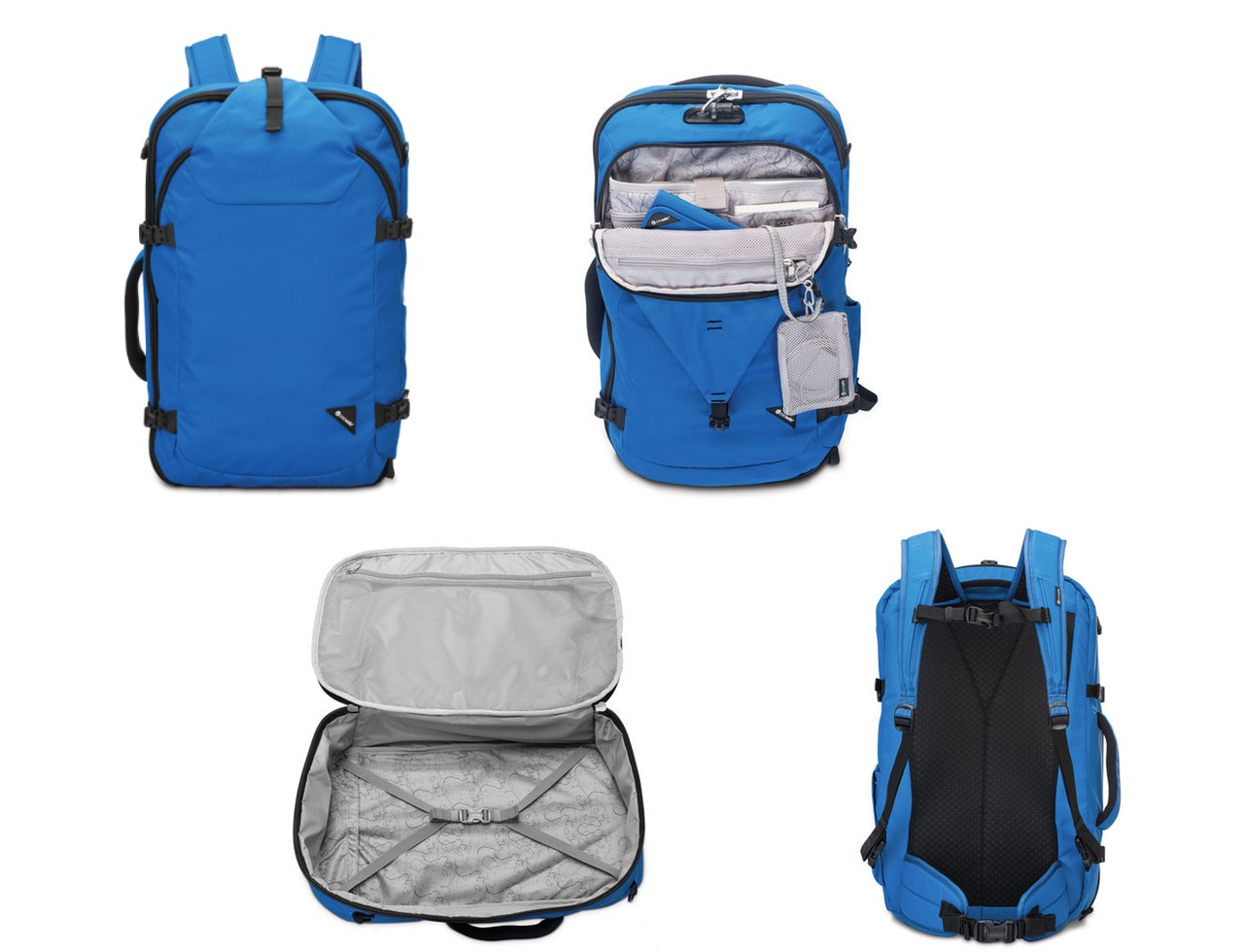 Get it here.
4) GoRuck G2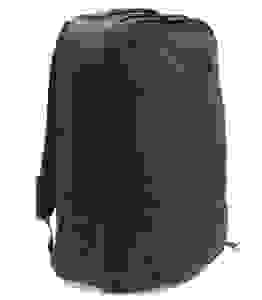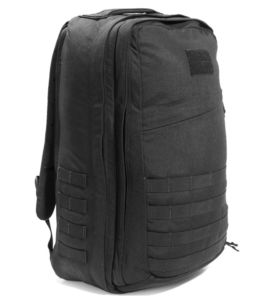 GoRuck has gained something of a reputation for designing some of the longest-lasting gear you can find, built for crazy endurance events and military use. They have packs of several different sizes (including multiple capacities, even if the packs have the same name), but the 40 liter G2 is the one I'm highlighting here.
The pack features a fully panel-loading design, a separate laptop compartment, and another exterior panel-loading compartment for extra organization. It also has those webbing loops all over the place for adding extra accessories or lashing gear to the outside, including a separately available padded hip belt, which I would call a necessity if you're going for the 40 liter version. The sternum strap is also a separate accessory, so be sure to pick that up if you need it. You can tell it was originally designed for super tough, muscular guys, but it's nice how they've accommodated scrawny weaklings with those extra touches.
As for the downside, the heavy-duty materials and construction make this pack heavy, and pricy…in fact it's the heaviest and most expensive option listed here, but if you're big enough to handle the heavier load and you want something that'll pretty much last forever, the G2 is the one that'll handle it.
The newly-developed G3, at 45 liters and with an integrated hip belt, nearly made the list here, but the slightly smaller G2 has that extra outside compartment for greater organization, so it just edges out the victory, at least in my opinion. Since the design doesn't have much in the way of exterior organization, I think that's an important feature. I do like the G3's integrated hip belt, however, which is a more natural design element than the G2's after-the-fact accessory hip belt add-on.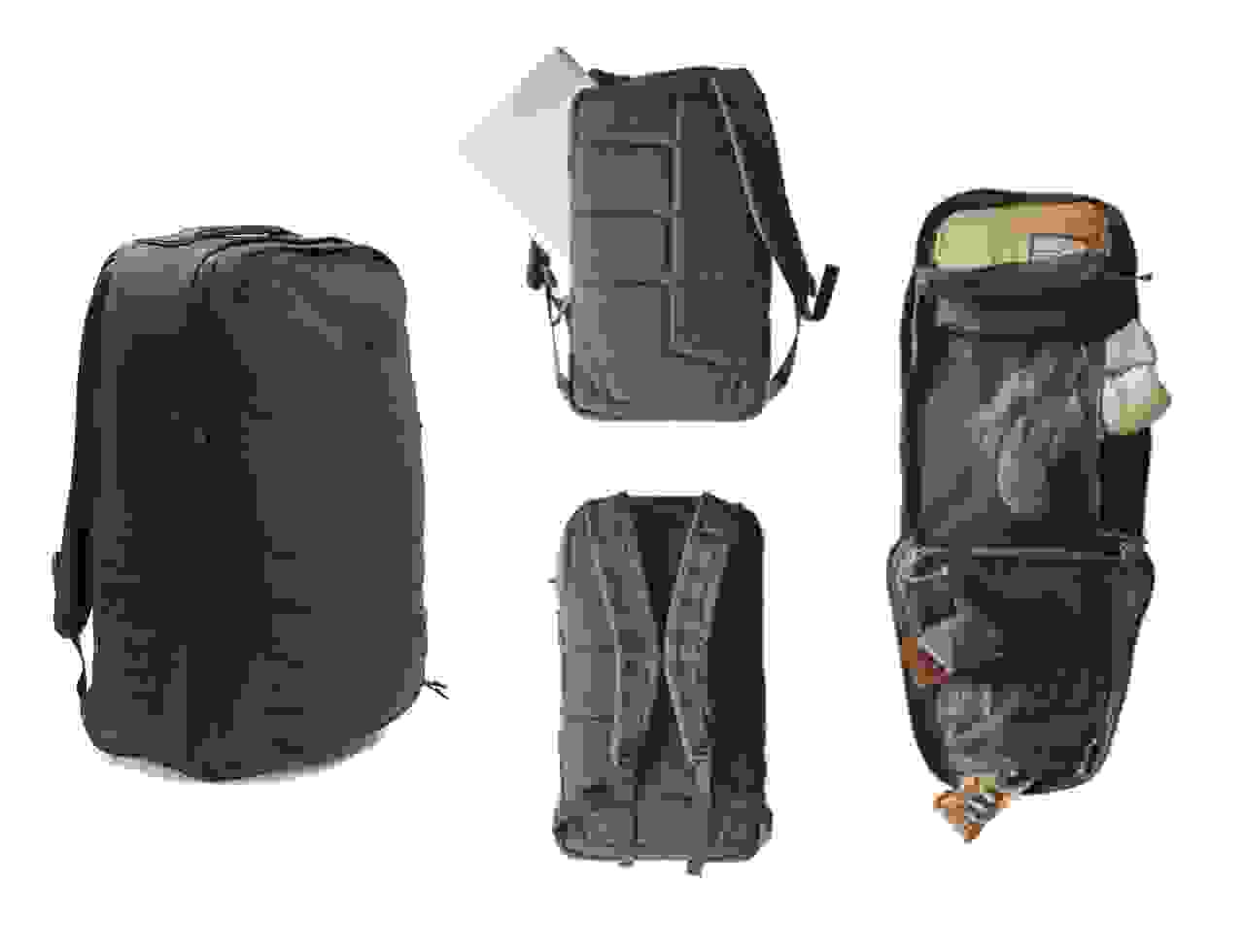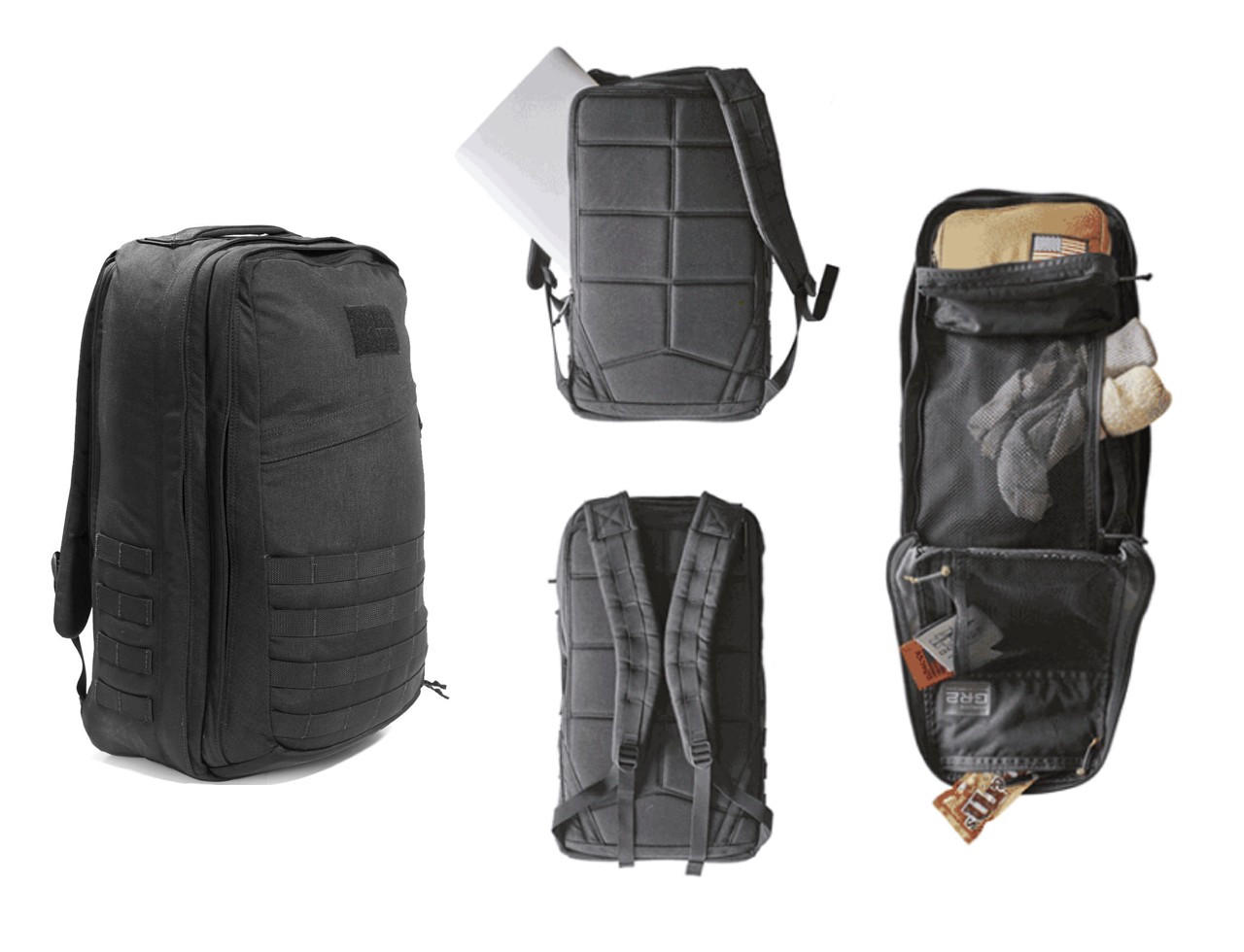 Pick it up here.
Option 2: Svelte and Slim
At 35 liters each, these are for lighter travelers who don't need to max out on the size, but still want all the convenience of easy packing and laptop compatibility. They've got all the important features you'd want, in a slimmed-down size.
5) Minaal Carry-on Backpack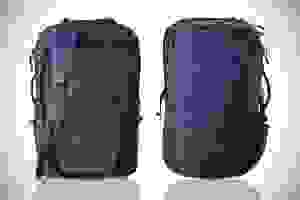 This one is yet another creation in the long, adorable line of things that were invented because people got sick and tired of endlessly having to deal with things that sucked.
This Kickstarter-backed project came about when two long-time travelers decided to make the pack they would have wanted. They set out to create the perfect travel pack for digital nomads, and its design (and Kickstarter success) just goes to show how rarely some of the major players stop to think about the needs of backpackers.
The Minaal has all of the major features you'd expect, including the fully-opening main panel, a separate laptop compartment, hide-away straps, locking zippers, multiple grab handles, and carry-on dimensions, even for the stricter European airlines. It has a few exterior pockets and internal dividers as well, along with a removable rain cover, and a removable, padded hip belt. It's lighter and simpler than some of the larger packs, and it's part of the reason I think this relatively minimal level of strap cushioning is kind of all you need at this size. The water bottle pocket is pretty tight, but there's an elastic band in there that'll hold taller bottles in place if necessary.
The pack is light, but also unstructured; packing cubes are definitely helpful here, especially since the main compartment tends to flop around quite a bit when you're trying to pack it. The back panel isn't too rigid either, so to keep it from sagging, using packing cubes and tightening the compression straps would be a good idea.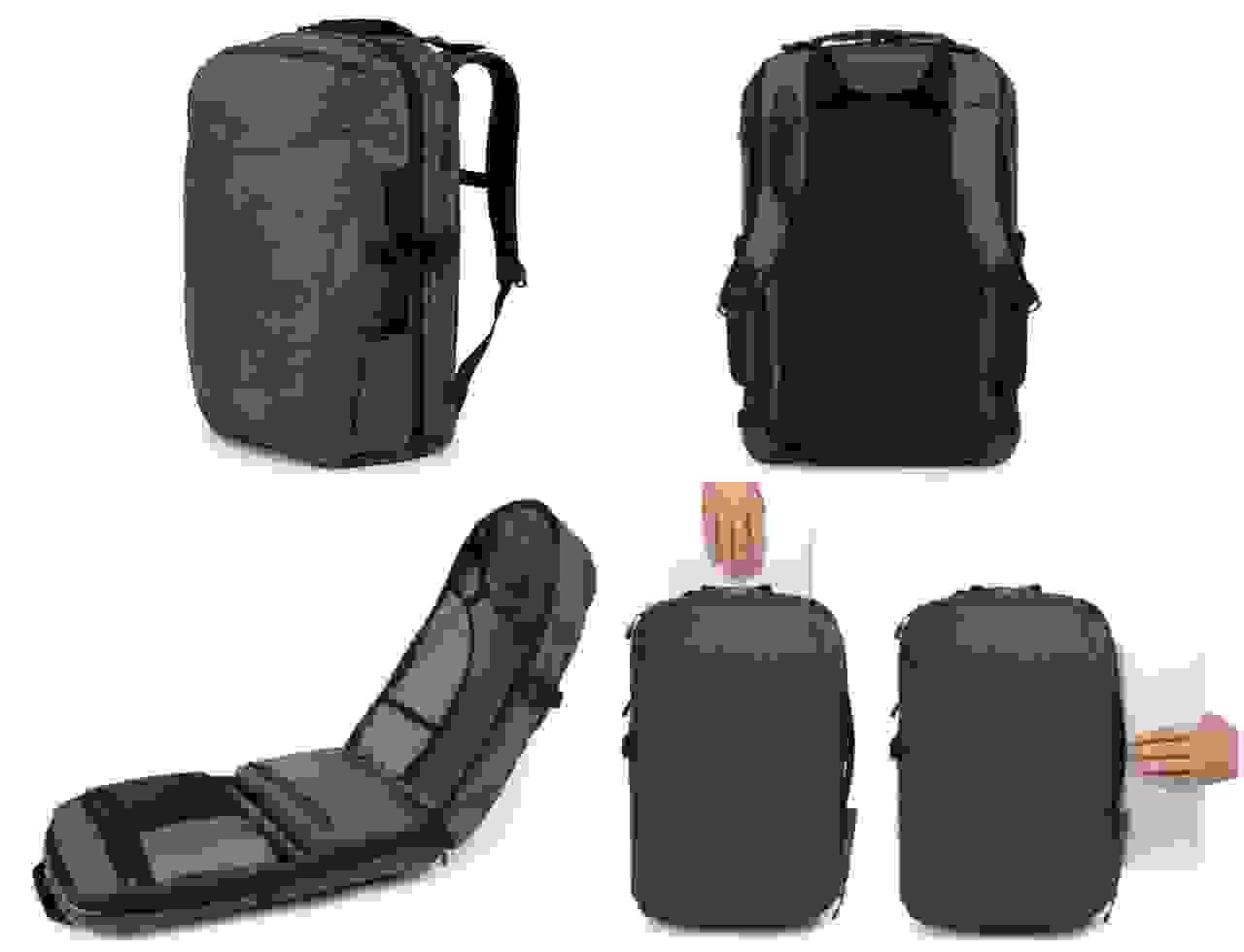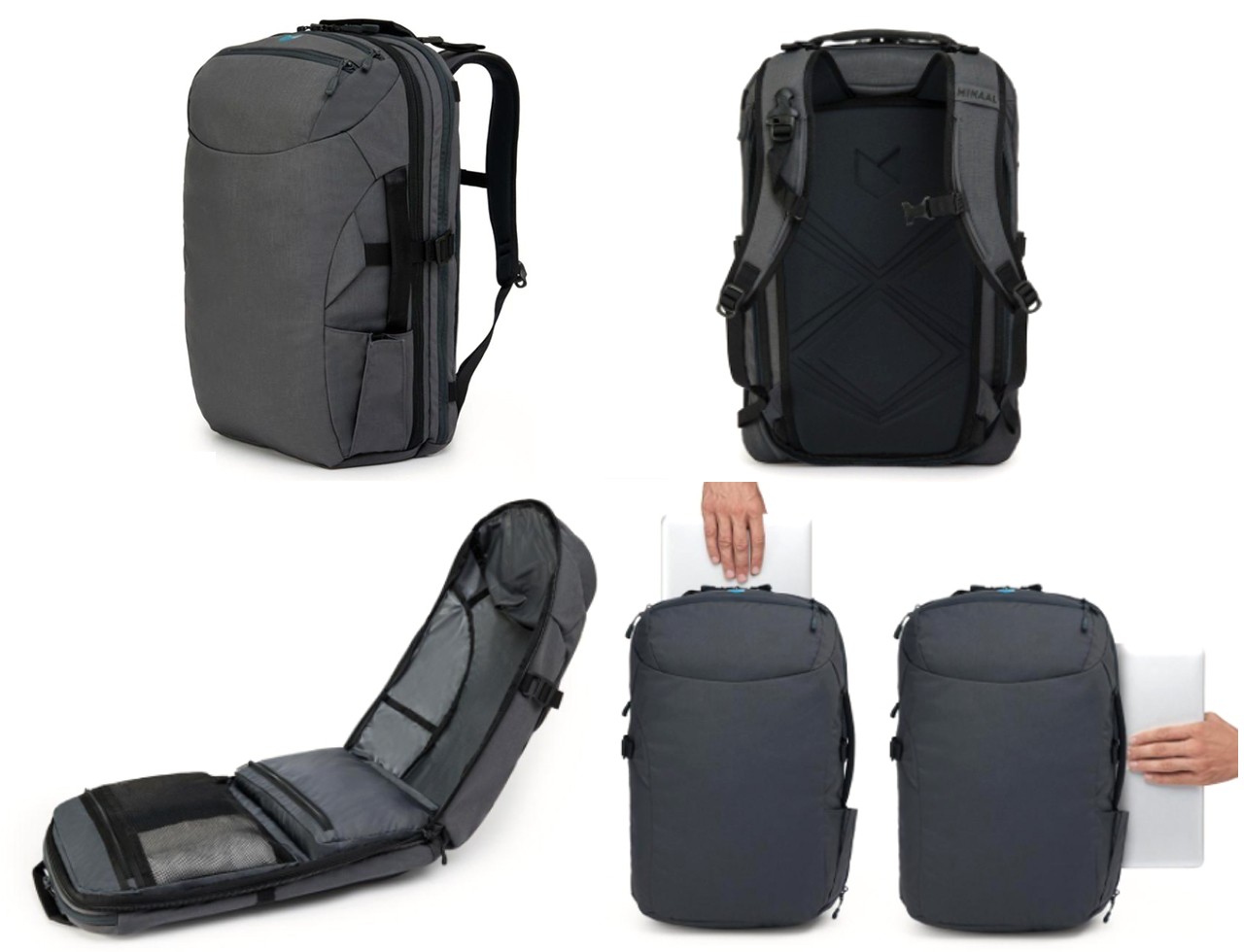 Get one here.
Update: This bag is now in version 2.0, and is even better than the original! They've sent me a test sample, and I've written about it in-depth here.
6) Cotopaxi Allpa 35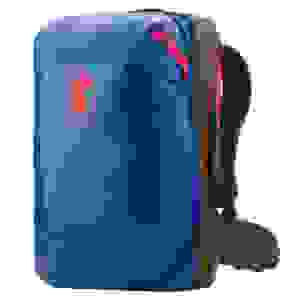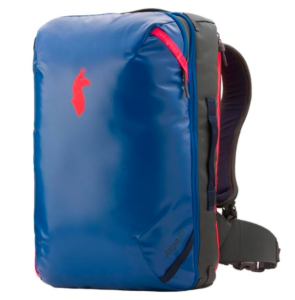 For those who love travel, but only in Punky Brewster colors. But don't worry, it also comes in black.
This is a relatively new offering, but it does quite a few clever things that look great; it opens up like a suitcase, but splits the gear in half, rather than simply opening with a flap. It has a separate laptop and tablet sleeve, some exterior pocket access (including a way to access the main compartment without pulling open the main zipper), and a neat theft-prevention trick of leaving the zipper pulls on the opposite side of a webbing loop, where they're hard to yank without fiddling with them a little.
The pack also has a number of optional accessories, such as an external mesh water bottle pocket, to add some customization. The extremely curvy shoulder straps (which tuck away when not in use) are also angled properly for smaller people with more angled shoulders, which I think is actually most people. It even throws in a rain cover, and the price is extremely competitive. I like the way it splits up the main compartment, giving you even more organization instead of using just one big space for everything, and also how it allows you to access those areas without opening up the main zipper. Plus it has those mesh doorways to keep everything in place, so you won't make a mess even if you need to open up the main compartment. I suppose it could use a bit more mini-organization for pens and cards, but that's about the only issue I can see.
The lower-right picture shows the pack with optional accessories, like the daypack and laundry bag, available separately.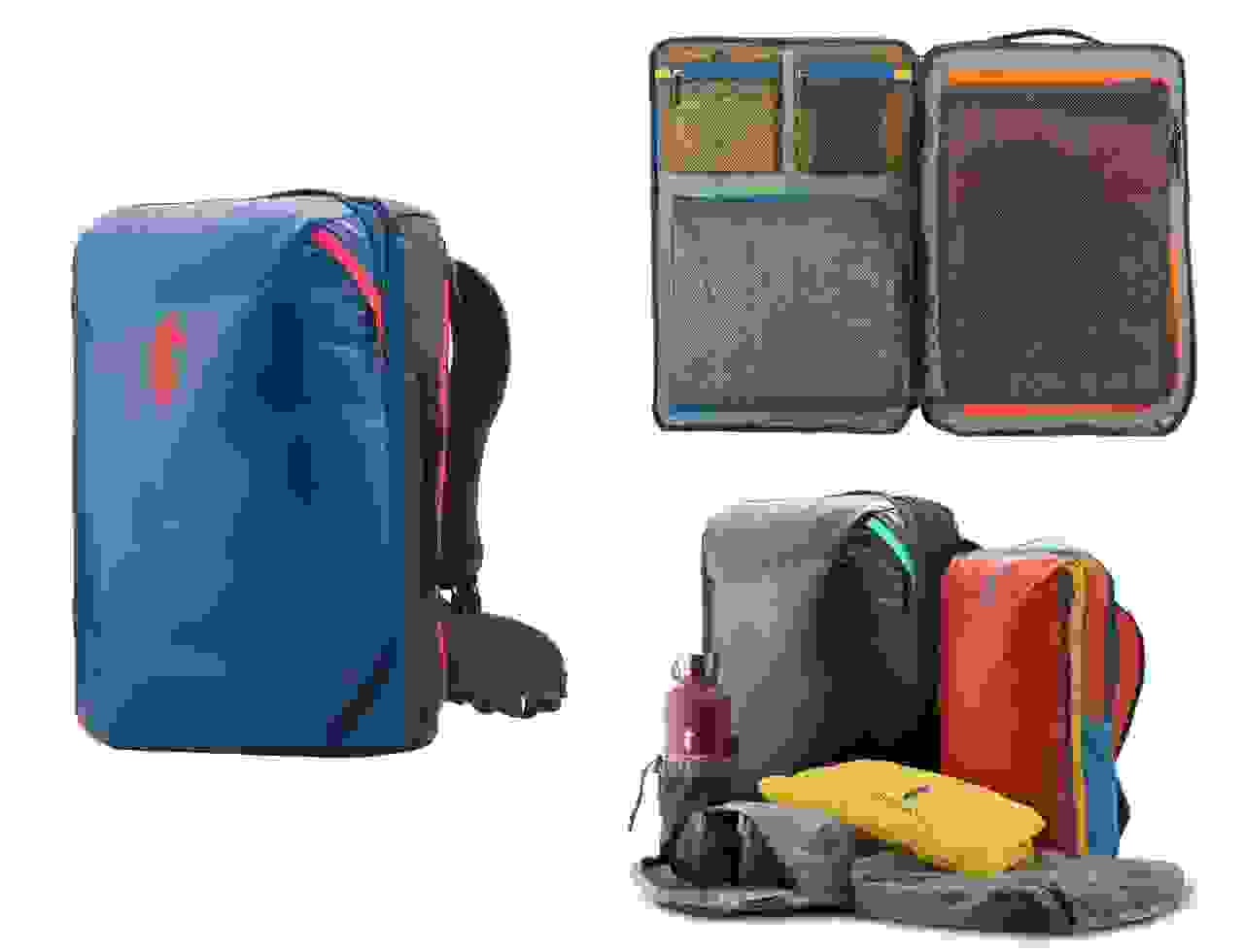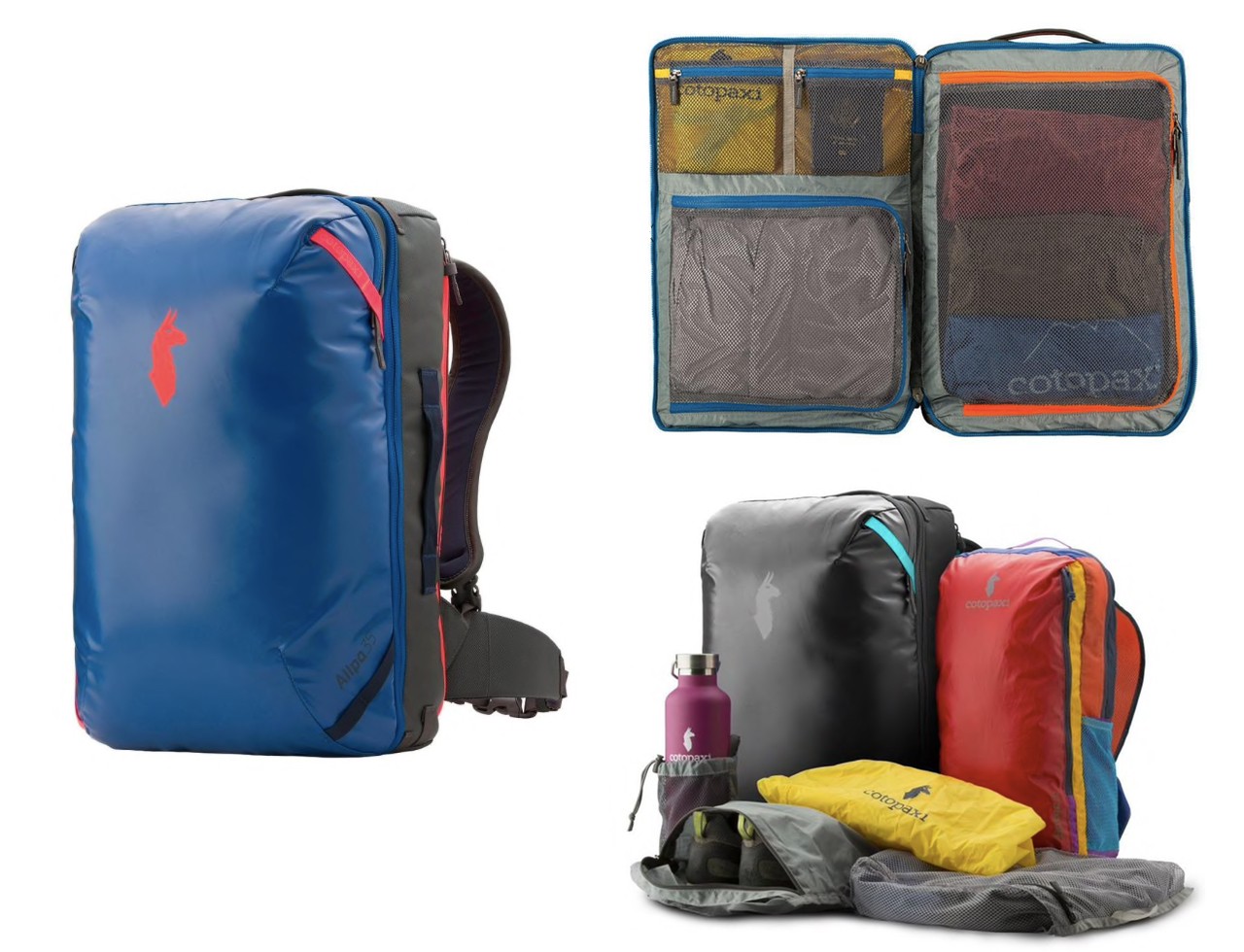 Get it here.
7) Gregory Border 35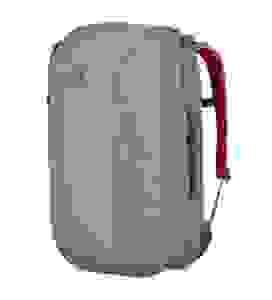 So Gregory is primarily a hiking pack company, and not as widely known as some of the bigger names in the industry, but whose packs I think are designed better than many of its competitors.
Their Border series consists of urban/travel backpacks, and this 35 liter version has not only a full-length panel-loading main compartment, but also a full-length panel loading laptop compartment; this means you just unzip and unfold this compartment, and lay it down on the airport security scanner, rather than removing the laptop at all. It's quick and easy, and makes airport life just a little more convenient. The several exterior compartments allow for quick access, although there's not a huge amount of organization here.
It's missing a couple useful features, however. There's no hip belt, no side water bottle pocket, and you can't stow the straps away to use it as a suitcase (although it does have side carry handles). At 35 liters, you might not have to deal with checking the bag, but keep it in mind. Think of it as a budget version of the Minaal. The overall layout is similar, but it's missing a few of the extra details. Without a hip belt, this'll work better for larger people, or those who don't plan on walking around too much with it, such as those who prefer taxis instead of hauling gear across town.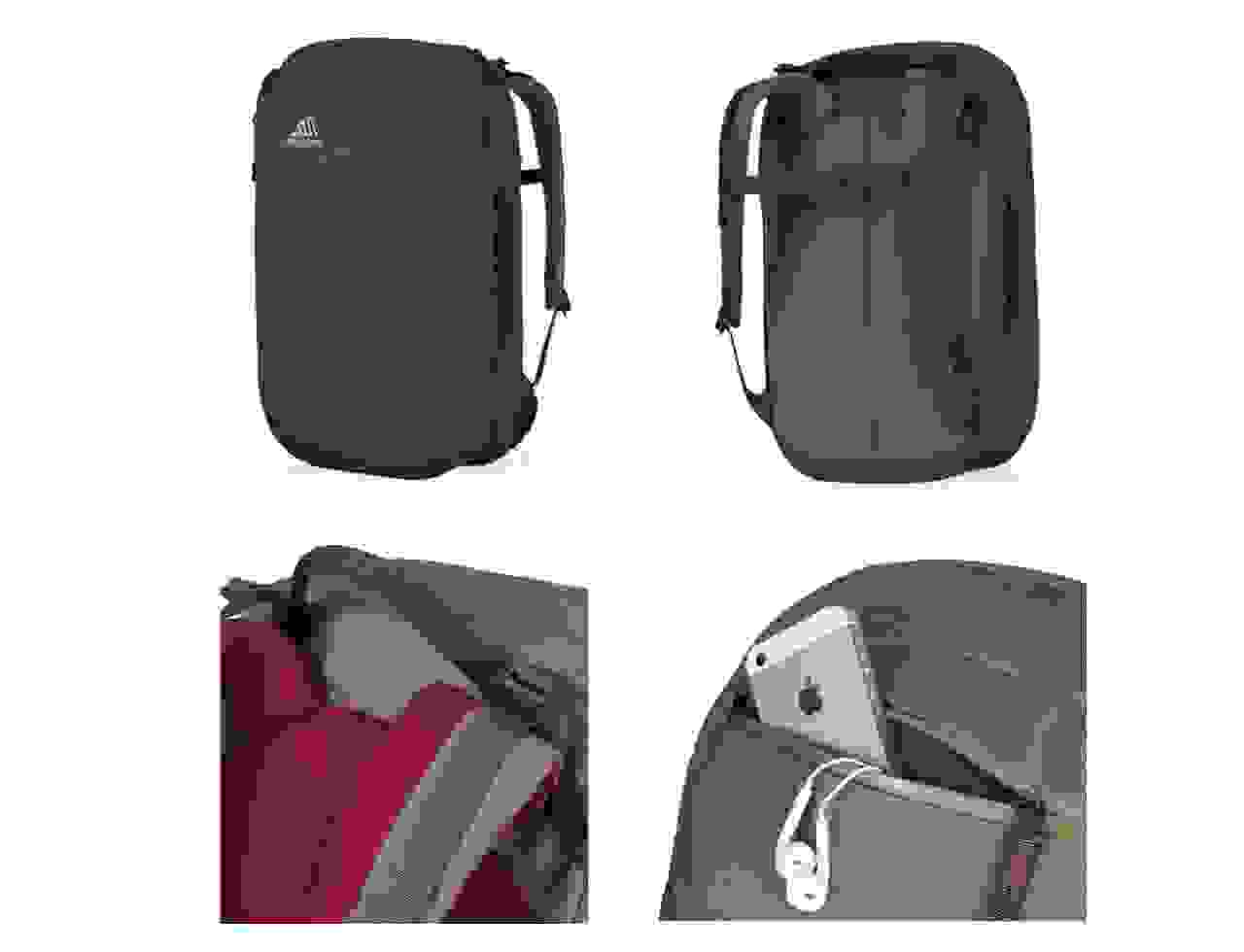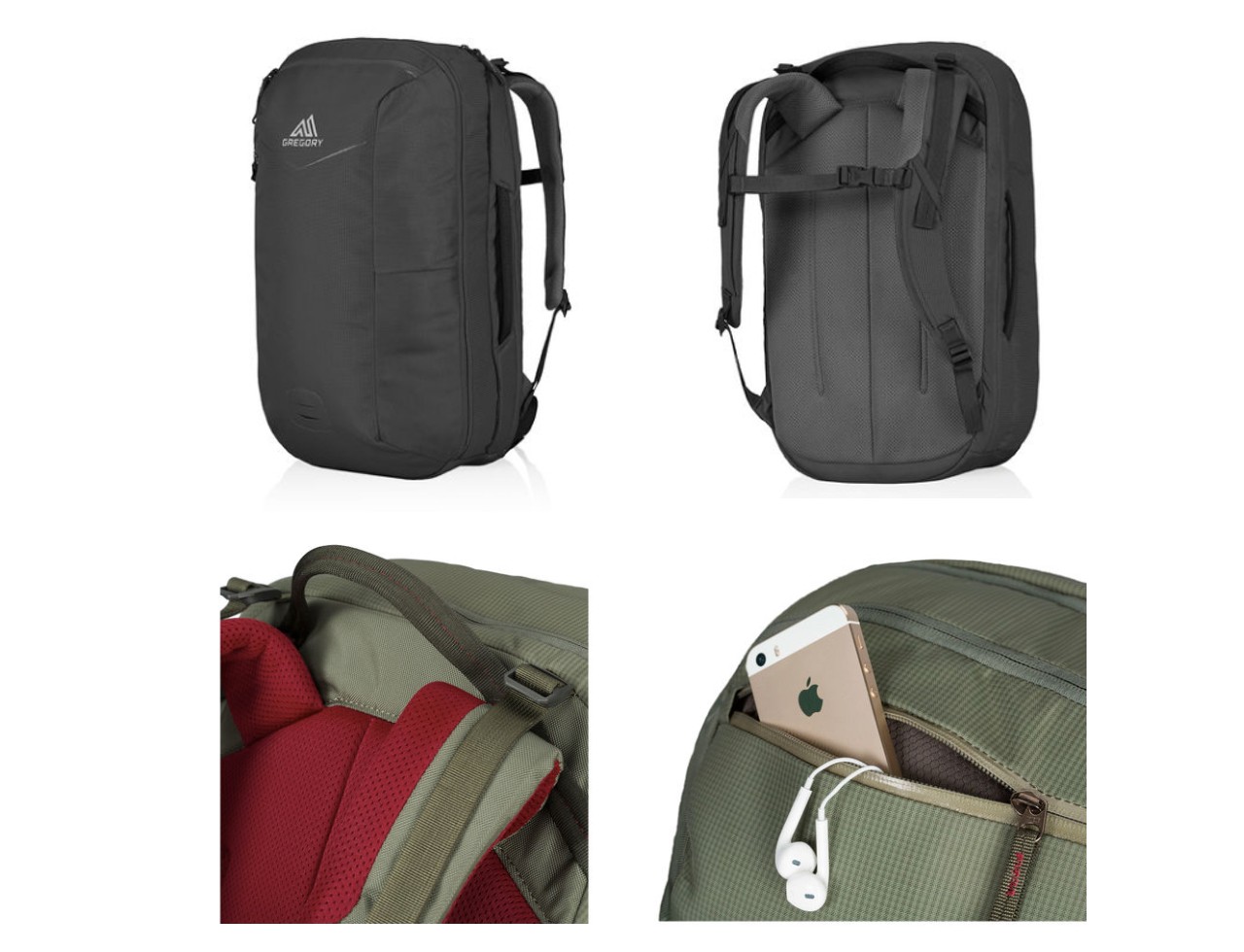 Option 3: Convertible shoulder bags
These options transform from backpack to shoulder bag, so you can carry it whichever way you want.
8) Tom Bihn Aeronaut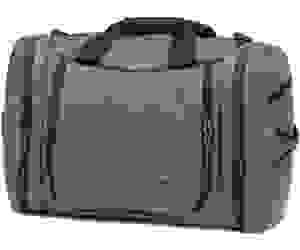 Tom Bihn is known for exceptional attention to detail, tiny little organizational perks, and super tough materials. They tend to win over fans for life, and that's how long their bags seem to last, too. Many of them end up collecting the whole set.
They also provide far more compartmentalization than most other options; instead of one big compartment and a few extra pockets on the outside that are really just flat slots, they tend to have multiple three-dimensional areas, for splitting up large items, and not just little ones.
Pictured is the Aeronaut, a convertible duffel bag with disappearing backpack straps that zip away when you don't want to use them, along with an optional waist strap, and an optional shoulder strap for shoulder bag mode. The main compartment opens up with a U-shaped panel, allowing for far more convenient loading and unloading than a typical straight-zipper duffel would allow, and the spacious side compartments on either end allow for plenty of organizational access, even for large items, without having to open the main section. The 45 liter version is a full-size pack, but it comes in a 30 liter version as well, for those strict European carriers.
Though it has plenty of compartments, it doesn't have anywhere specifically intended for a laptop or a water bottle, though you could easily find homes for these somewhere in the setup. Also, keep in mind that the optional hip belt is just a strap, so it's better for shorter walks. I tend to think of this design primarily as a duffel bag, with the option of backpack straps if necessary, but with the minimal hip belt and non-meshy back panel (which is just the regular exterior fabric of the rest of the bag), I'd try to avoid all-day use while in backpack mode with this one.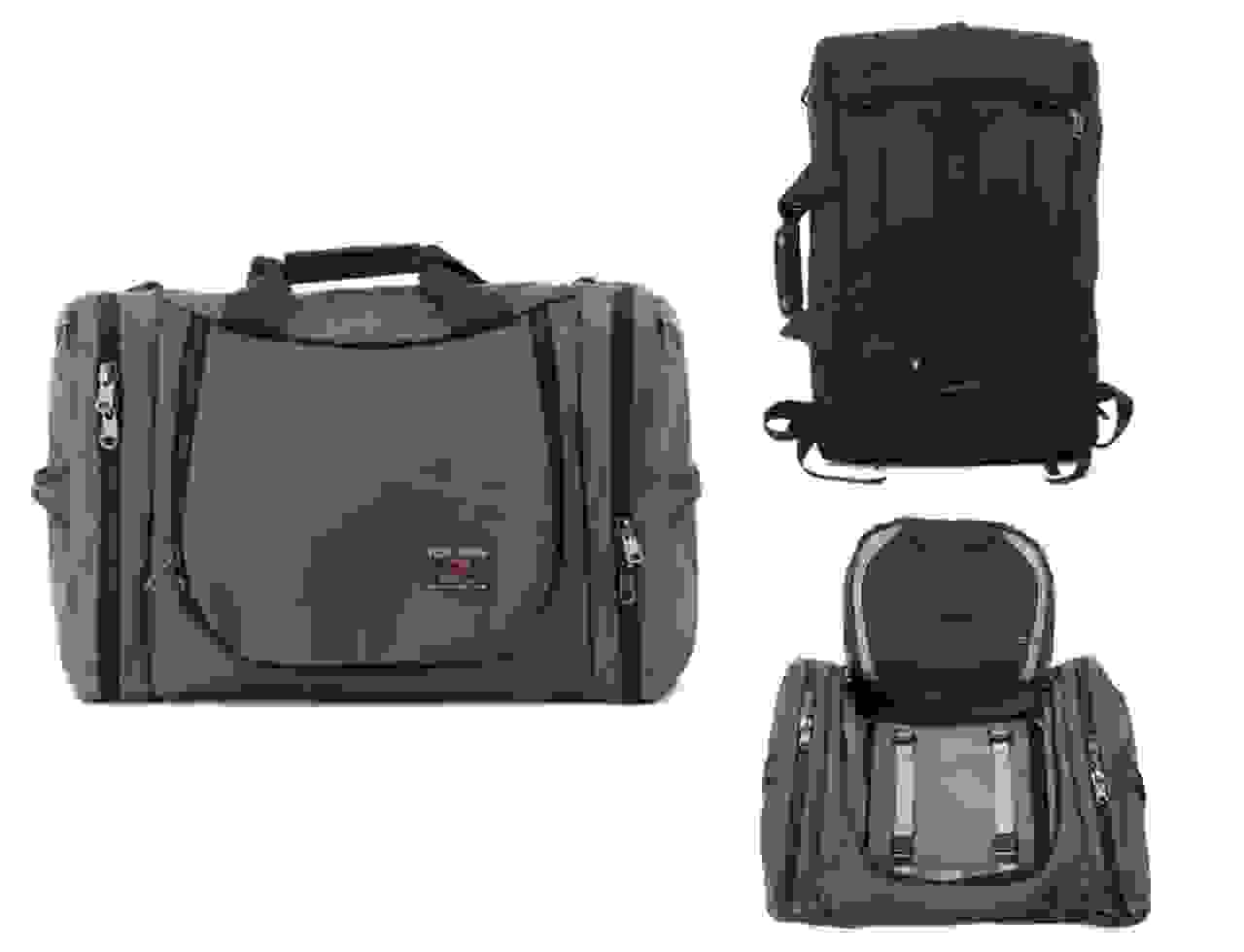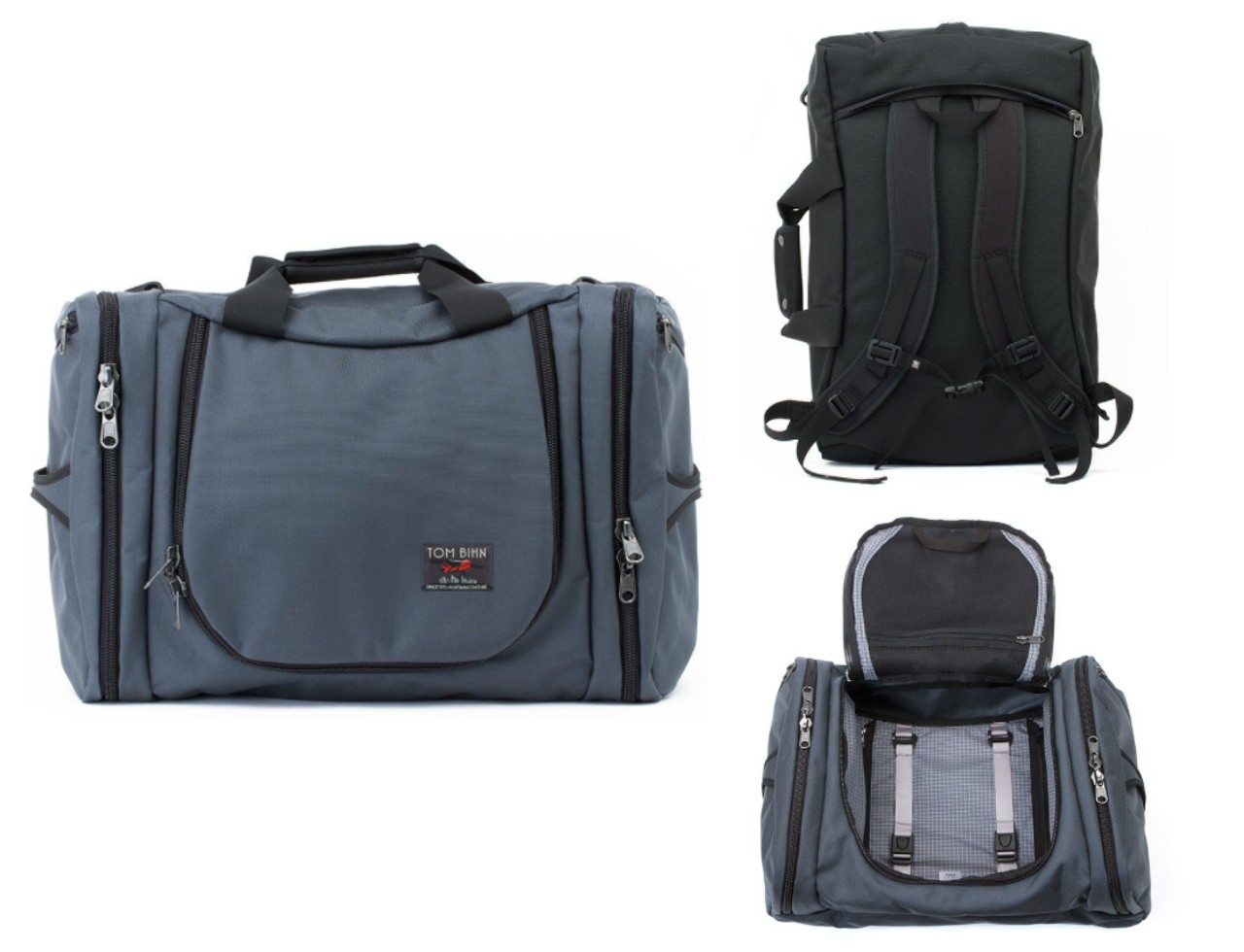 Get it here.
Update: I got a chance to test the smaller version of this bag (30 liters), but the features are identical, so if you want to see a ridiculously detailed review, take a look here.
9) Patagonia MLC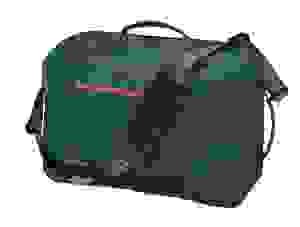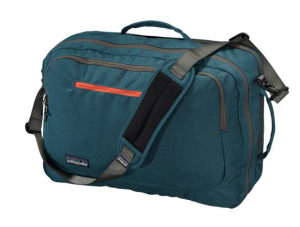 The MLC stands for "Maximum Legal Carry-on," and thus it'll give you plenty of room. It opens up all the way like a suitcase, but splits the cargo in two, storing some of it in the "door." This keeps things more organized than a standard compartment, especially for dividing clean laundry from used clothing. Exterior compartments round out the organization as well.
It has carrying handles, a shoulder strap, and backpack straps, a laptop compartment, and Patagonia's ironclad guarantee. It's a solidly built carry-on that'll last you for years. I will say that because it's primarily designed as a shoulder bag, without a mesh back panel and no hip belt, that it's better to think of this as a shoulder bag than a backpack. You might be fine carrying it through an airport for a little while, but you probably wouldn't want to go on any long walks or hikes with it. It does have a sternum strap, so that helps, but I wouldn't think of it as a dedicated backpack.
This model is known as the "Headway," although they have another version known as the "Black Hole" MLC, with a super weather-resistant fabric.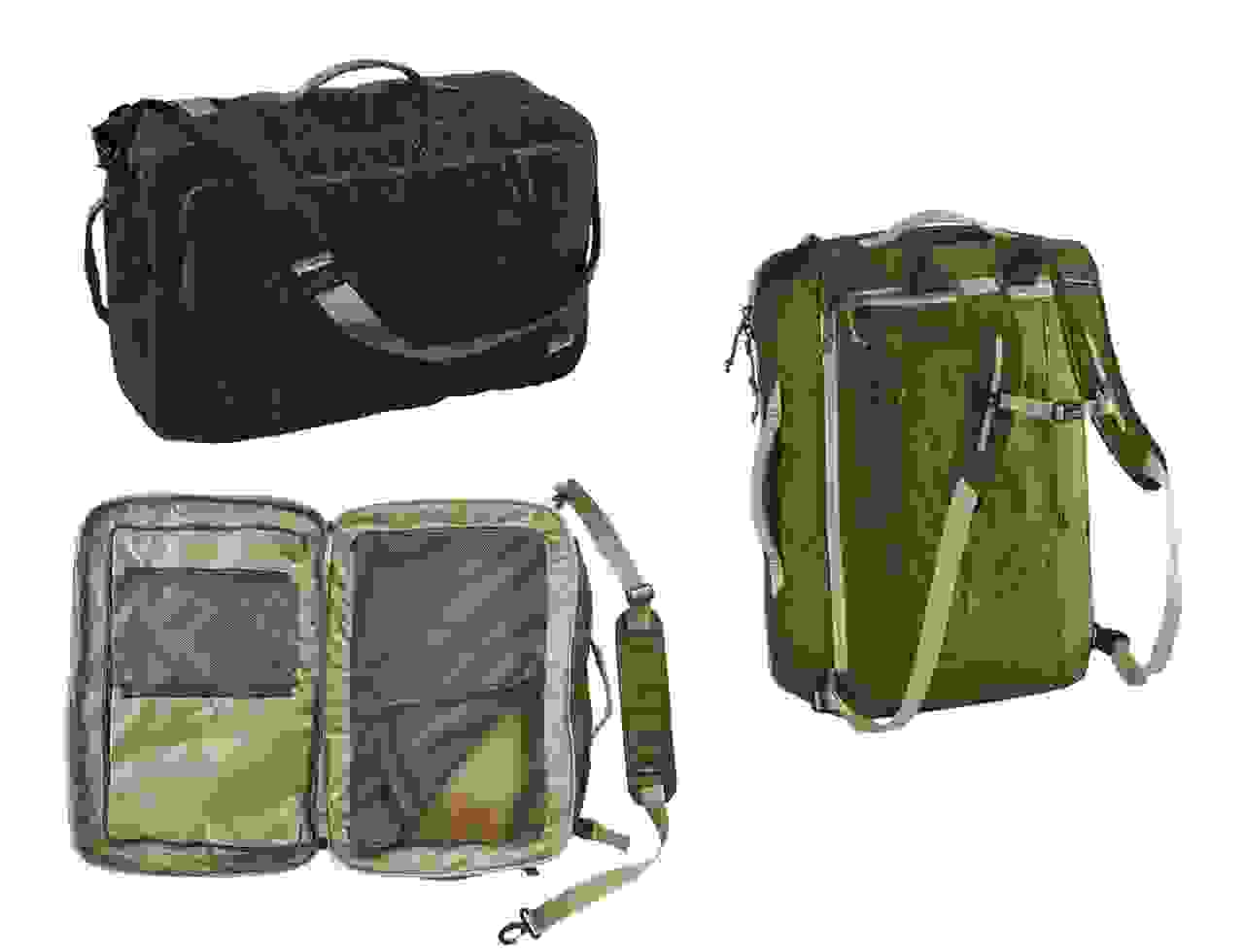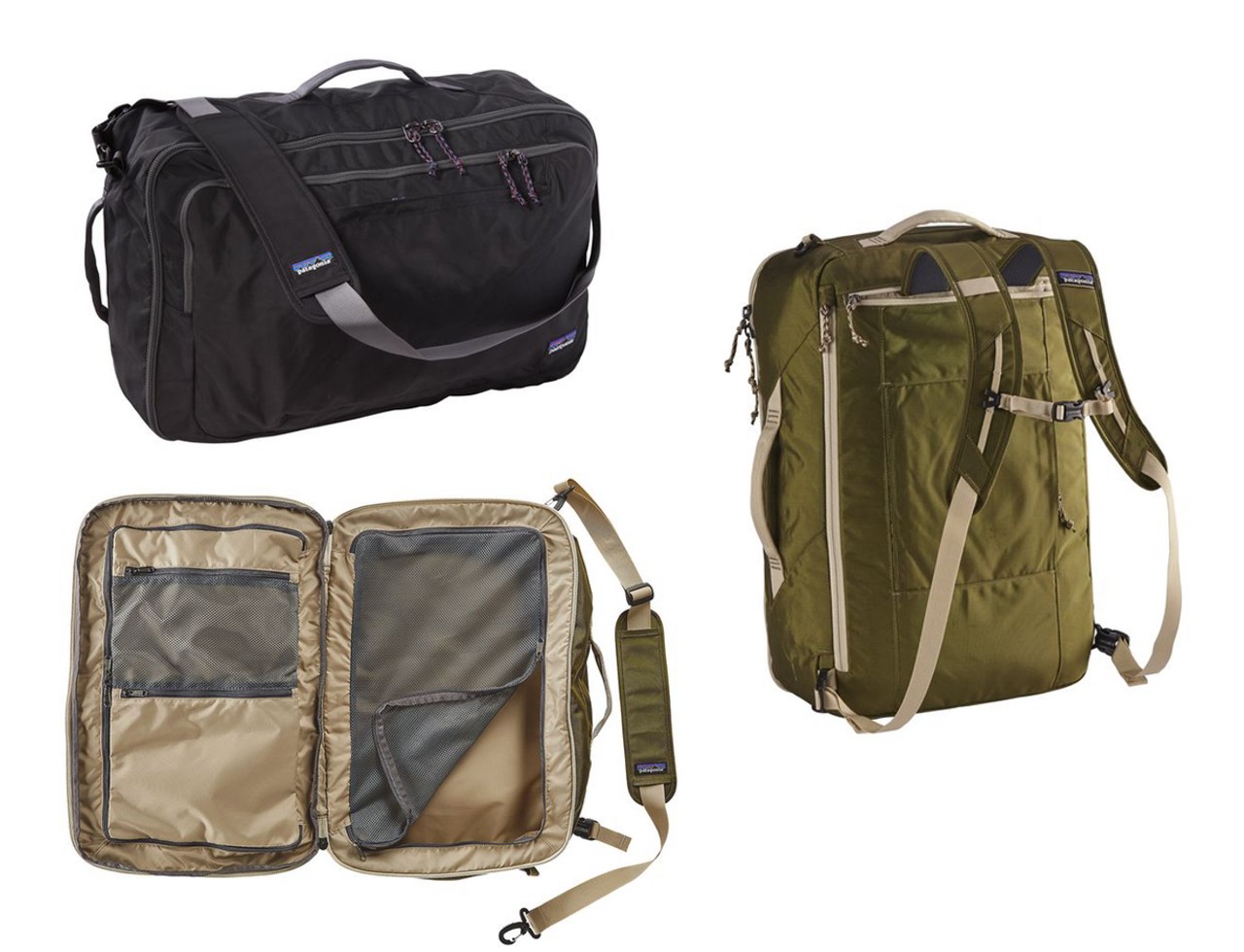 Pick it up here.
Option 4: From the outdoor world
These last few options are from outdoorsy companies, whose travel-specific options are also pretty solid.
10) REI Ruckpack 40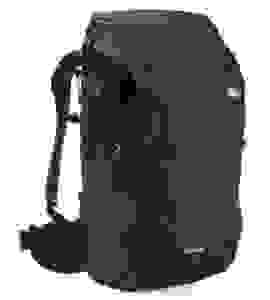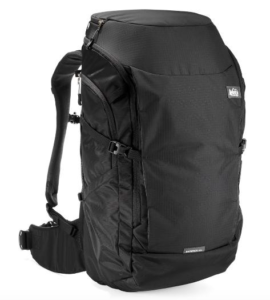 REI has had a place on this list for quite some time, although they've changed things up with new models every so often; the current incarnation of their travel pack is the Ruckpack 40, available in both men's and women's versions.
The Ruckpack is geared a bit more toward the outdoorsy crowd than digital nomads, with super-tough straps and a giant hip belt, but no laptop compartment. There's a hydration bladder sleeve that could double as a laptop sleeve, but you'll need to bring your own cushioned sleeve if you want protection. That'll work, but it's definitely more outdoorsy than tech-oriented, especially since it throws in a rain cover.
Still, it's (nearly) a full-size pack, with a serious suspension system, which is easily its best feature, especially compared to some of the other minimal packs that are more for airline transportation than long hikes. It also has easy access from both the top and the fully-opening front panel (integrated together with a single zipper), and plenty of exterior organization, including small pockets for lots of small items. Those outer pockets do have a compression strap over them, which is a little odd, since it limits accessibility, but it's a minor safety feature as well, since it's just a bit more fiddly to deal with than just a zipper.
It's just a bit too tall to be a carry-on, but the good news is that the top pocket squishes flat, so that'll bring you into compliance with strict airline requirements, as opposed to some of the other, more rigid designs that don't allow this. And if you do check the bag, the straps tuck away.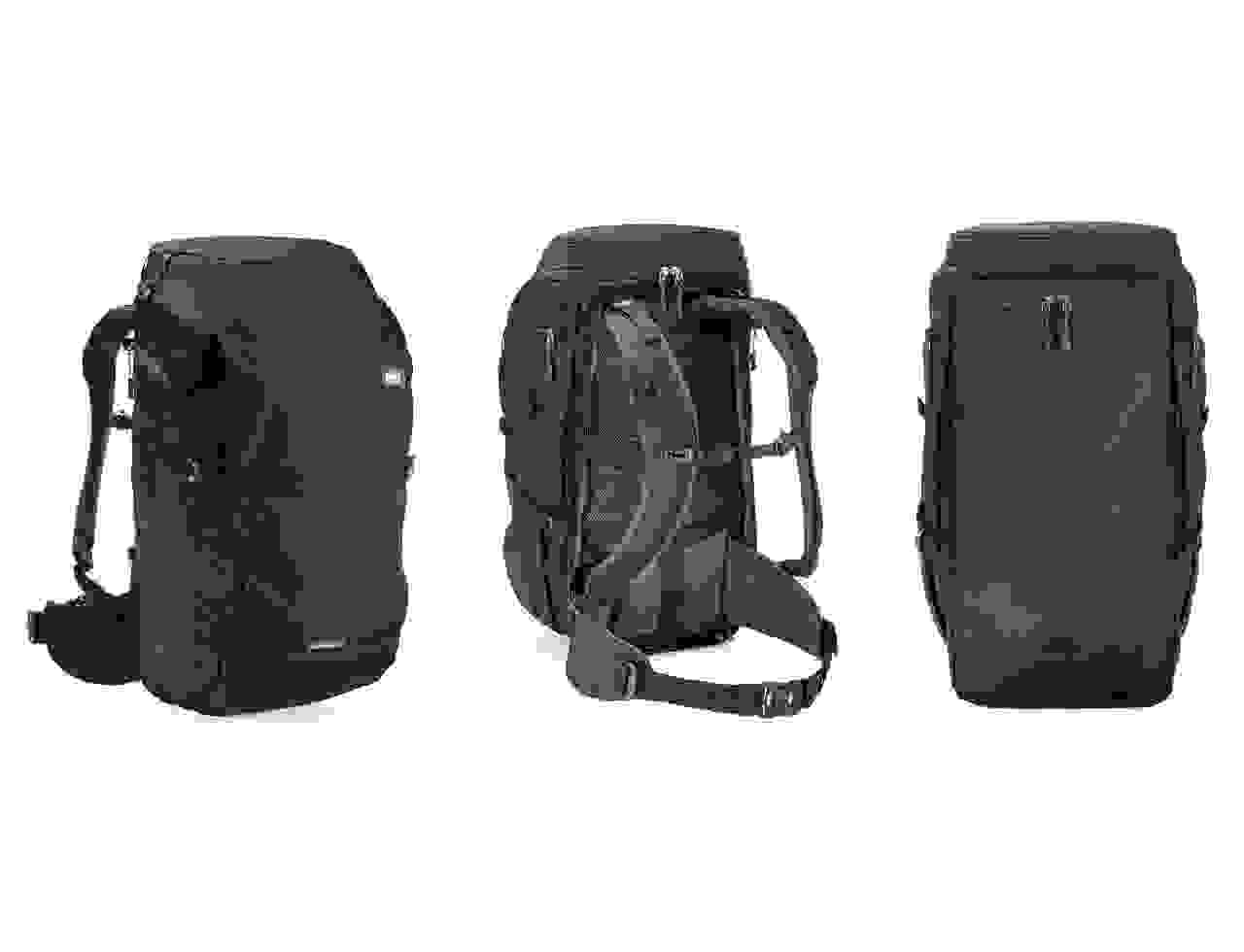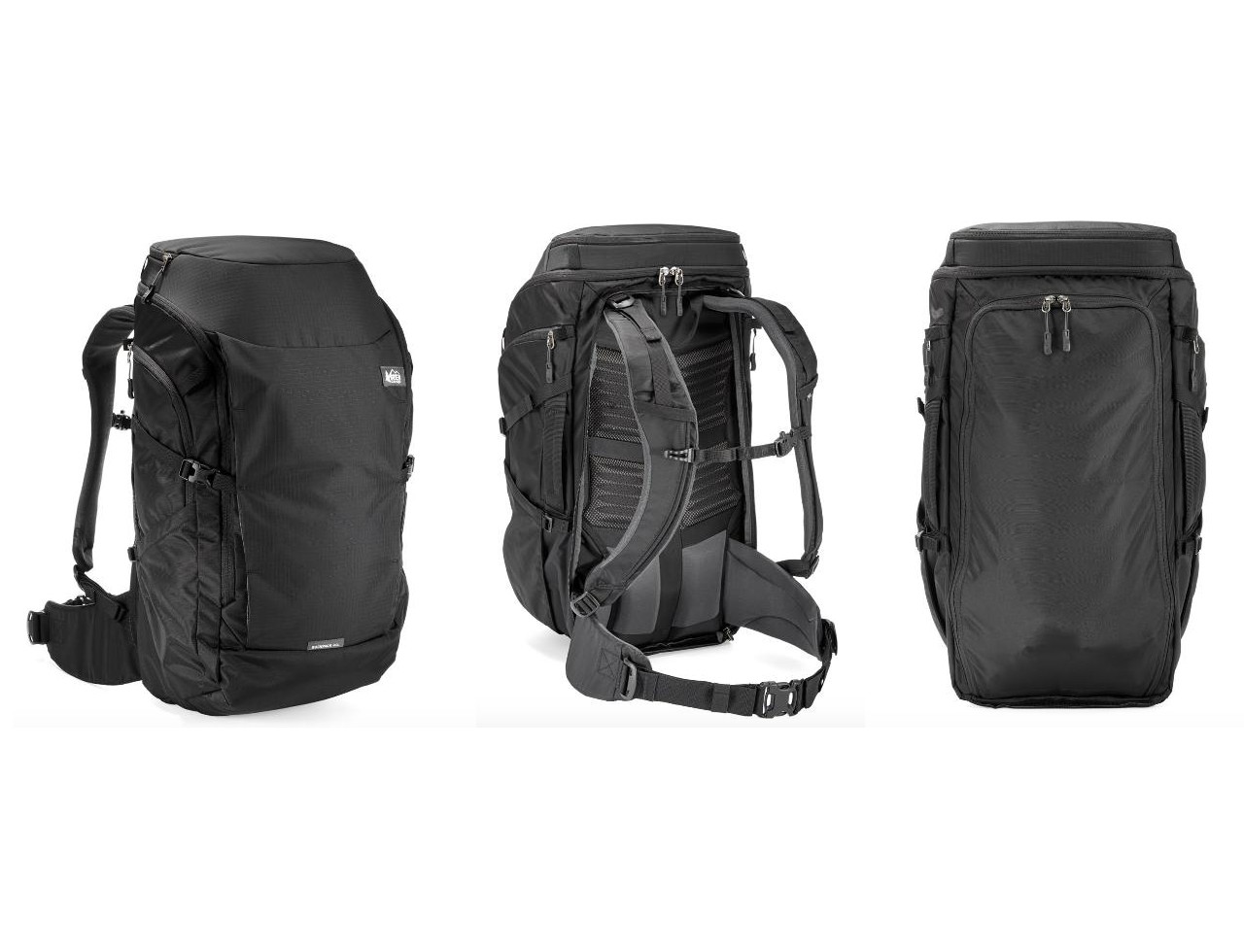 Get it here.
That's the men's version, but don't forget there's a women's version there, too (and for a much lighter but otherwise similar pack, check out their Trail 40).
11) Osprey Farpoint 40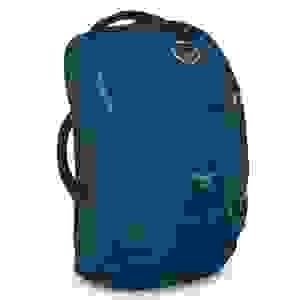 So I've decided to add this to the list, as it's a popular pack with a great reputation, and it's definitely worth checking out. It's just that it does a few things that annoy the hell out of me, as is the case with all Osprey packs, but I'll get to that in a minute.
First, the good: It's a carry-on sized backpack with a full-length panel loading design, a dedicated laptop compartment, and hide-away shoulder straps. And those are good shoulder straps, and the waist belt is great, too. They really didn't skimp on this feature, and it's also available in two different torso length sizes, so it's definitely going to be comfortable. And by the way, it's probably going to be significantly more comfortable than the Osprey Porter 46, which is incredibly similar, but comes in just one size, and with daintier straps. I like how it has an organizer panel on the front, and its compression straps flatten things down by closing its semi-rigid sidewalls, which is a clever way to handle things.
And now, the bad: Osprey never ceases to amaze me with their insistence on using non-stretchy mesh water bottle pockets, with compression straps that go right over the pockets to make them a million times harder to use. I really don't get it. I also find it to be something of a nuisance how the compression straps block access to the main zippered compartment, meaning it'll be kind of a hassle getting into and out of the bag. The Farpoint has small external pockets, but the big ones are stuck behind the straps, in a way that annoys me a little more than some of the other packs listed here.
Still, it'll definitely work, and its hiking pack pedigree means it'll be a comfortable pack to carry. Another odd, but workable feature is how it carries the laptop on the side farthest from your back. I initially didn't appreciate this feature, but as laptops become smaller and lighter, the weight distribution is less of an issue, and it protects it from getting squished between your back and the rest of the load.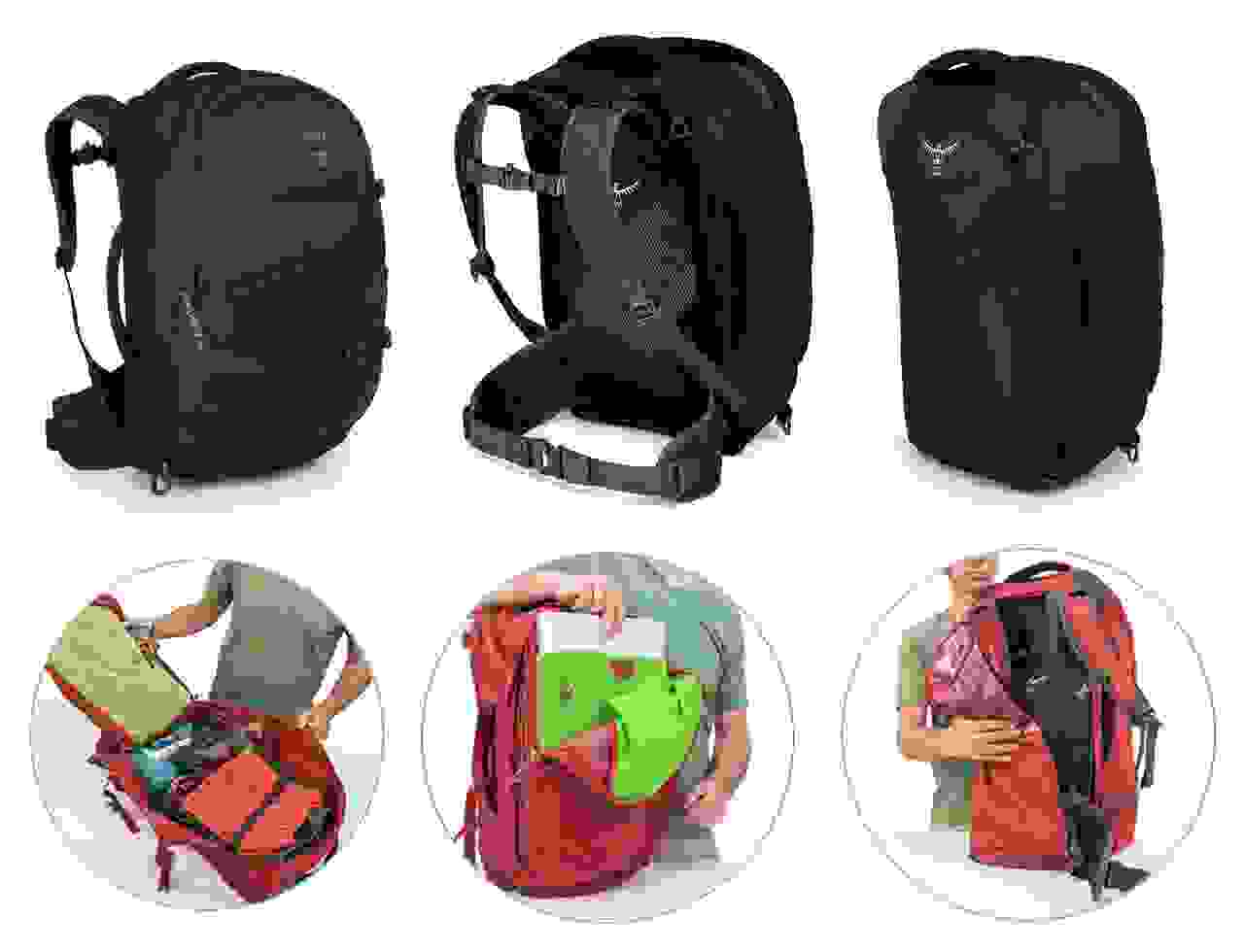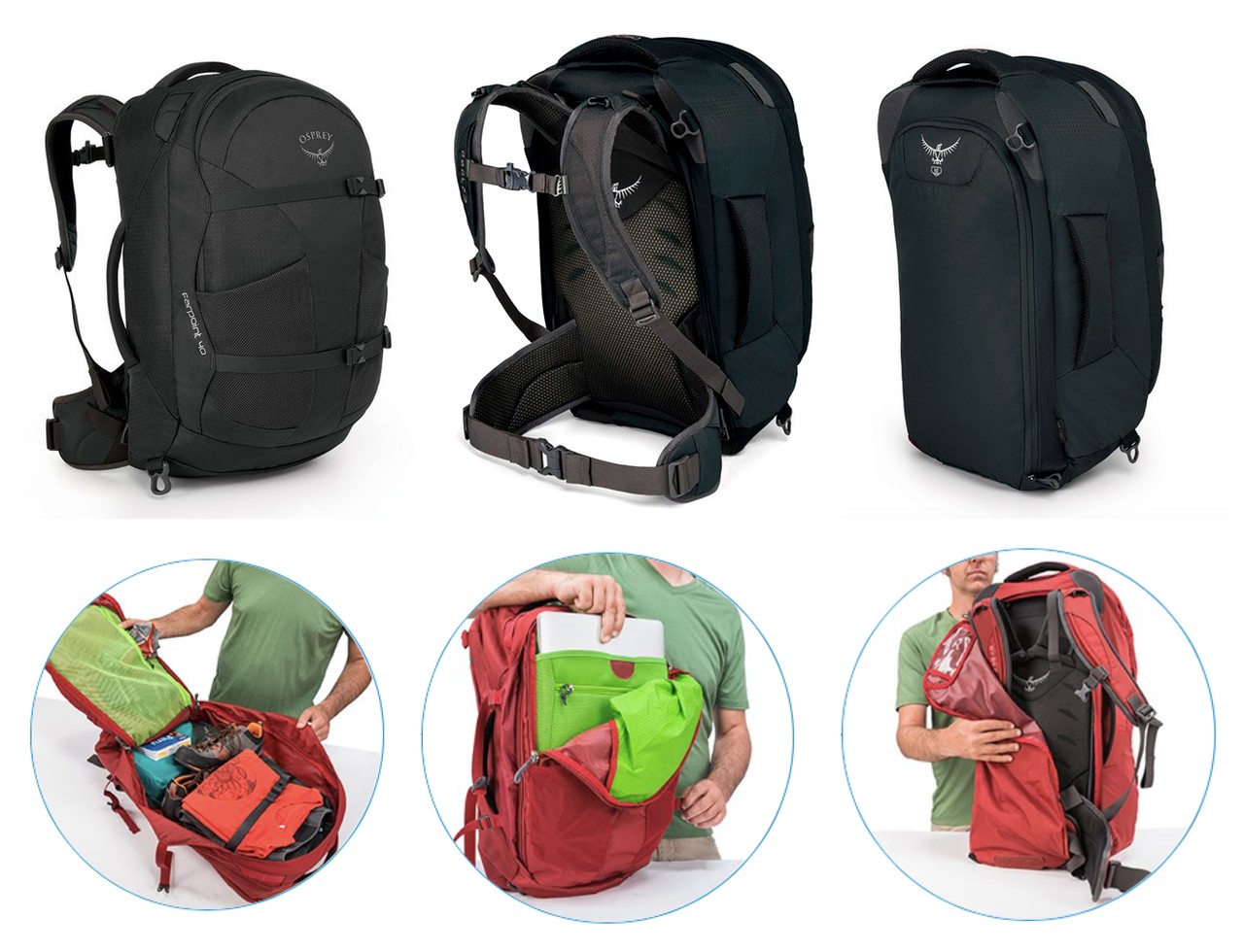 Get it here.
(You'll notice the larger versions have a detachable day pack, but not the 40 liter version)
So what makes a good travel pack?
You'll notice that these packs generally have a number of features in common, some of which I mentioned as necessities, and some of which are easier to see once you line them all up in a row. These are the features of a good carry on backpack ideally suited for travel:
Carry-on size: 45 liters is plenty for lifelong, indefinite travel all over the world. I did it in 20. You can do it in 45. And if you still want the "extra" pack for quick day trips, consider a compressible one. By the way, keep in mind that certain regional European carriers have stricter limits; 35 liters will likely be fine for them.
Hide-away straps: But if you do want to check a bag, you certainly can. The straps tuck away so they can't get snagged or damaged, which is also useful for stuffing them into overhead bins or under a seat.

Multiple carrying options: You'll notice each of these packs has at least two handles, always in the same place; the top, and the side. This allows you to carry it like a briefcase, or pull it out of an overhead bin. Plus, the aforementioned backpack straps and occasional messenger bag straps let you carry them however you feel like it.
Internal compression straps: You pack the bag while it's flat, then turn it upright. The compression straps keep everything stuck the way you packed it.
Minimal external compression straps: No dangly silliness to get stuck on whatever. They're useful, sure, but dammit, why don't the hiking companies have the dangly end hang on to something so it doesn't dangle?
Laptop compartment: Our lives exist in the digital ether. I'll tell people to skip the laptop if they're not going to use it, but digital nomads need it, and most people will want one anyway.
Locking zippers: It's just that easy to keep your bag protected. Other bags have steel mesh reinforcements throughout the bag, but…the cost/benefit ratio isn't so ideal. Locking zippers are easy, and hugely helpful (though I've recently seen techniques to bypass the lock, so I've softened on this as a requirement).
Flat packing: The whole thing lies down so you can pack it like a suitcase. This is incredibly useful. I don't know why it's so rare in the hiking world.

Potential areas for improvement
I do, however, have some problems with certain aspects of carry on backpack designs. Now remember, I'm a nitpicky bastard that can never be satisfied, but dammit, it's because I'm right. But keep in mind these are issues worth thinking about, rather than deal-breaking problems.
Minimal hip straps: Transferring the load to your hips makes a huge difference. It's the difference between "I need a massage" and "let's go party." For large, muscular specimens of masculinity, this is probably not such a big deal. It's also easy to manage if you go straight from the bus station to the hostel, but I've often found myself wandering around town with my pack, and it'll probably happen to you sooner or later as well. It would be nice to see detachable hip straps as an add-on option, though as mentioned, a few of the above options (Tortuga and REI Vagabond) have more serious hip straps than the others, and a simple strap can go a long way in improving the comfort of smaller gear setups.

Minimal ventilation: This is another problem that arises from longer walks. If it's winter or you don't sweat much or you're going straight to the hostel, good for you. If you plan on walking around for an hour, it's going to be an issue. I'd normally say the trampoline-style back panel is great, but it's tough to recommend it for the problems these packs are trying to solve. These packs are supposed to go through luggage checks with no problems, and the trampoline back would need to be protected in order to accommodate that. However, a raised lumbar pad and raised shoulder blade pads would go a long way in diminishing the ventilation problem, without sticking out too much.
"Water bottle pockets" that don't fit a water bottle: I'll start by pointing out that most of the options above are fine in regards to this problem, but I will never stop complaining about inadequate water bottle pockets, because goddammit where the hell do they go?!?!
But again, these are just potential problems. The hip strap issue is likely the most objectively serious, and it's definitely something to think about if you expect to be walking far and wide on your worldly adventures.
But, all in all, I like these designs. I also like the existence of these designs. I expect carry-on, hybrid packs like these to become increasingly popular, because they're so efficiently designed to accommodate the needs of lightweight travelers who still need backpack straps, and once you get one…you'll never need anything else.