Big news, in the world of travel gear obsessives: Tortuga has updated their flagship product, and they've been such a mainstay in the world of travel backpacks for the last few years that it's basically like Apple removing the headphone jack. Or…doing anything, really.
Newly renamed the Outbreaker Backpack, the design doubles down on the backpack features first and foremost, eliminating anything that might get in the way. This means it's not a backpack/suitcase hybrid like some of the other options out there, instead focusing on doing one job well, and that's to be a comfortable, durable, adjustable, well-organized, highly efficient travel backpack that'll tag along with you for the next several decades of your life.
I've been looking forward to seeing what they come up with for a while, and they recently sent me a test sample, which I've been looking forward to discussing here. And considering it's a completely different product rather than just a minor update, it's going to be quite a lengthy discussion.
The Tortuga Outbreaker Backpack, in review
The Outbreaker is available in two different sizes; 35 liters, and 45 liters. I've got the 35 liter version, so that's what I'll be reviewing. The little one is a maximum-sized carry-on for most budget European carriers, while the big one is a maximum-sized carry-on for North American airlines. The design is pretty much the same, aside from the dimensions and weight, but I'll try to point out any differences I'm aware of as they come up.
Here's what it looks like: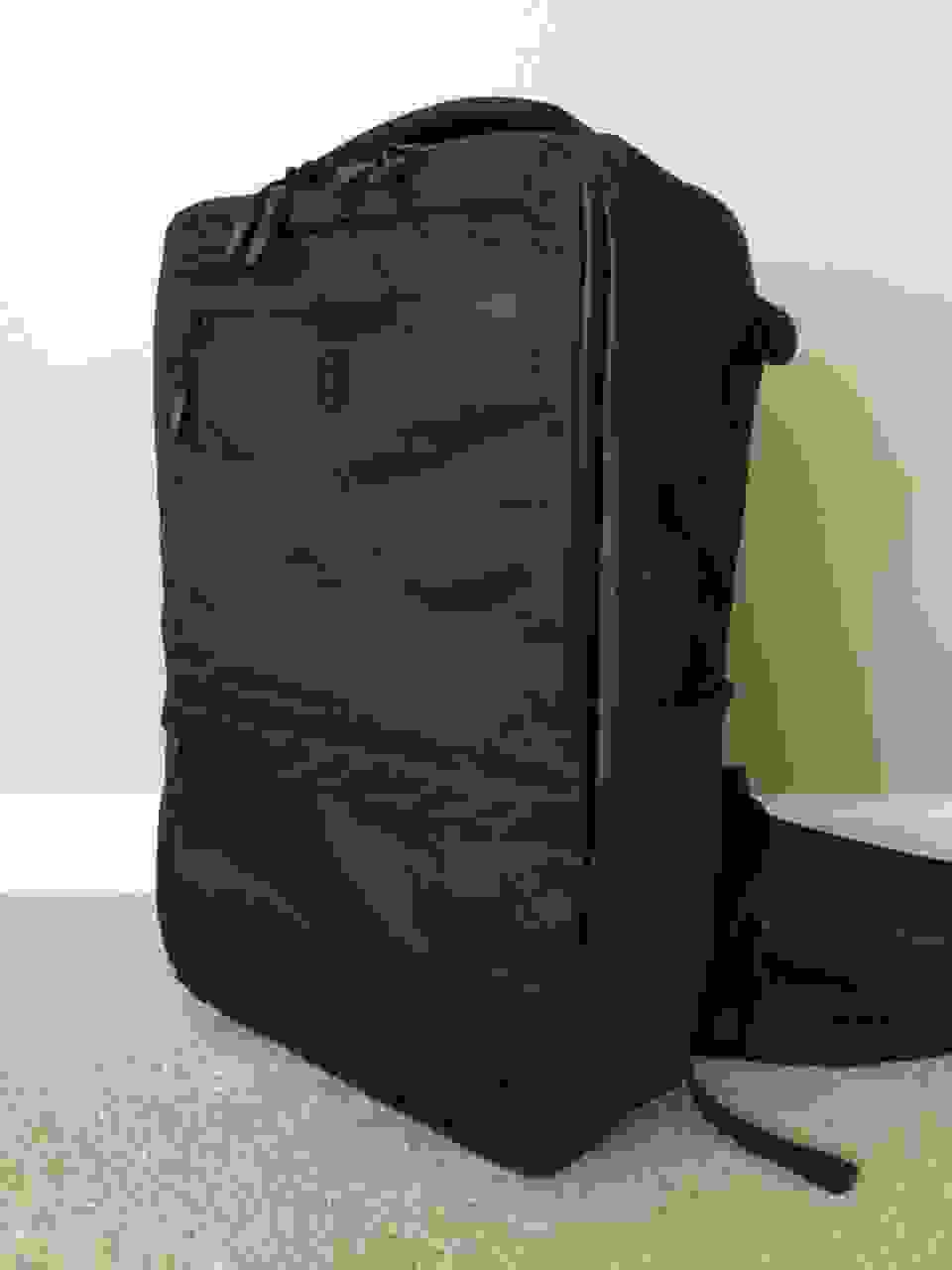 One of the major new features is the fabric, known as sailcloth, which is waterproof,  and extremely durable. The zippers are also highly water-resistant, so although the backpack itself isn't water-proof, it's going to hold up to rain a lot better than it would with regular fabric and zippers. It's usually the zippers that are the weak point anyway, so making them water resistant makes a big difference. You don't want to get too crazy with it, but if you get caught in the rain for a little while, it won't be a big deal.
Specifications
(For the 35 liter version)
Height: 20.5″
Width: 13″
Depth: 9″ (including 1″ of back panel cushioning)
Capacity: 35 liters
Weight: 4 lbs, 11 oz (with detachable hip belt; 9 oz less without)
Price: $224
The biggest thing to notice here is the weight. This might be the heaviest travel backpack I've seen (aside from the GoRuck GR2), and you can definitely feel it when you lift it. But what you get for that weight is a heavy-duty suspension system (which makes it not feel heavy), and a whole lot of pockets (which reduces the need for packing cubes). The more you make use of those two features, the more sense it'll make. So let's see what you get.
Strap system
The suspension system is quite substantial, with thick, meshy, padded shoulder and hip straps, and a thickly cushioned back panel. It's probably the most heavily cushioned travel backpack I've seen out there. It's also nice to see a real hip belt, which we'll get to in a moment.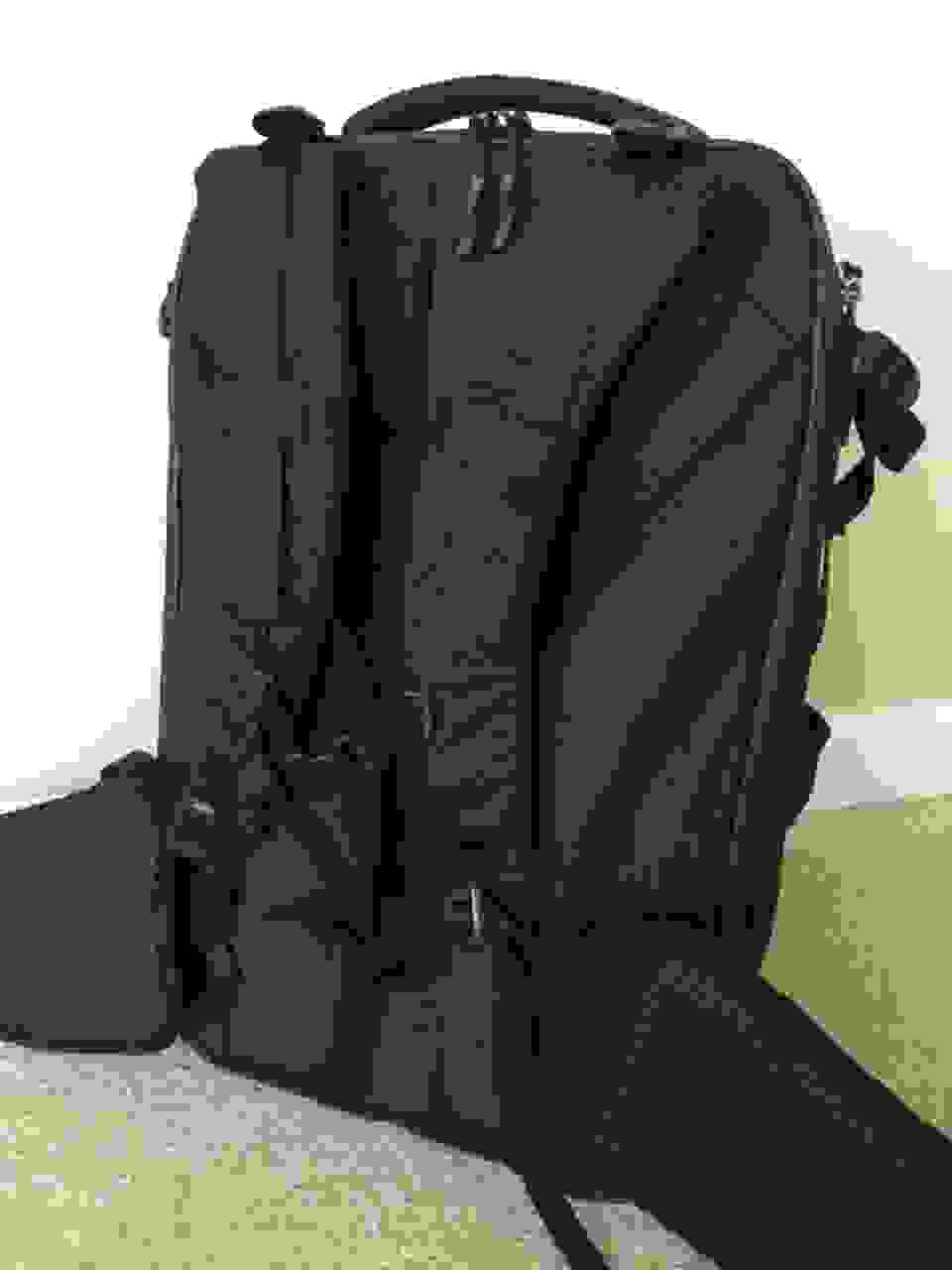 You can see how the back panel cushions are lofty enough that they provide air channels for some extra breathability, in addition to the fact that they're openly meshy. They're also thick enough that I couldn't feel any pressure points anywhere on the pack, even when fully loaded, which is great.
These are no longer stowaway straps, however, like they were with the previous version. If you have to check the bag, you can't hide them behind a protective cover. Cinching them down as tightly as they'll go tends to help a lot, and with the 35 liter version now available (they previously only had the 45 liter size), using it as a carry-on will be a lot easier, even on stricter airlines.
Another major feature of the pack is the height adjustment system, which allows you to adjust the torso height, so the same backpack can fit people of all different sizes: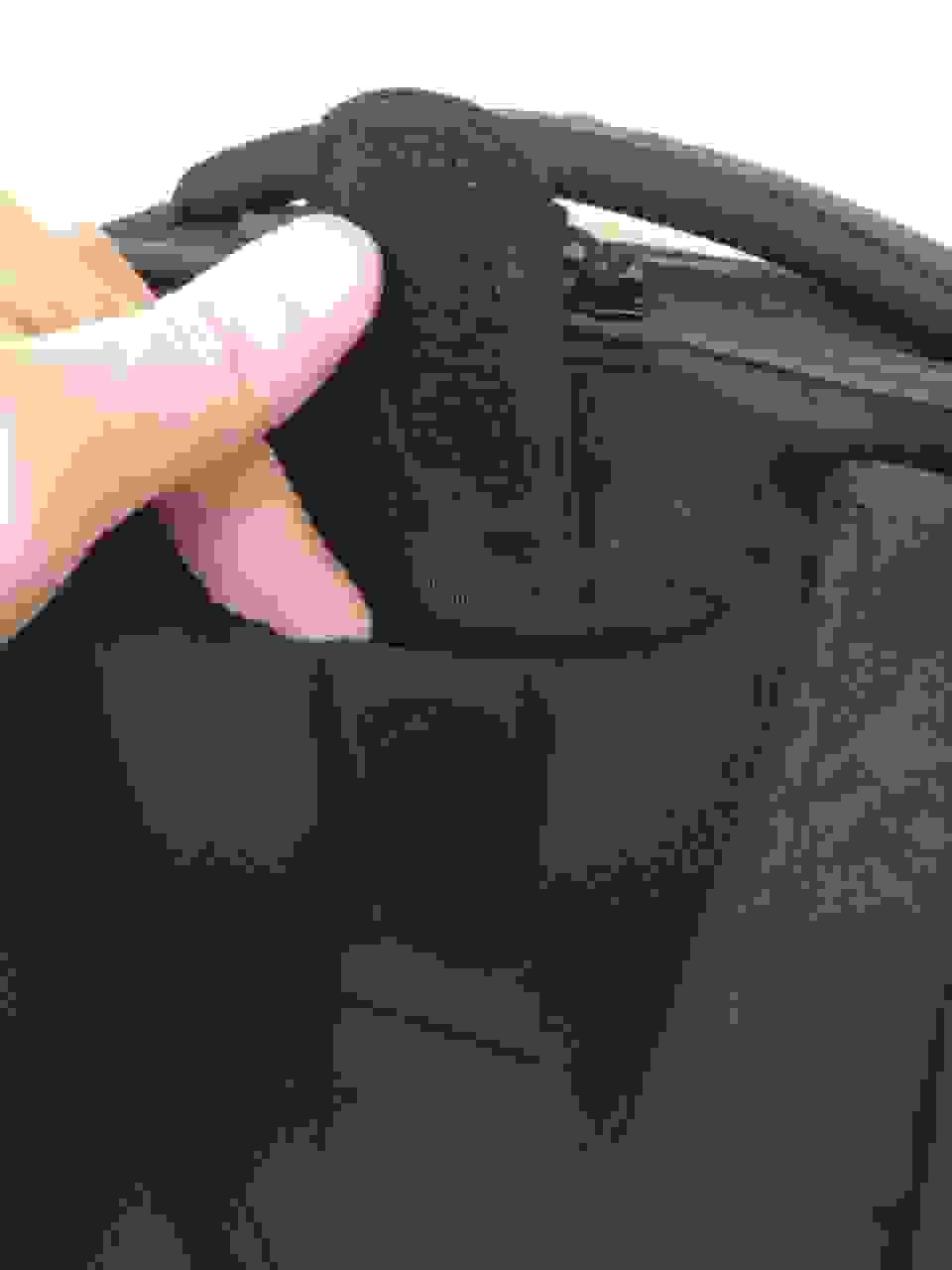 This is a feature commonly seen on hiking packs, but this is the first time I've seen it anywhere else. You just undo the velcro, slip that tongue through the horizontal bars at the height you want, and redo the velcro. Backpackers with smaller torsos will love this, especially since most of these backpacks tend to be designed for larger people (especially the ones without a hip belt), and tiny people like to travel too.
I did find something odd, though. The load lifter straps are attached to the shoulder straps at a point really close to the pack; this means they don't really pull the pack forward as much as I think they should.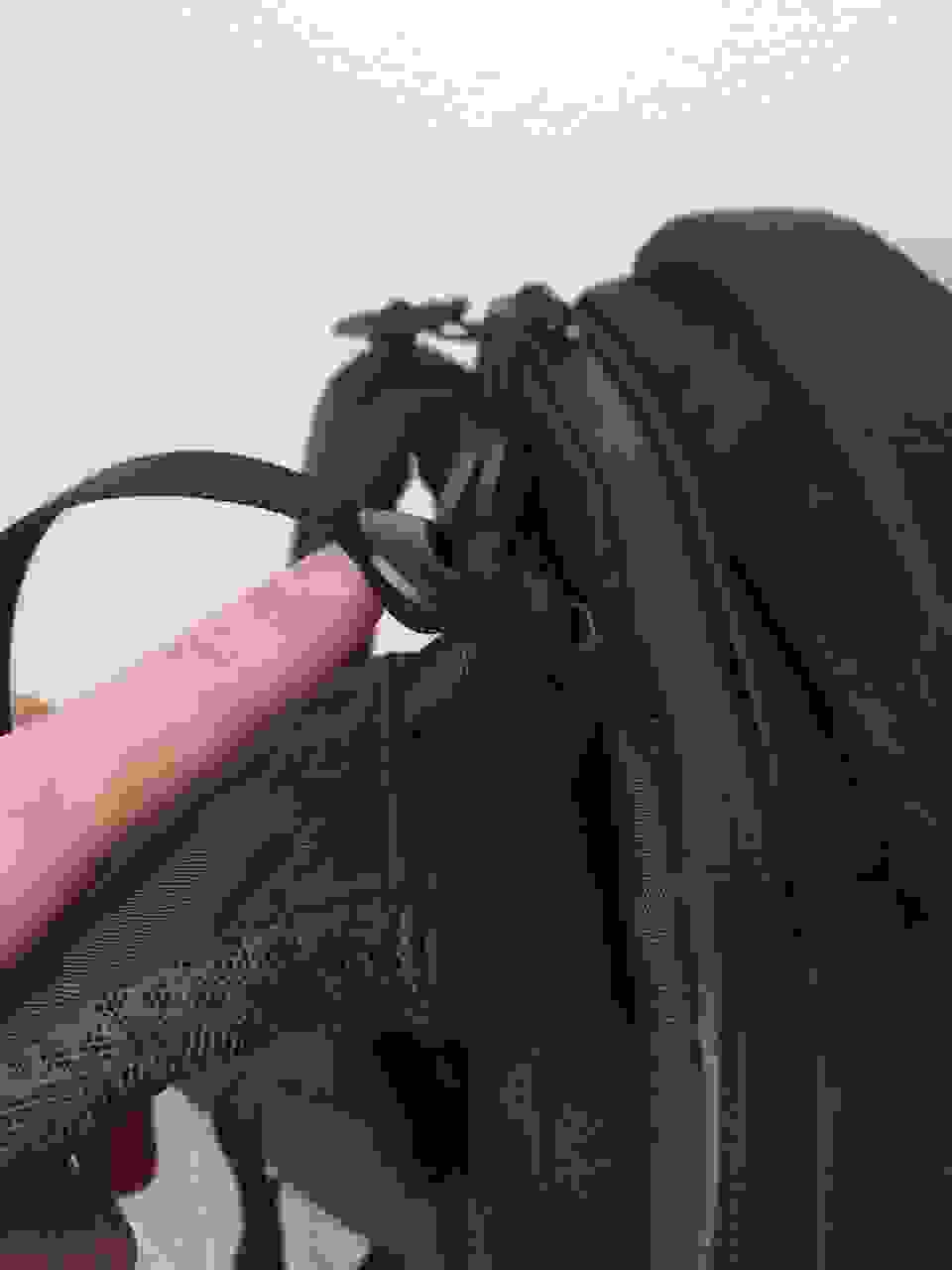 It's more apparent if you set the shoulder straps to the lowest setting on the height adjustment system, as in the following photo. Notice how the load lifter straps are mostly pulling the top of the pack down, rather than forward: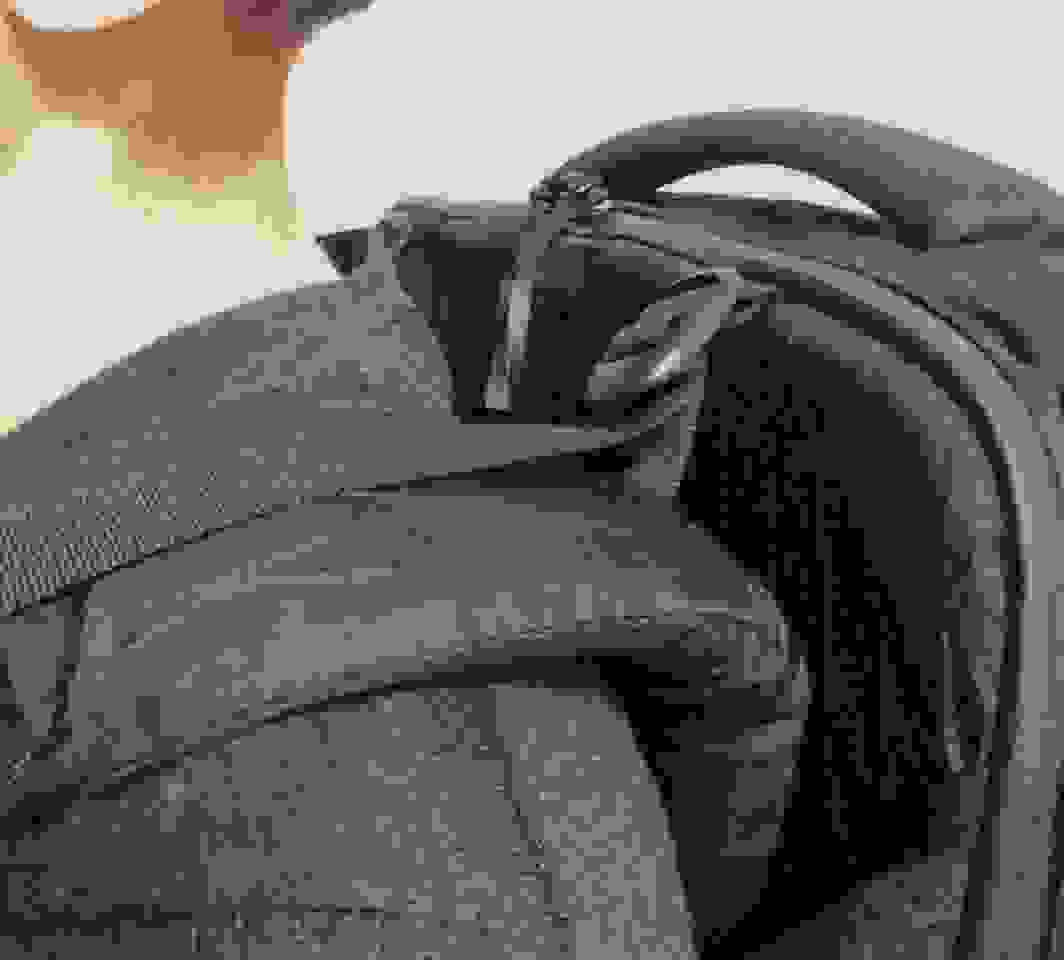 If you're planning on using the pack with the shoulder straps positioned up high on the height adjustment system, to fit larger torsos, this will be irrelevant. In fact if a backpack's shoulder straps emerge from the highest point of the pack, load lifter straps don't do anything, and shouldn't be there at all. But if you're on the smaller side, it would have been helpful if those straps attached a whole two or three inches forward on the shoulder strap, so you could tighten them to pull the top of the pack forward a bit. I hope they test a version with an update like that at some point, because it would be an easy mod.
Moving onto the hip belt, which is quite heavy-duty, especially on the 35 liter size: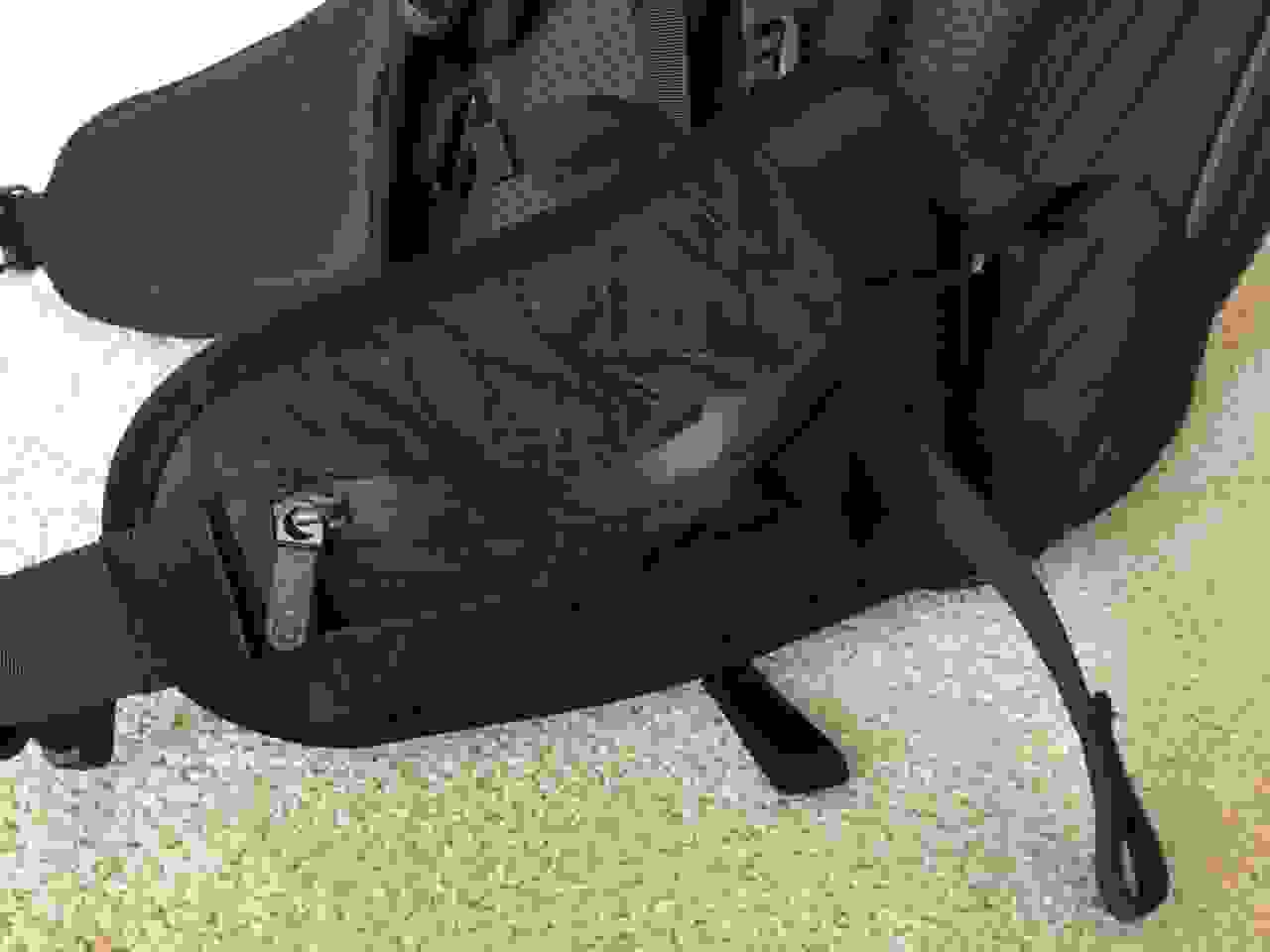 You can get a better sense of the size here, where you can also see how the hip belt attaches to the pack with a velcro strap (the one pointing to the right, not the one pointing down)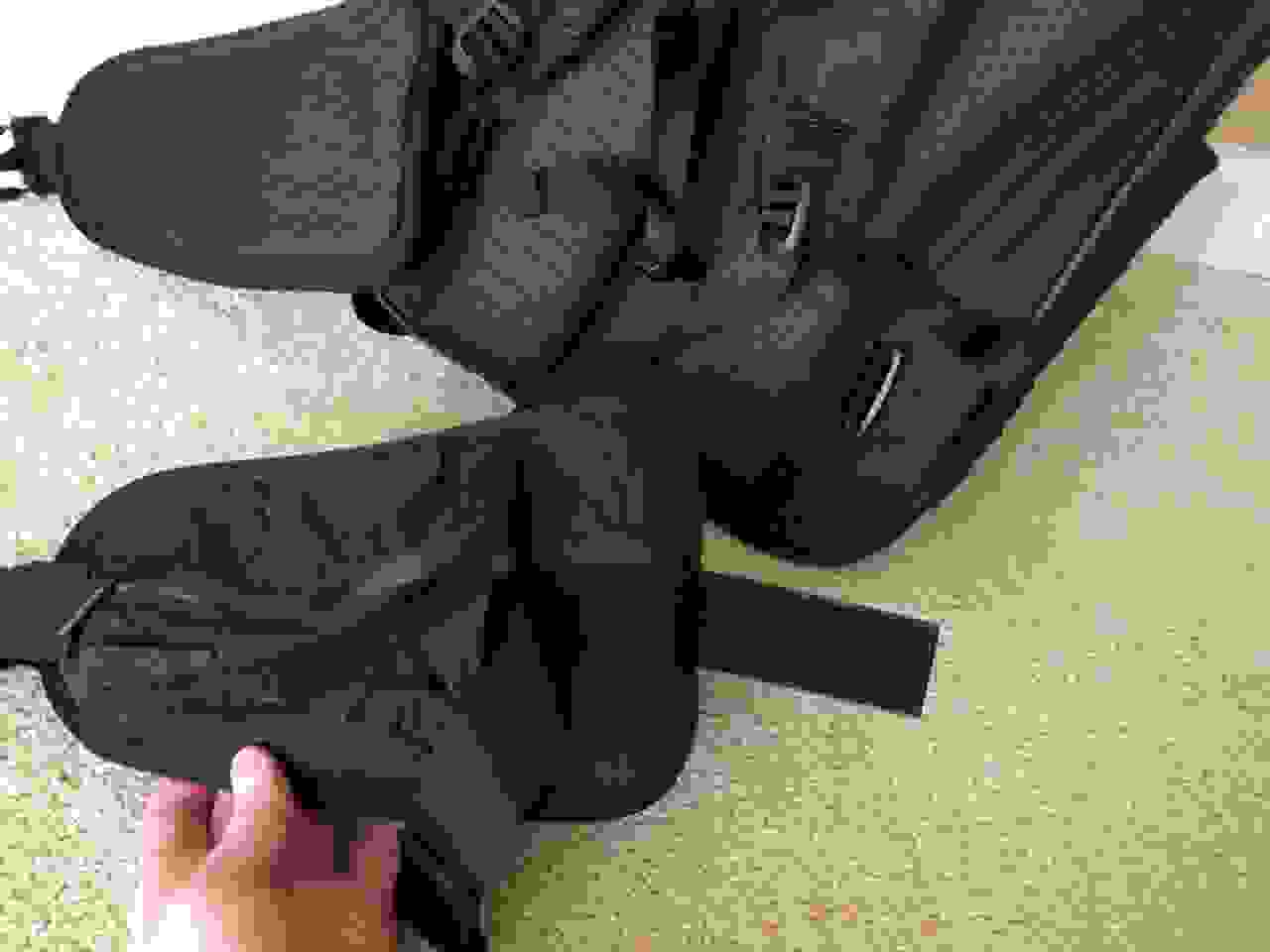 Part of the reason the cushions are so big is so the zippered pockets on each side are big enough to be useful. They're a pretty popular feature, but they wouldn't be if they were too small, so that's why the hip belt is so big.
External pockets
On either side there's a compression strap, and a mesh pocket: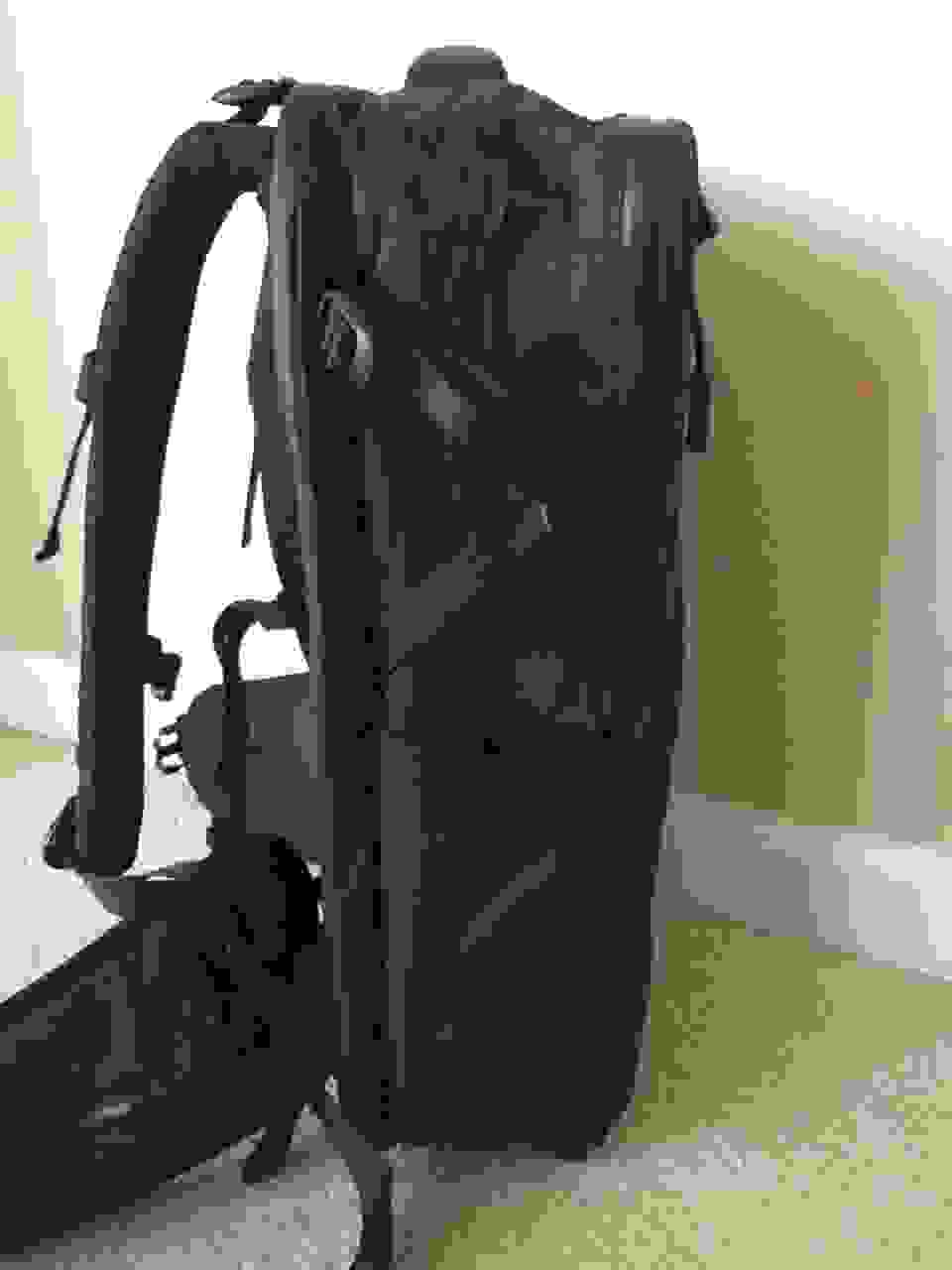 Those mesh pockets aren't super stretchy, so it was a tight fit getting a water bottle in there. It'll be easier on the 45 liter version, but I would have liked some folded fabric in the corners, and elastic along the top, to make them more expandable. They also got rid of the side carry handle, which I'm a little sad about, but it would have been a little crowded with a handle there too.
Oh, and notice how the compression strap does not go over the damn side pocket, meaning you can still use the side pocket?!!? HINT HINT, OSPREY. HINT. HINT.
(And yes, I know that placing the compression strap significantly higher than the side pocket means it won't compress the lower part of the pack, but you know what? You could just put extra compression straps along the bottom of the pack, so NEVER PUT THE DAMN COMPRESSION STRAP OVER THE SIDE POCKETS. ARGH!)
Ahem! Moving on. Here's the front, where you've got two zippered pockets for easy access to small items: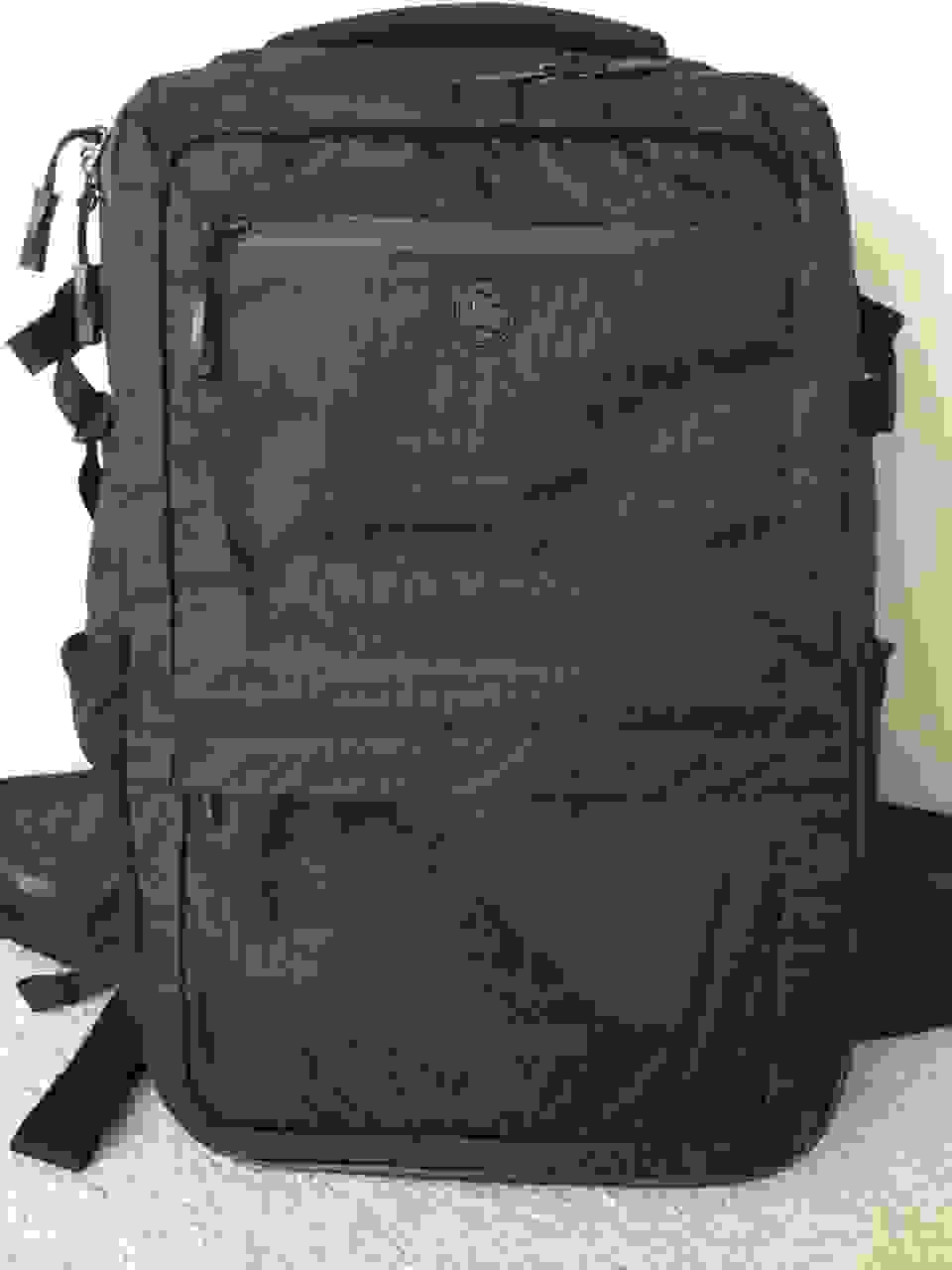 I think the flap over the lower pocket could have been removed. The zippers are all water-resistant anyway, so that flap just makes it harder to get in and out of that pocket. In fact it's nearly impossible to use that lower pocket when the pack is loaded up all the way, whereas the top one is still effortless. Maybe it was an aesthetic choice, but I think it would have been fine the other way.
Laptop and tech compartment
Here's the laptop compartment, which you can access from the top, while the pack is upright: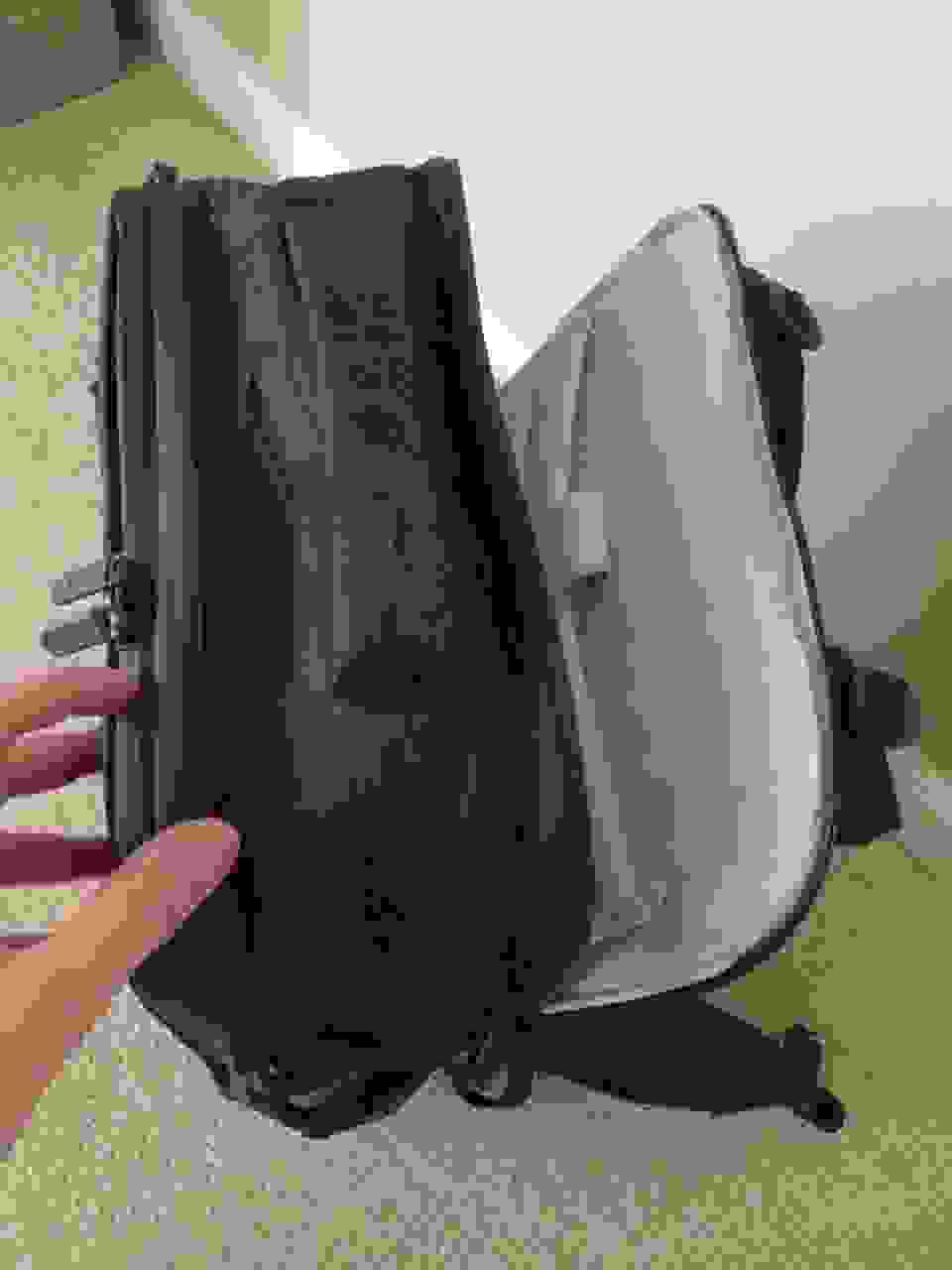 You can also open it all the way up, like this: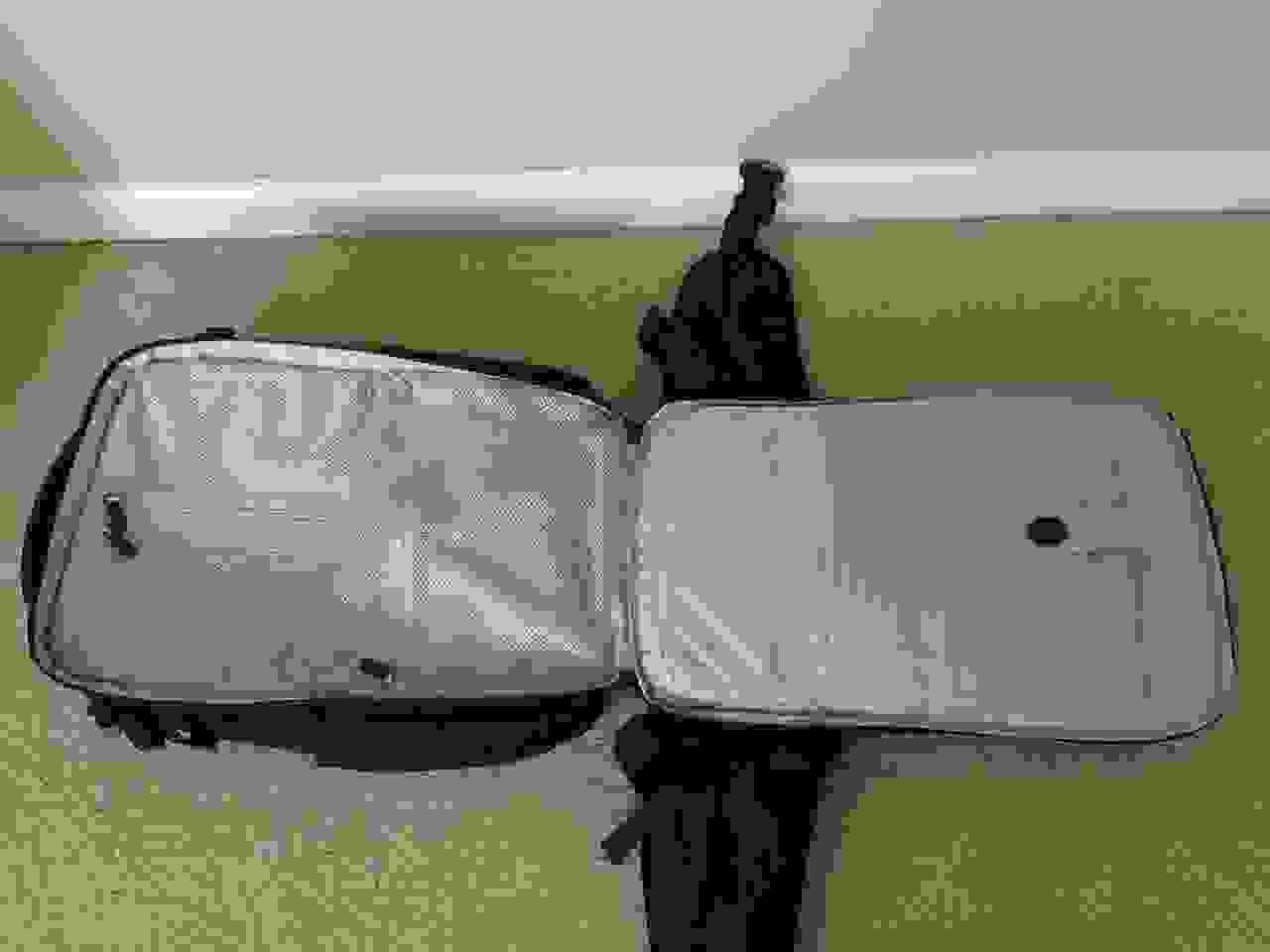 This allows you to go through airport security without removing your laptop, since you're allowed to carry it in a padded sleeve. There's also a tablet compartment stacked on top, and on the opposite side are three zippered mesh pockets.
Main compartment
Notice how the door opens up the "short" way, instead of the "long" way: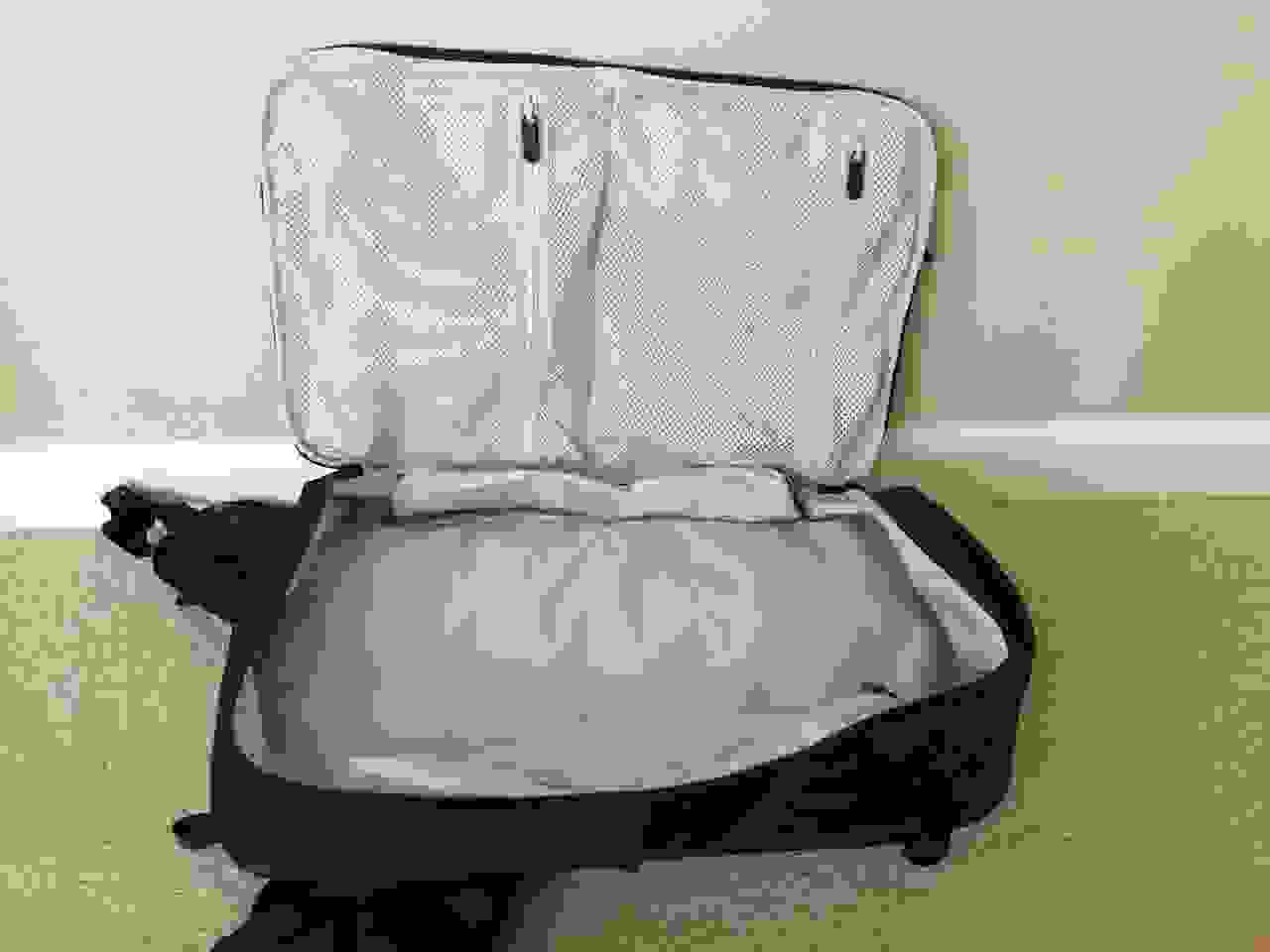 I like this method better, since it seems like it's taking up less room, even though it's exactly the same. It also makes it easier to prop it up against a wall, since it's shorter and won't start falling over.
Over on the main side, two zippered compartments line the walls: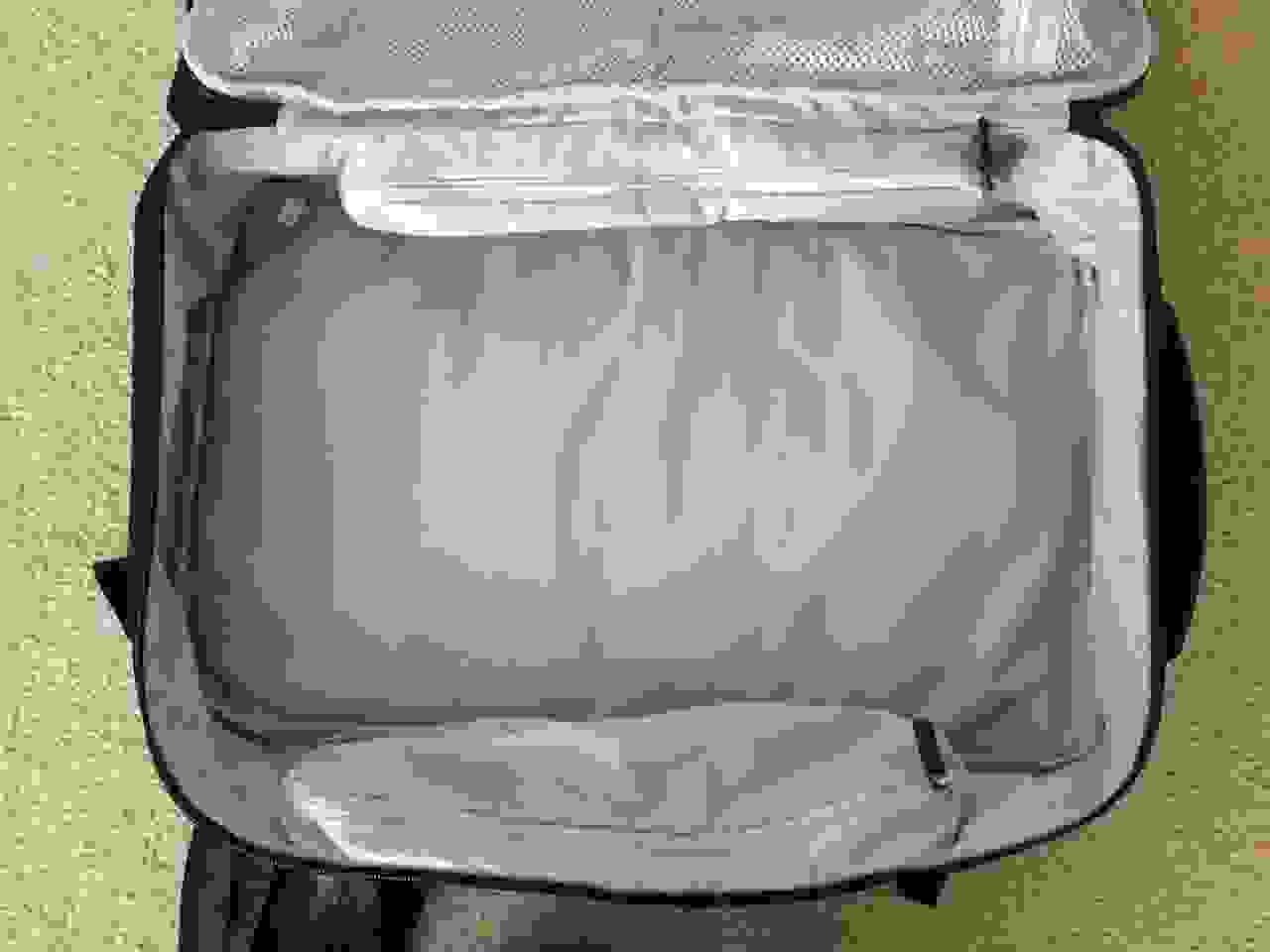 These are each big enough to fit a shoe, or a pair of sandals, so you wouldn't need a shoe bag; you could also use one for clean underwear, and the other for dirty underwear, or something like that.
Notice how they got rid of the tie-down straps, though, which means you'll probably want to pack small, fumbly things like socks and underwear underneath, then pack a folded-up pair of pants on top of them, so they stay in place nicely. You could also use a packing cube, or one of the spacious mesh compartments on the door: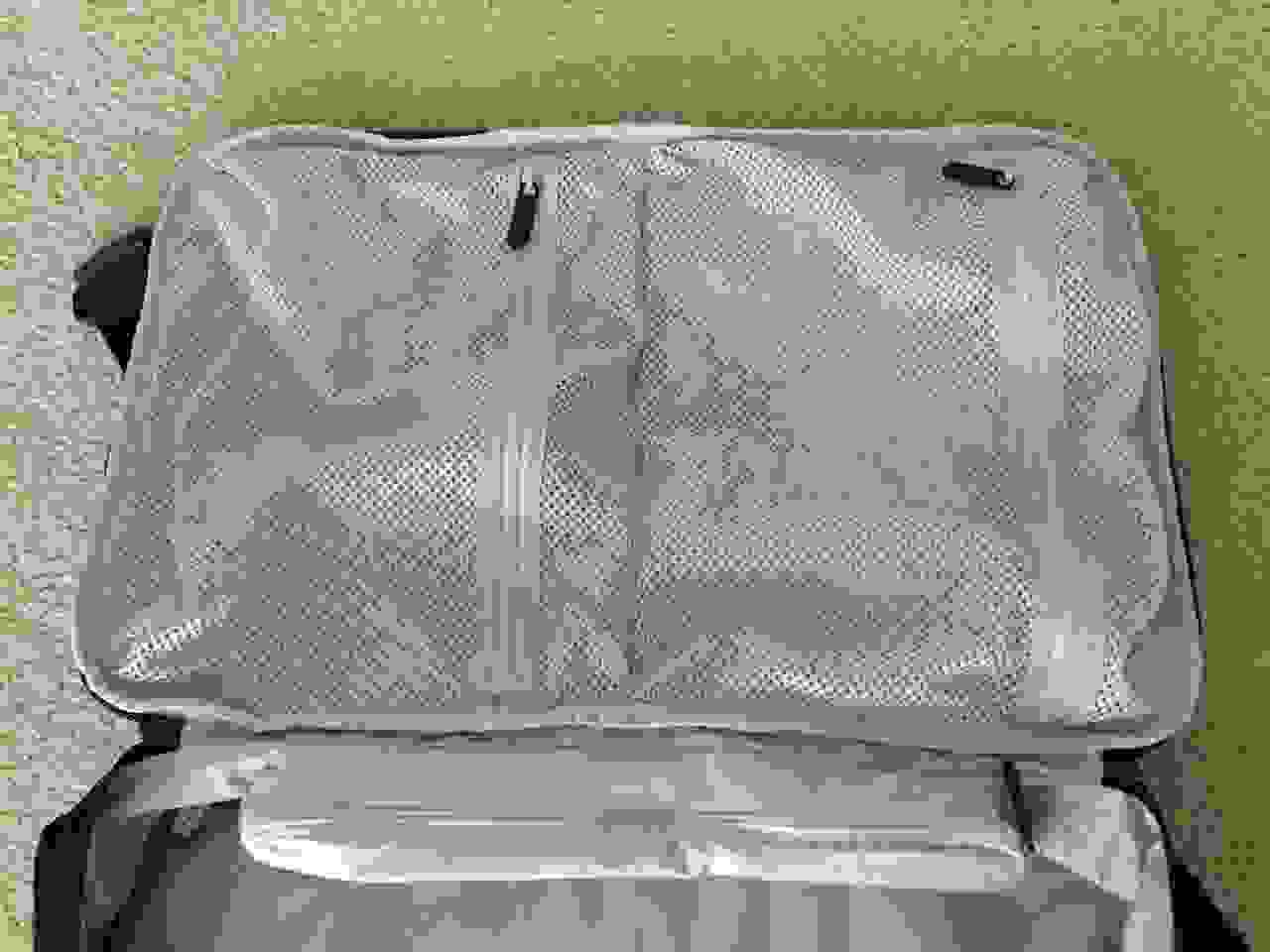 Those aren't flat slots; they're pretty three-dimensional, so you can pack a lot into them. They're great for storing small things like socks and underwear, so they don't fall out while unpacking, while over in the main compartment you can store larger items, like pants, buttoned shirts, jackets, and so on, thus reducing the need for packing cubes. The mesh is rather opaque, though, so I found myself looking through the zippered opening to find what I was looking for, rather than looking directly through the mesh. I think this was to boost the durability, though, so that's fine.
Organizer panel
And now we're at one of my favorite features of any pack that includes something like this: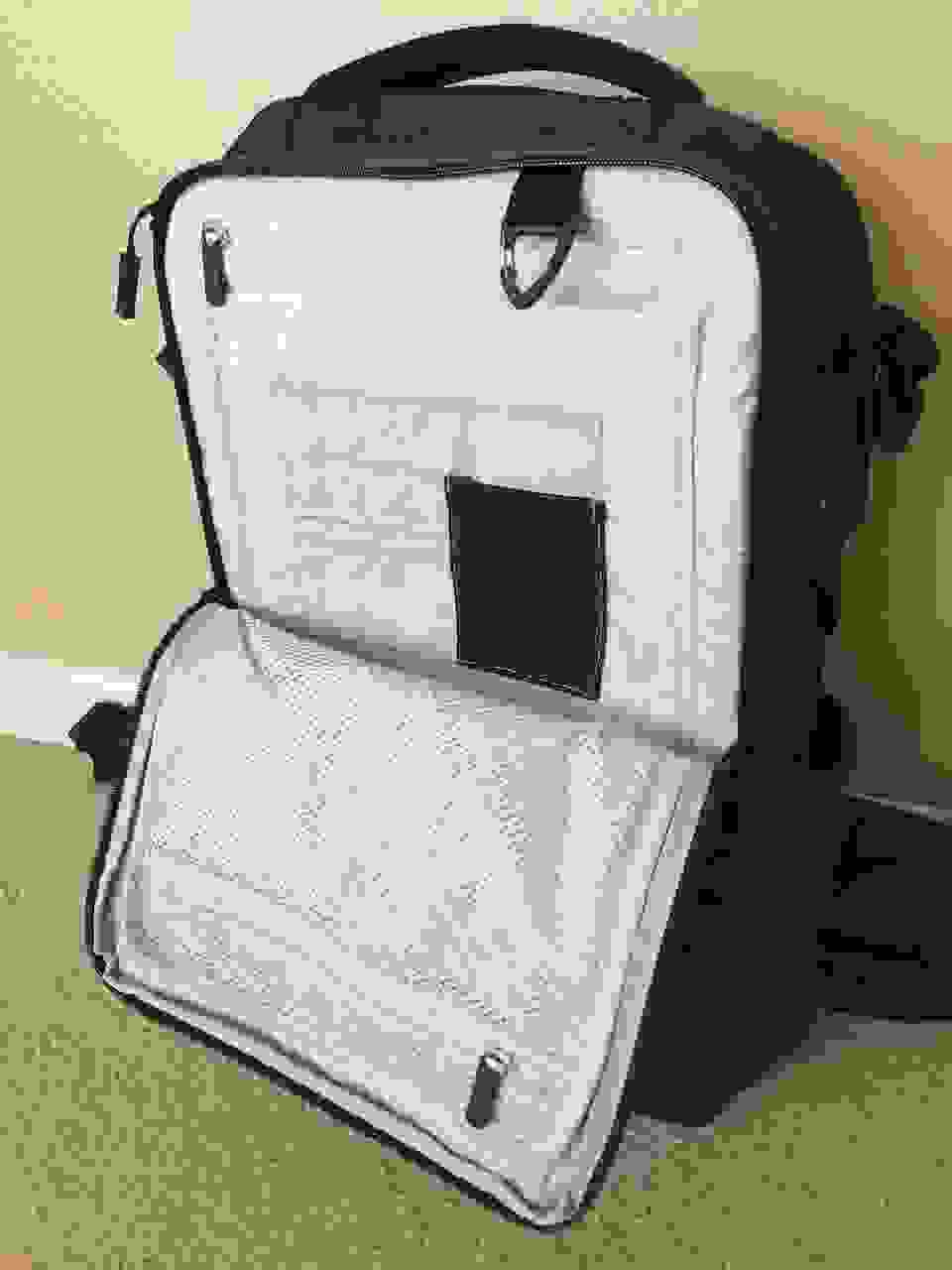 No amount of organization is too much organization. A key clip, pen slots, card slots, and other small pockets, zippered or otherwise, are going to be wonderful for all the organization junkies that love knowing exactly where everything is.
That pocket doesn't go full-length, though. It ends right about where the zipper ends, so there's no extra space beneath what you see in the photo. That means you won't lose anything down below, however.
Locking zippers
So the zippers you're looking at in the following photo are the laptop compartment (far in the back, behind the carry handle), the main compartment, and the organizer panel. The only pockets that don't have locking zippers are the two front panel compartments, and the side mesh pockets.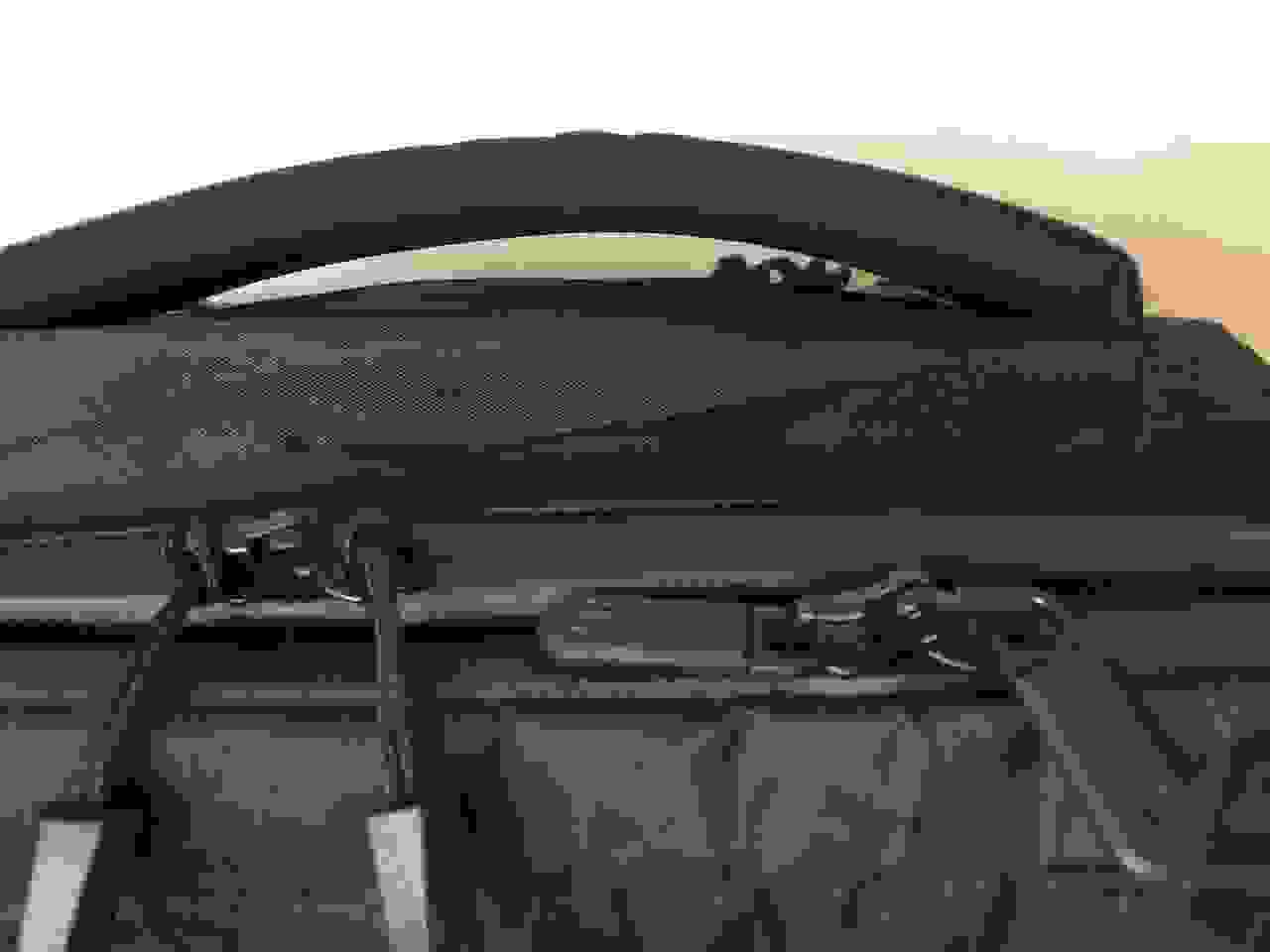 You might be able to lock all three of them with one of those figure 8 locks, with two cable loops instead of one. And if you're worried about the pen trick (which allows people to get into a pack, even if it's locked, and zip the zippers right back up as though nothing happened), I think sliding the zippers over to the side and anchoring the lock to the side compression strap is probably the best bet (looping it through the webbing that holds the buckle to the pack, where it can't be detached; this is hard to describe, but it's there, and it's not going anywhere). Locks are never going to be 100% safe, but lockable zippers are a pretty easy feature to add, and anchoring it somewhere on the pack can make it more annoying for lazy thieves who don't want to put in too much effort.
Hmm, I think that might be about it. Time for the…
Final summary
There's a lot to like about this pack. The durable construction, height-adjustable suspension system, burly hip belt, and massive number of internal and external pockets are going to win over a lot of fans, and these are easily the main strengths of the new design, along with the legacy features of suitcase-style opening, carry-on dimensions, and laptop access.
All of this comes at the price of extra weight, however, and that's the biggest issue to consider; but the more you depend on the highly cushioned suspension system and the built-in pockets, the more sense it'll make. The cushioned straps will make it feel like you're not really carrying much at all, and the built-in organization means you might skip the packing cubes entirely. And although the difference between a 2 pound pack and a 4 pound pack might seem like a lot, the difference when they're fully packed (when they're more like 18 and 20) probably won't.
I think the combination of features here make even more sense on the 45 liter version, where the extra cushioning will be even more appreciated. In fact on the 35 liter version, it might feel like overkill. Larger, more muscular users who don't pack much and don't walk around too long with it might think it's over-engineered, and might prefer lighter, simpler alternatives. But if you're on the smaller side, or you expect to walk around all day with a heavy load, and you happen to like the densely-pocketed layout, this should definitely be on your short list. There's nothing quite like it out there right now.
Things I like:
Waterproof fabric
Water-resistant (and lockable) zippers
Padded, ventilated, height-adjustable shoulder straps
Padded, easily removable hip belt
Fully-opening main compartment (which opens up the "short" way)
Fully-opening laptop compartment (which opens up the "long" way)
Lots of built-in pockets, including a great organizer panel
Decent amount of exterior pockets
Understated appearance
Things I'd change:
Attach load lifter straps further down the shoulder strap
Make the side mesh pockets more expandable
Remove the flap on the lower zippered pocket on the front panel
A few other things to think about:
Non-stowable straps
No side carry handle
No duffel bag carry option
Exterior pockets are mostly flat, so bulky things mostly have to go in the main compartment
Super-padded suspension system might feel like overkill on the 35 liter model
HEAVY
I drew up a list of favorite travel backpacks several years ago, where Tortuga has occupied a prominent position this whole time, and will continue to do so. Despite how many more options there are nowadays than there were back then, I think this design is going to keep them right up there for quite some time. Though I'd make a couple minor tweaks, it's impressively comfortable, adjustable, durable, and well-organized. If you can handle the weight, it'll handle whatever adventure comes your way.
Check it out at Tortuga, and go have some fun.