The wonderful world of travel backpacks is getting better and better every day. Back several years ago I was going crazy with just one or two options, and then a perfect storm of a bunch of pissed-off travelers with enough free time to deal with this problem all seemed to hit the market at the same time, and more and more people have realized how much better everything could be ever since.
The latest offering I've had the chance to try is the Aer Travel Pack, from a small company that got its start in workout bags, and have entered the travel backpack market with quite a strong offering. It has more organizational options than just about anything else I've seen, along with the conveniences of laptop storage, panel-loading access, and carry-on dimensions. If you're organizationally obsessed, you'll definitely want to give this a look.
Aer sent me a free test sample to try out, and I've had it for a couple months now. Here's what I think.
The Aer Travel Pack, in review
Here it is:
It's packed with features, but let's start with the numbers.
Specifications
Height: 21″
Width: 13″
Depth: 8.5″
Volume: 33 liters
Weight: 4 lbs, 4.7 oz (1.9kg)
Price: $220
It was a little heavier on my scale at home than the listed weight, but it was fairly close. Weight is definitely going to be one of the drawbacks to this pack, as it's one of the heaviest I've seen (just behind the GoRucks), but because it has more built-in organization than just about anything out there, you might carry (and buy) fewer items like packing cubes as a result.
Carrying options
One of the things this pack does differently from some of the other travel backpacks out there is that it's only a backpack; the straps don't store away anywhere, and there's no shoulder bag option. But if you only ever use it as a backpack, and never check it, then you might be fine with this (especially since it's designed to be a mini-carry-on, which is smaller than North American carry-ons). But those grab handles on the top and side are certainly useful, especially for getting it in and out of overhead bins.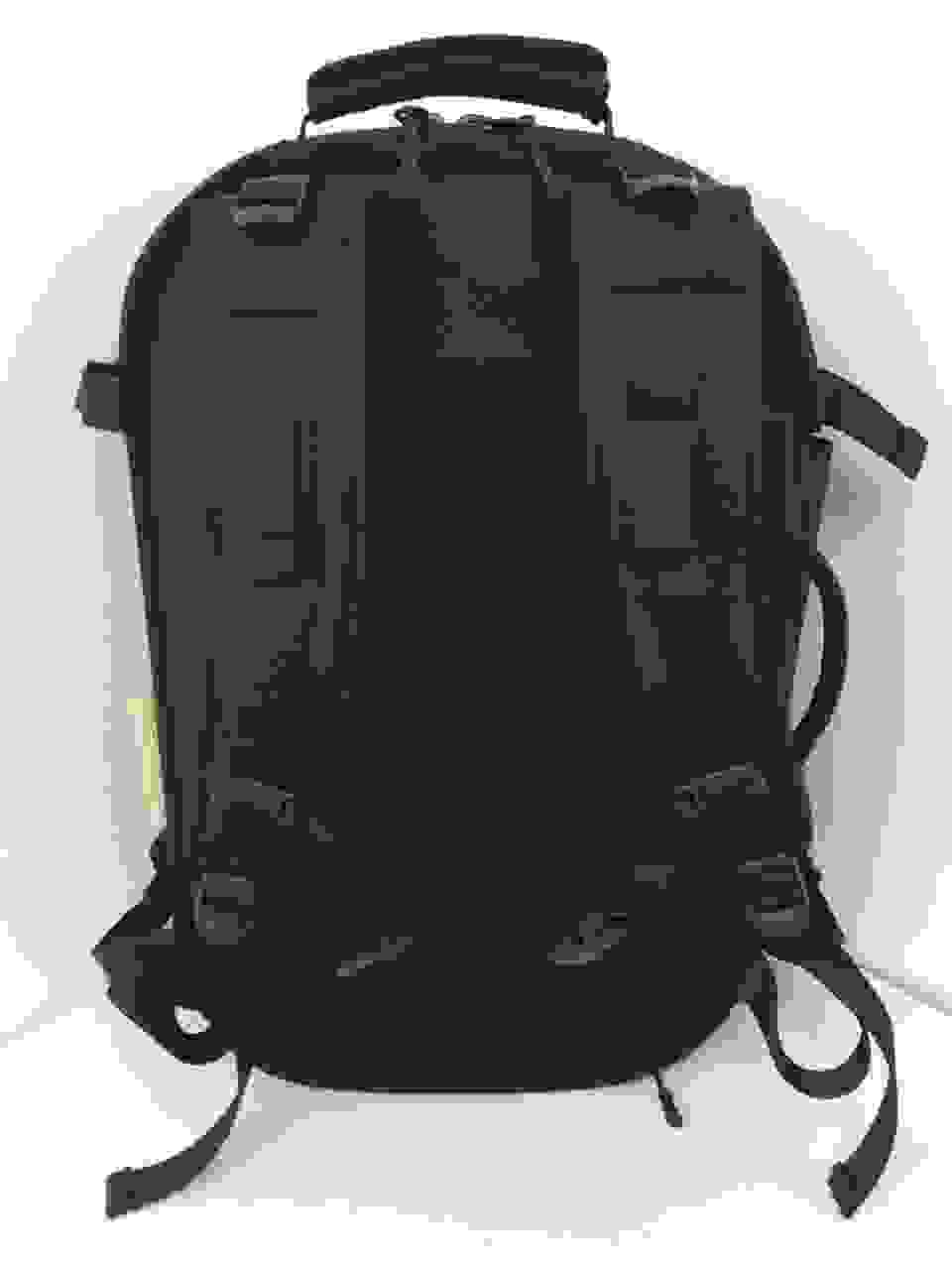 On the subject of straps, this is another area in which this pack will work for certain people, but not others; the straps are a little wider than I've seen elsewhere, at 3.25″ wide. For comparison, the Minaal's are 2.5″ wide, and my Synapse 25 has them at about 2.4″. The straps on the Aer are also just a teensy bit closer together, meaning that when tightened up as snugly as I would have liked, the straps started digging into my neck on either side, so I had to wear it just a bit lower than usual.
This is only something that's going to happen for smaller people, so if you're any larger than I am (I wear a men's size small t-shirt), then you're going to be fine. But combine this with the lack of hip belt and the relatively high weight, and I think this is a pack that will more likely work for larger people than smaller people.
Organization
This is where this pack shines. It has a grand total of seven exterior pockets in addition to the main compartment, which might be the most I've seen on any backpack, ever. If you're obsessed with every tiny item having its own home, you can't go wrong here.
On the front are two zippered pockets: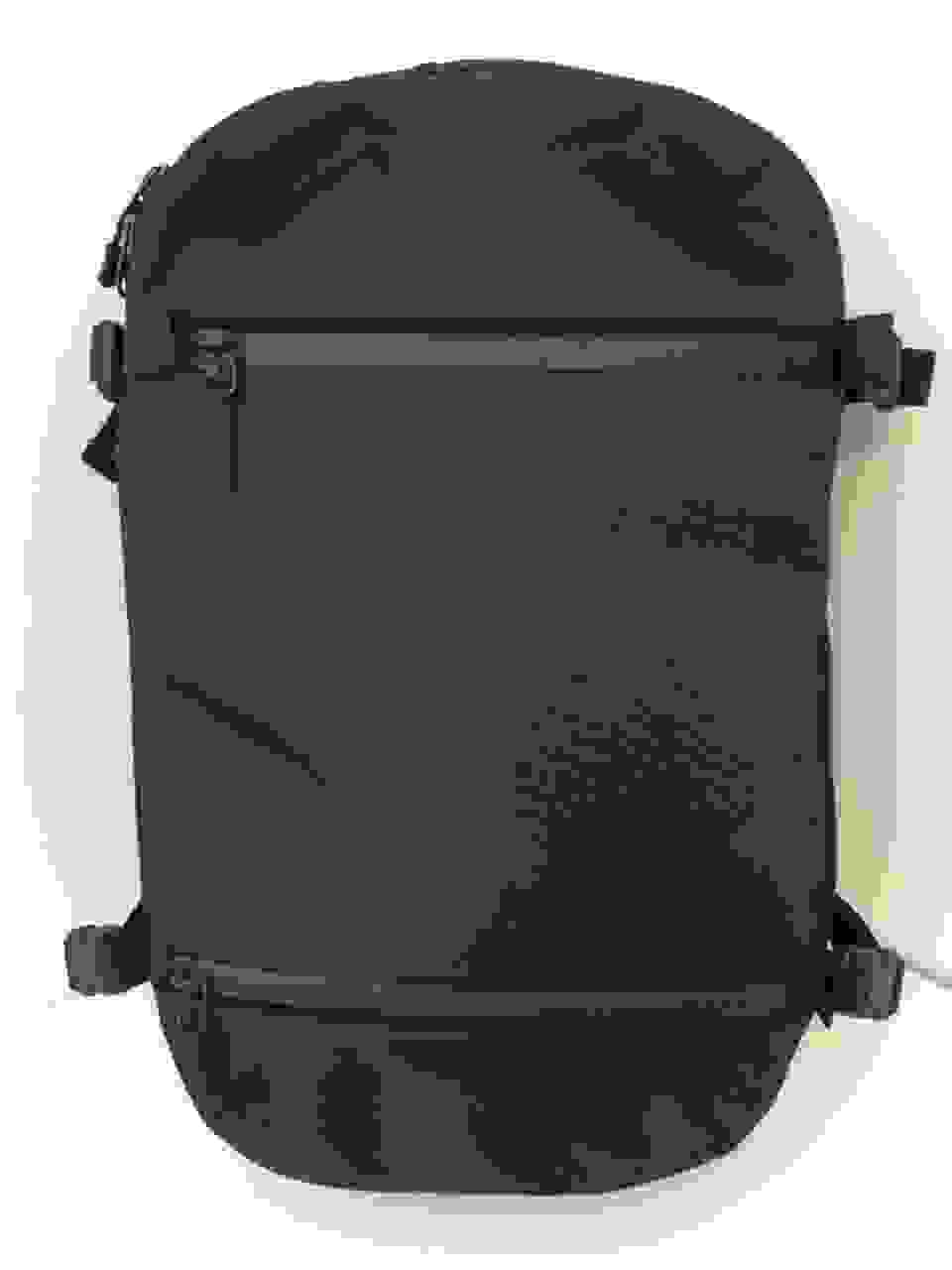 The higher pocket extends all the way from the top zipper to the bottom zipper, and the lower pocket extends from the lower zipper to the bottom of the pack. You can see the folds in the four corners of the pack, meaning these pockets are three-dimensional, expanding to accommodate bulkier items better than flat pockets would.
Here's the laptop sleeve, up against the back panel:
The laptop compartment is padded and suspended, so the laptop won't bang into the ground if you drop it. It's not secured from a fall from the top, though, but it's probably going to fit so snugly when fully packed that it's not likely to move at all.
There's also this little top pocket: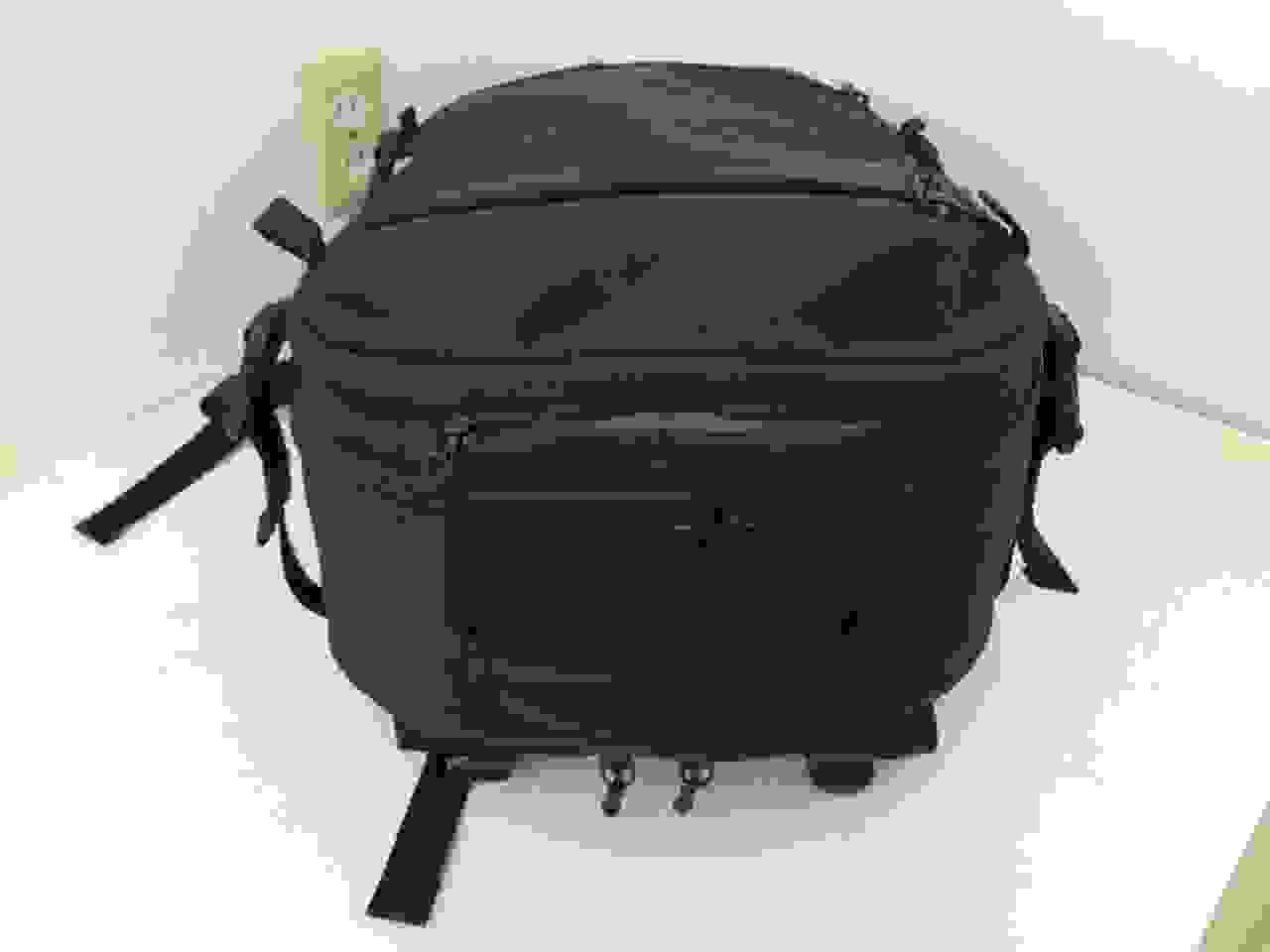 I actually felt that with all the other pockets all over the pack, that this one was perhaps unnecessary, but plenty of people like just a single, small pocket on top, for throwing in a few small papers and ID cards and things like that. It's definitely helpful in the airport security line, when you have to empty out your pockets before the scan.
And here we have what is probably my favorite part of the whole pack, which is the organizer panel, in the front compartment: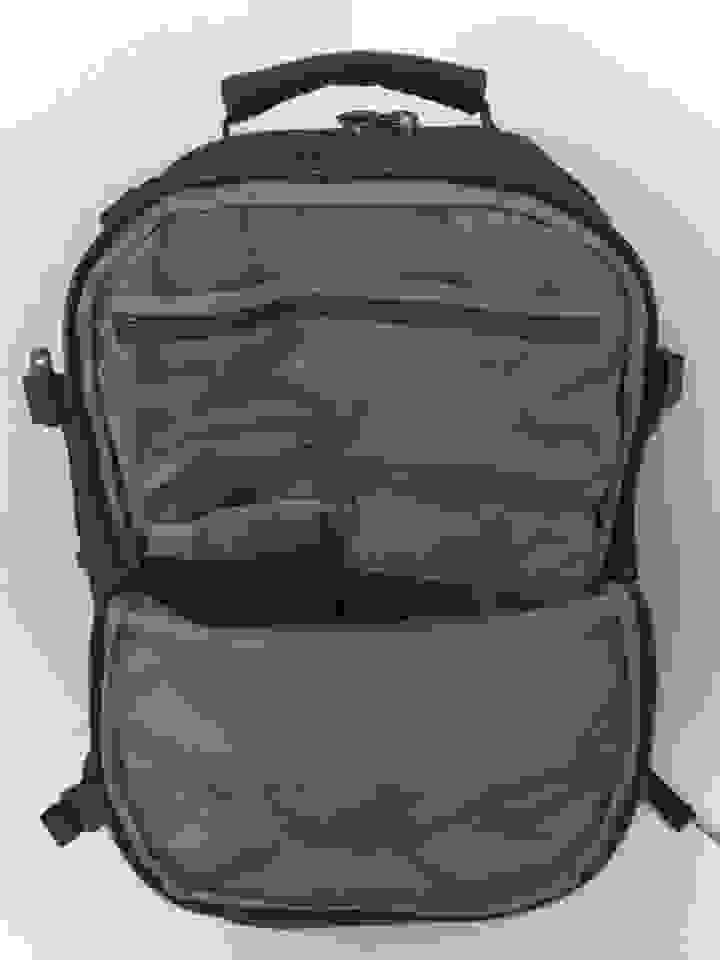 If you count them up, there are a total of five pockets in there; on top, there's a long, open-top, drop-in slot (just above that zipper), which is big enough for a tablet, papers, notebooks, and so on; underneath is that zippered pocket; down on the left there's a velcro drop-in and a mesh drop-in pocket; and down on the right there's that flap pocket, which is padded. This compartment extends all the way down to the base of the pack, so you can throw things loosely down to the bottom as well. I think a couple dedicated pen slots would have been nice, but they'd hook over that velcro compartment pretty easily.
Over on the side, there's a water bottle pocket, which zips open and closed as needed, so it won't get snagged when it's not in use: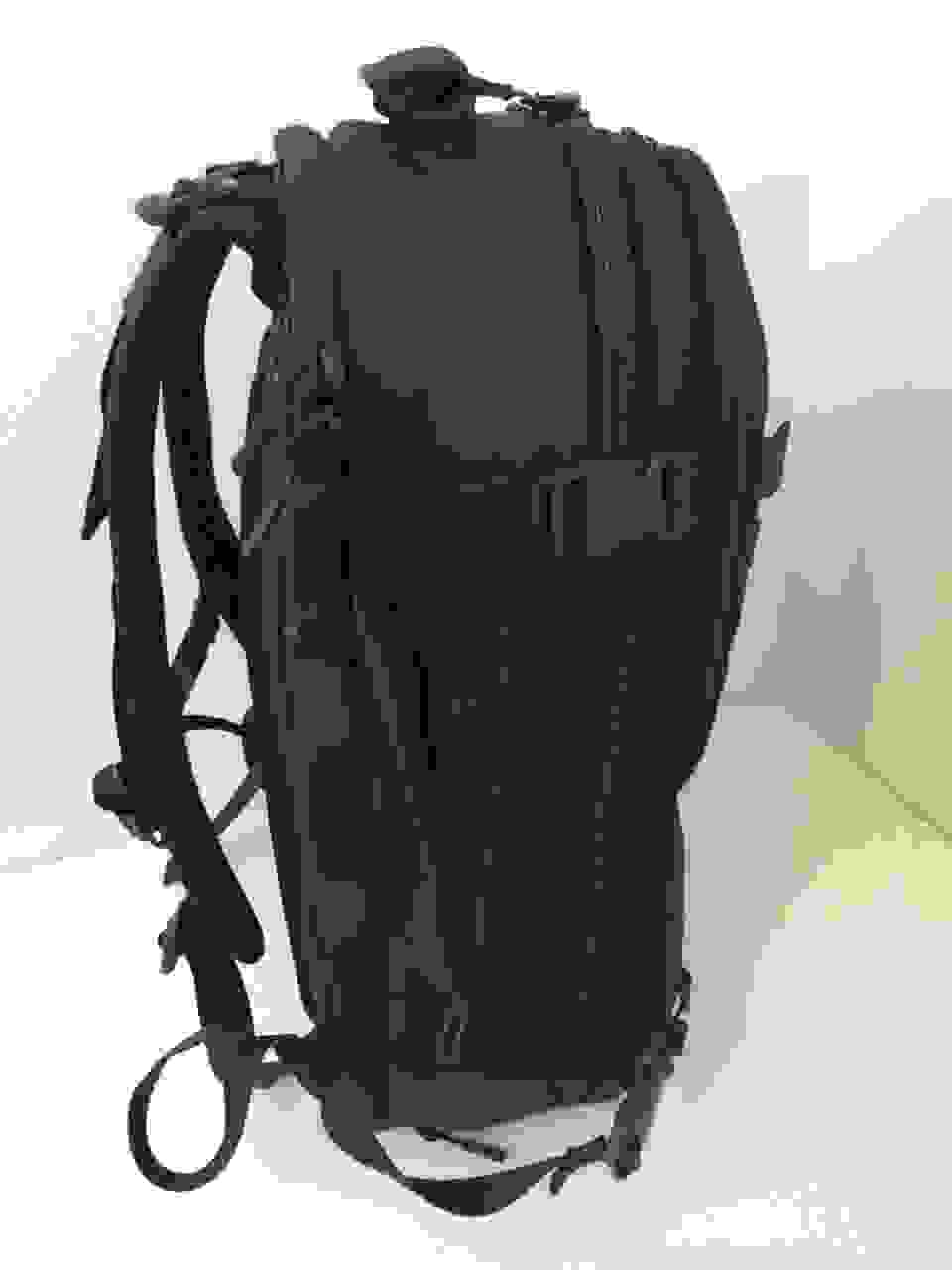 I like this pocket design a lot, although it was actually pretty tight. I suggested expanding the mesh so it could accommodate slightly larger bottles, so hopefully that'll happen at some point. Half-liter bottles should be okay, but maybe not insulated ones, as they tend to be a little wider.
Down below, there's the shoe compartment, which is a signature feature throughout their product line: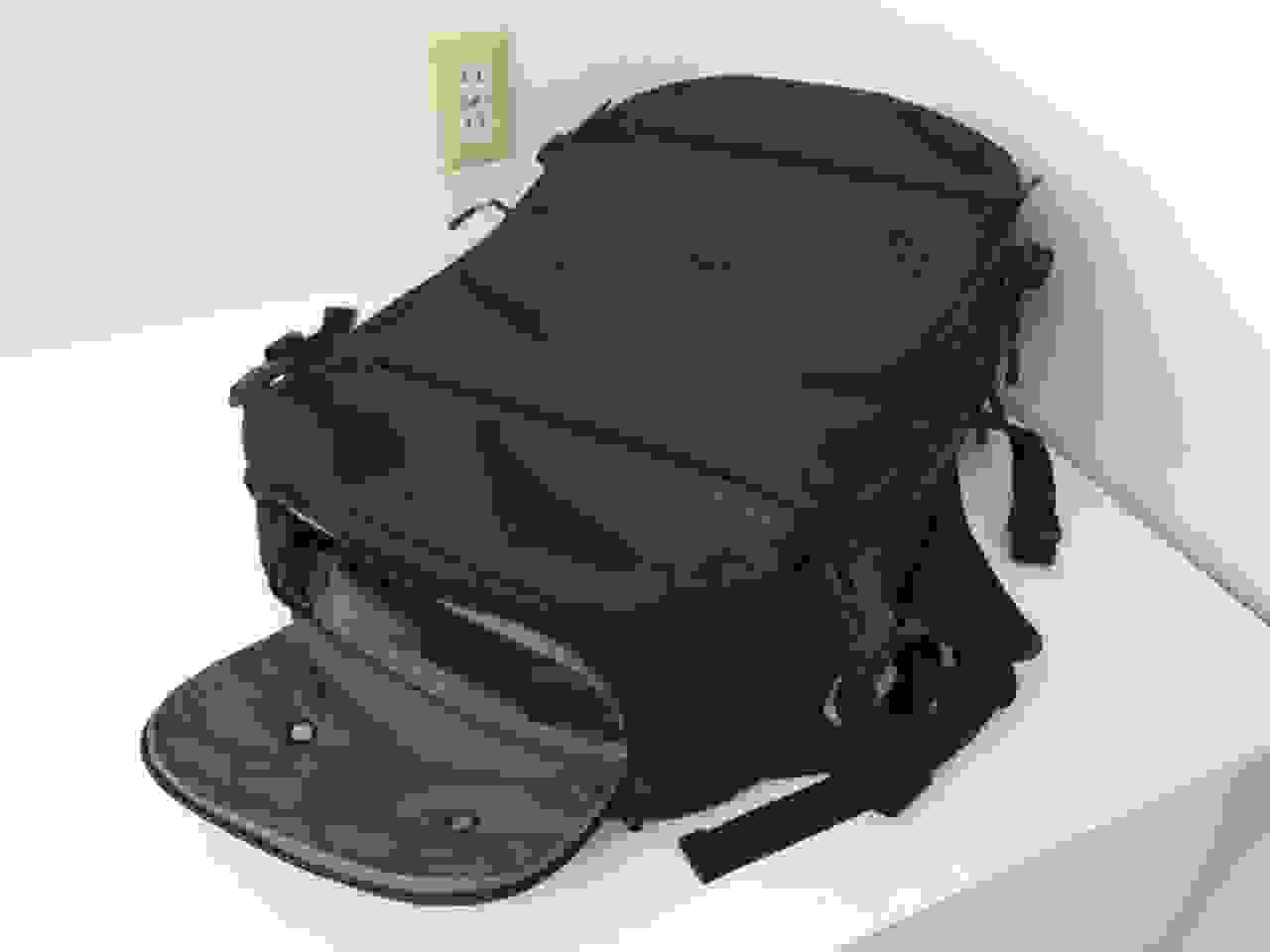 Drainage ports allow moisture and odor to escape, and the pocket can be flipped inside out, so it can be rinsed off pretty easily. It's quite spacious, as you can see when you open up the main compartment: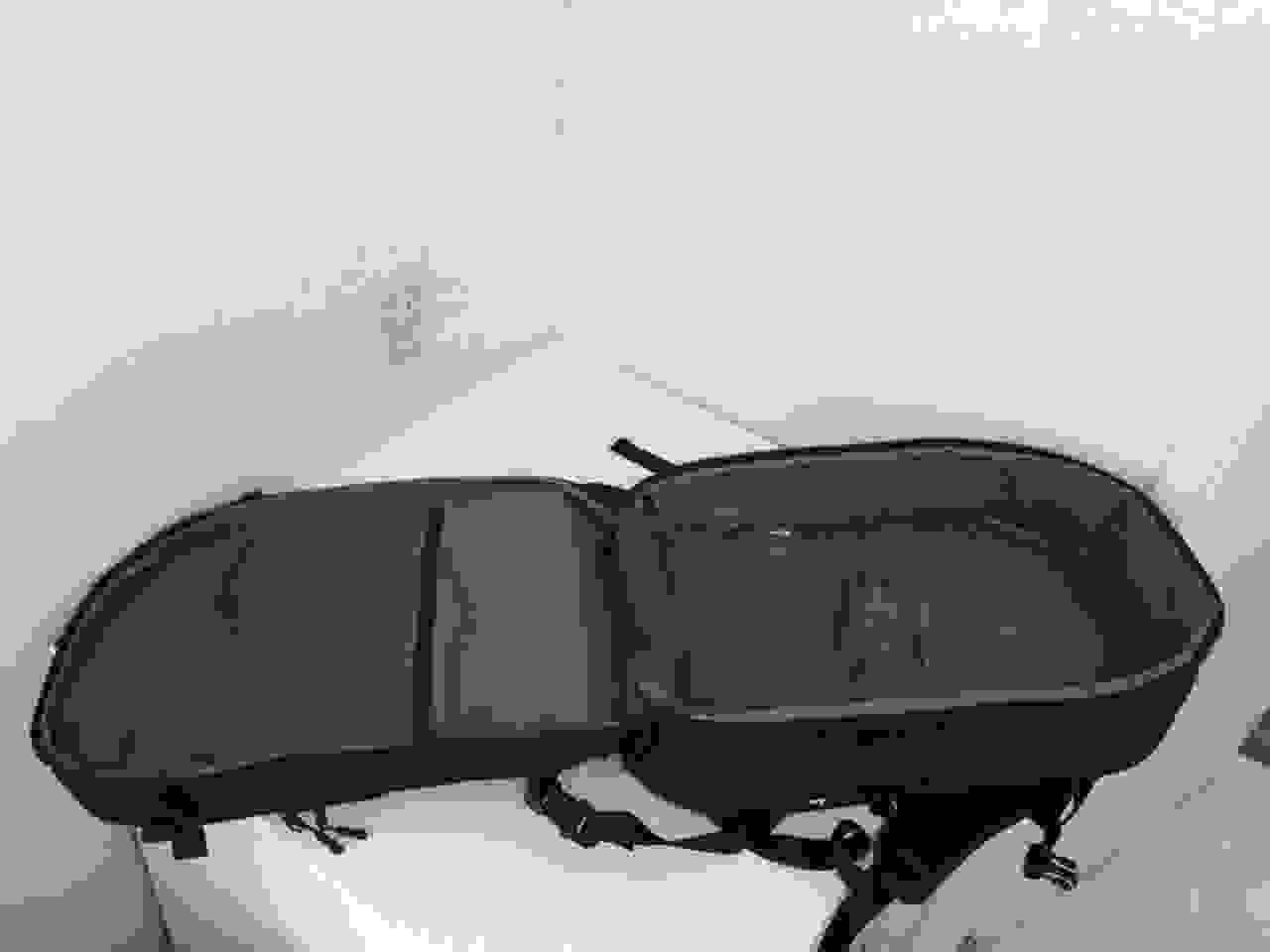 The walls of this chamber are actually quite stiff and padded, meaning you can stuff a whole lot in there without dealing with flimsy sides, which can occasionally lead to smaller items falling out. It's actually quite shallow, however; only about 4 inches deep, which I consider a good thing; the other pockets, such as those front drop-in pockets pictured above, are actually three-dimensional, meaning you'd only put your extra changes of clothing in this main compartment, and you'd pack the exterior compartments with jackets, books, hats, and other items, rather than trying to fit everything into this compartment.
There's a zippered pocket on the door (on the left in that photo), but the pocket extends throughout the entire length of the door, accessed just through that single zipper; I suggested splitting it up into two separate pockets, each with its own zipper, so items don't get lost sliding around in there. Right now it's a little tricky with just the one zipper, but I suppose in the meantime you could use it as a laundry stash, since you don't have to see inside in order to grab a specific item.
Compression
The pack has four side compression straps, so you can tighten things down, or even turn it into a daypack: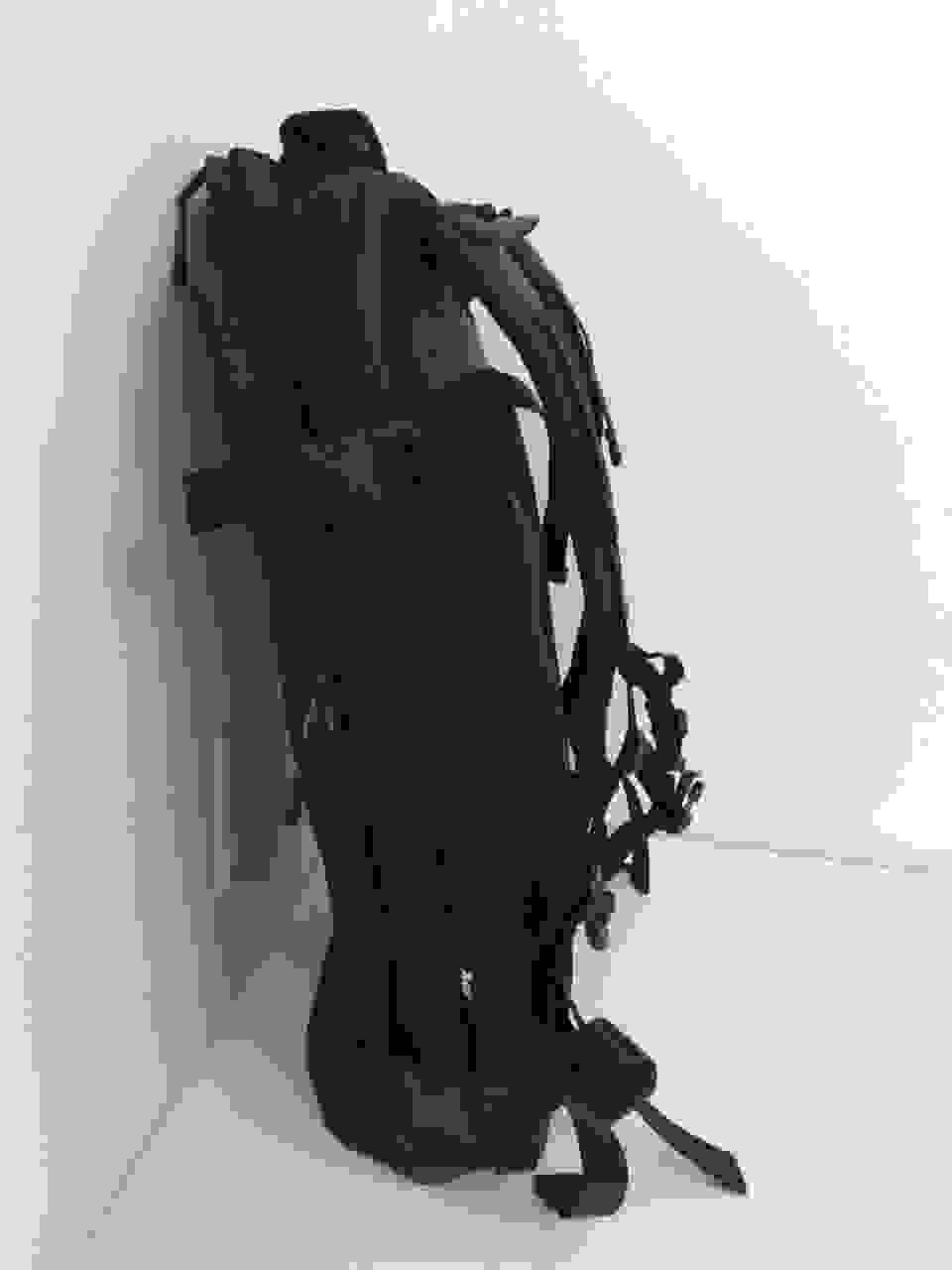 I expect most people won't really make use of this feature very much, since you could pack just the exterior pockets, and there wouldn't be much point in cinching down the straps, since everything is in its place and nothing needs to be tightened. But on the other hand, the compression straps are a good way to attach something to the outside of the pack, like a rain jacket that's still damp, so it's not such a bad idea to have them around. I've seen another review that suggested eliminating some of the exterior straps, which I'd be mostly fine with, but it would come at the expense of not having an easy exterior lash strap option.
Conclusions
This pack is going to be polarizing; it has better organizational options than just about anything I've seen, with plenty of exterior storage, as well as that organizer panel for all sorts of smaller items that you don't want getting lost everywhere. The sheer number of compartments and pockets-within-those-compartments is easily its biggest strength, and I don't even mind the higher weight so much, since you won't feel the need to use packing cubes or other organizers.
On the downside, this is probably going to be a pack for larger people, as mentioned in regards to the straps; they're wider than most, and also rather stiff, so they might not work for people who cinch the straps really tightly, as they'll eventually start digging into your neck. It also lacks a hip belt, which tends to be a problem for smaller travelers, or those going on longer walks.
Aside from that, it has everything else going for it you'd want in a travel pack; a padded laptop sleeve, panel-loading access, a huge number of easily-accessible, well-placed exterior pockets, organization on the inside as well, and a great aesthetic.
Smaller people might want to consider alternatives (such as the Minaal, which I find works quite nicely for my small frame), but if you're slightly broader in the shoulders, don't mind the lack of a hip belt, and are obsessed with organization, then I think this might just be for you.
You can pick it up from Aer. It's also on Huckberry, though occasionally in limited colors.