Everyone seems to be opening up their eyes to the value of travel backpacks lately. They're a better option in a lot of cases than hiking backpacks, and offer a number of advantages over suitcases as well (ahem, cobblestones), while combining the advantages of both.
Lesser-known in the world of travel packs is relative-newcomer Standard Luggage, which has made a pretty strong offering, and is already on their way to a second version of their flagship product. It's gotten some great attention, both on Kickstarter and elsewhere, for offering a good mix of features and simplicity, so I'm happy to share my thoughts on the design.
Standard Luggage offered me a free sample of their backpack for review, as well as the accompanying packing cubes. I've got the original version of the pack (not the version from the late 2016 Kickstarter campaign), so there'll be some differences between the two, and I'll try to point out those changes where possible.
Standard Luggage Travel Pack
Here it is: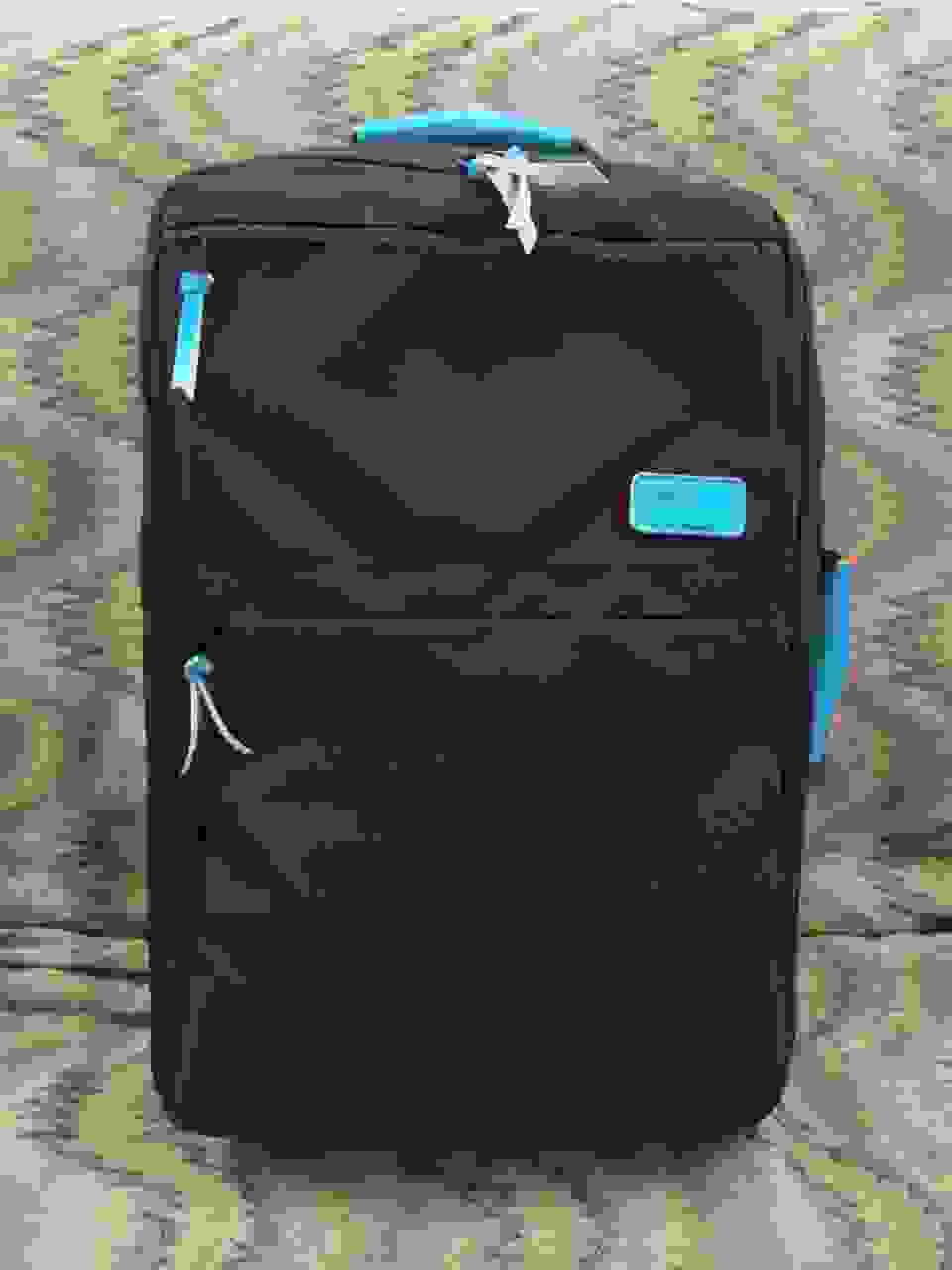 It's a carry-on sized backpack, fitting within the dimensions of most North American airlines, but it also features an expansion zipper for extra storage, which you'll see down below.
Dimensions and other stats
These are the measurements I got at home:
Height: 21.5″
Width: 14″
Depth: 8″ (expandable to 10″ with the expansion zipper)
Capacity: 35 liters, expandable to 45
Weight: 3 lbs, 3 oz (1.4kg)
Price: $179
Included accessories:
Luggage tag (1 oz)
Shoulder strap (5 oz)
Rain cover (2.4 oz)
(The weight listed for the bag is the weight without any of these accessories, by the way.)
The pack comes with a spare set of zipper pulls, handle cushions, and a luggage tag, so all the blue accents you see on the outside of the pack can also be orange (the zipper pulls are a little tricky to swap out, and little bits of faux-suede flake off, though).
Standard Luggage also produces a set of packing cubes designed to fit within the main compartment, including one that doubles as a packable backpack, available separately.
Here's the back, where you'll find the backpack straps:
A few things to notice here; the sternum strap isn't detachable, and there's no waist belt. For smaller users, this is definitely going to be a problem, as a hip belt is one of the most useful features available when a pack is fully loaded and you're walking over long distances. This is definitely going to be more suited toward larger users, for this reason and others.
Here you can see the straps folded away, and the back panel itself: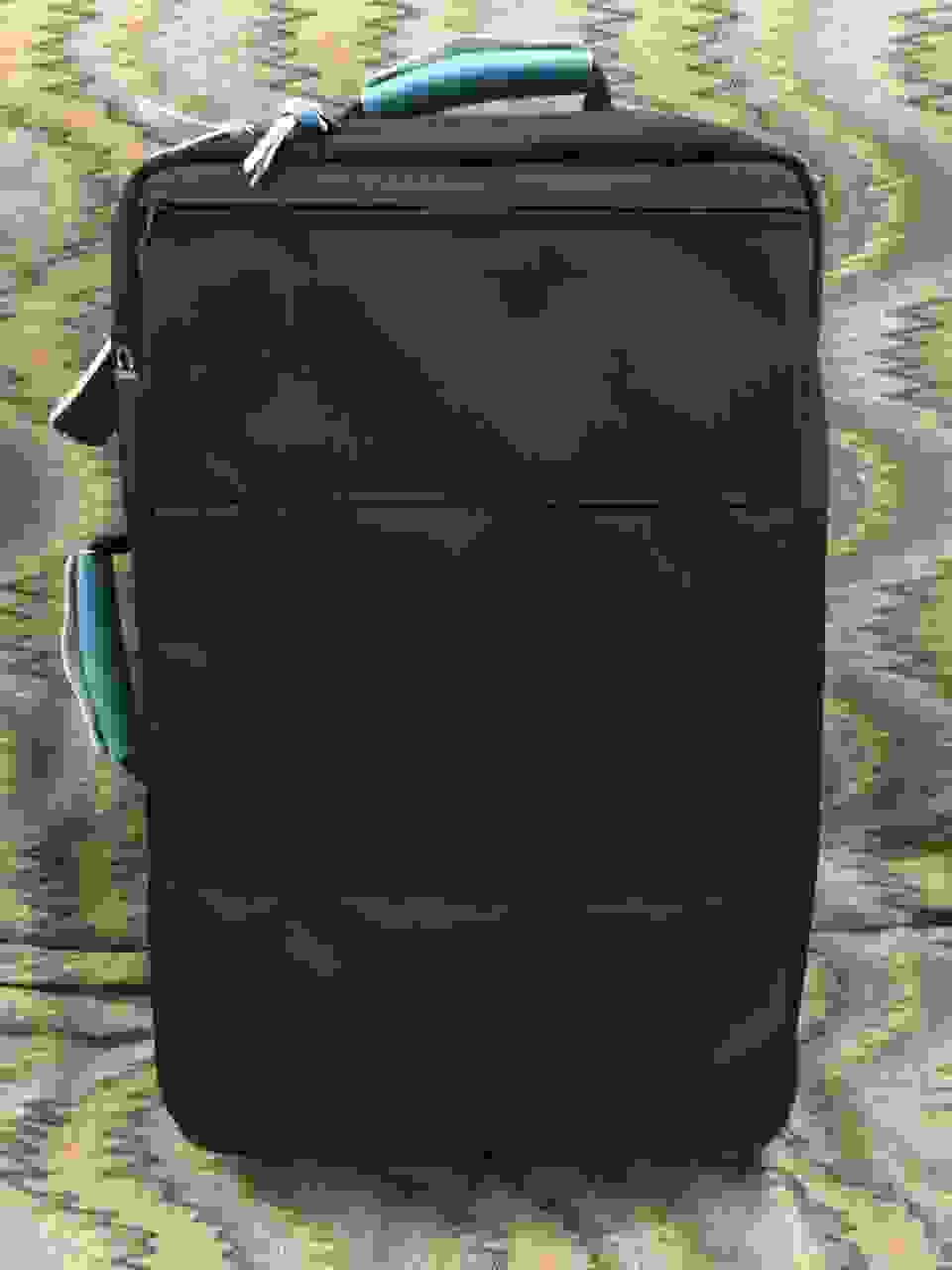 Notice the pass-through channel, which allows you to stack the backpack on top of a rolling suitcase, and slip the suitcase handle through the slot so they hold together, which can be quite useful, if you're carrying that much stuff around.
The downside I see here is that the back panel, although cushioned, does not have a mesh back cushion, the way certain others do. It uses a fabric overlay, which is great for durability, but not so great for breathability. If you're using this pack in moderate climates or short distances (or in suitcase mode, which we'll get to in a moment), you might be able to manage a little more easily with the fabric back.
One last thing to mention here is that the shoulder straps are fixed extremely close together (about one inch apart); they're close enough that when I tighten them to the position I prefer, they ended up cinching up on my neck: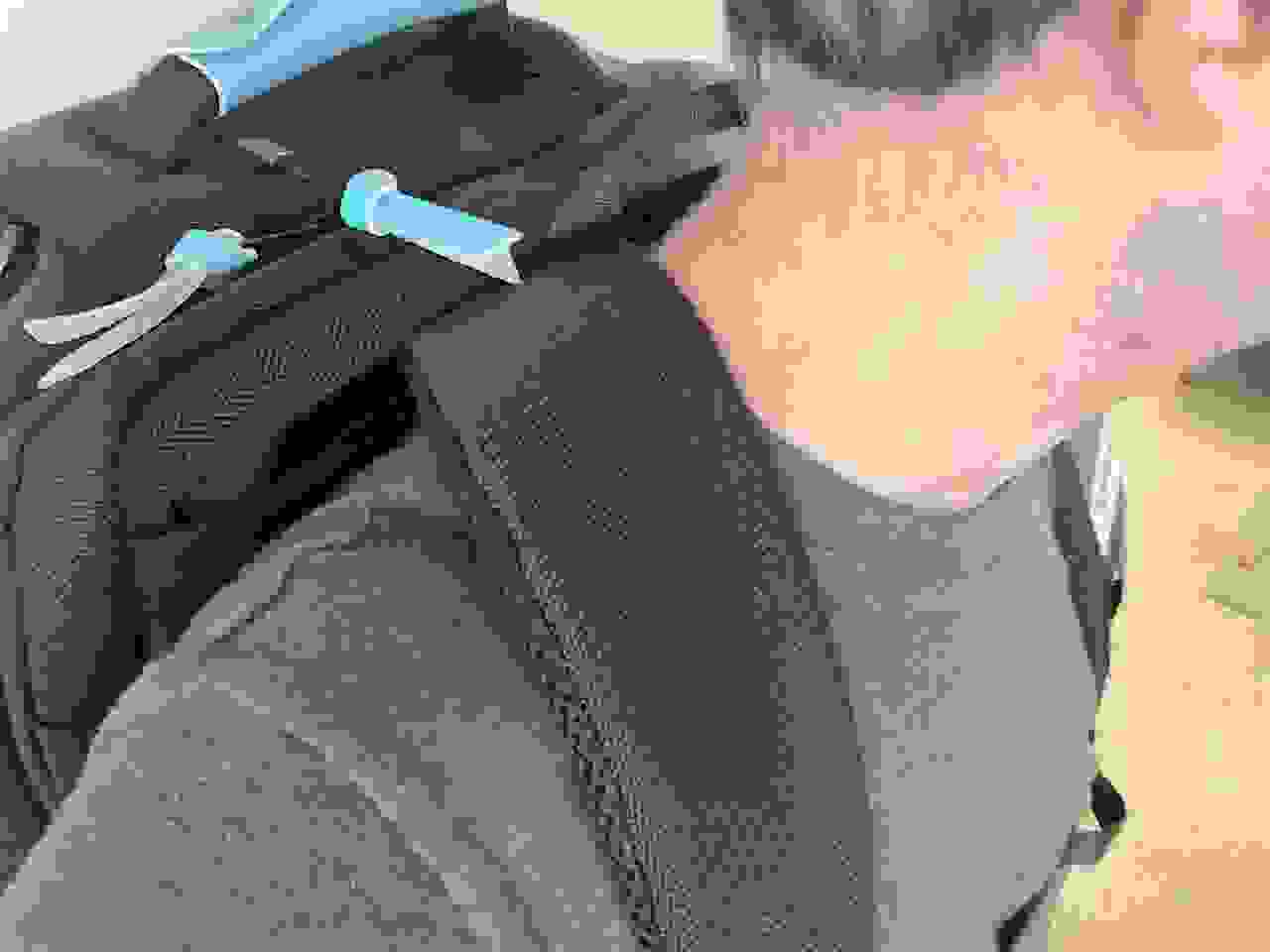 Notice how it's going over my shirt, and onto my neck? There was some pressure up there, which made me want to loosen the straps and wear it a bit lower. I expect that if you like to wear the pack lower on your body, or if you're a larger user (so the straps would be adjusted more loosely to fit around your larger torso), that you'll be less likely to run into this problem, but I definitely think expanding the gap would have helped out quite a bit. I wear a men's size small t-shirt, so keep that in mind if you're thinking your torso size might work out better.
Lastly, the new version (the one for the late 2016 Kickstarter) strengthens the cushioning on the shoulder straps, which I think is a good move. The current version straps feel a little too thin, so that's something I'm happy to see changing.
So again, due to the lack of hip belt, lack of mesh cushioning on the back, and narrowly-attached shoulder straps, I expect this pack would work out a lot better for larger users, or those who don't plan on carrying the pack over long distances very often (for smaller users, I find the Minaal to work especially well). These are definitely the biggest issues I had with the design, and worth consideration if you're planning on using it primarily as a backpack, or if you're on the smaller side.
But you might also prefer carrying it in suitcase mode, which I think it does quite well: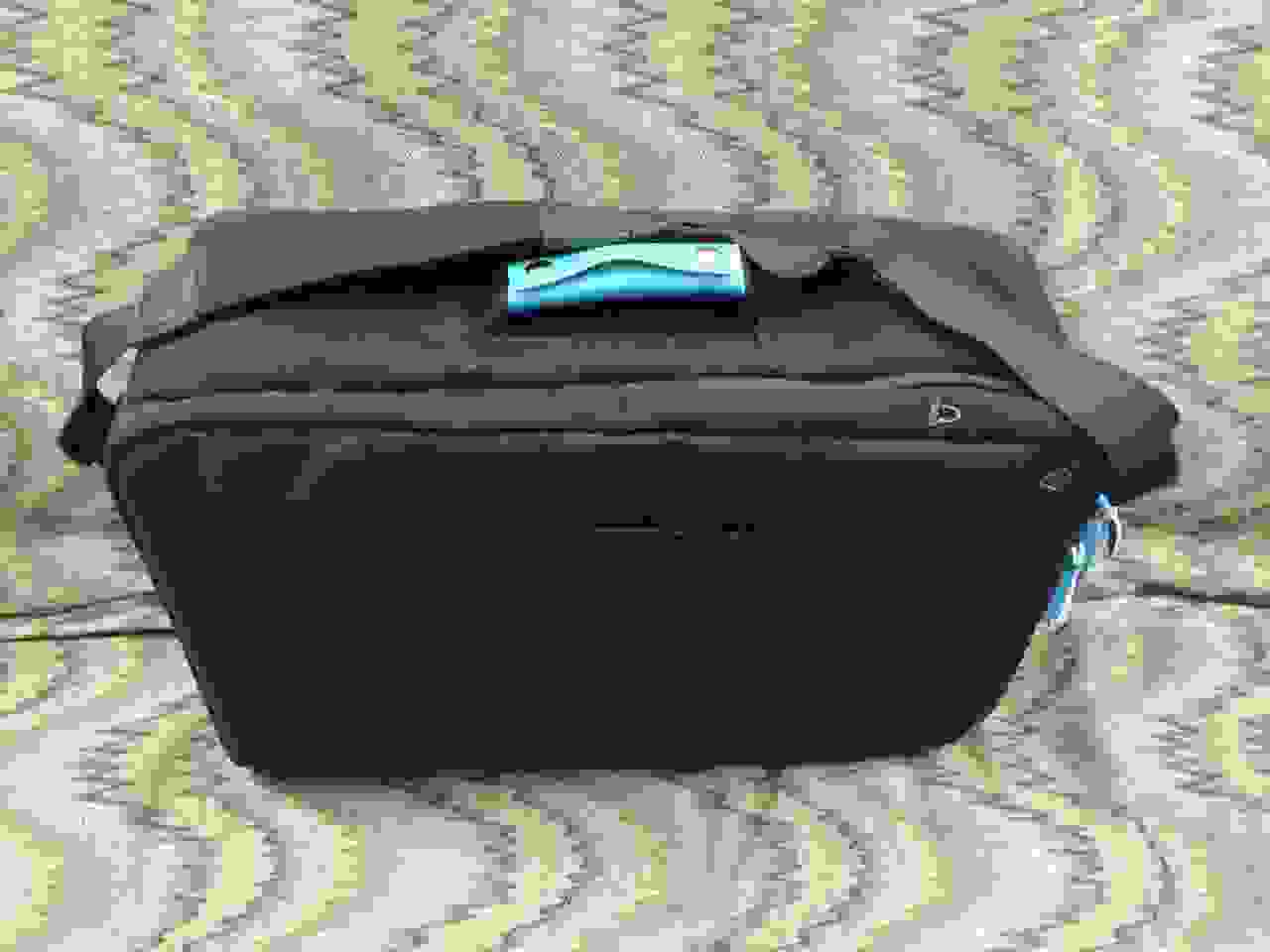 The pack actually has something of a suitcase-like aesthetic, so I think it feels even more at home as a shoulder bag than as a backpack. It gets rid of all the problems mentioned above, so if you're planning on using it this way anyway, with the backpack option as just an added bonus, then I think you'll be just fine. This shoulder strap is undergoing some improvements in the 2016 version as well, so it'll hopefully be even better.
So anyway, I just wanted to get that out of the way first; the limitations of the design while in backpack mode are easily the most significant issues I have with the pack, and the most likely problems that might lead people to look elsewhere. The rest of it I liked a lot better, so let's get to it,
First up, we arrive at the wonderful world of panel-loading convenience: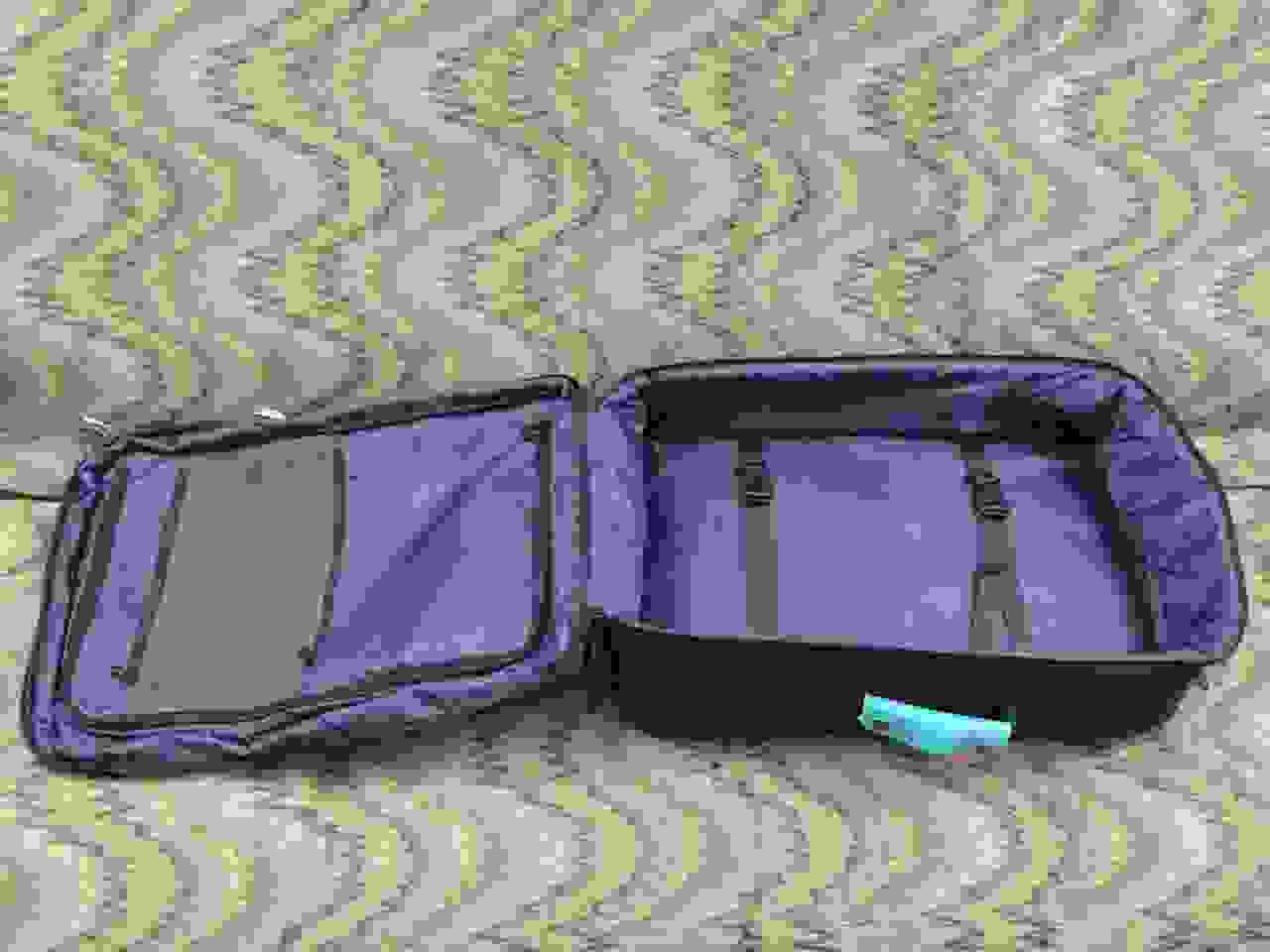 This is one of the hallmarks of travel backpack design, and it makes everything a million times easier than top-loading hiking packs.
Here's the main compartment: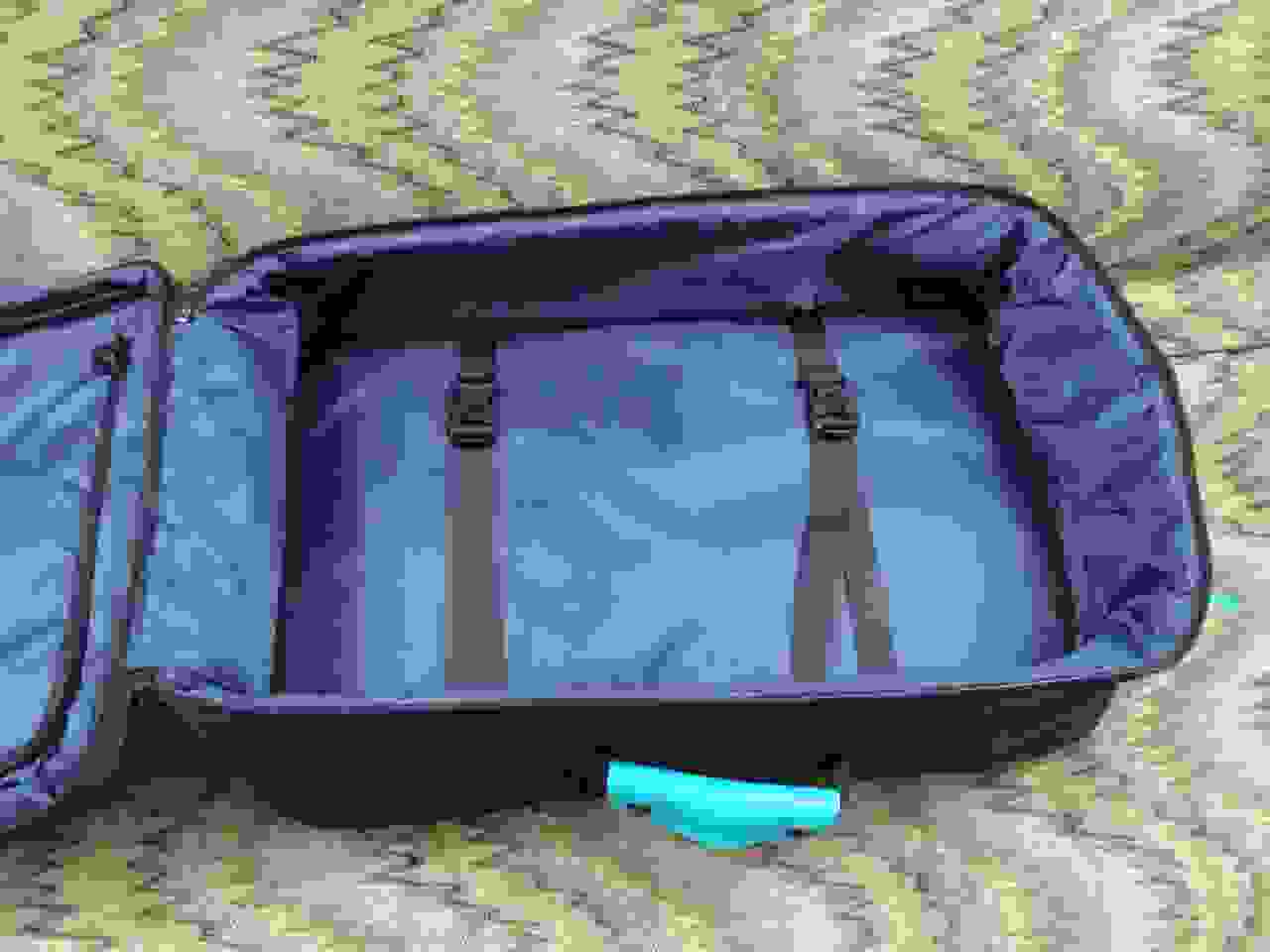 This main compartment actually composes nearly all of the interior space of the pack; the exterior pockets (shown up in the first photo) are just two-dimensional sleeves, so the main compartment is where you'll store nearly everything. I would have preferred the outer pockets to be more three-dimensional, perhaps subtracting a bit from the space here, so that larger items (like jackets, sweaters, and so on) could be stuffed into those quick-access outside pockets, so you wouldn't need to dig around in here to get at them. A packing cube or two is therefore a good idea with a design like this, so nothing falls around when you're trying to grab something.
Here's the door, which features three compartments: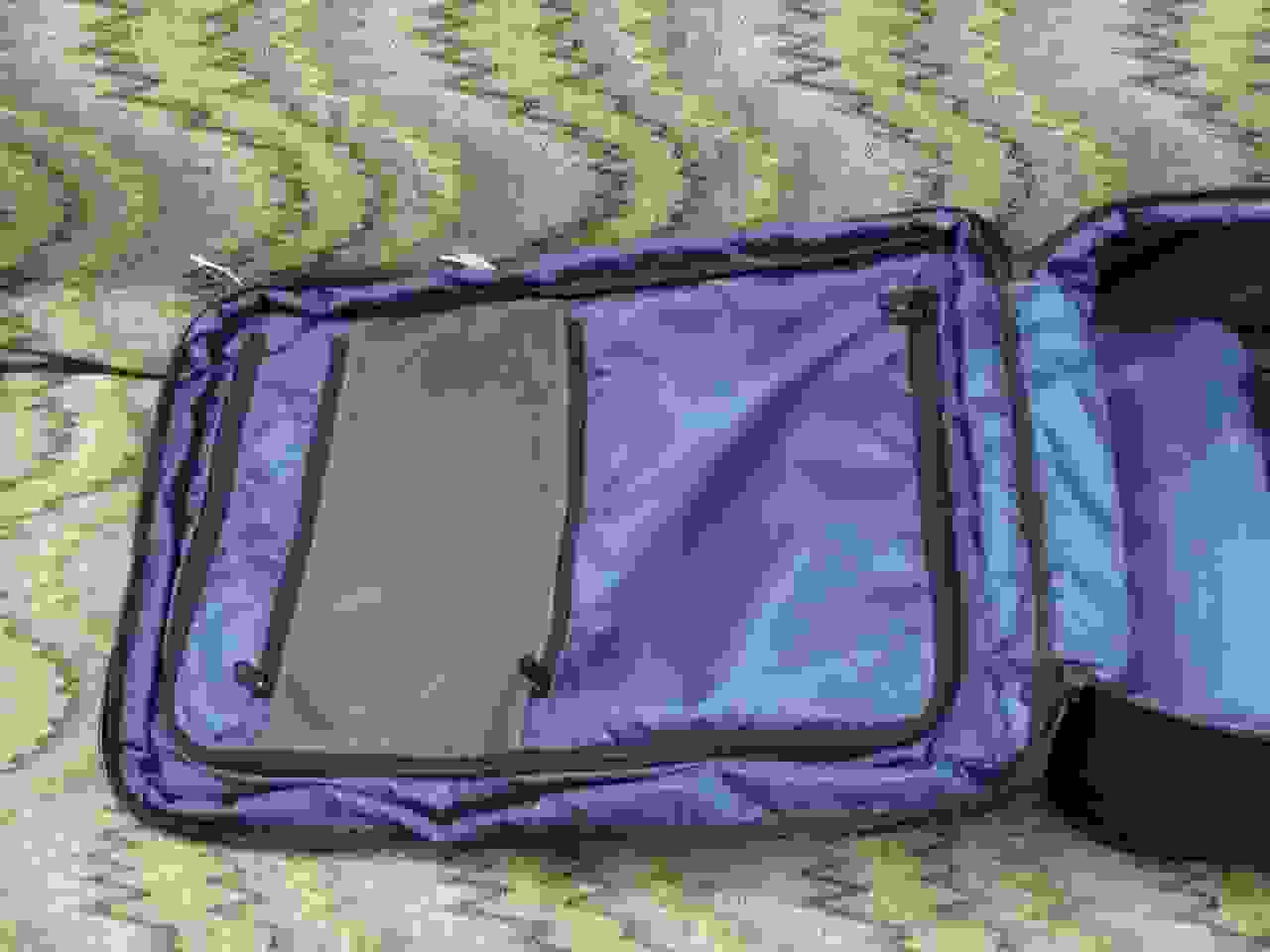 The U-shaped zipper going all the way around looks like this: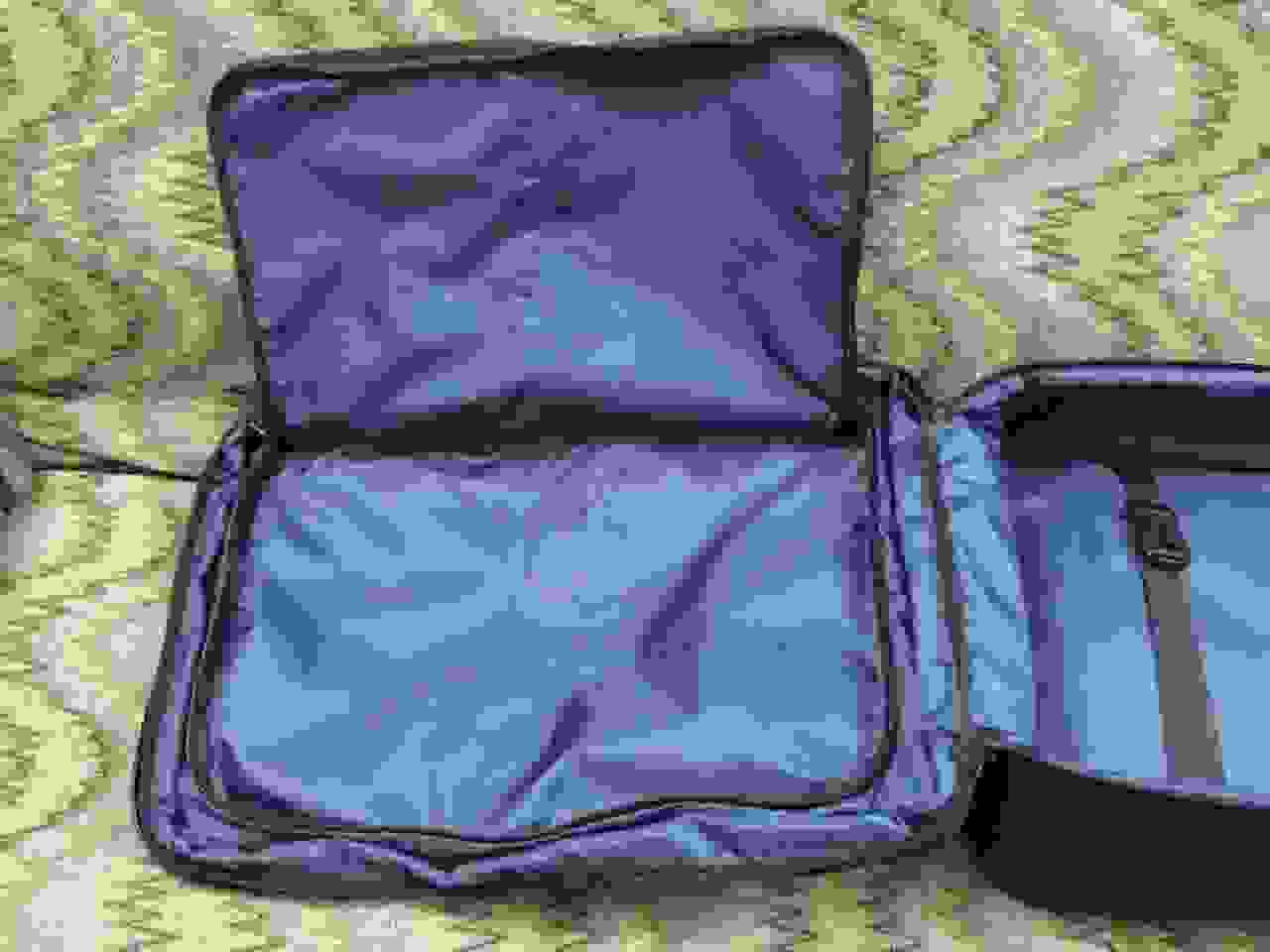 This compartment serves two functions; firstly, it's suggested that it should be used for wrinkly clothes, like dress shirts, pants, and other items that you might like to keep separate, so they stay flat. Secondly, this is the compartment that expands when you open up the expansion zipper. I like how it's this compartment that expands, instead of the main one, meaning you can section things off more easily and stay organized a little better.
Here's the expansion zipper, around the outer edge of the pack: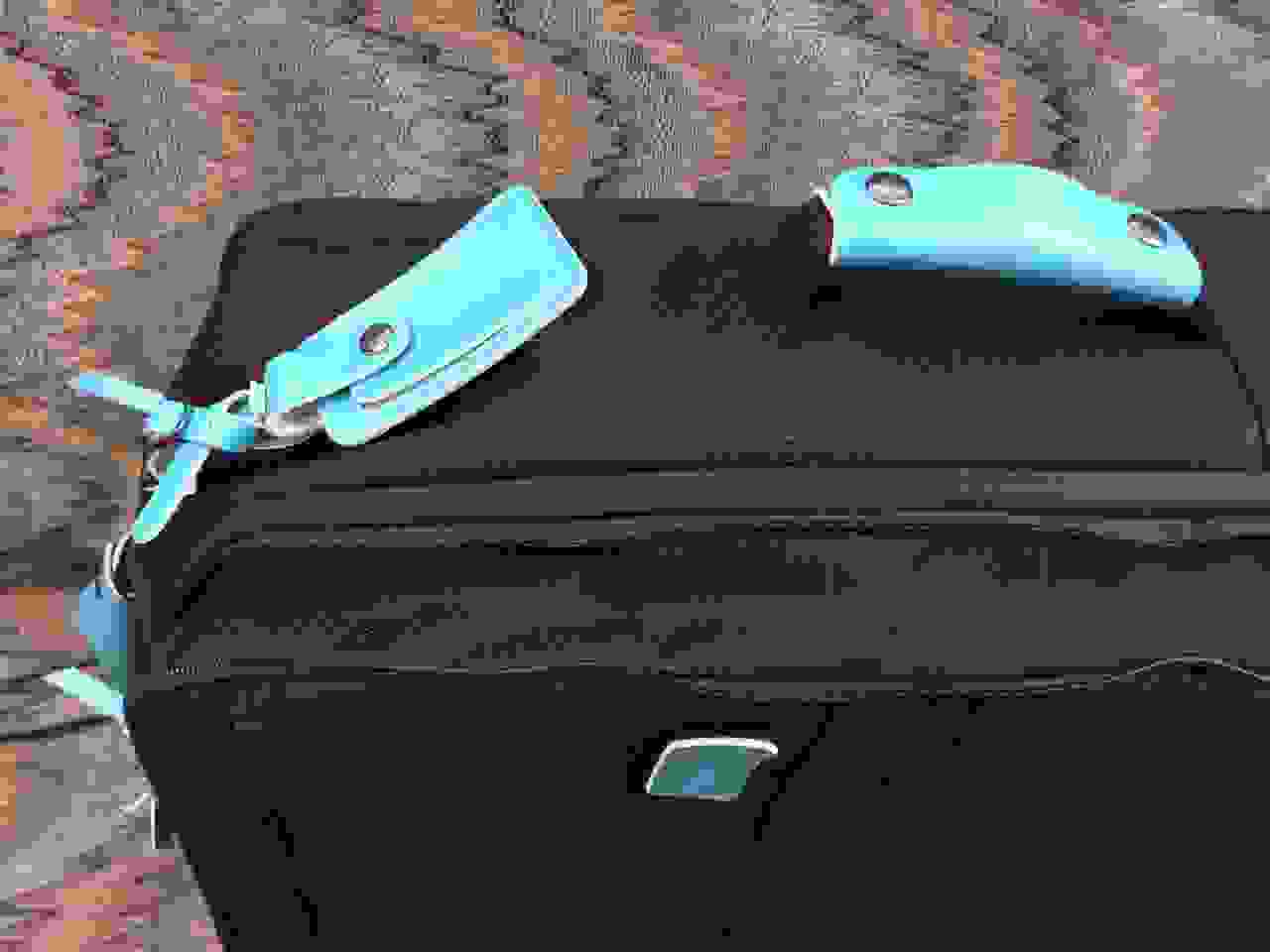 This is probably one of the best features of the pack, and perhaps the ideal place to put an expansion zipper on most backpacks. However, keep in mind that when it's expanded, it's perhaps a little too big to stow in North American overhead bins (with my own measurements at home, it's about 10″ deep compared to the max limit of 9″), but if you don't overstuff it, it might work out fine. Besides, the backpack straps tuck away so that it can be used as checked luggage as well. It also makes it more versatile as a smaller pack, going from 35 liters to 45, so you can use it on shorter trips as well, without the contents banging around loosely. I like the expansion zipper more than compression straps, by the way, just in terms of simplicity and elegance (though it also means you can't hang something from the compression straps, which can sometimes be useful).
Moving onto the laptop compartment, up against the back panel: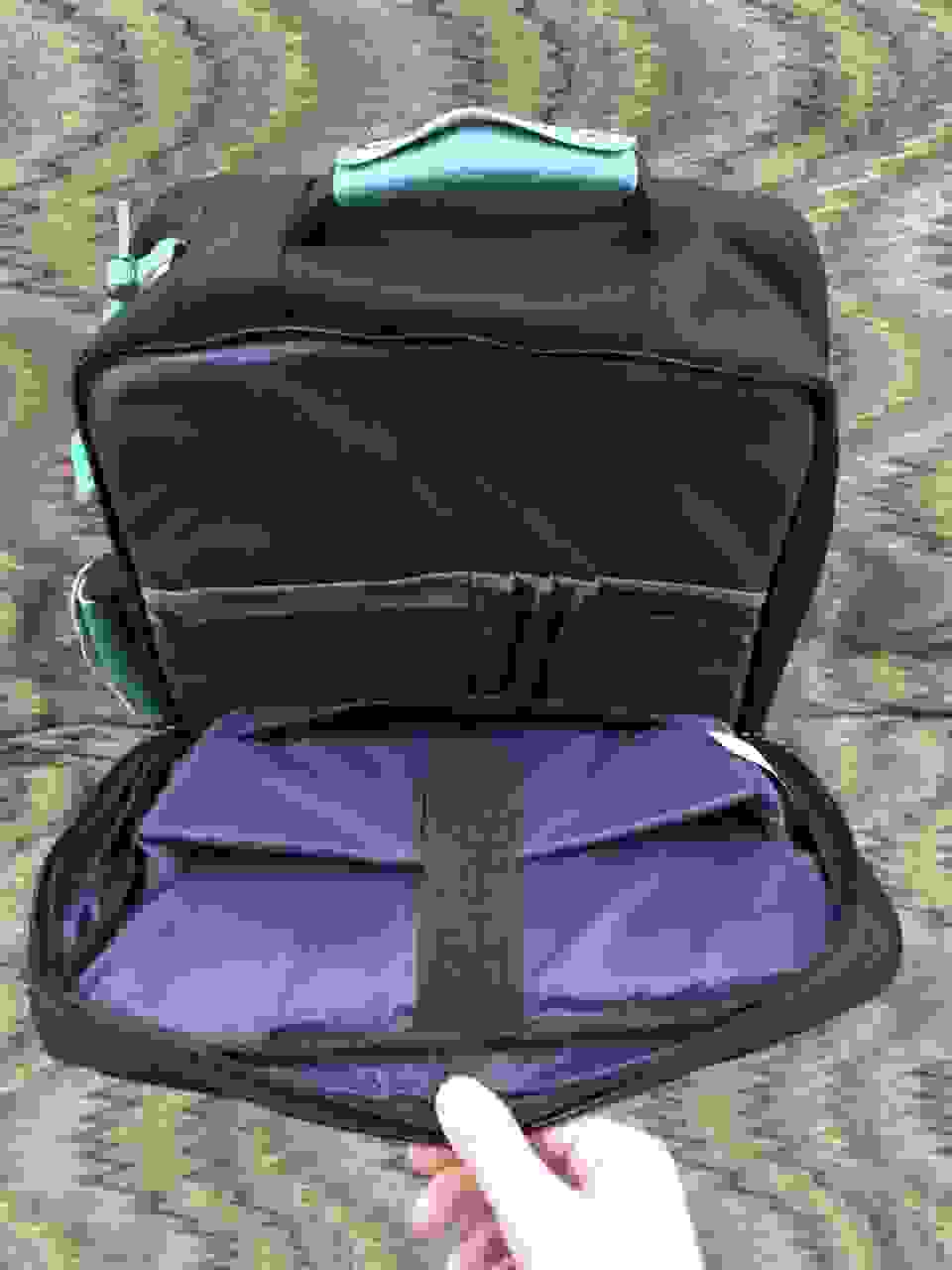 I'm all about organization of tiny items, so I love the tiny pockets on the far wall. I wouldn't mind if they went crazy and filled up that entire wall with tiny pockets, but even so, there are enough pen slots, card slots, plus a zippered pocket and a drop-in pocket to keep plenty of things organized, in addition to the padded laptop sleeve and tablet sleeve (the 2016 version also features a removable laptop/tablet compartment, allowing you to reduce the weight if you don't need to bring electronics like that).
It also features locking zippers, both on the laptop compartment and the main compartment: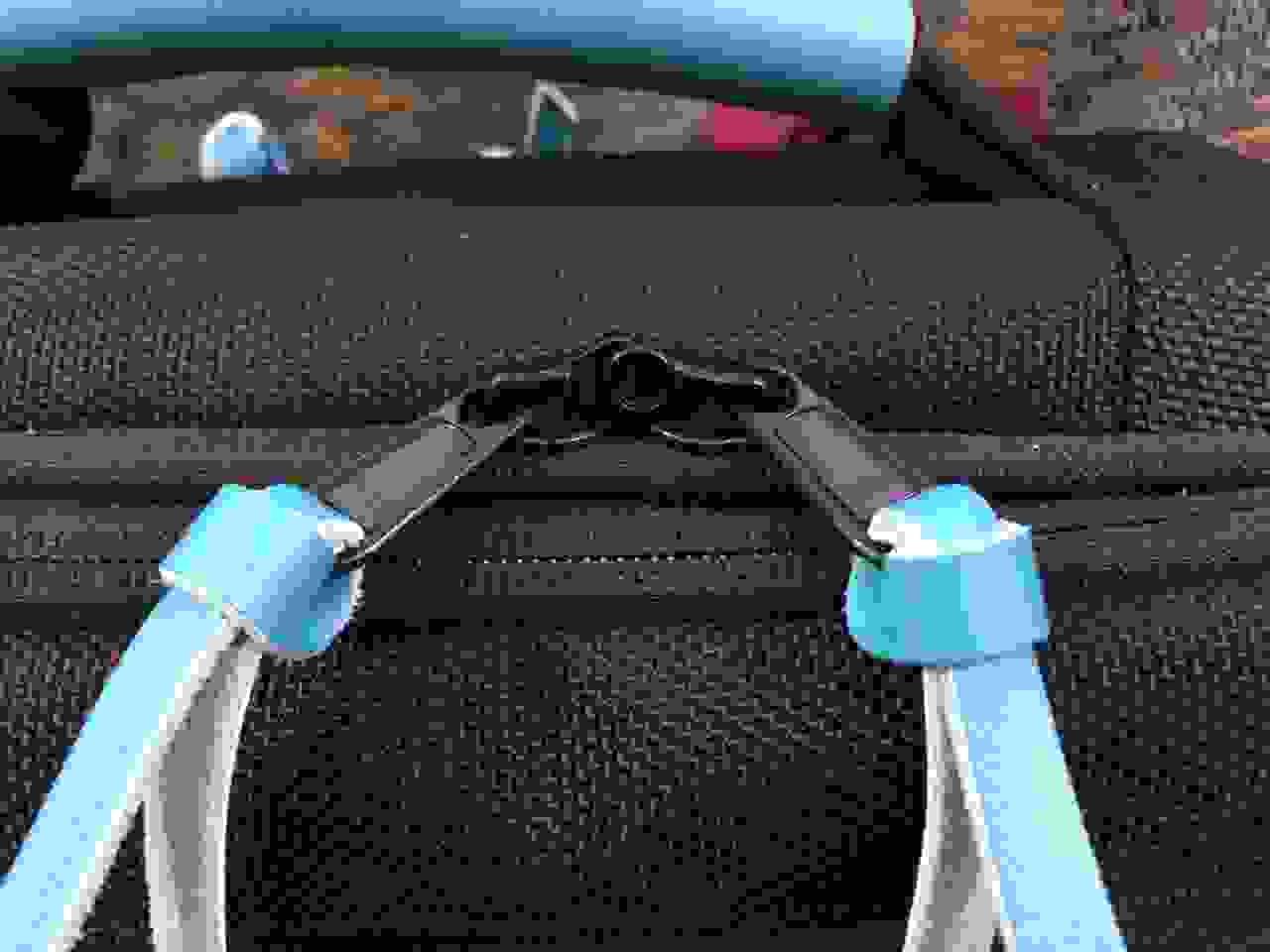 They're on opposite sides of the pack, so they're a little too far apart for a single lock to work, but some of those double locks (the ones that look like a figure eight) will probably do the trick.
In conclusion
I like the overall design of this pack quite a bit, but there were some limitations, specifically when used as a backpack, that make me a little wary of recommending it to everyone. The lack of hip belt and non-mesh back panel mean that you probably won't want to use it for long walks in hot climates, and the narrowly-attached shoulder straps mean that if you're on the smaller side, you might run into some neck discomfort. Larger, less-sweaty people, especially those who like carrying the pack a little lower on the shoulders, will probably find it a lot easier to use, as well as those who prefer using it primarily in suitcase mode, in which case it'll be just fine.
If you don't mind those limitations, the organization is quite nice; the laptop compartment is easily accessible, with an organizer panel to keep several tiny items in place; the panel-loading main compartment allows for easy access and organization; the expansion zipper allows you to vary the space required for the trip; the storable straps allow you to use it as a checked bag; and exterior pockets allow for easy access to certain items without opening up the main compartment.
I might make a few minor changes here and there, besides just the backpack straps, such as adding even more pockets to the organizer panel in the laptop compartment, and making the outer zip pockets three-dimensional, subtracting an inch of space from the main compartment in order to do so, but that's about all I can think of. If you're not expecting to run into the problems I did with the backpack straps, it's quite a versatile design, and definitely worth a look.
Take a look here for more details, and also check out some of my favorite travel backpacks to see how this compares to some of the better-known options out there.