Time to start something new here. As many of you may know, I like doing reviews so in-depth that you'll have missed out on other opportunities in your life by the time you're through with them. But on the upside, you won't waste a bunch of money buying the wrong thing three times in a row.
I do, however, run across a few things here and there that I'm not planning on highlighting in a full-scale review, either because they're so self-explanatory that I wouldn't have much to say about them, or they're simply not for me, such as women's clothing, camping gear, and so on. Occasionally I'll mention these on social media, but I'd like at least a few of them to show up here as well, and that's what this series of posts is intended to provide.
I'm calling these "snapshots," and they'll serve as quick summations of interesting new items or services designed for adventure travelers or digital nomads that I've come across recently. These are not meant to be explicit endorsements; if I've tried them before, I'll say so, but otherwise, they're showing up here simply because I think they're interesting and worth a look.
These snapshots won't be replacing the in-depth reviews, since I think those are important as well, but they'll exist alongside them, and they'll show up maybe once per season, or even once a month, if there's enough material to work with. There won't be any rhyme or reason, topics or themes, or anything else to provide any sense of coherence. These will simply be the chaotic random blatherings of someone who likes finding neat things out there in the world, and can't help but share. So let's begin!
1) Ministry of Supply goes after the ladies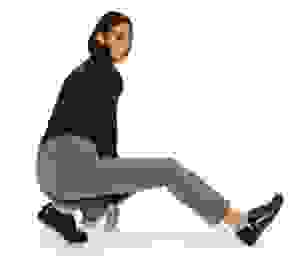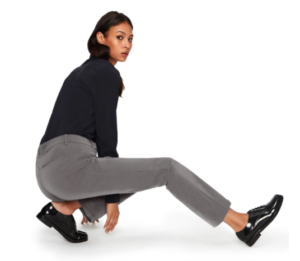 …though I'm pretty sure they've rebranded as just "Ministry" now, but oh well. At any rate, I'm glad to see someone moving into the world of performance apparel for the ladies, because things have been so unfairly wonderful for the guys lately that I've felt bad at the relative rarity of options for women. Outlier exited from the market to focus only on men's clothing, and I haven't seen too many alternatives show up, and it's nice to see someone moving in.
And allow me to reiterate: A 4-way stretch soft shell pant is absolutely the best possible fabric for women's pants, without exception, anywhere in the world. I will bet you a beer. Perhaps even two. You know the debate over whether women should be allowed to wear leggings or yoga pants at work, because they're super comfortable, but not exactly professional? And "real" pants look nice, but they're not as comfortable? Soft shell pants are the objectively correct answer. They're as normal-looking as you can imagine, but they're as stretchy as yoga pants; so despite my relative lack of expertise in the area of women's clothing, I am fairly confident you will find nothing as versatile and comfortable as a 4-way stretch soft shell fabric (discussed here), especially if you intend it to be form-fitting, which plenty of women do. Cotton/synthetic blends are nice too, but those are pretty rare as well.
A couple other quick mentions of companies doing similar things for women would be Pivotte Studio, Anatomie, and Betabrand, and bloggers focusing on these sorts of things would include Her Packing List and Travel Fashion Girl.
2) GoTenna and mesh networking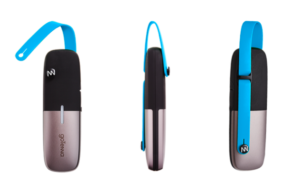 I am partly excited about this because of what it will eventually mean, which is that citizens will be able to circumvent authoritarian regimes from smashing the internet to pieces and imposing nationwide censorship over a distraught populace by forming an impenetrable network of tiny relay devices that cannot be controlled. In the meantime, however, this device allows you to stay connected with friends and family without an internet connection. Neat!
The idea is called mesh networking, and it's a method that allows you to communicate between devices without requiring Wi-Fi or cell service. Your phone connects to the GoTenna via Bluetooth, then the GoTenna communicates with another GoTenna via radio waves, which then communicates with another phone via Bluetooth. This means you can be out in the woods, or in another country where you're not signed up for international roaming, and you can communicate from a few miles away without a problem. And the "mesh" part of mesh networking means you can chain several GoTennas together and communicate over even further distances.
You know what would be really great? Solar-powered drones that flew around the sky, forming a vast network of daisy-chained devices that could shift over borders, move with crowds as needed, and send data and other signals over a securely encrypted connection to whatever final destination requested it, providing perfectly functional internet service with no possibility that the government could censor the incoming data by cutting it off at the source, since there would be clouds of these things all over the place, with no wires to cut. It would revolutionize internet services by circumventing the standard methods of censorship completely. The only way to shut down the drone cloud would be to shoot them right out of the sky, or something like that. But you'd have to get all of them, and if they're cheap enough, new ones would come right in. Yes, people. It would be amazing. Somebody should get to work on that.
In the meantime, it's a pretty neat way to keep your family able to communicate with each other, without having to pay for cell phone service for all six of your kids. Mountaineering and other outdoorsy adventures might be able to make good use of it, too. There's also an app called Firechat that allows direct phone-to-phone communication, but its maximum range is only a few hundred feet, but that's a nice option as well.
3) Bluffworks Gramercy Blazer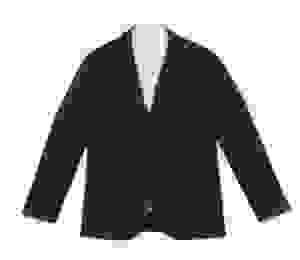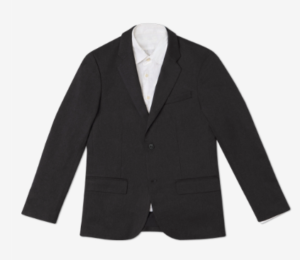 It has arrived, and it is beautiful. After three years in development, Bluffworks has released a 100% polyester, machine washable, non-wrinkly, fast-drying, travel-worthy blazer that looks and feels very much like wool. I got a free sample during the Kickstarter campaign, took it to a wedding, and multiple people asked me where they could get one.
Despite what looks like rather healthy demand, this is the first blazer that I know of that looks totally normal, but is made entirely of performance fabric. Other companies have done high-performance blazers before (and I've seen some wool/polyester blends), but there's usually some detail here or there that isn't quite normal, like laser-welded pockets or unusual stitching, and although it can sometimes look interesting, it can also feel out of place, especially in a fancy setting. If you have to fit in, normal is best. There'll be a review of this in the future, but it's lovely, and I have zero complaints.
4) Journeyman Suitable Pant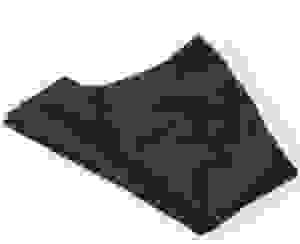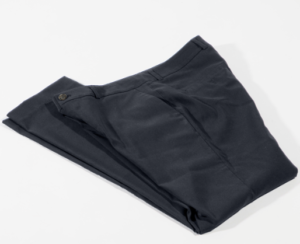 An upscale alternative to the dusty trail colors so often associated with high-tech clothing, the Journeyman Suitable Pant comes in classic suit colors, with the heathered visual texture of wool; but they're a polyester/rayon/spandex blend, meaning they'll dry quickly, resist wrinkles, and last longer. They've also got a hidden zippered pocket inside one of the hand pockets, so they're more travel-worthy than a typical pair of dress slacks, and if enough people keep bugging him about it, I bet he'll do a matching blazer, too.
I was sent a free sample, and I'm happy to say they feel quite nice; they've got a slick texture instead of a scratchy wool feel, but still look perfectly worthy of a fancy night out. They're not meant to be taken on trails, but if business travel is more your thing, you'll want to give these a look.
5) Non-merino socks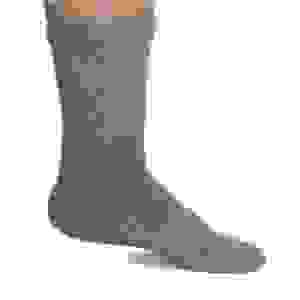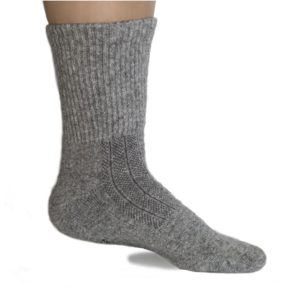 Okay, so this isn't exactly "new," but I've gotten a chance to try a few merino alternatives lately that I wanted to mention, both in terms of performance reasons, as well as environmental and animal welfare reasons: Alpaca wool, and Mongolian sheep wool.
Alpaca is an underrated performance fiber that I expect will start getting more attention sooner or later; it's warmer than wool for the same weight, more environmentally friendly, has greater tensile strength, and is also hypoallergenic, non-itchy, and super soft. You can find hats, socks, scarves, sweaters, and a few other items here and there, but the market is kind of fragmented, with just a few stores selling a few things, rather than a powerhouse like Icebreaker ruling over an empire with an iron fist. This means random Googling is kind of the only way to sift through the options, but they're definitely out there. I was sent a few cozy test samples from MyComfy, and I had a few from Dahlgren years ago as well, but there are plenty of others out there as well. It just takes some digging to find them.
The other is Mongolian sheep's wool, grown on the steppes of Mongolia, where the wool has developed to handle some of the harshest conditions on Earth, and is every bit as soft and comfy as any merino I've tried. The difference, however, is that Mongolian sheep don't require mulesing, which is a painful process which involves cutting certain skin folds off of merino sheep; it's not universal, but it's fairly common. Since Mongolian sheep don't have these excessive skin folds, this process simply isn't necessary. Mongol Wear sent me a test sample, and it's a great mid-weight hiking sock, and definitely cozy enough for those Mongolian winters…although I'm not sure if they're still operational.
Yak and bison wool sound great too, but I haven't tried those yet. They're supposedly even warmer, but quantities are so tiny that prices are even higher than other types of wool. And if you haven't switched over to wool socks yet, here's why you should.
6) Merino wool shoes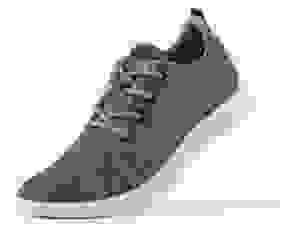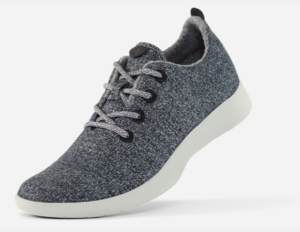 Yes, shoes. Is there anything merino wool can't do? Probably not. Water resistance, breathability, anti-odor properties, and temperature regulation all add up to some pretty admirable footwear claims, and you can now clothe yourself literally from head to toe in merino wool, with the recent addition of shoes to the list of things merino can do.
Allbirds have been getting some oddly high-tech press lately, apparently grabbing the attention of certain Silicon Valley investors, and the product has been called the most comfortable shoe ever. I picked up a pair of these recently, and I was overjoyed to discover that they actually have arch support. Finally, a company that realizes that walking barefoot on concrete is a terrible idea!
Seriously, I have no idea why the hell it seems that nobody in the Converse-esque sneaker world has figured this out. The last time I walked around for a few days in a pair of Vans, my feet hurt so badly that I had to stop literally every half hour to take a break. Not so with these. Despite the fact they're about half the weight of standard sneakers at 16 ounces per pair, they've got enough cushioning and arch support that I can't feel the development of any pressure points, even after walking around for a while. Seriously, everyone else. Learn a lesson here.
These aren't heavy-duty shoes, so rocky trails aren't the best idea, but for urban travel, they're quite nice. I will say that the water resistance isn't magical, and they did feel warm after a while, but the overall performance is quite nice. I still think casual leather shoes make some of the best all-around travel shoes, but if you're not planning on beating them up, these are a great, lightweight, casual alternative.
They're only shipping to certain countries right now, so if you're over in Europe, take a look at Baabuk, which offers something quite similar, and is available over there, although I haven't personally tried them.
7) Google Project Fi


So I'm pretty sure this is the only phone service international travelers should bother looking at besides T-Mobile (which offers free roaming at no extra charge), as every other option seems like a huge mess.
Project Fi is Google's international phone service, and it's quite an impressive bit of near-bribery that I think will win over quite a few converts. It gives you unlimited domestic talk and text, and unlimited international texting, starting at $20 a month, then data at $10 per GB on top of that; international calls are 20 cents a minute. What's really great is that you can use your phone as a Wi-Fi hotspot, which every phone should do dammit (ahem!).
Project Fi is currently only available if you're using one of Google's proprietary phones, like the Nexus and Pixel, and works in 135 countries, but if you're on Wi-Fi, it works anywhere, and the pricing is pretty great.
8) World map of airport Wi-Fi passwords
Foxnomad has compiled a map of airports all over the world, and has listed the Wi-Fi passwords of as many of them as possible. This hero of Robin Hood-esque proportions deserves our admiration and perhaps a medal.
He's even built an app, and travelers all over the world regularly help update the info. Hopefully the airports will change them more slowly than his fans update them. Here's the map itself.
9) Peak Design Everyday Backpack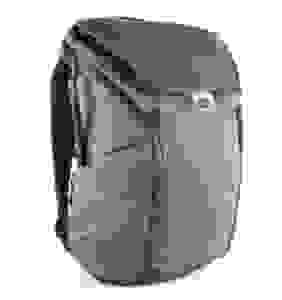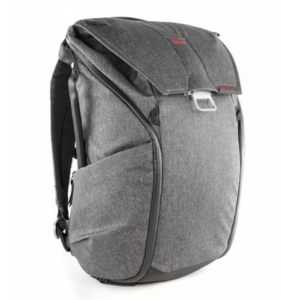 Peak Design ran into some massive success with their messenger bags, which incorporate a number of design features that no one else on the planet had thought to use; they've followed this up with a backpack which does the same, with so many custom-built parts and neat design decisions that it's worth perusing it just to observe the creativity. I backed this on Kickstarter, along with a small city worth of other people, and I'll be doing a full review once it shows up.
Peak Design is a camera gear company, so it's optimized primarily for photographers, but it has a number of features that would be useful for anyone, such as fully-opening side panels, rotating shoulder straps, and that magnetic latch for expansion up at the top. It's quite clever, and it really raises the bar in terms of new ideas, and you're not likely to find these ideas anywhere else for a while.
10) Tom Bihn Hero's Journey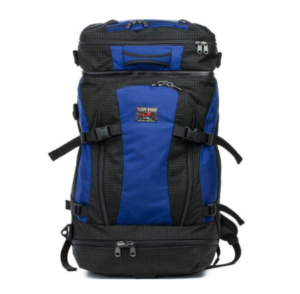 New in the world of travel backpacks is this maxi-sized, convertible and versatile pack from Tom Bihn, which features a 45 liter main pack, which can be carried as a backpack or a shoulder bag, with an additional 10 liter zip-off section up at the top, which can transform into a waist belt, a shoulder bag, or flipped inside out to become a mini backpack. It's probably the most convertible bag I've seen, and it comes with quite a few accessories to accommodate the transformation.
The 45 liter main pack is the maximum-size carry-on for most airlines besides budget carriers, and the detachable 10 liter mini-pack is meant to be a maximum-size personal item for stowing beneath a seat, meaning you get a grand total of 55 liters, which is as much as you can carry on most airlines without having to check a bag (and the straps on the main pack stow away, so using it as checked luggage works just fine). This makes it more spacious than most minimalist digital nomad setups, intended more for the sorts of outdoorsy adventures that require extra gear, such as a sleeping bag, hiking boots, and other large items, or maybe just a whole lot of souvenir shopping.
It also has Tom Bihn's flexible frame sheet, which adds a lot more support to the pack, as well as back panel contouring; this means it doesn't have a dedicated laptop sleeve, which would prevent the back panel from providing that spine-following curvature. Obviously you could stow a laptop somewhere else in there if you wanted to, but I think this pack is for people who want to get away from screens, rather than stow them in immediately-accessible external zippered pockets.
That's it for now!
Well, that brings this episode of Snapshots to a close. If you've seen anything lately that you'd like to mention, please do so. I love hearing about new gear and other things that help make travel more fun, and I hope these posts will be as much a free-for-all in the comments section as the posts themselves. Now off to compile the next list…