Well, I say "finally here" almost a year later, as the Bluffworks blazer has been out for a while, and I expect quite a few of you might have one already. So, why have I been dragging my feet this long, even though I received a test sample quite some time ago? Because I was trying to find something wrong with it. And I failed.
The Bluffworks Gramercy Blazer, in review
Bluffworks has been working on a blazer for quite some time, and went through quite a few iterations getting the appearance, texture, and durability just right. They were hoping to get something made of a high-performance synthetic material that could look and feel very much like wool, so it could pass for a dressy blazer not only from across the room, but up close and personally, too. And they nailed it.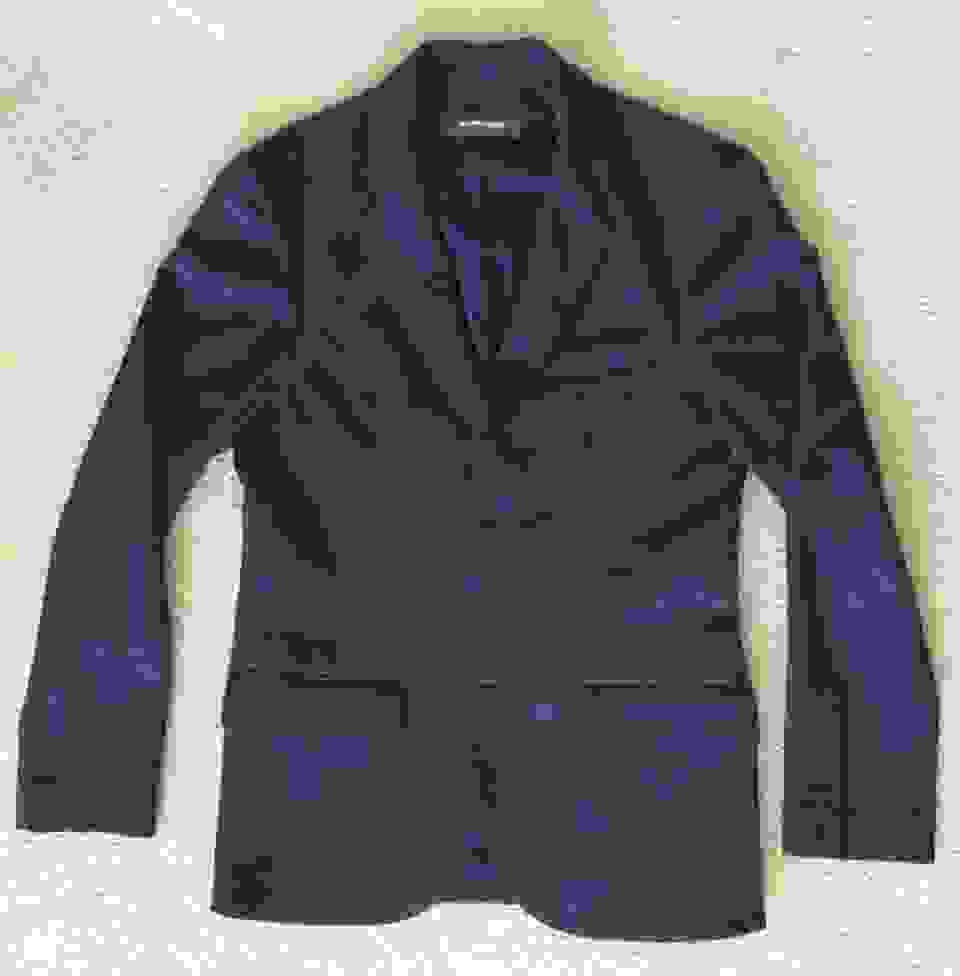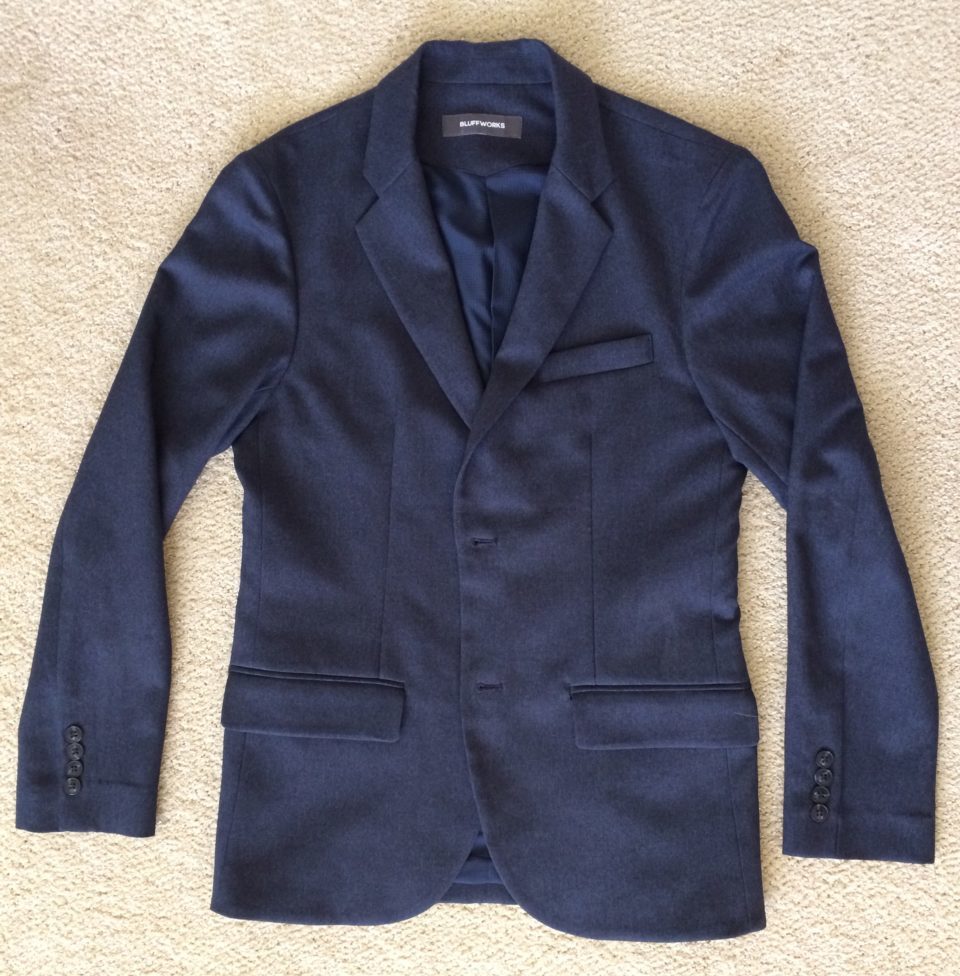 It just looks like a classic blazer, from the overall appearance, to the tiny details.
And you know what you're not seeing? Pointless zippers, racing stripes, reflective panels, and whatever else keeps showing up on technical blazers all over the place. It's fine to put these on the inside, but if you're in a situation where you have to wear a business suit or something similar, any deviation from the norm is going to stand out immediately, which is a problem with most alternatives I've seen. If they're not formal enough for a business meeting, what are they good for?
As you can see, that's not the case with this one. It's just a classic blazer, everywhere you look.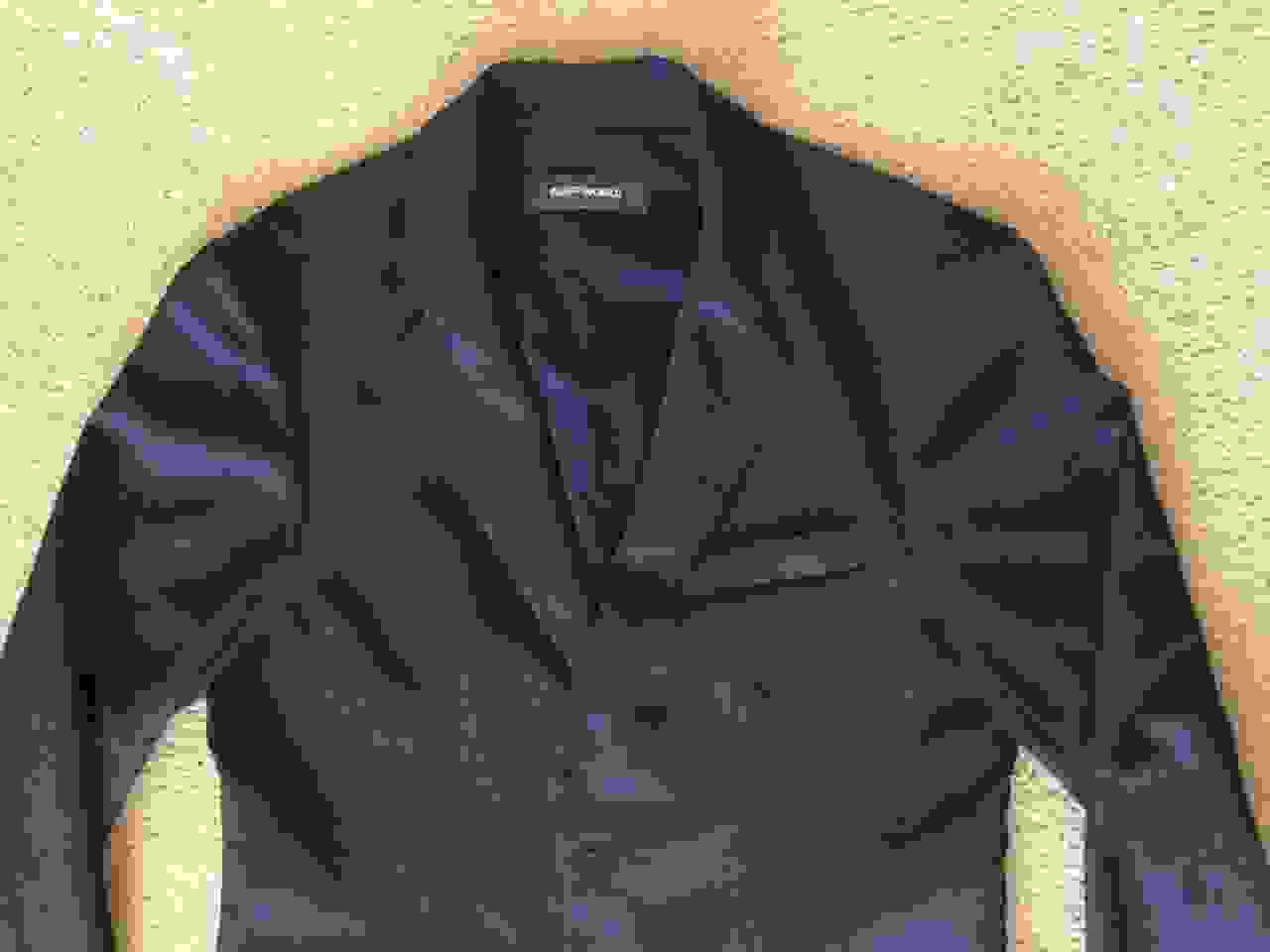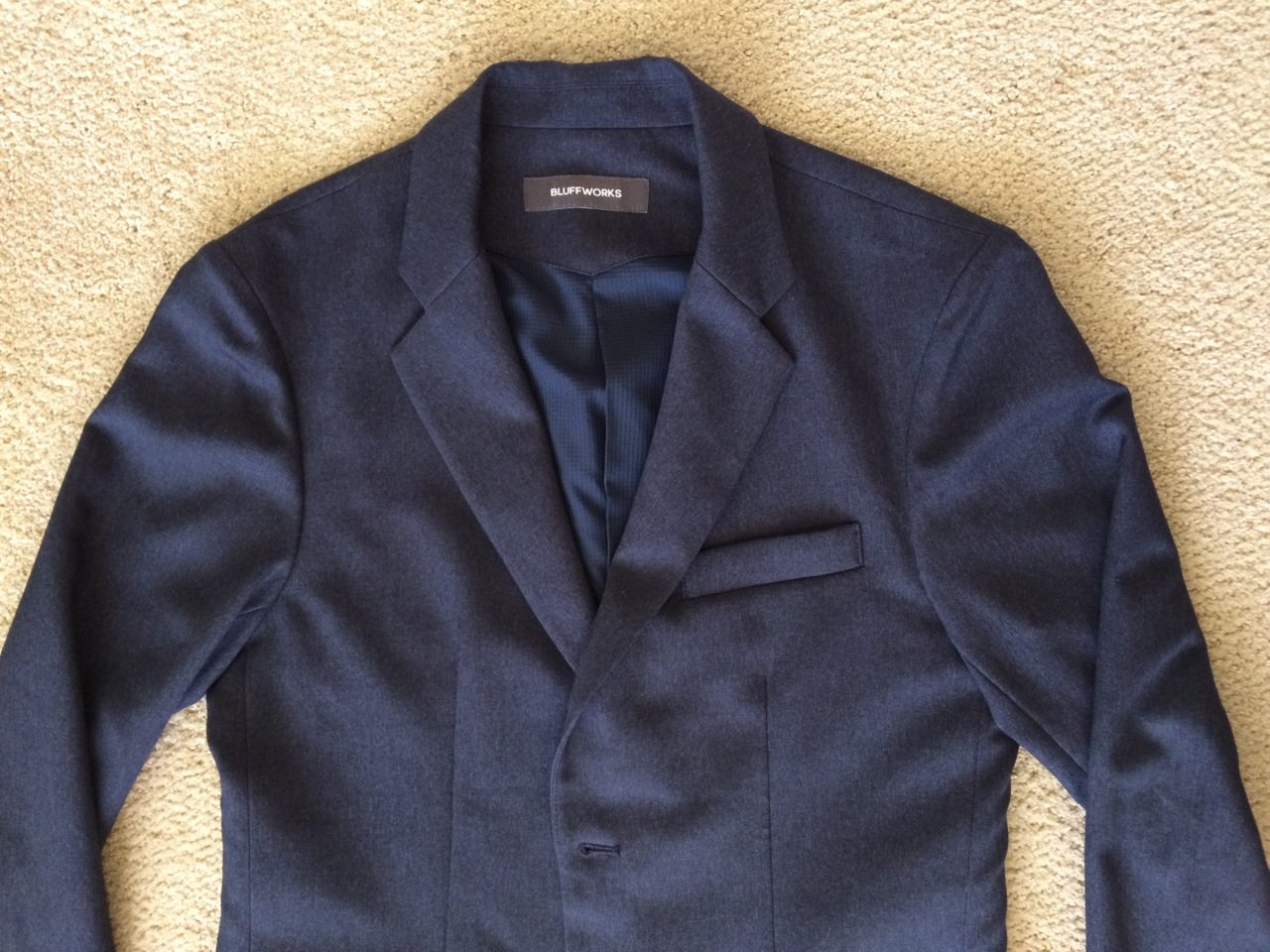 No weirdness in back, either.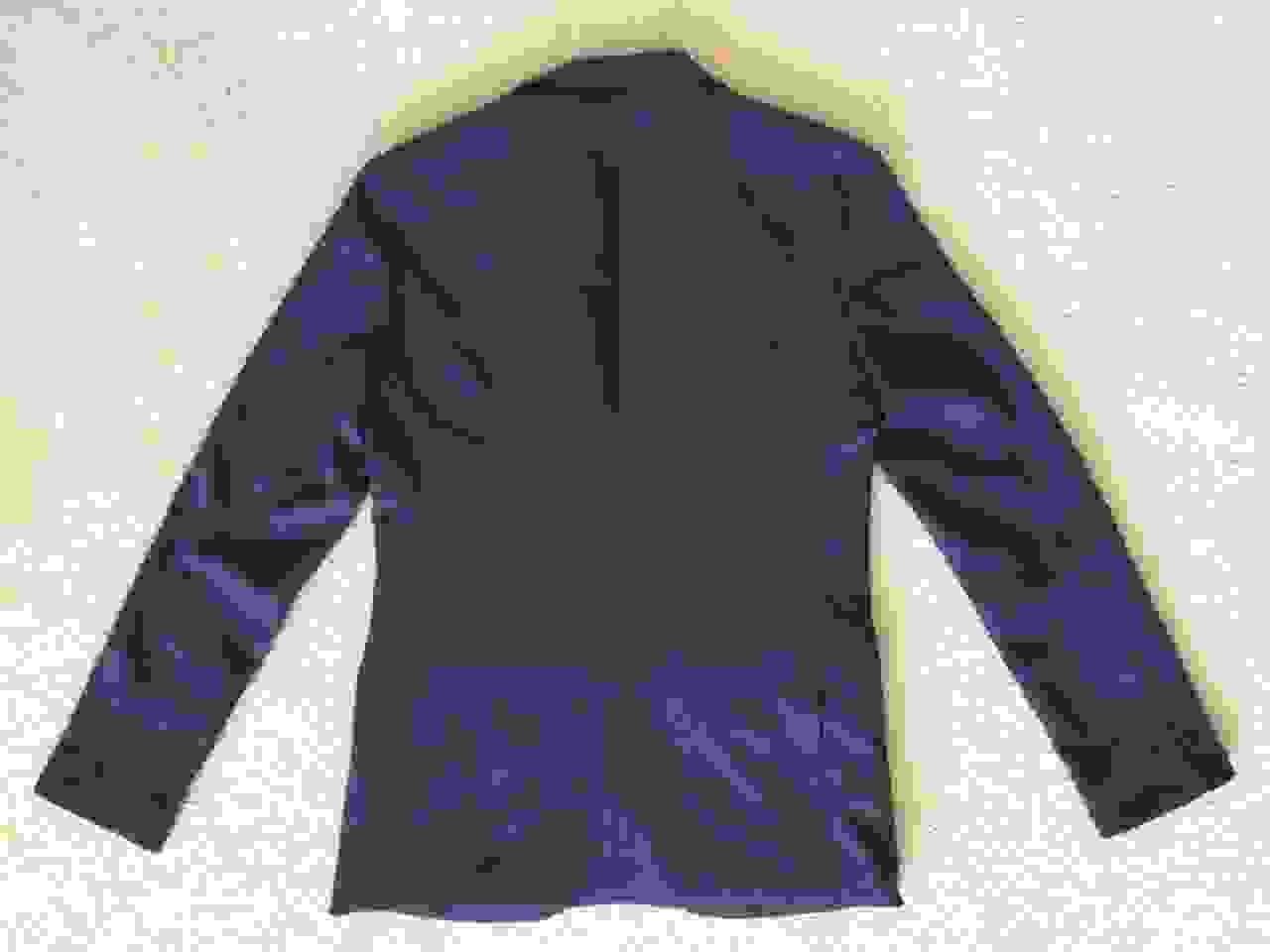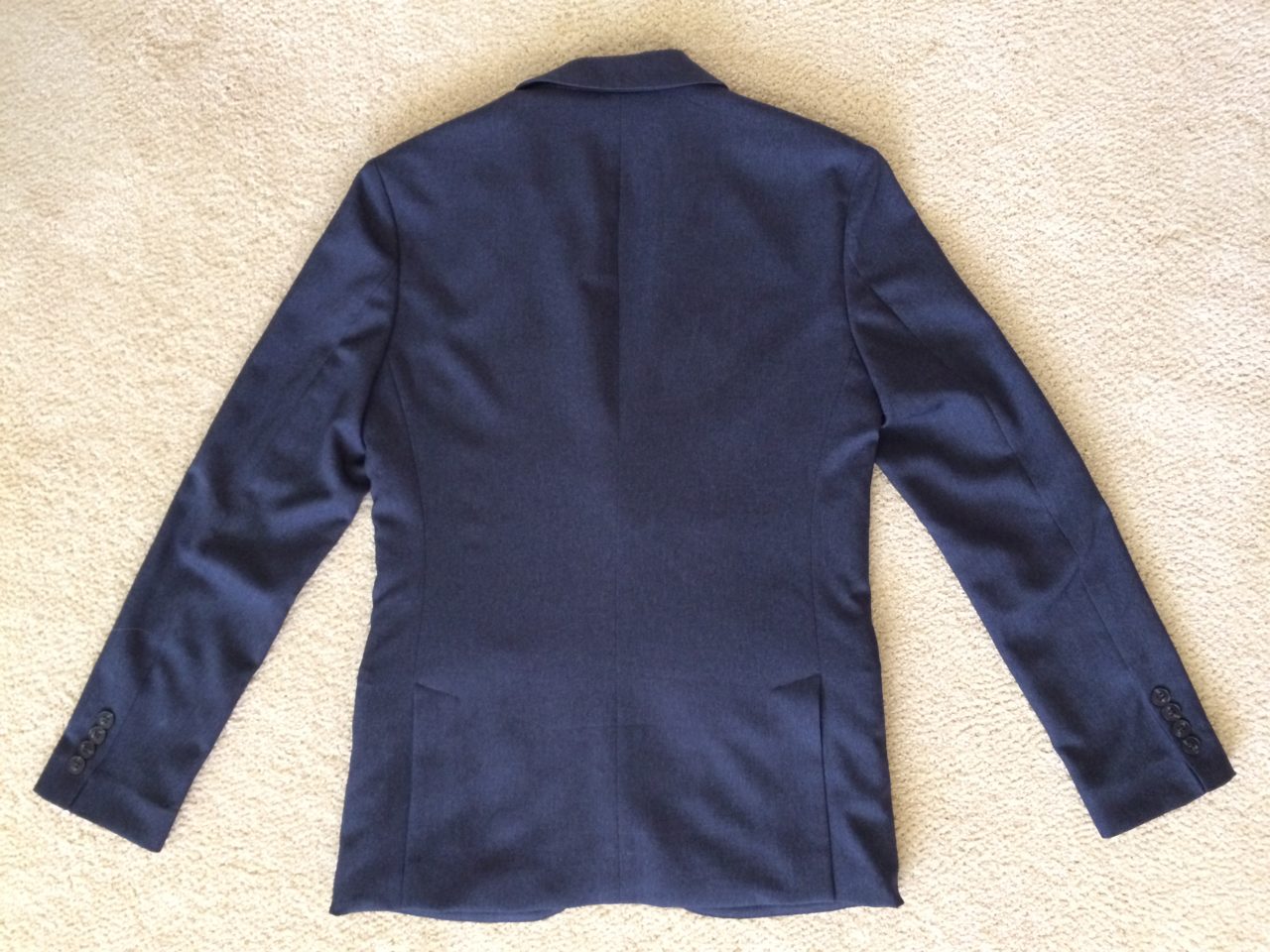 The style is just as it should be. Classic.
The fabric
This is really the major selling point, especially in how they achieved that heathered, wool-ish look and feel, making it quite difficult to distinguish from a standard suit fabric: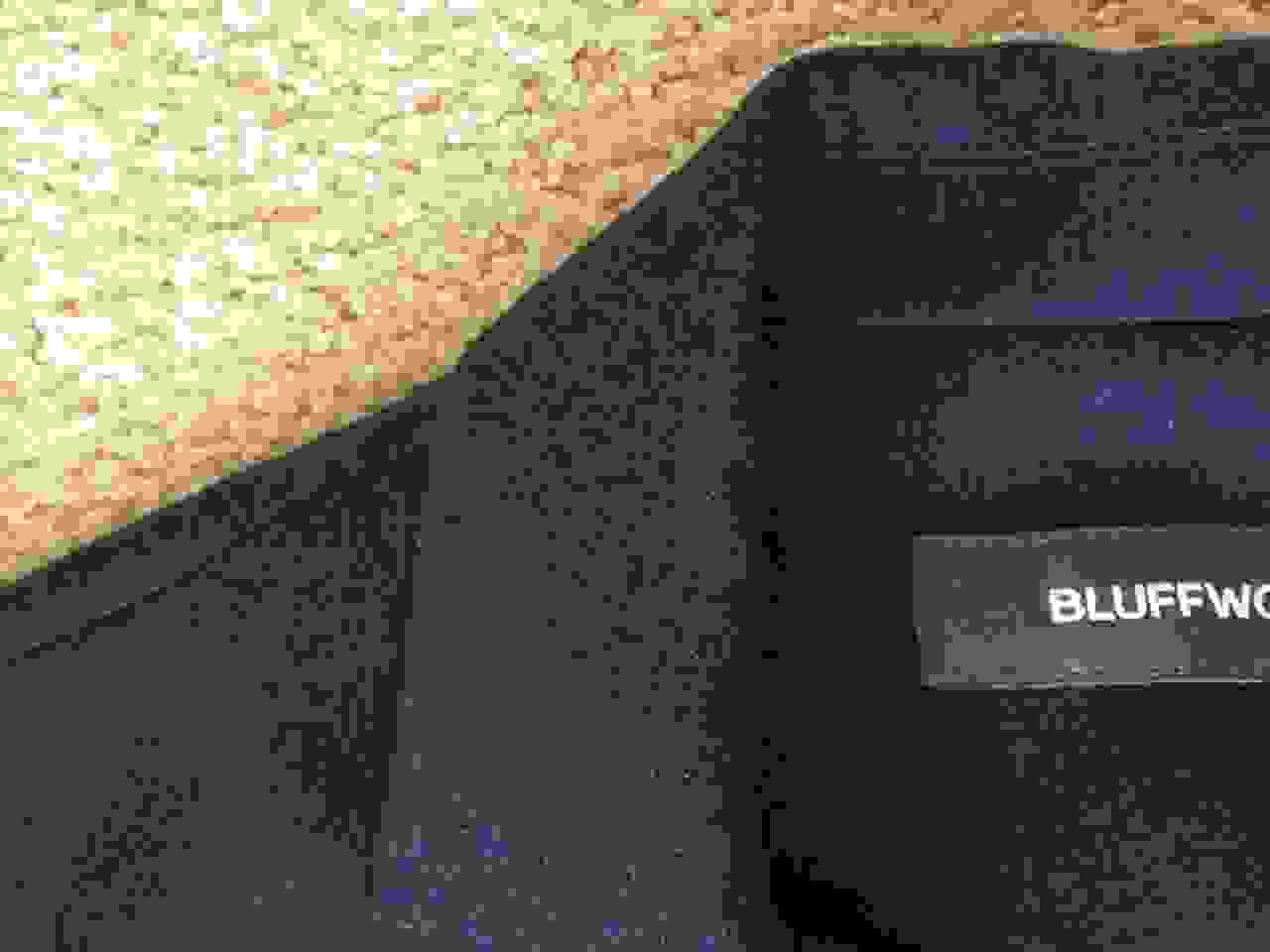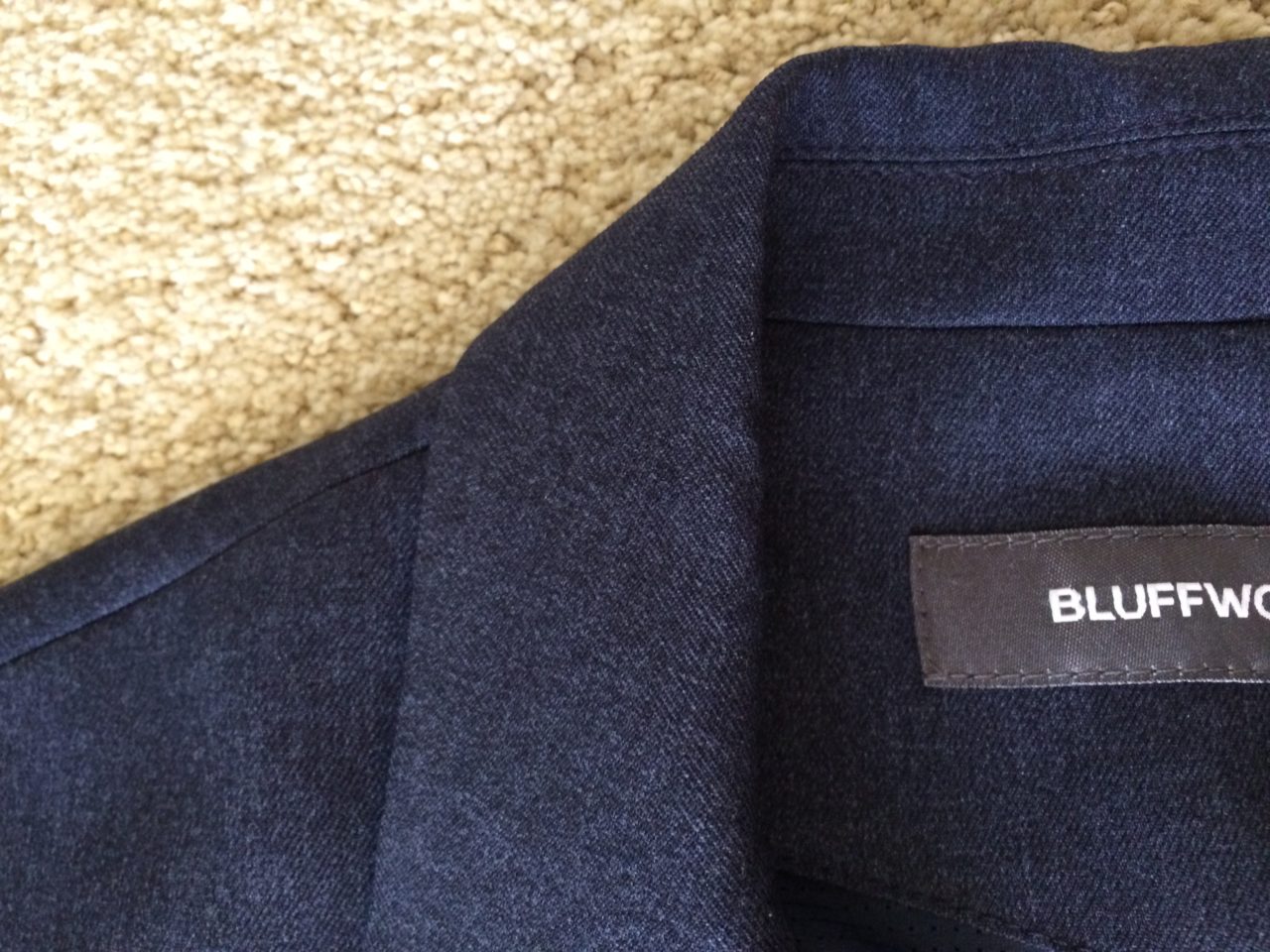 You can even see individual yarns, which is something worth looking for if you're looking into high-tech clothing like this. Smaller, visually indistinguishable yarns are usually what contribute to a plasticky texture, a clammy feeling against sweaty skin, and the zip-zop sound so typical of polyester clothing. With thicker yarns, you not only gain a more natural visual texture, but it feels a lot nicer, giving it a softer, more natural-feeling surface. Thicker yarns also tend to open up the fabric a bit more, helping with breathability.
It's hard to describe the hand feel without trying it out for yourself, but here's a side-by-side comparison of a 100% wool blazer (left) next to the 100% polyester Bluffworks (right):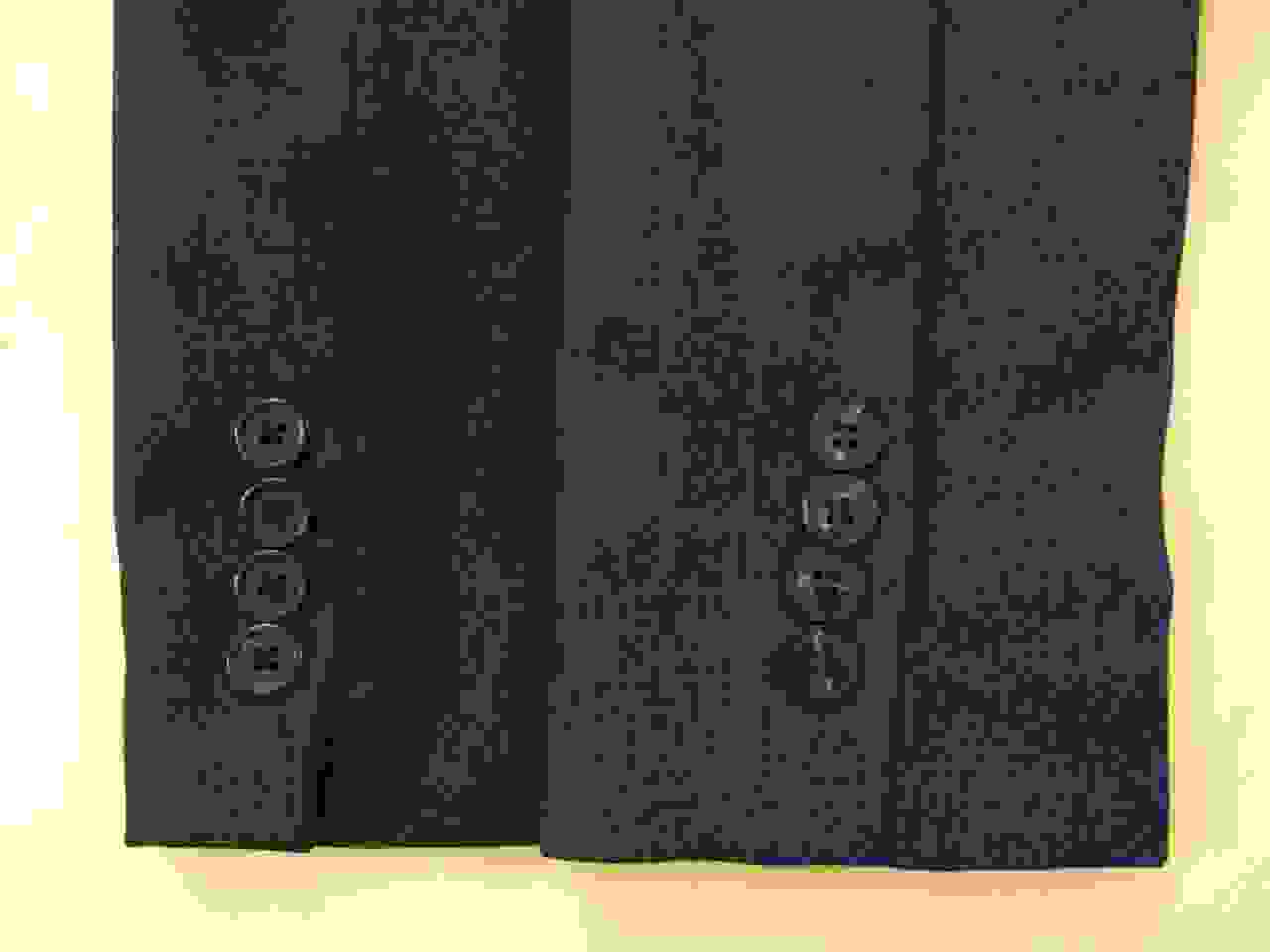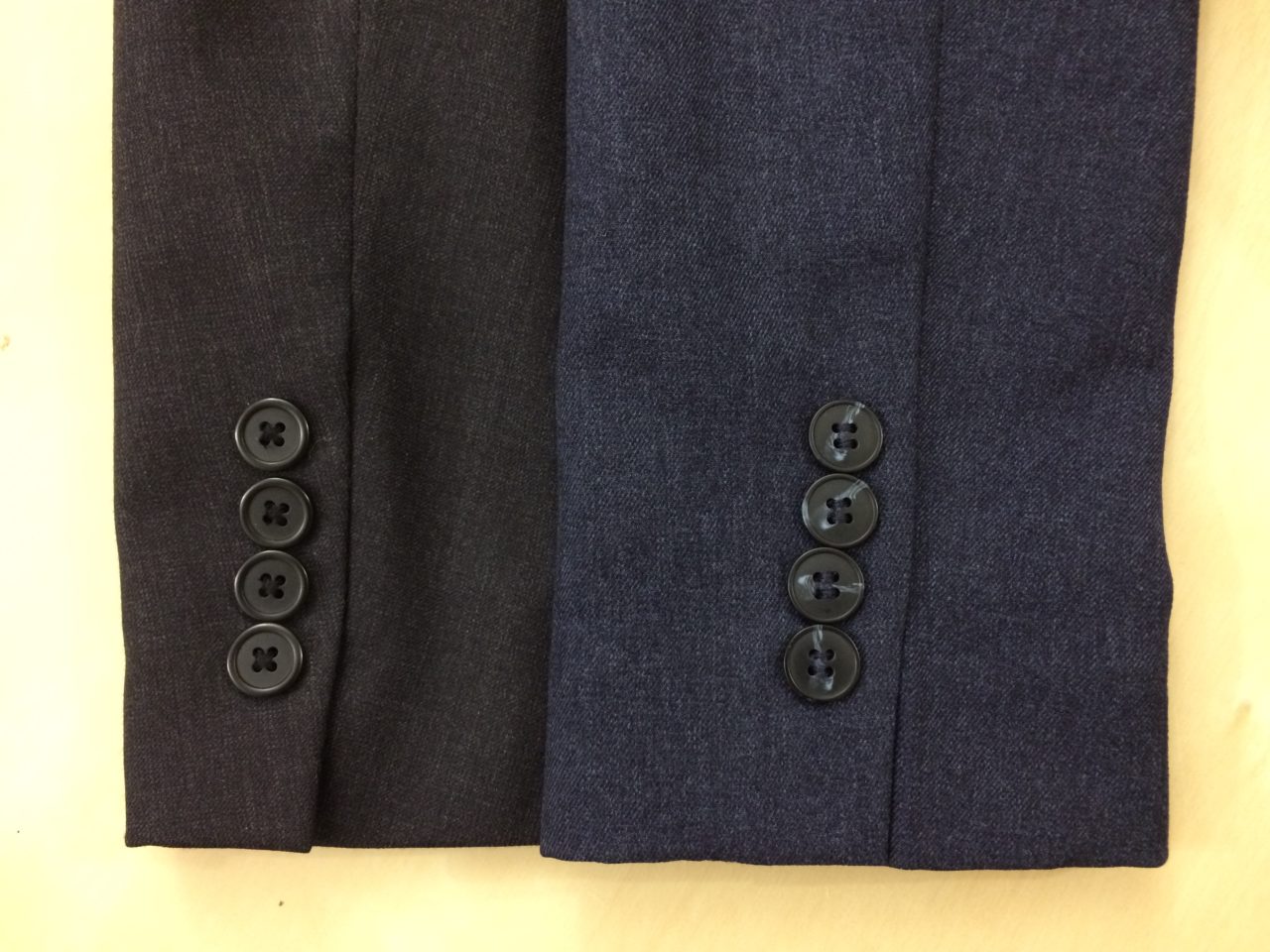 It's really nice. It's even a bit stretchy, too.
And, being that it's a technical fabric, you gain all the advantages therein. It's significantly more durable, it'll dry quickly, and it'll never wrinkle. I've shoved it into a bag with a bunch of other stuff numerous times and it looks brand new whenever I take it out.
It's also quite stain-resistant, as polyester is pretty much immune to this problem. But I wanted to put this to the test anyway.
So I poured coffee all over it. Thick, sludgy coffee with the grounds in there too. Then I smushed it into the fabric, and let it sit there…for 24 hours.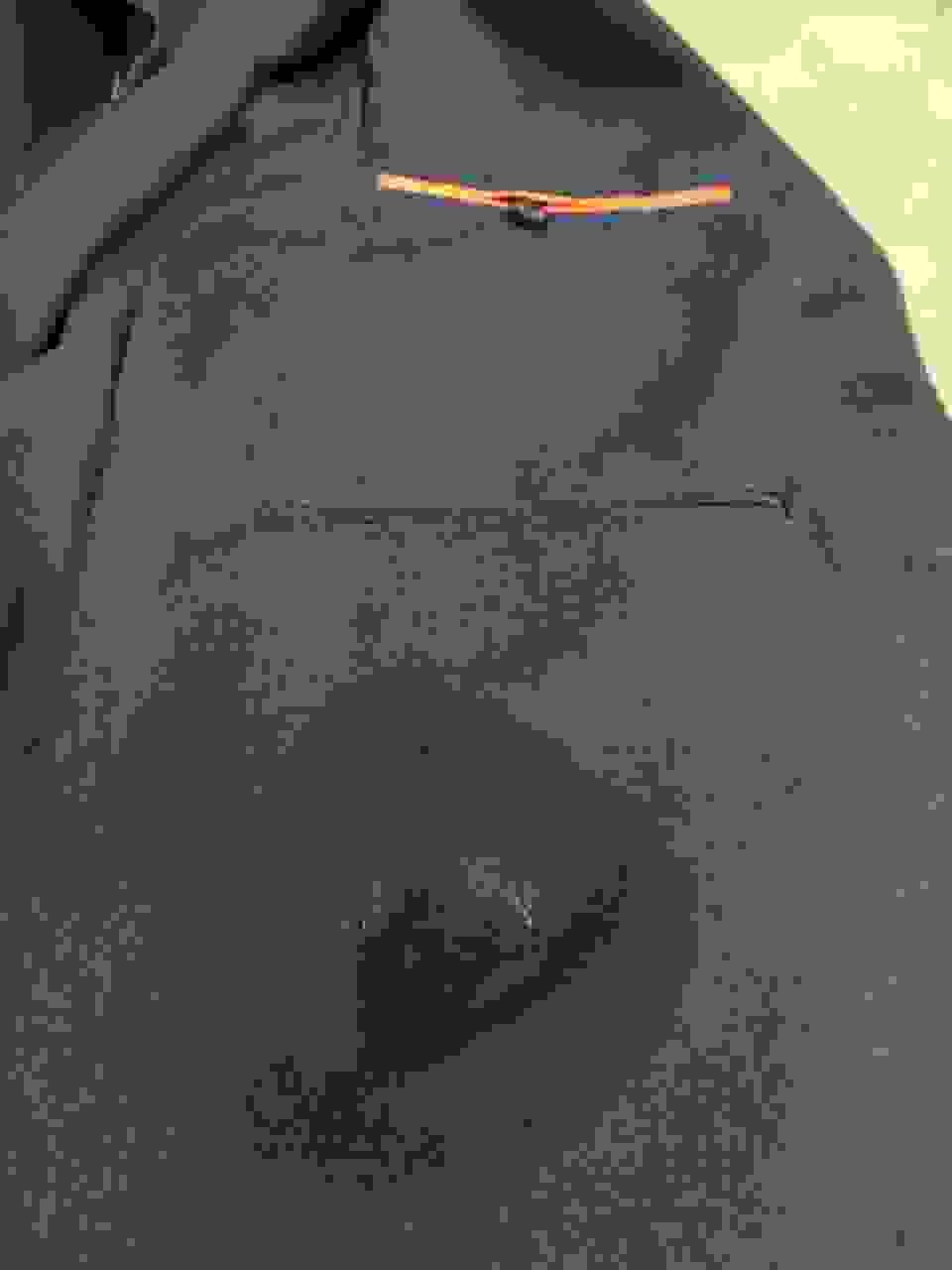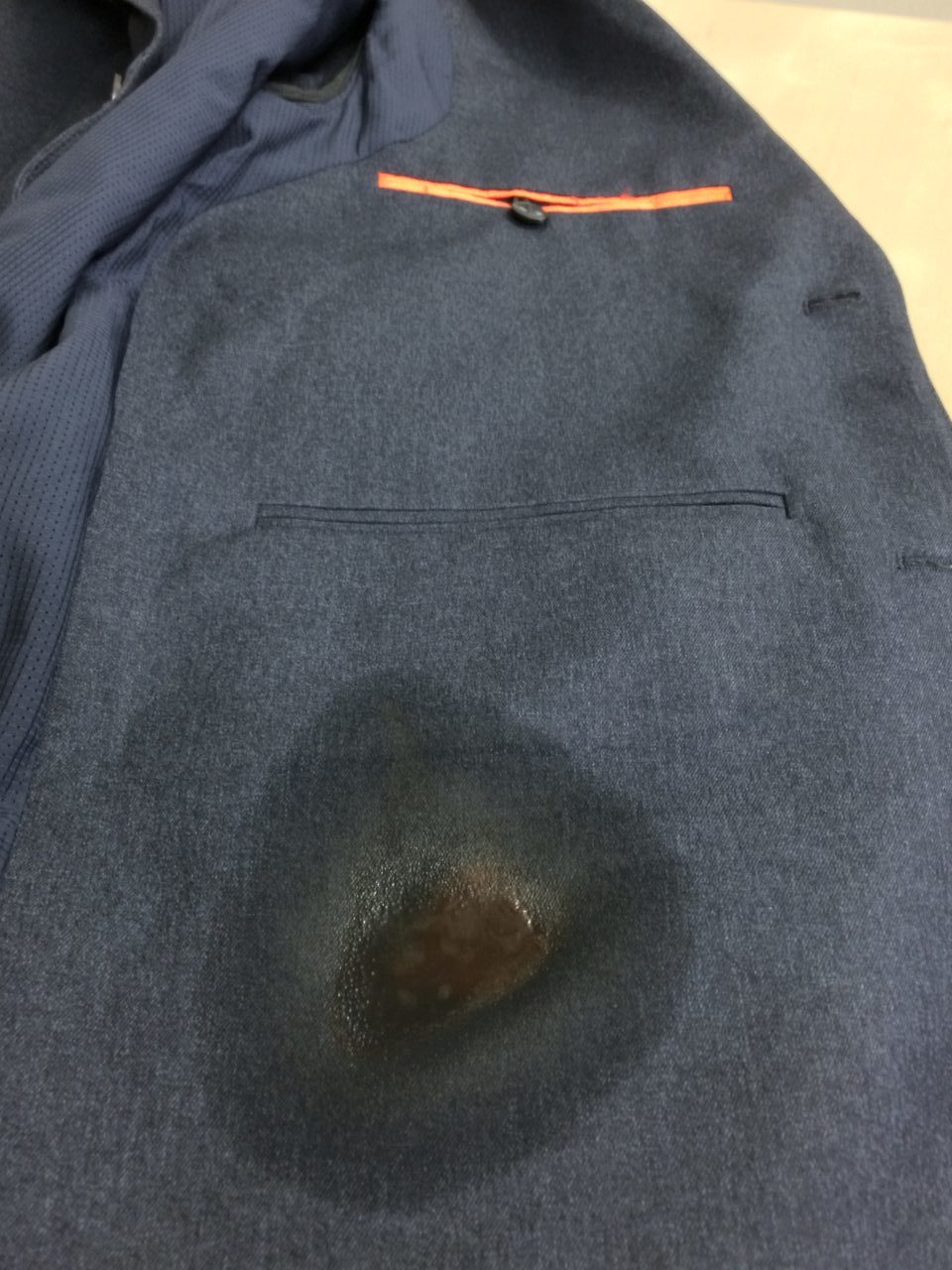 Then I rinsed it off with water, and that's all. Not even with soap. I didn't even expect that to work, but it disappeared in seconds, and there's no trace of it, even without a machine wash. I even made sure to pour the coffee onto the inside fabric, worried that it might cause permanent damage, but it just rinsed right off. It is that stain resistant. You will likely hand this down to your children someday.
The only downside I can say in regards to the fabric is that it's just a bit on the warm side. It doesn't feel much different from a wool jacket to me, but that's enough reason to avoid wearing it in the height of summer. That's part of the reason this review took so long, as I wanted to get a feel for it on a burning hot day. It'll breathe, but it's still a jacket. The fabric also feels just a teensy bit thicker and more substantial than my suit jacket, which I think is the official difference between a suit jacket and a blazer; blazers are usually just a bit thicker, so this will be just a bit on the warm side, from what I've experienced so far.
One last thing worth mentioning is the inner fabric lining, which features an open, meshy pattern for extra breathability: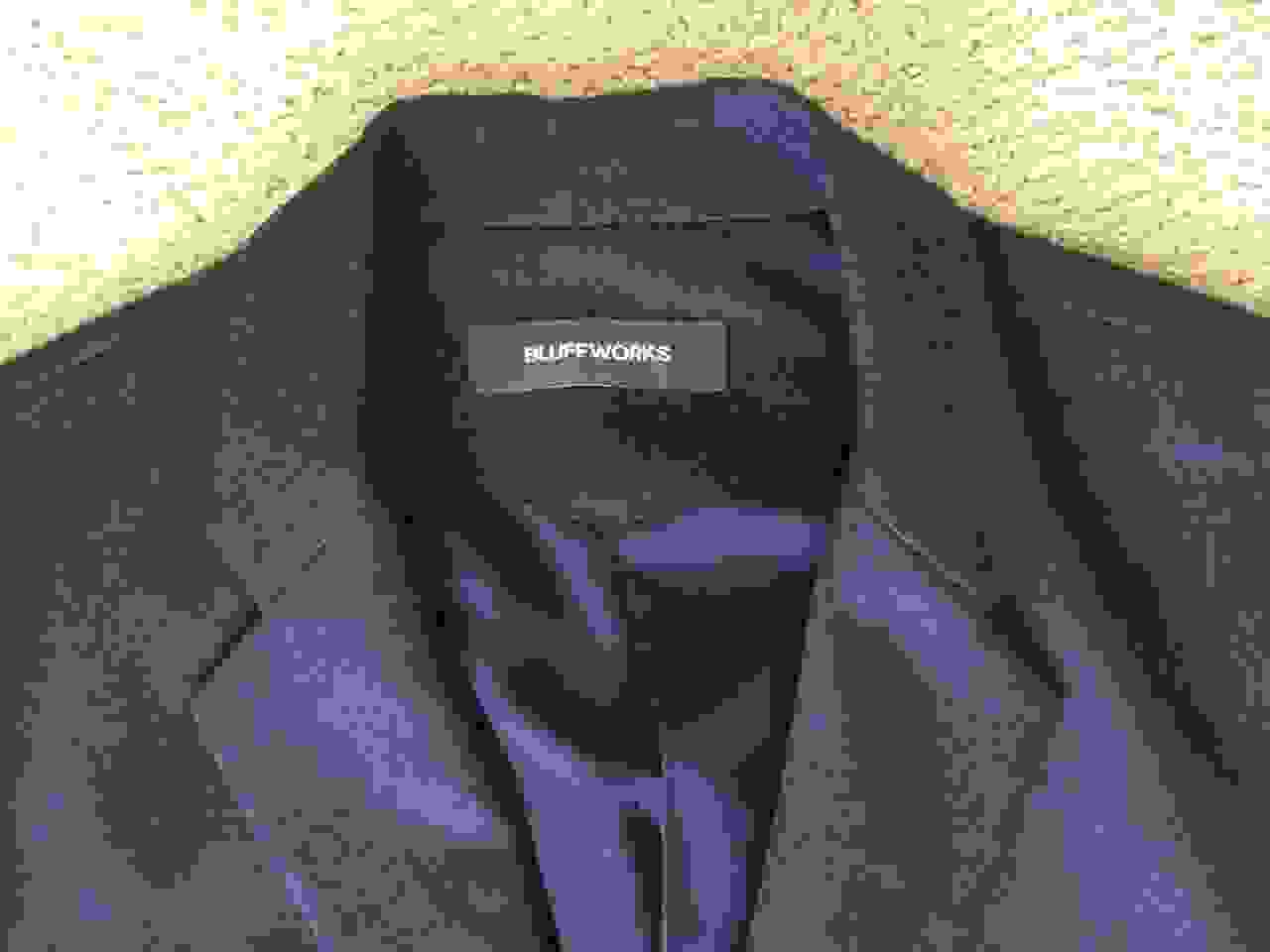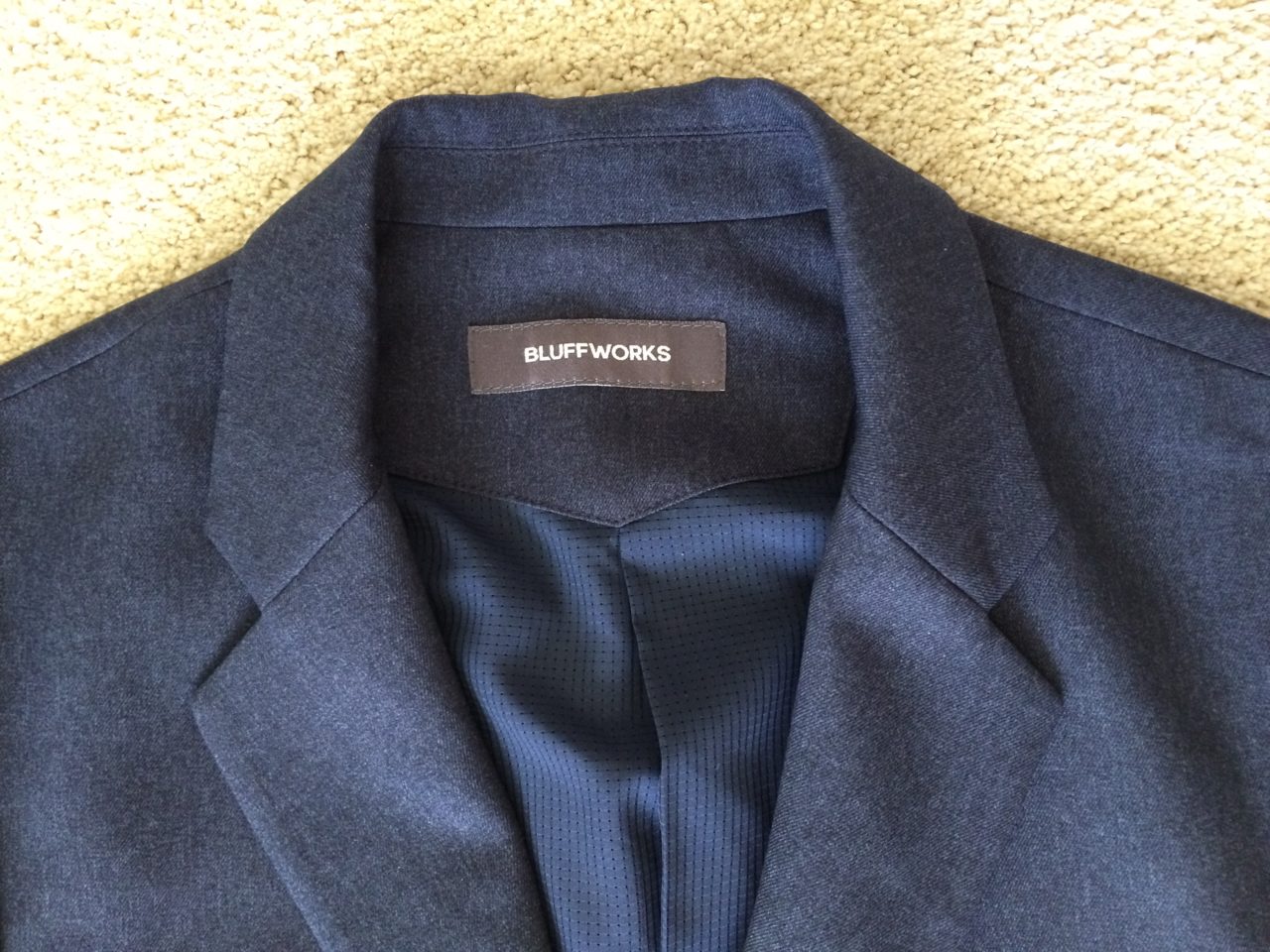 That's a partial lining, however; the sleeves are unlined, and actually have quite a bit of friction to them, so getting a long-sleeved shirt in and out of that sleeve often requires some extra tugging to get it to slide through. They skipped this feature for extra breathability and lower bulk, but just keep in mind that it won't slip on and off as easily as it would with a silky-smooth sleeve lining. That said, I've got the slim fit, and they expanded the sleeves just a bit before the final production run, so mine are tighter than yours will be.
Pockets and features
The blazer features ten pockets, three of which you've already seen on the front (the two hand pockets and one chest pocket). On the inside you'll see five more, plus two semi-hidden ones: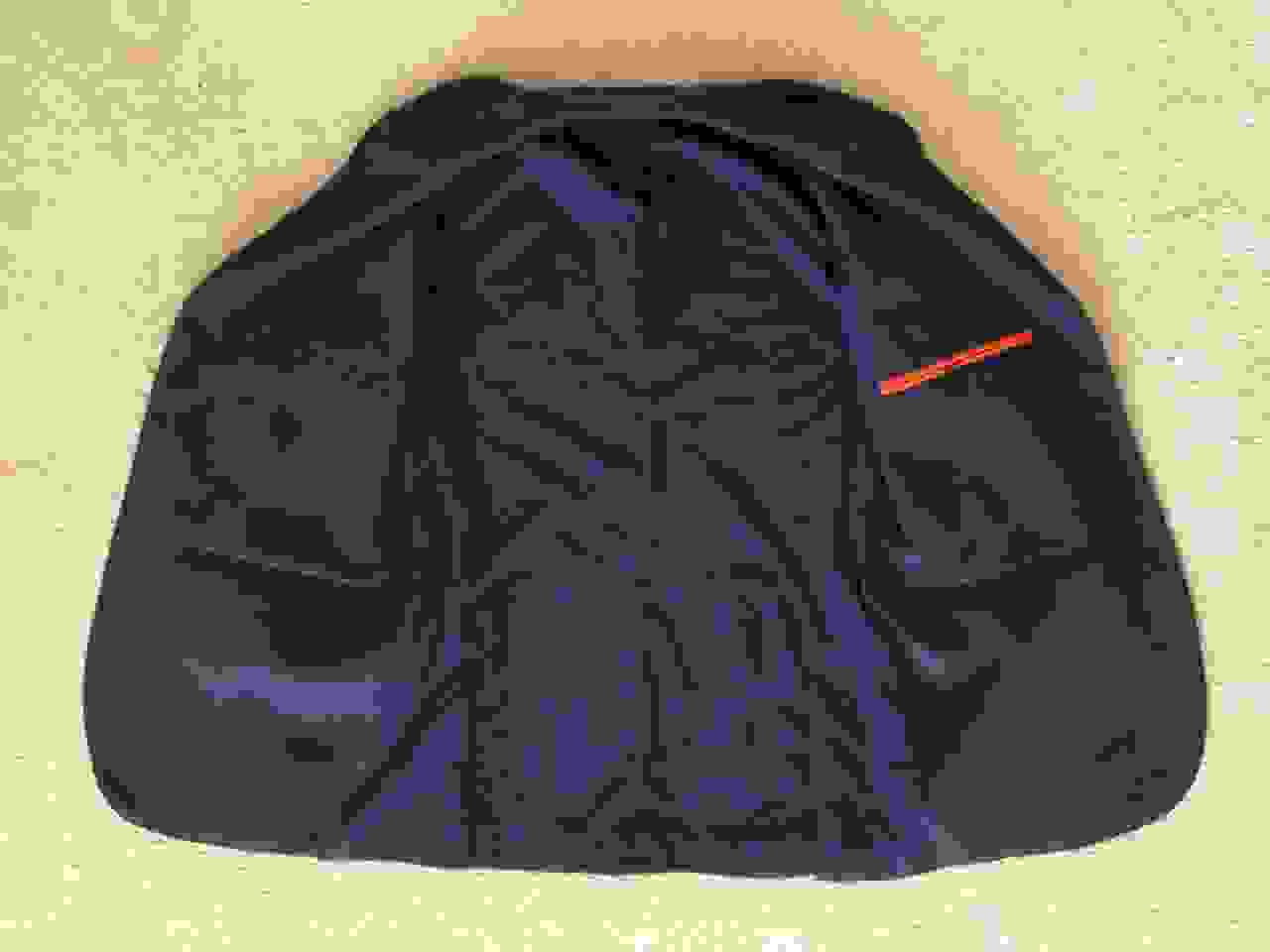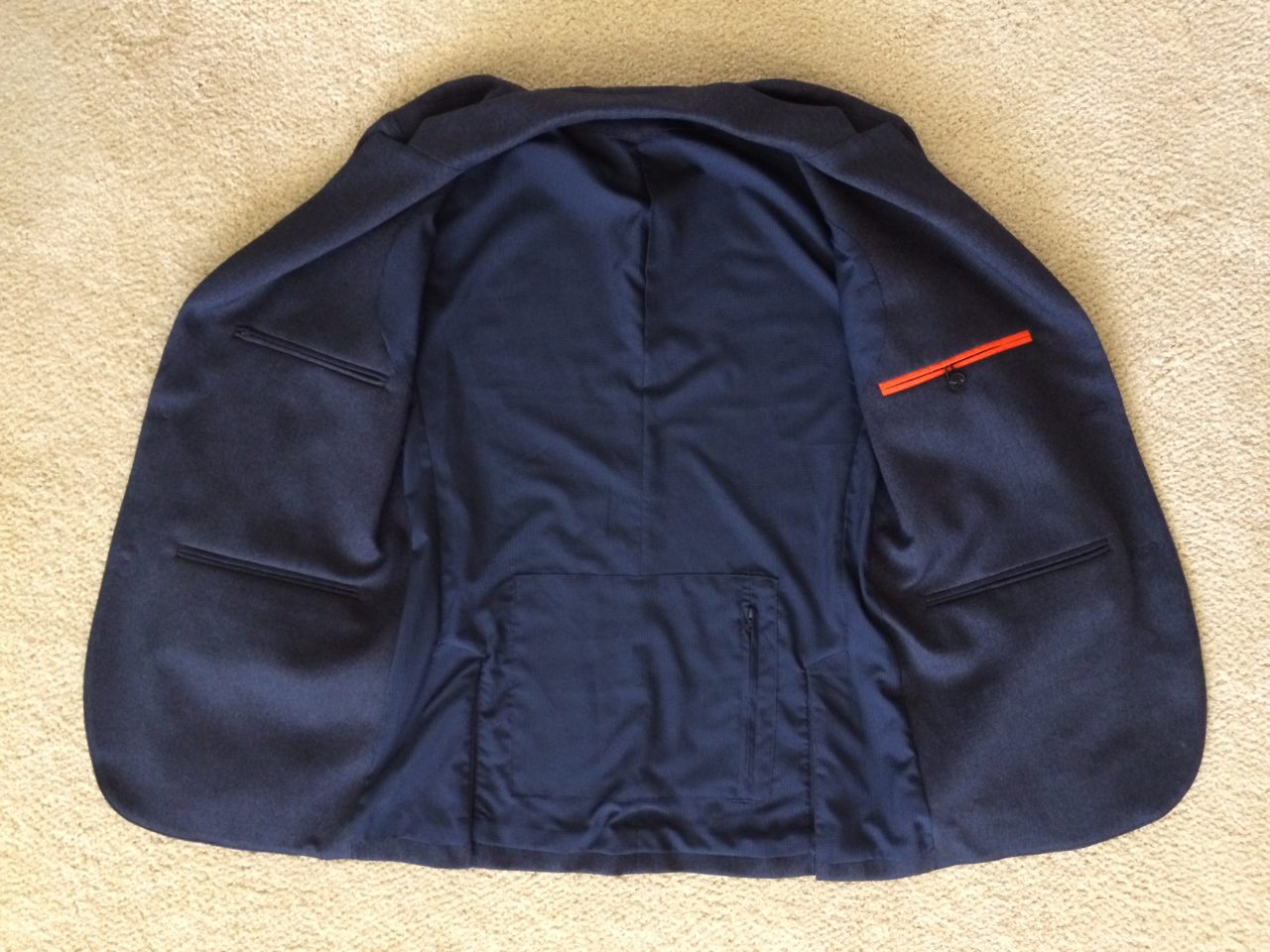 You get pockets on the left, two on the right, and one tablet slot in the lower back area, which has a zippered closure.
On your right side (when you're wearing it), you've got two pockets; the top one zips shut.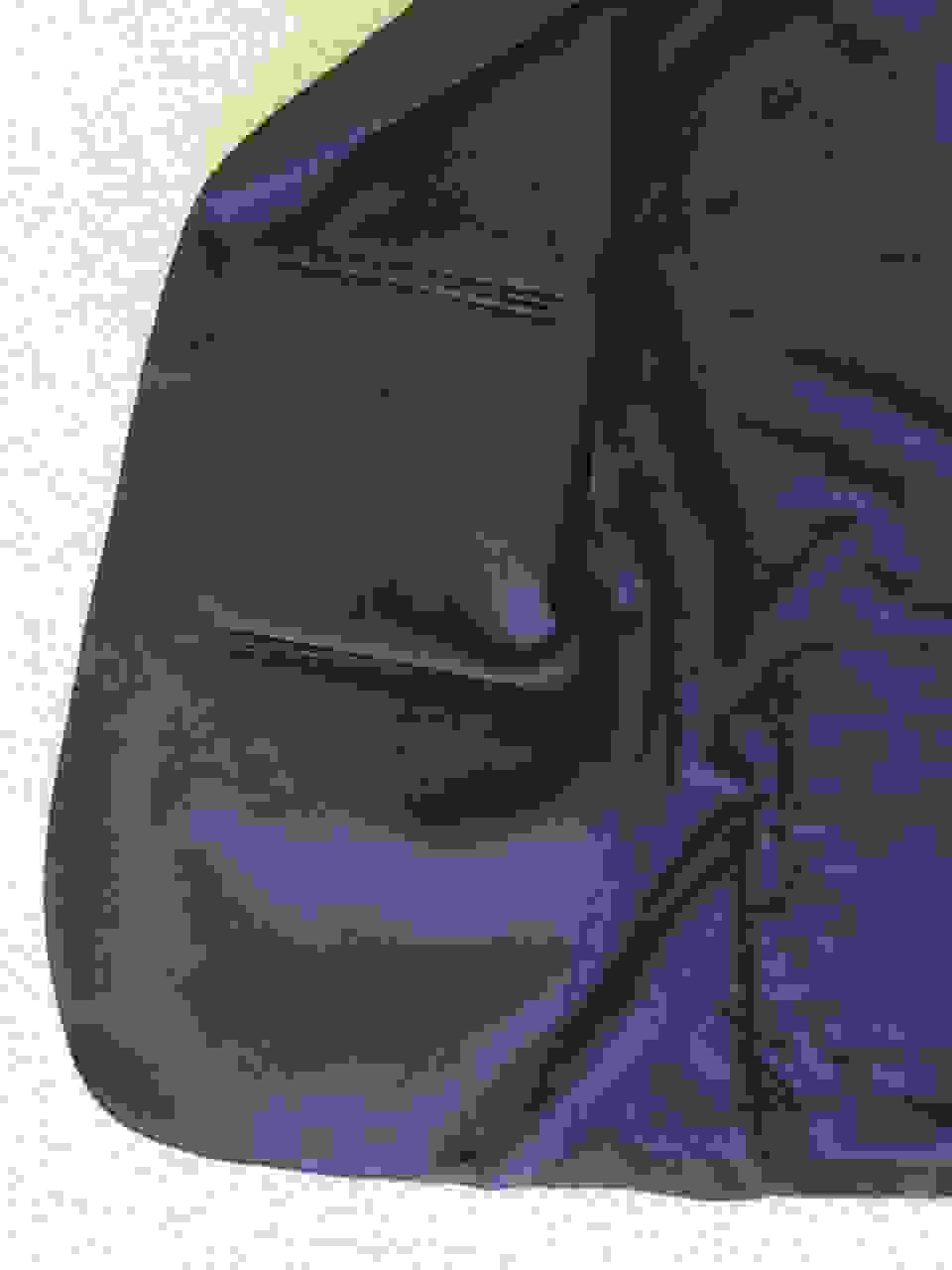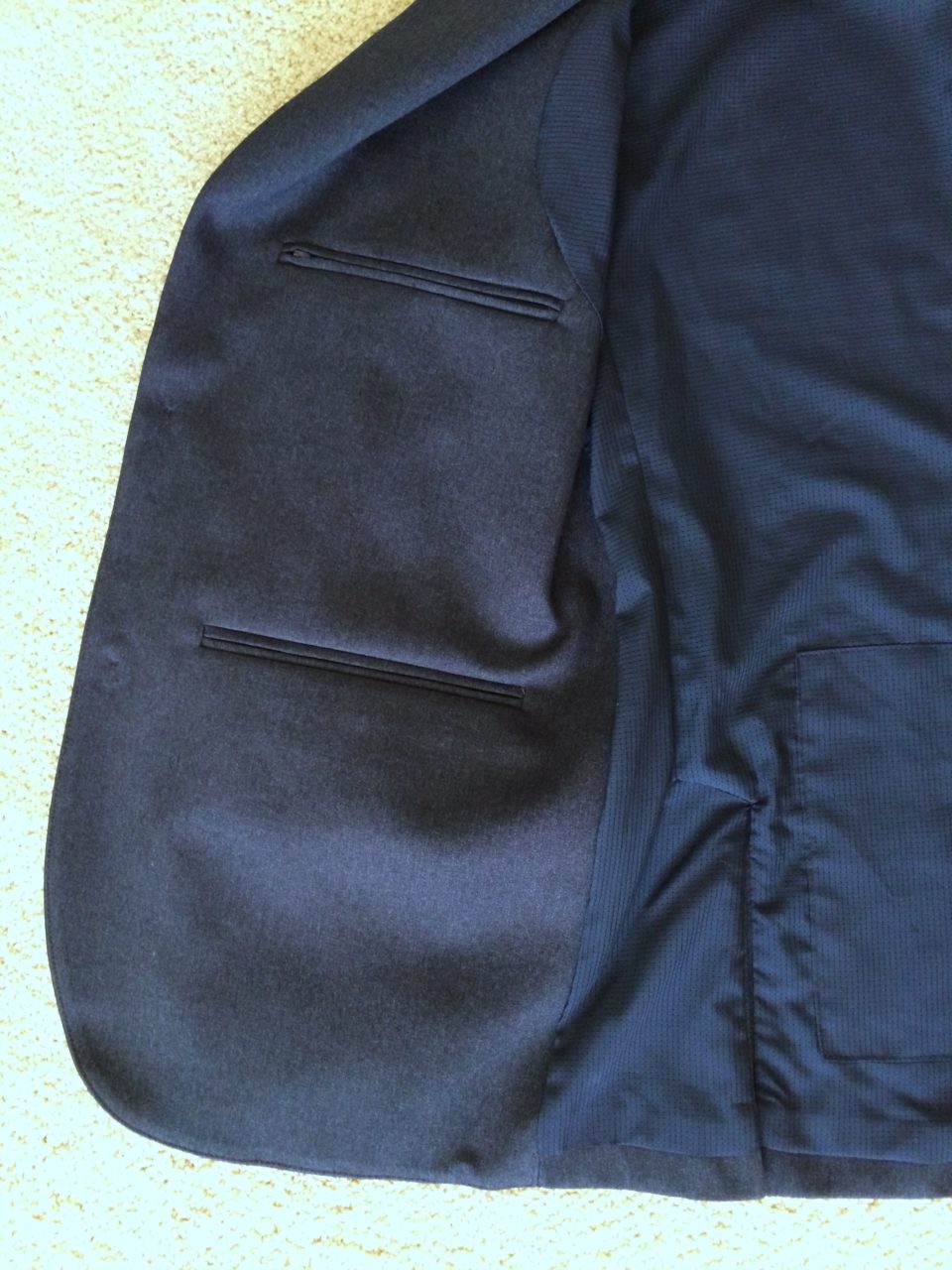 On your left side, it has two pockets, the top of which has a button and elastic loop closure: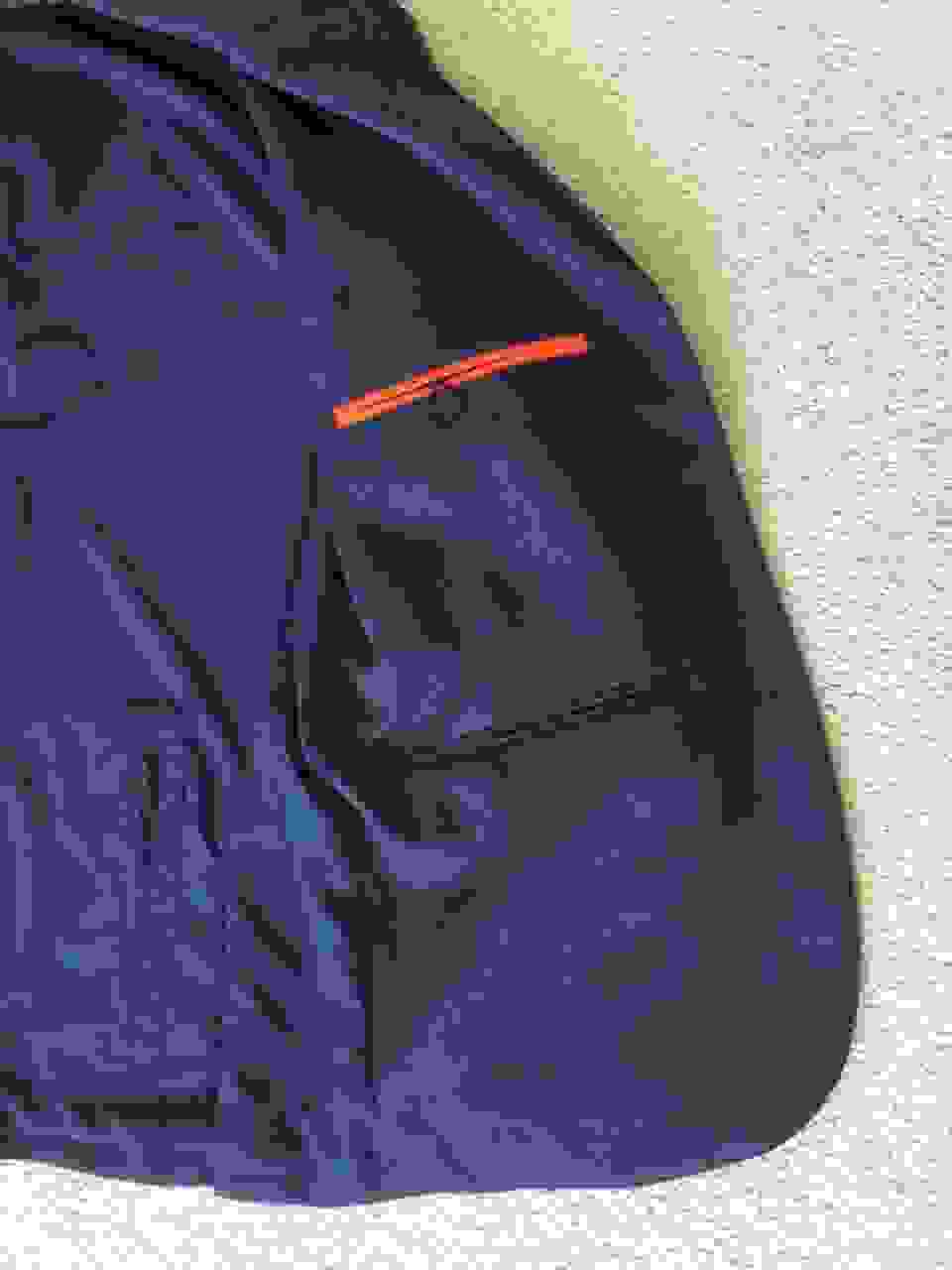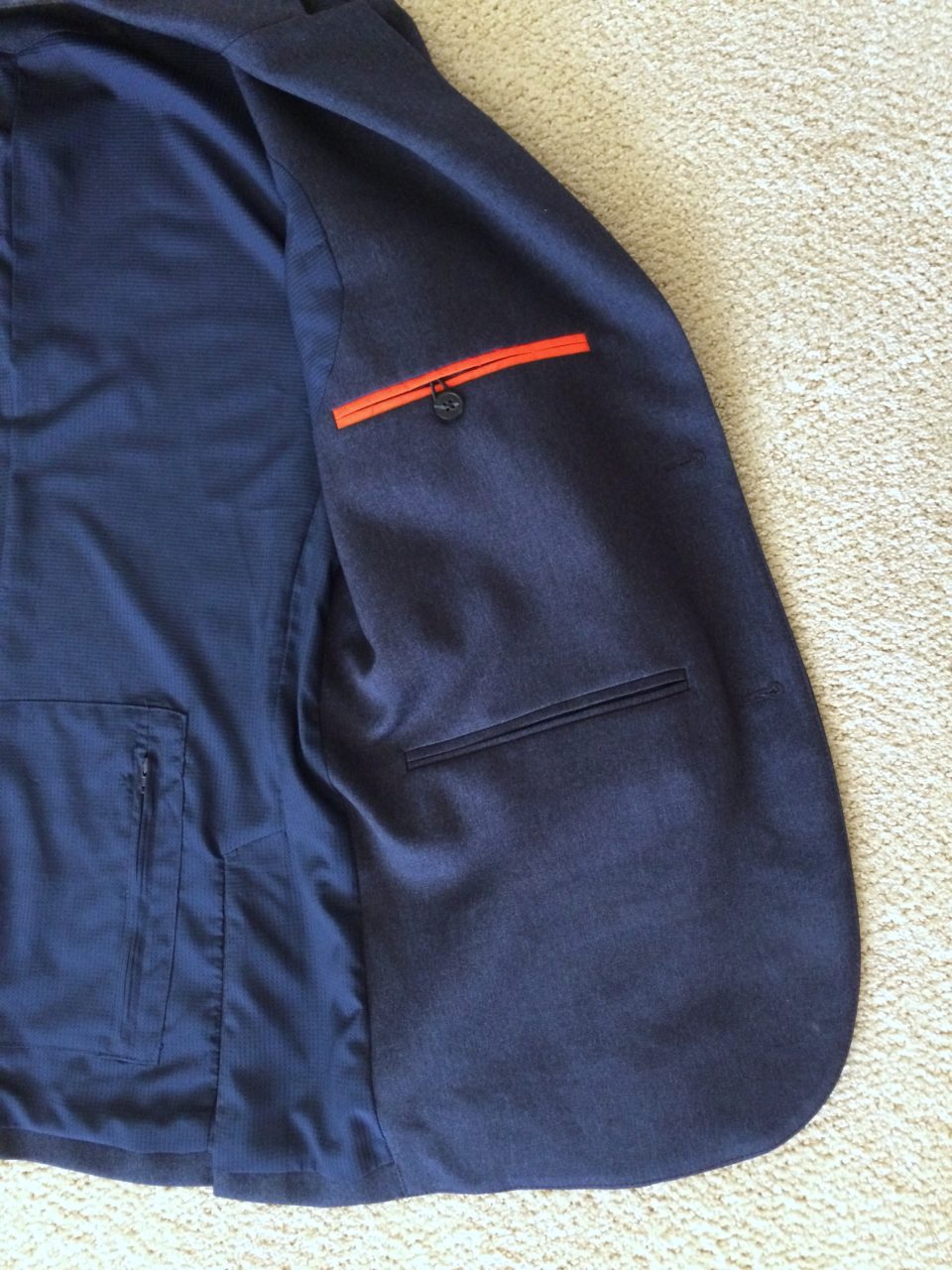 Both of those pockets are divided in two; the top pocket has a pen slot, and the bottom pocket has an additional, smaller pocket with a velcro closure for hiding smaller valuables (which is where I keep the spare buttons). This is how they got up to a count of ten pockets, even though only eight of them are visible in the photos. Quite a bit of organization here, all hidden away inside.
Fit
The blazer is available in two fits (classic and slim), and comes in 2″ increments from 36 to 48, with regular and long lengths available, so you can find a much better fit than a standard S-XXL selection would provide. I will say the slim fit is quite slim; I'm a 37, and I got a 38 slim, and fastening the front button is just a bit snug on me, so I wouldn't worry about the classic fit looking boxy. A couple reviewers mentioned the sleeves are a bit long, but that's better than being too short, as that's something you can get tailored if necessary.
Final thoughts!
It's reeeaaally difficult finding fault with this thing. It's a gorgeous-looking, high-performance technical blazer that requires practically no maintenance, will last for decades, and will invoke jealousy in all who see it. I've already taken it to a wedding and other events and people demanded to know where they'd be able to get one too. It's priced around what you might expect from a nice blazer at $295, but if you're going to make use of those technical features, I expect you'll be getting more use out of it than a comparably-priced wool jacket that requires a whole lot more babying. And it'll last longer, too.
The only potential issues I can find are that it's a bit on the thick and substantial side, so you'd probably want to avoid wearing it in hot climates, though its thicker yarns give it that nice hand feel. A full-length lining, especially down the sleeves, would have made it easier to get on and off, especially with long-sleeved dress shirts that take a little tugging to pull into the right position, but that was a deliberate tradeoff for lighter weight and lower bulk. But that's about it. It's kind of in a class of its own, as most of the alternatives from the style/performance companies I've seen tend to have weird, extraneous features all over the place, and just don't look right. In fact I can think of only a few others that combine technical performance with the just-like-normal appearance of a regular jacket (from Rohan, Travelsmith, and Uniqlo, though I haven't tried them). It's an oddly short list, considering how useful it is to look spectacular without having to visit the dry cleaner every other day. But now that we've got this one, you won't have to worry about that ever again.
You can check it out here.
Got one already? Let me know what you think.