Because I know you all just want to get into my pants again.
Underwear is a tricky beast; with so many protrusions and contours going every which way, it's a wonder anyone has ever been able to form a two-dimensional fabric into such a demandingly three-dimensional garment…but then of course it should come as no surprise that so many options out there are so insufferably terrible, especially in the somewhat more elusive world of performance fabrics.
In fact the first incarnation of this article was merely a tirade about how everything out there was so awful, as I had spent literally a decade digging around all over the internet for travel underwear that was even remotely tolerable, and came up empty-handed every time. I have thrown out more pairs of underwear than I'd like to admit, but dammit, I'm finally able to offer some good advice so you don't have to end up in the same stupid predicament.
What makes great travel underwear?
I recently wrote an extensive post on what makes the best men's underwear in general, which is going to share a lot of the same design features with great travel underwear. A perfectly-fitting pair should surround you on all sides, and hold itself (and you) in place, so you don't have to rearrange yourself every five minutes. If you've been having trouble finding good underwear, I'd recommend checking it out, as it goes into stupidly ridiculous detail on the subject; but the short version is that great travel underwear should have the following properties:
A 3D front panel
A high inseam
Good leg separation
Legs that stay in place
Stretchy, body-hugging fit
Wicking and quick-drying properties
Odor resistance
A thin inseam gusset, or no inseam gusset at all
I have become rather adamant about these features, as I can't imagine anything else working nearly as well. To illustrate the dichotomy, here's a comparison of the three-dimensional effect of a properly-shaped front panel, vs. a flatly nonsensical one: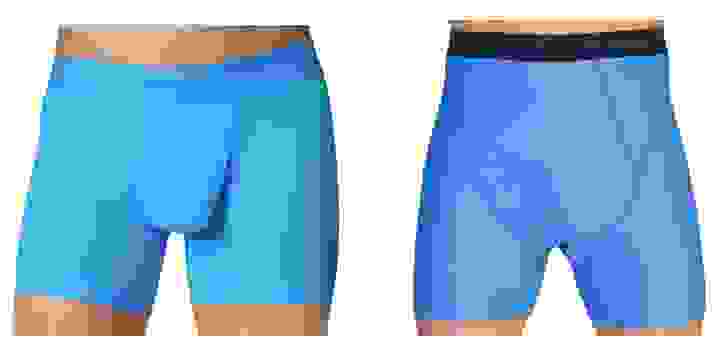 A 3D front panel will hold you in place, comfortably, whereas a flat panel will eventually drop you into the leg chamber, where you'll scratch uncomfortably with every step. No good. You want to be surrounded on all sides, immobilized like a delicately swaddled newborn child.
I lean toward synthetic fabrics, which are more likely to endure the severities of scratchy pant seams, and tend to hold their shape better. They also move more smoothly against pant fabrics, so they won't get pulled out of place as easily as natural ones.
I'm also kind of a purist when it comes to the boxer brief. Regular boxer shorts require constant rearrangement, while briefs make you look like a dork. But a properly-designed, snugly-fitting boxer brief with a three-dimensional front panel (because you are three-dimensional in front) will not only stay in place, but will ensure you stay in place, all day long, no matter how many cartwheels and backflips you do.
As you've probably guessed, this article is geared toward the guys, though a few of the options below have a corresponding version for the ladies, so ignore the comments about fit, and just pay attention to the fabric. Let's begin!
The Best Travel Underwear:
1) Uniqlo Airism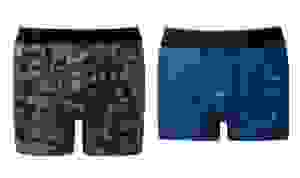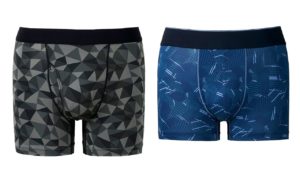 For quite some time, these were my absolute fave, and I literally threw out all my other underwear, travel-related or otherwise, as soon as I stocked up on enough of these. They're extremely affordable at $10 each, especially in comparison to some of the other selections on this list, and they've held a place in the rotation in spite of some of the more expensive competition seen below. They're extremely light, fast-drying, stretchy, and nicely contoured, with a 3D front pouch, legs that are just long enough, and a smooth surface that will never pill. Check out an in-depth review here.
Even better (in my opinion) than the original is the Low Rise version, which has an even more pronounced forward protrusion and closer side-to-side containment; in fact it does something I haven't seen anywhere else, in which it forms sort of a pouch-within-a-pouch, thus creating sort of a smaller sub-chamber within the main front pouch in order to house the "main event," so to speak. And despite the inclusion of an inseam gusset, which I tend to consider an inherent design flaw, I've never run into any trouble with it. I've since switched over from the original design to this one.
I would recommend going a size up in the Low Rise version (which eliminates the fact that it's a low rise), but I think it'll have a better fit overall, since the low rise was too low, and kept getting pulled downward on me in the regular size. I wish the legs were a good 4 inches longer, but oh well. Somehow they manage to stay in place fairly well on me.
Take a look at the entire Airism line here.
2) Mack Weldon Airknitx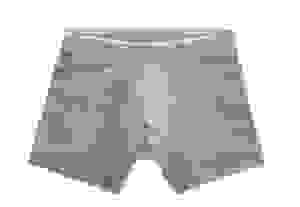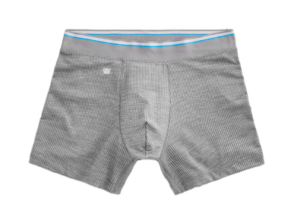 This is a recent addition to the Mack Weldon lineup, and it's really, really great. It's easily one of the softest, most pleasant synthetic fabrics I've ever found, nothing at all like the slick, plasticky-feeling alternatives in the performance underwear world. It's also incredibly stretchy, so it stays in place, no matter what you do.
It even solves one of the problems I had with the original Mack Weldon, which is that it would ride up in back, but this one doesn't do that, at least for me. And because the fabric is stretchier, the pouch in front can more easily accommodate different-sized guys who need more room. The somewhat-meshy fabric also allows for great breathability, for workouts, and hot days.
The only potential issue here is that it still has a gusset, which I find unnecessary, and can potentially cause problems for guys who are a little longer. But if you can handle the gusset, these are my top pick right now, by a strong margin. They've got a long-legged version too, although the stretch is so good that I don't think you'll need it.
3) Saxx Quest 2.0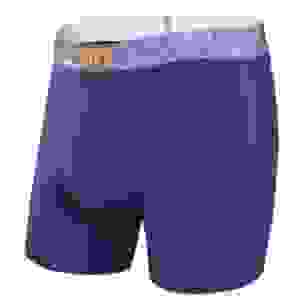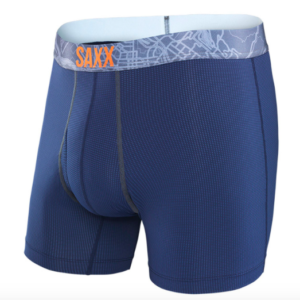 Innuendoes aside, Saxx has a great design, though I would say its supposed claim to fame isn't the main selling point for me. They advertise their "ballpark pouch" system, in which the front pouch contents are securely housed within the chamber by a pair of mesh panels on either side, which basically guarantee you'll never escape the front pouch and drift into the leg chamber. This is helpful, but after trying a few dozen brands over the years, I would say you can still manage this without them, as long as you get everything else right.
Luckily, Saxx did just that. It has a forward-fitting, 3D front pouch (which is quite roomy, by the way), long legs, a high inseam, and a wide range of fabrics and fit options. The Quest 2.0 is their travel-friendly option, with a slightly-meshy (but not see-through) fabric with great breathability, stretchiness, and moderate smoothness. It's not super soft, but I don't find it outright scratchy. I would recommend going a size down, though. They're quite big.
Saxx has a million other options, from cotton to modal to merino to a fair number of other synthetic options as well, including compression fits, longer or shorter legs, and so on. I've tried their merino option as well, known as the Black Sheep, and although I do enjoy it, the fabric loosens up quite a bit, requiring a lot more rearranging (even if you go a size down, as I've suggested). The Quest 2.0 has a much more body-hugging fit, and better stretch recovery, and it fits the same way at the end of the day as it does at the beginning, so I'd stick with the Quest. I haven't tried their other synthetic options yet, but I expect they'd work too.
Pick them up here.
4) Ex Officio Sport Mesh Boxer Brief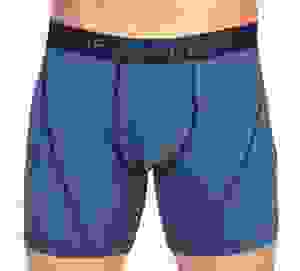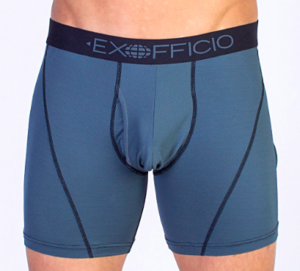 Notice how this one is called the "Sport" version. This is a good one. The regular version is atrocious.
Yeah, I said it. Everyone's favorite travel underwear is atrociously terrible and should be abolished immediately. A flat front panel, and a deep rise? Are you flat in front? No? Do your legs move like a penguin? No? Well then why get underwear that works like that?!
Luckily for us all, Ex Officio has redeemed themselves with the Sport version. The front panel is finally 3D, and exquisitely so, with a forward-fitting design and extremely close side-to-side containment. In fact it's the closest-fitting side-to-side front pouch fit of anything I've seen, and does an exceptionally good job of keeping everything in place, and preventing any front pouch contents from migrating into the leg chambers. The fabric is super stretchy, slightly meshy, fast drying, lightweight, and moderately soft. It does have pilling problems though, so it won't look brand new for very long like some of the others (though I haven't seen any actual holes open up, so I'm not too worried). It also comes in multiple leg lengths, which is helpful if you want an extra-long leg, so it stays in place more easily.
One problem: There's a T-shaped seam intersection in back, where two different seams come together to form a rather large, and quite noticeable, bulge of fabric. It's right down the center in back, meaning you can feel it enter the crevasse where it's not supposed to go. This could be fixed quite easily, so I hope that happens at some point. In the meantime, I find myself rearranging the legs more often than others in order to solve this problem. If you get the long-leg version, it'll do a better job of staying it place, but otherwise you might have to rearrange to compensate. Get the Uniqlo Low Rise (one or two whole sizes up) if you otherwise love these, but can't solve that seam problem. The fit is extremely similar.
I received these as a test sample from Ex Officio, but aside from that seam in back, I'm quite happy with them. Check them out here.
5) Tommy John Air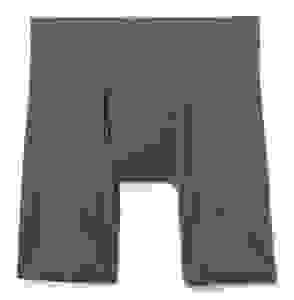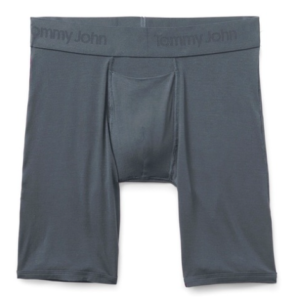 Easily the most expensive item on the list, but definitely quite good; if you're familiar at all with Tommy John, the fit is almost the same as their other versions, with a 3D front pouch, long legs that stay in place, and fairly close side-to-side containment in the front pouch. It differs from some of the cotton or modal options with its higher inseam and thinner gusset, both of which I think are good moves; this keeps everything in the front pouch more effectively, despite the relatively snug fit of the pouch itself (which doesn't protrude forward quite as aggressively as the Uniqlo Airism or the Ex Officio Sport). It also doesn't lose its shape over the course of the day the way certain natural fabrics tend to do.
My only real problem with the design is how the fabric tends to pick up lint a lot more often than some of the alternatives listed here. It's a bit soft and just a tiny bit fuzzy, so it holds onto dust and other floaty things more readily than some of the slicker, smoother options out there. There's also a bit of friction against pant legs, so it can get pulled out of place a bit more easily than certain others. This means I end up rearranging it a bit more often, as it seems to ride up in back and the waistband seems to descend by itself sometimes…but this also depends on the pant fabric (and fit), so there's bound to be a lot of variation there. Check out a dedicated review here.
I received these as a test sample, and aside from the friction of the fabric, I've been quite happy with them. Check them out here.
Update: Tommy John has introduced a more affordable synthetic boxer brief, known as the Go Anywhere, which is about half the price of the Air. I haven't given that one a try, though.
Also, there's a Canadian company by the name of Stanfield's that uses a fabric pretty much identical to the Tommy John Air, but they remove the gusset. They sent me a test sample, and it's really good. It doesn't solve the problem of picking up lint (and the waistband is a bit scratchier), but I do like the fit better. Check it out here.
6) Oliver's Boxer Brief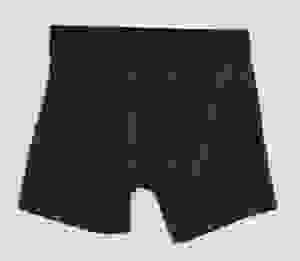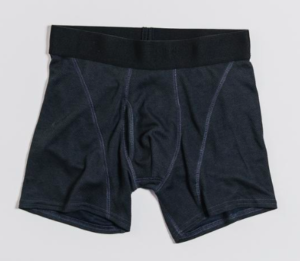 Perhaps lesser-known than some of the other brands listed here, but certainly deserving of attention, Oliver's boxer brief has everything you could want; a 3D front pouch, long legs, and a quick-drying, meshy fabric, which feels a bit more substantial and natural than some of the slick, smooth alternatives listed here. If you want something that feels a bit less plasticky, but still offers synthetic performance, this one does it at least somewhat better than the others.
The fit is rather snug overall, so I would say that sizing up is better than sizing down, though it's not significant enough that I'd automatically recommend it; just that if you're on the fence, go with the larger size. It also has not-very-stretchy seams, which creates some stretchiness issues, especially in back. The two vertical seams along the V-shaped back panel don't stretch very far (noticeably less than the fabric itself), so you can feel them pull downward when you move your legs around. I've mentioned this to them, so I hope they switch to a stretchier seam at some point, although going a size up is likely to help out quite a bit with this problem.
Check them out here.
7) Wool & Prince Boxer Briefs 2.0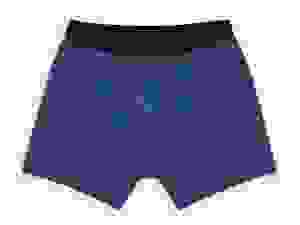 Sidenote: I helped design these. I spent years and years digging around for merino wool boxer briefs that could live up to my expectations, and I finally gave up and started bugging Wool & Prince to just make 'em for me.
We spent about two years on the design, putting everything into it that we had learned from dozens of brands. Merino is in a class of its own when it comes to travel-friendly fabric, and we wanted a design that could do it justice…and when the final version showed up in the mail, I put them on in the morning and literally didn't rearrange them a single time by the time I went to bed. They are that good.
They look pretty simple on the surface, with a 3D front panel for proper containment, and that's about it…but with a few invisible secrets that enhance the durability, and keep the legs from riding up, using a devilishly simple technique that no one's ever thought of before!
I've been pretty excited with how everything came together and turned out, and I would really encourage you read the full review to learn more about the design decisions that went into this thing. It's easily up at the top of my list of favorites out there, because we made it that way from the start.
After that, check 'em out here.
What about rayon? AKA bamboo, modal, or Tencel?
Though you're not going to get the quick-drying performance of certain alternatives, bamboo, modal, and Tencel are going to feel downright lovely. They're super soft, highly absorbent (more so than cotton), and just feel great. The only downside is that each of these fabrics tends to lose their shape over the course of a day or two, and they won't dry out quickly, but if you're traveling in mild weather and have easy access to washing machines, then you'll be just fine. Even cotton works well enough if you're traveling under these conditions. Tencel actually dries faster than other types of rayon, but it's so absorbent that it can become oversaturated, after which it'll take a while to dry out. A Tencel/polyester blend would therefore be amazing. Hint hint.
What about other merino?
As mentioned above, I gave up looking for decent merino wool options and approached Wool & Prince to build something together. That said, the test samples I had tried from Unbound Merino and Y Athletics were pretty solid, and beat some of the major brands, who use a flat front panel for whatever odd reason. Triple Aught Design has an option that looks pretty good as well, though I haven't given those a try.
Well, that should do it for now. I hope you're now as blissfully comfortable as you deserve to be. I know I am.