Welcome to another entry in the ongoing series known as "snapshots," where I blather incoherently about random new products that I think look kinda cool and you might want to check out. I come across quite a lot in my endless search for better travel gear, and some of it is so straightforward and self-explanatory that it wouldn't make sense to write up a huge post about it, but it's worth a mention in a quick roundup of recent news.
As with the first time around, this is not necessarily meant to be an endorsement of any of these products; if I give them a try, I'll update the info here, but for now, these are just quick mentions of items worth looking into if you're always on the lookout for making your travels a little bit easier.
1) Cora Ball, Guppy Friend, and the synthetic fabric pollution problem
So there's a dirty little secret in the high tech clothing industry…synthetic fabric is flooding the oceans with tiny bits of plastic. Synthetic fibers break down in laundry machines, and find their way into rivers, oceans, fish…and then right back to our dinner plates. We're literally eating and drinking our old fleece jackets and yoga pants. Some research suggests that for every 100,000 people, about 15,000 plastic bags' worth of plastic gets released into the waterways every day.
This is a difficult problem to solve, but some major players (Patagonia in particular) have started looking into it. Whether it's with the increased use of natural fabrics, better washing machines with built-in filtration systems (like a lint screen on a dryer), or better water treatment facilities, it's going to take quite the effort.
For those who don't want to wait, a few different companies have come up with a solution that you can use right away (or at least, as soon as the Kickstarter orders have been fulfilled) in your regular laundry routine.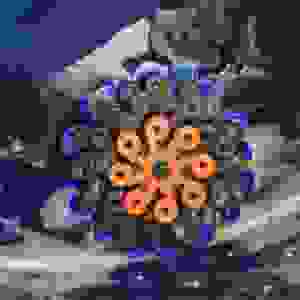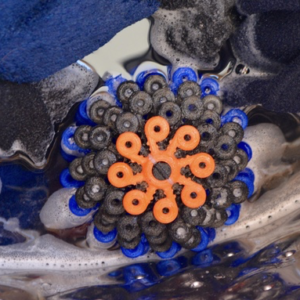 The Cora Ball is a sea-urchin-like device that you throw into the laundry machine along with your clothing, which traps fibers within the spines of the ball. After the laundry machine is done running, you take out the ball, and remove the bits of material and throw them in the trash. I would imagine this works even better with a slightly emptier laundry machine, so the ball can swim around in the water and gather up the fibers even better.
The Guppy Friend is a little more involved, but likely to achieve an even more efficient result (they claim to remove 99% of the fibers, which is pretty darn impresive); it's essentially just a mesh bag, woven tightly enough that fibers can't escape, but water can still flow right through it. It looks just like one of those garment bags for delicate items, and you can probably use it for that purpose as well. You just shove all your clothes in the bag, zip it up, and throw it in the laundry machine. When you're done, you take out the clothes, remove any lint, and throw it away.
These products are still in the crowdfunding stages of development as I'm writing this, but I'm looking forward to seeing these and more options like them in the future, and I'll be paying a little more attention to all-natural fabric alternatives as they show up. I don't want to be contributing to this problem any more than I have to, and travel gear tends to use a lot of synthetic materials. Natural fabrics aren't necessarily going to provide an exact performance match to polyester or nylon, but some of them are definitely useful for certain items, and feel pretty great, too.
Speaking of which…
2) More Tencel gear from Element Pure!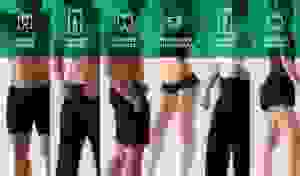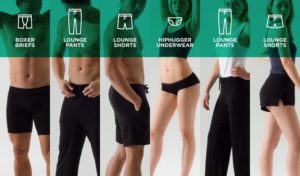 I've been pretty optimistic about Tencel for a long time. It's a naturally-derived fabric, made from Eucalyptus trees, meaning it's fully biodegradable, and sustainably produced. It's also the only fabric I know of out there that offers some of the performance advantages of travel junkie favorites like merino wool; it's highly absorbent, quick-drying, and naturally odor-resistant. It is essentially a type of rayon (if you've heard of modal, it's quite similar), but with the advantage of faster drying times.
I wouldn't say it quite matches the performance of merino (it doesn't feel quite as dry as merino right next to the skin, and won't insulate when wet, making it a little better in warm weather than cold, or for those who sweat a bit less), but as far as anything non-wool and all-natural that I've come across, this is as good as it gets. If you've been looking for a vegan alternative to merino, or you're allergic or otherwise sensitive to wool, and also don't want to wear synthetic materials like polyester right next to your skin, this is pretty great. And it's amazingly soft. Everything else is going to feel like gravel by comparison.
The new gear this time around is for underwear; boxer briefs for the men, panties for the ladies, and lounge pants and shorts for both. I haven't had a chance to try these yet, but I've handled the material in t-shirt form, and it's really great. I would say that merino is still my favorite, but Tencel is about as close a competitor as I've found.
3) Yak Wool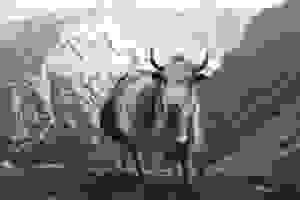 Don't like sheep? How about a yak?
Yak wool offers some advantages over merino, especially in extremely cold environments. Yaks evolved to survive at higher altitudes than sheep, meaning their wool has to keep them alive in even harsher conditions…but when the sun comes out, it needs to be pretty amazing at keeping them cool, too. Continental climates like Central Asia, where yaks can be found, aren't just extremely hot or extremely cold. They're both. And yak wool has to handle it all.
Yak wool producers claim the fiber is not only warmer, but also more breathable than merino. That's pretty impressive, as merino has been the staple for so many outdoorsy types for so long. It's not exactly suited to lower altitudes or tropical climates, as you'd want to avoid insulation in those cases, but for mountaineering or other cold weather pursuits, it'll let you pack less, but stay just as cozy.
Yak wool producers include Kora, Khunu, and Peak to Plateau. They're not cheap, but if you're in the high-intensity Antarctic expedition world, it might end up as your new favorite. I haven't gotten a chance to handle the material, but this article from Gear Junkie goes into detail putting it to the test.
4) Ibex goes silky smooth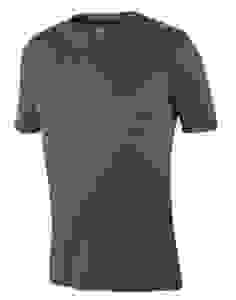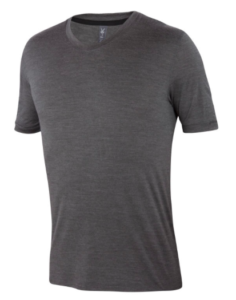 You know how merino wool is amazing, but doesn't last quite as long as you might like? Well, a lot of companies add some nylon to make it more durable, affordable, and longer-lasting.
You know what else might work? Silk.
Silk is one of nature's strongest fibers, and even has some temperature-regulating qualities of its own. Not only would it make a merino t-shirt stronger and more durable, but it would also be entirely biodegradable, which is a nice perk, considering the plastic pollution problem mentioned above. But as an added bonus, it would also happen to make it amazingly smooth and gorgeous.
I used to have a sweater made of silk and cashmere, and I got compliments on it literally every time I wore it. People would see it shining like a treasure chest of diamonds glistening in the moonlight, or accidentally brush a hand against it to feel its sensuously delicious magnificence, and they would never be able to be happy with anything else ever again.
I am not joking. I got compliments literally every single time.
And now Ibex has an entire line of t-shirts, polos, button-ups, and other items made of superfine merino, and even-more-super-and-finer silk, known as the "Essential" series. The fabric is a bit lighter than most merino t-shirts, so if you're looking for merino thin enough to wear in the summer (while also being strong enough to survive), I think you'll want to look into this. It's not cheap, but it looks and feels glorious.
Update…and a sad one…it looks like Ibex has shut down operations altogether. Sigh. I was a fan of them.
5) Bluffworks regular fit chinos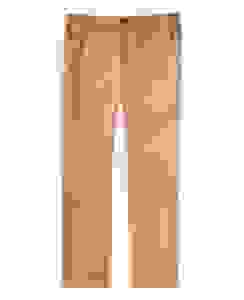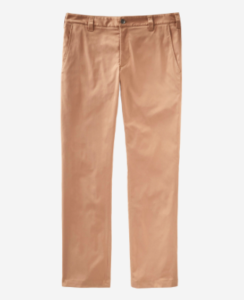 Yes, I am actually making an announcement on a single product adding a looser fit option to its lineup, because these are still the most functional travel pants I think you're going to find, and the only reason anyone ever had trouble with them is because they were too slim. Well, not anymore. They've added a regular fit option for all those who like a little extra room, and it's difficult for me to recommend anything else.
They look exactly like regular pants, but have three hidden zippered pockets and a semi-hidden bonus pocket up at the hip that no one can ever see anyway. If you want to keep your cash and credit cards secure, but also don't want to look like a total weirdo at the same time, this is as good as it gets right now.
I've written up a full review over here, but the short version is that they're super durable, soft, stretchy, quick-drying, totally normal-looking travel pants, which is exactly what everyone wants, and so few people ever make. If you don't need security pockets, then you'll find a million options out there…but who wants to lose a wallet?
6) Makers & Riders adds a hidden zip!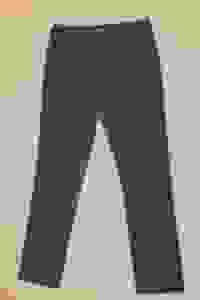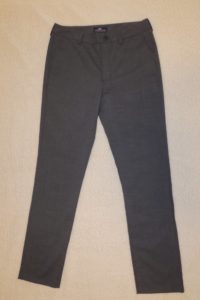 Speaking of security pockets, Makers & Riders has just added one to its flagship merino wool travel pants. If you love the temperature regulating performance of merino wool, but want something a little more functional and durable, this is it. And as far as I'm aware, they are literally the only people on the planet bothering to do it.
The hidden pocket is completely hidden in the back right pocket, right where you're likely to put a wallet. It's currently only on the dress pant version, but it'll find its way into the jean pocket version soon enough. They still have stock of that old version, so double-check the product description to make sure you know what you're getting, as the current jean pocket version won't have it.
The fabric itself is a blend of about half merino and half polyester, making it far more durable than regular wool, and it has some added spandex for stretch. It's a bit scratchier than superfine merino, and the stretch isn't super stretchy, but if you can handle all that, they're really great, and the new zippered pocket is wonderfully reassuring. It's such an easy thing to include, but offers such peace of mind…
7) Wool & Oak modular travel system
After its super clever Duffel Suitcase, Wool & Oak has followed up with a modular system that combines a leather backpack with a leather duffel bag. It's actually a set of three different products; First, a super-slim backpack, big enough for a laptop and maybe a notebook or two. This zips into an expansion unit that turns it into a full-size backpack, with added room for shoes, clothing, or whatever else. Alternatively, the super-slim backpack can zip into a duffel bag, allowing you to carry the duffel as a backpack, or you can carry them separately:


This isn't the sort of thing I'd usually write about on a minimalist travel website, as I'm much more of the rugged nylon backpack type of person, but this is so clever that I just had to include it. I can see business travelers appreciating the stylish aesthetic, as it's obviously a lot more professional, especially in suit-and-tie settings, than synthetic materials.
8) This amazing button that everyone should steal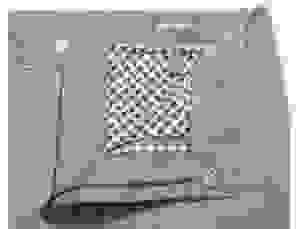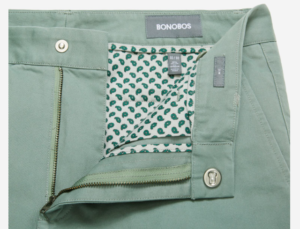 Yes, a button. Because that's how obsessive I am about these things.
Regular buttons tend to fall off sooner or later, which either means you have to sew it back on yourself, or look like a weirdo all day. For a long time the solution for most companies working on durable gear was the jean tack, which is bolted in and pretty much cannot possibly fail. This isn't particularly "bad," but one of the issues is that it's not always quite flat. It a disc mounted on a post, and the longer the post, the more diagonal it'll be when it's being worn, especially if the fabric is thinner than jean fabric. It can stick outward, both in front and back, poking out into your shirt or back into you at the same time (especially if the base, the part against your skin, is especially bulky). Shorter posts don't have this problem (and Prana uses them sometimes), and they seem to work just fine.
But the slider button works perfectly and doesn't have any of these problems. It lays down flatter over a wider area, so it's a little straighter, and also doesn't warp the fabric just along the spot where a jean tack post would. And although it looks like it could come undone by itself, it's always under tension, so it can't.
These things sometimes come down to personal preference, but I just think it's neat. I've seen then on Ministry of Supply and Bonobos, but that's about it, and I think it's something other people should think about stealing.
Well, that about finishes it this time around. Off to explore even more options for next time. Wish me luck!