So a while back, I made a pretty bold statement when I said Bluffworks were the best travel pants out there. The mix of technical fabric, casual styling, and hidden security pockets were as good a combination as you were going to get, and despite the millions of options available, this is still true.
But in the review, I mentioned one potential problem. The fabric wasn't stretchy, so it can feel a little restrictive when sitting down on a plane for 14 hours, or high-stepping your way up a Mayan pyramid or something. And although they've updated the fit since I first got them (plus added a relaxed-fit version), they were also working on a stretchy new fabric that would offer a lot more flexibility, which they called the Chino.
For the last few years, I've been waiting for this new version to show up, often avoiding other pant purchases in the meantime, because I expected these would just end up replacing them anyway. And when they recently sent me a pair to try out, that's exactly what happened.
These are great. Really, really great.
I've tried a million different options over the years, and I'm pretty confident when I say: I don't think you're going to find a better pair of travel pants out there. The travel-friendly security features are as good as it gets, and they still look exactly like a regular pair of pants. And with the addition of the stretchy new fabric, they've removed the only potential problem they ever had. They look great, feel great, and keep important items safely hidden away. This is exactly what travel pants should do, and amazingly few of them do it.
Here's what they look like: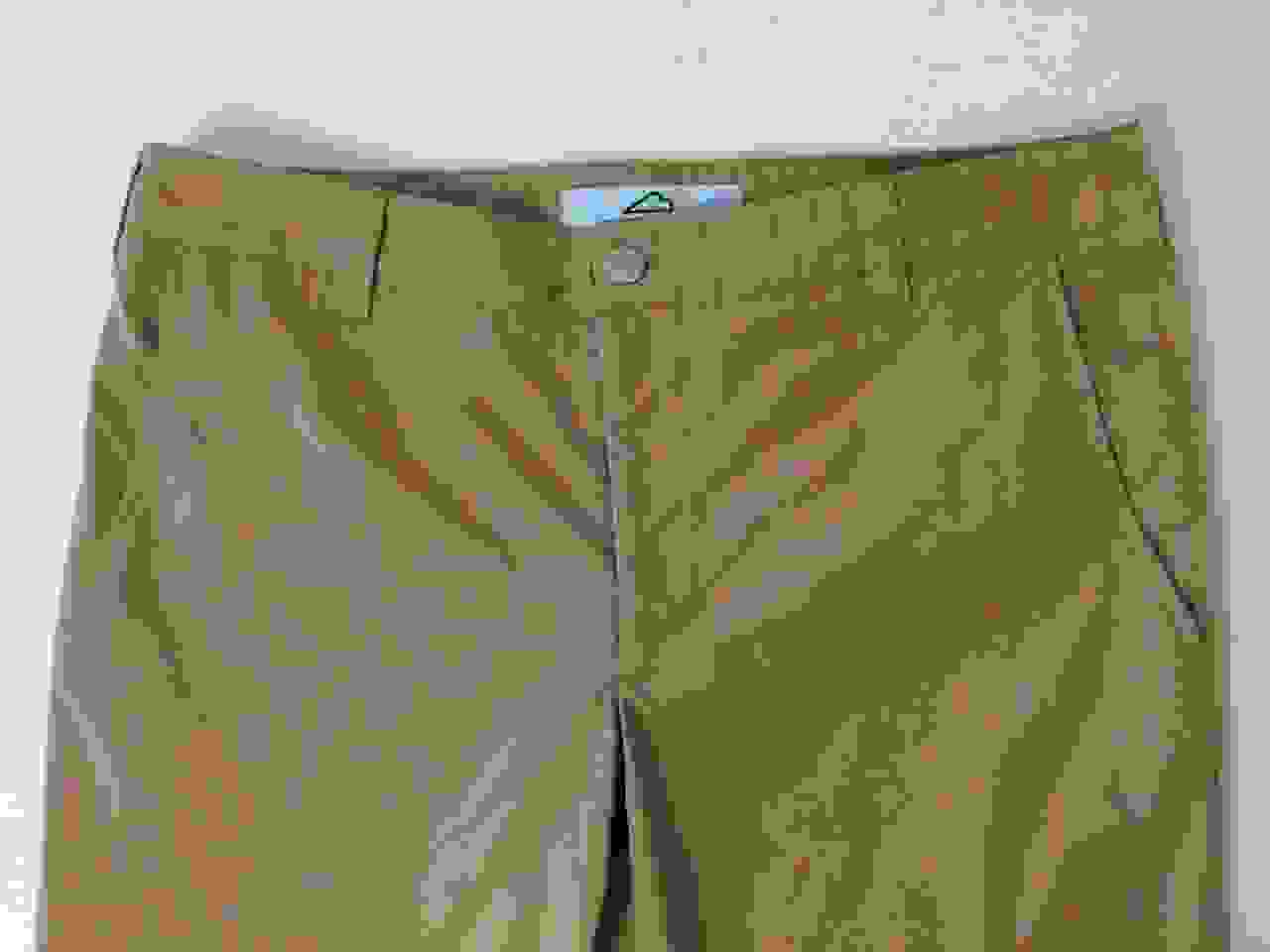 Notice first of all how you do not see a billion zippers and fluorescent racing stripes and billboard logos everywhere, which everyone else always seems to have for some reason.
Ahem, moving on.
Features:
These have a grand total of 7 pockets, 3 of which are zippered. This is amazingly useful if you're heading somewhere with annoying pickpockets, or you just like keeping stuff someplace where it can't fall out. Money belts are fine, but I just prefer these features built-in.
Both front pockets have a hidden, zippered pocket on the inside: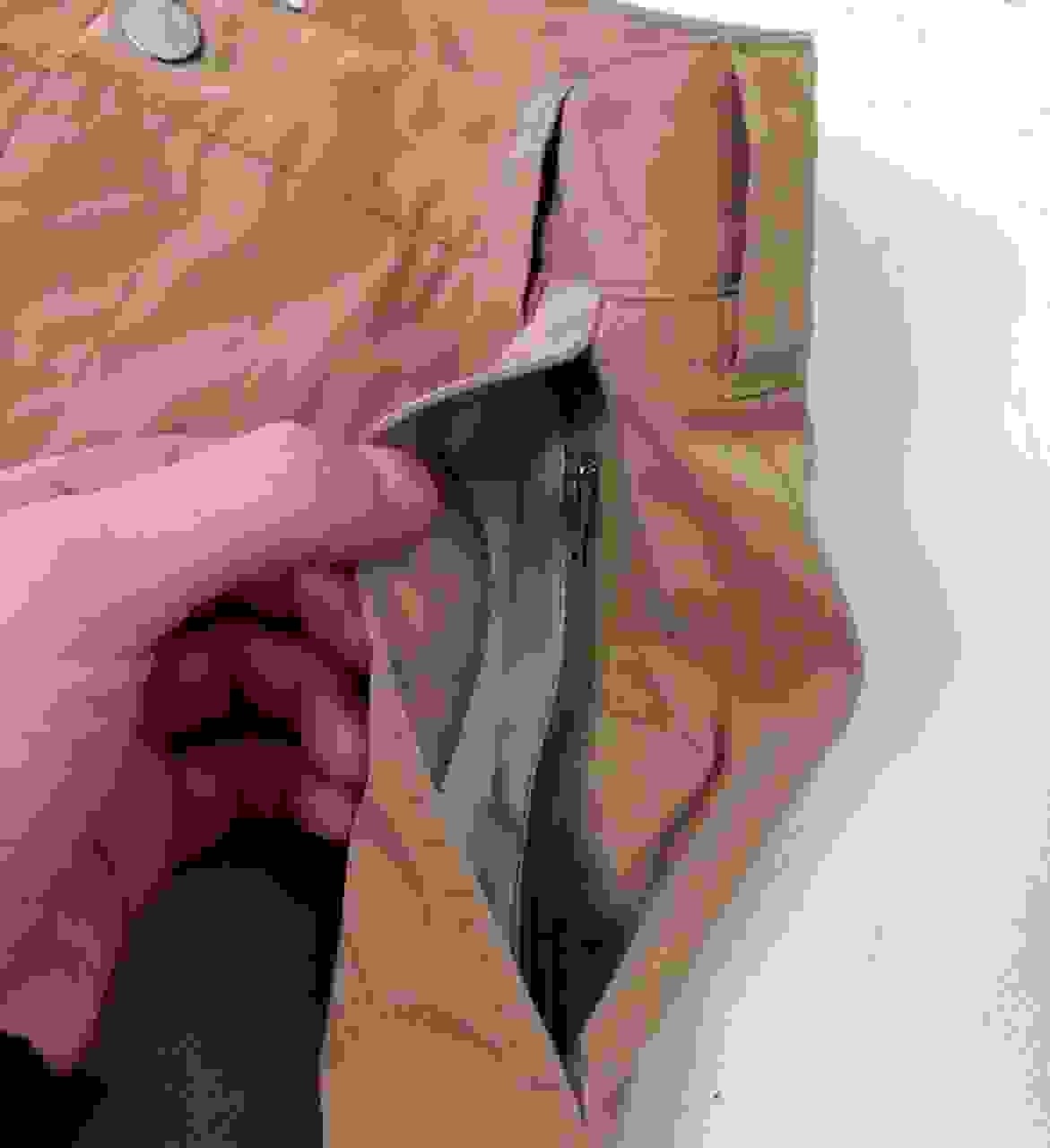 On the right side, there's also a little hang loop, for attaching keys on a carabiner, or maybe a small camera, which can hang from its wrist strap.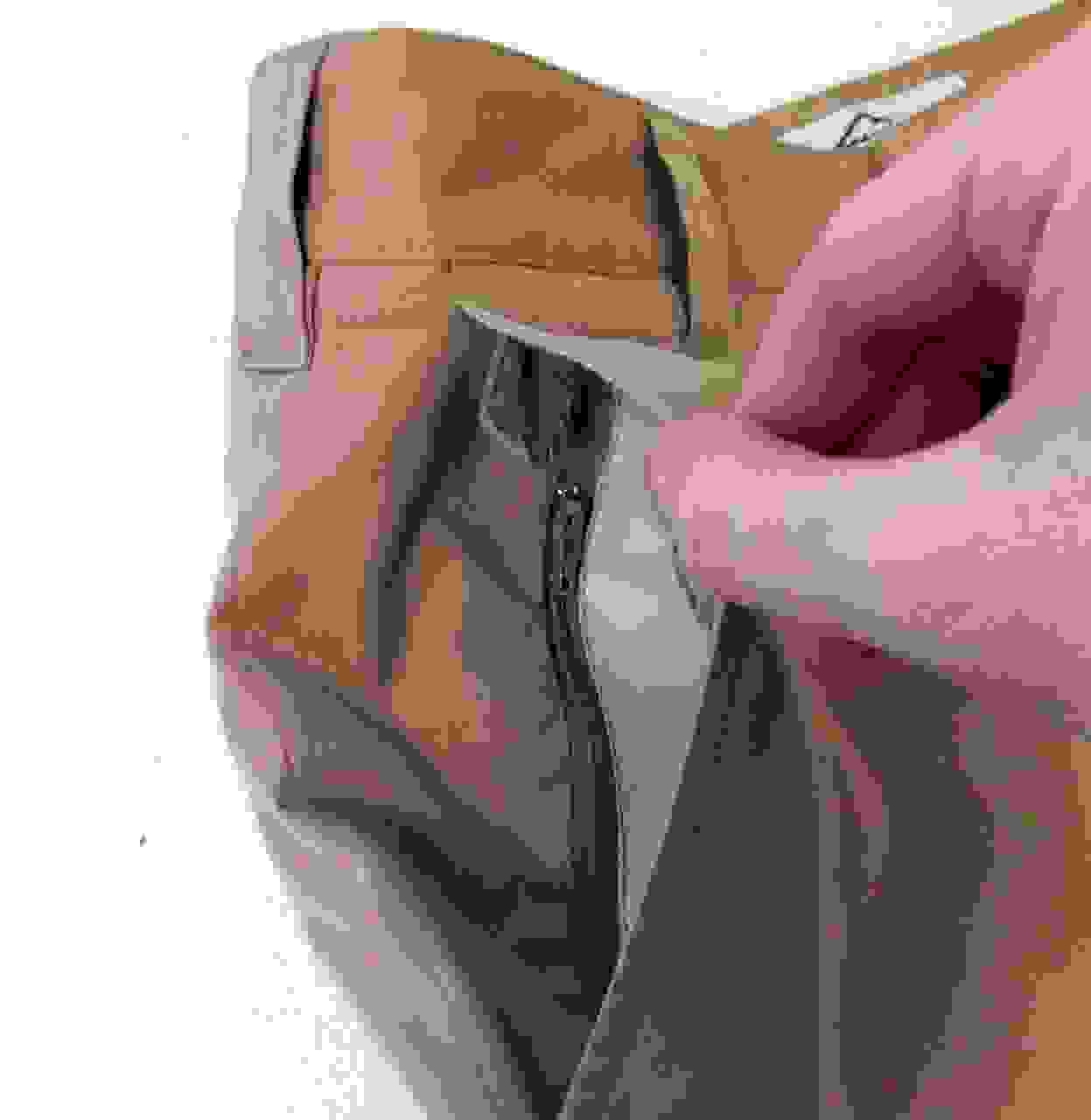 There's also a small, drop-in coin pocket in there, but it's down deep and it's hard to get a photo of it.
I'd actually like to see "invisible" zippers used here, which are so stealthy that you can't even see them, as they hide the zipper completely on the opposite side of the fabric. I floated this as a suggestion, so maybe it'll make an appearance at some point, but in the meantime, the zippers are completely hidden when standing, and only show up when sitting down: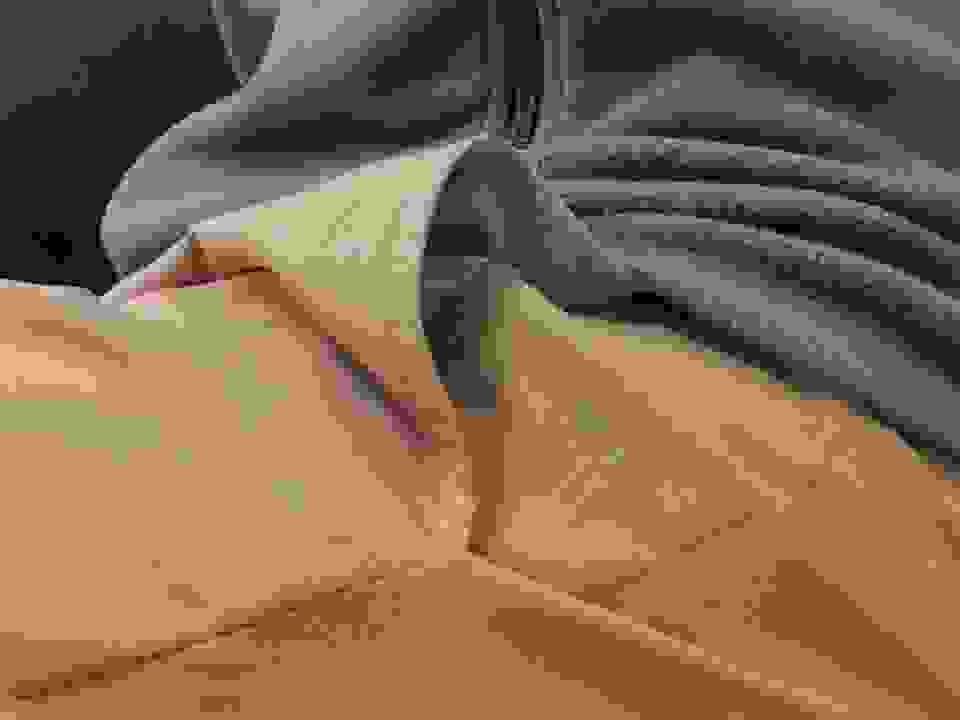 Even then, it's only from certain angles, but it would still be neat if those zippers were the on-seam kind that remain completely invisible. Plus your hands wouldn't feel the teeth when you reach into the regular pocket, which would be nice.
Moving on to the back: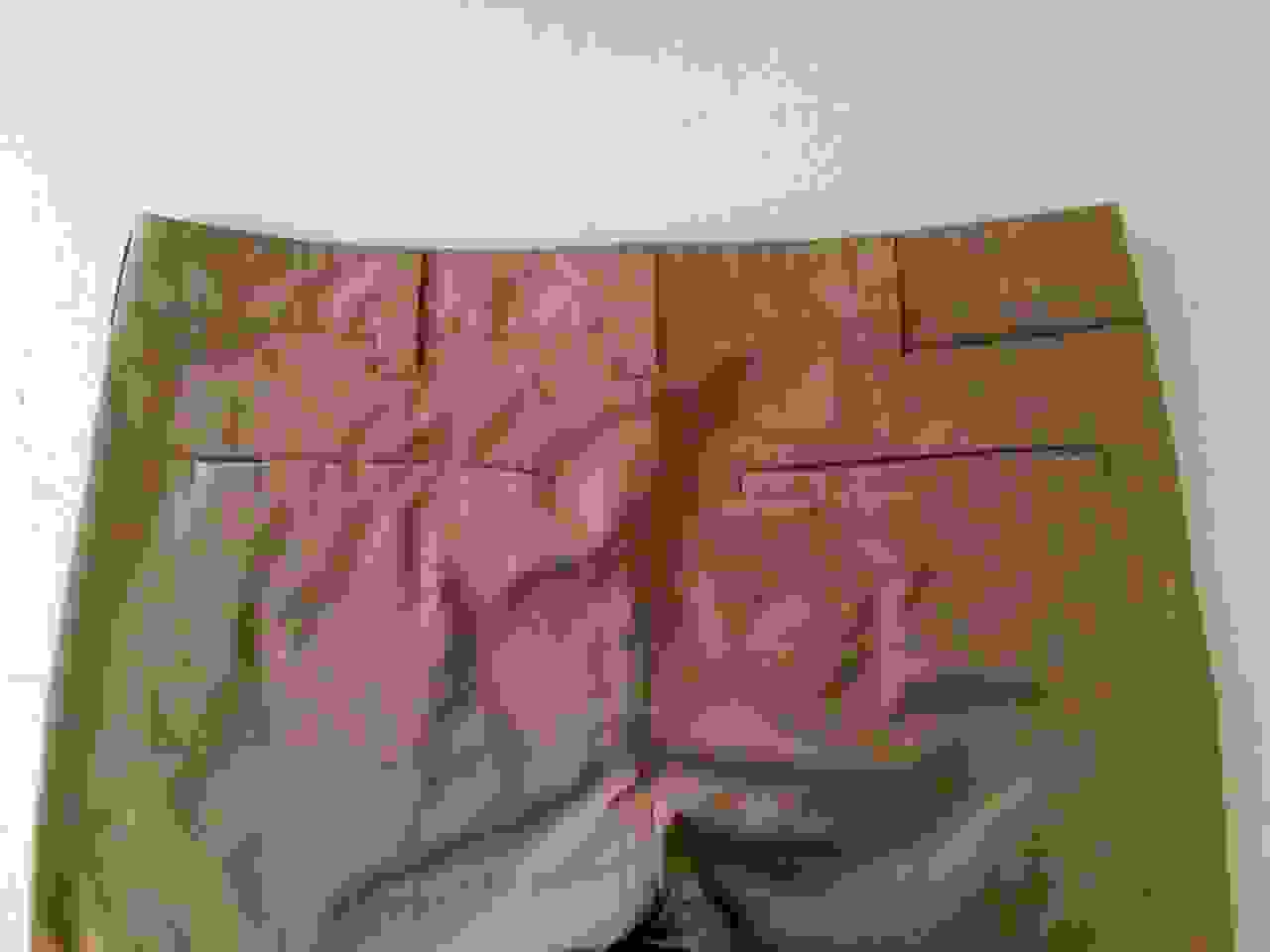 Notice the extra back pocket on the right side, up by the waistband, which is designed for a phone. It holds it up high, so if you like to carry your phone in your back pocket, you won't sit on your phone when you sit down. It even comes with an easily-removable line of stitching to shorten the space, so it can accommodate small phones, or you can remove the stitching, to fit large phones.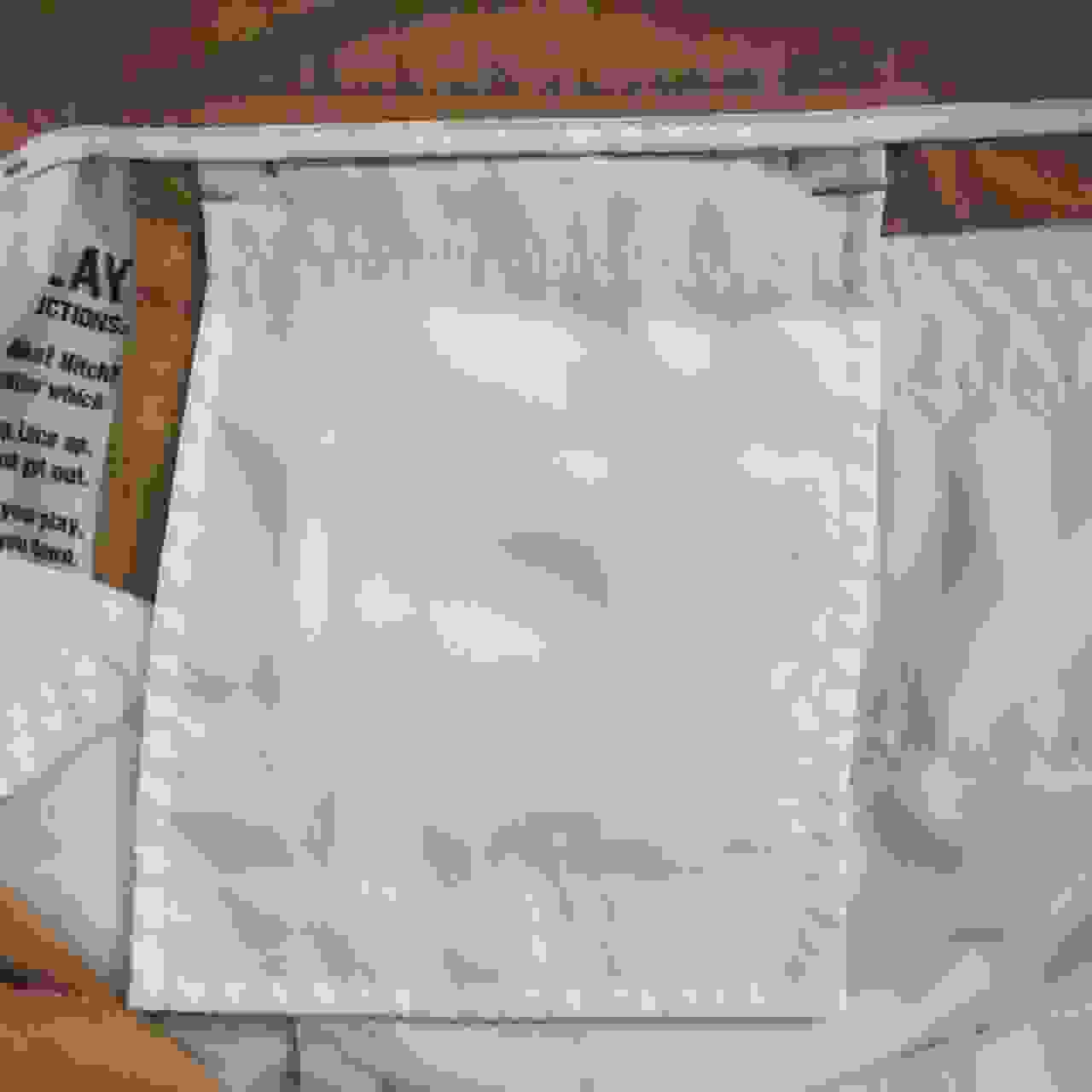 (I'm just pointing this out because of someone who didn't understand the point of the stitch line, and thought his big phone just wouldn't fit.)
Personally, I always carry my phone in a front pocket, but I like how there's this extra bonus pocket in back. It's a good place for keeping a wallet or spare cash, because no one will try to pickpocket something if they don't know it's there.
The back left pocket is also zippered: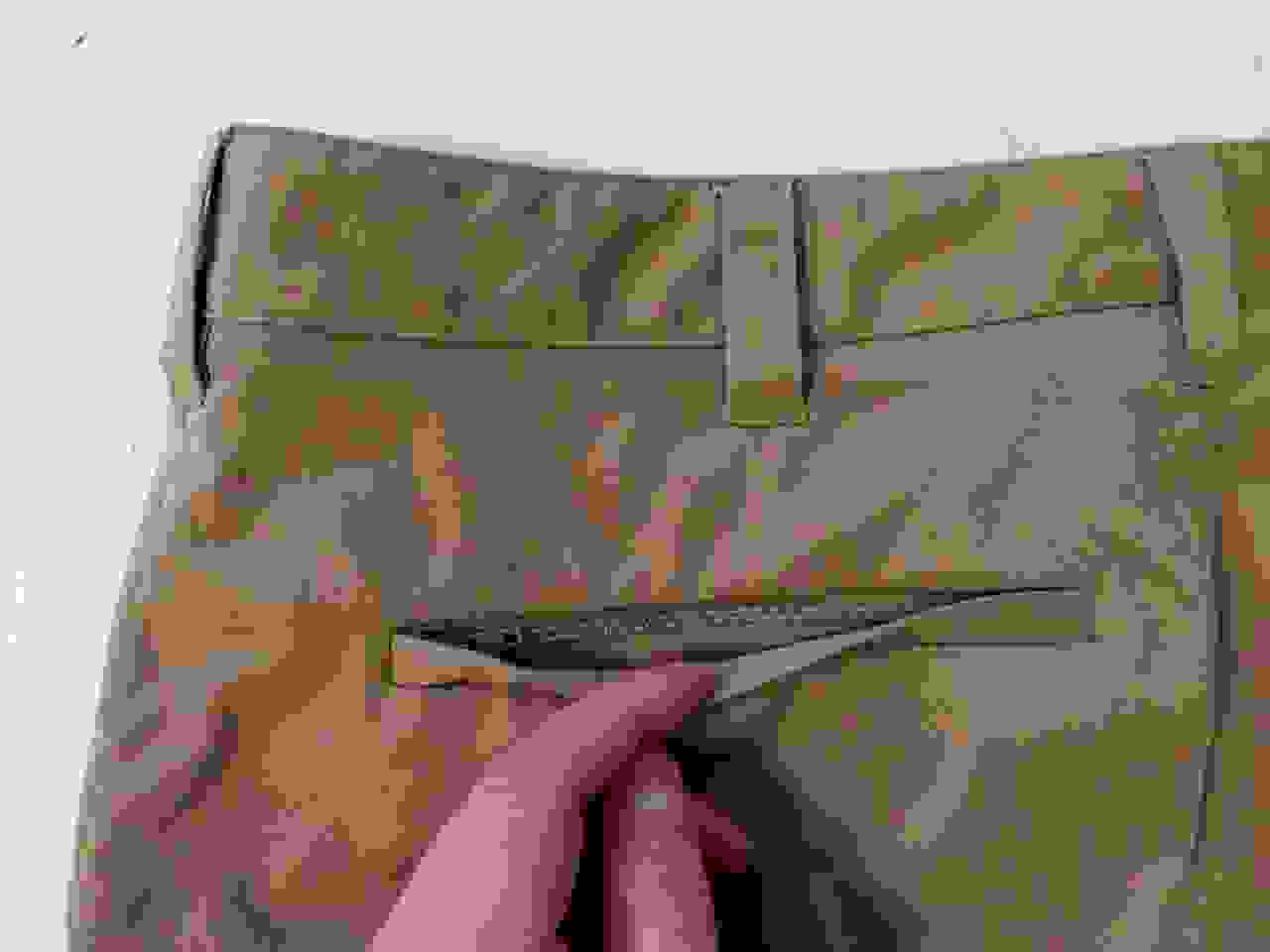 The right side pockets are just drop-in, I assume because they didn't want a zipper going right over a phone, since the teeth might press against it and feel weird.
A few more pics for fun: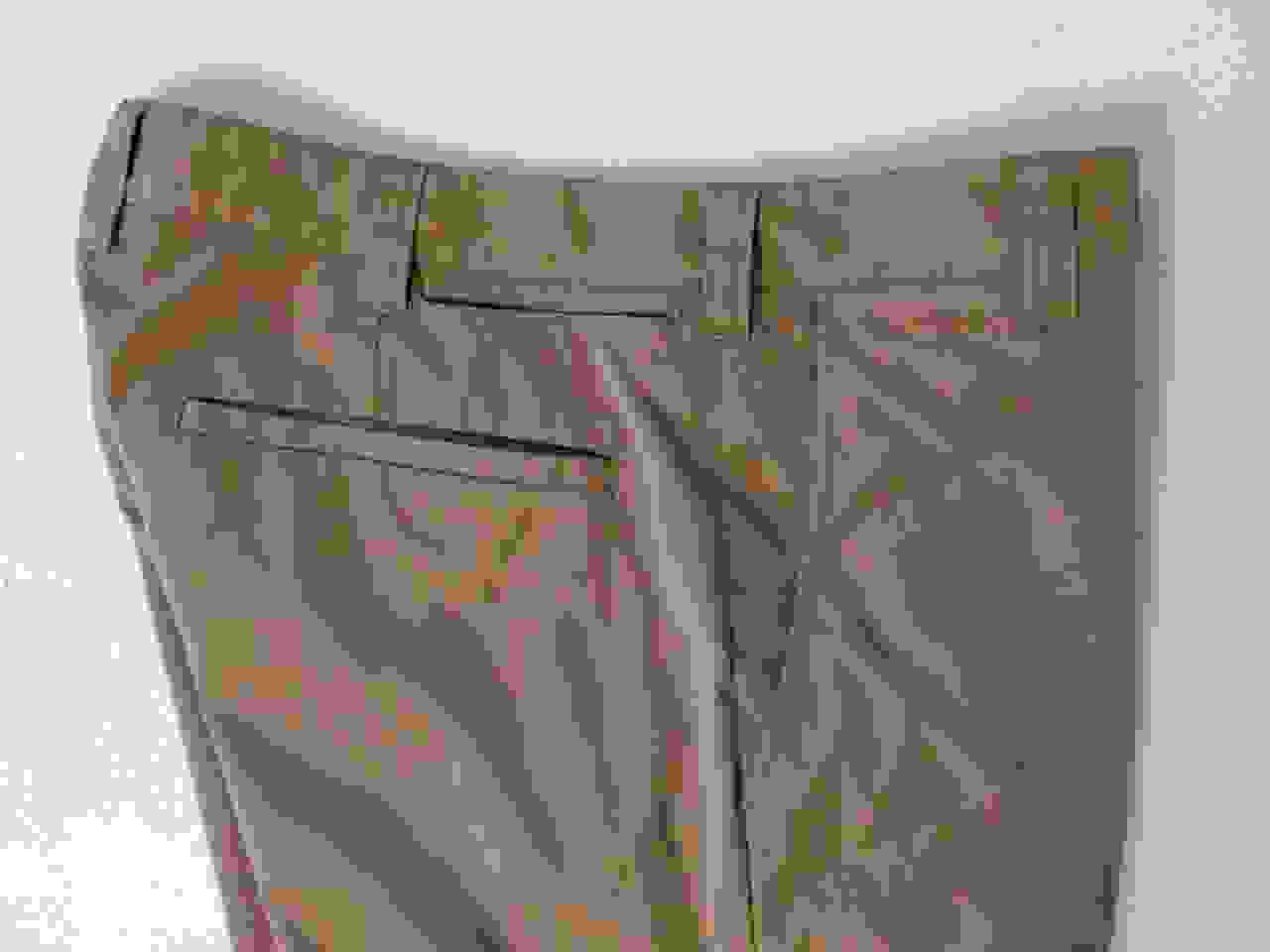 And the other side: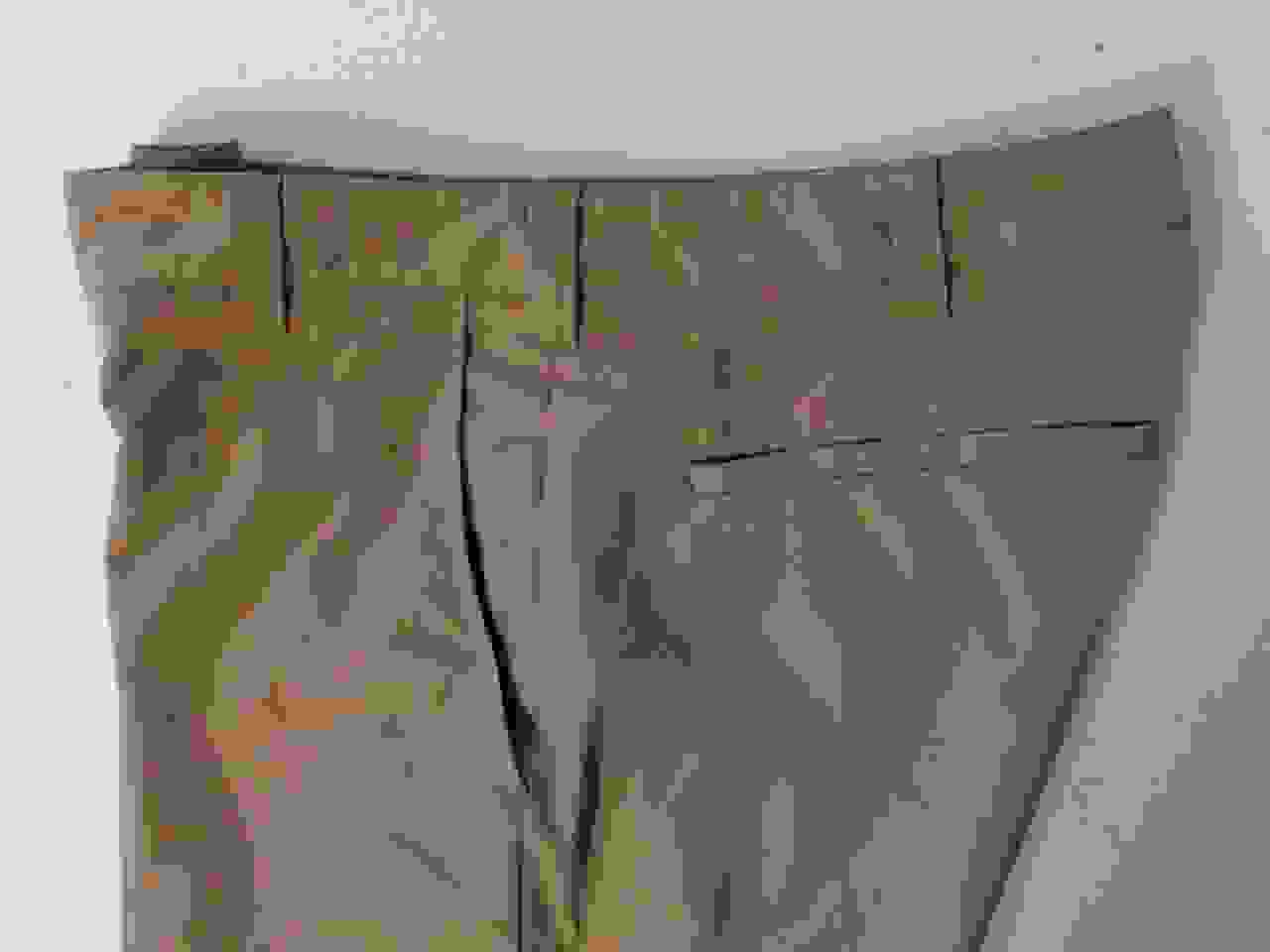 Like I said, I don't think you're going to find a pair of pants with as many built-in security features, and certainly not one that looks completely indistinguishable from a normal pair of pants. If you're going somewhere with a reputation for pickpockets and you don't want to look like a dork, this is the only way it should be. I even use these features at home, so coins and keys don't fall out, which is always nice.
Fabric:
These are 100% polyester, with 2-way mechanical stretch. They feel great, and they're super soft. While the original fabric felt like canvas (think carpentry pants), these feel pretty much just like a pair of nice cotton khakis. And the stretch, despite only going in 2 directions (left and right, but no up and down), really makes a huge difference, especially with the modern, trim fit. There's even an inseam gusset that helps too. They're really comfortable, and I wear them all the time. I much prefer them over the original version, because of the stretch.
These were also designed with a non-grainy appearance, for a more casual look. The originals look like wool, while these look like cotton: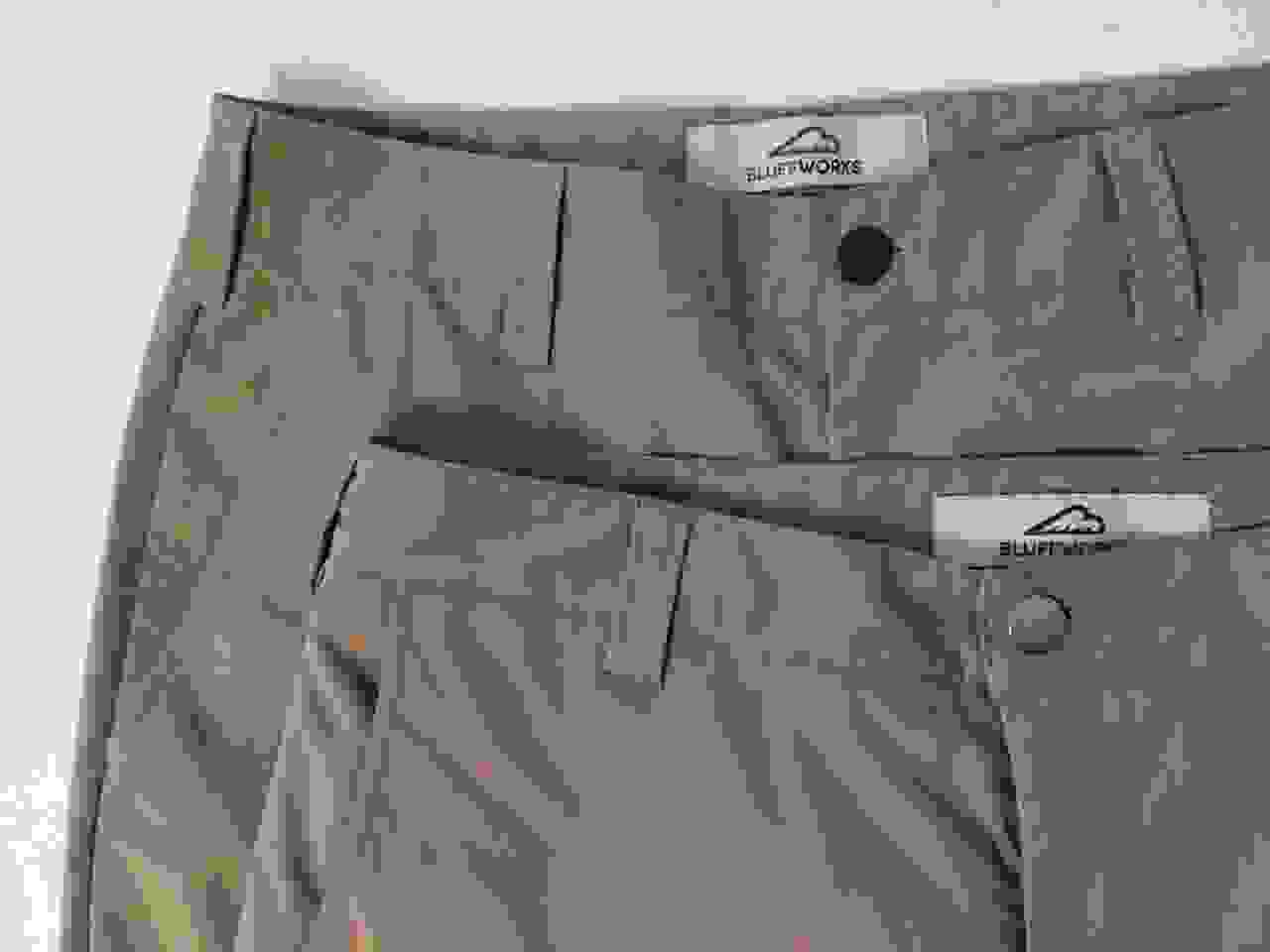 They also dry ridiculously fast. Putting them in the dryer is almost pointless. You can take them right out of the washing machine and wear them, and they'll be dry in minutes. They're also great at resisting wrinkles and stains, and they'll probably last forever, as they're made of 100% polyester.
Speaking of polyester, when it comes to travel, certain people prefer natural fabrics, or blends, especially in tropical climates; there's nothing wrong with that, but I've generally run into more trouble with slow-drying natural fabrics than non-breathable synthetics, which is why I usually go for the technical fabrics. If they're light enough, they'll work well enough in hot weather, and if it's really hot, you're probably going to wear shorts anyway. That's just how I look at it, which is why I prefer things like these.
The only high-tech fabric alternative worth looking at would be soft shell pants, which provide crazy yoga-pant levels of flexibility, due to the 4-way stretch, so you can go rock climbing, or something like that. Soft shells also seem to hold up to rain a little better, though I think that's because of the pre-applied rain-resistant spray-on finish rather than the fabric itself. The downsides are that soft shells are usually twice as expensive, and threads get snagged more easily. So I'd like to see 4-way stretch in something like this, but I wouldn't get too worried about it. The only time I could really feel the difference was on really cold days, when I was wearing leggings underneath. Because of the extra friction, the pants couldn't move anywhere, so I could feel the resistance when kneeling down to tie a pair of shoes, for example. So if you need crazy stretch, get a soft shell. If not, you'll be fine with these.
Conclusions!
As you can tell, I'm overjoyed with these. The travel-friendly safety features are unmatched by anything else I'm aware of, and the development of the softer, stretchy fabric has solved the one and only problem with the original version. These also dry faster and resist wrinkles better than the originals, making them even lower-maintenance than they were before. I wear these all the time now, and it's hard to imagine traveling with anything else. When Bluffworks says these pants will replace three in your drawer, I think they're right.
A few things worth mentioning: I'd like to see 4-way stretch someday (as long as it could avoid the thread-snag problem of soft shells), along with invisible zippers in the front hand pockets. I've also heard these don't breath quite as well as the originals, so you might still want shorts in oppressive heat. Also, I don't think these come pre-finished with a spray-on rain-resistant treatment, so it's not a bad idea to spray this on if you're going to be out the rain constantly. Lastly, the softer fabric picks up cat hair a little more easily than others, which is worth knowing if you live with pets.
But that's it, and none of those issues are particularly significant. If you've been on the lookout for something like this, I don't think you're going to find anything better. They're light, soft, strong, stretchy, stylish, and secure. You can probably just get two of these and not shop for travel pants again for another 20 years. Like I said, they're really great.