Guatemala is an archaeology dork's paradise. It's filled with literally hundreds of Mayan ruins, particularly up north, where the Mayan civilization carved out the wilderness to build massive cities in stone. You could spend your whole life here, digging up Mayan treasures, and maybe even finding a whole new lost city. They're still finding new ones, you know.
But for all the abandoned glory of the Maya, most visitors know of one and only Mayan site in Guatemala, and that's Tikal. It's not without good reason. It's ridiculously huge, and perhaps the most significant remains of the lost Mayan civilization ever found. Tikal is not to be missed.
Behold: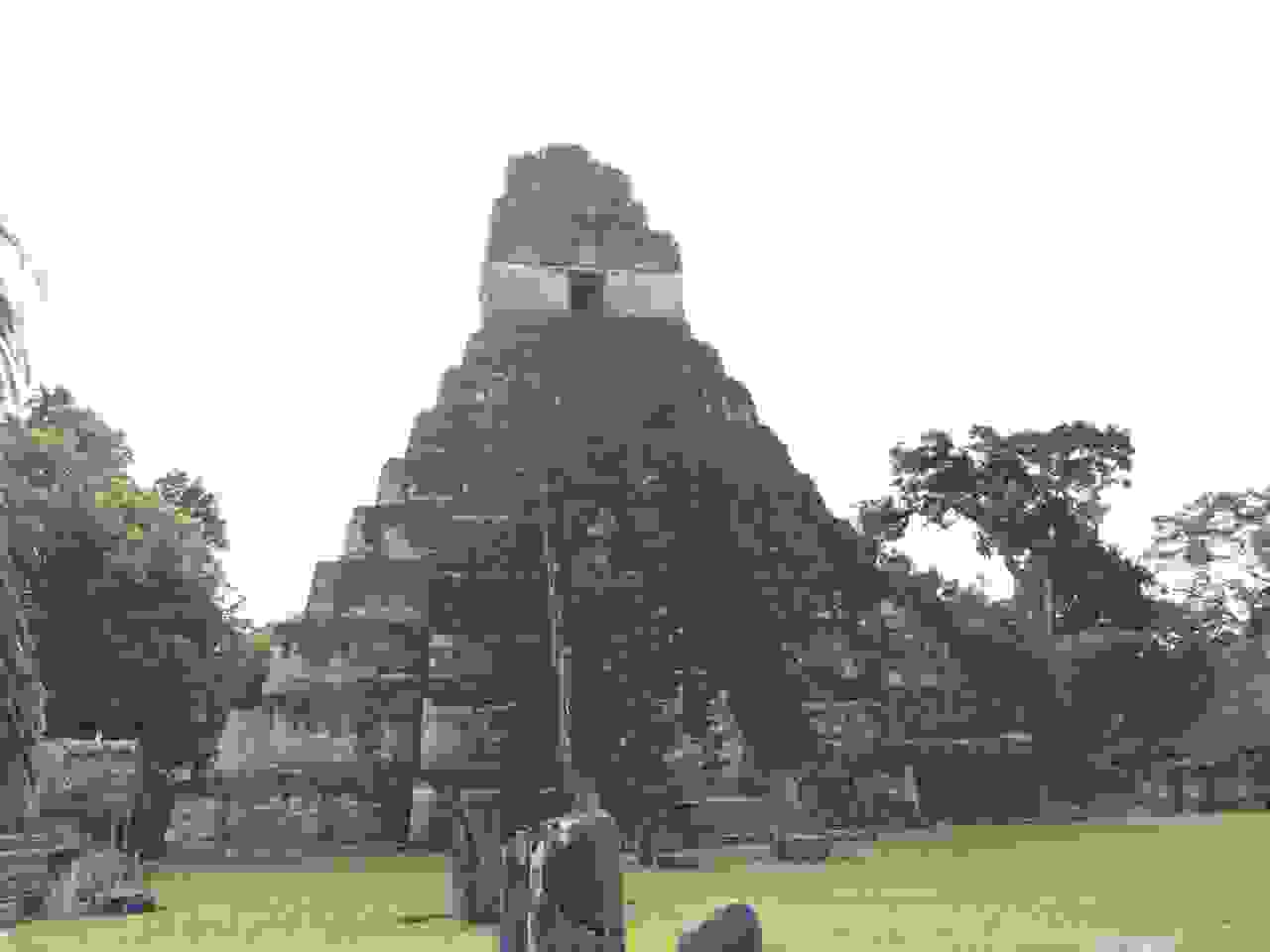 But there's a lot more. There's a whole swathe of civilizations that rivaled Tikal, and fought entire wars alongside it, or against it; there are so many ancient ruins in Guatemala that you probably couldn't visit them all before they find a new one. Again.
That said, none of them will match the magnificence of Tikal, with the possible exception of El Mirador, which is rumored to be even bigger, but has yet to be excavated. But if you find yourself in Guatemala and simply can't get enough of this lost civilization's ghosts, plenty of other, more modest sites yearn to be explored…and will have drastically lower ticket prices as well. They may not offer the breathtaking, all-day-long adventure that Tikal commands, but they might make for more easily manageable, shorter day trips, which might be just what you're looking for.
So this list includes some of the more interesting, and more accessible, Mayan ruins to be visited in Guatemala. It is by no means comprehensive, and not listed in order of grandeur; this list groups sites by location, so you can get an idea of which site you can visit from which city, and plan a visit accordingly. Some are large, and some are small, but you might find yourself in a situation where you'll prioritize sites that can be visited easily, rather than which one is the absolute best. Thus:
1) Mayan ruins north of Flores (near Tikal)
1a) Yaxhá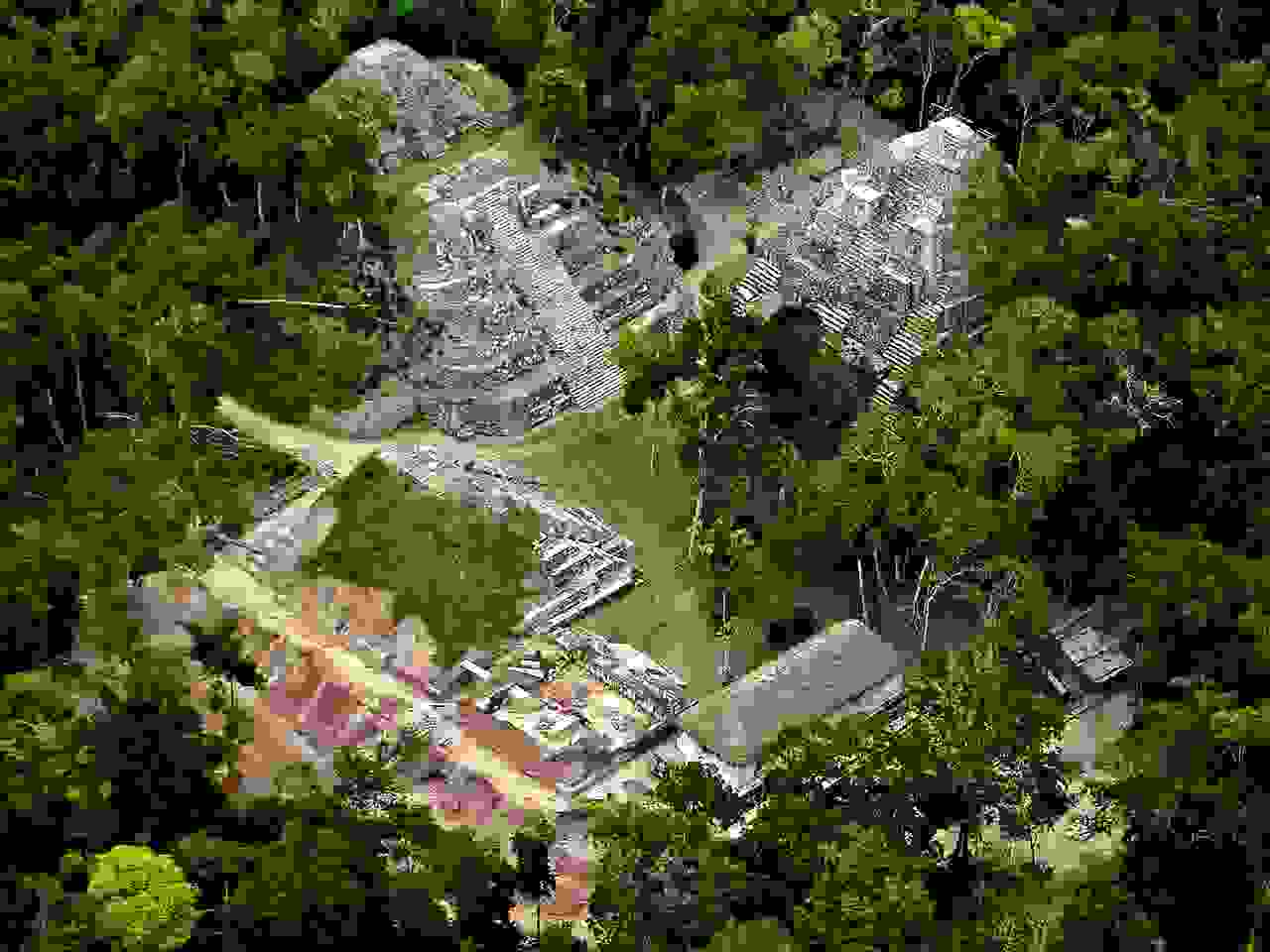 If anything in Guatemala could even come close to matching Tikal's picturesque glory, it's probably Yaxhá. With its three massive pyramids forming the central plaza, it's about as photogenic as Tikal's main courtyard, and is the most obvious example of "why don't many people go here?" of any Mayan ruins in Guatemala.
It's also quite easily accessible. It's near Flores, which is the jumping off point for tours to Tikal, meaning you could easily visit both while staying in the same city; some tour companies offer combined tours, taking you to both in the same day, though keep in mind that with the heat, this could become quite tiring. Unless you're in a time crunch, it might be best to visit Tikal as an all-day activity, and make your way to Yaxhá on a different day, or combine it with one of the other nearby sites.
1b) Nakúm
Nakúm can be conveniently combined with Yaxhá, provided you have reliable transportation, for a two-sites-in-one-day tour, which plenty of tour operators provide. If you want a combo tour, it makes more sense to visit Yaxhá and Nakúm together, rather than combining one or the other with Tikal, which is huge, and takes a while to explore properly.
Though more dilapidated than some of the other nearby sites, Nakúm has some impressive, but semi-overgrown structures, but maybe it's the decaying ruins that are your favorite.
1c) Uaxactún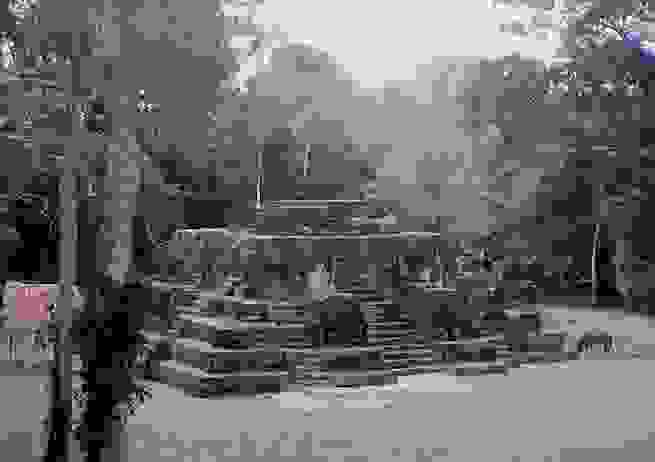 Uaxactún is a somewhat more modest site compared to its neighbors, but unique in the fact that it hasn't been entirely abandoned; or rather, it has been repopulated, by local laborers.
It can be combined with a tour to Tikal, or perhaps one of the other nearby sites, such as Yaxhá or Nakúm, as it's fairly close to those as well, and it's not likely to take up too much of your time. The structures aren't huge, but they're intact enough to be fairly impressive nonetheless.
1d) El Mirador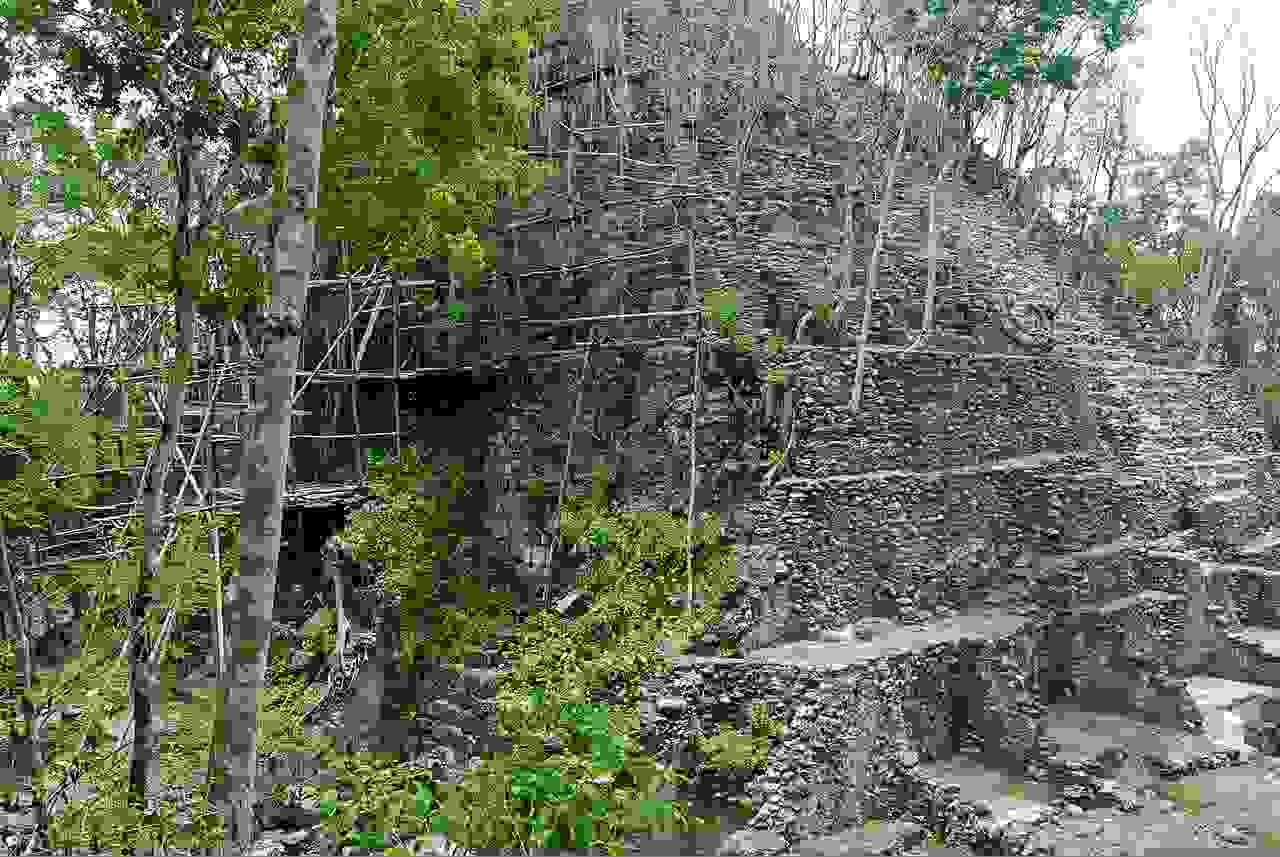 This one's a tougher challenge. Rumor has it that El Mirador might be even grander than Tikal, but much of it has yet to be excavated, remaining entirely smothered in jungle, and thus barely visible, even though its tallest pyramid is taller than Tikal's. It's also way up north, in the middle of nowhere, with not a single road offering a convenient route.
The only way to reach El Mirador, aside from a pricey helicopter ride, is to embark on a 5 or 6 day jungle trek through hot, sweaty, bug-filled conditions through the untamed wilderness. The journey itself includes some other areas of interest along the way, making it as much of a jungle adventure as it is an archaeological one.
Journeying to El Mirador therefore isn't nearly as convenient as visiting other famous Maya sites, and, if you're hoping for spectacular pyramids, you might find them so covered up with jungle that you're barely able to see them anyway, which might make it rather underwhelming. Reconstruction efforts may eventually make it a more magnificent site, but in the meantime, this is definitely for the more adventurous, for whom the idea of trekking through the dense jungle to discover a lost, buried, ancient Mayan city sounds like a damn good time.
2) Mayan ruins south of Flores
2a) Aguateca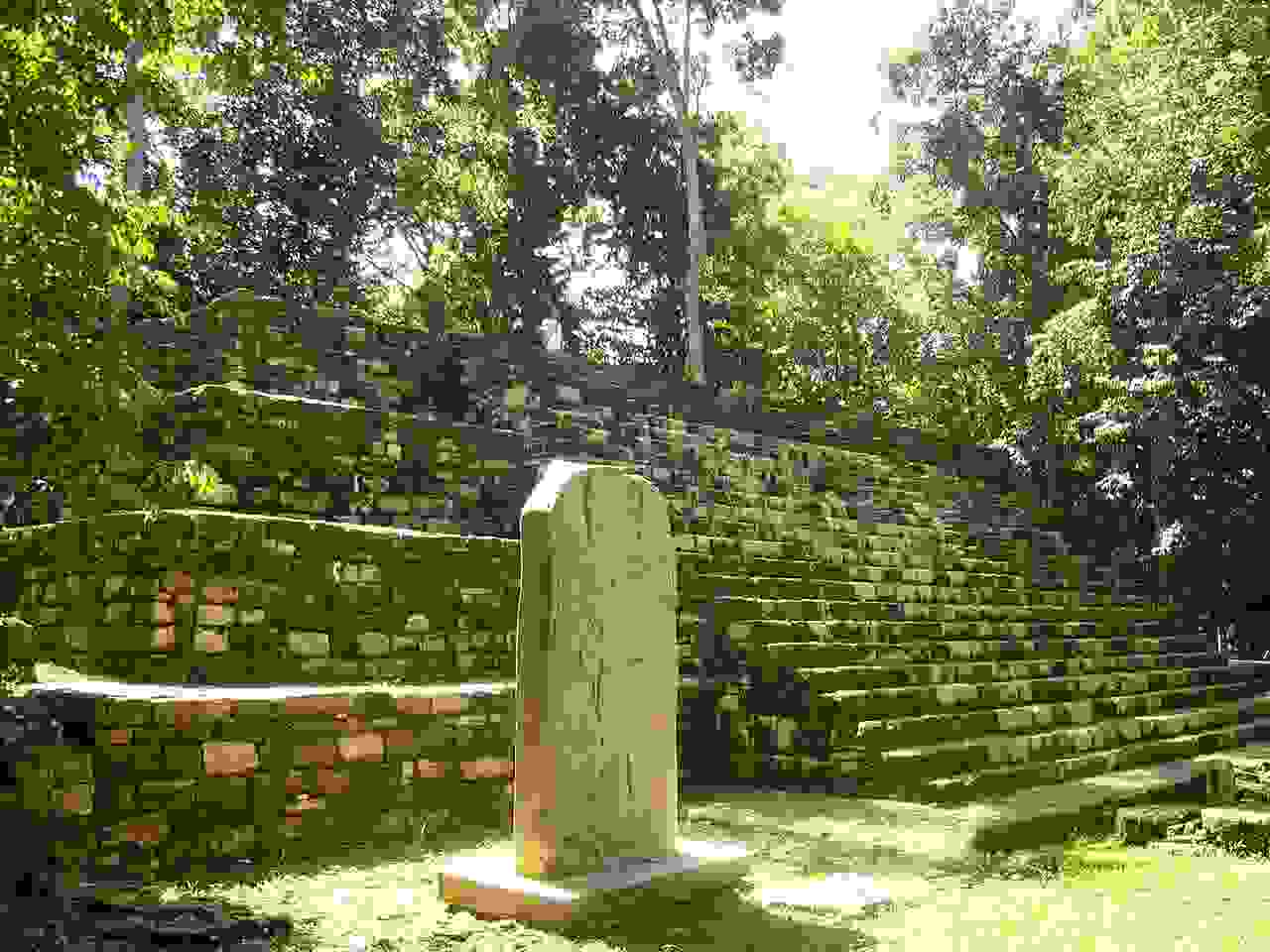 The impressive ruins of Aguateca can be found near the city of Sayaxché, and although it's not exactly "out of the way," as it can be found along the route between Flores and the capital, most tourists just pass right by. The saying goes that in Aguateca you're more likely to run into archaeologists than tourists, which makes it quite an interesting site.
It might be possible to visit this as a long day trip from Flores, but it's probably more convenient to stay nearby, as relying on quick and efficient transportation in Guatemala is generally not a good bet.
2b) El Ceibal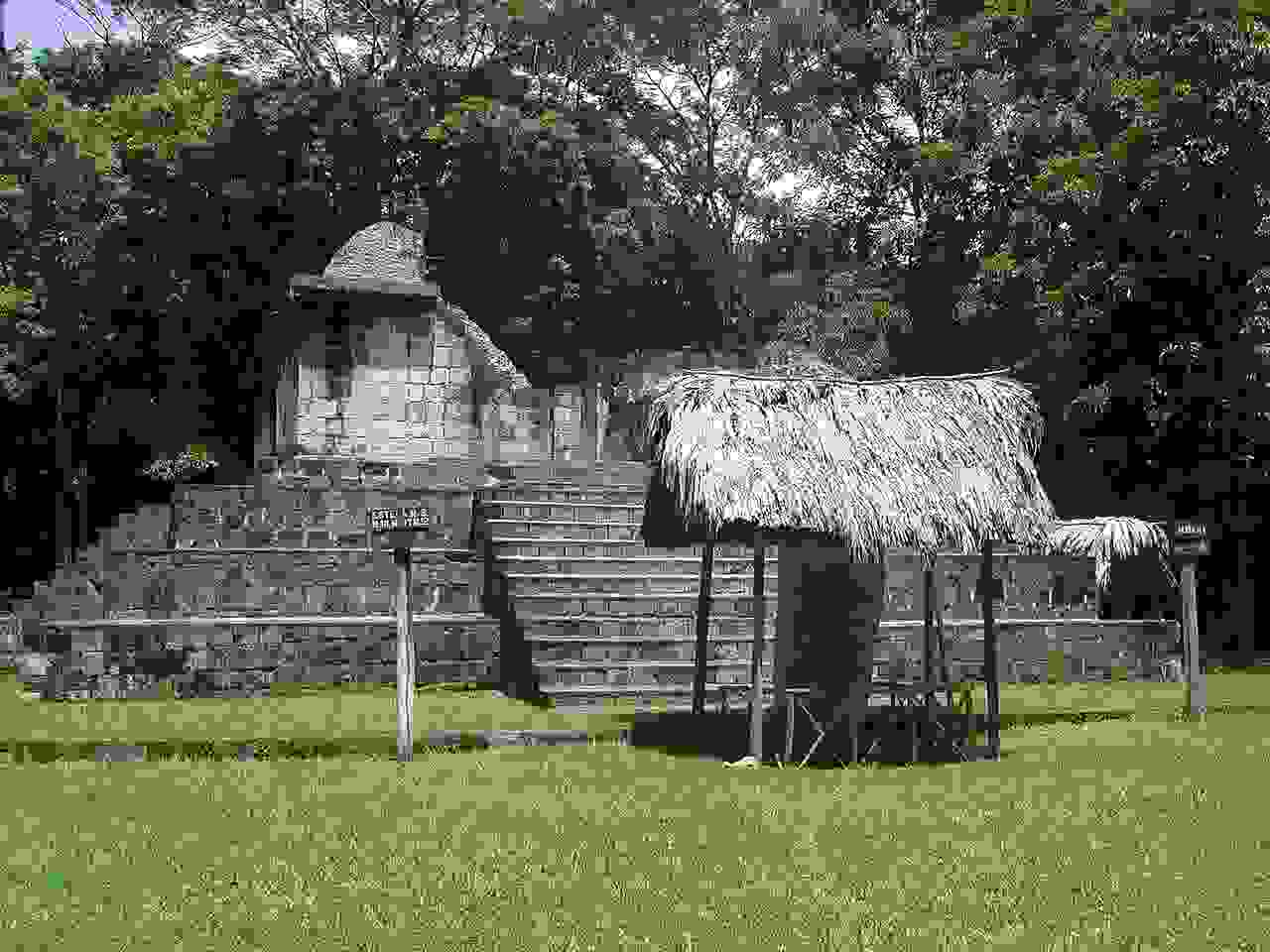 Though not likely to be as impressive as nearby Aguateca, Ceibal/Seibal is close enough that you might plan on trying to visit the two sites together, or on separate days, both from the city of Sayaxché. The remains aren't likely to take your breath away, but they'd make for a fun excursion for archaeology fans, or people with spare time on the way up to Flores.
3) Mayan ruins near Antigua and Atitlán
3a) Iximche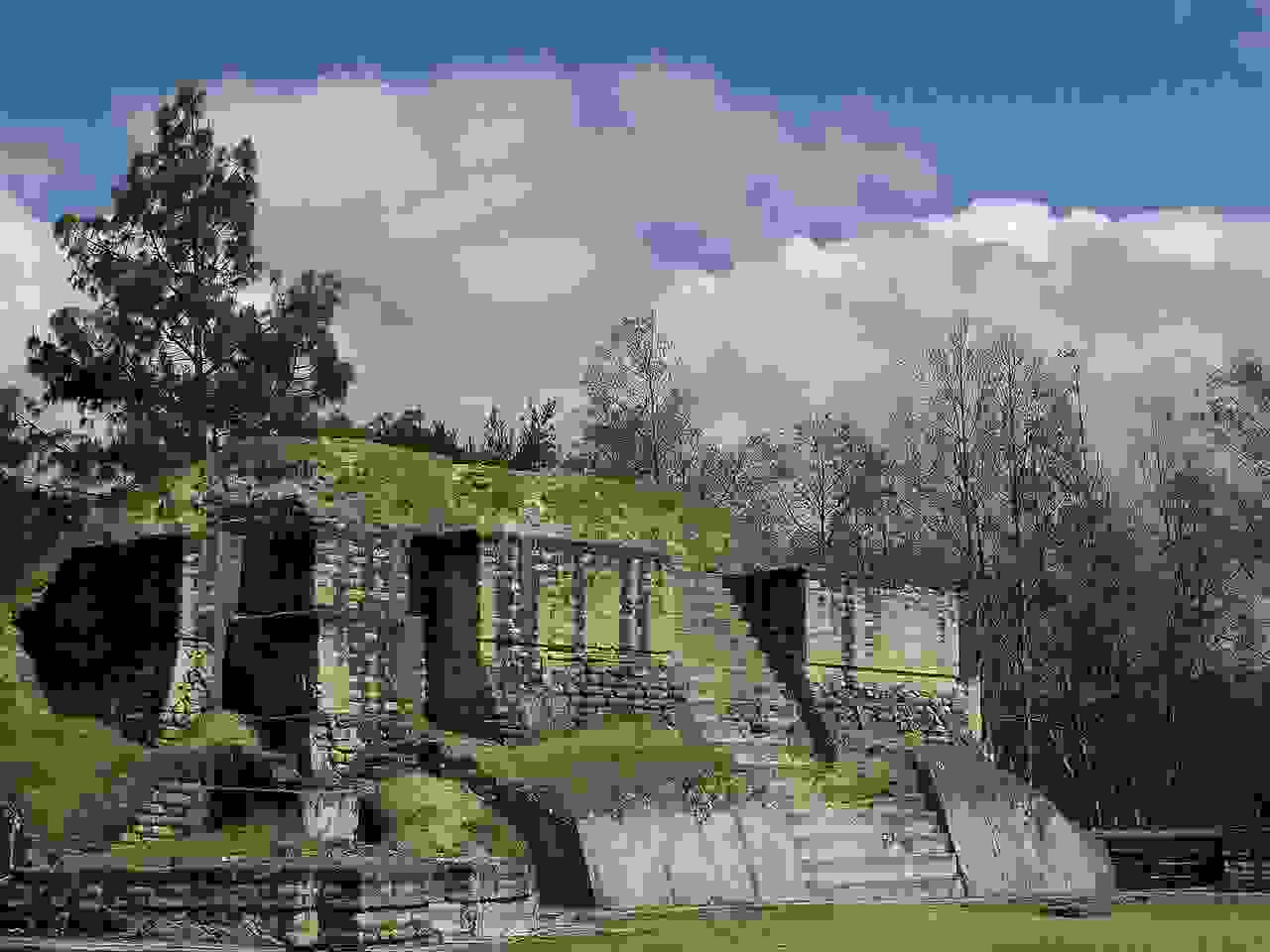 Notable as being one of the few places still used in traditional Mayan ceremonies, Iximche is close to both Antigua and Lake Atitlán, and could make a nice day trip from either one. It's not really on most tourists' radar, instead attracting mostly Guatemalan visitors than foreign tourists, so a visit here would make for a nice change of pace from some of the more heavily visited Maya sites up north.
It's also famous for being a site visited by George W. Bush in 2007, after which the priests performed rituals to remove the bad spirits. That is pretty great.
3b) Takalik Abaj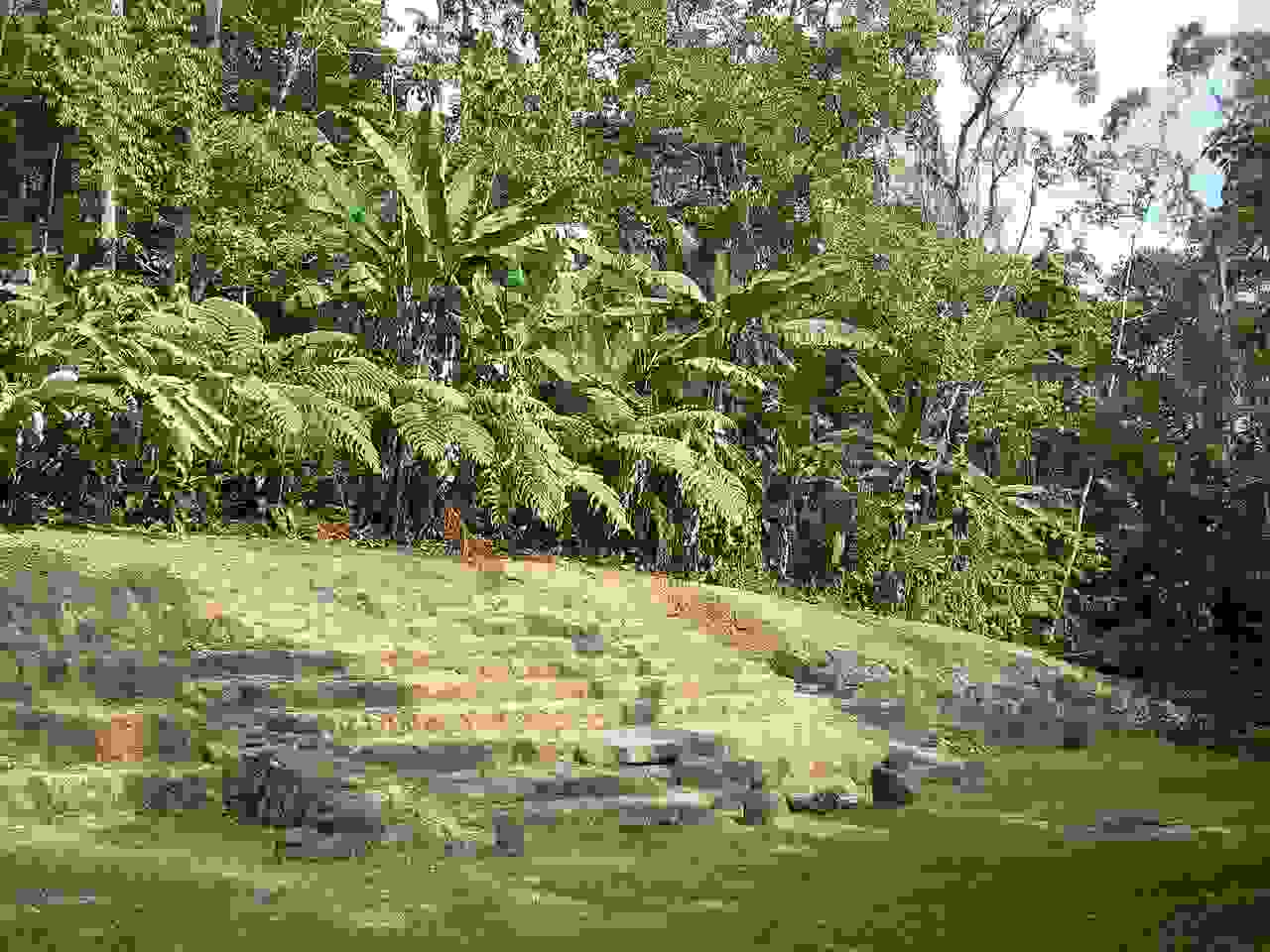 Though lacking the grandeur and monumental structures of some of its neighbors, Takalik Abaj is more famous for its stone carvings, which might be of interest to visitors who have already seen a million pyramids. It's west of Lake Atitlán, and near enough to visit easily. Not likely to be awe-inspiring, but perhaps a good destination for a modest day trip.
3c) Zaculeu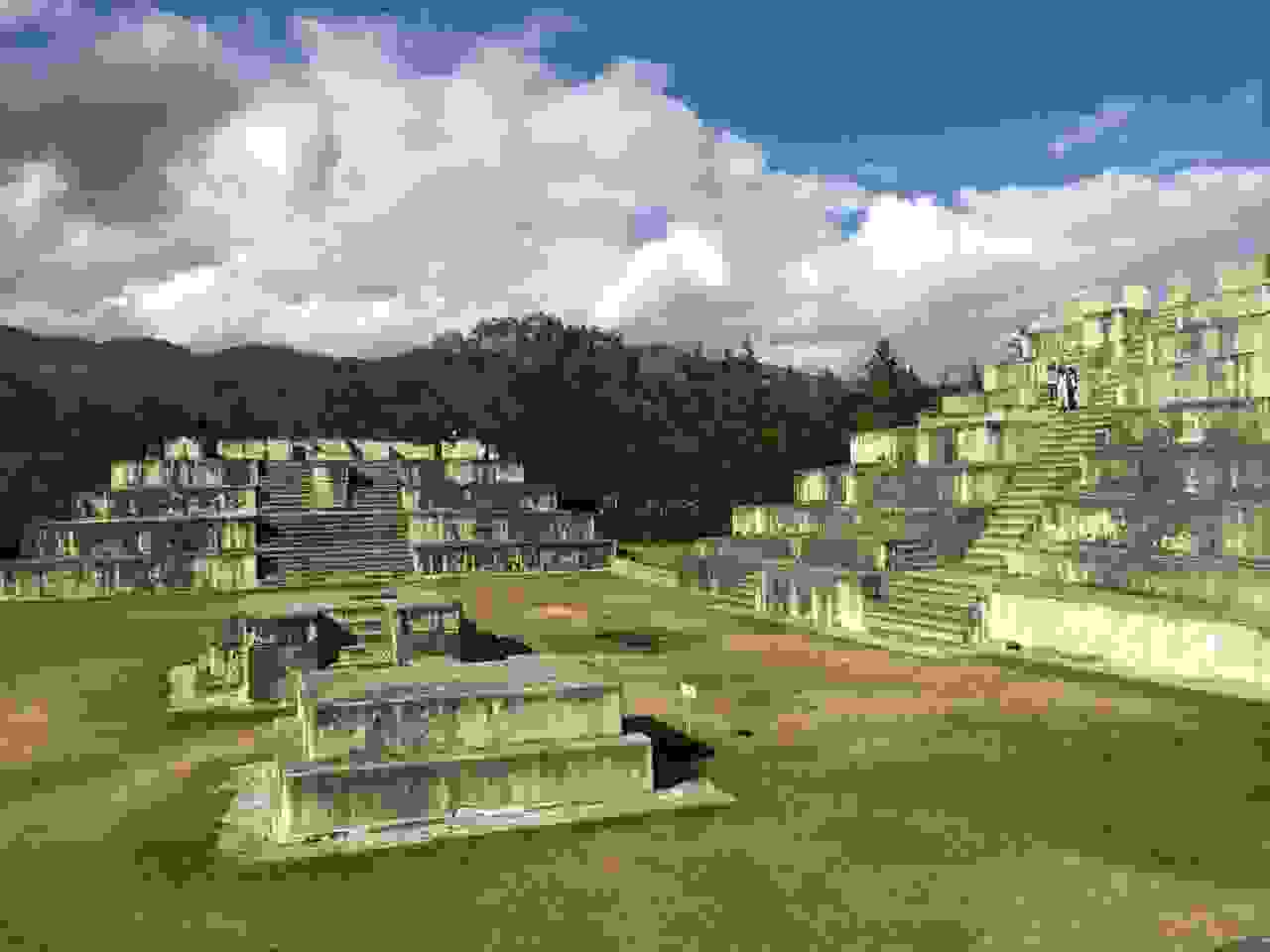 The site of Zaculeu is somewhat notorious for having been restored incorrectly. Or rather, an attempt was made to restore it to its original state, by adding white plaster to the exterior of all the stones, as was the case with the original structures, despite the fact that other sites haven't been restored this way. It looks a little…odd. Almost like it could be made of concrete, even though it's over a thousand years old.
This awkwardness might be part of the reason that it's thoroughly unknown by modern tourists. Nobody had a clue what I was talking about when I mentioned I visited. But it's far more accessible than many of the other sites; while most Mayan ruins are off in the middle of the jungle, this one's right outside the city of Huehuetenango. Not many travelers go that way, but it's close enough to the major hub of Xela that you could swing by, or pass through on your way up north. And since it's so close to a city, it's pleasantly filled with families having picnics, kids playing soccer, and young lovers who climb to the top of the pyramids to get some romantic privacy. It's more like a public park than an archaeological ruin.
Option 4) Go find your own!
Seriously. They keep finding new ones.
But anyway, I was thinking of including a few of the other semi-well-known sites up north, such as El Zotz, Waka (also known as El Perú), Dos Pilas…the list goes on and on. Even just in the immediate area around Flores, you could make a dozen day trips and see a new lost Mayan city every day. But I tried to keep the list down to the more photogenic, and more easily visited sites; not every site is going to be mesmerizing, and some are so far off in the wilderness that the adventure might not be within your schedule's time limit or financial limits.
But archaeology nerds will definitely be upset over their exclusion here. So if you've got a favorite that you think deserves inclusion, let everyone know. Or if you find a new one. That would be fun too.