Important update: Bluffworks has introduced a stretchy version of these pants, called the Chino, and I absolutely LOVE them. They share many of the same features as the ones reviewed here, but with a soft, somewhat-stretchy fabric, thus solving the only potential issue I had with the originals. Check out a review here.
A while back I reviewed a pair of travel pants from a startup called Bluffworks, which, in my humble opinion, put most others to shame. They looked good, they felt good, and they didn't screw things up with silly zippers and oversized logos all over the place. I was excited to go on all sorts of adventures with them, from riding the train the wrong way to tripping over the cobblestones of adorable medieval villages.
But they've been updated. And the new ones might just be the best travel pants anywhere to be found at the moment.
While the original versions were intended to be low-maintenance, high-performance pants that would work in all sorts of social situations, the new version adds a number of features that will specifically appeal to the travel crowd, while maintaining the office-appropriate, casual styling. They look like ordinary pants, but they work like high-tech travel gear, which is how these things should always be.
Bluffworks recently sent me a free sample, and I've been enjoying them quite a bit. Take a look:
Bluffworks Khakis: A review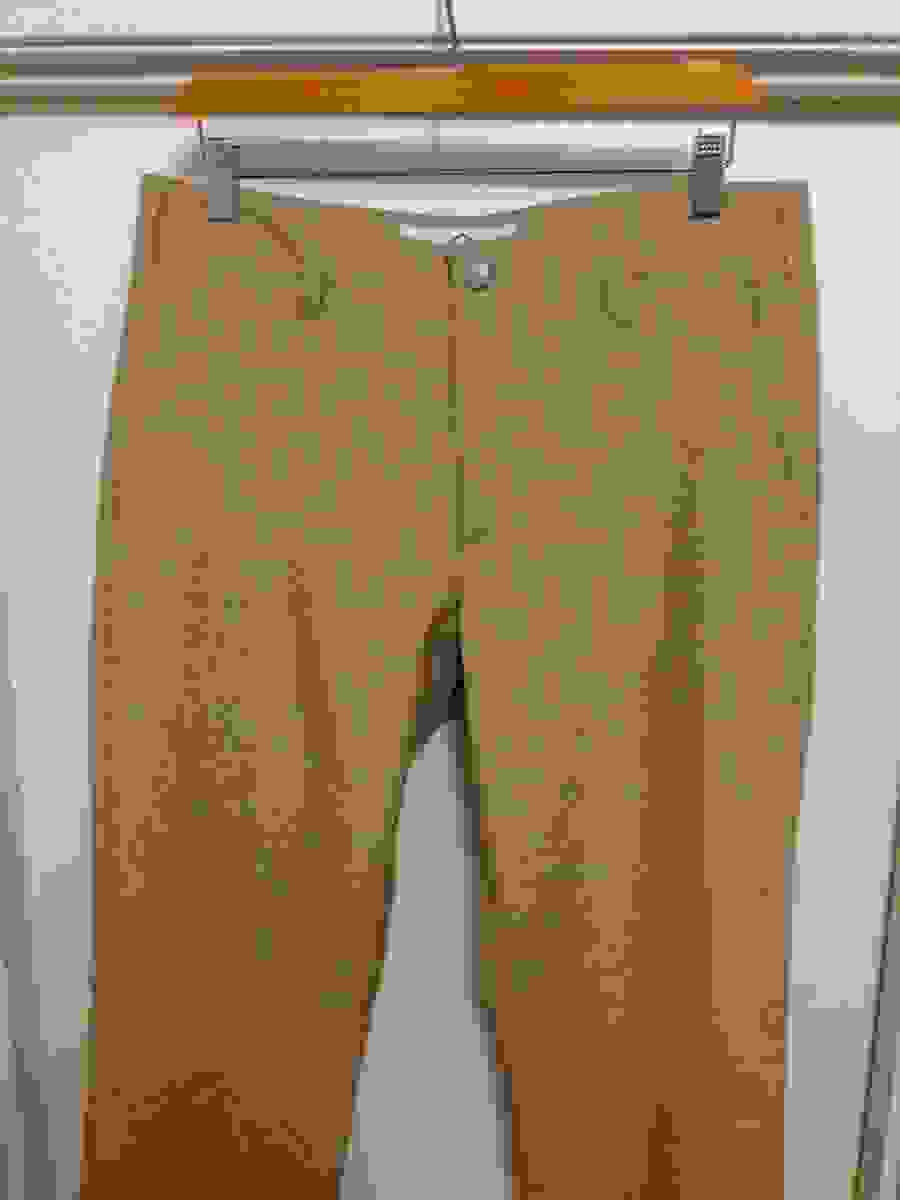 They look entirely normal, which is incredibly rare for travel pants. In fact I can only find a few that do this, despite my incessant digging.
I don't know why the hell it's so damn difficult for outdoorsy companies to realize that when high-tech clothing looks totally normal, it means you don't also have to pack normal-looking clothing in addition to performance clothing. You can just pack a few sets of clothes that will work for any situation, from fancy operas to jungle treks. This is a huge deal.
By increasing the versatility of just a few items, you can cut the pack in half, meaning beauty is actually a performance advantage. Those ugly zippers aren't a "feature," but a stupid problem that forces travelers to carry double the gear.
But while outdoorsy companies stick silly zippers and weird extras all over the place, Bluffworks pants keep them entirely out of sight:
Features
As mentioned, these pants include a number of hidden details that will appeal to backpackers and other world travelers, which are basically invisible on the outside, and easily ignorable if you're not using them.
Hidden in the right hand pocket is a small loop, to hang a set of keys, or maybe a small camera: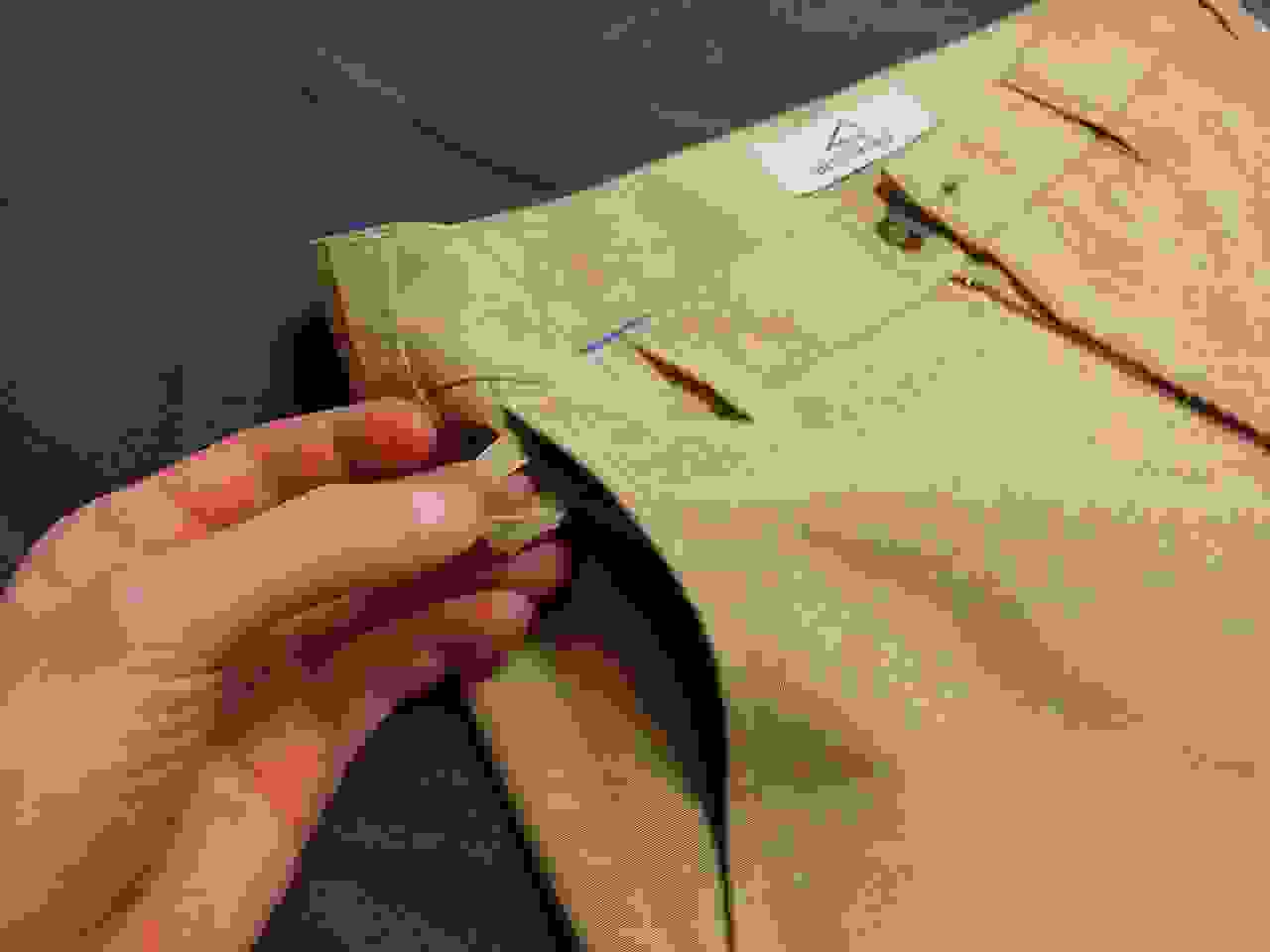 It doesn't have its own clip, so you'll need your own, but that way you can pick the kind you want, such as a locking carabiner, which will add even more security. There's also a small drop-in mini-pocket in there, which basically splits the pocket into two sections, which can be handy for dividing coins from different countries.
On the left side, you'll find a hidden zippered security pocket: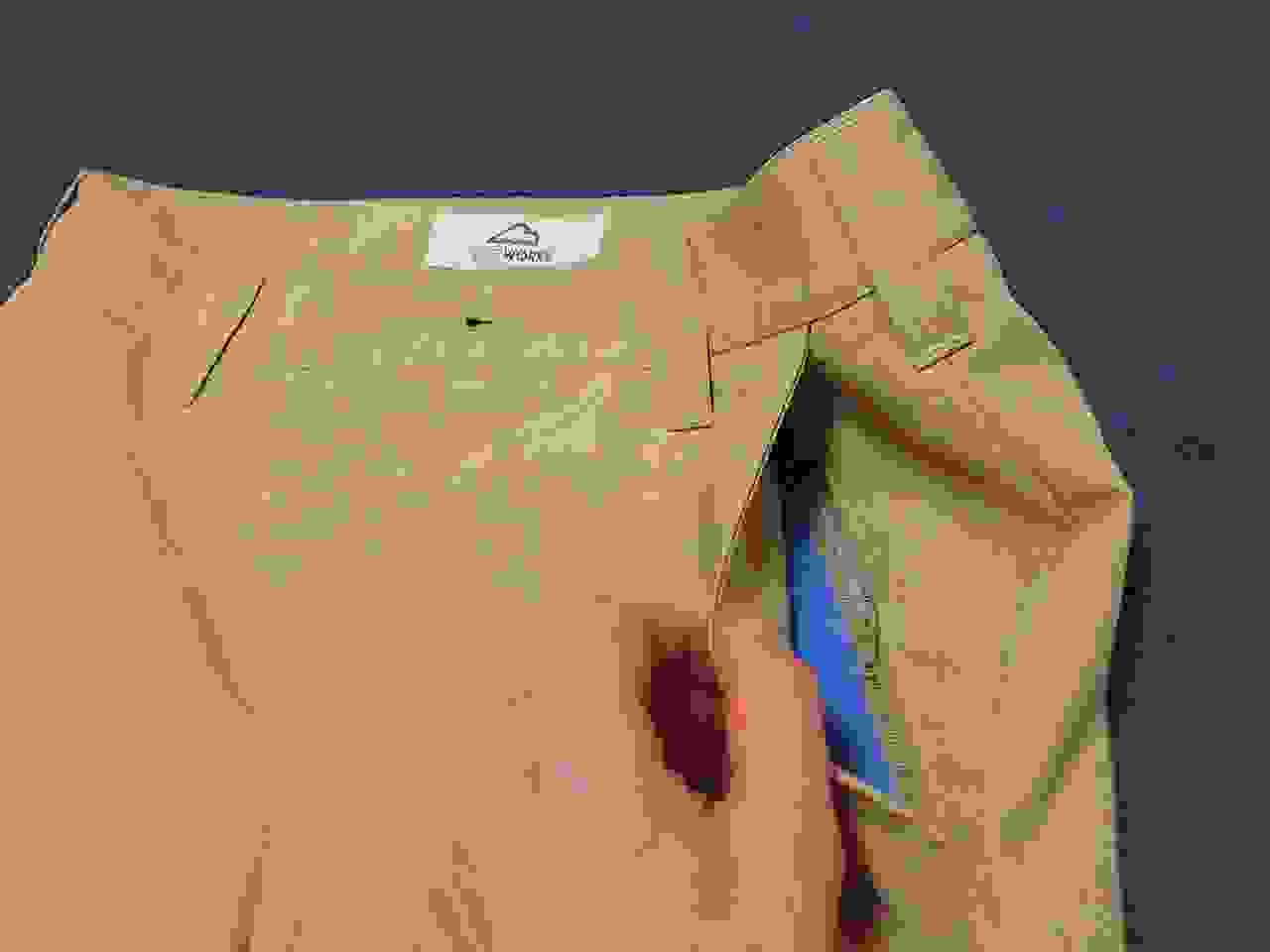 I generally only wear pants with jeans-style pockets so that nothing falls out, so I've been using this pocket for coins, so I don't lose them.
The back has three pockets; a zippered pocket, a regular pocket, and an extra, semi-hidden pocket up by the waistband: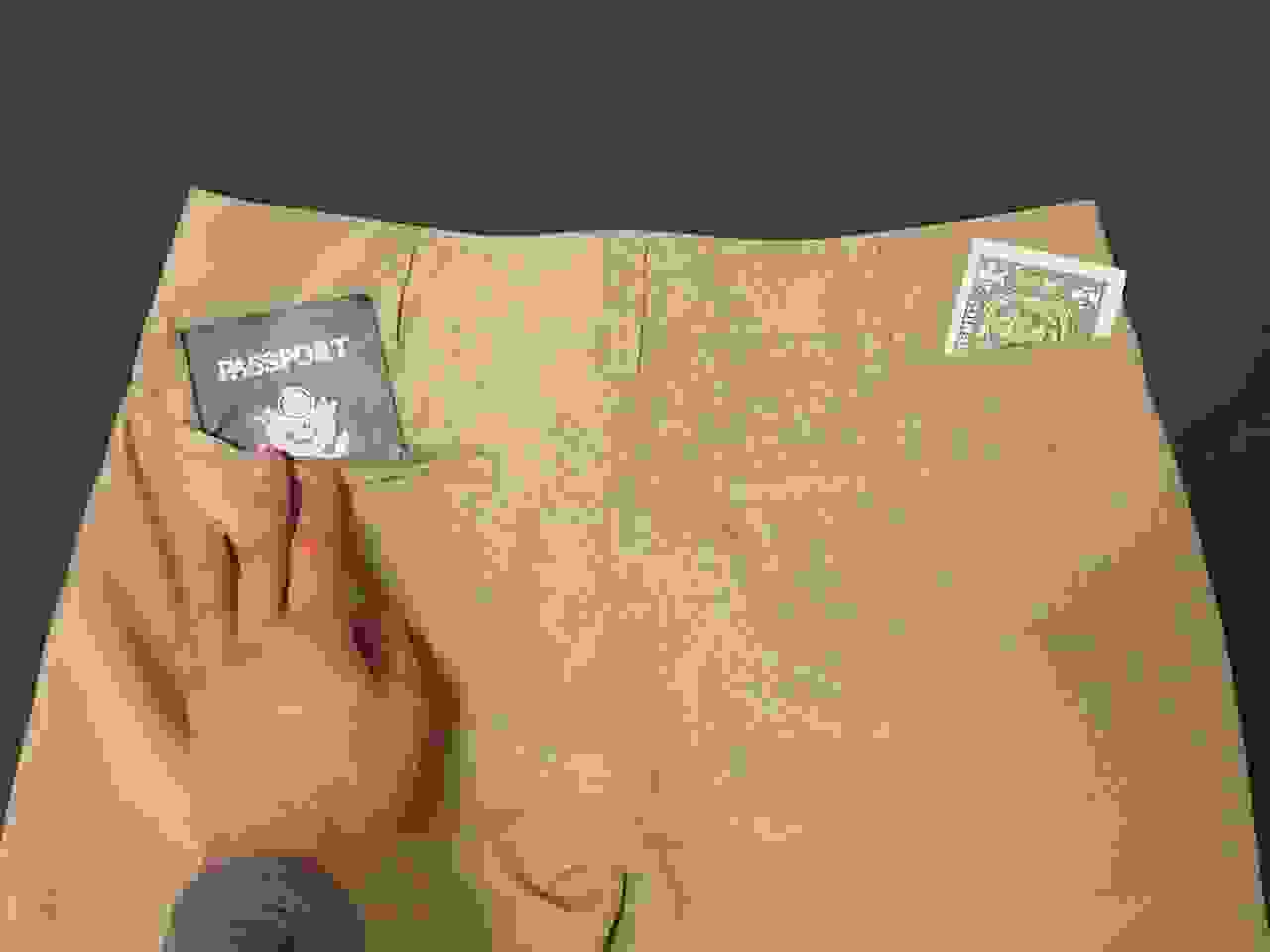 The semi-hidden waistband pocket was designed to accommodate a smartphone (though maybe not the oversized ones that are becoming more popular; my iPhone 5S fits just fine, even with a case, but it's almost peaking out of the top), which allows you to sit down without sitting on your electronics. But I also think it's a nice place for spare cash, since no one is ever going to look there, and it'll fit easily.
I'm already using each and every one of these features, even just at home, and I expect they'll be even more useful while traveling. I've always wanted to ditch the money belt, and hidden zippered pockets provide enough security that I think that's what I'll do.
Fabric
This is 100% polyester, which means it's naturally durable, wrinkle-resistant, stain-resistant, breathable, quick-drying, and basically shrink-proof. You can wash them in the sink, hang them up to dry, and they'll be ready by morning. Which, if you're on the road long enough, can be incredibly handy.
But it's actually somewhat different from typical hiking pant fabric; it's a bit thicker than the wispy-thin nylon that you've probably seen before, which makes it feel a little more familiar, like an ordinary pair of pants, which I much prefer. They're still half the size and weight of a pair of jeans, but they're not paper-thin, providing a nice balance, and making them work across a fairly wide range of temperatures.
And since they were originally intended to be office-appropriate, they actually have something of a visually textured surface, sort of like a pair of wool dress pants. It's quite subtle, so they can still be casual or professional as needed.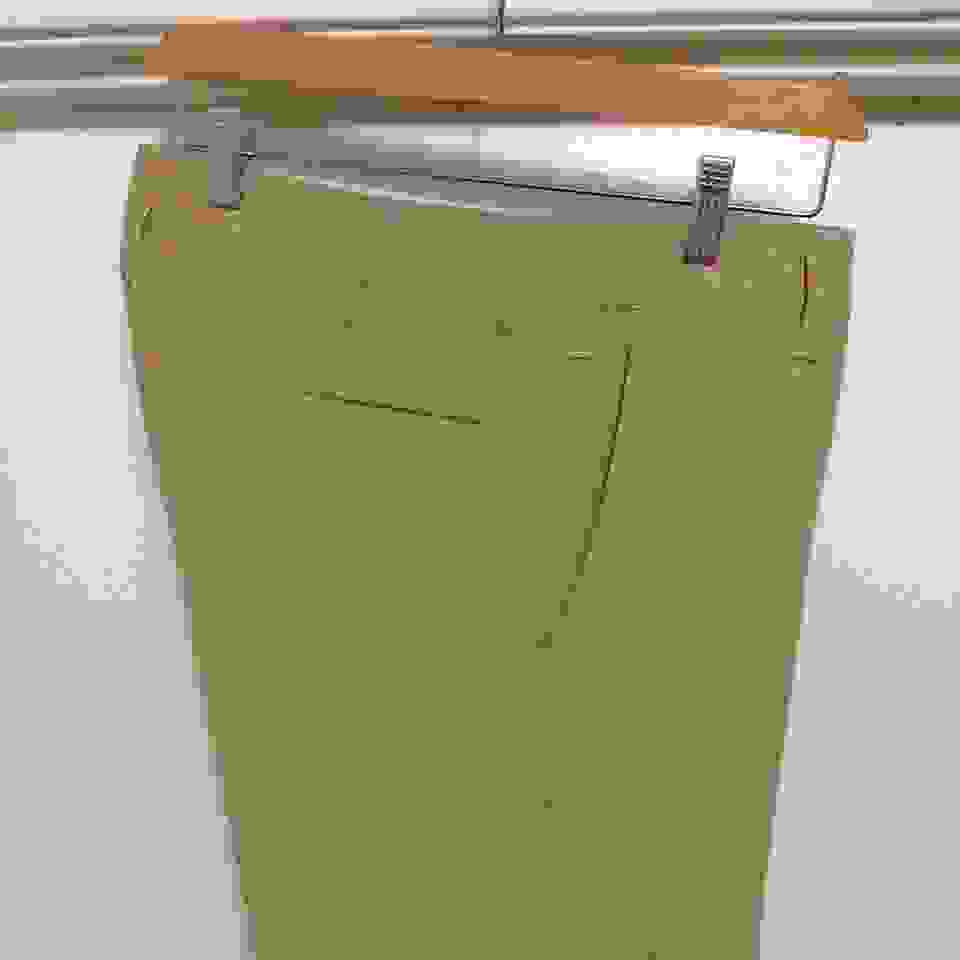 One thing I'll mention is that they don't come with a pre-applied DWR finish. That's the spray-on treatment that makes hiking pants especially water-resistant (though not quite water-proof), so that lighter droplets just bounce right off. This finish eventually wears off, so you'll have to reapply every once in a while anyway, but I thought it would be worth mentioning that these don't include that initial treatment, so don't be surprised if these seem to work differently from hiking pants that come with the treatment right off the shelf.
Lastly, this is not a stretch fabric. I have mixed feelings on stretchy pants, as they can sometimes turn out horribly wrong, but just keep this in mind, especially since the fit is fairly slim:
Fit
This version has a slim, modern style; I usually don't comment too much on whether a fit is "good," since body types and preferences vary significantly, except to say they're a little slimmer in the legs than I'm used to, as I pretty much only ever wear relaxed fit pants. But they're available in 1″ increments, so you can always go up and it'll probably be just fine, and this might be a good idea; the combination of slim fit and non-stretch fabric can feel tight sometimes, like when you're kneeling down to tie your shoes, or sitting on a plane for several hours. It's important to get the right fit with these, to accommodate the trim fit and non-stretch fabric.
They have, however, modified the fit slightly since I got them, to make them a little roomier. They've also added a relaxed-fit version, and a stretchy version (and I like the stretchy version the most).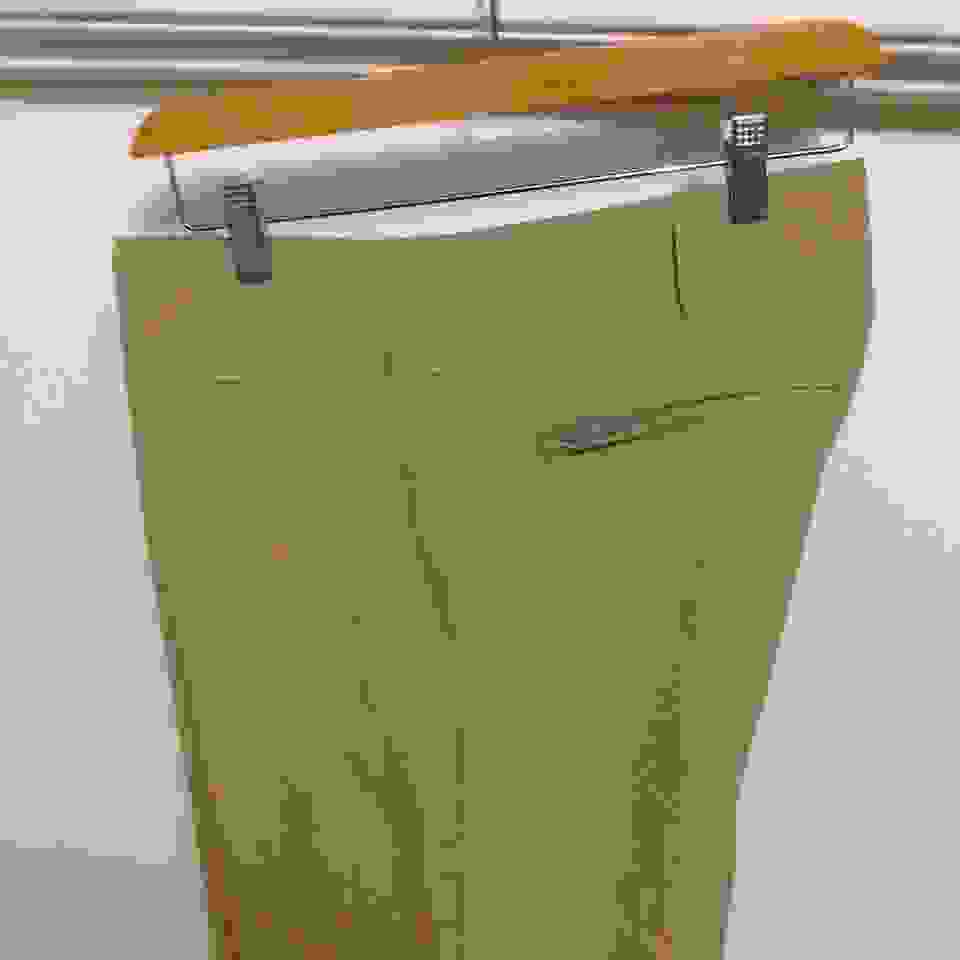 I'm not-so-secretly hoping for a matching suit jacket, because a low-maintenance business suit that you could throw into a suitcase or a laundry machine would be pretty spectacular.
Conclusions
So as you can tell, I'm quite happy with these. They look perfectly normal, they perform as well as any hiking pants I've found, and they've got travel-friendly hidden features to keep everything safe and secure. They're basically the sort of thing all the travel clothing companies should have been doing this whole time, but so few people ever do. Morons.
It probably goes without saying from the frequent complaining I usually do, but, despite getting these for free, all opinions here are my own. I'd be shouting furiously if there were any reason to do so.
I will reiterate the caveat of the slim fit and non-stretch fabric; these might feel a little tight in certain places, depending on your particular body type and which size you pick, so keep that in mind (although the new relaxed fit version will go a long way in providing extra room). That's the only issue I can think that people might have with them, but they're otherwise great.
As mentioned above, you can just get the stretchy version instead. It feels great, and is my favorite of the two.
So visit Bluffworks if you'd like a few of your own, and go explore.