Many years ago, when I was on the verge of setting forth on a nearly-year-long adventure throughout the international urban wilderness, during which I would brave everything from below-freezing winter snowstorms to body-temperature-and-beyond burning summer sunshine, I though to myself…wouldn't it be really great to have high-tech clothing that can handle all sorts of temperature and weather fluctuations, breathe really well, dry really fast, withstand a rainstorm or two, hold up to serious abuse, and look really great, all at the same time?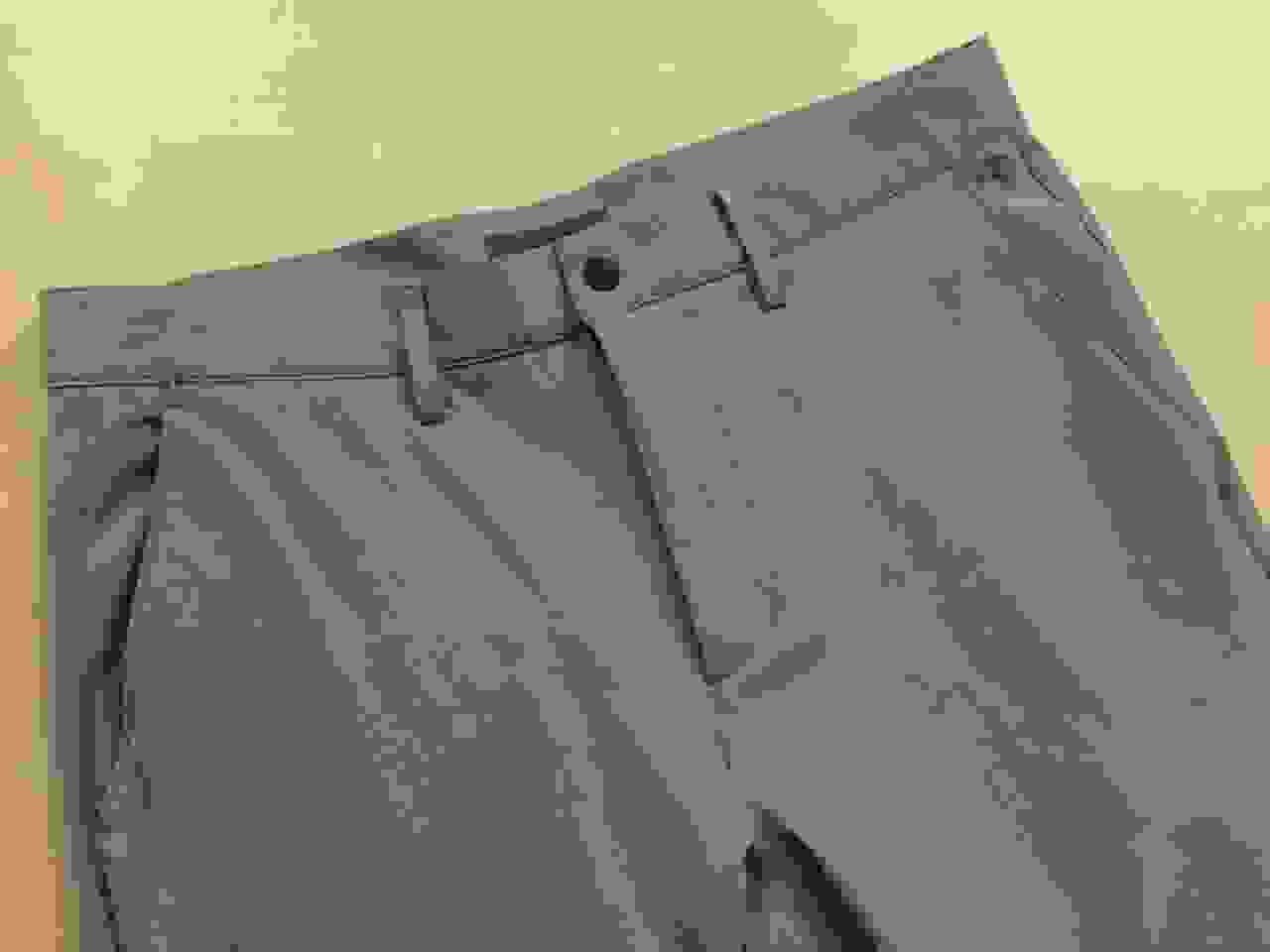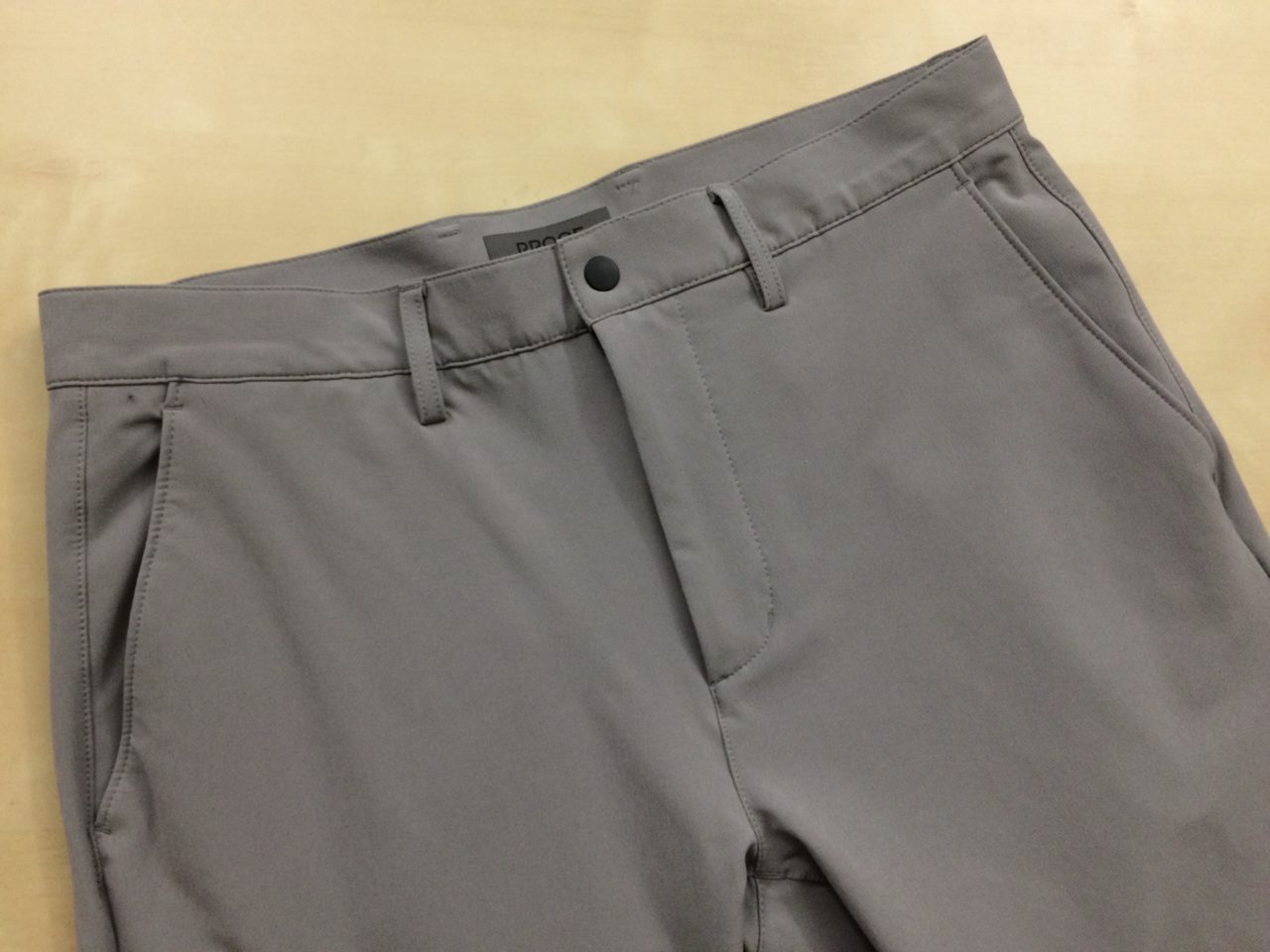 Yes, it totally would. Too bad it didn't exist. The only options available were ridiculous-looking hiking gear, or cotton khakis. The world was a terrible place.
The semi-imaginary solution: Soft shell pants
What was even more annoying is that clothing like this could exist, because the fabric had already been invented, decades previously. The only remaining problem was the sheer stupidity of the human race, who insisted on making any and all high-tech clothing look as ridiculous as possible, so that it was completely out of the question to look good and feel good at the same time, and you'd have to pack twice as many things, because humans are stupid.
I have yet to fully recover from my wounds.
The world has since changed. A few small companies have figured out that all it takes to make high-tech clothing that's snazzily fashionable is just making it that way. They build stylish outfits out of mountaineering fabrics, and the results are often the kind that will make you want to throw out the rest of your clothes, especially if you're an ultralight travel junkie, and you need gear that'll handle anything life can throw at you.
And when it comes to pants, one of the best fabrics around is known as a soft shell. It offers the perfect blend of comfort, durability, and weather resistance, making them about as versatile as pants can get. Let's discuss.
What are soft shell pants?
The term "soft shell" has something of a murky definition, but it's best understood in relation to a "hard shell," which is a totally waterproof layer, like a rain jacket. Soft shells, by comparison, are highly water-resistant, but softer, and far more breathable.
But I mean really water resistant. Take a look at how a soft shell fabric handles a liter of water, compared to ordinary cotton: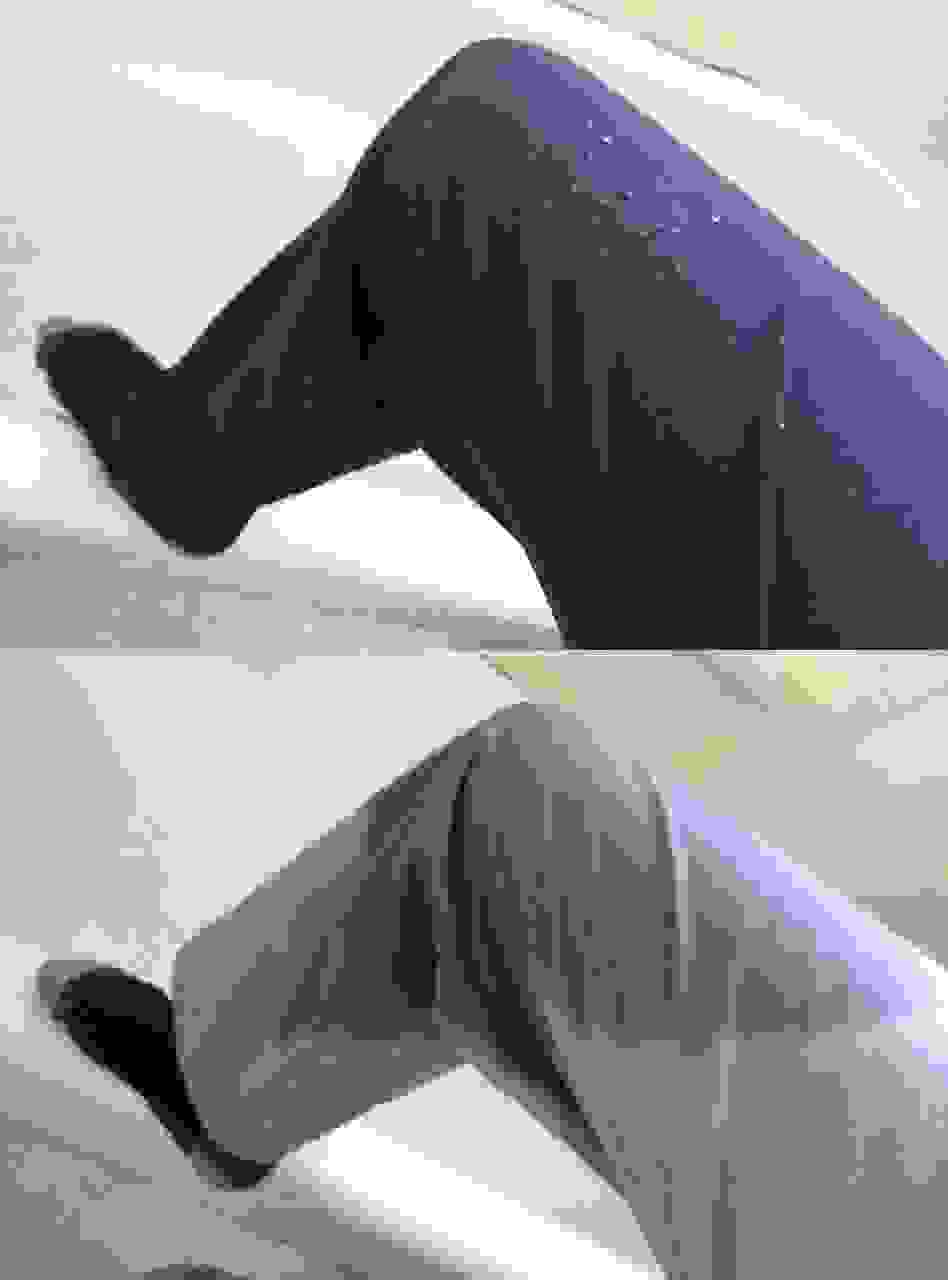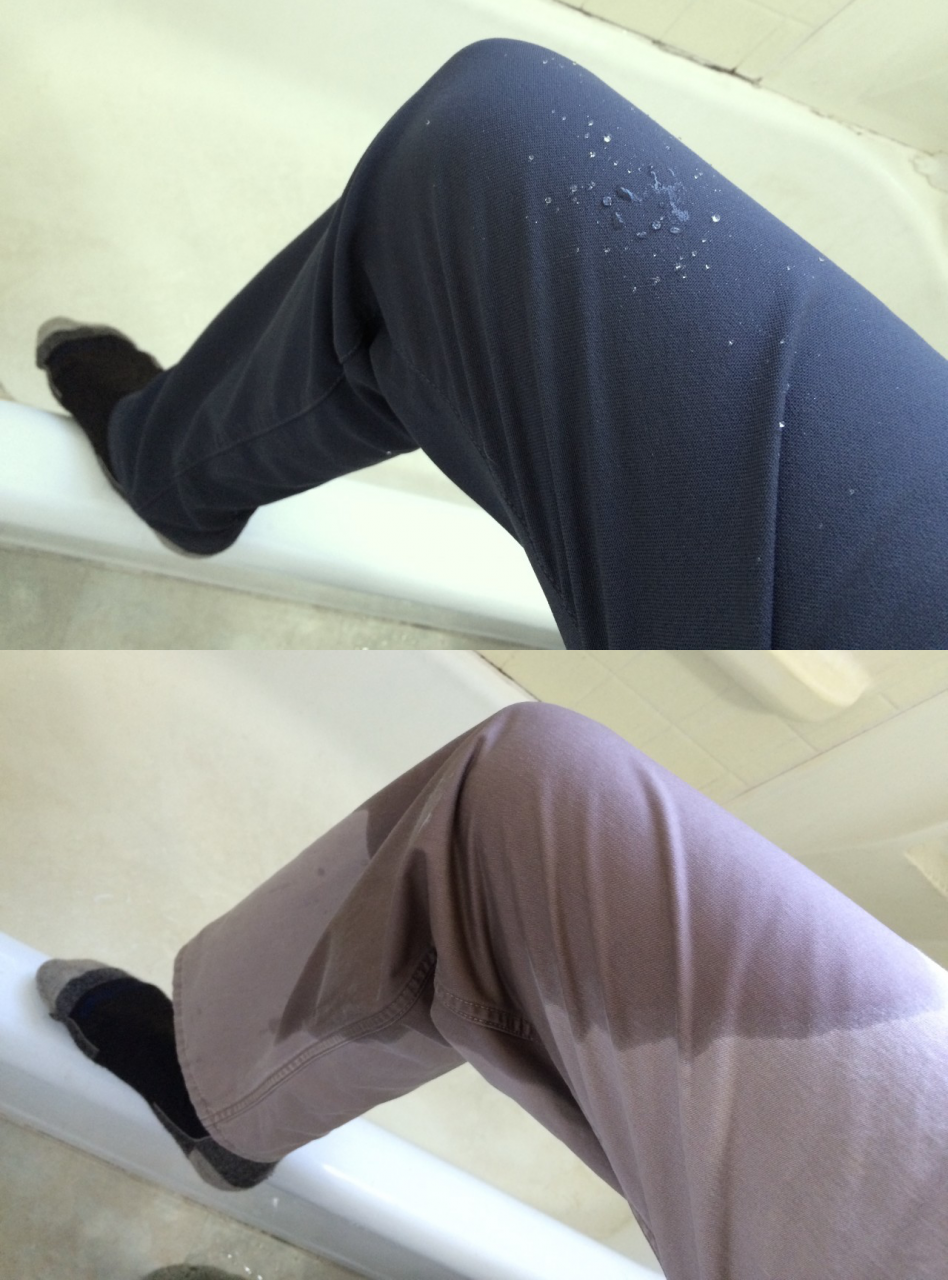 That's technically all it takes to qualify, but it just so happens that most soft shells are also soft, strong, stretchy, comfy fabrics that look good, feel good, and can withstand just about anything, from a rock climb to spilled beer. They were initially designed for serious mountaineering, where jagged rocks and rainstorms might come thundering down at any moment, and serious climbers needed something that could hold up to the challenge.
But they're also far comfier than you might expect. Many soft shells feature a double-sided fabric, with tough nylon on the outside, but a softer, more pleasant texture on the inside, which, along with super stretchiness, makes them feel downright luxurious. They're also immensely breathable, and the textured inner surface reduces next-to-skin surface area contact, meaning that even a damp fabric won't feel too clammy.
They're most often seen in jackets, but they actually make even more sense for pants. Since your legs are usually vertical, total waterproof performance isn't quite as important (but stretchiness is), and the soft shell tradeoff means you'll get super tough, super comfy, super breathable pants that'll shrug off the rain a million times better than a pair of jeans, and feel good the whole time.
In other words, they're exactly what pants should have been in the first place, and you'll wonder why we all bothered with khakis for so long. I have found nothing on the face of this earth more comfortable and functional in such a broad range of conditions as soft shell pants.
They do, however, have three downsides:
They're pricey…around $200 for a single pair. Since a lot of the fabric is made in Switzerland and sewn together by small companies, they're not going to be cheap, though due to their higher durability, they can be a great long-term investment, especially for people constantly tearing holes in their pants. A couple companies have pushed the price below $100, however.
They're weak against cat claws. While soft shells are highly abrasion-resistant, they're not as cat-claw-resistant; you know that "massage" thing they do? They dig claws in, and pull threads out; and since soft shells have stretchy threads, they'll actually get stretched out, and can be difficult to work back in. Grab a blanket to cover your lap if the cat wants to claw-massage you.
They're usually ugly. And I mean really ugly.
This last problem, however, has recently been solved:
8 stylish soft shell pants for men, for indoors or out
I've rounded up a list of the best soft shell pants out there, all of which are styled to look like a perfectly ordinary pair of pants, making them equally capable of outdoorsy adventures and boardroom-appropriate professionalism. Quite a departure from the extraneous-zipper-festooned mountaineering pants of the outdoorsy crowd, but still just as functional. Since I love hidden zippered security pockets, let's start with…
Options WITH a zippered pocket:
1) Proof Nomad Pant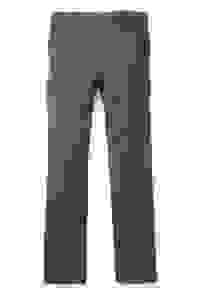 Huckberry has resurrected the Proof brand (formerly known as Proof NY), with an updated version of their Nomad Pant, designed to handle anything. Huckberry sent me a test sample, and it's a perfect example of what I'm talking about when I say "soft shell pant."
It's built with a super-stretchy fabric, where the vertical stretch is actually the stretchier direction (as opposed to horizontal, which is the case with most others), making these extremely stretchy, able to handle yoga, rock climbing, karate high kicks, and whatever else you might feel like doing. The horizontal stretch is still pretty significant (comparable to most others), so you really get some great mobility with these, on par with sweat pants.
They've got a snap closure along the waistband, which I didn't think I would like, but it hasn't popped open by itself yet. They also use a reinforced waistband, so it doesn't stretch at all, meaning it doesn't sag or get stretched out over the course of the day, meaning you can wear it without a belt, if you so choose.
The back pockets also close with a snap, which offers some extra security, although it can be a little tricky to close them, as you're pushing directly into a soft, fleshy area. I also love the hidden zippered pocket in the front right pocket; it's not only hidden, but uses an "invisible" zipper, for even greater safety and style. Regular zippers in this position can become visible when you sit down, when the pocket arches outward, but these stay hidden the whole time.
They're super light, great for warmer weather, and they stretch as much as anything I've found. The price is about as good as it gets, too.
Price: $98
Fabric: 90% polyester, 10% Spandex.
Pick 'em up here.
2) Lululemon ABC Slim Pant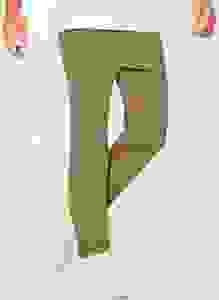 Yes, Lululemon, the yoga company. They've been rather successful with their ABC pants, which stand for "anti-ball-crushing," which I don't think I need to explain further.
Their "slim" version, despite the name, uses a completely different pocket layout from the regular version (which uses a jean pocket layout). Really they should have been called ABC Pants and ABC Jeans, but oh well. They are in fact slim, but the waist is actually a bit looser than the non-slim jeans, just to be extra confusing. Still, these are pretty solid, and probably the easiest option to see in a retail store, as Lululemon has a retail presence that the other options here do not.
They've got snap-shut back pockets, and a small, zippered pocket with an on-seam zipper up at the hip. It's not completely invisible, but it's pretty close. That pocket, however, isn't that big; it's more like a change or keys pocket. It says on the site that it'll fit a passport, but unless that's for an updated version that hasn't made its way into stores yet, don't count on that.
The pants have a non-stretch, reinforced waistband, a stretchy fabric, and a light, slick feel. They do feel a little plasticky, but on the other hand, that'll make them slide against under-layers more easily, so nothing gets pulled out of place. It's also a single-weave fabric (as opposed to the more common double-weave soft shell fabric, which has a soft, brushed lining on the inside), so they should be nice and cool, although the slick surface and shine do convey just a bit of a "workout pant" appearance.
Price: $128
Fabric: Not listed (medium stretchiness, compared to the others on this list, and single-weave, so it's cooler).
Check them out here.
3) Mission Workshop Division Chino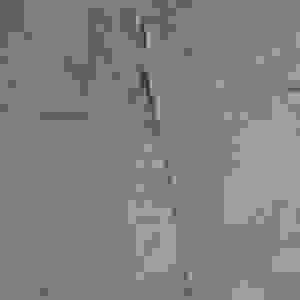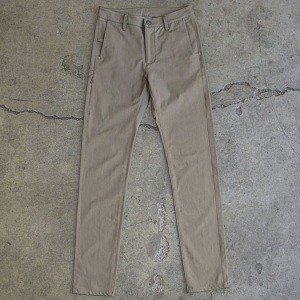 Mission Workshop is actually more widely known for their waterproof backpacks and messenger bags than their clothes, but they've been adding some impressive entries into the world of functional and fashionable clothing, and this is one of them.
Ever-so-slightly more workmanlike in appearance than some of the others, the Division Chino has a semi-secret zippered thigh pocket to give you extra storage space, and a belt-loop-like attachment loop in the front pocket, for hanging things off the side.
It's slightly less office-appropriate than the other options because of those extra features, depending on what sort of office you work in, but it has a modern aesthetic that I think looks pretty nice, and it's certainly fine for Casual Friday, or any setting even just slightly less than formal.
They're using a variant of Schoeller Dryskin, which is essentially "the" soft shell fabric, made in Switzerland for mountaineering, and highly versatile in weather of all kinds, though the Swiss fabric definitely moves the price up.
Price: $225
Fabric: Not listed, but it's a variant of Schoeller Dryskin).
Get them here.
4) Seagale Active Stretch Chinos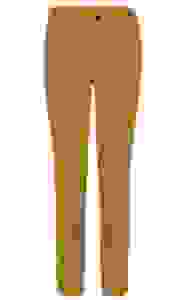 Seagale is all the way over in Europe, but if you're over there anyway, it'll be a lot easier to order from them than anyone else. They've got quite an extensive line of gear, so they'd be good to keep an eye on if you're getting tired of international shipping fees back and forth from American companies.
Their Active Stretch Chinos use an all-purpose, light-to-mid-weight, 4-way stretch fabric, with a great slide-shut waistband button and a hidden zippered pocket in one of the hand pockets. They have a normal appearance, use casual colors, and look pretty great, just like their entire line.
Not every company lists their fabric weight, but this one does, and these pants weigh in at 230 grams per square meter. That's right at the midpoint of weather versatility, perfect in spring or fall. The double-weave fabric is going to be warmer than a single layer, especially when you're working up a sweat, and when combined with the mid-weight fabric, might feel a bit too warm in the summer, depending on how heat-sensitive you are. You really have to go super-thin with double-weaves in high summer heat, or just wear shorts, so keep that in mind. Also remember they're using centimeters instead of inches, because they're not uncultured heathens like we are.
Price: 120 euros
Fabric: 89% polyester, 11% elastane.
Get them here.
Options WITHOUT a zippered pocket:
5) Outlier New OGs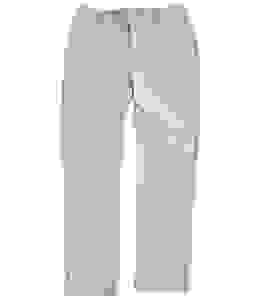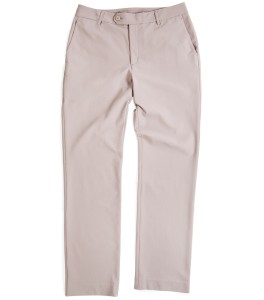 Originally envisioned as a bike-to-work pant that had to work just as well while cycling through the rain as it would in an office setting, Outlier's original garment (thus known as the OGs) certainly started things off in style. Office-appropriate details and colors mean you could easily attend a wedding in them, and head straight to the climbing gym afterwards.
The two buttoned back pockets use a downward-facing welt, thus holding your wallet a little more securely, while still resembling an ordinary buttoned pocket. It's a nice touch for paranoid travelers who don't like their wallet just falling out on its own, or getting quickly pickpocketed.
They use a 4-way stretch fabric all the way from Switzerland (which is part of the reason for the price), and the super-stretchiness is great for any kind of athletic activity you might run into, from yoga to kickboxing. This is "the" soft shell fabric, as far as I'm concerned, offering a great blend of performance and versatility in all sorts of situations.
The fabric weighs in at 240 grams per square meter, putting it right in the mid-weight range (200 is light, 300 is heavy). This makes it great for all-around use, aside from high summers or deep winters, although double-weave fabrics like this one can more easily adapt to cold temperatures, since the inner lining can warm up if you're walking or running around a lot.
Price: $240
Fabric: 80% nylon, 10% polyester, 10% elastane.
Get them here.
6) Ministry of Supply Kinetic Pant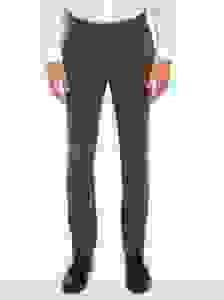 Ministry of Supply seems to have a quick product turnover, changing little details and giving products new names instead of numbers; this makes it a little tricky to know which product is the spiritual successor of which other product, but the Kinetic Pant is currently the main option.
They've got a standard chino/khaki pocket layout, and a hidden waistband button, giving them a nice, dressy look. They've also got slim and regular fit options, and office-appropriate colors. They're one of the dressiest of the options listed here, given Ministry of Supply's focus on professional clothing, so you can look your best while still achieving the same level of performance as the others.
And they're actually knit, instead of woven, giving them 4-way stretch without the need for spandex. This generally allows fabrics to dry faster and last longer, all else being equal. It's also a single-weave, or single-knit, rather (so there's no soft, brushed interior), meaning it'll be cooler than a double-weave of similar weight, and thus more appropriate for warmer weather, depending on level of activity and how easily you warm up in the heat.
Price: $145
Fabric: 100% polyester
Get them here.
7) Outerboro Motile Pants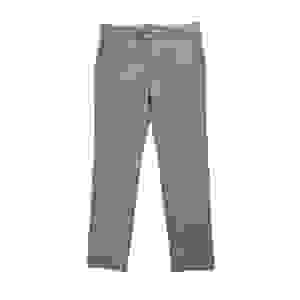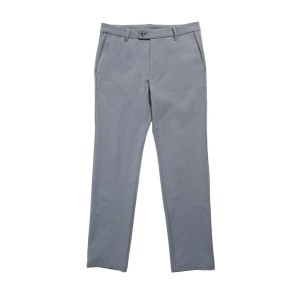 Perhaps the dressiest of all the options listed here, the Motile Pants come from Outerboro, a Taiwan-based newcomer who seems to be expanding quickly, adding new options all time.
The Motile Pants use classic dress-pant styling, whose tiny details (double-welted back pockets, tabbed waistband, slim fit, office-appropriate colors) all add up to give it perhaps the most formal appearance of any soft shell pants you're likely to find, while still providing the 4-way stretch that you'd need for running and jumping around in them.
Just make sure to double-check the sizing, since they don't necessarily use the same sizing as American companies (especially since they're shipping all the way from Taiwan, and you don't want to get caught sending anything back and forth). Their products tend to suit shorter people quite well, as the shorter inseam lengths on their pants and shorter sleeves on their shirts make more sense for smaller customers, especially since stretchy fabrics like these will shrink about an inch in length. Most of the others go for the tall crowd, as they're selling primarily to an American market, and you can more easily shorten pants than lengthen them.
Price: $148.
Fabric: 63% nylon, 26% polyester, 11% elastane.
Get them here.
8) Ninox Carson Chino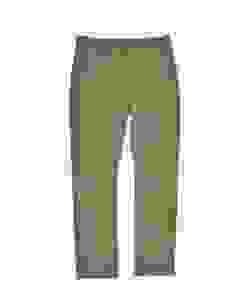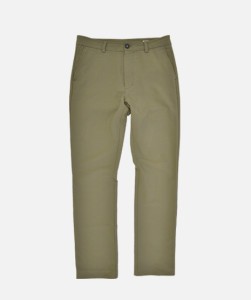 (Out of stock, and potentially discontinued…)
Recently added to the Ninox lineup is the Carson Chino, which uses the same Schoeller Dryskin fabric as the Outlier New OGs and others, with a professional appearance for use in town, at the office, or on the trail.
These have two regular hand pockets, and two back pockets, one of which has a button, while the other is open.
The fabric is super stretchy, mid-weight, and a great all-around fabric for year-round use, except perhaps for high summers and deep winters, as is the case with the others that use this fabric. 240 grams per square meter is perfect for spring and fall, although because it's a double-weave fabric, it can handle cold weather more easily than hot. The inner lining retains heat, meaning it'll warm up if you run around, so it's easier to push its performance to survive a winter than it would be for a summer.
Price: $219
Fabric: 80% nylon, 10% polyester, 10% elastane
Get them here.
Final thoughts!
As you can see, options are far more numerous than the zero I had on that extended adventure in the Dark Ages of soft shell pant absence. Nowadays it seems there are so many options to choose from that narrowing it down to just one seems like quite a challenge, particularly when it's a long-term investment with a significant initial cost.
The good news, however, is that many of the options use the same fabrics and casually-styled features, so even if all you do is pick the one you think looks the coolest, it's hard to go wrong.
I'm happy to see the options with hidden, zippered security pockets, which make these somewhat more suitable for adventure travel (I've listed examples of good travel pants here, all of which have hidden pockets, though they're not soft shells), though buttoned pockets work quite nicely as well, and if you're using a money belt, you don't need to worry about it.
I'm also a huge fan of jeans-style pockets, because I can't stand when coins and phones fall out, and I've drawn up a list of soft shell jeans, all of which are great.
In the meantime, go forth into the urban and/or sylvan wilderness, and adventure onward. In style.