Soft shell jeans, the world's greatest invention
Jeans. The world's greatest stylistic achievement. Rugged. Comfortable. Dependable. Gloriously adaptable to the whims of fickle fashion nonsense, anywhere in the world.
Soft shells. High-tech fabric that's tough on the outside, but soft on the inside; comfy, stretchy, weather-resistant, super-breathable, quick-drying, wrinkle-resistant miracles of the textile industry that'll make you never want to wear cotton ever again.
Thus, as you may find yourself pondering at this moment, combining the two would represent something of a traveler's holy grail; a super-comfortable, low-maintenance article of clothing that'll look great at all hours of the day and night, and shrug off whatever shenanigans you subject them to, whether it's an impromptu rock climbing session, or spilling beer all over yourself. Soft shells were developed for mountaineering, to handle sharp rocks without getting a scratch, but work perfectly for scruffy backpacker travel as well.
For many years I dug around all over the depths of the internet in search of soft shell jeans, but they remained infuriatingly elusive. Silly-looking hiking pants could be found all over the place, but dammit, why couldn't they look normal?!?!
In the last several years, my psyche has healed, as the options available in this category have increased, from zero to more than zero, and I could not be more pleased.
What can a soft shell do for me?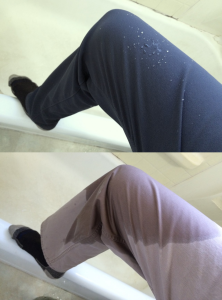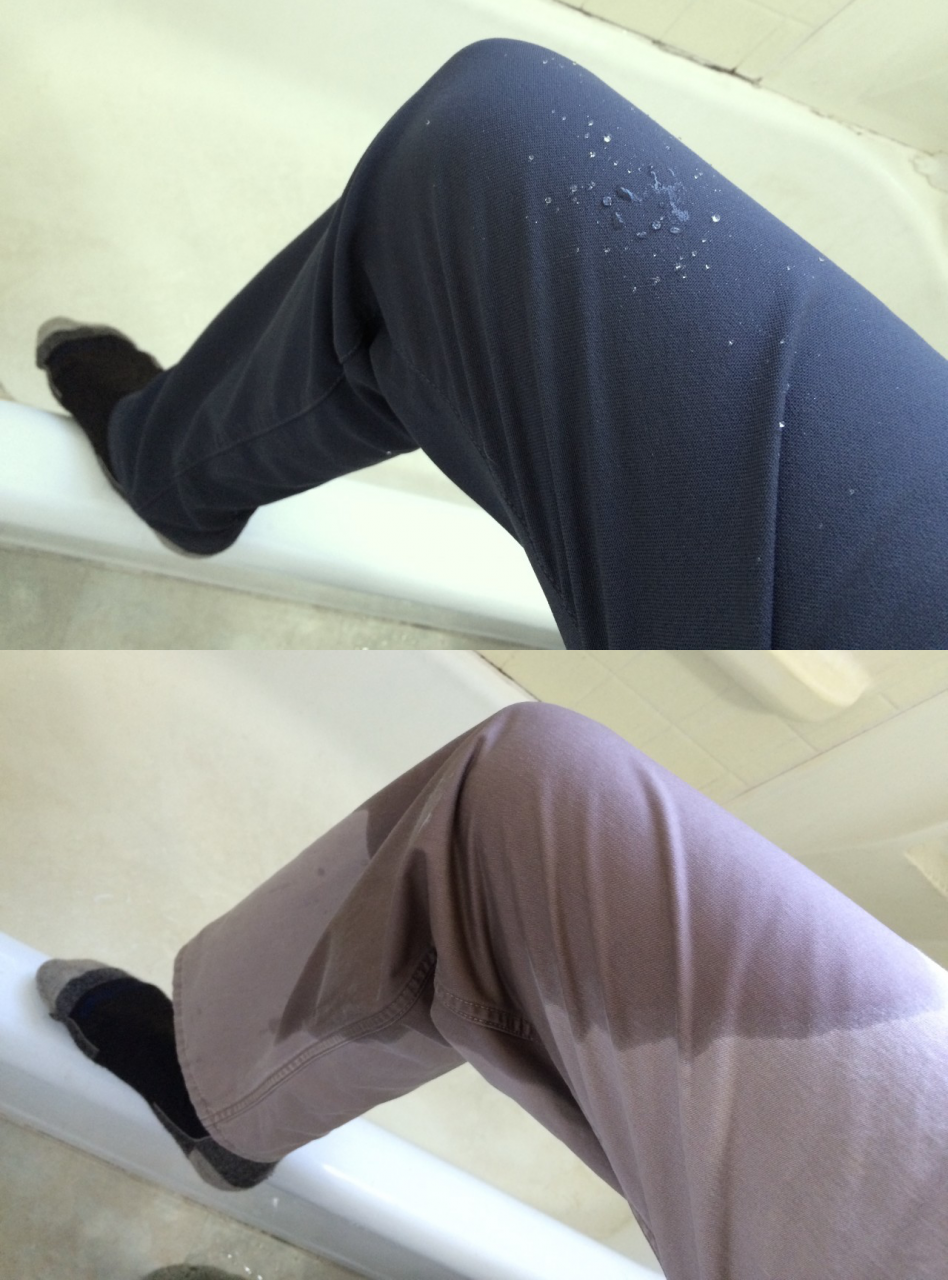 I've written previously on the advantages of soft shell fabrics, listing several soft shell pants (with slash pockets) that'll work great for all sorts of international adventures, particularly if you want to minimize the number of items you're bringing along, and subject them to extreme weather conditions. They're terrifyingly pricey, but they're going to work better (and last longer) than just about anything you'll be able to find:
The good: Soft shells are soft and comfy on the inside, but super strong on the outside; they're super stretchy, like yoga pants or pajamas; they're highly weather resistant, shrugging off most rain (and beer, wine, coffee, and so on), but remain extremely breathable; they can be hand-washed in a sink, and hung up to dry by morning, and resist wrinkles quite well, making them vastly more practical for ultralight travel than a pair of cotton khakis. And even when compared to standard hiking pants, they still win; they're stronger, more weather resistant, stretchier, and usually quite a bit more comfortable. The fabric is usually a bit thicker and more substantial, so they feel more like "regular" pants, and have none of the swooshy sound effects of most outdoor gear. So while most hiking pants just sit in the closet at home, most people who try soft shells for the first time refuse to wear anything else thereafter.
The bad: They're really expensive…like, $200 for a single pair. Worth it? Maybe. The more you take advantage of their weather-resistant, quick-drying, super-durable features, the more it'll make sense to invest in some, especially if you just want one thing that'll work in all situations…except for what they can't handle: Cat claws. Those furry lil bastards can latch on to threads and pull them out, and it can be tricky to get them back in. Get a protective blanket for your lap, FDR-style. But aside from that, they'll last a lot longer and withstand much more severe conditions than just about anything else (both in terms of the abrasion-resistant fabric, and the stretchiness, which will reduce the chances of a torn seam), and you'll have a hard time going back.
So I've rounded up all…that's right, all the soft shell jeans I could possibly find, for a total of five (for men; options for ladies are listed towards the end). None have the blue/white varied color texture of regular denim, so when I say "jeans," I'm referring specifically to the style of the pockets; horizontal hand pockets in front, and patches in back. Many of them use exactly the same fabric (known as Schoeller Dryskin), so they're all good; you can just pick your favorite, and you'll have a good time.
Soft shell jeans, for rugged adventures:
1) Outlier Slim Dungarees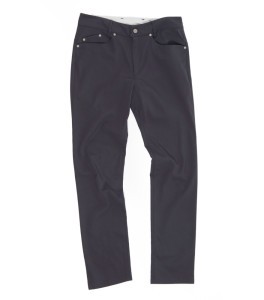 These have been building quite a reputation as everyone's new favorite pair of pants. They're tough on the outside, soft on the inside, and they'll handle the elements just as well as fancy social occasions.
The dark colors, slim profile, and simple features keep things decidedly pristine, making these somewhat more upscale in appearance than most other options. You could easily wear this with a suit jacket and look great doing it, even though the fabric is tougher than any pair of jeans you're likely to find.
Outlier gave me a free pair of these to try out (check out a thorough review here), and they have all the great qualities you'd want in a soft shell, though with a slightly thicker, warmer fabric than most others; they're also cut slim, and use 2-way stretch, rather than 4-way, so while they're much stretchier than ordinary denim, you'll feel some resistance when you lean down to tie your shoes.
Price: $198
Fabric: 82% nylon, 16% polyester, 2% elastane
Get them here.
2) Mission Workshop Signal 5-pocket pant
These seem to be perpetually sold out, but they certainly look really great.
With a slightly workmanlike aesthetic, with what appears to be a pocket-knife pocket and a zippered thigh pocket, these are somewhat less dressy than others, but still casual and non-hikery.
Mission Workshop is actually a lot more well-known for their bags, but they've been making forays into high-tech clothing as well, and this is a good example; 4-way stretch and great weather resistance, in a slightly thicker fabric than their other pants they offer.
Price: $225
Fabric: Unspecified (Schoeller Dryksin version)
Get them here.
3) Thunderbolt Jeans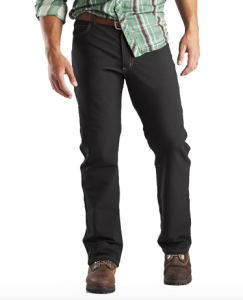 These have actually been around for several years, long before other people started realizing how to make non-ridiculous clothing. Seriously, it's so easy.
They've got the added bonus of including a hidden zippered pocket in one of the back pockets, making them extra travel-friendly. Or handstand-friendly. Either way. They've also got a non-stretch waistband, meaning they won't gradually expand throughout the day and fit differently by the end, and you can skip the belt.
They use a slightly thicker, heavier version of Schoeller Dryskin, which still has the 4-way stretch, but I would say is probably more suited to cooler weather than hot summer hikes (very similar in feel to the Outlier Slim Dungarees).
Price: $200
Fabric: 91% nylon, 9% Spandex
Get them here.
4) Lunis Apollo Pants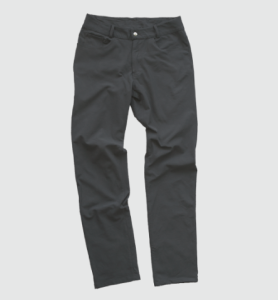 These were designed to be the only pants you'll ever need, which probably explains the understated colors, and classic jeans styling, but with the added bonus of the 4-way stretch and weather resistance of great soft shell fabric.
They've got a couple extra features, though; a zippered thigh pocket, and reflective trim on the inside of the right leg, for bikers who want some extra visibility while dodging traffic.
Price: $198
Fabric: 80% nylon, 10% polyester, 10% elastane
Get them here.
5) QOR Gym Jean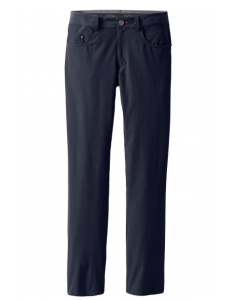 This is a slightly more affordable option, from QOR, whose fitness and cycling focus mean these have some concealable, reflective elements along with the travel-friendly features.
Along with the regular 5-pocket jean style, they've got an additional zippered pocket in back, along a semi-concealed seam where it's a little trickier to see than a regular zipper would be. I'd like it to be completely invisible, but it's a lot better than others I've seen.
The fabric is just a bit noisier than others, and feels more synthetic than some, but it was otherwise quite nice. It's also the lightest of the options listed here, and great for summer weather. It has 4-way stretch, and the new version (currently called the V2) has a clever elastic waistband that doesn't look at all like the weird-looking elastic waistband that hiking pants are so infamously known for using, as they managed to make it completely invisible. The pockets are a little on the small side, but still usable, and it has quite a slim fit, so go a size up if you're between sizes.
QOR gave me a free sample to try out, though I had already ordered an older version before they made the offer.
Price: $118
Fabric: 88% polyester, 12% spandex
Get them here.
6) Oliver's 5-pocket pant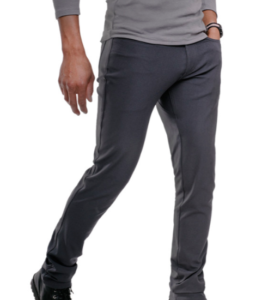 Oliver's is a relatively new company that may not be on your radar, but among the options available is this 5-pocket soft shell pant, with nothing to indicate that it's a high-tech item in any way.
The fabric is lighter than most others listed here (though a bit thicker than the QOR Gym Jean), so I expect it would be a good warm-weather option, though it would probably work quite nicely year-round as well.
The pocket layout is fairly standard, and although it has no zippered security pocket, its fifth pocket (usually called the coin pocket) is designed to accommodate an entire phone, meaning that if you stash your phone somewhere else, you could easily store cash or cards in this deep, tight pocket that won't be an easy target for pickpockets. 4-way stretch, a gusseted inseam, and a slim fit make it mobile and stylish.
Price: $168
Fabric: 96% nylon, 4% spandex
Update: This particular model has been replaced with the very similar Passage Pant. Get it here.
Soft shell jean honorable mentions
I'm including a few other options that aren't "officially" soft shells, but the category is so nebulous that I think it makes more sense to be inclusive than not, and some of these options might be just what you're looking for anyway. All of these feature jean-style pockets, and casual styling overall:
The Prana Brion pants are likely to be the cheapest casually-styled pseudo-soft-shell pants out there, occasionally going for as little as $50. The fabric has 2-way stretch, and is quite thin, so they're not likely to be as tough or flexible as some of the others, but they're still quite good, and better suited to hot weather. They're my immediate recommendation if you want something with sort-of-soft-shell performance, but at a significantly lower price.
(That's the only one available for now, that I know of.)
A few companies specialize in making cycling clothing that looks entirely normal (detailed here), with Makers & Riders and Swrve providing a few entries into this category that are worth a look as well (though often with bike-friendly features like slim-fitting legs).
Anything for the ladies?
Well, maybe. I had a few options listed here, but most of them are now out of production. I think your best bet in the meantime is Betabrand, who offer yoga pants styled like dress pants, and some other options. Anatomie, Pivotte, and Outerboro should have some options, too.
That's all for now
Well, that's all for the moment. As you can tell, I'm a big fan of jeans-style pockets, but always wanted some sort of fabric more appropriate for travel. "Real" travel jeans do exist (I've listed a few here, which have a blend of fabrics to achieve the blue & white color variation too look exactly like a regular pair of jeans), but these soft shells will offer even more serious performance, though with a different look than "real" jeans.
But either way, I'm happy (and so are a lot of other people) with the combination of the world's best style of pants with the world's most versatile performance fabric. They're pricey, and they may be out of reach for most people, but the good news is that for the next decade, you won't need more than one or two.