Hey there, fellow travel gear junkies. I've got something today that I'm pretty excited about. You know how I'm always going on and on about how soft shell jeans are the greatest thing in the world, but there simply aren't so many options available? Well, I'm happy to introduce an alternative; one that does things a bit differently from what you might expect from a "soft shell," and one that I expect will be stealing some thunder away from certain alternatives as more people give them a try. They're the AT Slim Rivet Pant from Western Rise, a not-quite-soft-shell pant that was built to handle just about anything you can imagine.
I picked these up the normal way, then coincidentally received an email from the founder, who asked if there was anything of theirs I'd like to try. I told him I was already wearing his pants as I was writing him back, and that I had been enjoying them so much that I wouldn't say no to a second pair, which he was happy to send.
This is kind of a Goldilocks situation for me. If I had to custom-make a pair of travel pants, this is pretty much what I would come up with. Let's get to it.
Western Rise AT Slim Rivet Pant, reviewed
Here they are in "Shadow" and "Cloud." There's a khaki available as well, and a black in the works, both for men and women.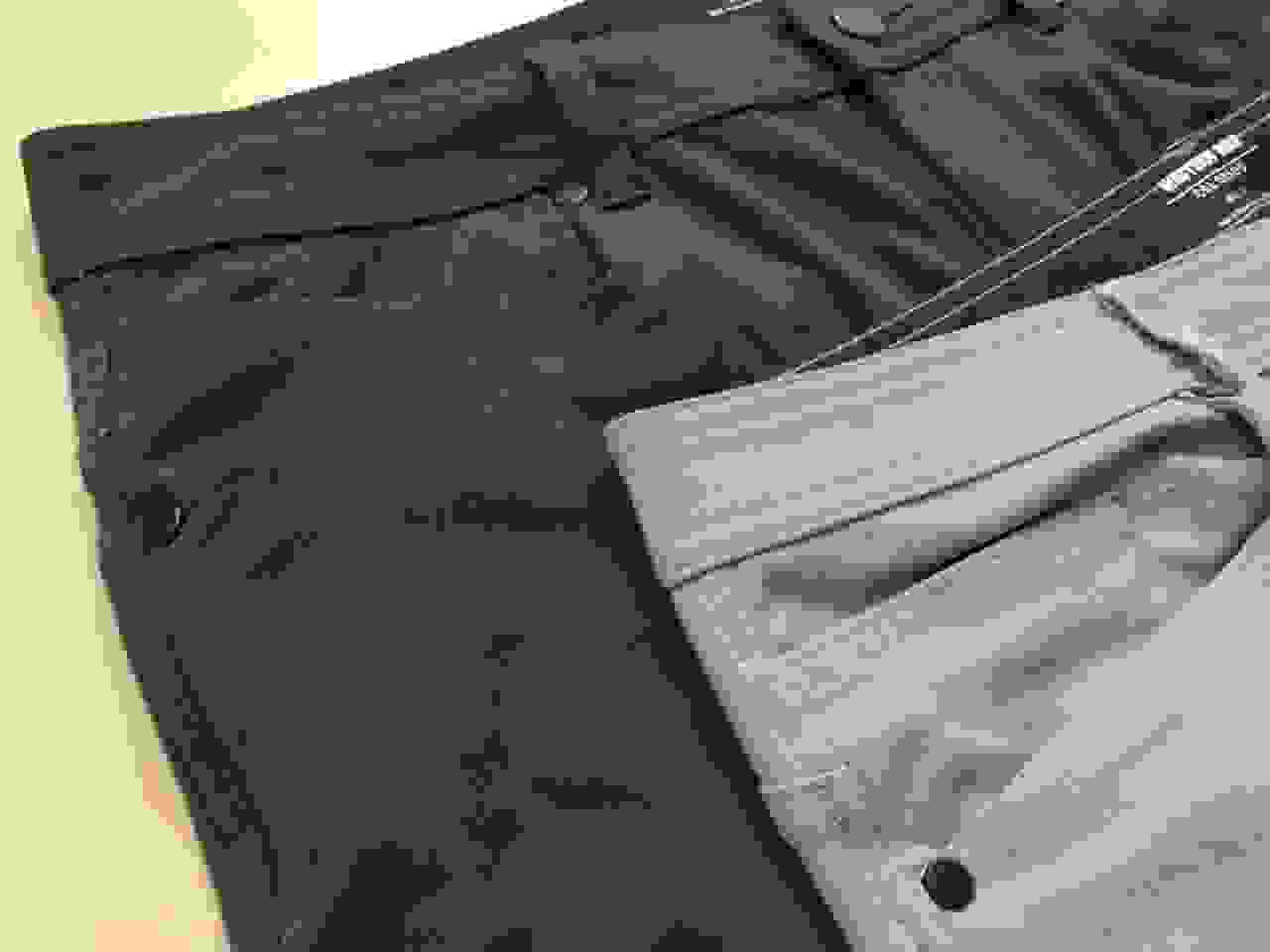 These are priced at $129, which puts them around the midrange for high-tech pants, especially from small companies. I've seen similar items go down to about $90, but they also go all the way up to $200 and above, so they're certainly competitive compared to the options available. And they're really, really tough. I'd expect these would outlast just about anything you can find.
Here's a front view: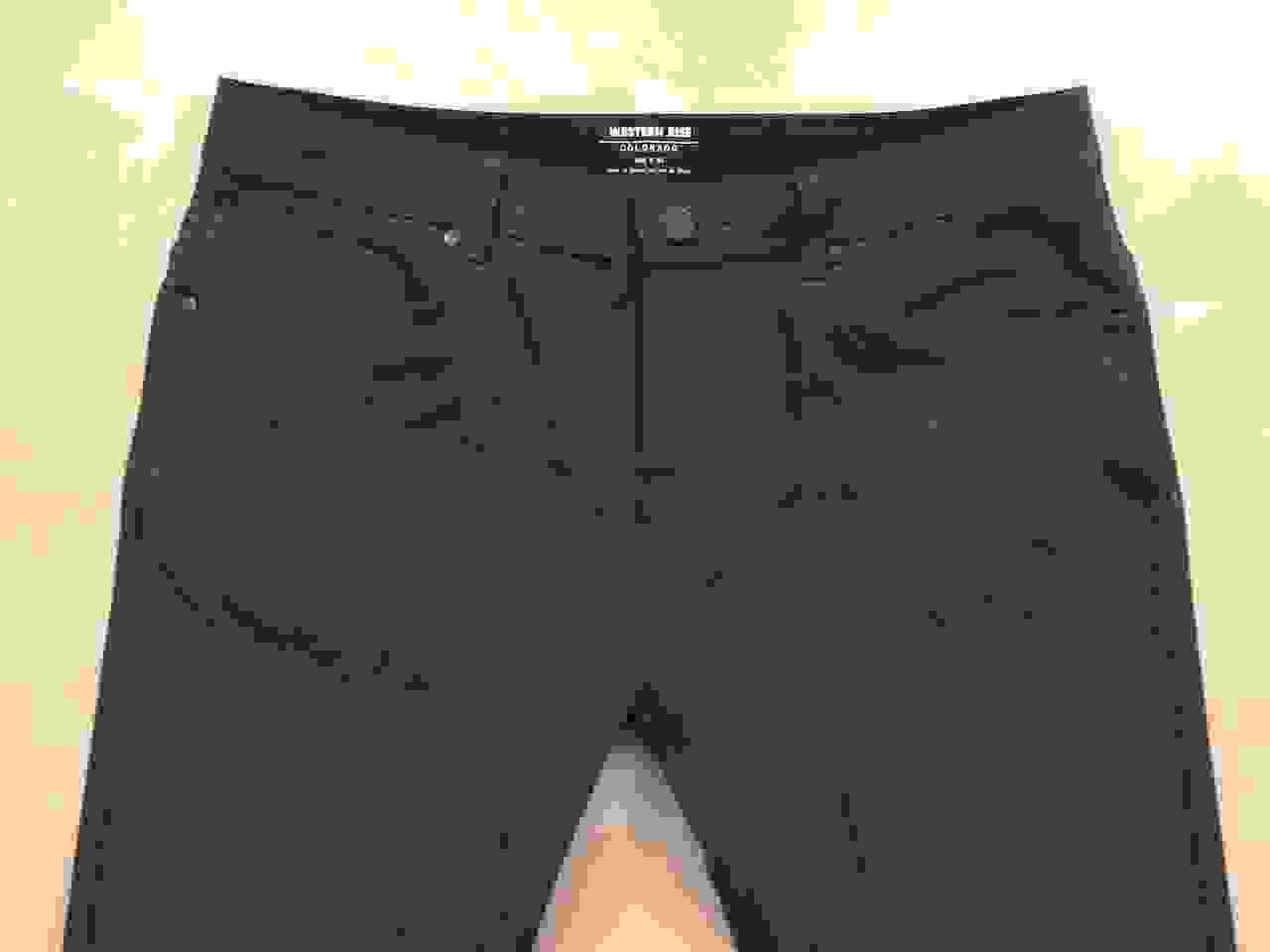 Yup, totally normal. No weird racing stripes or random zippers anywhere to be seen. Just a classic, stylish appearance with no extra frills, which is just as it should be.
Fabric
This is really the star of the show. I'll go out on a limb here to say this is the most natural-feeling synthetic fabric I've run into, perhaps tied for first place with the Slim Dungarees (reviewed here) and Futureworks pants, both from Outlier. It doesn't have any of that slick, silky-smooth surface of most polyester or nylon fabrics, and none of the shine, either.
Here are the stats:
Fabric composition: 97% nylon, 3% elastane
Fabric weight: 280 grams per square meter
Garment weight: 17.2 oz (size 34)
Horizontal stretch: 25%
Vertical stretch: 10%
These pants are a little heftier than you might expect, and stiffer; they wanted a fabric that would "break," rather than "drape." To give you an idea of how structured they are, you can undo the button and unzip the fly while you've got them on, and they won't fall down. They remind me a bit of brand-new cotton canvas, both in terms of look and feel; thick, hefty, and structured, but not quite "rigid." I wouldn't call them soft, but they're not scratchy either.
Let's start with a fabric closeup, where you can see how the individual yarns are big enough that…well, you can actually see them.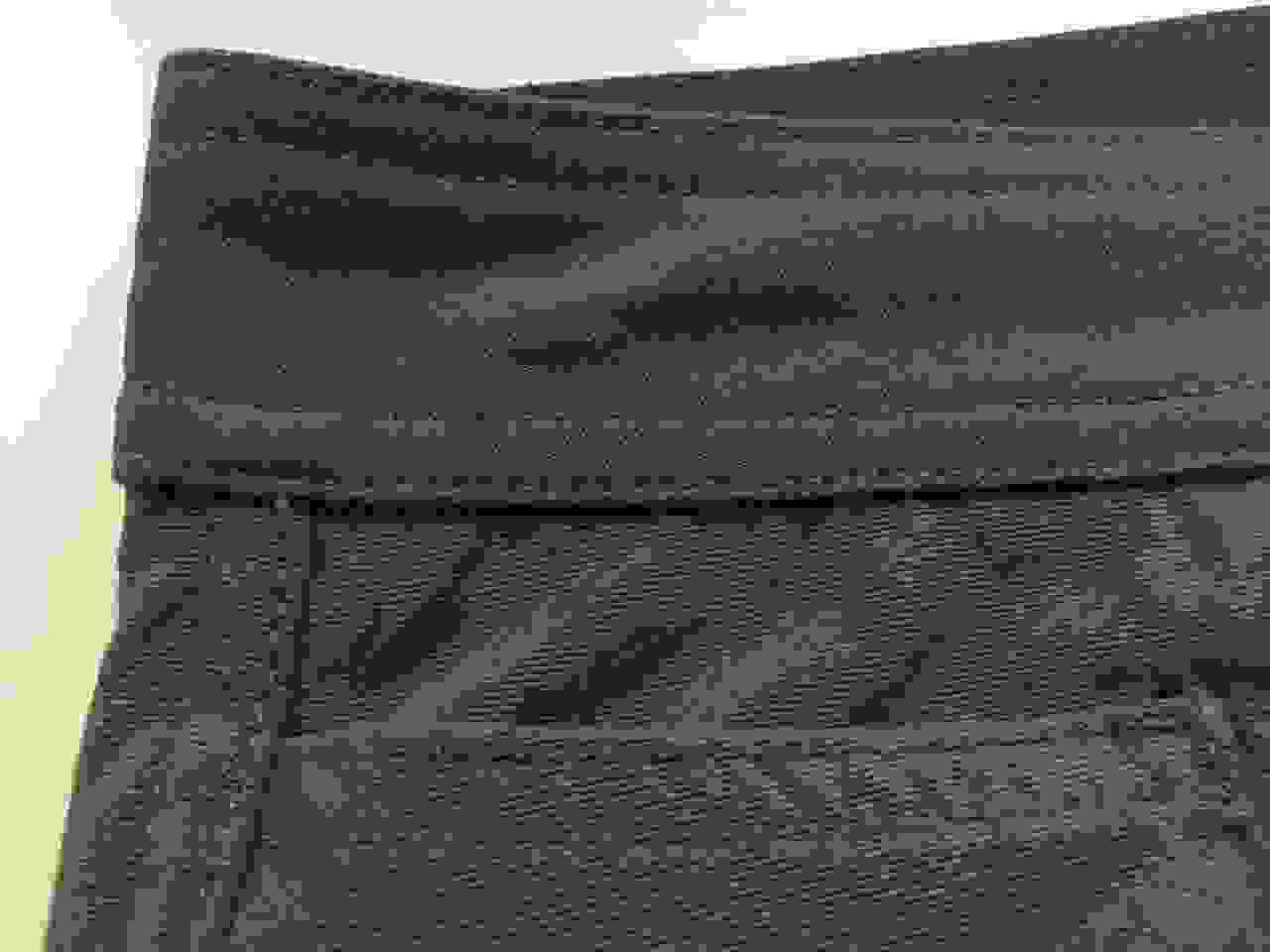 Thicker yarns create a more textured surface, which not only looks and feels more like a normal fabric, but also creates more air channels between the fibers, providing a great deal more breathability than a fabric of thinner yarns more densely woven together.
Plus, it's unlined: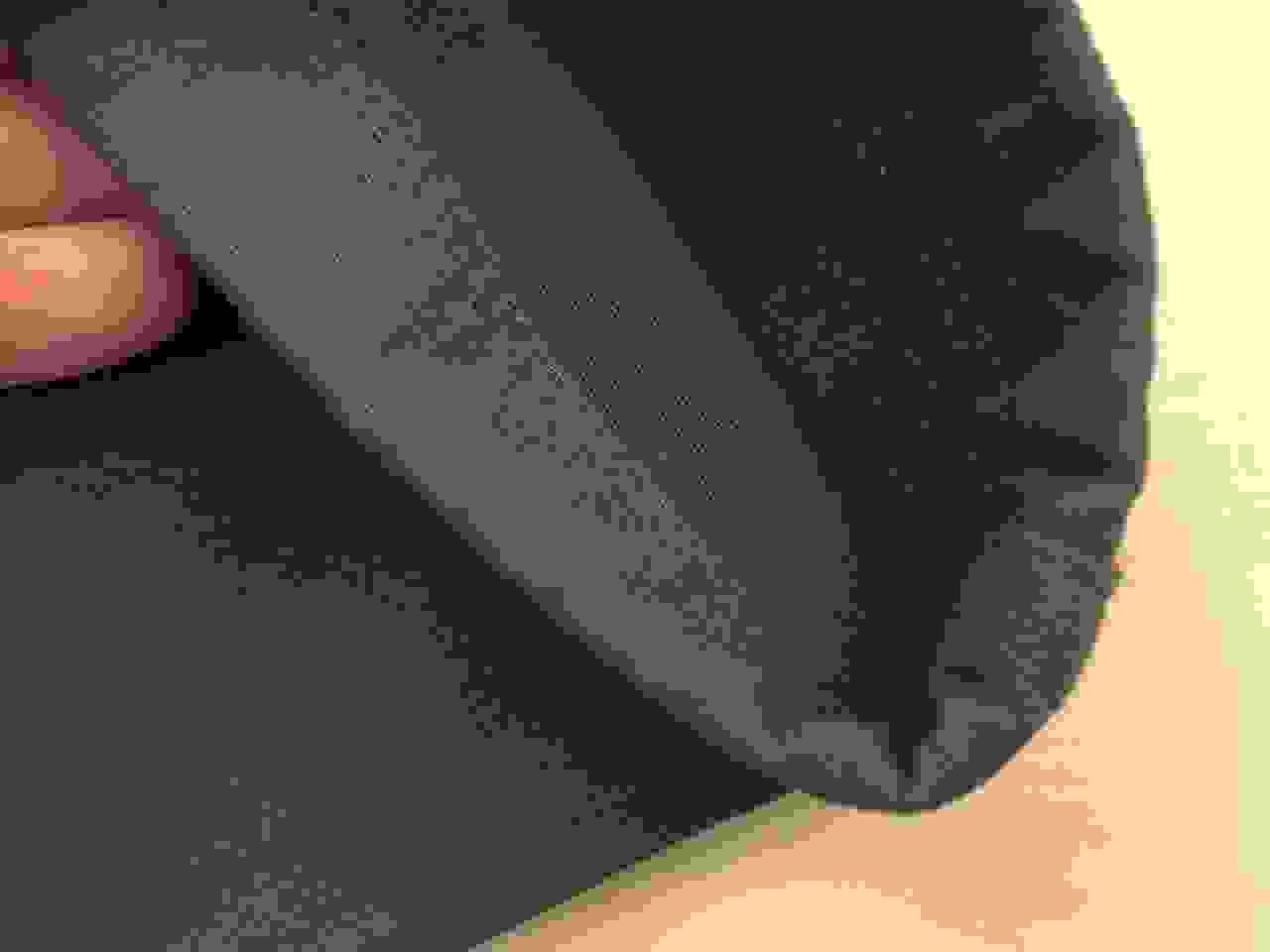 Most true soft shells are made with a "double-weave" fabric, which means they have a soft, brushed surface on the inside, almost like fleece…which is soft and comfy, but also quite warm. Skipping the brushed interior makes these less likely to overheat during high exertion, so they've been a lot more comfortable during hot weather and exercise than I would have expected from a fabric of this weight.
They also have 4-way stretch, even though it only says 2-way on their site. They told me that since they only have a little stretch along the vertical, they didn't want to brag about it, but it's definitely there, and very much appreciated. I've found them to be comfortable in all sorts of situations, even with the slim fit. It's not the sort of crazy stretch that you might want for yoga or karate high kicks, but it's plenty for everyday use, casual hikes, and so on.
The only thing I can mention that's a potential negative is how the sound of the legs brushing together is pretty typical of most synthetic pants, in that you can hear a swooshy noise. I've heard worse, but it's about average in this regard. It's reduced quite a bit by the slim fit though, since there's less fabric that'll brush together with each step.
Overall, however, this fabric is a real winner. It's tough, structured, stretchy, pleasantly textured, super breathable, fast-drying, not overly warm, comfortable in a wide variety of temperatures, and pretty indistinguishable from a regular fabric in terms of its appearance. It's a little loud sometimes, but I love everything else about it.
Features
These have a jean-pocket layout, which has always been my favorite. Nothing ever falls out of a jean pocket, which is why I wear them almost exclusively.
The pocket openings are just a bit snug, although not enough to cause much of a problem. Here's the front left. The extra stitching above the pocket is just decorative, by the way.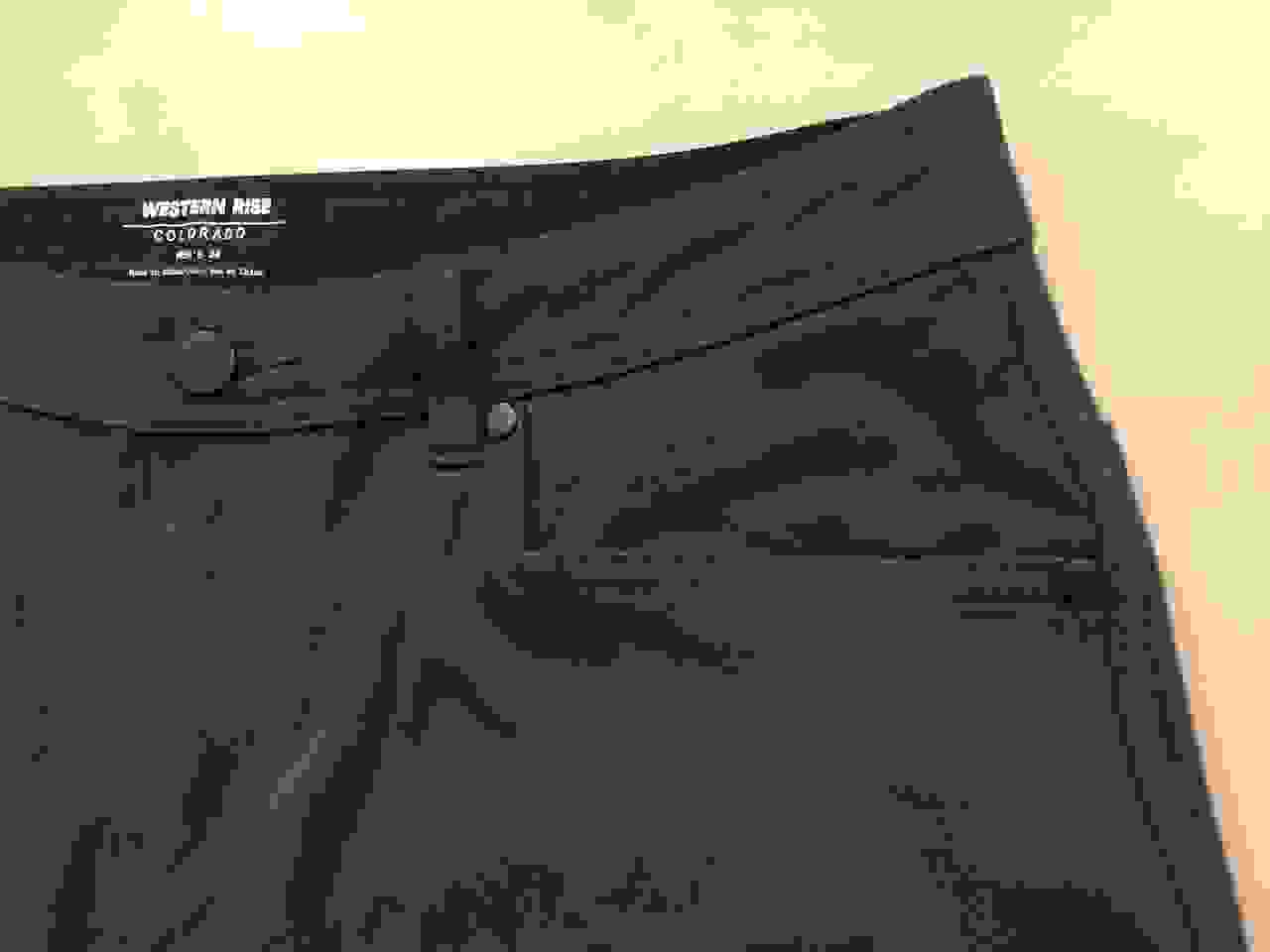 Over on the other side they've got the 5th pocket, but it's big enough to fit a smartphone, pens, pocketknives, and other lengthy items: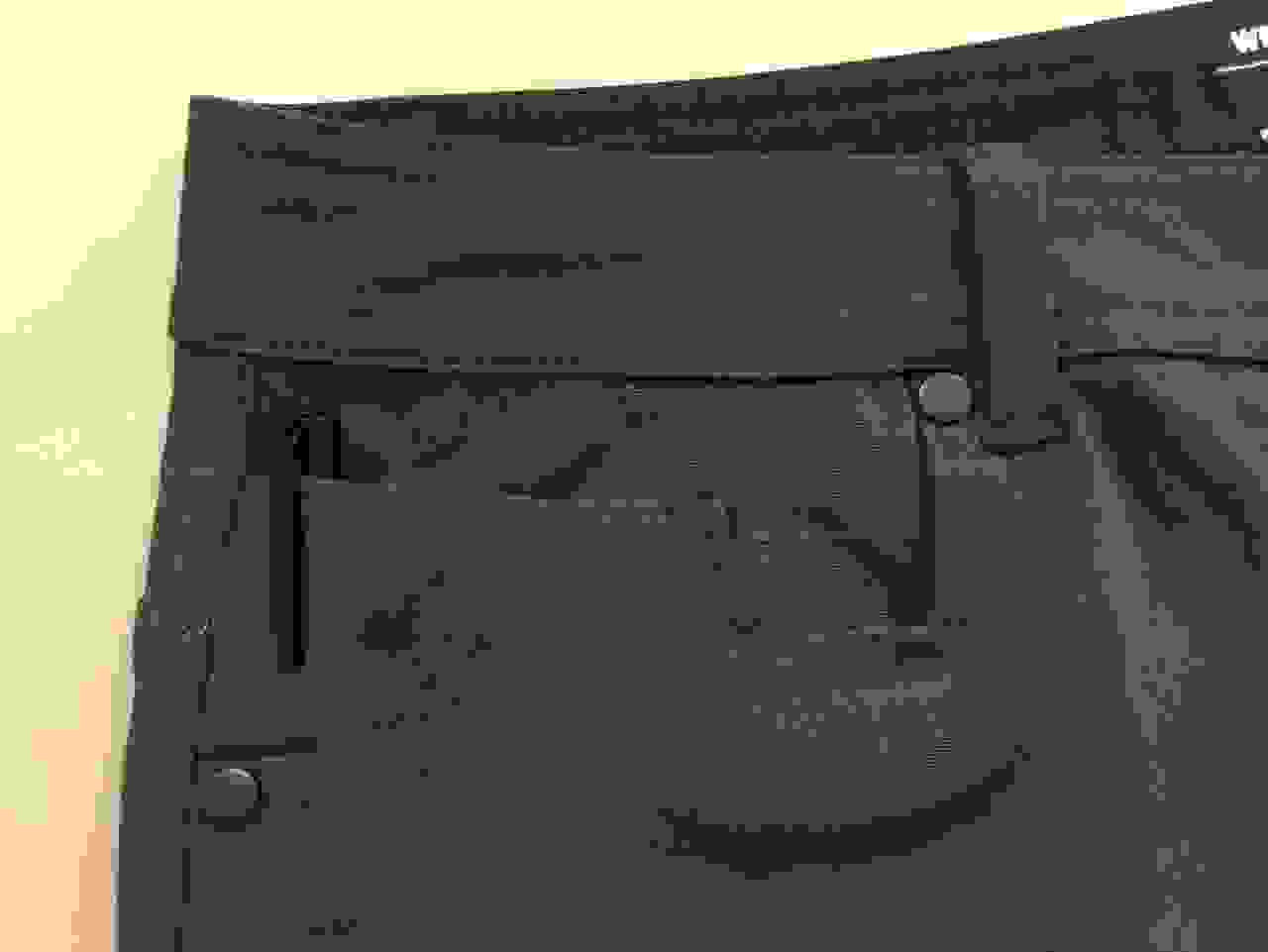 I tend to put my phone into the regular pocket, but I like having this option for other long and skinny things, so they won't interfere with each other. It's also kind of a security pocket; fold up a couple paper bills and shove them in there, and they'll be about as safe as it gets.
What I also like about this pocket is how it's positioned as far to the side as it'll go, rather than right in the middle, meaning the contents are further away from getting crushed between hip and thigh when you sit down.
Over in back, it has classic jean styling as well: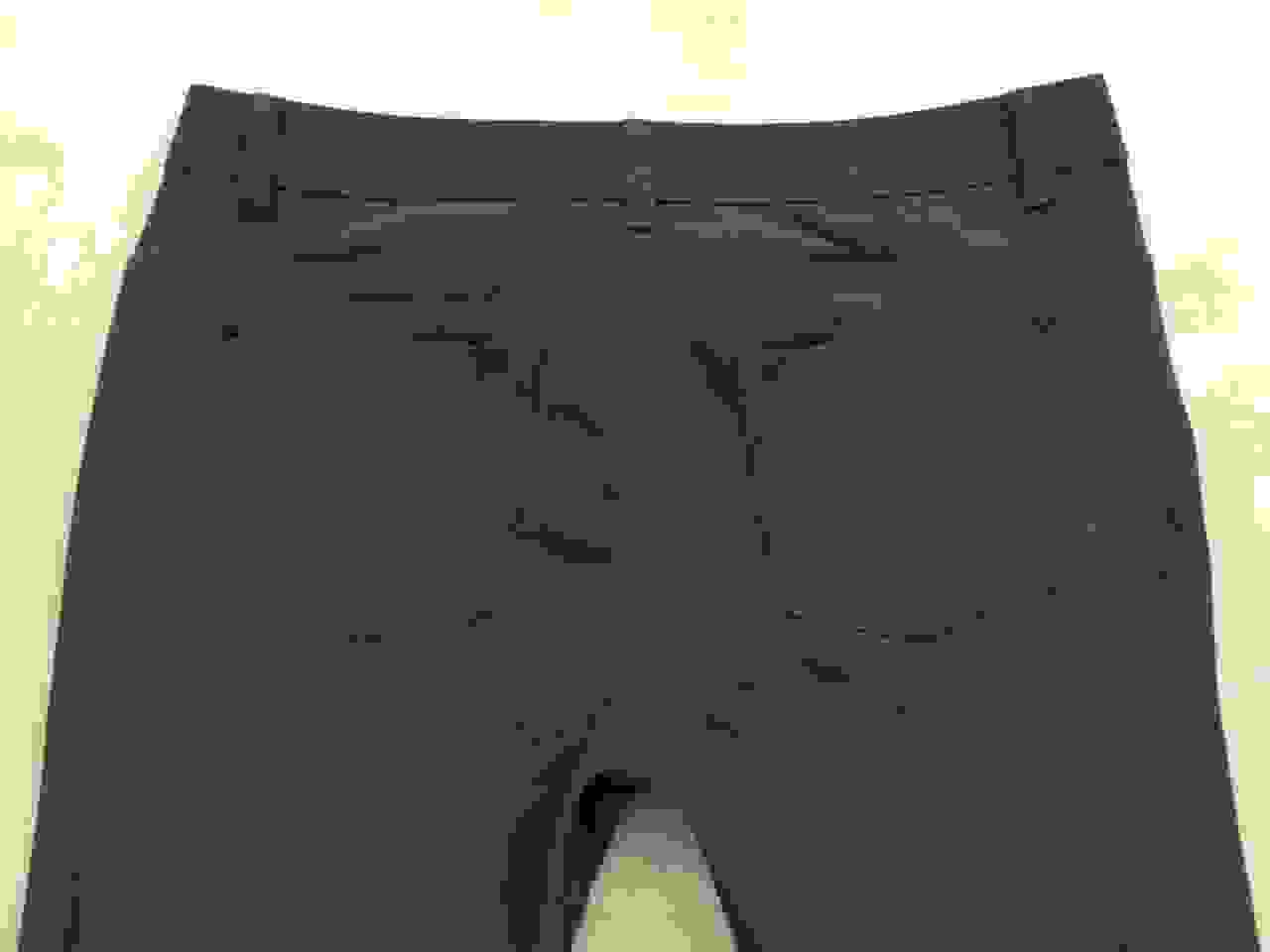 That back right pocket has a secret, though.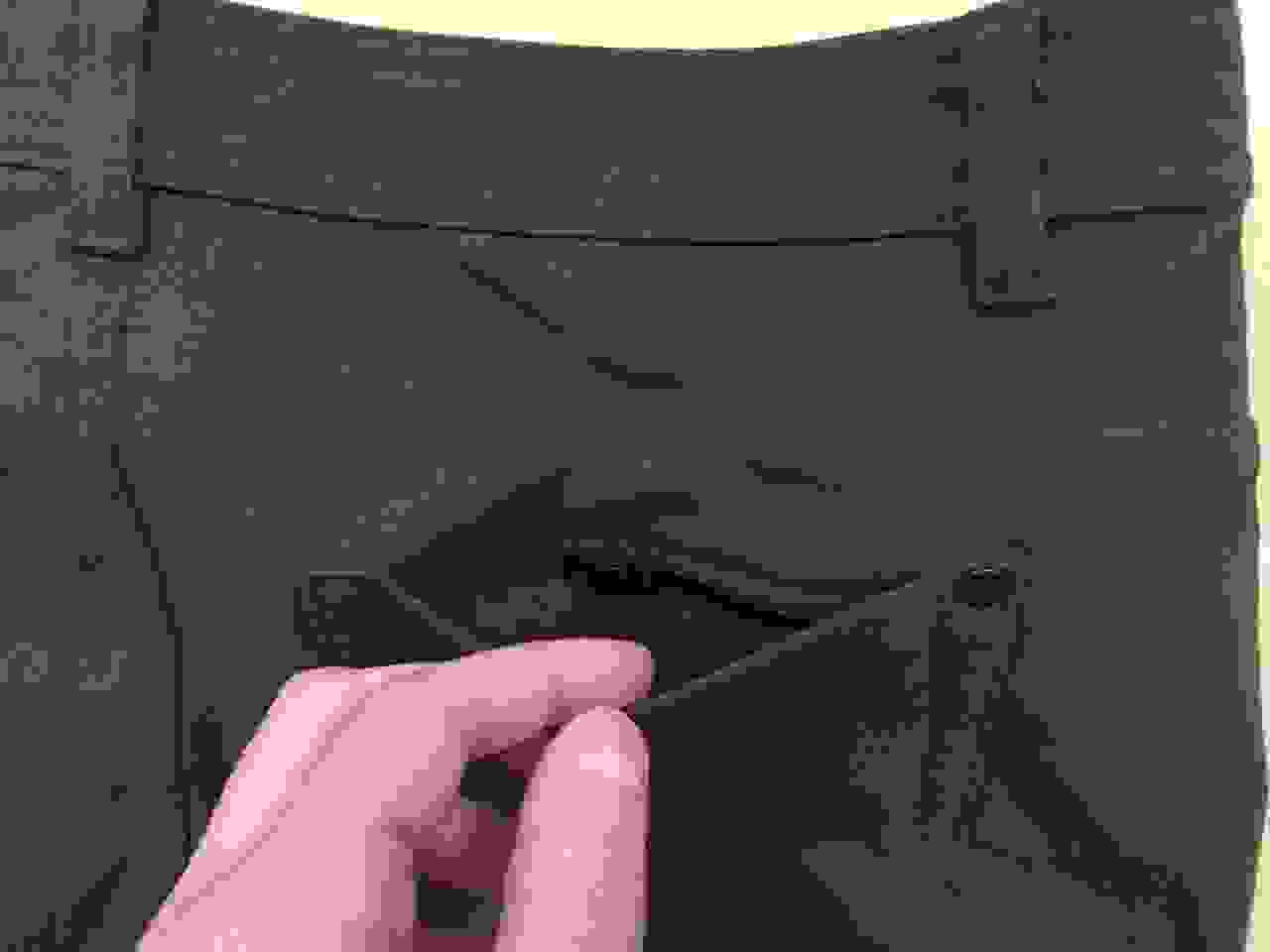 A hidden zippered pocket, exactly where I like to put my wallet. And that's in addition to the regular pocket, rather than the zipper securing the main pocket itself. I like this method a little better, since you can use the regular pocket like normal at home, without having to fiddle with the zipper.
These pockets aren't very big, though. I like how they're snug enough that a wallet won't fall over to become horizontal, but a normal-sized wallet will go right up to the zipper: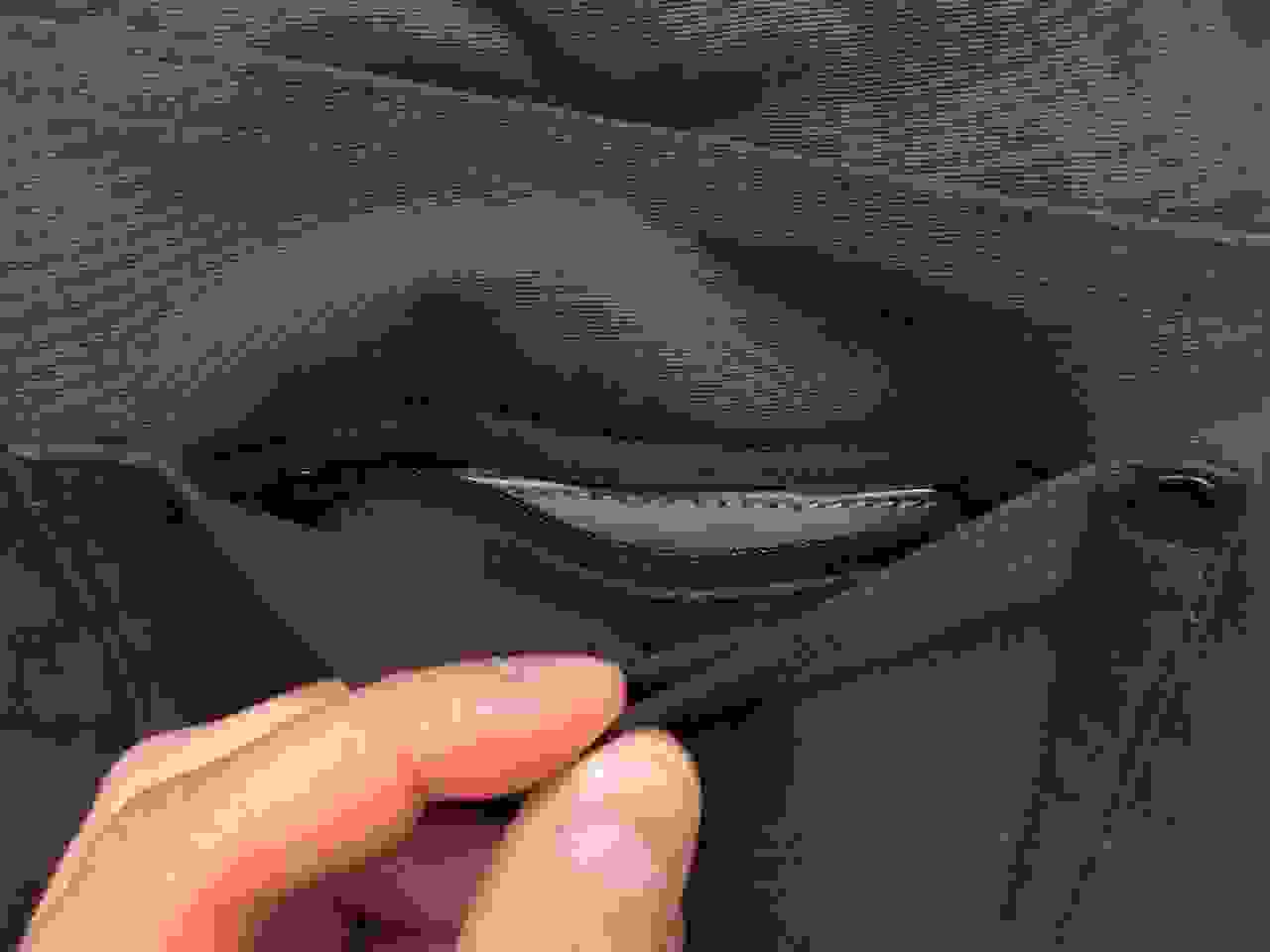 You can see how it's just barely able to fit in there while still allowing the zipper to close, which means it's not big enough for a passport: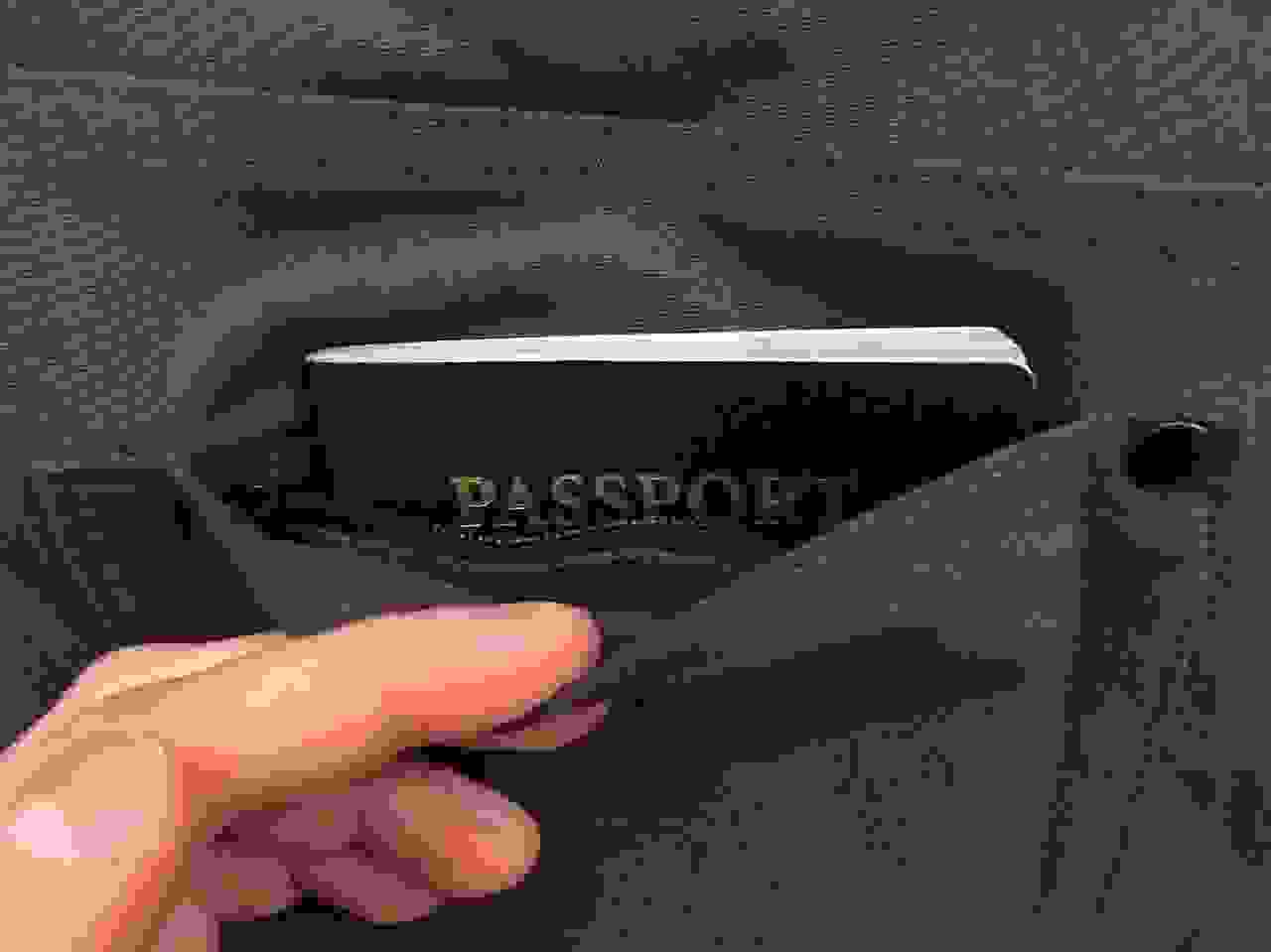 Depending on how you like to store things, this might be a problem for you. Personally, I like to keep just my wallet back there, so I'm fine with this. But it's a tight fit, and with the small zipper handle, it can be a little fiddly getting a wallet in and out of there. Considering how this is a security pocket, you could think of this as an extra security feature, but I think most people would prefer just a teensy bit more room in there.
The front pockets are pretty short too. They're just big enough that they don't annoy me, but I think just a couple more inches would be nice. Here's a measurement so you can get a better idea to compare them to a favorite you've already got:
You might notice how the zipper is a bit shorter as well. This may have something to do with reducing the issue of "tenting," but it does feel a bit snug when you're pulling these on or taking them off, as the zipper won't open as much as certain alternatives.
The small pockets are likely to be the biggest issue anyone has with these pants. Again, they're just big enough, but it wouldn't surprise me if they deepened the front pockets by an inch or two and made the back pockets maybe 5-10% bigger in an updated version at some point.
Fit
They're called the AT Slim Rivet Pants, so they're definitely slim. They also avoid the use of "vanity" sizing, meaning you should probably go 2″ bigger than usual. I wear a 32 in most brands (including Outlier and Bluffworks pants, which readers of this site might be familiar with), but I got a 34 in these, and they're just right. Their shorts, however, do not use this system, so pay attention to the sizing charts if you're looking at those too. The pants are currently available only in even-numbered sizes, but they told me they're hoping to expand to odd numbers in the near future as well, which would be helpful in getting an exact fit.
There's a bit of shrinkage if you dry them in a dryer, but not enough to ruin the waist size. The waist is actually pretty consistent, in that it won't get overstretched if you wear them without a belt, as the fabric is reinforced by a non-stretch fabric along the inside of the waistband. It'll shrink just a bit in the dryer, but then expand back to normal if you wear them for a little while. I think everyone should do it this way, so you don't have to deal with baggy pants if you choose to go belt-less (although I don't mind how QOR uses an elastic boxer-short-style waistband to make their waistbands stretchy, but not saggy).
They'll shrink just a bit in the length, however, so go ahead and do that before getting them hemmed or anything like that. As an added bonus, they also have an extra inch of length at the ankle, folded back and hidden within the hem. Just undo that layer of stitching and you'll get pants 1″ longer. Nice little touch.
Here they are in front: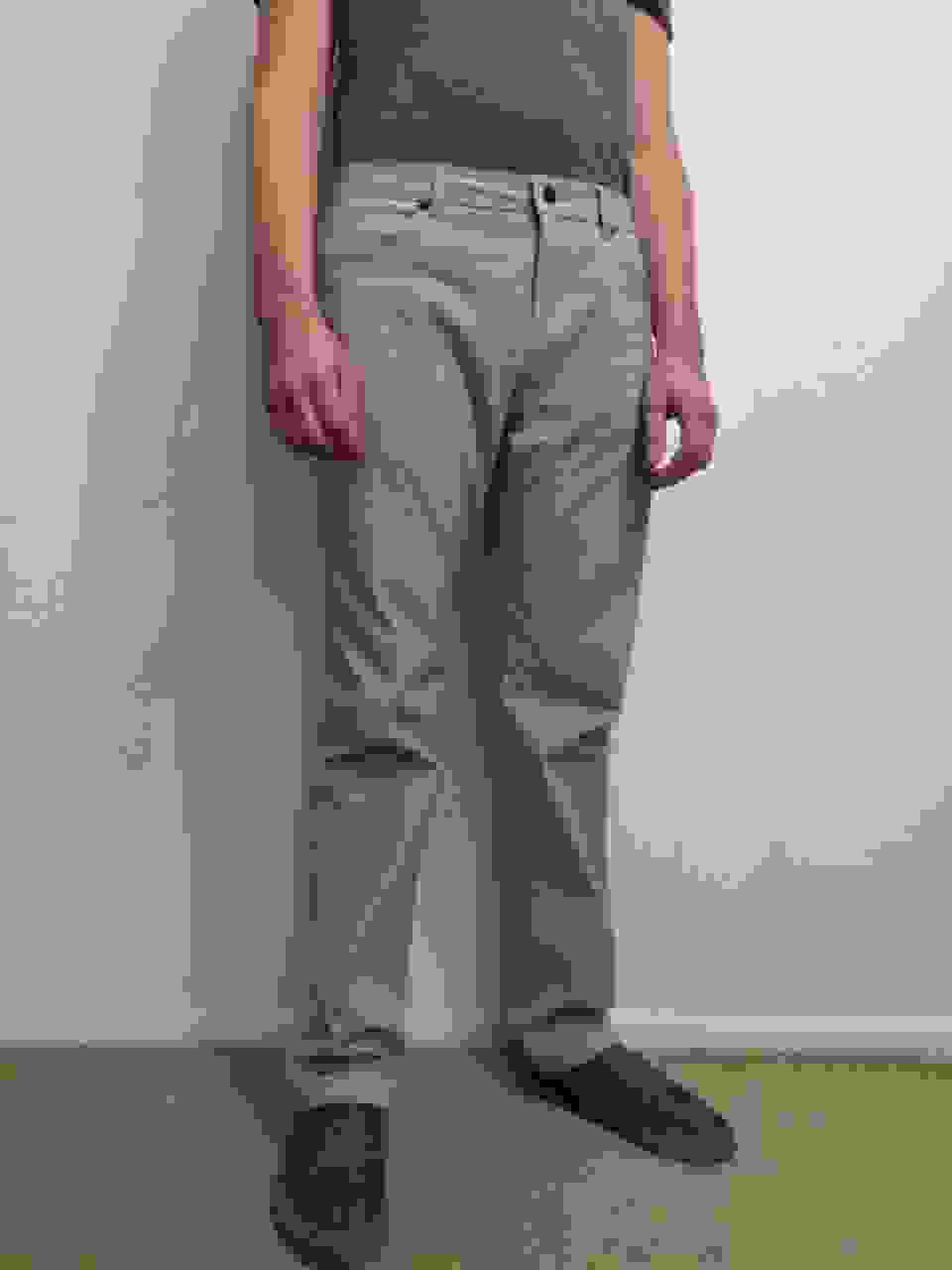 And in back: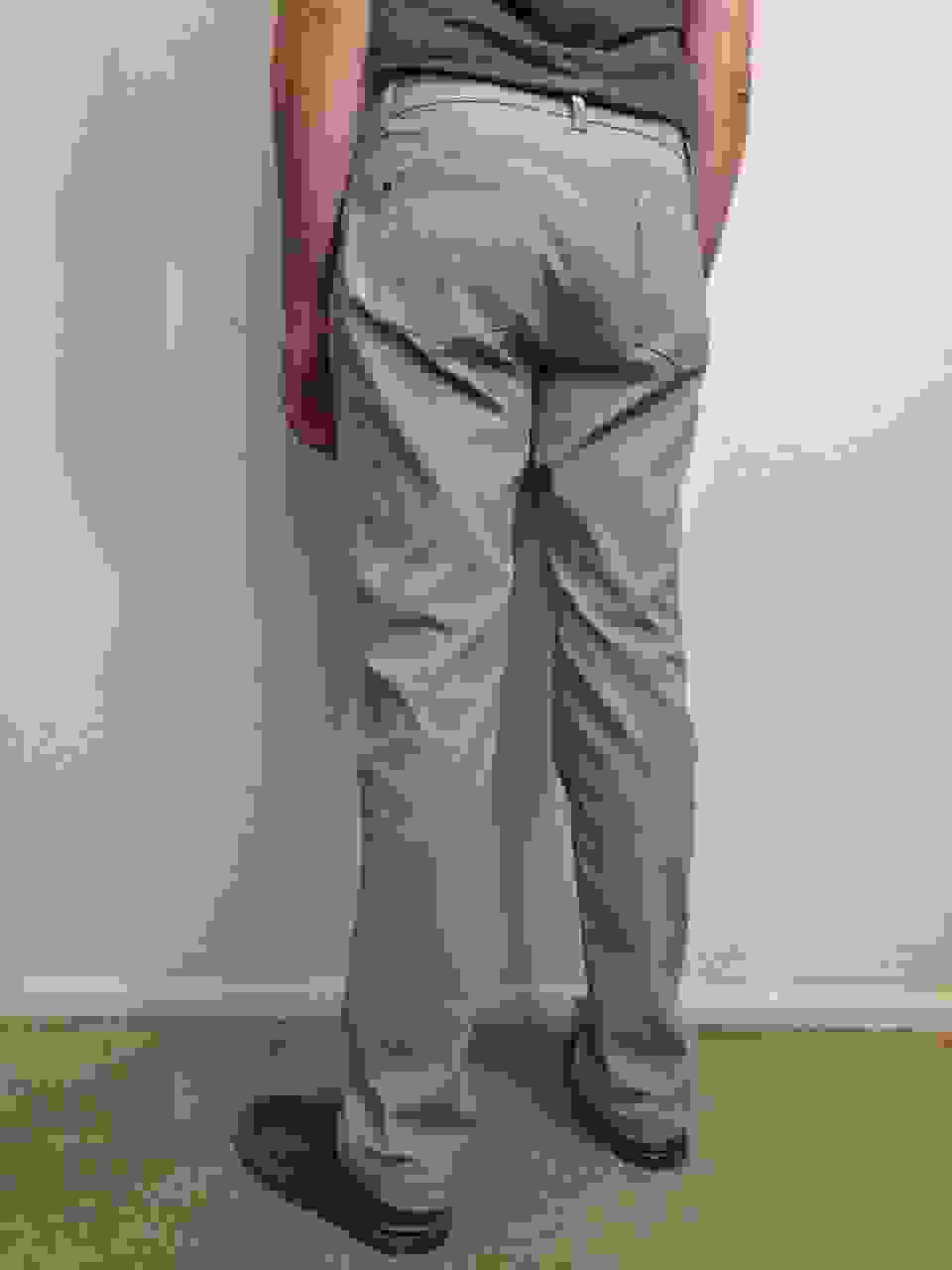 I'm 5'10" by the way, in case that's useful info.
One little detail worth noticing here is how every version uses those black rivets. They blend in with the dark grey version, but work as accents on the lighter grey one. I don't have a preference either way, but I thought I'd point this out.
You can see they fit pretty close to the legs, so they'd be great for biking, rock climbing, and things like that. They certainly don't feel tight, courtesy of the 4-way stretch fabric, and I never feel restricted in them unless I'm lifting my knee up to my chest or something. They've got an inseam gusset as well, for even more flexibility.
So what's the verdict?!
Final thoughts on the Western Rise AT Slim Rivet Pants
I was really looking forward to these when I first saw them, and I'm happy to say they became an instant favorite the moment I put them on. I've always wanted a five-pocket pant in a 4-way stretch synthetic fabric, with a hidden zippered pocket in the back right, a non-saggy waistband, and a style that's totally normal and will fit in anywhere.
Beyond that, Western Rise really did a great job getting the fabric just right. It's super tough, structured, textured, and stretchy, but not so much that it'll lose its shape or feel pajama-like. These feel more like body armor than wispy-thin hiking pants or super-stretchy yoga pants, and although they're heftier than you might expect for a lightweight travel pant, they feel more like "real" pants because of it. They also don't overheat or feel sticky like most soft shell fabrics, thanks to those thick yarns and the unlined interior, making them more versatile than the fabric weight might imply. I'm happy to say that after all these years, this is my favorite technical pant fabric.
I expect the only real difficulty anyone might have with these would be the small pockets, both in front and back. They're just big enough, but with phones getting bigger all the time, I think expanding them would go over pretty well with most people. They've also got a bit of that swishy noise when you brush your legs past each other, but it's pretty standard compared to other technical pants I've tried, and I've only seen a few others that have avoided this altogether (for the record, both are from Outlier).
I expect these to win over a lot of fans in the near future. They're as close as any synthetic fabric I've seen to something that looks and feels normal, with a breathability that exceeds those densely-woven, brushed-interior soft shells, and a classic appearance that'll look good anywhere. Again, they're not the softest, lightest, or stretchiest, but for a super-tough, do-it-all workhorse, these are definitely a winner, and I've been excited to share them with you.
If these are for you, you can pick them up from Western Rise. That's for the men's version in light grey, but don't forget they've got other colors, and a women's version as well. They're also available on Huckberry, so take a look over there too.
Update: Make sure to check out their new Evolution Pant! It's 2/3 of the weight, and a great alternative for hot climates.