Quite a few of my readers have mentioned the Prana Brion pants as a great budget option for hikers, travelers, rock climbers, and other outdoorsy types, and I would have to agree. They're made of the same fabric as their dedicated rock climbing pants, but have a more casual style, making them a great all-around choice for all sorts of activities.
Given their popularity, it's also likely that you'll be able to find them on sale, at prices significantly lower than some of the higher-end soft shells out there. I managed to find some for about $50, and considering that's 75% cheaper than some of the $200 alternatives out there, these are a comparative bargain, and might just be the best value performance pant out there.
So, how do they stack up? Let's find out.
Prana Brion Pant Review
Here they are: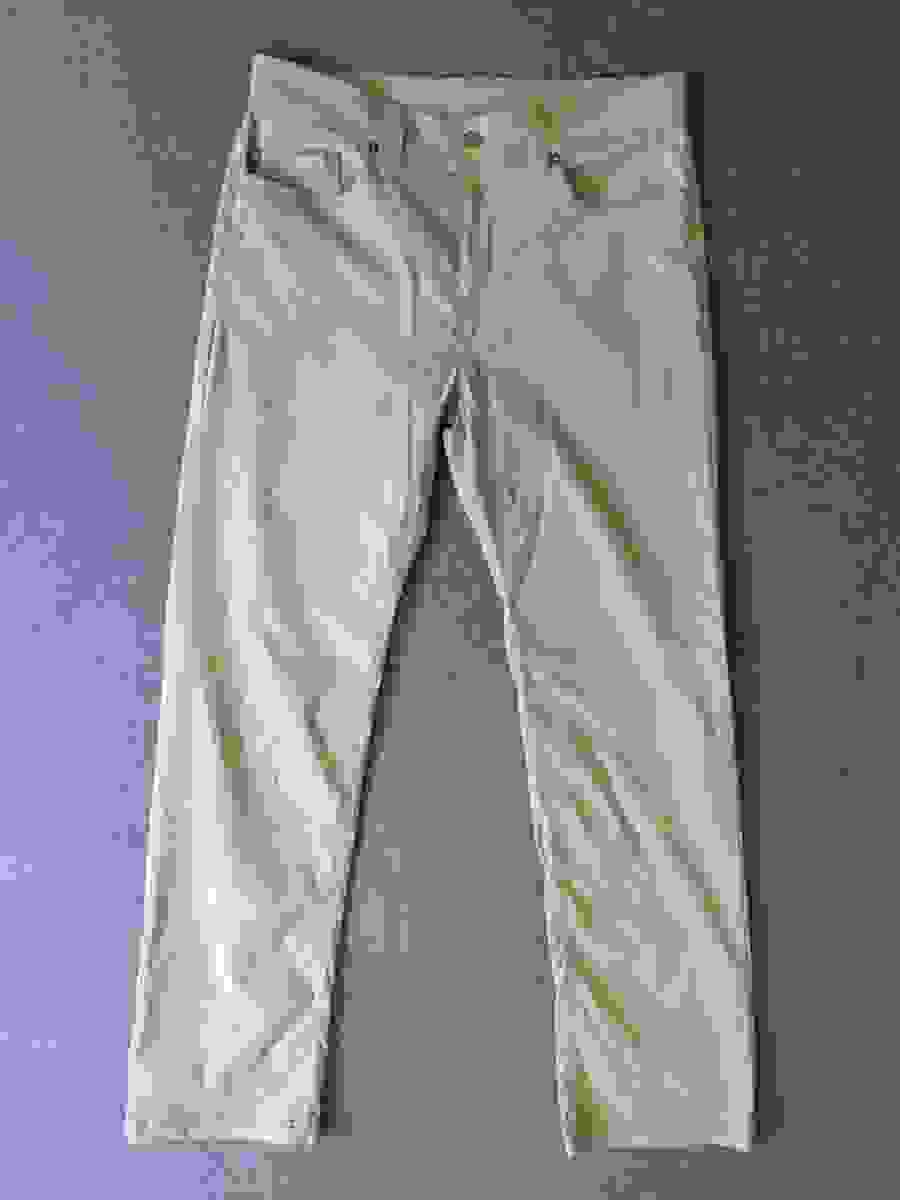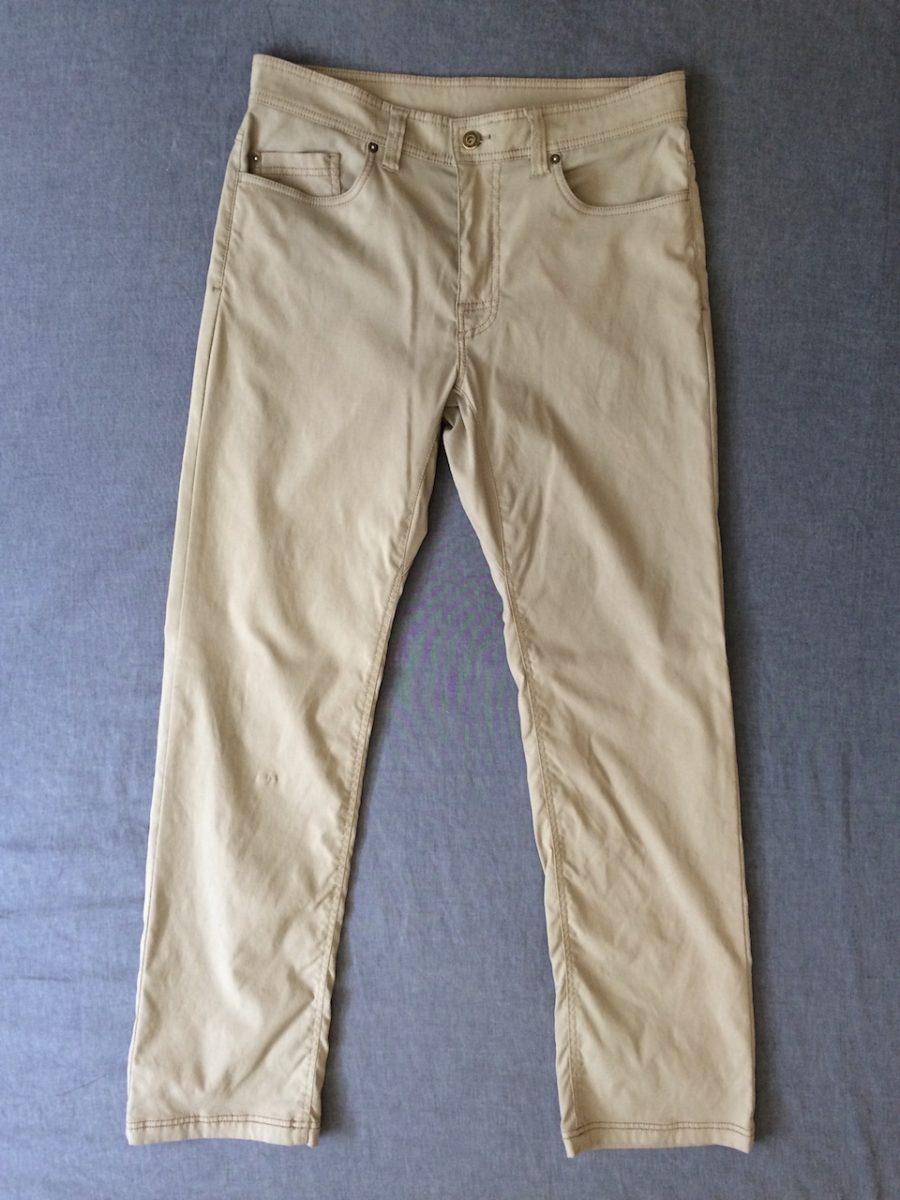 Plain and simple, just how I like it. These have jeans-style pockets, and…well, that's about it. Prana's Stretch Zion pants, which are more dedicated for climbing, have specialized features such as an integrated belt, roll-up ankles, and a zip-off shorts version, but the Brions are more like casual wear by comparison. They'll handle a hike just fine, given how they're made of the same material, but these will be right at home at a bar or a nice restaurant afterwards.
Pocket closeups
I'm always happy to see performance pants using jean pockets, as they do such a great job of preventing anything from falling out: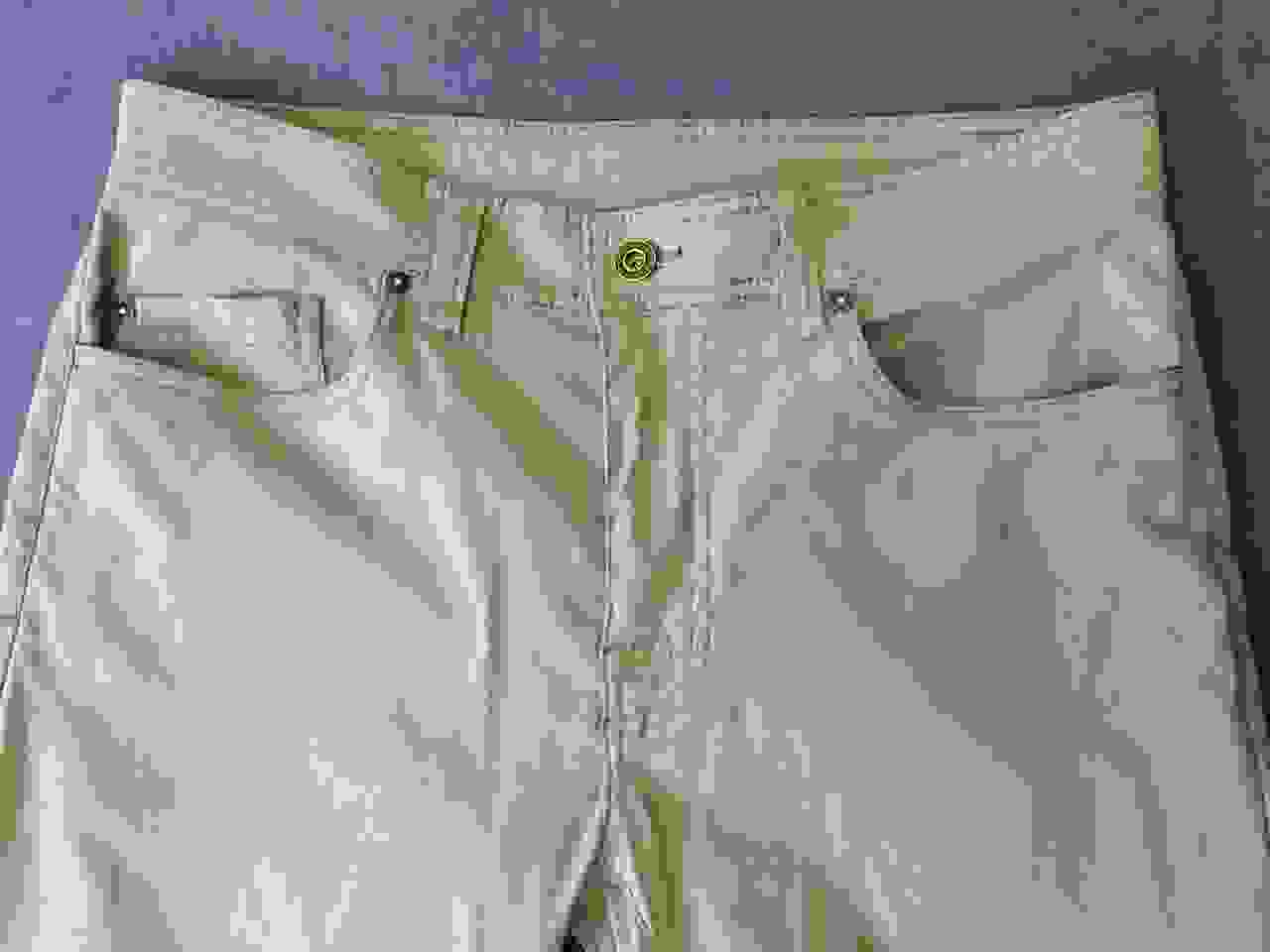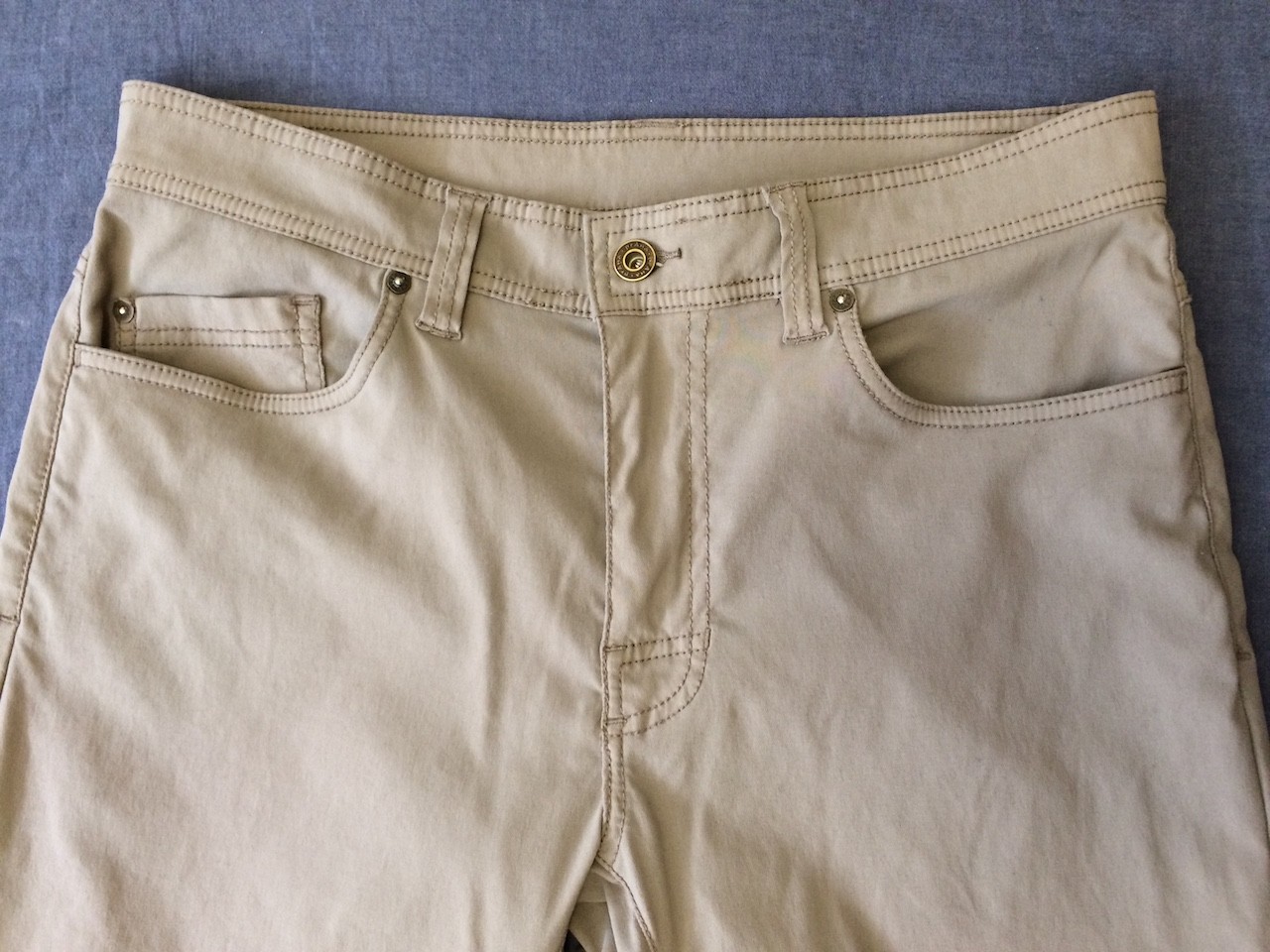 The coin pocket is nice, although it's small; it's not one of those extra-deep ones for a phone, so it'll only handle coins.
Over in back, the Brions have two patch pockets, just like a pair of jeans. They originally had a logo stitched on to the back right pocket, but I was able to remove it without doing any damage to the fabric: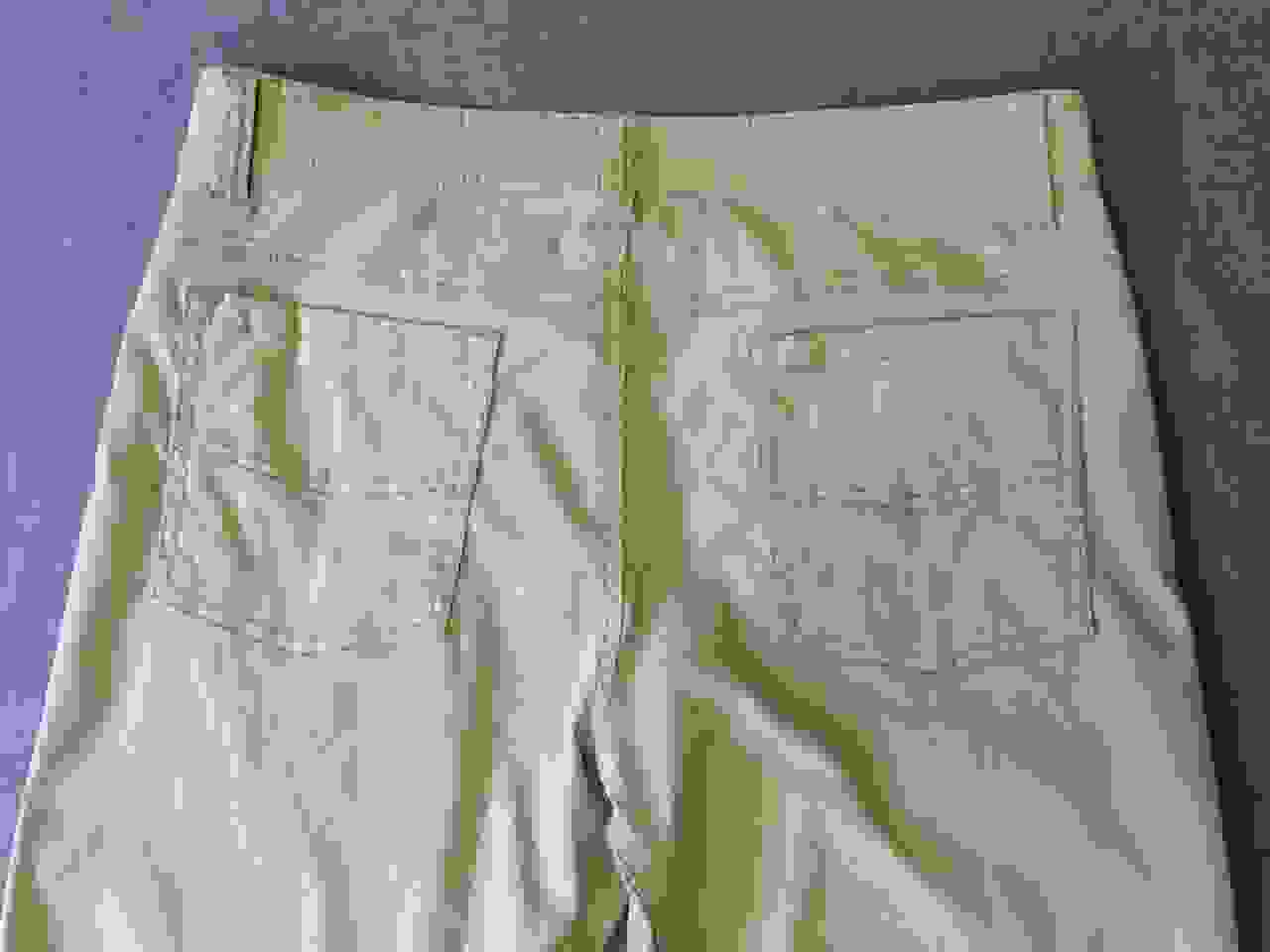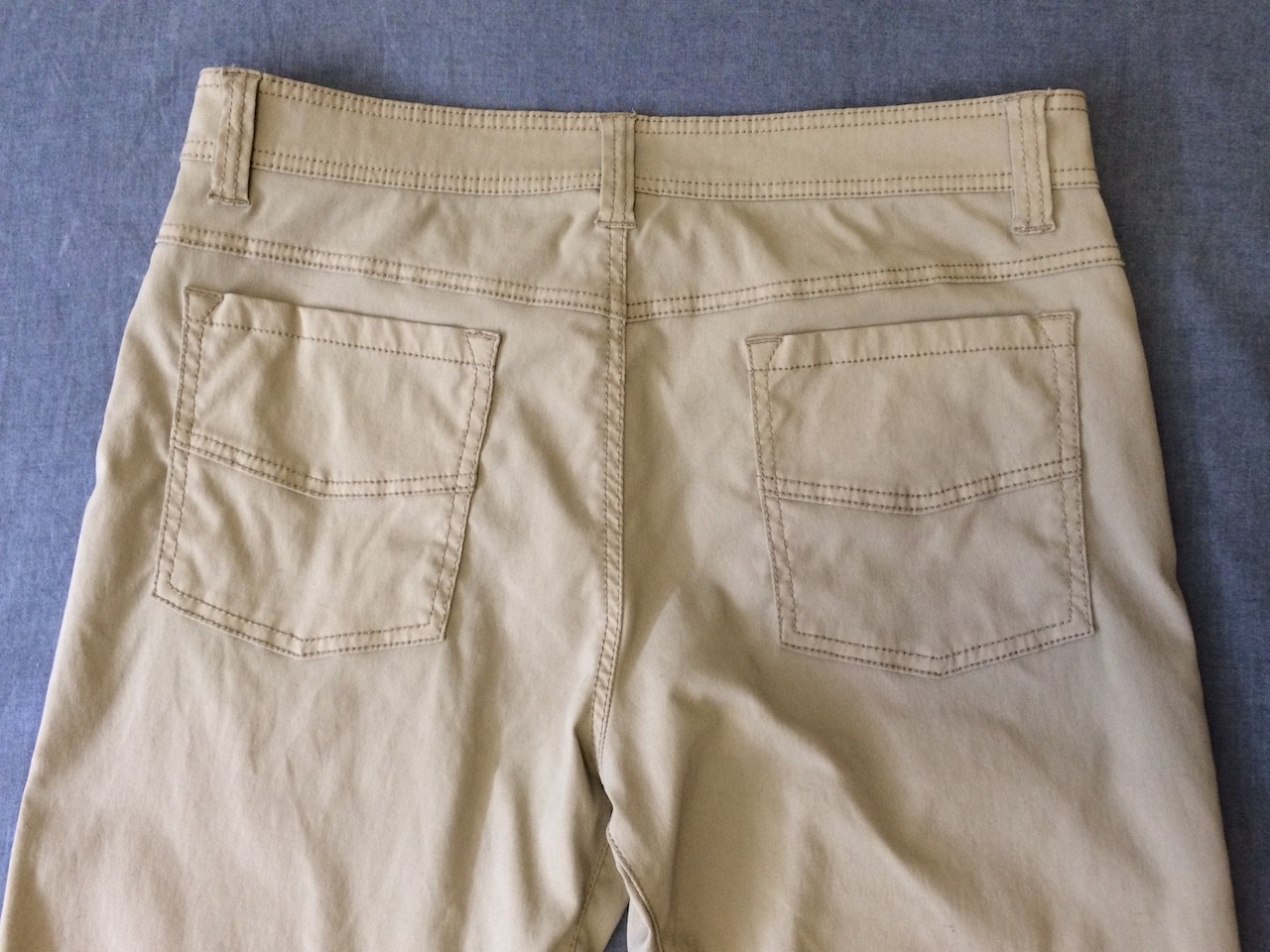 Those are just regular pockets, which brings me to Caveat #1: The Brion pants have no security pockets. Prana was obviously going for a different demographic here, but I wish these had something zippered to keep a wallet secure. It's fine for a budget choice, but you'll want to keep just a few cards on you if you're traveling someplace with pickpockets, or you can use a money belt.
While we're on the subject of pockets, here's what the front pockets look like on the inside: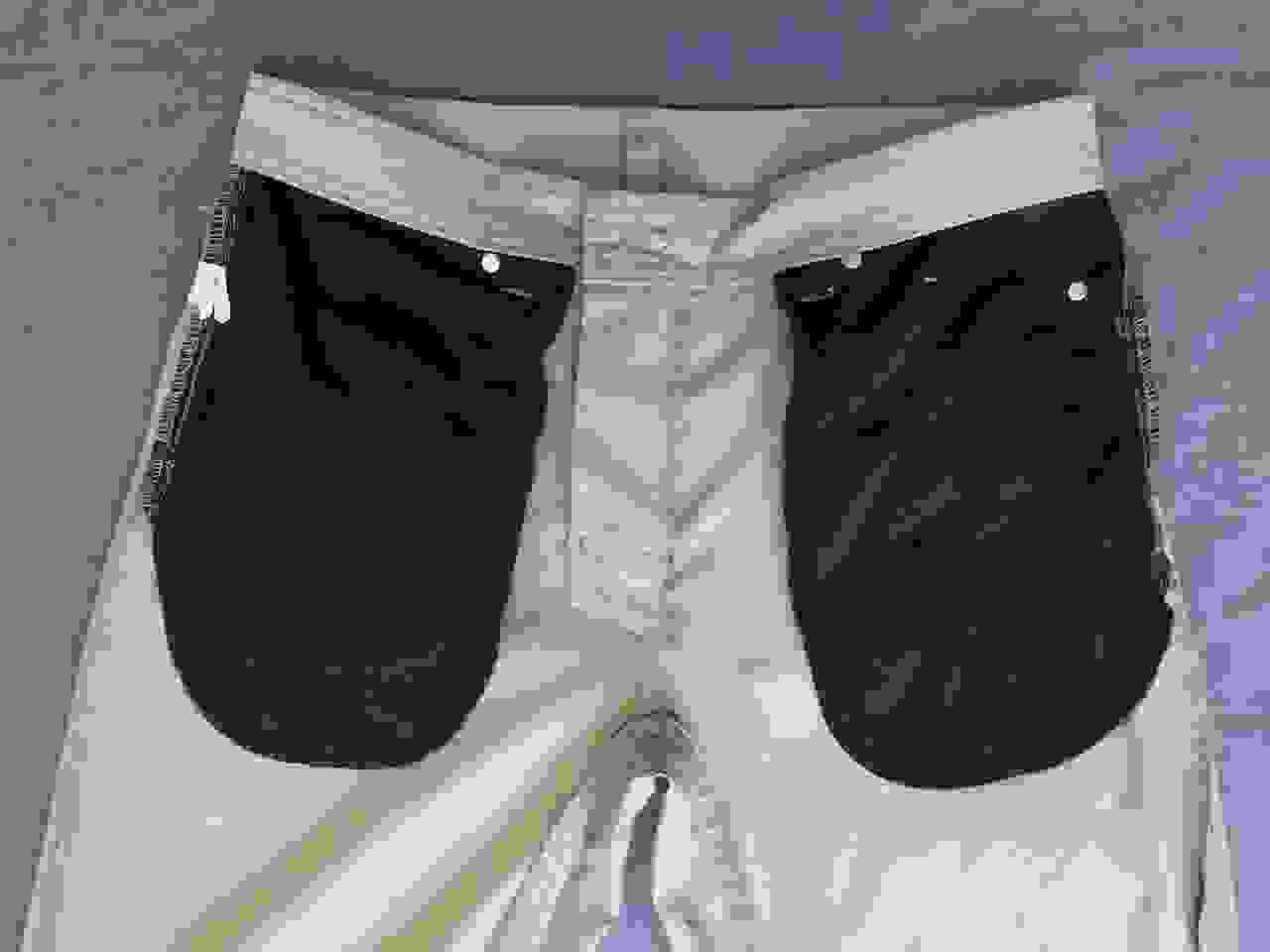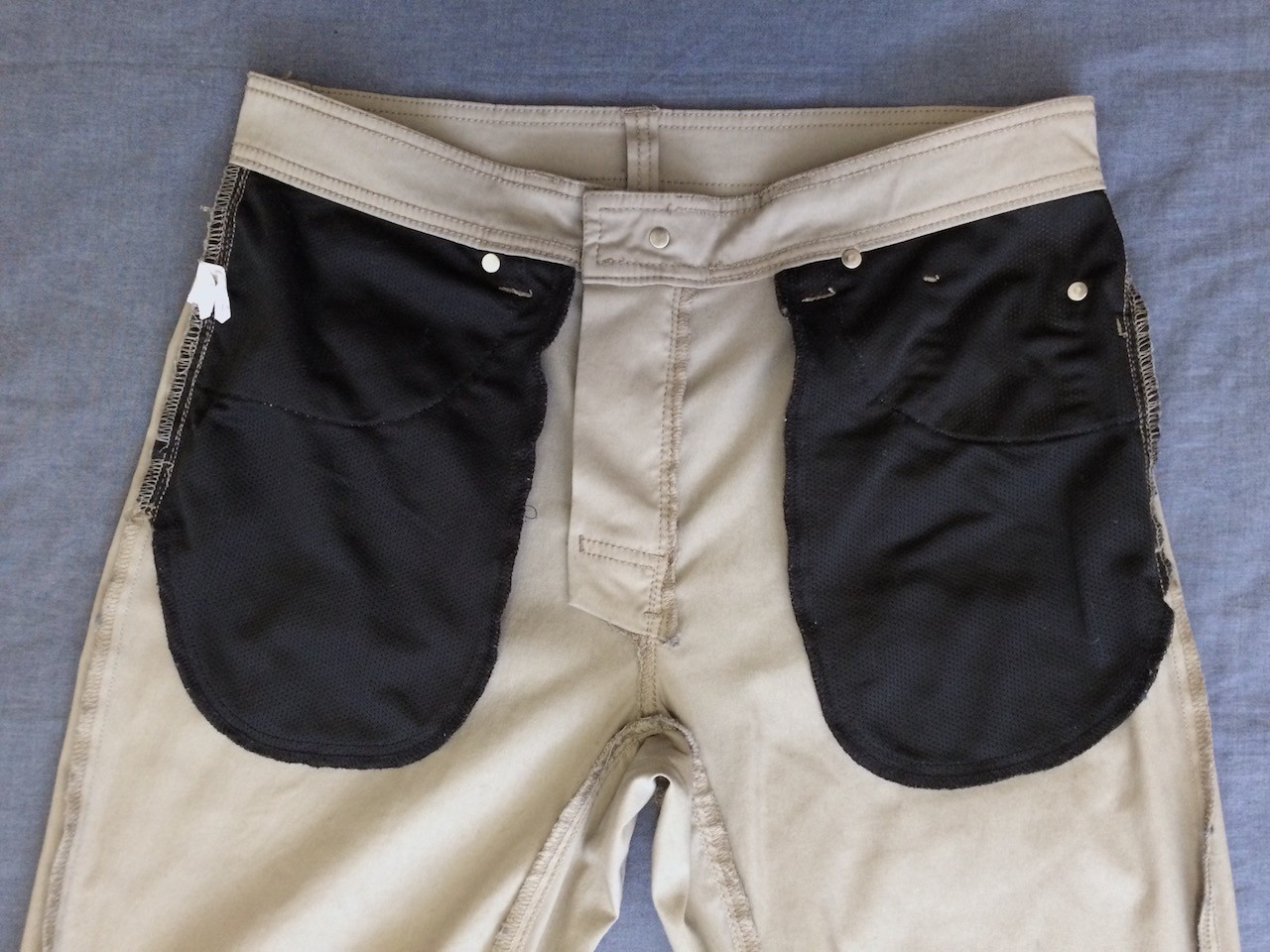 They're meshy, which I've never quite enjoyed. The idea is to make them more breathable, but they feel weird, like I'm wearing a swimsuit or something…and occasionally the mesh will get caught on something and a thread will get pulled out. It hasn't been a big problem for me, but it's a minor gripe.
Here's a closeup: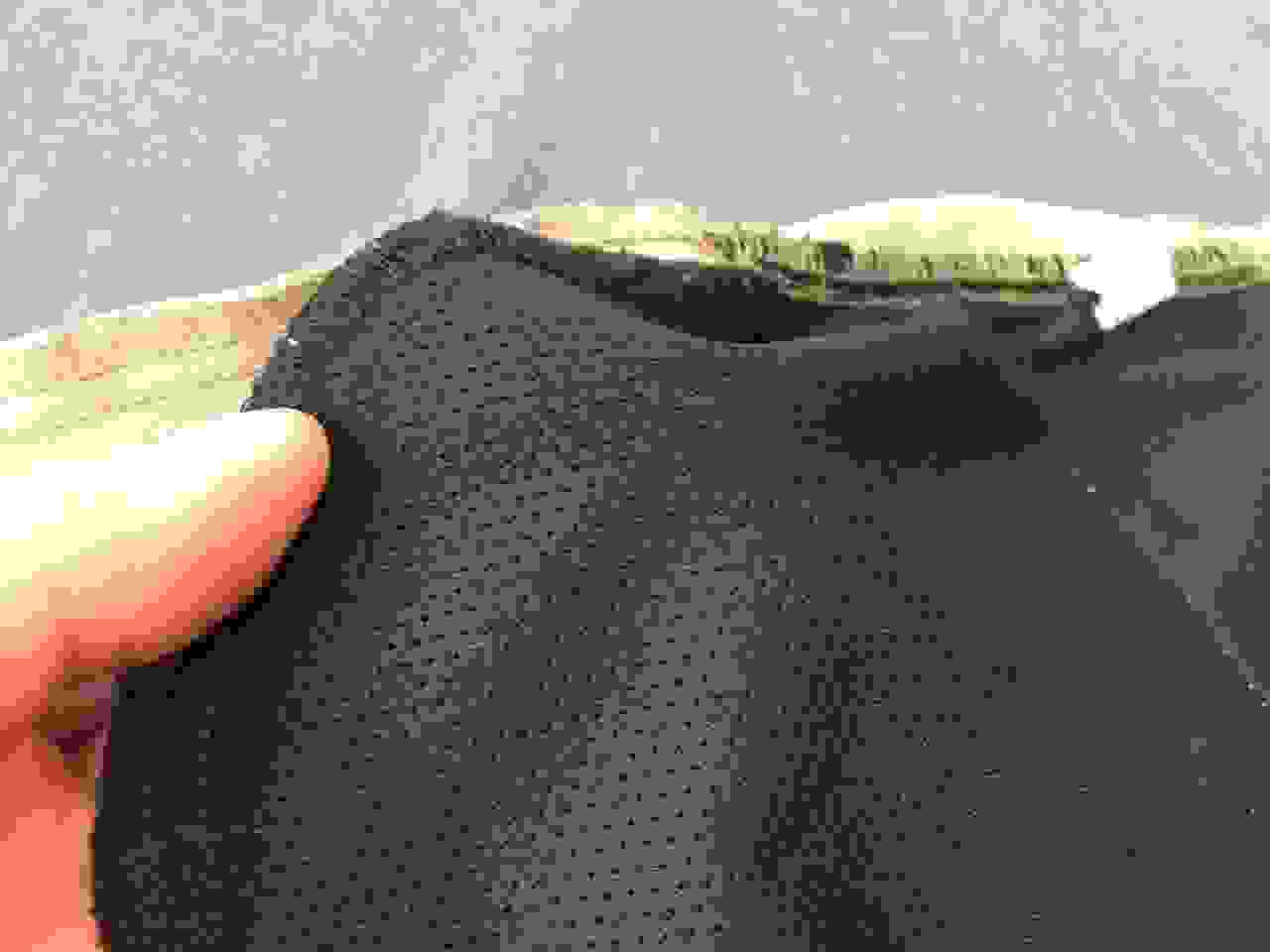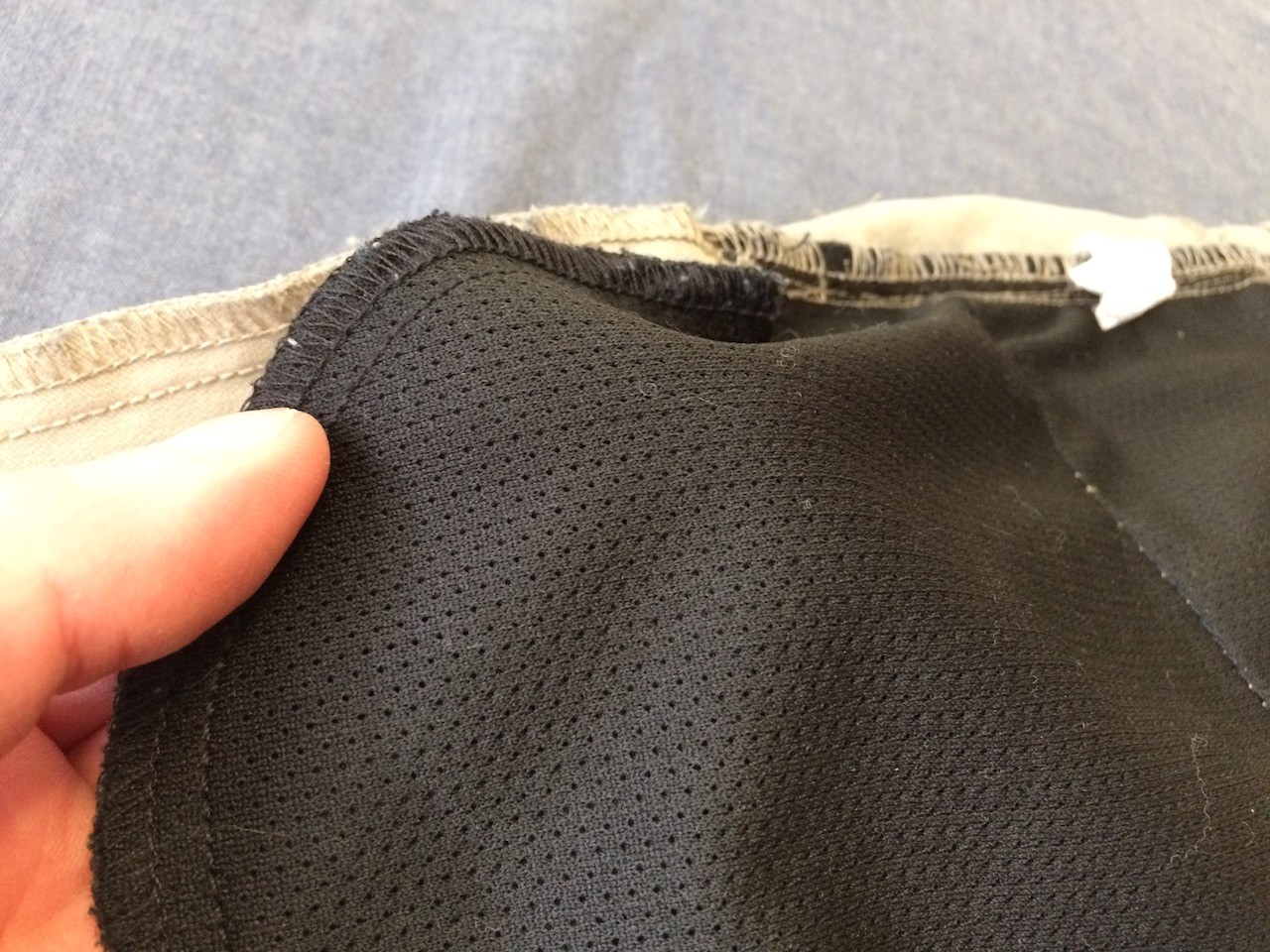 This also brings me to Caveat #2: The front pockets are really short. You won't be able to see this in the photos above, because these are an older version, from before they shortened anything. The new ones are a couple inches shorter, which doesn't feel quite right. Tall phones might peak out the top, and it's easier for coins and other small items to fall out. I think the idea was to make the pockets so short that you could wear a climbing harness, and any pocket contents would sit above the leg band of that harness, but still…it would be nice to have deeper front pockets, and I'm glad I got the old version, back in 2014 or so.
Fabric composition
The fabric used in the Brions is 97% nylon, and 3% spandex. It's the same fabric used in their entire "Zion Family" line of products, named after their Stretch Zion Pants, which are built for rock climbing and other athletic activities that require light weight, high breathability, and plenty of stretch. Prana has had quite a few other items in this category as well (such as the "Zioneer" and "Zogger" pants), as well as shorts, and it's nice to see a whole range of options using this same fabric, as it's a pretty good one.
I say pretty good…because I've seen better, and I'll explain why in a little bit. But for the price, it's hard to complain.
It's a single-weave fabric (as opposed to a double weave, which looks kind of like two layers of fabric stuck together). Here you can see both inside and out: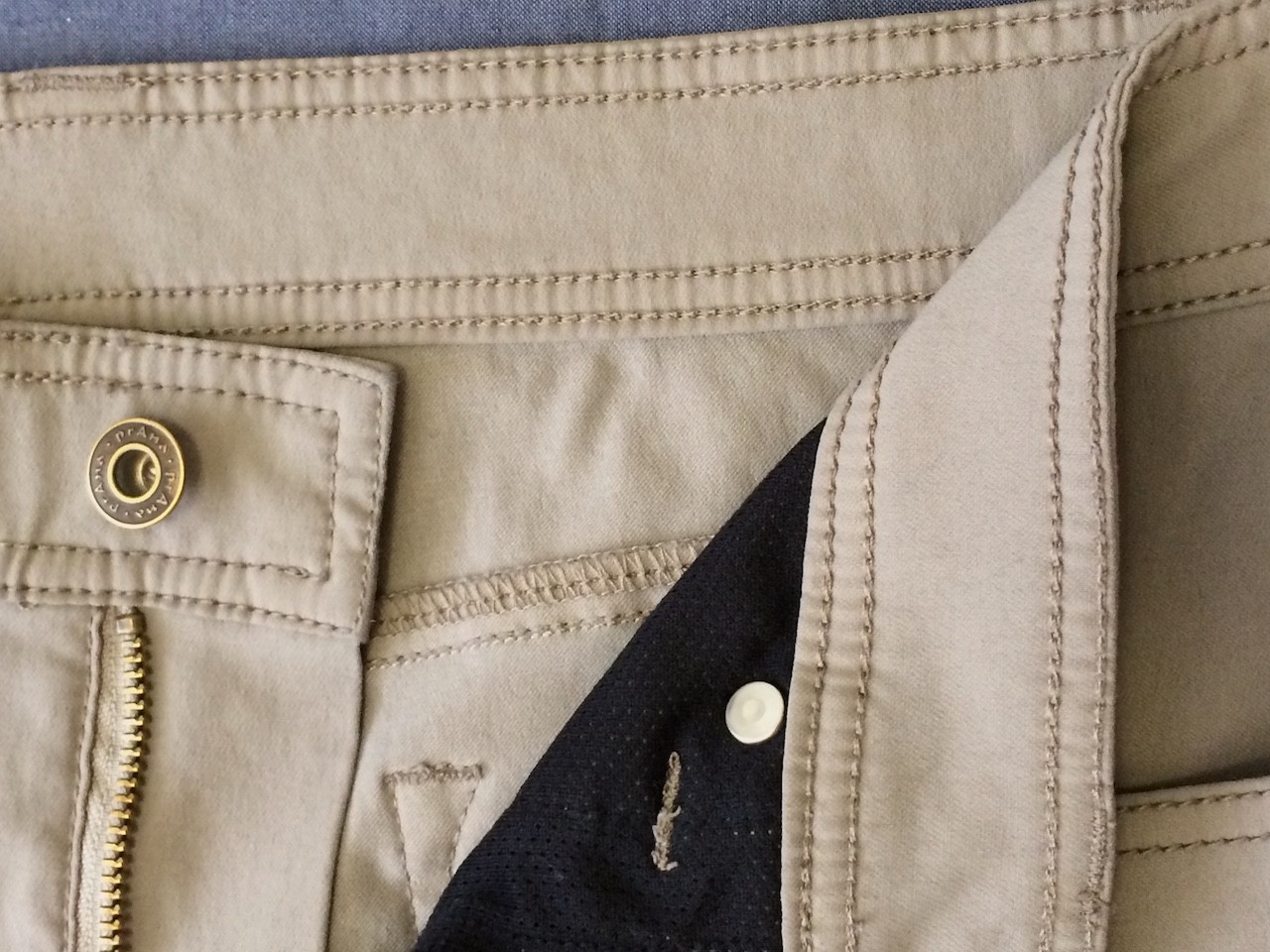 As I've mentioned in a few other places, the trick to making synthetic pants feel natural is to use thick, textured yarns. If the yarns are thick enough that you can see them with the naked eye, that's a good sign; they'll feel better, and allow for more breathability.
And in the Prana Brions, you can juuuust barely see them…and they're not super textured. There's still plenty of breathability, but they have a slick, synthetic feel to them, a little more than I'd like. Again, I can't complain about these sorts of things given the significantly lower price, but I've gotten a little spoiled with some really great alternatives that feel closer to cotton than I would have expected from a synthetic fabric, and I tend to prefer them.
Still, I've handled other synthetic fabrics that feel like plastic, and these don't come close to that; they're in a middle ground where they feel somewhat synthetic, though it's nothing too crazy.
It also gets a bit wrinkly. It'll kind of clean itself up as you move around, but it's not as wrinkle-free as you might expect from a synthetic material.
Fabric weight
The weight itself isn't listed (in grams per square meter), but these are super light, and definitely suitable for hotter weather. Even tropical heat is doable, depending on heat sensitivity and level of activity.
If you really want to get into detail, in a 32×32 they weigh about 12 ounces; this is significantly lighter than the Outlier Slim Dungarees (which are 16 ounces, at 280 grams per square meter), or a pair of jeans (20-24 ounces) in the same size. Doing the calculations, the Prana Brions are right around 210 grams per square meter, which is the sweet spot for hot weather.
And yes, I know I just went back and forth between metric and non-metric. Hush.
Fabric stretch
This is sort of an odd one. The Prana Brions are extremely stretchy horizontally, expanding about 35% beyond the original size, but they're only a little bit vertically stretchy, at just 5%. I wish the vertical stretch were a little more significant, especially for things like rock climbing, where you often have to lift your legs up high. For the most part it'll be fine, but just a bit more would have been nice.
They do have a gusseted inseam (that diamond-shaped piece of fabric that goes between the legs), which helps out with flexibility: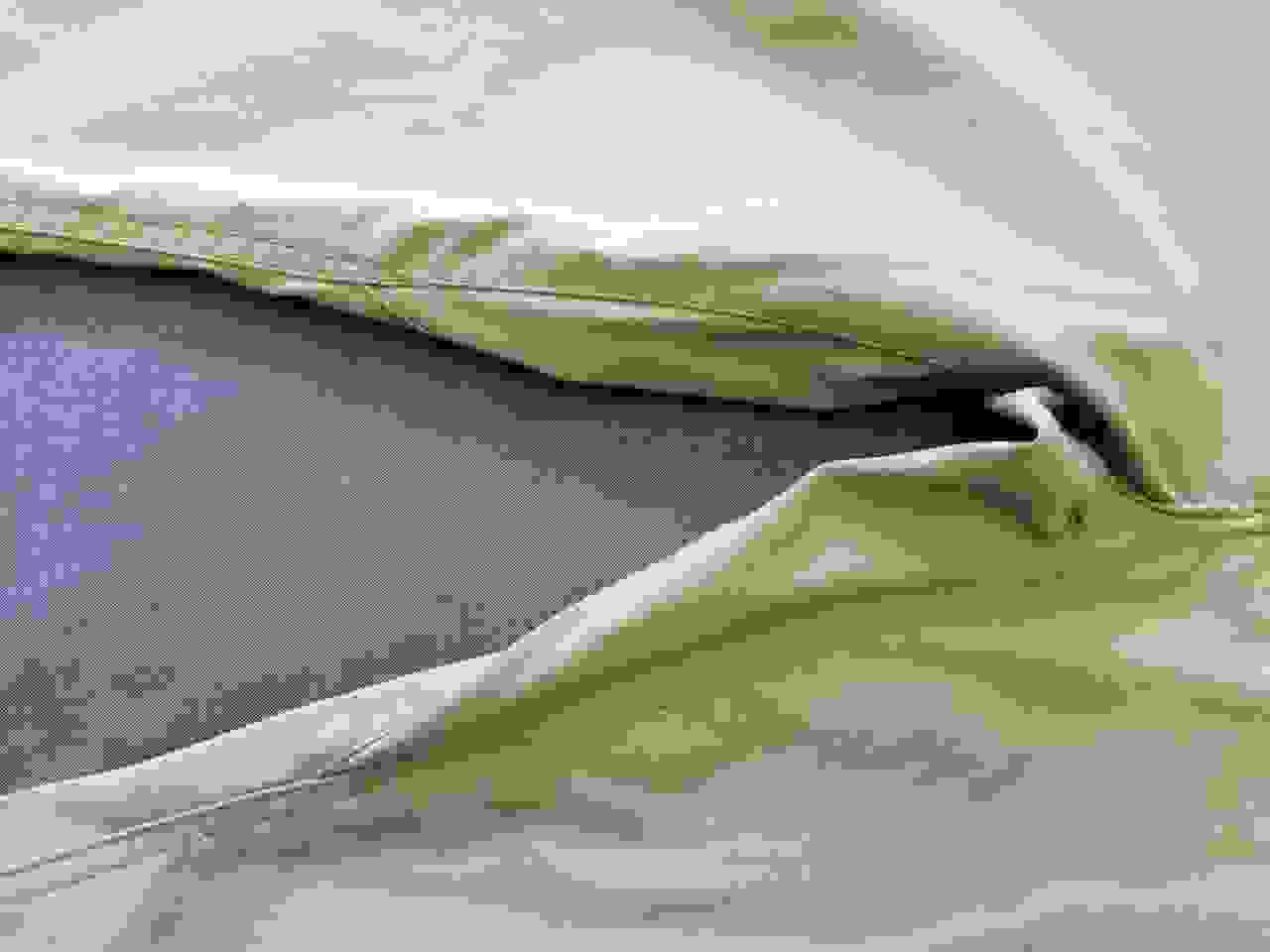 I tend to like these quite a bit, as they generally allow for wider leg moves than you'd get with a regular inseam, so I'm always happy to see them.
Fabric durability
Here's where we arrive at Caveat #3: The fabric isn't super tough. It's thin, light, and summer-appropriate, meaning this is what happened to the knee when I fell off a bike: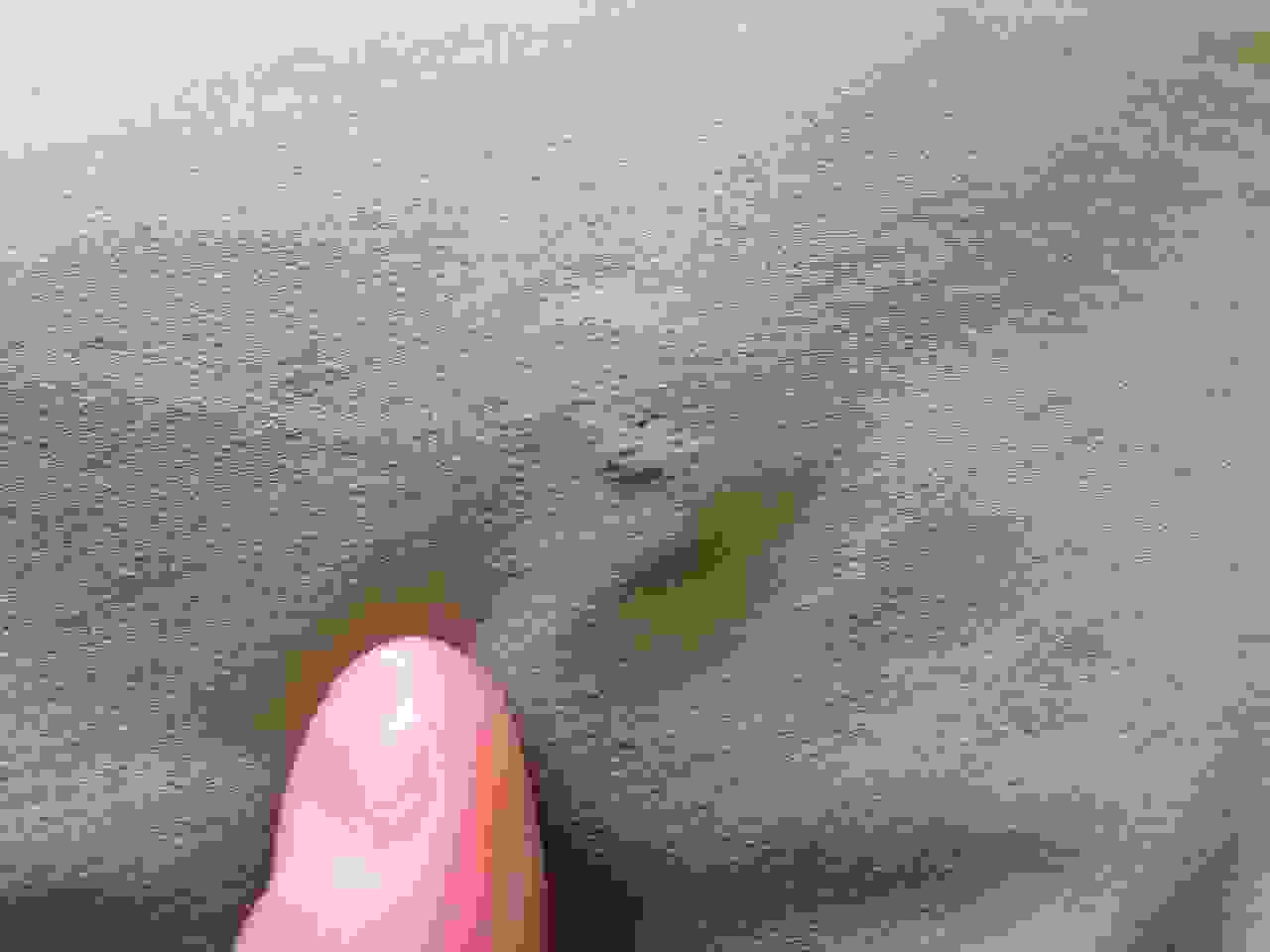 I patched it in back, and I'm happy to keep using them, but this is part of the reason I think of these as a cheap backup that I don't mind ruining. You can't expect amazing durability from something so thin and light, so I'd say it's better to think of these as general athletic pants for warm or hot weather, rather than super-tough canvas that'll handle whatever you throw at them. But again, if you can find them on sale, you won't get too upset if they get thrashed.
(For a heftier, tougher pair of pants, check out the AT Slim Rivets by Western Rise. I fell off a bike in those too, and they came away completely unscathed.)
Fit notes
They call these slim, although they don't taper toward the ankle, so they're a little looser down there. Going with your regular size is just fine (same size as Outlier and Bluffworks, if you know those), but these do have a tendency to expand over the course of a day, so it's best to use these with a belt, as the waistband will otherwise expand and sag.
Conclusions on the Prana Brion Pants
All in all, these are a great budget choice, and perhaps the best value in a lightweight, breathable, stretchy, versatile pair of pants that'll handle a hike and a pub crawl equally well. I wouldn't say they're the best, but at the MSRP of $80, they're significantly cheaper than any of my other favorites, and it's easy enough to find them on sale.
You really can't go wrong with these if you're planning on using them for warm weather trips and you don't want to spend too much; but keep in mind the shallowness of the front hand pockets, and lack of zippered security pockets.
So if these are for you, you can find them on Amazon.
They're also available in many hiking, camping, and outdoor stores, as well as Prana's own website, where you can find the entire "Zion Family" of products using the same fabric.
If you're looking for something thicker, tougher, and maybe with a security pocket, check out a list of soft shell jeans, where you'll find some truly impressive options, if you're willing to spend a bit more.