I have a pathological distaste for cotton. It has been my lifelong textile arch-nemesis, and I am slowly, but surely, winning the battle of banning it from my existence. More or less, anyway.
Cotton may have been the world's most spectacular fiber for hundreds of years; it's soft, strong, absorbent, and versatile enough for cozy pajamas, or super-tough denim; but, on the downside, it wrinkles like crazy, and holds onto water like a terrified toddler holds onto mommy: Annoyingly.
And, much like the horse-drawn carriage, all good things must come to an end, when supplanted by utterly superior alternatives. And of all clothing categories in which cotton is losing its luster, button-up dress shirts make for quite a welcome change. I mean seriously, how has the entire globe settled on the prerequisite of passing a slab of hot metal over the fabric every time you wear the damn thing? Why must we deal with such nonsense?!??!
The good news is: We don't. There's an escape route. A non-wrinkly, super soft, long-lasting, self-cleaning, all-natural miracle fabric that will have you feeling a little…ahem…sheepish that you've had the wool pulled over your eyes for so long.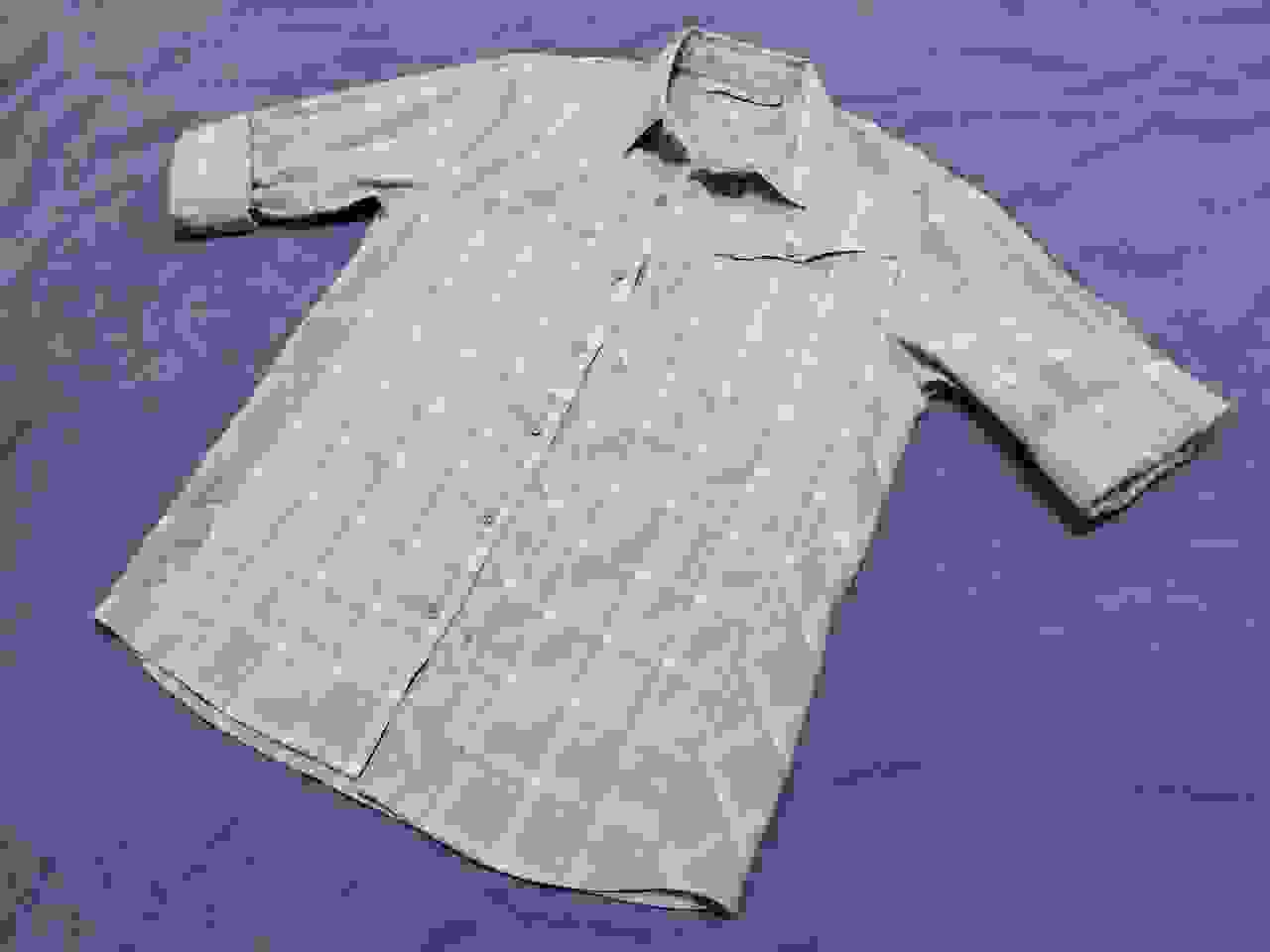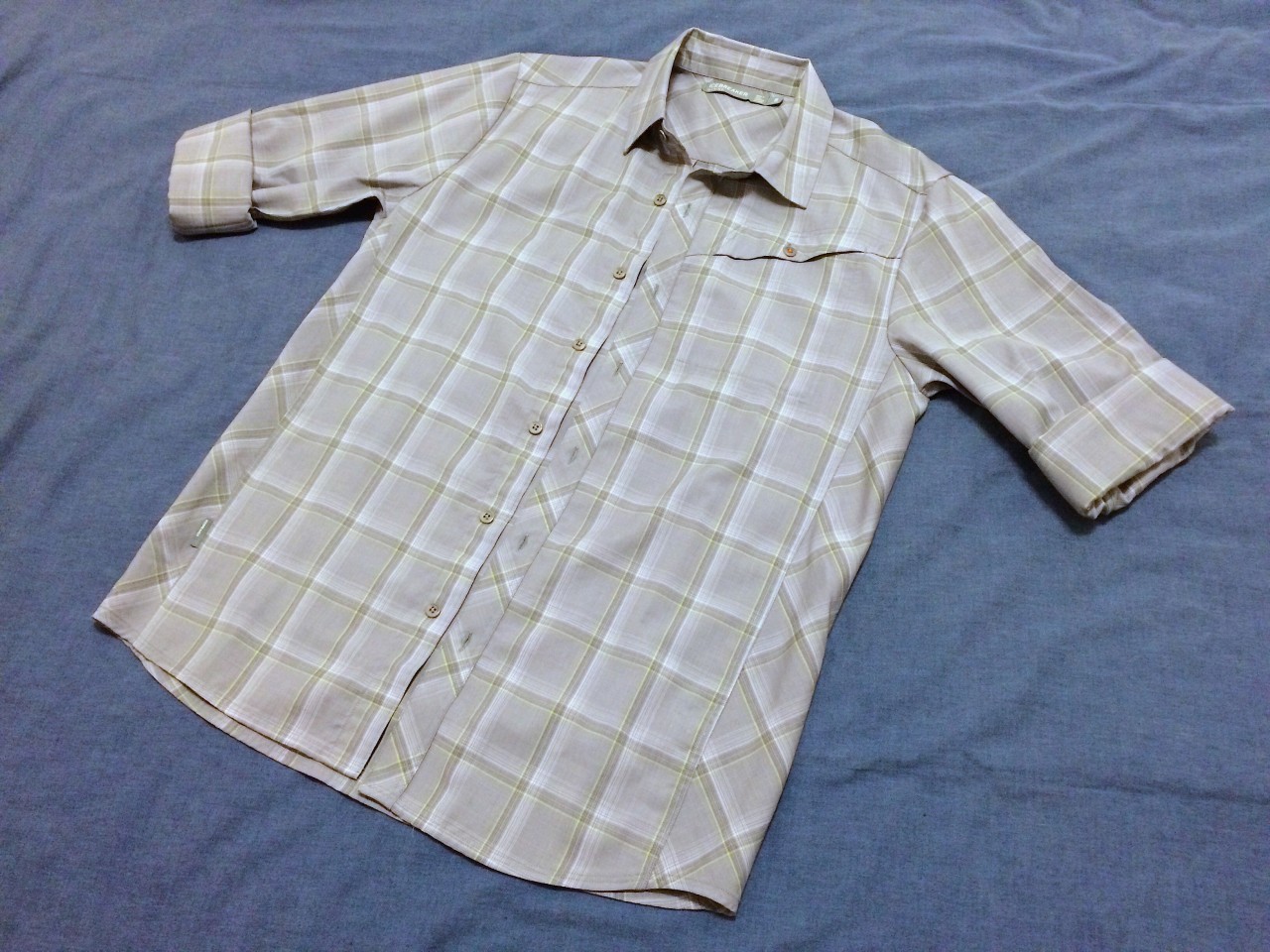 …I have more puns, but I think you get the idea.
Why merino wool dress shirts are your new best friend
Merino wool has long been a mainstay of hikers and scruffy backpackers alike, prized for its ability to regulate body temperature, handle immense perspiration, remain utterly immune to wrinkles, and entirely impervious to body odors of any kind. Mountaineers have pushed its legendary anti-odor ability to the limits, wearing merino wool clothing for several months at a time without washing at all; it'll still look (and smell) brand new.
And, in recent years, these spectacular performance advantages have arrived in formal attire, as merino wool dress shirts have become a reality. There are all sorts of perks that arise from this, but my favorite part is: They don't wrinkle. They literally cannot wrinkle.
Here, I'll show you: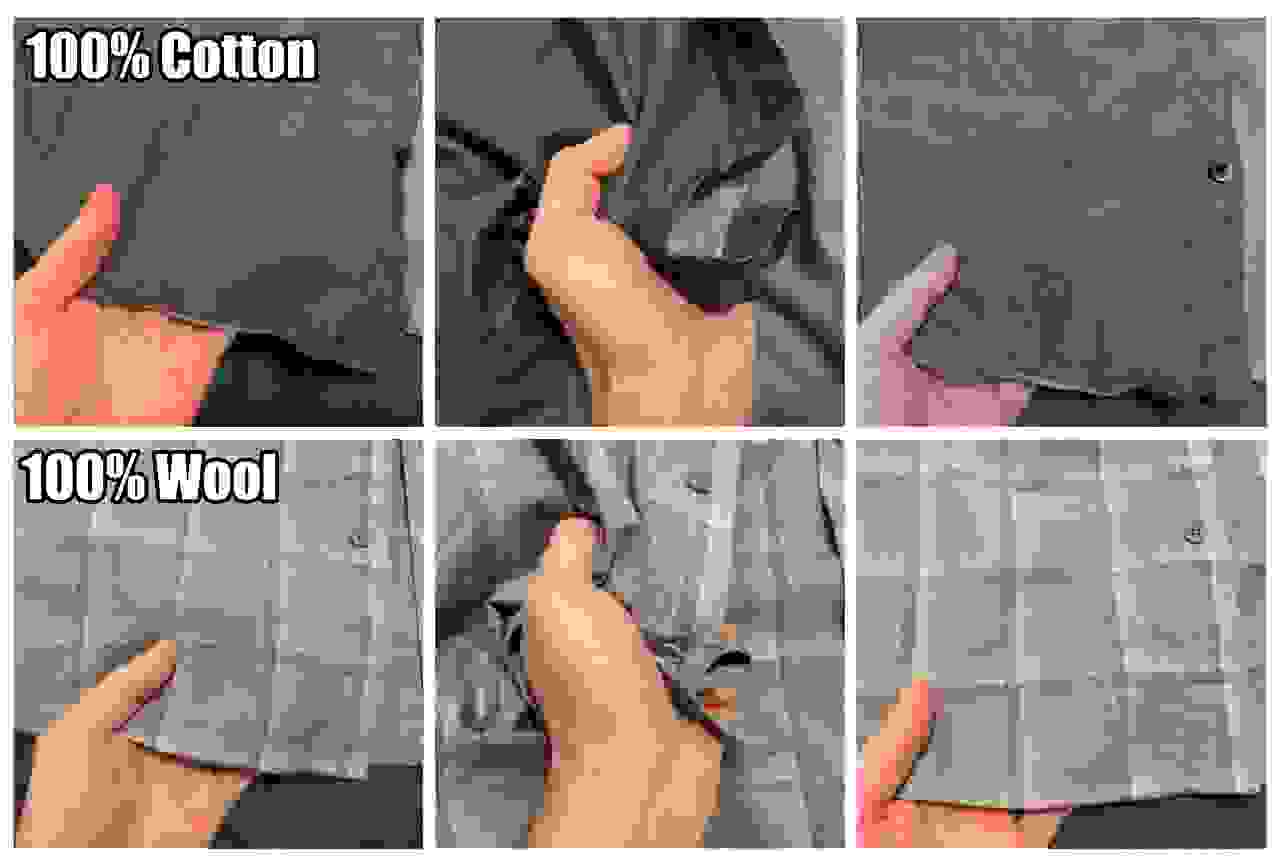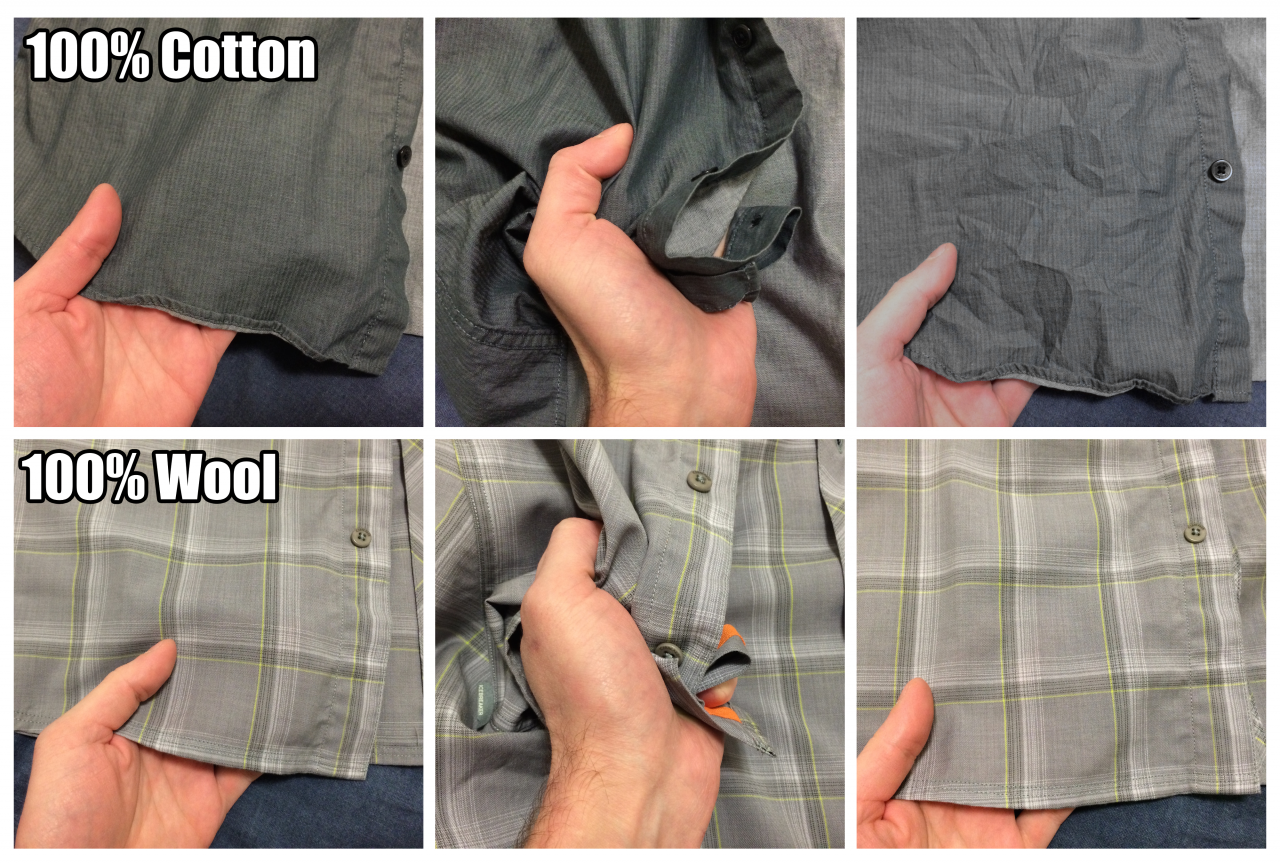 I cannot get wrinkles in there, even if I try. Check out a close up: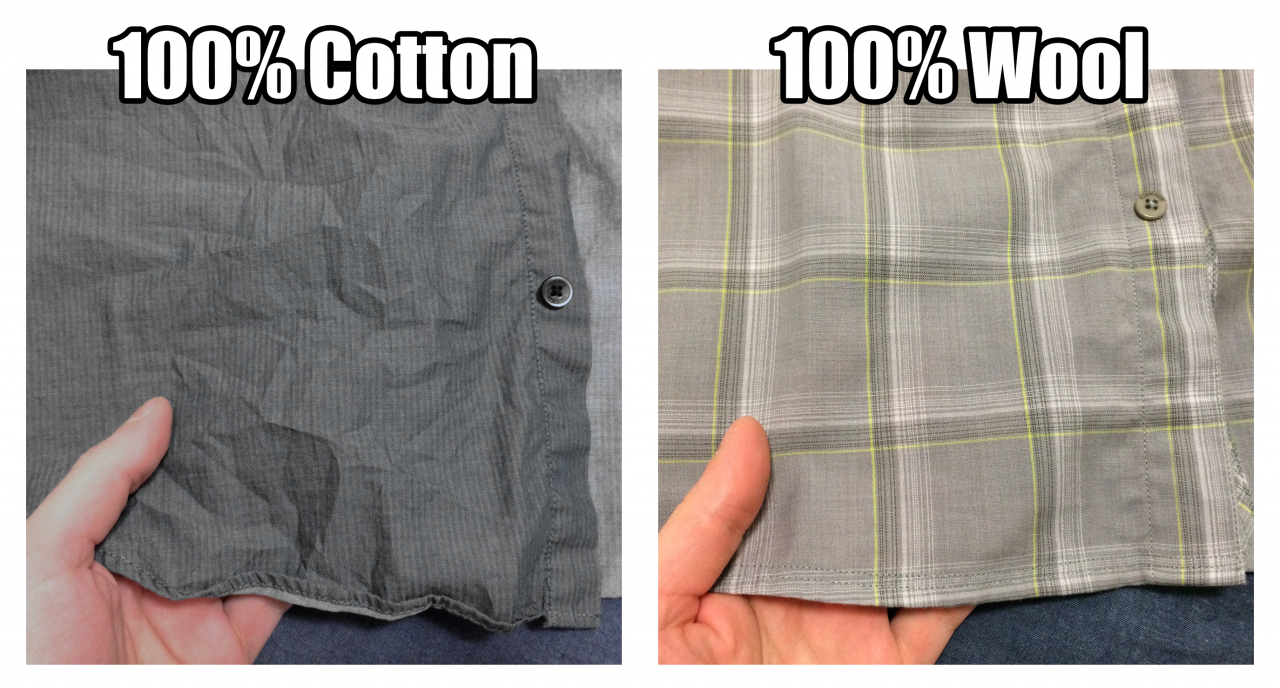 This is a shirt you can stuff into a backpack and yank out looking great, and why would you ever want anything else!??!
Straight out of the box, some of these shirts have creases, from sitting packed on a shelf for a while. Once you get those out (either with ironing, steaming, or, my favorite, the vinegar-in-a-spray-bottle method), you won't have much to worry about from then on.
And this certainly isn't the only advantage merino has over cotton; merino wool is softer, more breathable, more temperature regulating, and, most famously of all, it's immune to body odor. But my favorite thing of all is that it won't require dragging a hot slab of steel over the fabric over and over again just to keep it from looking like garbage. Argh! Ironing is so damn stupid. I'm going to throw out all of my cotton shirts someday, and I will never look back. Never I say!
One thing that was interesting was that they probably won't dry faster than cotton after a sink wash. If you're comparing t-shirts, merino wool generally dries faster than cotton, but when it comes to button-ups, most cotton dress shirts are paper-thin, whereas some of the merino dress shirts I've seen are a little thicker, for added durability, and will thus take a little longer to dry. Not a huge deal, since you don't have to wash them that often, but something to be aware of.
Okay! Lecture over. Let's take a look at the options. Some are made of pure merino wool, and some are blended with cotton to give it a crisp, dressy look, although 100% merino shirts look great too. They have a bit of a looser drape, but I don't mind. Here we go:
100% merino wool buttoned shirts:
1) Icebreaker Departure Plaid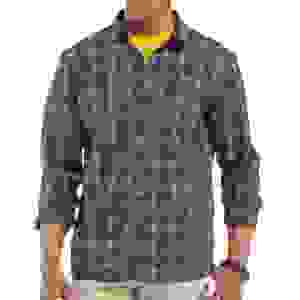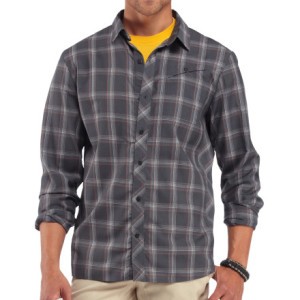 This was my first foray into merino wool button downs (it's the one pictured above), and it was a good one. This is the only one I know of (at the moment) that has a casual rather than a dressy look, with some modern flair with the unique chest pocket.
The fabric is more on the lightweight side at 150 grams per square meter, although some of the dressier options below are even lighter, and this felt just a bit on the warm side on hot days, especially with an undershirt.
It's plain and simple, with just a single chest pocket, and no other features, though it makes use of diagonal plaid along the button placket and side panels. I've seen it available in solid colors as well, but I think it looks great in plaid, and it's one of the few that comes in that pattern, as most of the alternatives are much dressier. I managed to find mine on sale for half off, and it shouldn't be too hard for you to do the same, given Icebreaker's product proliferation.
Price: $150 (easy to find on sale)
Fabric: 100% merino wool
Fabric weight: 150 g/sq. m
Get it here, and check out the other Icebreaker options, as they tend to have quite a few (Ibex and Smartwool have been getting in on this too, although they rotate through products every year, so I probably won't add individual items to this list).
2) Wool & Prince Better Button Down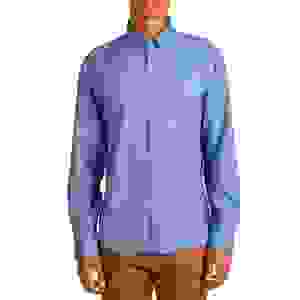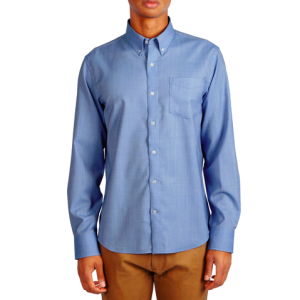 This shirt launched on Kickstarter by managing to raise over 1,000% of its funding goal, spurred on by the viral anecdote of the founder wearing a single shirt for 100 straight days. He never washed it… and it never wrinkled, and never smelled. Shouldn't everything work that way?
Wool & Prince has expanded quite a bit since then to offer the widest dress shirt selection of anything on this list; they started with button downs, and have since added spread collars, short sleeves, patterned styles (with a finer, softer merino than their solids), thicker fabrics, relaxed-fit versions, work shirts, t-shirts, and many other options. While other companies might offer just a few colors and styles, Wool & Prince already has a few dozen, and can practically supply your whole wardrobe.
I received a test sample of this, in the slim fit, and it's definitely great for long, lanky, athletic builds. The sleeves are long, the body is slim, and the hem falls down pretty far, meaning it'll do a better job staying tucked in. It's quite slim though, so even the regular fit is still going to be what other companies would consider a "slim" fit. The fabric actually has a bit of stretch as well, which was a nice little surprise. It actually fits better than other dress shirt fabrics with spandex, despite not having any. It fits me really well, as I'm one of those long, lanky people, and I love it; shorter people (like 5'7″ or below) might find it a bit too long, but anyone up to 6′ or more, especially with a lean or athletic frame, will absolutely love it.
The solid colors use a slightly coarser fiber than their patterned options, however; it's not enough to bother me too much, but definitely check out those finer options if you have sensitive skin. It's also quite light at 130 grams per square meter, which is a weight I think is ideal for dressy situations, especially when you have to wear a blazer and maybe an undershirt, but they've got options at 170 grams per square meter for cooler weather, too.
Price: $128
Fabric: 100% merino wool
Fabric weight: 130 g/sq. m (with other thicknesses available as well)
Get it here.
3) Libertad Apparel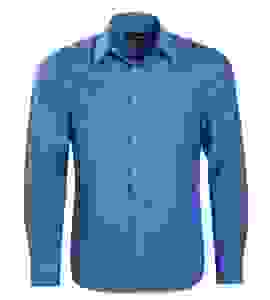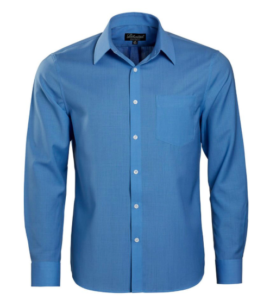 A relative newcomer that's finally transitioned from the Kickstarter campaign to general availability, Libertad makes a 100% wool dress shirt, in a point collar, and rich, deep colors, with the added touch of a "convertible cuff," which allows you to close the cuffs the normal way, or the cufflink way. It was inspired by the way they make shirts in Thailand, which have this option as standard, for easy conversion.
These are going to look at first glance quite similar to the Wool & Prince, especially as they're more or less the same price, thickness, and composition; the major difference is that Libertad is using a finer grade of merino in their solid colors, making for a softer, smoother fabric. They've also got a point collar (rather than button-down or spread), and they make a more solid blue than you'll find elsewhere. The fits are also roomier in the waist, whereas the Wool & Prince fits are better for athletic or slender guys. Even in Libertad's slim fit, it's broader than W&P's slim, so this is definitely better for stockier builds.
Libertad sent me a test sample, and I'll be doing a full review in the near future, but it's a top-notch dress shirt, with those important differences to set it apart from the rest. It even has a little pen slot, hidden in the chest pocket.
Price: $129
Fabric: 100% merino wool
Fabric weight: 130 g/sq. m
Get it here.
4) Seagale Active Merino Shirt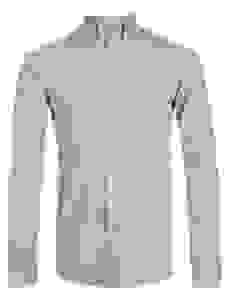 Seagale is all the way over in France, and they make a literal head-to-toe range of casually-styled performance products to cover whatever situation you might run into. If you're reading this over in Europe, you'll probably have an easier time shopping with them than the American companies, as you won't get stuck paying international shipping fees, so they'd be a good one to keep an eye on.
Their brand new wool dress shirt is made of 100% merino, in a thicker fabric than the alternatives above, making it more suitable for moderate or cooler weather, rather than tropical summers (although Icebreaker and Wool & Prince have options this heavy too). They're using a fine grade of merino that'll be nice and soft, in a classic, button-down style.
This is relatively new, so they've only got a few colors, but they're the standard ones that you'd expect dress shirts to be. Just avoid wearing this in hot summers, as you're likely to overheat, especially if you're also wearing a blazer and an undershirt.
Price: 120 euros
Fabric: 100% merino wool
Fabric weight: 200 g/sq. m
Get it here.
Merino/cotton blend buttoned shirts:
Minor update: It looks like just about all the options in this section have been discontinued…but I'll be leaving them here as a eulogy for now.
5) Outlier Merino/Co Pivot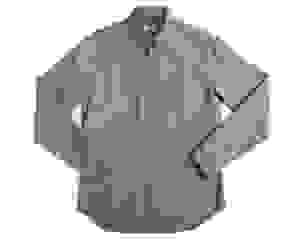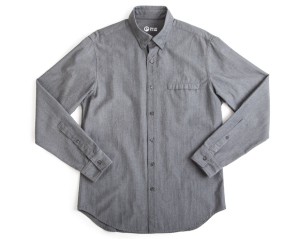 Outlier has informed me that this is the shirt they're most proud of. They literally went around the world looking for something suitable, and built a merino/cotton button-up that combines the wrinkle resistance and the temperature and moisture regulation of merino wool with the crisp, structured appearance of cotton. They call it "the one to travel the world with."
It has a mostly-classic appearance, though with a unique chest pocket (the flap actually goes down, so you can do a handstand and nothing will fall out), and a hidden button-down collar. It also has Outlier's Pivot Sleeve, which allows stretchy arm movements, even with mostly non-stretchy fabric, by using a technique called "cutting along the bias," which allows stretch along a diagonal, if you orient the fabric at that angle.
It's definitely on the warm side though, so it's not quite a summer-appropriate sort of thing, unless you're the type of person that's always cold.
Price: $175
Fabric: 59% merino wool, 41% cotton
Fabric weight: 200 g/sq. m
Update: This one is no longer available, but Outlier has released a few new ones for 2018 made of merino in a variety of weights and styles.
Any other brands?
I just wanted to give a quick mention to the others entering the market, such as Civic, a sub-brand of Taylor Stitch, and Wolk-Antwerp (located in Europe), although both have an extremely small selection for now.
Is there a poor man's alternative?
Yup! Merino is pricey, and there's just no way around it. Those adorable little sheep need to eat, you know. But a cheap alternative is a cotton/polyester blend button-up shirt. Even just a little polyester will practically eliminate all the wrinkles, and it'll help a shirt dry fast enough that you can wash it in the evening, and it'll be ready to go by morning.
Cotton/polyester blends probably won't be as good as merino wool (partly because most of them include polyester because it's cheap, which means they're looking to cut corners, and might cut several), but if cash is a concern, this is a decent option. I've got a 60/40 cotton/polyester plaid button-up from Volcom that looks fine, and cost me $40. Not as good as merino (particularly in terms of odor resistance), but not bad. Tencel is another promising fabric alternative, but nobody's using it at the moment.
But, whichever way you go, you'll be set for low-maintenance adventurousness all over the world, looking snappy and presentable even if you are scruffy and uncultured. Or, alternatively, it'll enhance your ability to be incredibly lazy at home, because merino wool dress shirts will convince you to never pick up an iron ever again.
Either way, win-win.