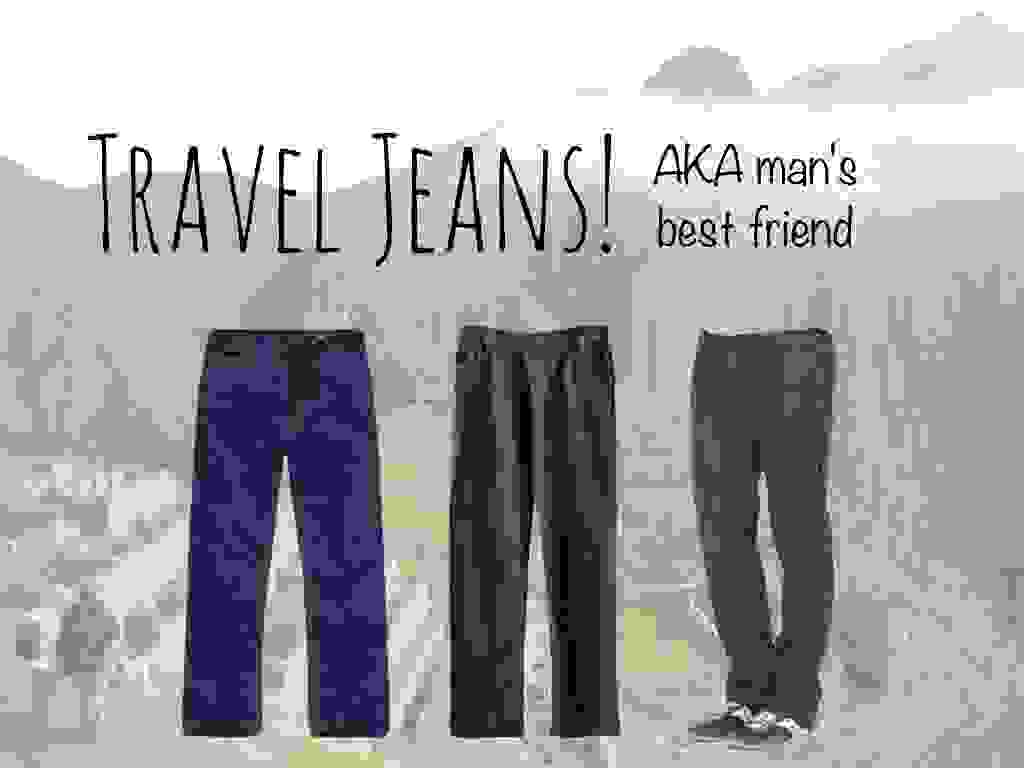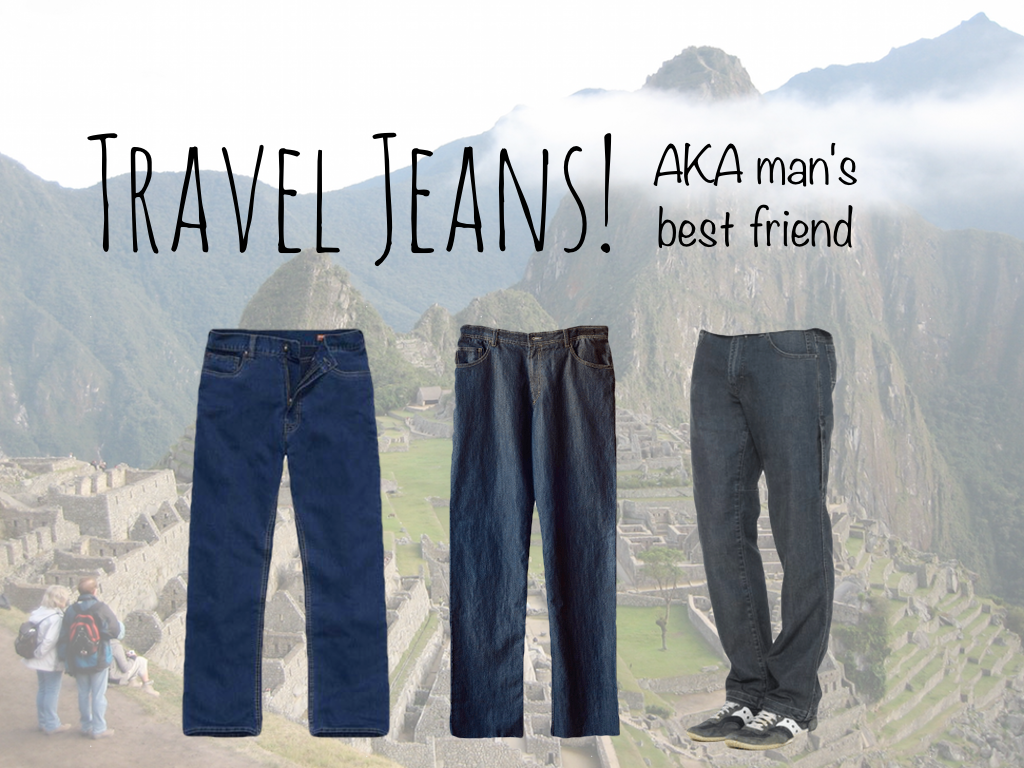 For the last decade or so, I have spent a stupid amount of time tracking down high-quality travel gear, digging through mountains of insufficient nonsense in an attempt to find suitable items for global adventures. Though each and every category of apparel results in disastrously difficult searches no matter how easy the process should be, there is perhaps no article of clothing more elusive for the discerning traveler than a decent pair of travel jeans.
What are travel jeans, you ask? Well, perhaps the better question is what travel jeans would be, if the world were not so stupid as to preclude their existence. They'd be lightweight, packable, durable, fashionable, wrinkle-free, quick-drying, breathable jeans that could accompany you on any adventure, anywhere in the world, and keep you looking good the whole damn time.
Sadly, the world is filled with 7 billion people who have failed to make such a wondrous creation in widely available numbers. And we are all the lesser for it.
…but do you really want jeans for travel anyway?
Yes, you do. They look good, right? They feel good, right? So why wouldn't you want to look good and feel good while in Paris or Tokyo?
Ah, but wait! Jeans are thick, bulky, heavy, sweaty, and gross. Don't you want something high-tech, breathable, packable, lightweight and low-maintenance?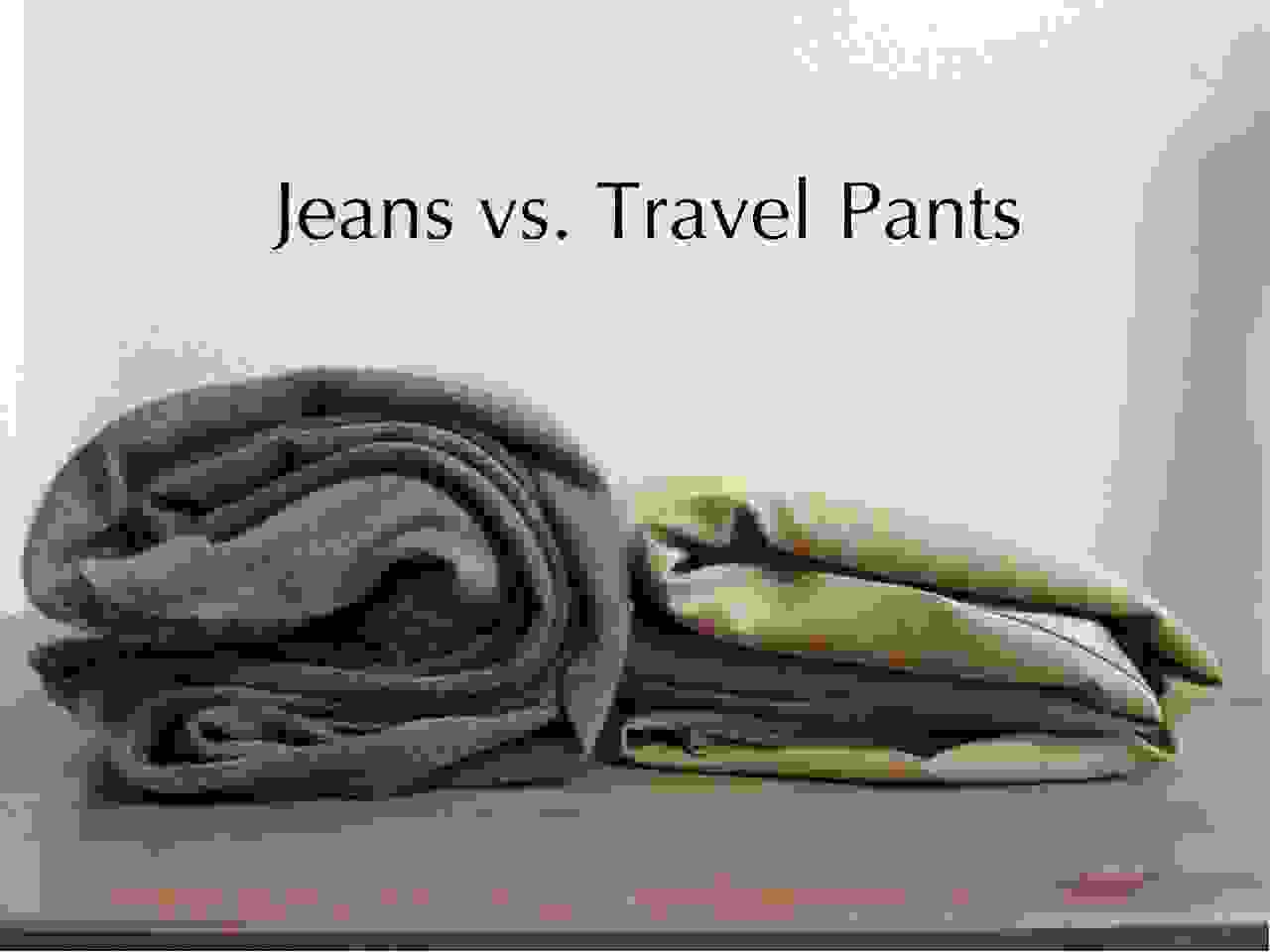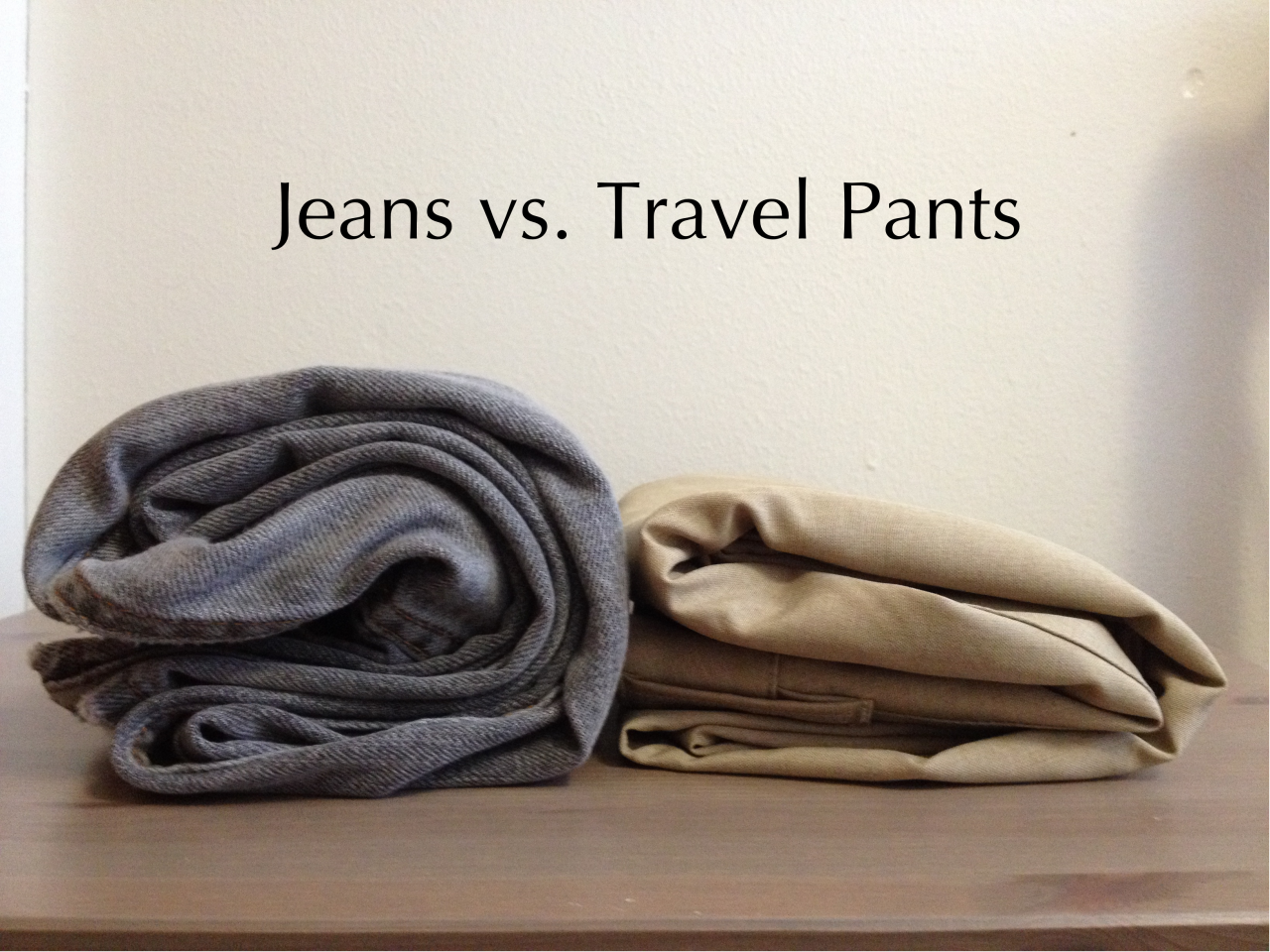 A better question is, why can't jeans do this too?
What would travel jeans look like?
I go back and forth on what would constitute the perfect pair of travel jeans, and it hinges on the fabric: Whether to go high-performance, or merely medium-performance.
Most travelers will eventually find themselves doing a sink wash and hang dry, in which case a 100% synthetic fabric is immensely useful. If you hand-wash your clothes in the shower every time you take a shower, you can travel forever with just a few changes of clothes.
But there's something to be said about the comforts of soft, familiar, natural fabrics as well. Though it would make sink washes somewhat more difficult, a 50/50 or so blend of natural and synthetic fabrics would offer the comforts of home, while still providing some high-tech advantages. You might not be able to wash them and hang them up to dry overnight, especially if it's chilly (it might take 24 hours instead of 8), but you could just hold off until you get someplace where you expect to stay for a few days, and do it there. Or pay for laundry, of course.
Ideally, I'd like to see both options, with the following features:
High-tech fabric, whether purely synthetic or blended, for reduced weight and increased packability, and quick-dry performance.
At least one security pocket, for hiding a passport, or some extra cash.
Normal appearance! Seriously, I don't understand why so many companies out there look at the world's most amazing style of pants, and choose to screw it up. I certainly don't mind a little pizzazz, but I get annoyed that we often only have pizzazz-y options from which to choose.
So let's see what we've got, shall we?
May I present: The colorblind outdoor industry
It's just a giant, simmering cesspool of wrong.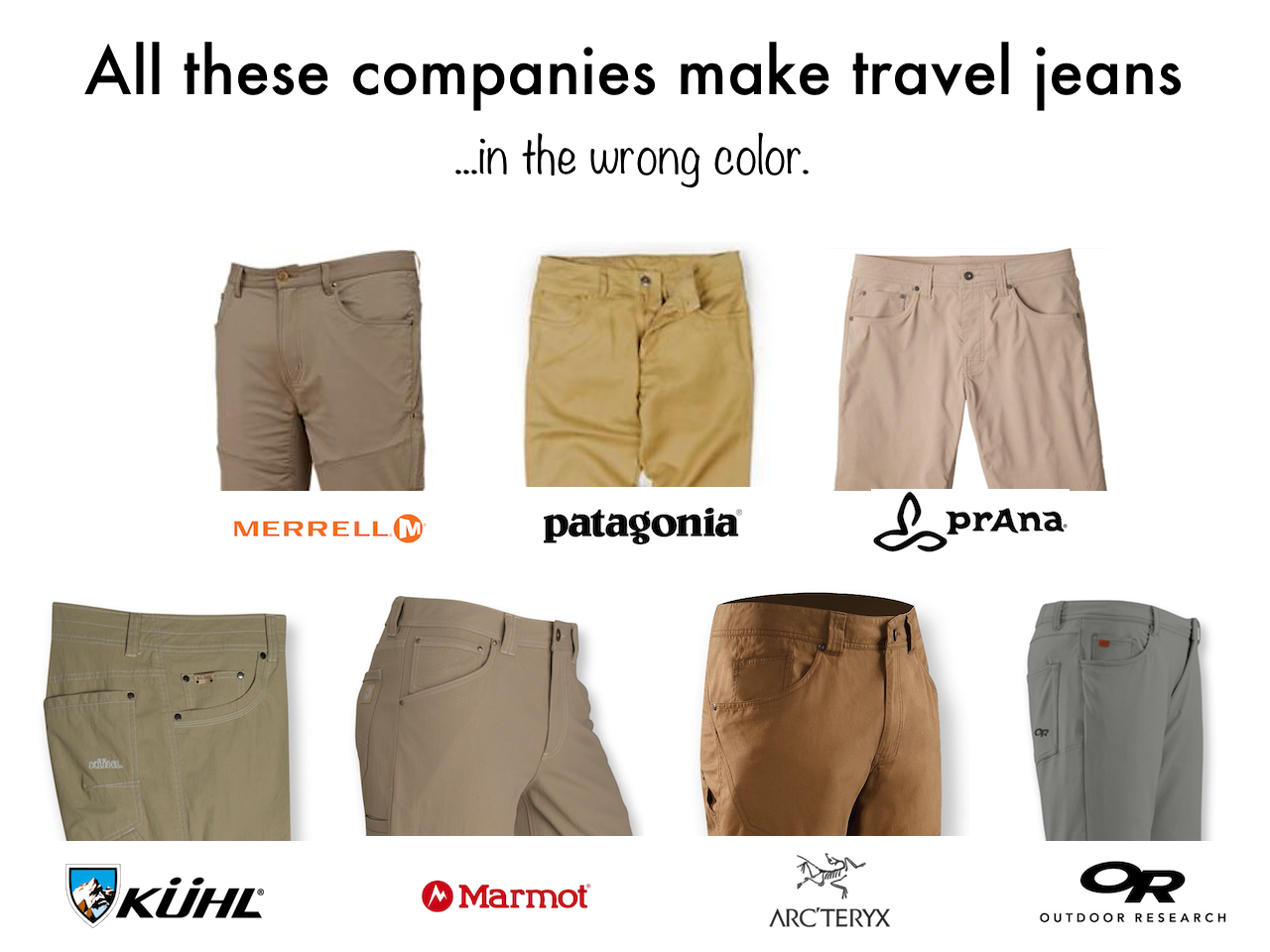 It's not like there's anything particularly wrong with making a pair of high-tech khakis with jeans-style pockets. I'm a big fan. I'm just left incredulous at the idea that these companies quite often only make them in dirty trail colors, instead of the reliable denim blue that is purchased by billions of people every year.
Seriously, guys. What's the deal? Is the target market of everyone who loves jeans just too lucrative to handle? Sigh.
A few good travel jeans!
Okay, so I've tracked down every travel jean on the planet that I know of, and I try to keep this list updated whenever something new comes along. To qualify for this list, they have to use a technical or semi-technical fabric, have at least one zippered security pocket, and look just like jeans. Here they are:
1) Rohan Jeans Plus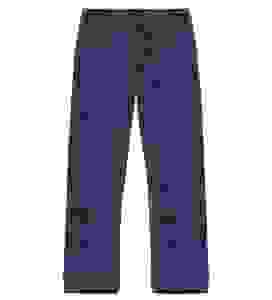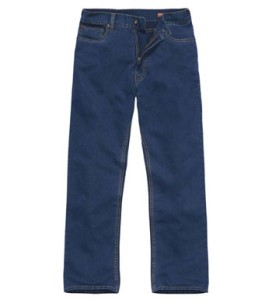 The UK-based Rohan is one of the very few companies out there that makes travel clothing, rather than ridiculous hiking clothing. I can't wait for them to expand further stateside.
Made from a blend of about 2/3 cotton and 1/3 polyester, these will dry a whole lot faster than ordinary jeans, maybe even overnight (depending on the environment, of course), while still feeling pretty much just like ordinary jeans. They're stretchy, too. The fabric is fairly thin and light, so they'd work nicely for warm or even hot weather.
In addition to the regular jeans-style five-pocket layout (three of which close with velcro), they've got two additional hidden pockets (one zippered and one velcro), both of which are big enough to store a passport. All in all quite a solid item. It's just that simple to make jeans for travel.
Update: Rohan sent me a pair to try out, and they've been great so far. The full review is right here, but the short version is that they work great, but you'll probably want to go a size up in the waist if possible.
US customers can get them here.
2) The "Best Travel Jeans in the World" (from Aviator USA)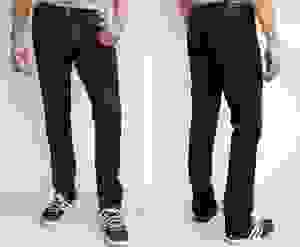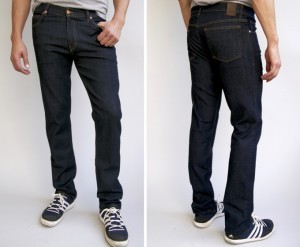 This Kickstarter project is now in regular production, and it's a good one.
These have the standard five-pocket style, but with two additional zippered pockets; one in the front left pocket, and one in the back right pocket. Both are concealed within the pockets, so they're stylish and secretive at the same time. The "fifth" pocket (the tiny one that people use for coins) has been expanded, so that it's big enough for most smartphones. They've also got a clip on one of the belt loops, kind of like a built-in carabiner.
The fabric is a blend of cotton, polyester, rayon, and spandex (though mostly cotton), so it's soft, stretchy, natural-feeling, and a little hefty. This is more about soft, super-stretchy comfort than quick-drying performance, but they feel softer and more natural because of it.
They have more waist sizes than the Rohans listed above, but fewer inseam lengths (but the inseam is long, which is easier to handle than something too short). They also have slim and straight fit options, and there's even a women's version too.
Update: There's now a review! Take a look here for an in-depth look at all the details.
Visit Aviator USA to see them here.
3) Bluffworks Departure Jeans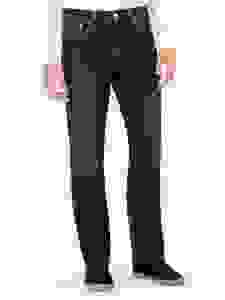 These have been a long time coming, and they're worth the wait. A soft, stretchy, quick-drying blend of cotton, polyester, rayon, and spandex, with multiple security pockets and no-nonsense style.
The secret pockets are hidden in back, along the yoke seam (it's that seam that goes horizontally just above the back pockets), which is a great place to hide a zipper that no one's ever going to see.
As for comfort, they're stretchy along the horizontal and vertical axis (and more than just a smidgeon, in both directions), meaning they're going to be super comfy. The addition of rayon as part of the fabric blend is a great way to add some soft texture as well.
I was provided a sample version from Bluffworks, and I'll be doing a full review, but in the meantime, they've been working out great for me, and you can pick them up here.
4) QOR Performance Denim Jean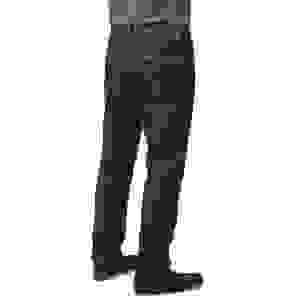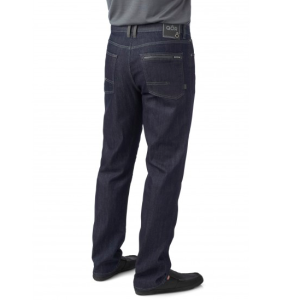 QOR has a vast catalog of products, and they've recently introduced a pair of jeans that fit right in with this list, featuring a blend of 73% cotton and 27% stretchy polyester.
They've also got a zipper on the back right pocket, and although it's not concealed, it's right along the edge of the pocket, where it doesn't look crazily out of place. It's also a water-resistant zipper, and although its water resistance probably won't be that important, it also means the zipper takes more force to open and close. If someone starts fiddling with it, you're going to know about it. I'd prefer it to be completely concealed, but with an untucked shirt, it'll probably be invisible anyway.
These also have reflective panels here and there, including inside the pant leg. QOR is somewhat fitness-focused, so they add athletic details like cycling reflectivity to a lot of their products. Sizes are kind of limited, but maybe they'll add more if it gets popular.
Update: I ordered one of these, and I like them a lot. The fabric is tough and durable (but not so light, so probably more suited to cooler weather than sweltering summers), and the way they've integrated an elastic waistband is genius. It's completely invisible, but feels soft and comfy, as opposed to those weird-looking elasticized pants you see in hiking stores. The only thing I'd change, aside from hiding that zippered pocket, is that the front hand pockets are pretty shallow, and they could be a few inches deeper. They're also pretty small, so definitely size up if you're on the fence.
Check it out here.
5) Prana Modus Climbing Jean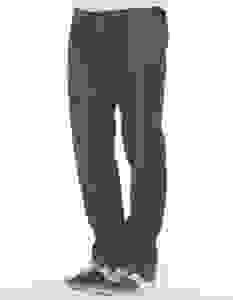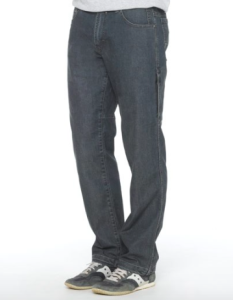 I'm pretty sure this is already being phased out, but I'm leaving it here until it disappears from the world completely.
The Prana Modus Climbing Jean has a stretchy blend of 72.5% cotton and 27.5% polyester, with a number of climbing-specific features that characterize Prana's semi-performance/semi-casual design philosophy.
There's a zippered security pocket on the left thigh, and the back right pocket is zippered as well (oddly enough, with a vertical zipper, along the side of the pocket). Directly above that, there's a semi-hidden pocket up by the waistband, which is a good place for stashing extra cash, since no one will ever think to look there.
Because of the extra seams in back, the gusseted inseam, and the semi-visible thigh pocket (the stitching that holds it in place is visible, so it's not exactly a "hidden" pocket, although I suppose you could just unstitch it), the design has perhaps a more rugged, utilitarian look than the others listed here; it's a little more apparent that they're not "regular" jeans, but of course it's up to you to decide if you like it that way or not.
Get them here.
Prana also released something called the Bridger, which has a super-comfy cotton/polyester/spandex blend, but no zippered pockets. If you can do without those, it's really great.
Wait, that's it?
Yup! There might be more out there somewhere, but they're hiding under a rock. It was hard enough finding jeans made with quick-drying fabric, but even harder finding some with security pockets. It's a harsh world we live in, but at least now we have several.
I'd also recommend taking a look at soft shell jeans, which don't look quite like regular jeans (they use solid colors, rather than the blue and white combo of regular denim) but soft shell fabrics are spectacular, particularly when it comes to durability, stretchy comfort, and wet weather performance. They're pricey as hell, but you'll have a hard time going back.
If you know of any others, feel free to share; but they've got to look like jeans, use a synthetic fabric, or a blend, and they've got to have a zippered pocket somewhere.
Edit: Bluffworks has released the Departure Jean, and it's great! Review coming soon. Check it out here.