You know how no matter how amazing fancy high-tech pants get, there's just something about a pair of jeans that can't be matched? The soft texture that just gets softer with time, the way they seem to fit better after breaking them in for a while, and the fade that gives them a nice lived-in look? There's just no way to get that with synthetic fibers, which is why I tend to reach for a pair of jeans the second I get back from a trip, no matter how comfy anything else might have been.
So wouldn't it also be great if you could take the same comfy familiarity of a pair of jeans, and combine it with the travel-friendly features that other travel pants have been offering since forever? Hidden zippered pockets, for example? So your passport doesn't just "disappear" in the middle of Nowhere, Mongolia with nothing but a yurt and a horse to be seen? Yes. Yes it would.
So Aviator USA has what they call the "Best Travel Jeans in the World," which is quite a lofty claim, though at the same time almost no one else on the planet even bothers trying to make such a thing, even though everyone should. But while they're still busy not even knowing how great an idea this would be, Aviator Jeans have already come up with something pretty great.
Oh, and ladies? They make them for you too.
Before we begin, I suppose I should mention if I received these as a promo sample, and although I did buy a pair all the way back when the Kickstarter was running, they were a little too small, and I didn't get around to sending them back for a new size, and had to get rid of them. But then a while later I got an email from the founder, who was hoping to get an in-depth review out into the world somewhere, especially since the original product had been updated since then. I asked if he'd be willing to provide me with the new pair I would have gotten if I had bothered with the sizing exchange back in the day, so that way I could include some real photos and evaluate the new features, which he was happy to do, so…kinda?
So with that out of the way, here we go.
Aviator Jeans, in review
Notice how they do not have silly zippers all over the place and logos the size of a basketball on every conceivable surface. I cannot stress highly enough how mandatory this feature should be.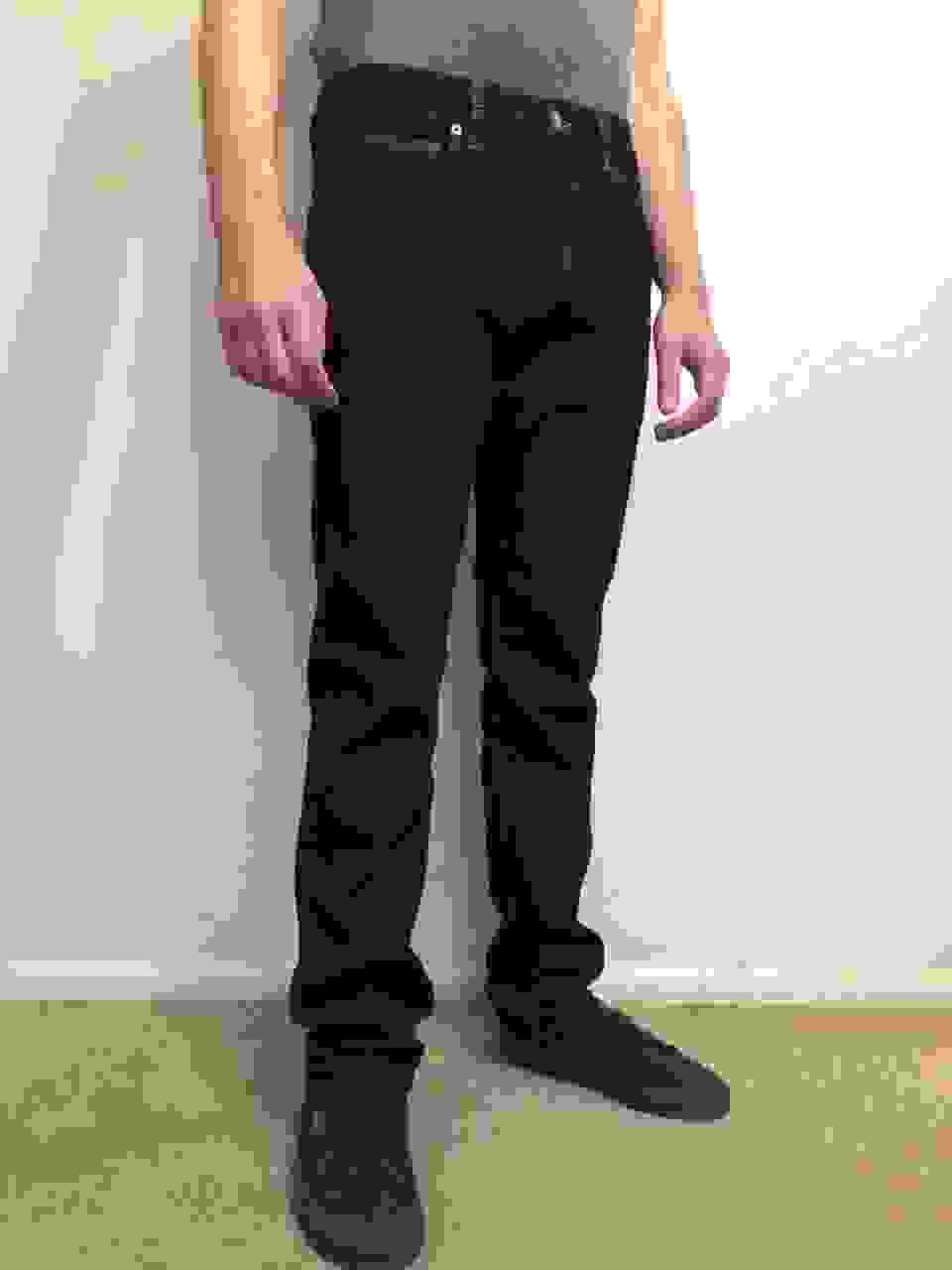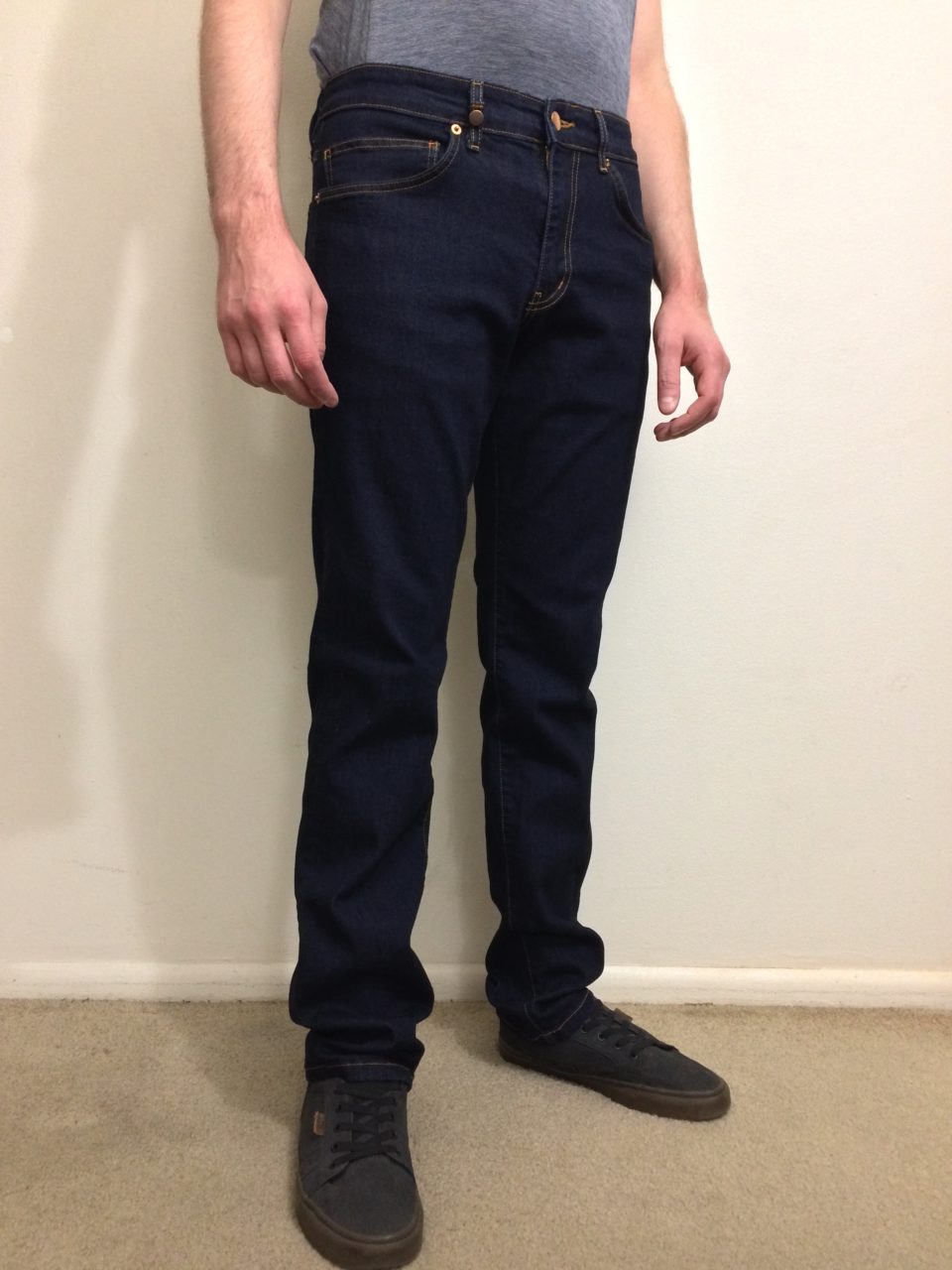 And in back: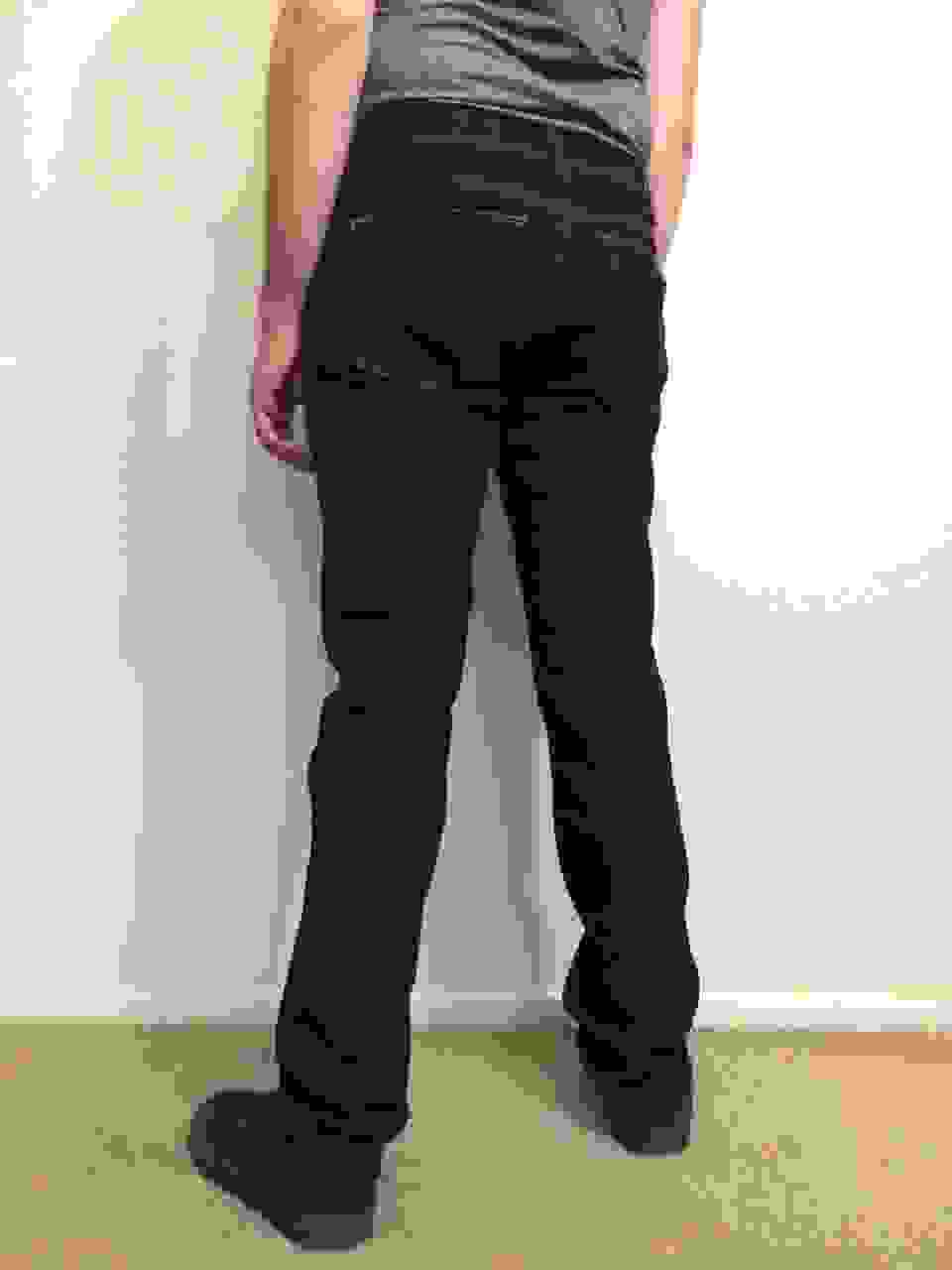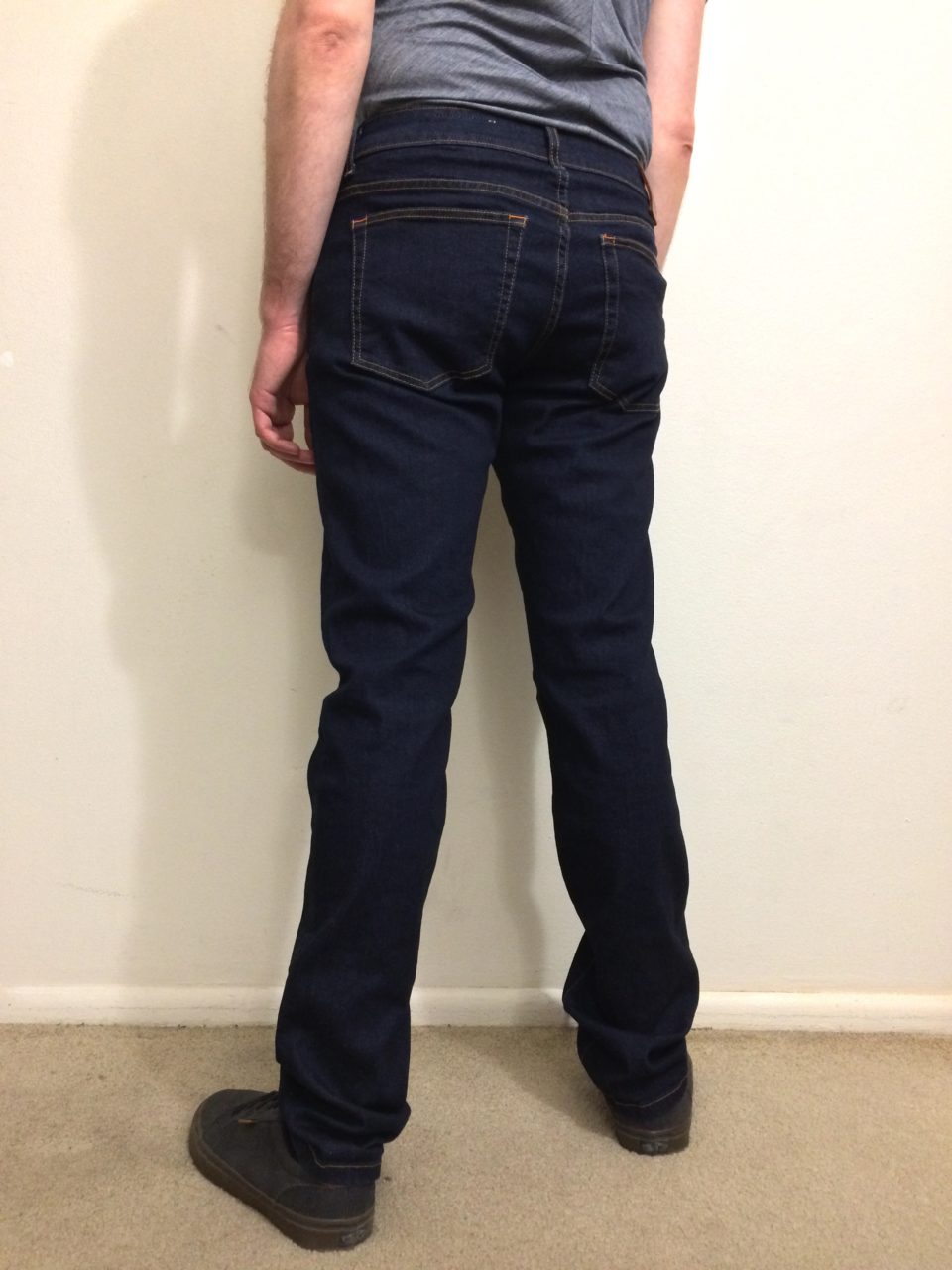 Sorry if it's a little dark, but the fabric is "dark indigo," which is the classic denim shade, with bright yellow contrast stitching.
Here's a closeup of the front: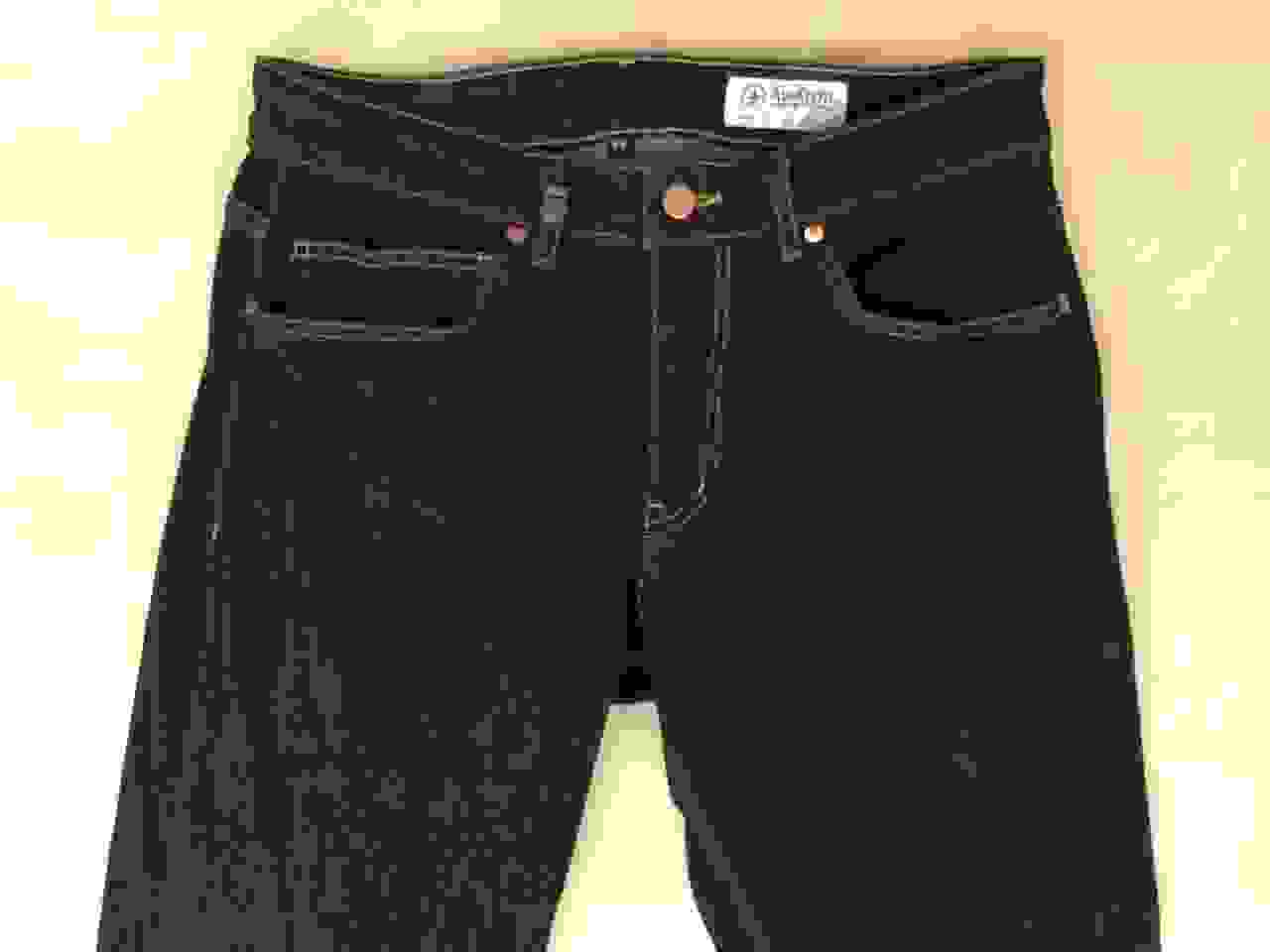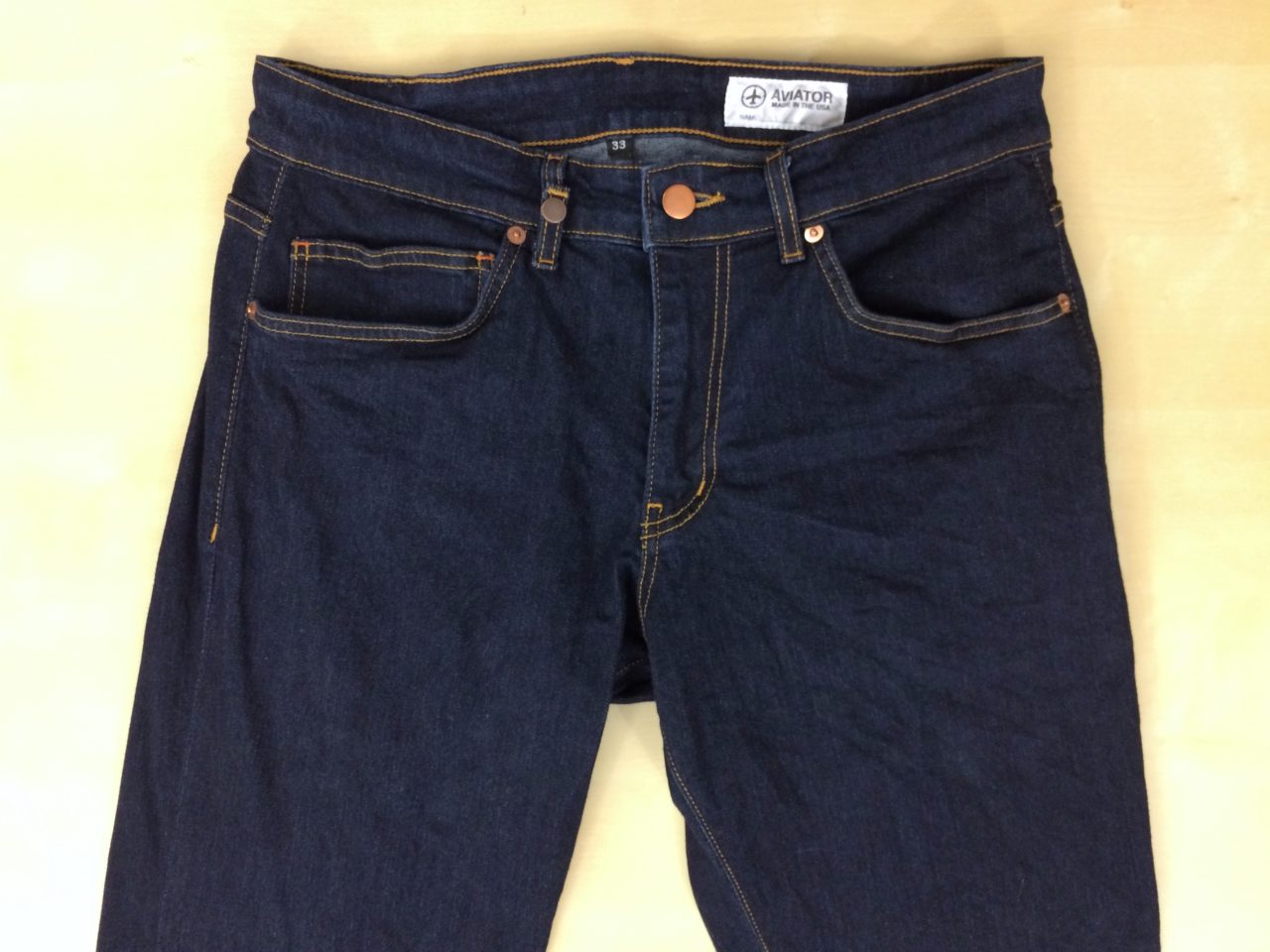 And the back (with the lighting a little bright on this one, so they're a bit darker in person):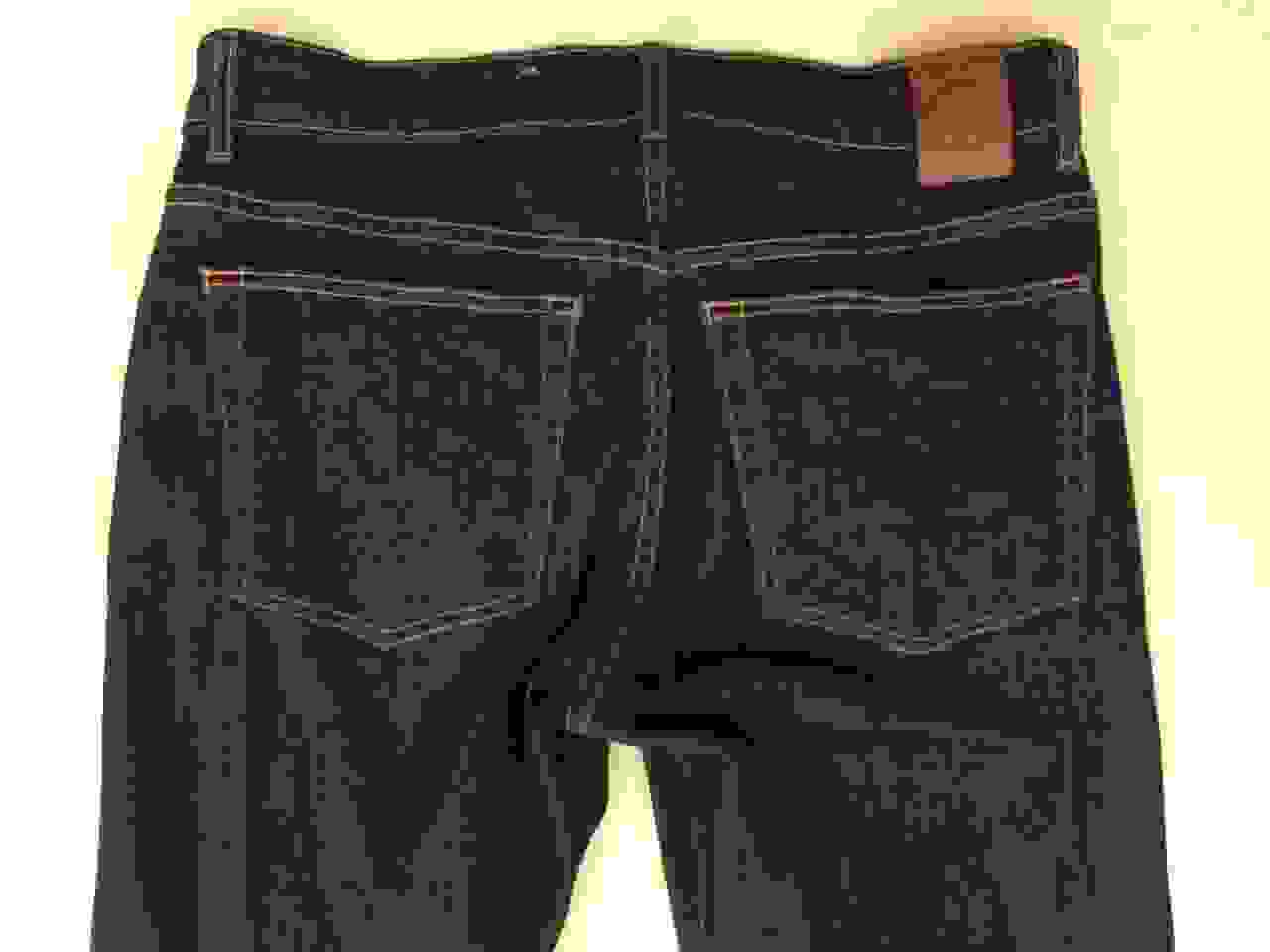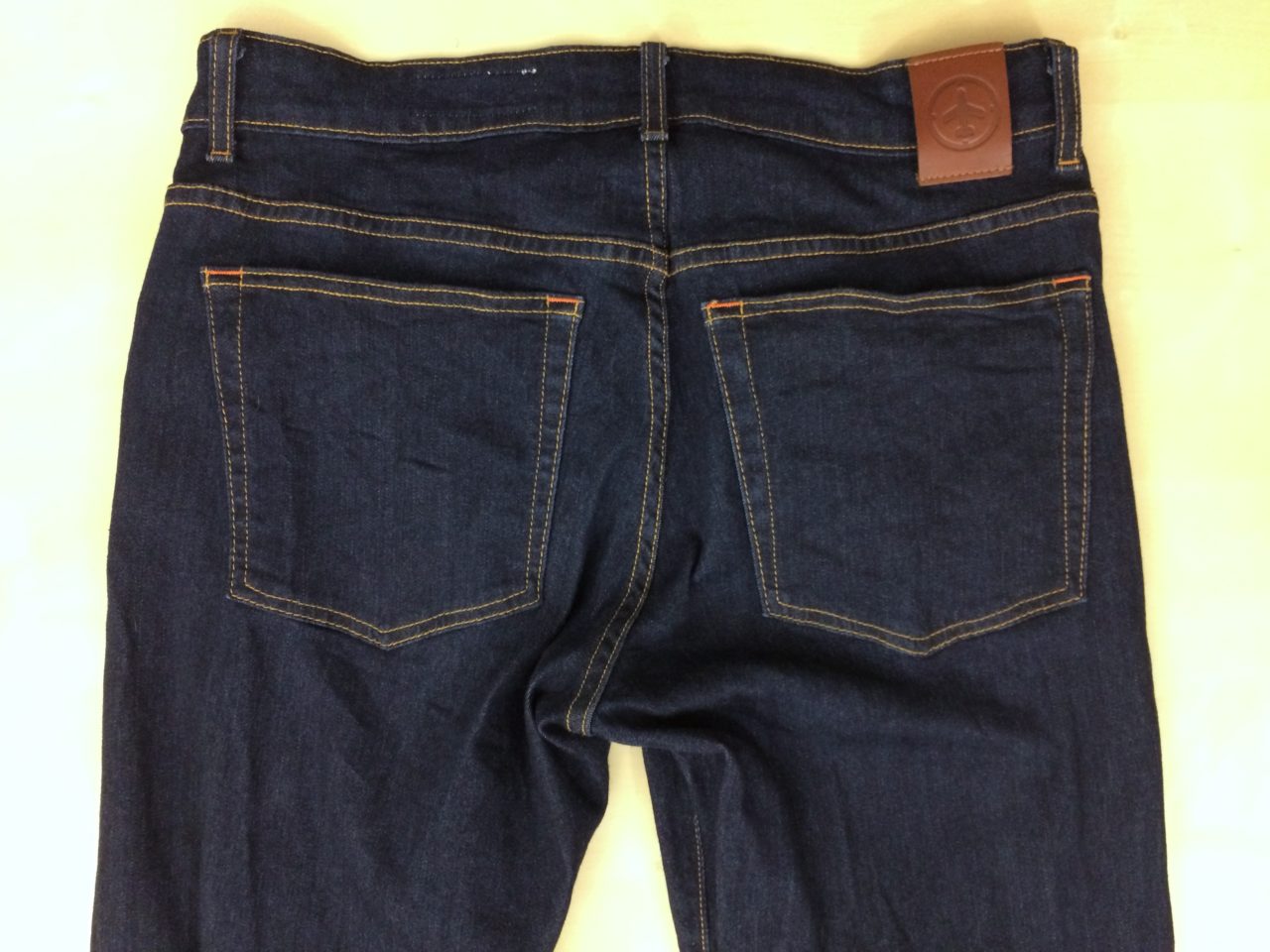 You might notice up there how the top of the pockets looks a bit loose (especially on the right pocket), as if there's too much fabric there, but this will disappear when it's worn, as it gets stretched out a bit and flattens perfectly.
Features
These do not skimp on the travel-friendly security features. Not only are there multiple zippered pockets, but a couple other little extras as well.
Here's the zippered pocket in the front left hand pocket, which is big enough for a passport: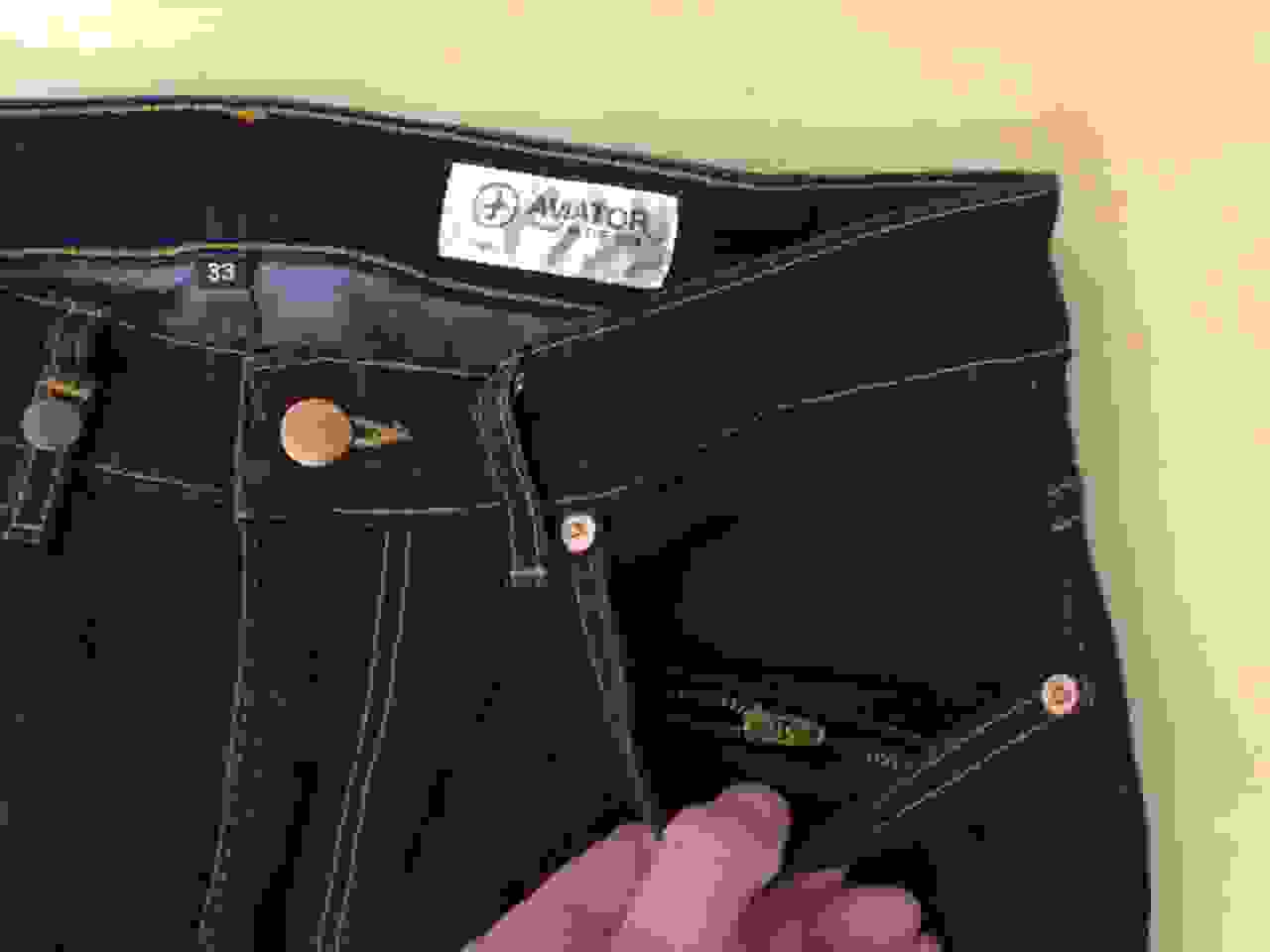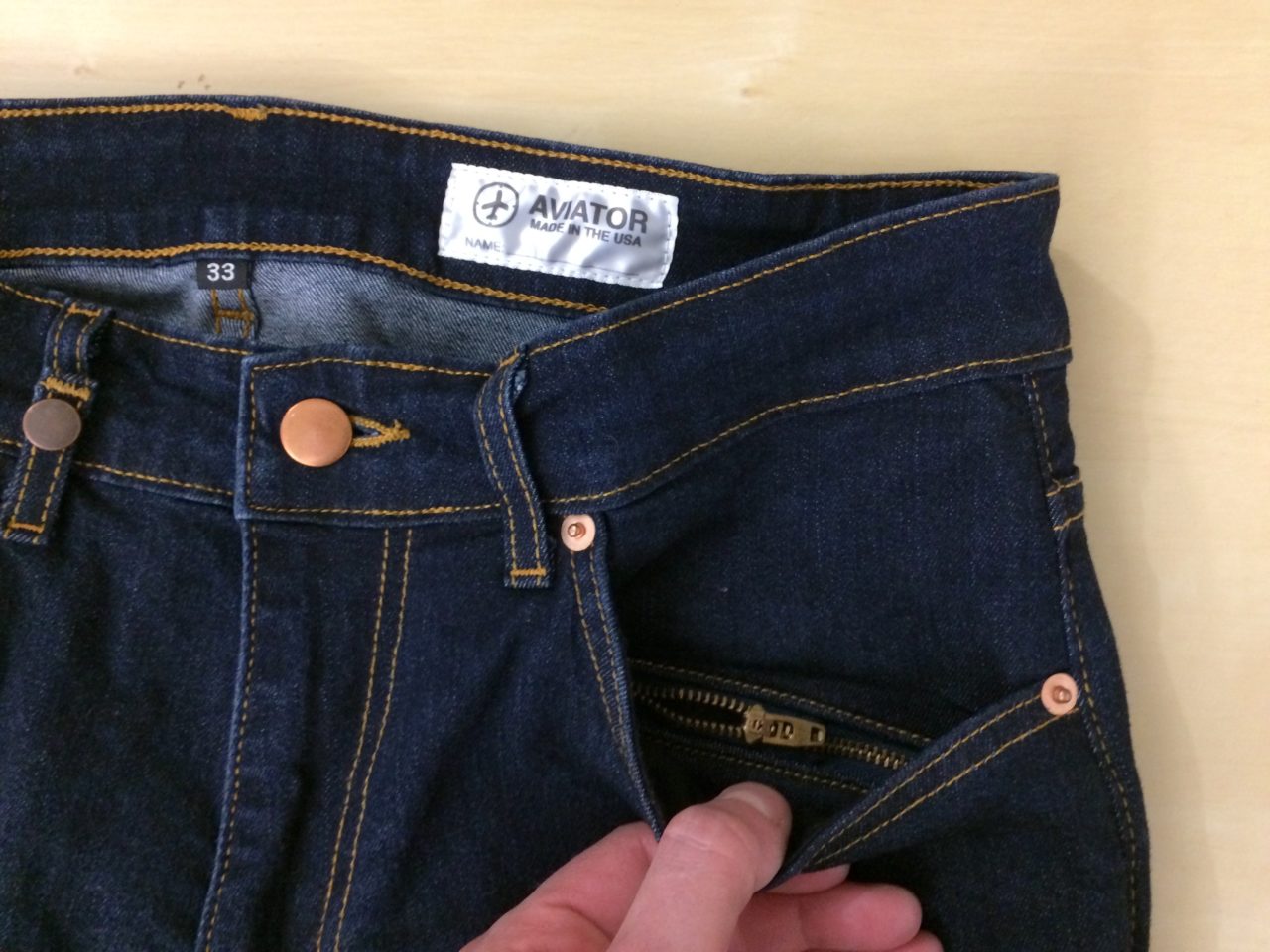 One of the improvements in this version is how the zippered pocket is sewn into the regular one; originally these were two separate pockets (and four layers of fabric), and they could flop around independently of each other. Sewing them together means it's easier to straighten things out by shoving your hand into the regular pocket, and that'll straighten out the zippered pocket at the same time. It still has four layers of fabric to form the two pockets, but at least they won't get crooked anymore.
Over on the right side there's a little snap on a belt loop, so you can hang something in place there, like coiled-up headphones, a camera on a wrist strap, an ID badge, or something like that. For something so tiny, it's quite handy.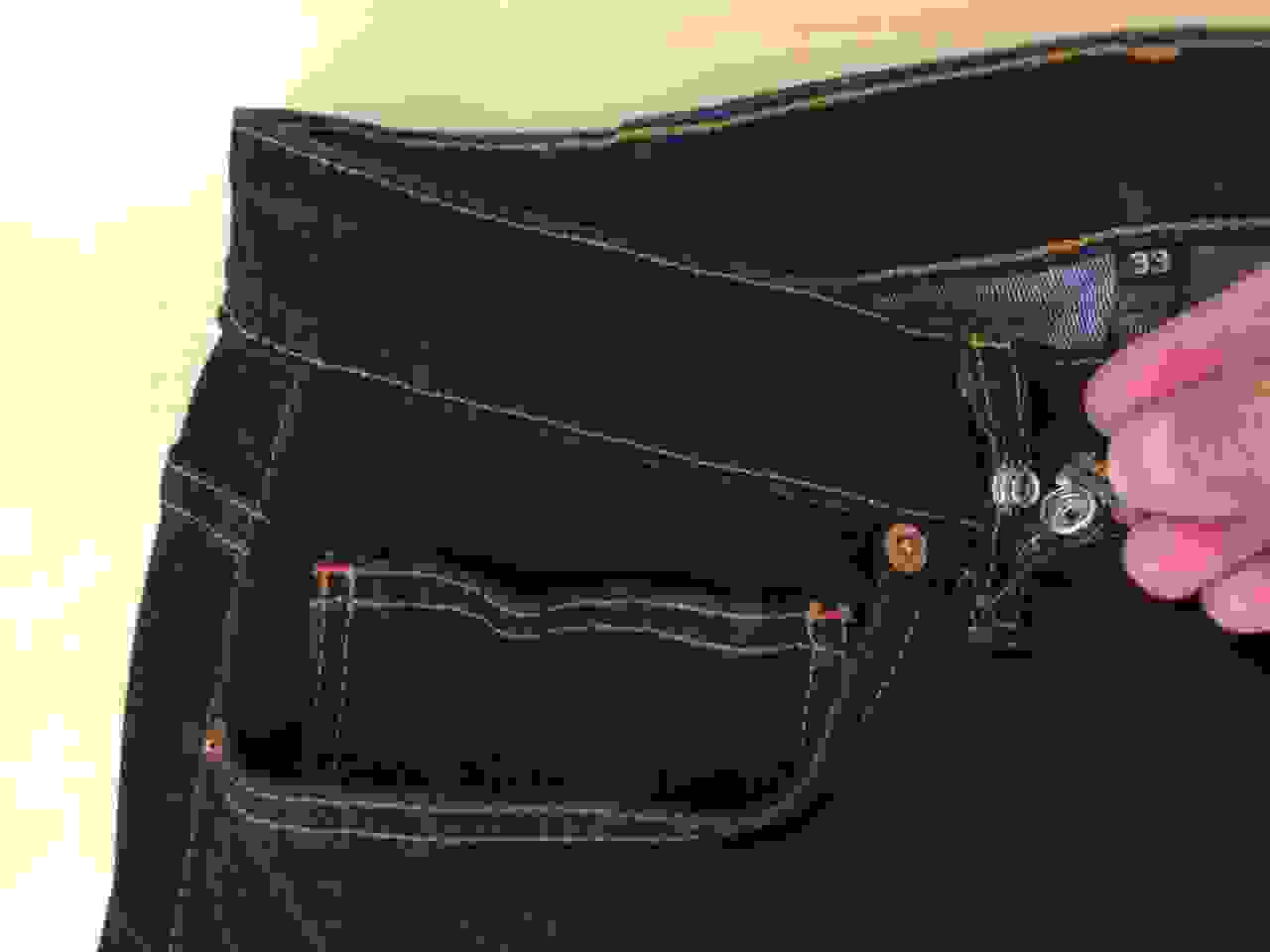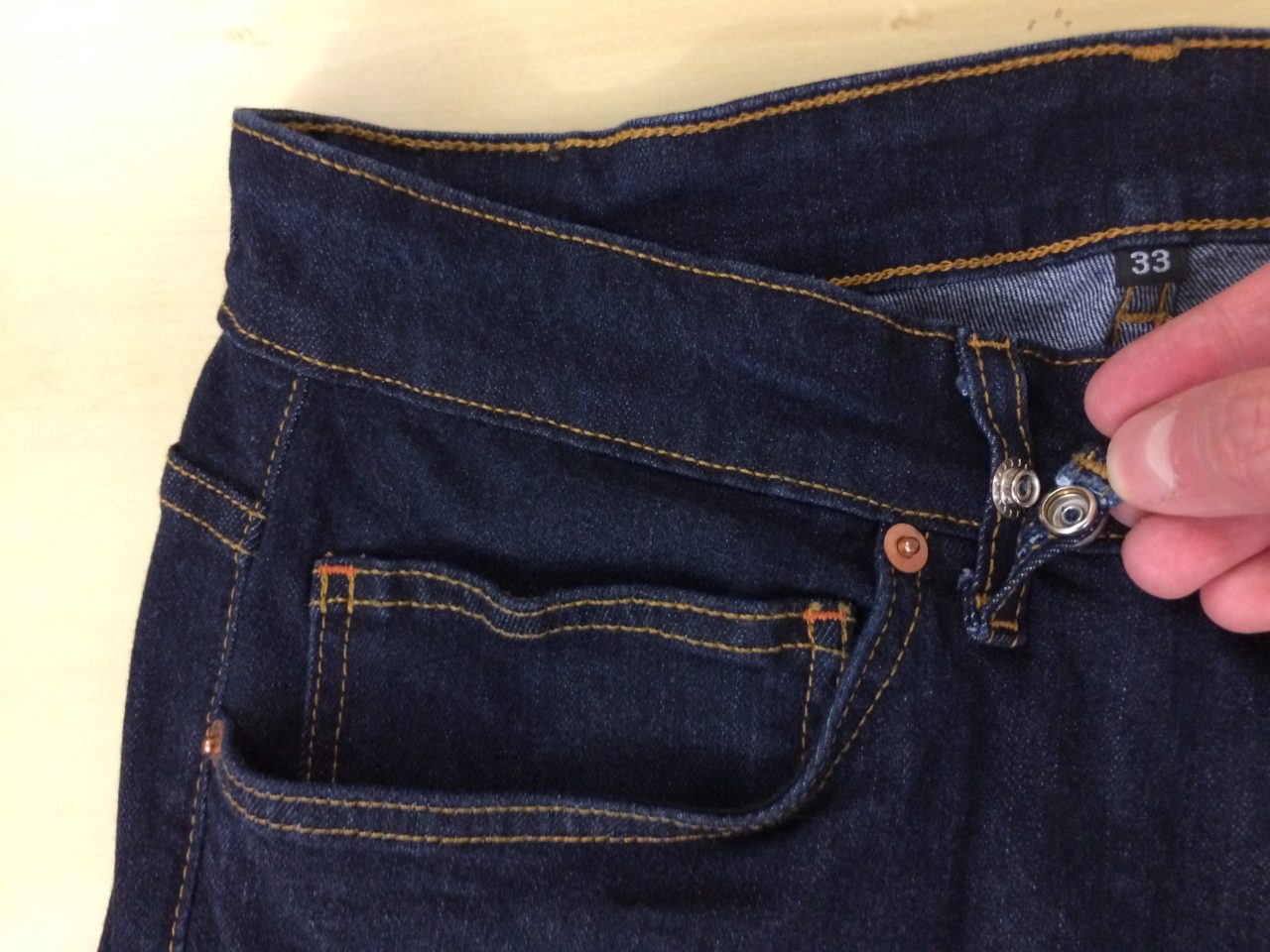 Moving over to that 5th pocket, which is usually so tiny you can't use it for much, but this one is deep enough to hold a smartphone.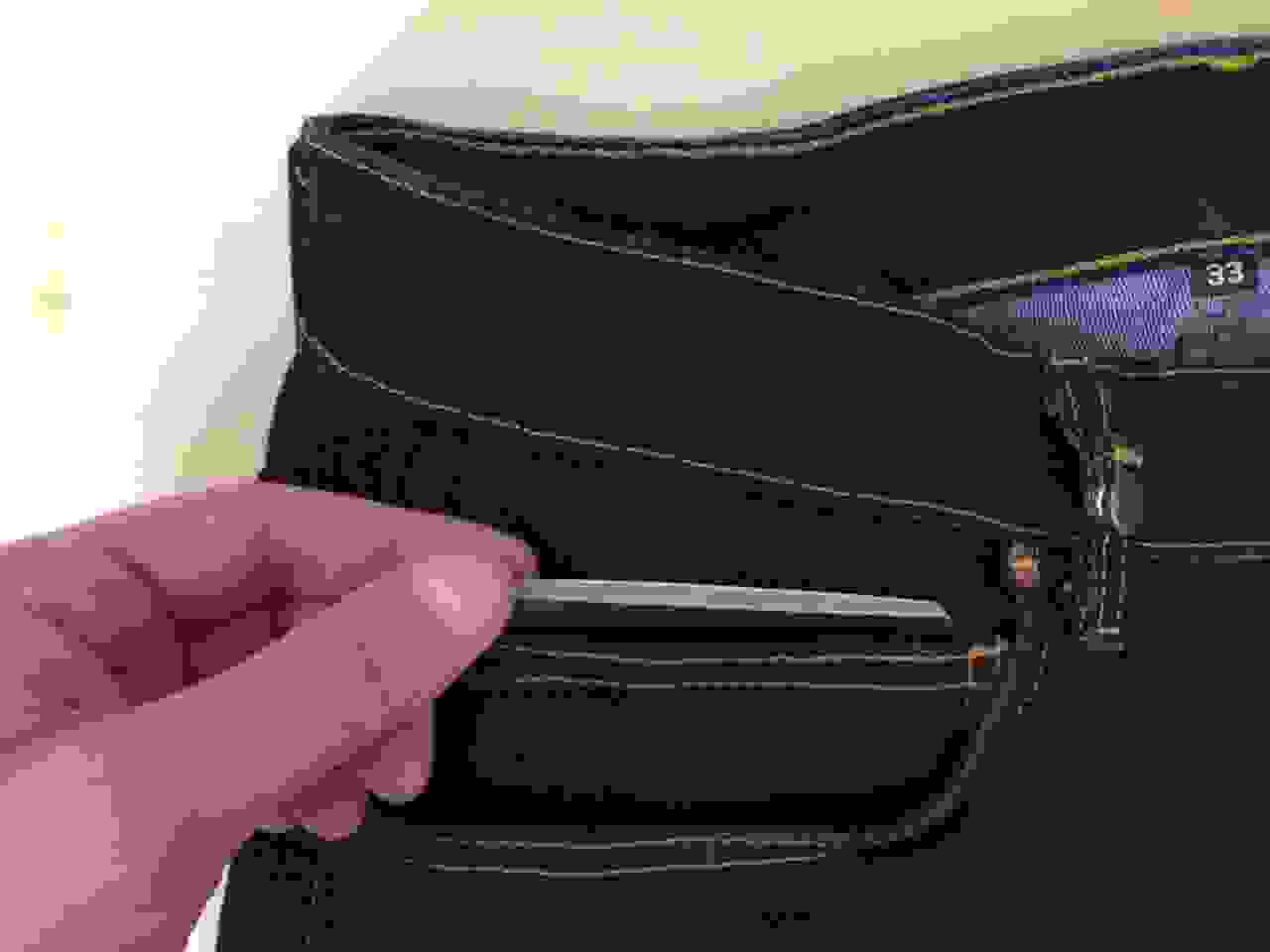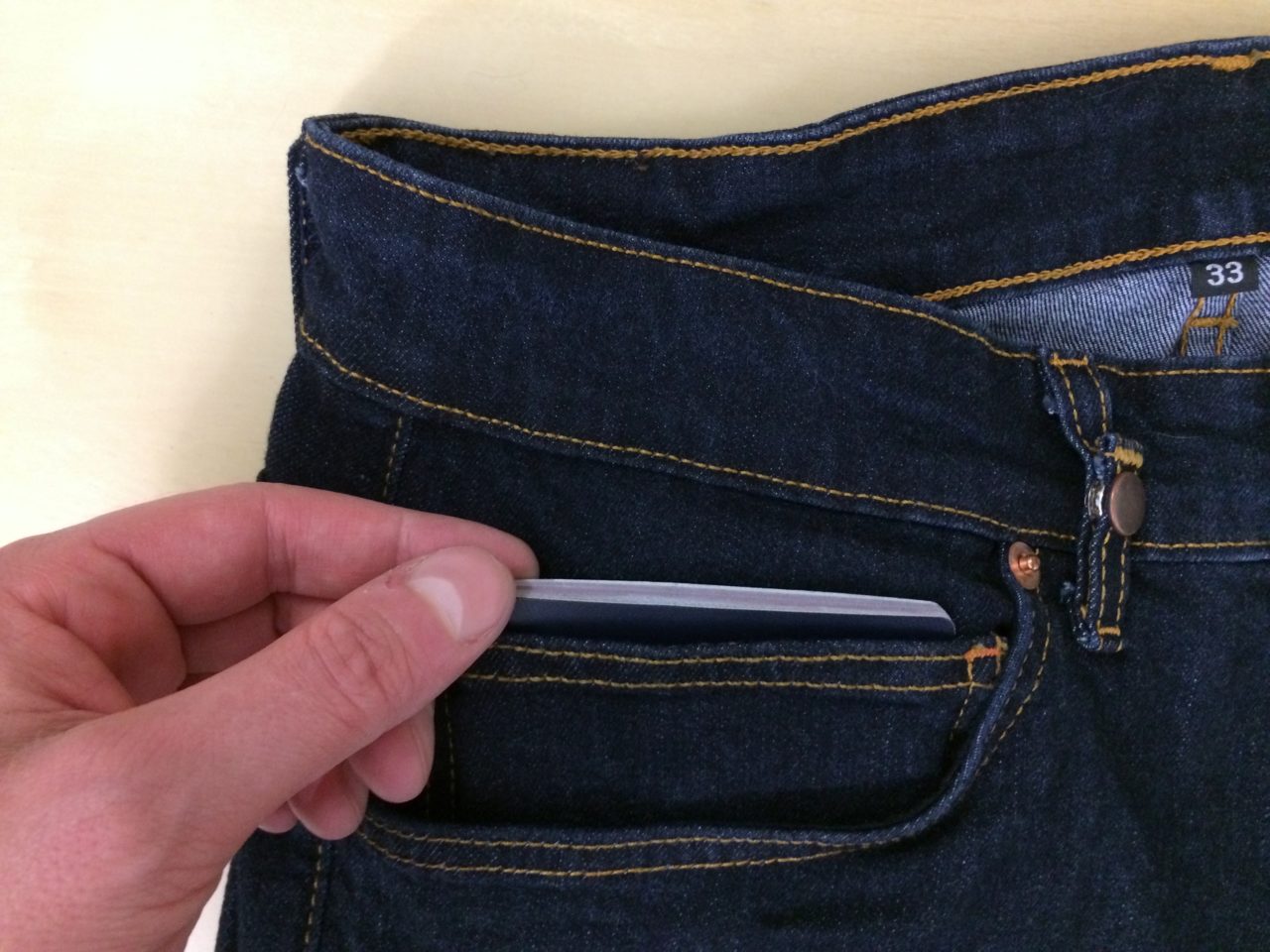 That's a passport in there, just to give you an idea of what'll fit, and it's not even down as far as it'll go. The pocket is deep enough to hide a passport completely, so it'll be entirely out of view.
Over in back, there's a hidden zippered pocket, in the back right: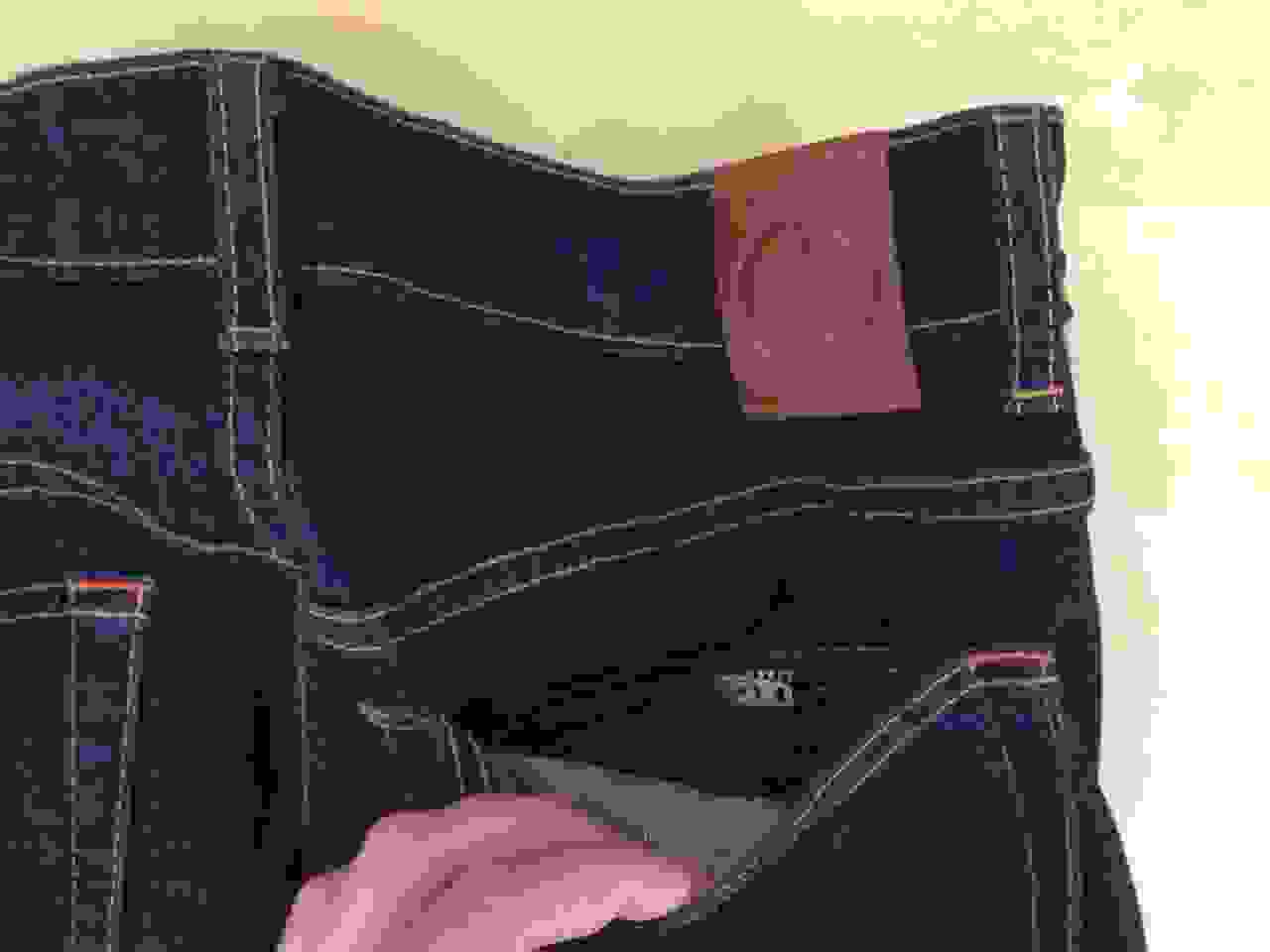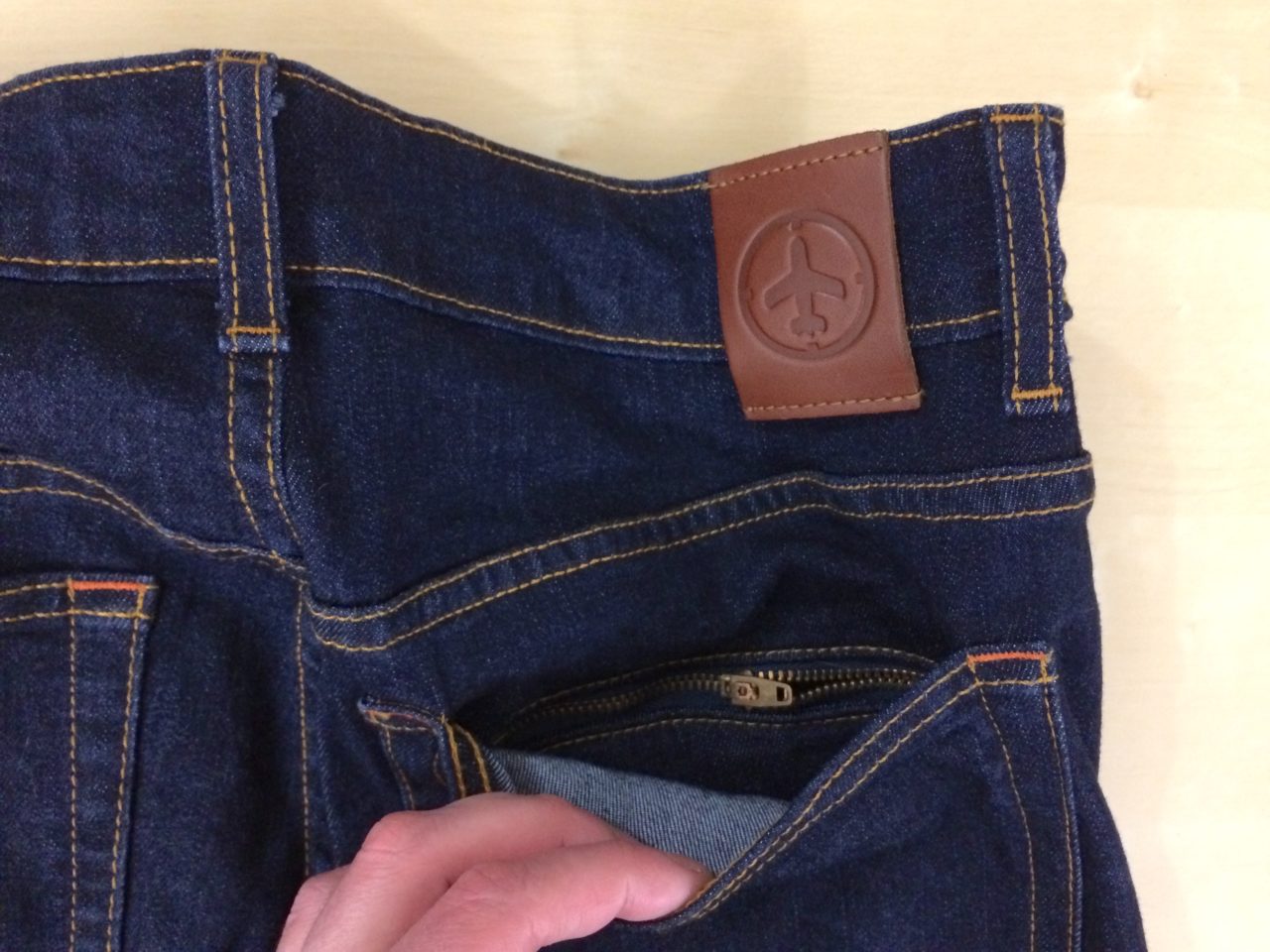 As you can probably tell, it's an entirely additional pocket, not just a zipper that'll close up the regular pocket. Interestingly, it's built not with a patch sewn on the inside, but rather an entirely separate compartment formed by two layers of fabric (like front pockets, or dress pant back pockets):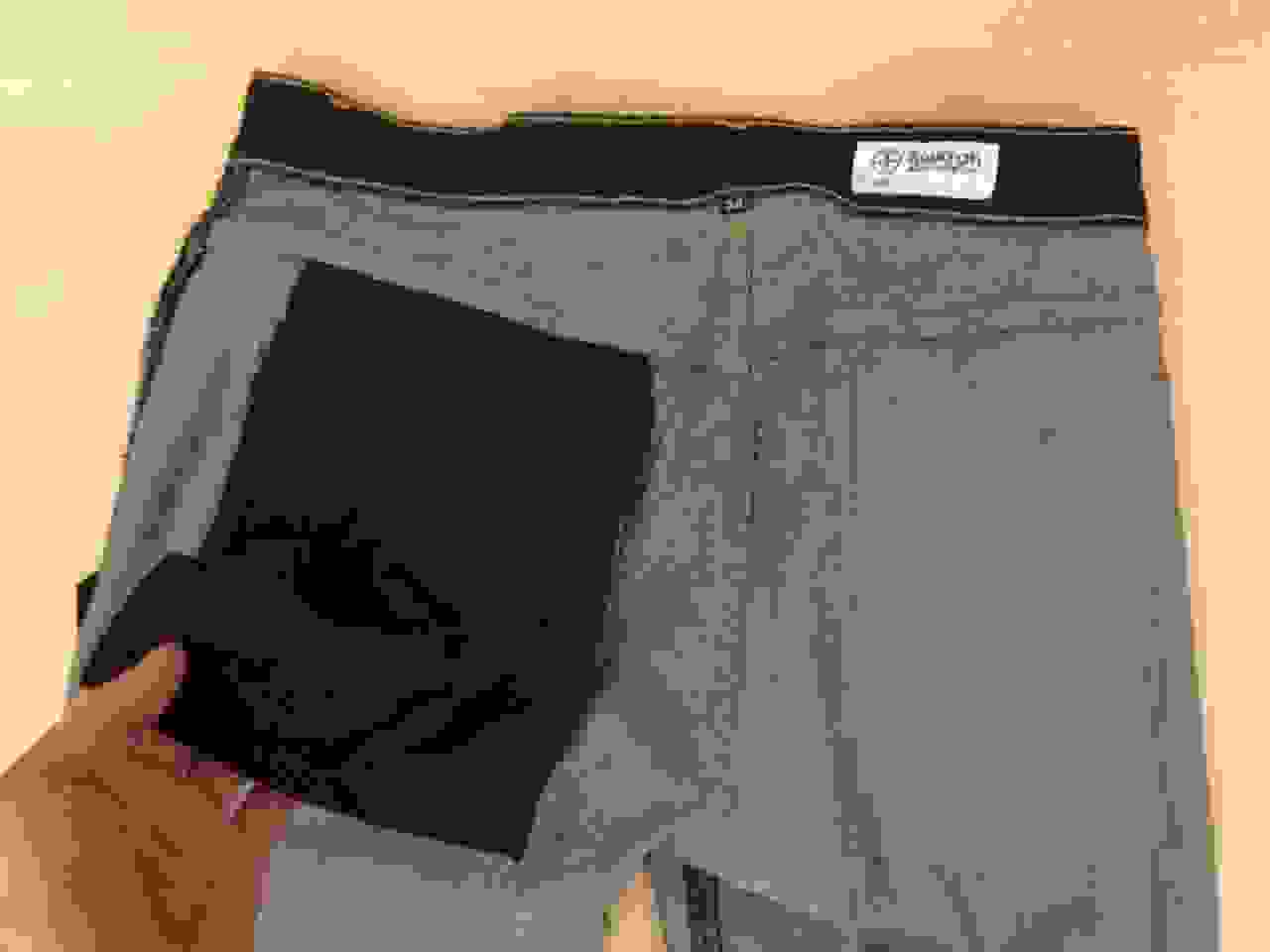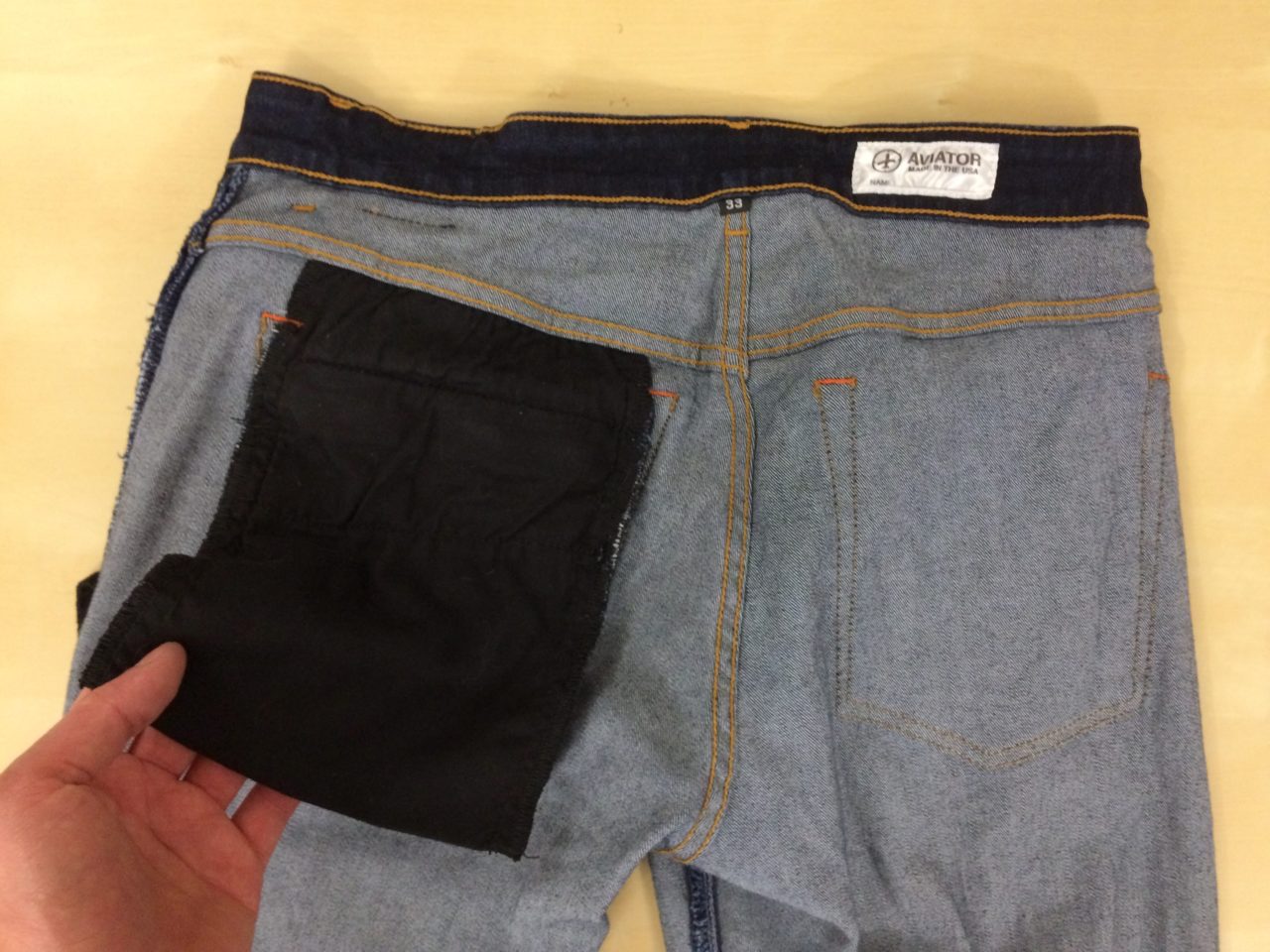 As you can tell, it's also quite a bit deeper than the regular back pockets. This might look a little weird if you're carrying a wallet back there, as the wallet bulge as seen from the outside won't match up with the pocket position, but on the other hand, it means you can carry a passport back here without breaking the spine whenever you sit down. It'll fit low enough that it'll be directly beneath your thigh, so it'll be safely flattened, instead of mangled. And if you just want to carry a wallet back there, you could add a stitching line across that extra pocket so the wallet would be up a little higher, so you can live without the extra depth if you prefer, by adding an easy modification.
Just to give you a couple more shots of the inner pockets from different angles, here's the front left: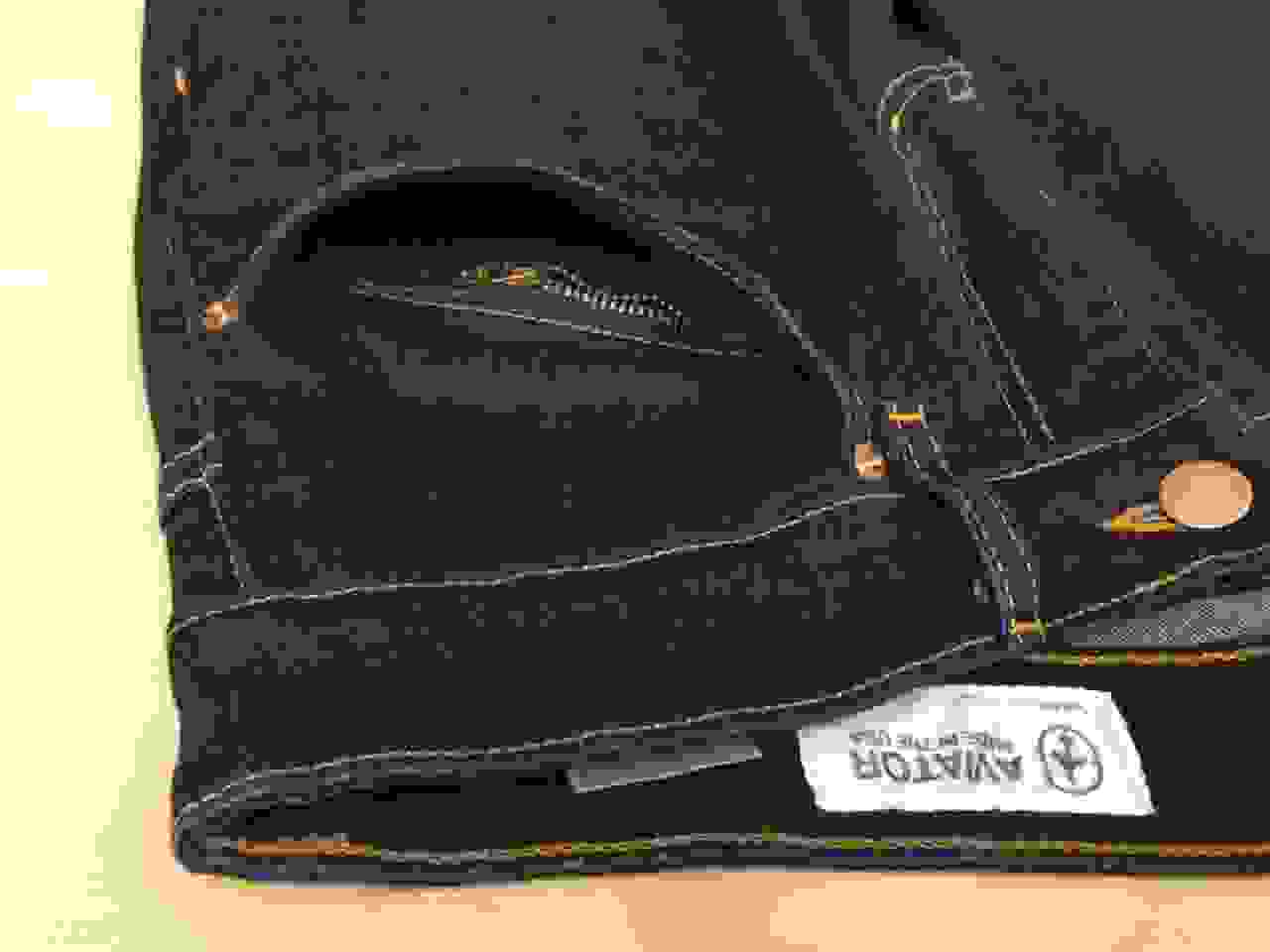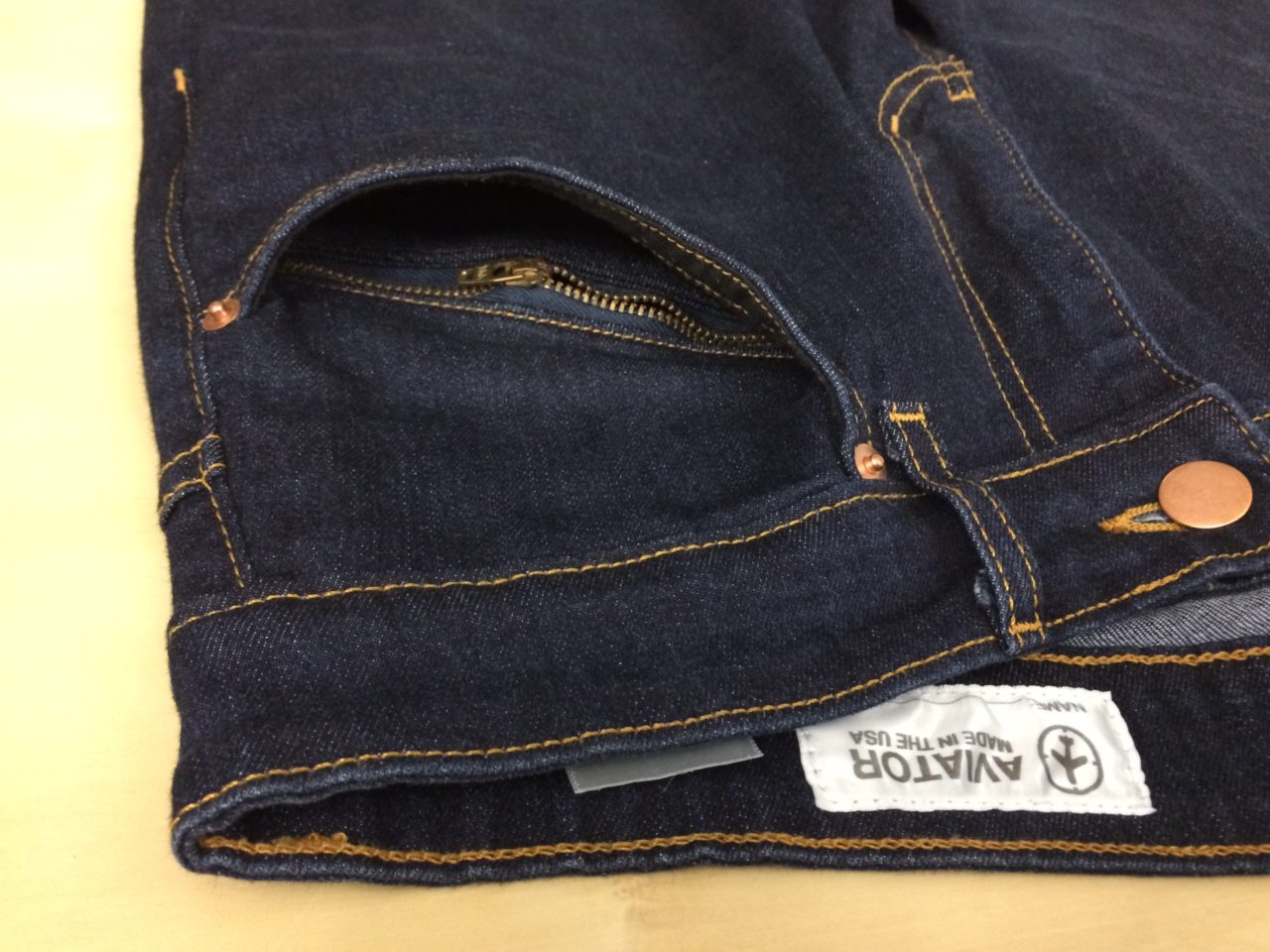 And here's the back right: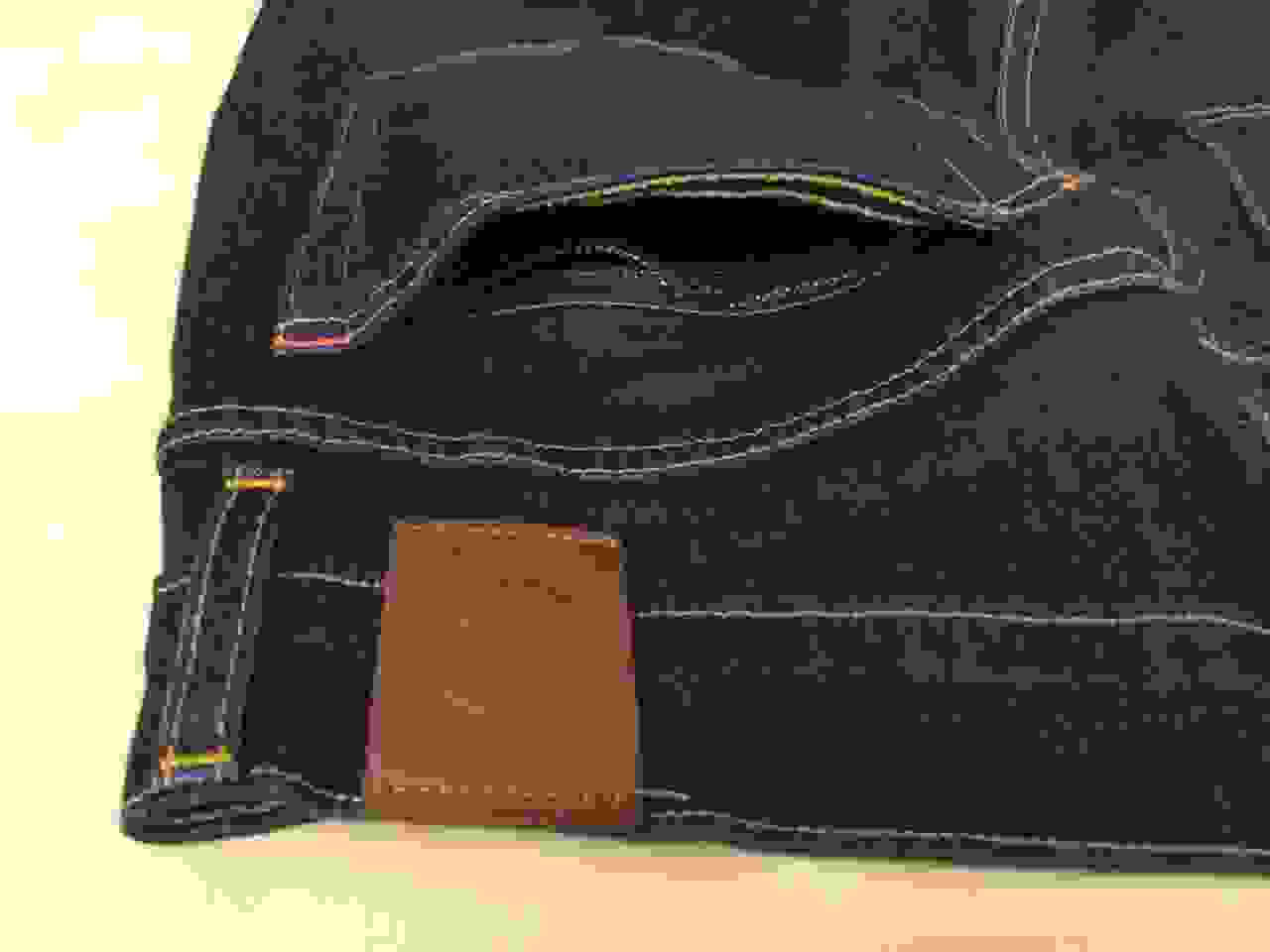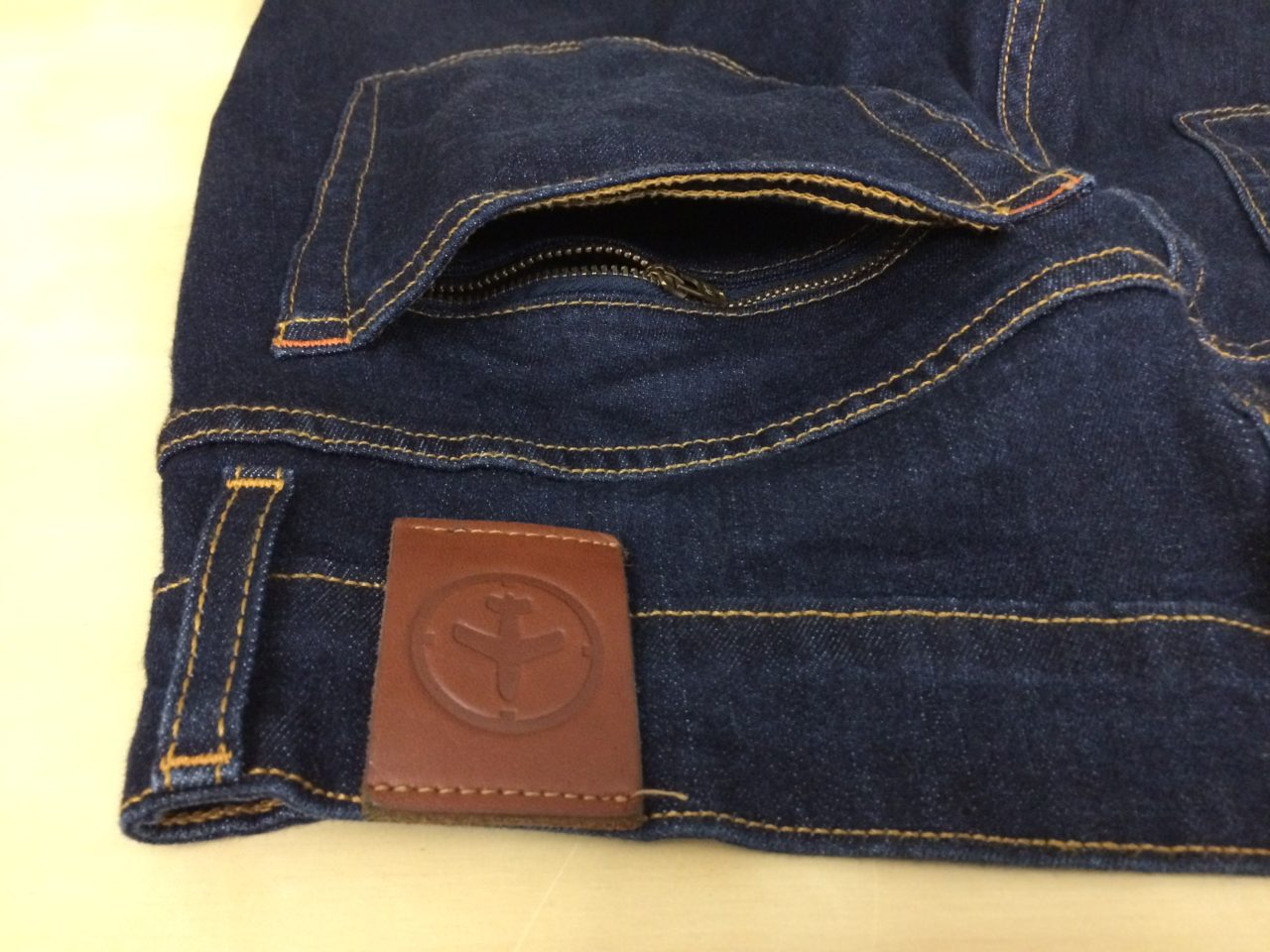 The lighting was a little bright in those last two photos, since I wanted to get the details, so this is probably what it'll look like once it starts to fade a bit.
Fabric
This is completely different from regular denim. It's softer and much stretchier, expanding 30% along the horizontal, and 10% along the vertical, which is closer to the comfort you'd get out of a pair of sweatpants than regular jeans.
Here's a breakdown of the fabric content:
73% cotton
14% rayon
11% polyester
2% spandex
You'll notice the vast majority is cotton, with a relatively small percentage of quick-drying polyester, meaning this isn't really supposed to be a high-performance item you can hand-wash in the sink and leave up to dry by morning; in fact drying time was pretty comparable to a regular pair of jeans, at about 12 hours after removing it from the laundry machine, compared to 4 hours for a purely synthetic pant.
I think they were going for something different here; they wanted to provide the familiar feel of your favorite pair of jeans, but with the added softness and absorbency of rayon, and the super-stretchiness of spandex, so you'll stay comfy while scrunched up on a 14 hour flight. They're also about as thick and heavy as regular denim, coming in at 24 ounces in a size 33, so they're going to work better in moderate or cooler weather than tropical heat. Combining them with a pair of quick-drying synthetic pants wouldn't be a bad idea, as you could take the synthetic pants on a hike, and save the natural-feeling jeans for walking around town, where you're not likely to get dirty and feel the need to wash them right away.
The owner actually mentioned that a lot of his visitors had asked how they might differ from the Rohan Jeans Plus (reviewed over here), as they have nearly the same features, but the fabric is completely different; the Rohans are lighter, thinner, and have triple the polyester content, and are thus what you'd want for warm weather, and (relatively) quick-drying performance; the Aviators are softer, heftier, and significantly stretchier, so these are what you'd want for somewhat cooler weather, or soft, stretchy comfort.
Fit
These come in slim and straight fits (the one pictured here is slim), and include some odd-numbered waist sizes in addition to evens to get things just right. I went a size up from normal, and you probably should too, although "normal" varies quite a bit from one brand to the next. If you're familiar with Outlier or Bluffworks, which you probably are if you've been hanging out here long enough, go one size bigger than your size in either of those.
The waistband actually stretches quite a bit, as they used that 30% horizontal stretch along the waistband, rather than rotating to get the 10% vertical stretch; this means you can eat a huge meal and lean over to tie your shoes, and it won't strangle you at the waist. Even better, it doesn't really stretch out enough to sag all that much, which was quite a welcome surprise. I think the reason is that it should actually stretch a bit to fit; not so much that it's restrictive, but enough that you're not just fastening the button with the pants just laying flatly in place; they should be stretched just a bit to get zipped and buttoned, and they'll be as comfy as an elastic sweatpant waistband, yet somehow won't gradually stretch out and fall down. It's pretty impressive if you get it just right, and you can skip the belt without running into too much trouble.
The inseam is cut extra long, so it'll hit just right if you're about 6 feet tall. Shorter people will probably need to get it hemmed, or flip it up at the ankles, but just know that it'll shrink about an inch if you wash and dry it, so do that first before you take it to a tailor to get it hemmed.
Final thoughts on Aviator Jeans!
I've always been on the lookout for jeans with travel-friendly features such as hidden zippered pockets, but in a style that doesn't shout about how much of a backpacker you are. Visible security zippers, for example, drive me absolutely crazy. Luckily there's nothing like that here at all.
These feature a total of seven pockets, two of which are zippered, all of which will fit a passport, and none of which are inexplicably visible from the outside. They look great, hiding all of their extras beneath the surface––but I think the fabric is going to be the biggest surprise here. It really is like wearing a pair of sweatpants, yet somehow they're not saggy enough to fall down, or feel wispy. They have the heft and appearance of regular jeans, but stretch as much as you'll ever need them to, even if you're doing cartwheels in a park, and that always-right stretchy waistband is kind of amazing.
These aren't particularly light, nor are they super quick-drying, so if you need that kind of performance, you'll want to bring another pair of synthetic pants for dusty trails, or heavy rain. But after a long hike, when you throw those hiking pants into the wash and you just want to change into something comfortable, these are going to be great.
Head over here to check them out. That'll take you to the main page with both men's and women's options, in all colors.