So if anyone hasn't told you already, goose down is absolutely the best way to pack a super-warm jacket into a tiny package. It's the warmest and most compressible  clothing material that humanity seems to have discovered thus far, which is why it makes such a spectacular cold-weather jacket for ultralight backpackers.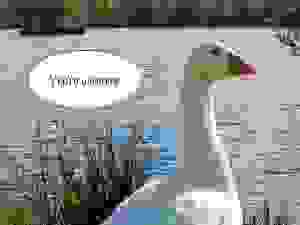 But goose down isn't just for winter adventures. Sure, you can stuff gobs of goose down into a jacket all day long and you'll have a glorious Antarctic parka, but if you use just a little goose down, you'll have a warm jacket, ideal for mild weather in spring or fall…except it'll weigh practically nothing and stuff down so tiny that it'll practically disappear.
Welcome to the wonderful world of the ultralight down jacket. Rather than using goose down for snowy winters, several companies have been pushing the ultralight boundaries to make jackets as light as a t-shirt, but as warm as a light fleece, allowing you to pack even lighter and smaller than ever before. For the weight-obsessed minimalists and scrawny weaklings alike, this can be incredibly helpful.
What an ultralight down jacket can do for you
Ironically, ultralight down jackets are at their best when you're not using them. Since they pack down to nothing when not in use, they'll be a lot less annoying than heavy jackets you have to haul around the whole time.
This is especially helpful on multi-season trips, multi-elevation trips, or mostly-warm trips that might include that one evening of unusually frigid temperatures that come out of nowhere. It would also be great for warm-weather hiking, where the minimal weight won't hold you back, and the minimal warmth is all you need.
When not to use one
Keep in mind these items are designed to replace a mid-weight fleece, rather than provide winter warmth, though you could certainly combine them with other layers to provide year-round functionality. They're also quite thin, so handle with care.
But the real setback is the price. At $200 to $300 each, these aren't cheap, especially as they're intended to replace a mid-weight fleece, which you can probably find for about $30. These are really just for the people who need absolute minimalism, and are willing to pay for it. A mountain rescue team, for example.
And I generally try to find the most normal-looking clothing I possibly can, so I can make use of high-tech gear in casual situations, but that's not what this list is about. I wanted to compile the absolute lightest, for those who needed the very best.
A few of the best ultralight down jackets
Alright, time for the picks. These are the most gravity-defying items I can find, coming in under 10 ounces (or about 300 grams), for those who absolutely need it. Many of these jackets also come in hooded versions and vests, but I'm just comparing the standard jackets in men's sizes to provide a good side-by-side comparison.
I've only included goose down jackets on this list, as they're the absolute lightest around, but all of these brands have equivalent jackets made of synthetic materials that are definitely worth checking out, as they're usually cheaper, and can withstand some rain.
Onward we go!
1) Montbell Plasma 1000 Down Jacket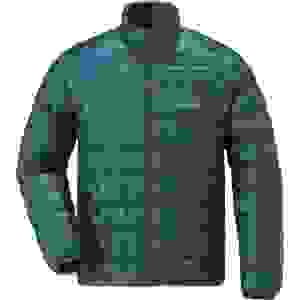 This is the king of the ultralight world at the moment. If there's a lighter down jacket out there, it's probably doll-sized.
Montbell's down jackets are all pretty light to begin with (and they have quite a few others not listed here that are worth checking out), but here's where they really push the limit. By using 1000 fill power goose down, and some of the lightest nylon anywhere to be found, they've managed to build a down jacket as light as a t-shirt.
It's sized to provide a slim fit, and has no pockets or other features of any kind. Just a jacket to keep you warm, and not weigh you down…at all.
It's designed to be a replacement for a mid-layer, such as a fleece jacket, rather than providing outerwear protection, so it would be a good idea to wear another layer on top if it's raining or you're hiking through spiky bushes. But if you're the most weight-obsessed ultralight adventurer on the planet, this is the winner.
Weight: 4.8 oz (136 g)
Fill weight: 1.6 oz (45 g)
Fill power: 1000 fill power goose down
Fabric weight: 7 denier
Pockets: None
Price: $270
Unisex sizes only; get it here.
2) Montbell Ex Light Down Jacket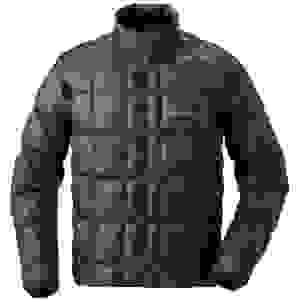 This was the king of Montbell's ultralight lineup until they subsequently developed the Plasma pictured above. But you'd need a scale to figure out which one is heavier.
The Ex Light uses 900 fill power goose down, which is still spectacularly light, to achieve a down jacket that weighs as much as a slightly larger t-shirt. But that extra weight makes it $70 cheaper, which is quite a big deal.
It also comes in a women's version, whereas the Plasma is unisex, which…well, that just means men.
Weight: 5.6 oz (158 g)
Fill weight: 1.8 oz (51 g)
Fill power: 900 fill power goose down
Fabric weight: 7 denier
Pockets: None
Price: $200
It looks like this one has been discontinued, but you can still get a hooded version of it.
3) Mountain Hardwear Ghost Whisperer Down Jacket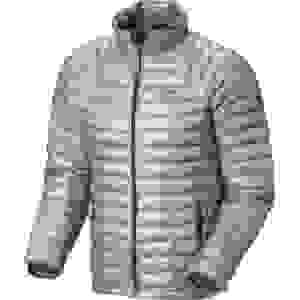 So this one is just about the lightest I can find that isn't from Montbell, and it has some extra features to take it beyond basic minimalism. It's what you might prefer if you want something just slightly more full-featured.
But the real attraction is the water-resistant treatment added to the down, which allows it to keep its loft and warmth, even when wet. This improves on the one and only technical weakness of down, which is its wet weather performance. It's not a magic bullet that'll handle a downpour, but it'll help keep you a little cozier if you get caught in unexpected showers.
Aside from that, it uses ultra-thin fabric, 850 fill power goose down, and has two hand pockets, while still weighing in at some impressively low numbers:
Weight: 7.2 oz (205 g)
Fill weight: Not listed
Fill power: 850 fill power goose down
Fabric weight: 7 denier
Pockets: 2
Price: $300
4) Patagonia Ultralight Down Jacket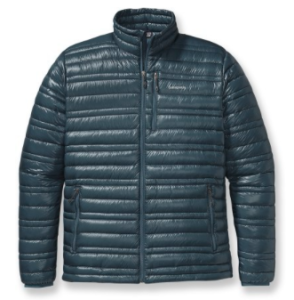 Wear some Patagonia to stay warm in…Patagonia. And, you know. Elsewhere too.
Though it still manages to keep things incredibly light, it actually uses a slightly lower fill power, and a slightly tougher fabric than some of the others. It also has three pockets, which is nice for those who enjoy such things.
Though not quite as gravity-defying as other options, it still weighs practically nothing, and Patagonia's ironclad guarantee means it'll last forever. Besides, this is meant to be a little tougher and more full-featured than simply going for maximal minimalism.
Weight: 8.3 oz (235 g)
Fill weight: Not listed
Fill power: 800 fill power goose down
Fabric weight: 10 denier
Pockets: 3
Price: $300
5) Arcteryx Cerium LT Down Jacket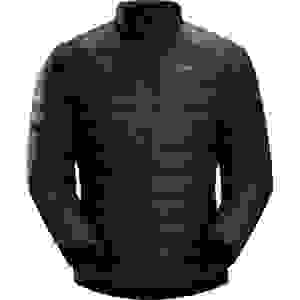 This one has an interesting mix of goose down in the main compartments, and synthetic insulation in the shoulders, collar, and hem, where they're most likely to encounter some rain. I'm not sure how critical this would be, but the jacket is still plenty light anyway.
Arcteryx generally gets extra points for a casual appearance and decent colors, and this is probably the most normal-looking down jacket on this list (though other companies make other jackets that look nice too; it's just that the ultralight ones sometimes look a little odd).
But, as with all things Arcteryx, it's also the most expensive. Check for sales.
Weight: 8.6 oz (243 g)
Fill weight: Not listed
Fill power: 850 fill power goose down (and Coreloft synthetic in some places)
Fabric weight: 10 denier (assumed)
Pockets: 2
Price: $325
6) Uniqlo Ultra Light Down Jacket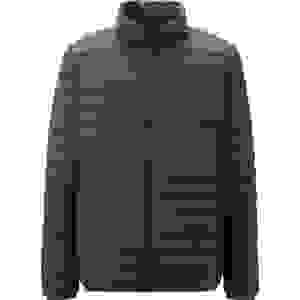 This is the budget pick. It may not have the specs of the gear listed above, but it's 70% cheaper. I was surprised as well. I've been using one of these lately, and it's surprisingly good, especially for such a tiny a price.
Uniqlo has built up quite a reputation for themselves by offering higher quality at better prices than the vast majority of standard fashion brands, in far more sizes and colors than pretty much anyone else, and their wide selection of down jackets is no exception. Sizes range from XS to XXXL, with plenty of colors, in hooded and regular versions.
The jacket "only" uses 640 fill power down, but it uses the European scale to measure fill power, which gives it a rating more like 700 or higher. The fill is also composed of 10% feathers, rather than consisting purely of down. This means it won't be as warm or as compressible as some of the super-high-tech options listed above, but the price might make those extra ounces worth it for you.
On a minor note, it uses a left-handed zipper. Just so you know.
Weight

: Approx. 7 oz (198 g)

Fill weight

: Not listed

Fill power

: 640 fill power goose down (using the European scale, comparable to 700+ on American scale)

Fabric weight

: Not listed

Pockets

: 2

Price

: $70
Get it for men, or check out the women's selection, which has several styles.
Off to some ultralight adventures!
Well, I hope these suggestions will help you stay warm and cozy without requiring any sort of physical exertion of any kind on your part. They're spectacularly useful in certain very specific situations, though if you go a little heavier (and, really, just a little), you can actually get a full-featured, mid-weight jacket (a few favorites of which I've listed here), but this list was just meant to highlight the lightest of the ultralight down jackets to be found. They're so light you won't even notice them. And sometimes, that's exactly what you might need.
Minor update, regarding repairs: So you can obviously tape over any damage to the fabric with a piece of tape, and if you're going to do that, I'd recommend taking a look at Tenacious Tape Tattoos. This is a permanent repair tape, but cut into fun shapes, like wildlife and other things like that, so a repaired jacket won't look shabby, but downright adorable. The company sent me a few samples, and I'm looking forward to adding them when the time comes.