Backpackers occasionally live in fear of winter travel, running from the icy chills by migrating to the opposite hemisphere to avoid dealing with the glacial conditions of below-freezing sightseeing extravaganzas.
It makes sense. Travel is supposed to be fun, and it's hard to enjoy a city tour if you're freezing yourself half to death all day long, and if you hide inside to keep warm, it's all for nothing.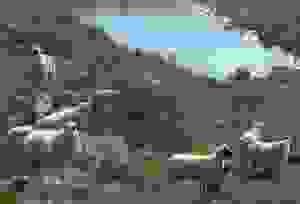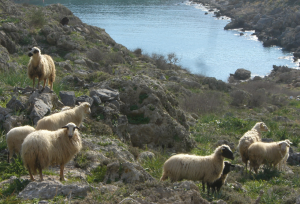 But I'll happily point out that traveling in the winter doesn't have to be so bad. You don't even need bulky, heavy parkas to stay warm. In fact, you can get by with a rather basic, lightweight setup that'll probably work seamlessly with gear you already have, meaning that adventuring off into the depths of winter probably only requires a couple extra purchases, and you'll be good to go. And then you'll get those awesome snow photos!
Since I'm a scrawny weakling and need spectacular gear to accommodate my inadequacies, I need clothing that's both lightweight and warm, and I've spent quite some time fine-tuning this setup, and I think it's about as good as it gets. It won't cost much, and I'll point out cheap alternatives where I can.
Let's begin!
Ultralight winter travel gear: Layer by layer
As you've probably heard a billion times, you'll want to dress in layers. Several light layers together will offer more flexibility than a single heavy layer, plus you've probably got half of them in your closet anyway. Here's how I handle each one:
1) Start with a t-shirt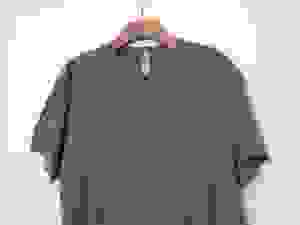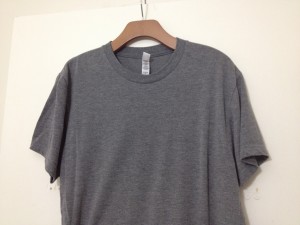 Always start with a t-shirt. T-shirts make far better base layers than thermal long underwear. Here's why:
They're easier to carry.
They're easier to wash.
They're easier to dry.
They're easier to buy. You probably have plenty already.
Leave the insulation to the outer layers, which you won't have to wash as often.
As for materials, regular cotton t-shirts might suit your needs, as long as you avoid doing laundry in the sink, and you don't sweat too much. But if you're going uphill with a non-breathable pack, your back will get soaked, and that sweat will stay there for hours. And yes, I know from experience. It literally felt like glaciers were forming along my spine.
Quick-drying fabrics will prevent this fiasco, and also enable sink washing and hang drying. Options include:
Merino wool, which is probably the best thing ever. It feels softer and cozier than cotton, but dries quickly, and is naturally anti-microbial. On the downside, it's expensive, so look for sales, and handle with care. Read more about why merino is so great here.
Polyester, which will generally dry faster than merino, but check to make sure it has an anti-microbial finish to prevent horrific odors. It's cheaper than merino, but it can feel sticky once it gets wet, and often has a shiny appearance, but it'll do the job.
I generally recommend bringing a week's worth of clothing and doing laundry once a week, but you can bring fewer t-shirts in winter since you'll probably skip showering sometimes. 4 or 5 should be plenty.
2) Add a sweater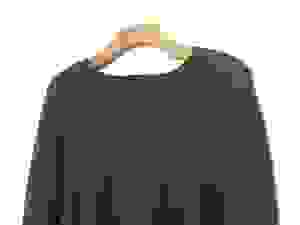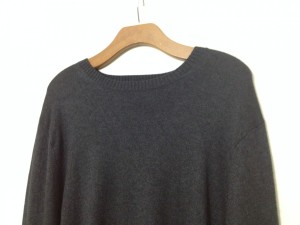 Minor note: This step is optional, depending on how toasty you need to be. But a good sweater is a nice "always on" layer that'll keep you cozy and classy all at the same time.
It might seem stupid, but this is actually a carefully fitted puzzle piece that must be chosen with care:
Keep this layer as thin as possible. Rather, keep every layer as thin as possible, since there's far more flexibility with multiple light layers than a few heavy layers.
Skip the zip. We'll be adding zip-up layers later, and we don't want multiple zippered collars trying to fight each other.
Make it smooth. The next layer might be fuzzy, so we don't want this layer to be too fuzzy or it'll be hard to layer them over each other.
Basically, this is just a long-sleeve t-shirt. Maybe a little warmer. Merino wool is probably the best fabric for this layer, since it'll still be warm even though it's thin, and it'll feel soft against the skin. But any comfy sweater you have will be fine.
3) Add a zip-up sweater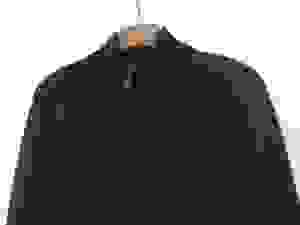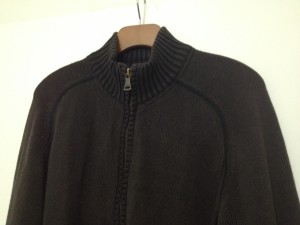 Here's why step 2 is optional. A lightweight, comfy fleece or wool zip-up can go right over a t-shirt, and that can be your "always on" first layer of insulation, and you can skip the extra sweater. It just depends how warm you need to be.
Again, puzzle piece perfection:
Keep it light. That's right, we're still not at the outermost layer yet. Adding a layer underneath this one is more flexible than simply making this layer heavier.
Make it zippy. Since this layer is probably thicker than a sweater, it helps to have some adjustability. I much prefer full-length zips rather than half zips, because they're far easier to manage. I also like when the collar is tall and small, so my neck stays cozy.
Merino or fleece will both work just fine, though fleece will be cheaper. You probably already have something like this that'll work anyway.
4) Bring an ultralight puffy jacket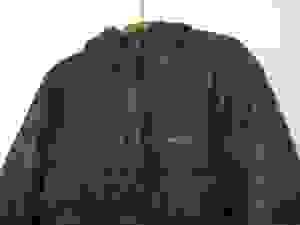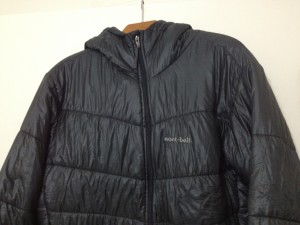 This is why I said to keep the other layers thin, and it's the super-secret silver bullet of ultralight winter backpacking. You don't need a massive heavy coat to keep warm in winter. All you need is the luxurious fluffiness of goose down.
If you have yet to experience the magnificence of down, here's what you're missing:
Warmth. Down is about twice as warm as fleece, depending on the quality of each.
Packability. Down compresses to about half the size of fleece.
Nylon shell. Down is almost always housed within a windproof, water-resistant nylon shell, which makes an excellent outer layer.
The one downside: Moisture. goose down wilts in the rain, and loses its warmth. You can simply add a rain jacket or use an umbrella, or use synthetic insulation, which is what I use, which handles rain a lot better. It'll stay somewhat warm when wet, and dry a lot faster. If you want more detailed info, you can read about the pros and cons of down and synthetic insulation here.
Here's what we've got so far:
T-shirt
Optional sweater
Fleece/wool jacket
Puffy jacket
Rain jacket
I think it's about as good as it gets in terms of flexibility, comfort, and performance. Other setups exist, but this is how I handle things, and I like it a lot.
So if you're keeping score, your top half should look like this: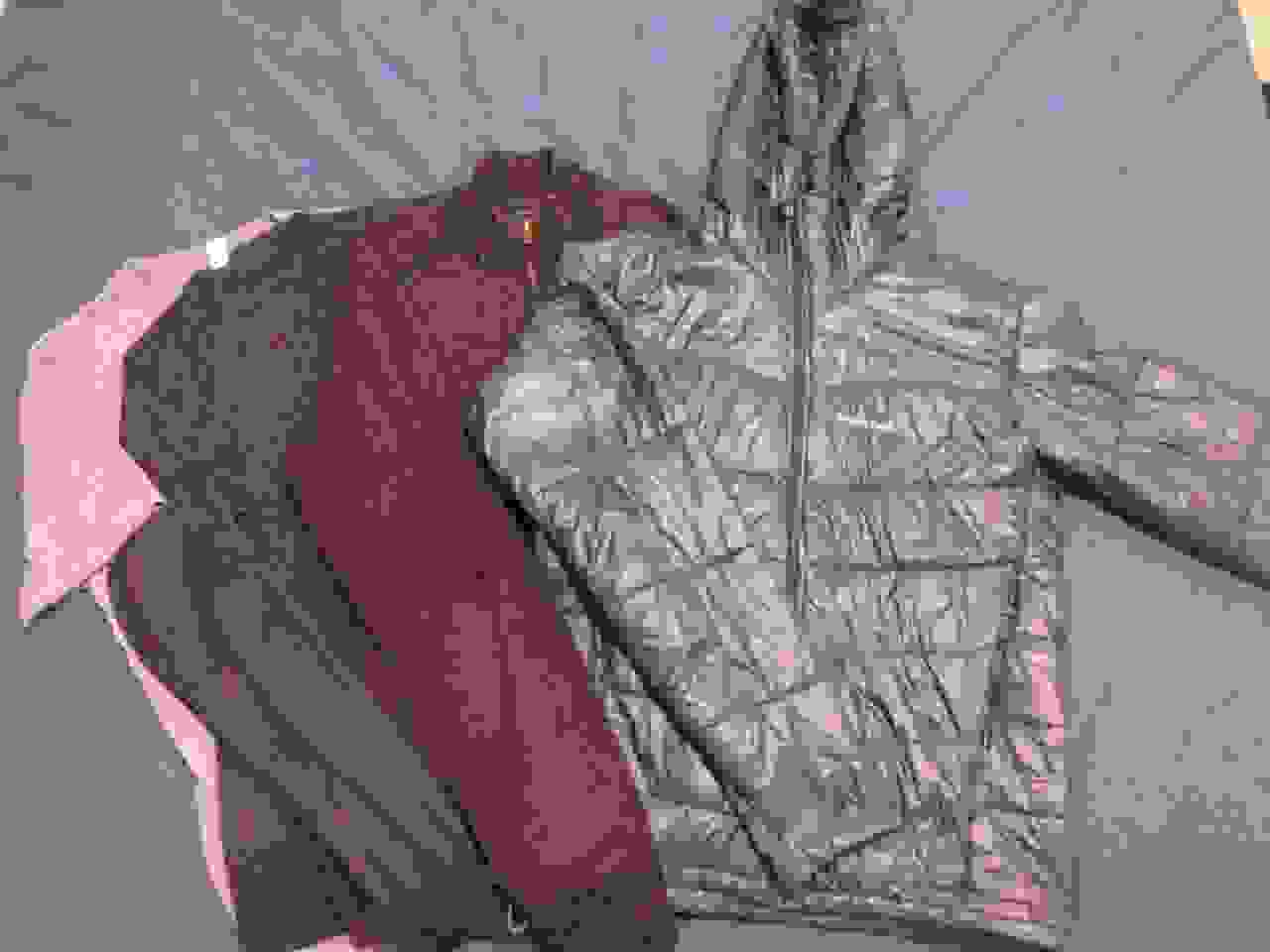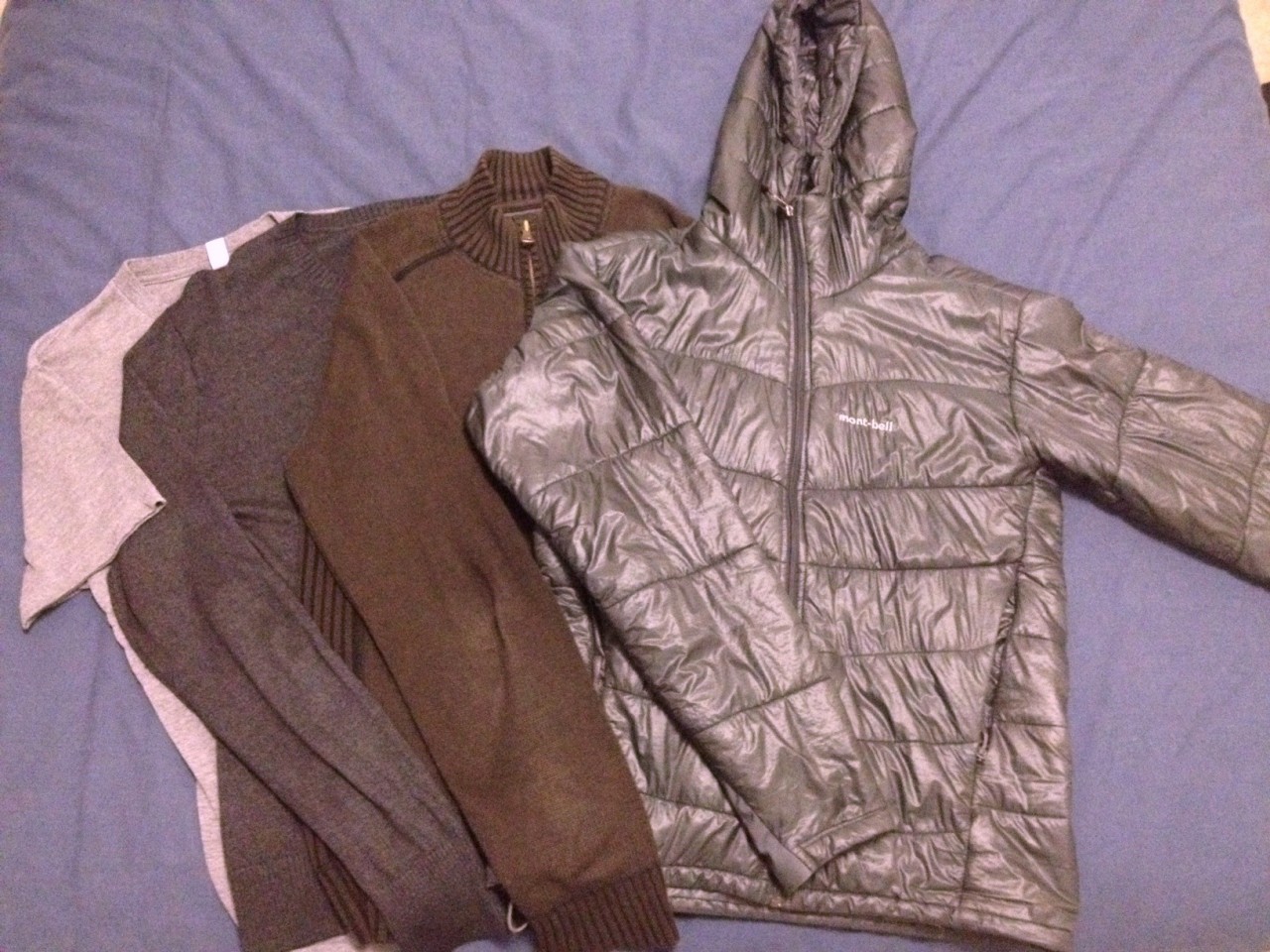 Cozy.
5) Long underwear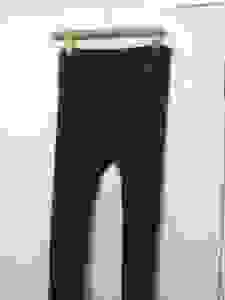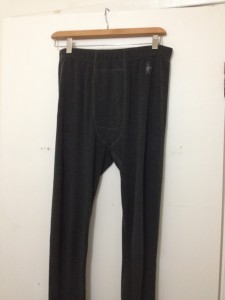 Time to be a superhero! Woohoo!
Adding long underwear beneath a pair of pants makes a huge difference. Though you can simply wear a heavier jacket, that's like turning up the heat while a window is open. Sure, it'll work, but why not just close the window?
Wrapping your legs in cozy long underwear will prevent the heat loss through your legs, which makes a massive difference. And if you're working your legs at all, you'll heat up fast. I was once in Kosovo, walking uphill in the middle of winter, through the snow, and I had to strip down to a t-shirt because the leggings were working so damn well.
In fact that's the one downside: They can occasionally work too well, and removing them can be a bit of a hassle. If you're planning on sightseeing up and down a hillside, or dancing the night away, stick with the lighter fabrics, or skip them for the day.
They also double as pajamas, or regular leggings for girls. And, once again, you can be a superhero. I went with green, so I could be Robin Hood.
6) Merino socks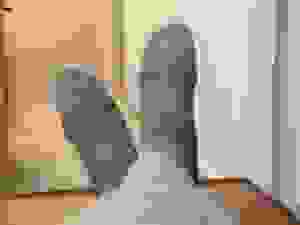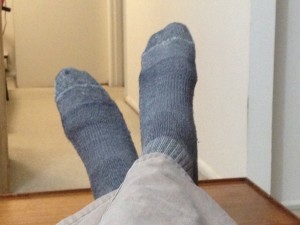 You've probably noticed I've been blathering on and on about merino wool this whole time, and that's because it's amazing. But where it's most amazing is in a pair of socks.
The day I put on a pair of merino wool socks, I threw out all the other ones and never went back. Because:
Merino is warmer than cotton.
It's is also better at cooling than cotton, because it dries faster.

It's softer.
It's stronger.
It's naturally anti-microbial, so it'll never smell bad.
But the best part: It absorbs moisture into the interior of the fiber, where your feet can't feel it. Merino can actually absorb a significant amount of moisture, and still feel completely dry, which is ideal for a sock stuck inside a shoe. It has its limits, of course, but these limits are vastly superior to cotton. And, like I said, they'll dry faster.
I use short, thin socks half the year, and full-length, cushier socks the other half of the year, and I'll combine them together if it's really cold.
So your bottom half should now look like this, except that you should probably add pants: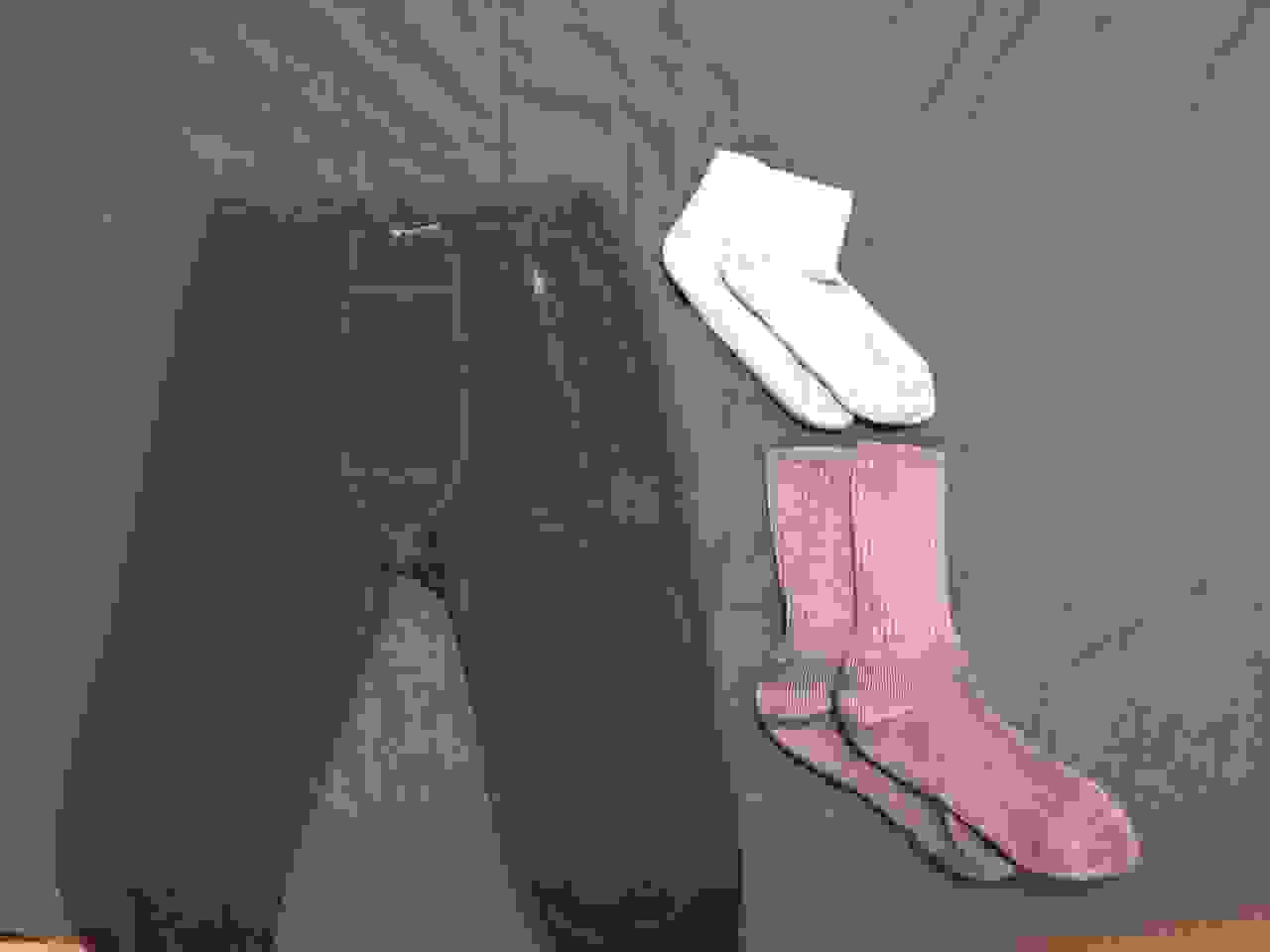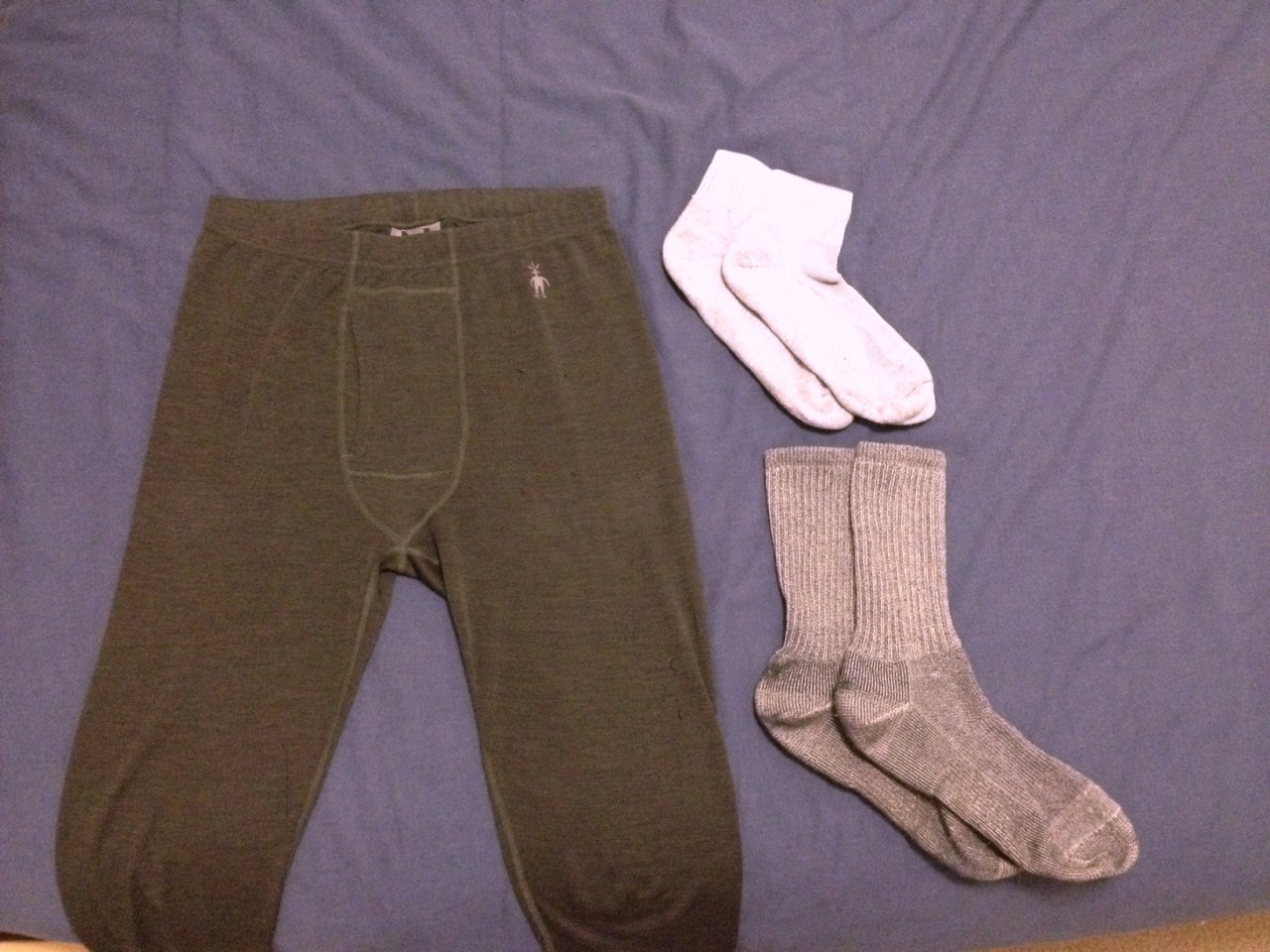 7) Accessories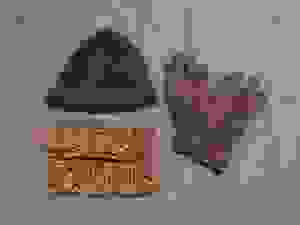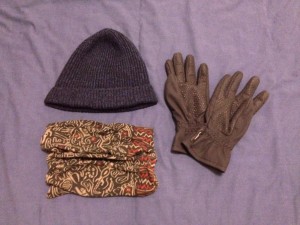 You've probably taken care of this already, so I won't spend too much time here, and it's easy enough to pick up a $2 hat on the road and not worry about it. That's fine, especially in the short term, but eventually I started looking for things that'll last for years, and maybe work a little better.
Hats: Go with merino. It'll be significantly thinner, and maybe warmer, than big, bulky acrylic hats.
Scarves: You can save a little weight and space with a neck gaiter, since it has no loose ends that need to be tied. I'd go with wool here.
Gloves: You'll want some water resistance for an eventual snowball fight. Wool or soft shells work nicely in this regard, maybe a little better than a thin synthetic.
But, once again, these suggestions are optional, and stocking up on a $2 scarf, hat, and gloves will probably work just fine. I just wanted a hat that would cover my damn ears, because dammit why would anyone make something that doesn't?!?!
Winter travel gear necessities
So if you've been paying attention, you'll realize that quite a few of these things, like t-shirts, sweaters, socks, and a rain jacket are good to include year-round anyway, meaning the only extra gear should be this: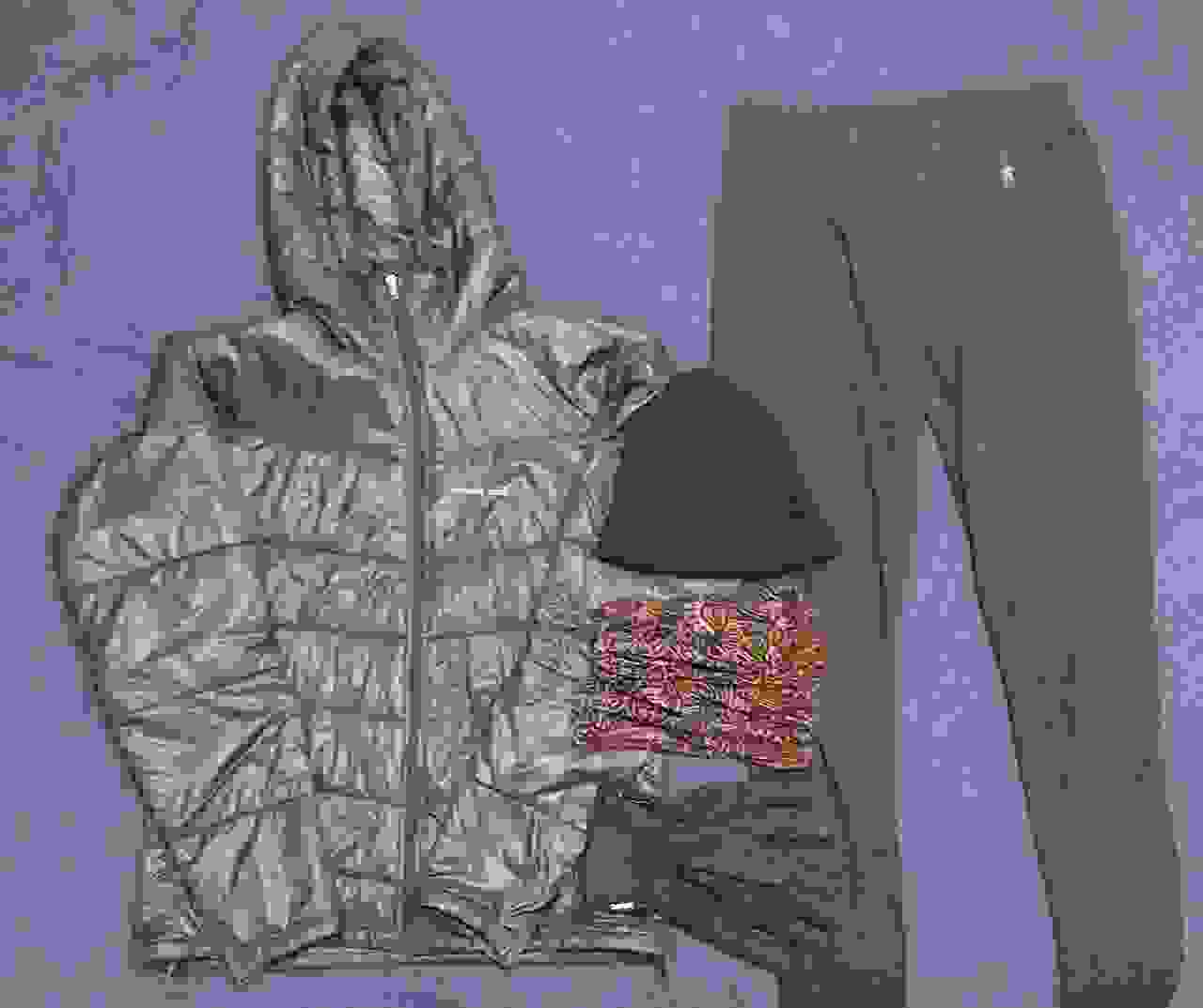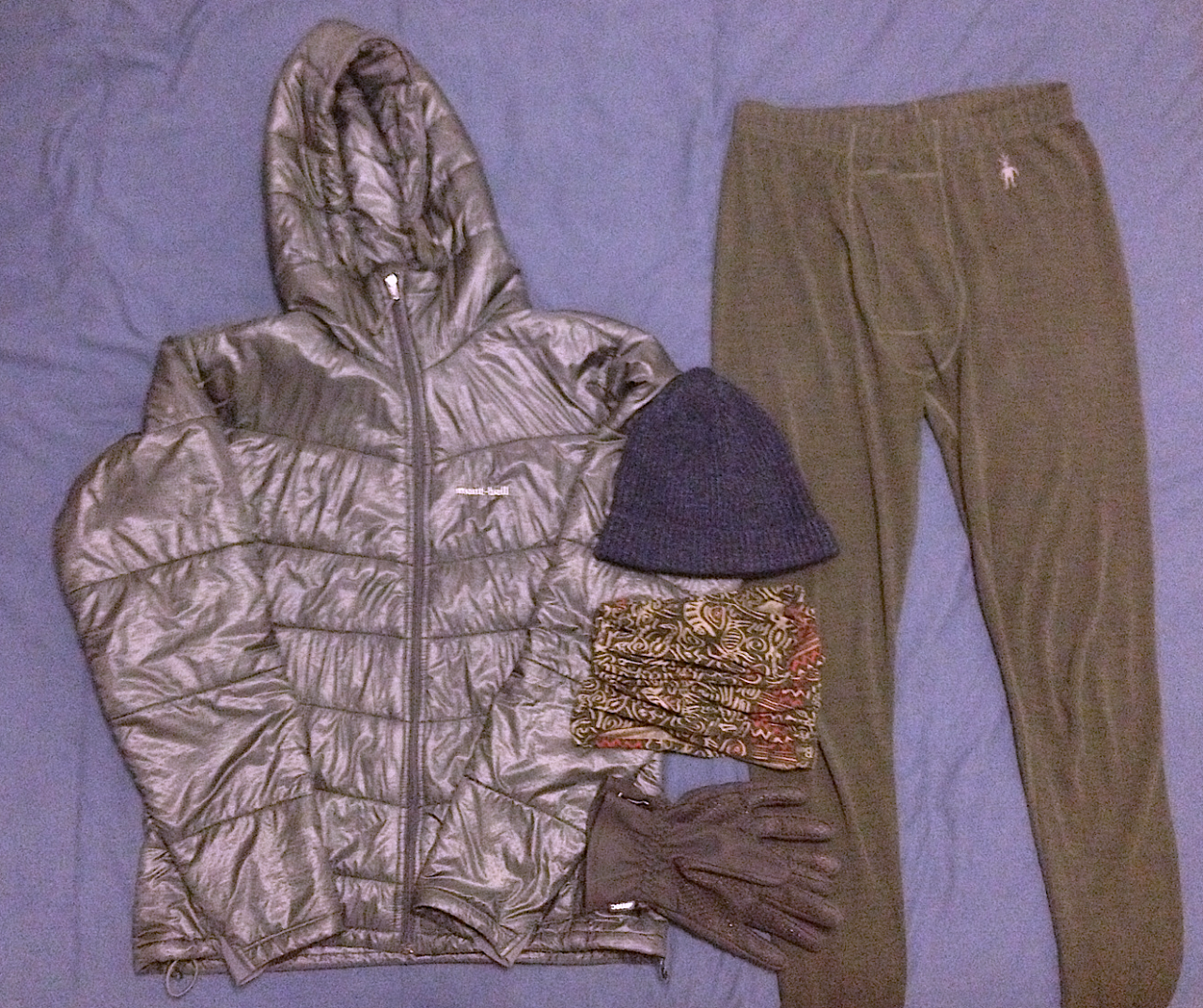 And in winter, you'd be wearing these most of the time anyway, which is why winter travel doesn't require much additional gear. I was able to include all these items in my 9-month trip with just a daypack.
The only potential problem is if you're traveling through multiple seasons, in which case you'll have to carry the winter gear until it becomes useful. But since puffy jackets are compressible, and the other layers can be pretty small, it can look like this: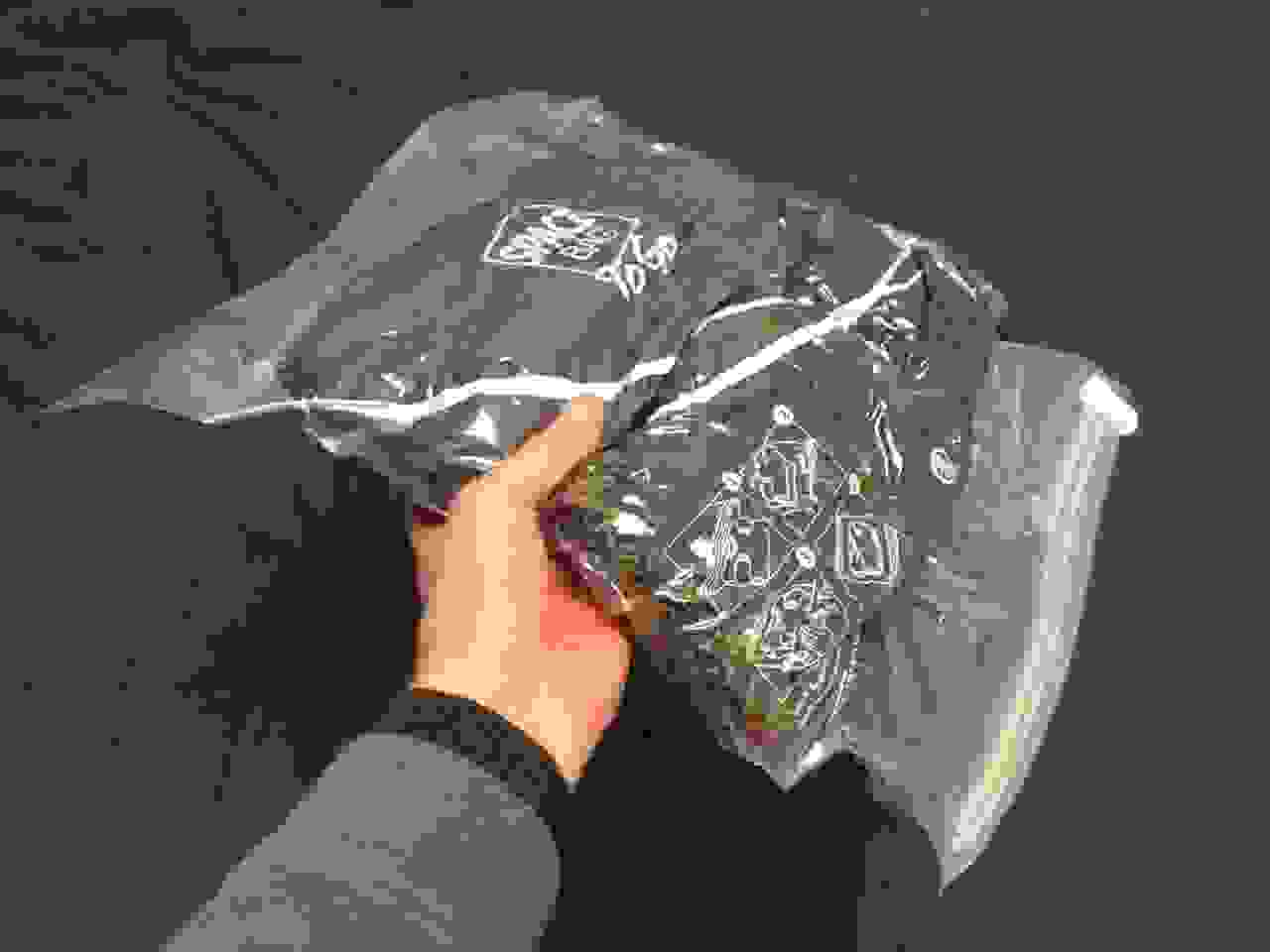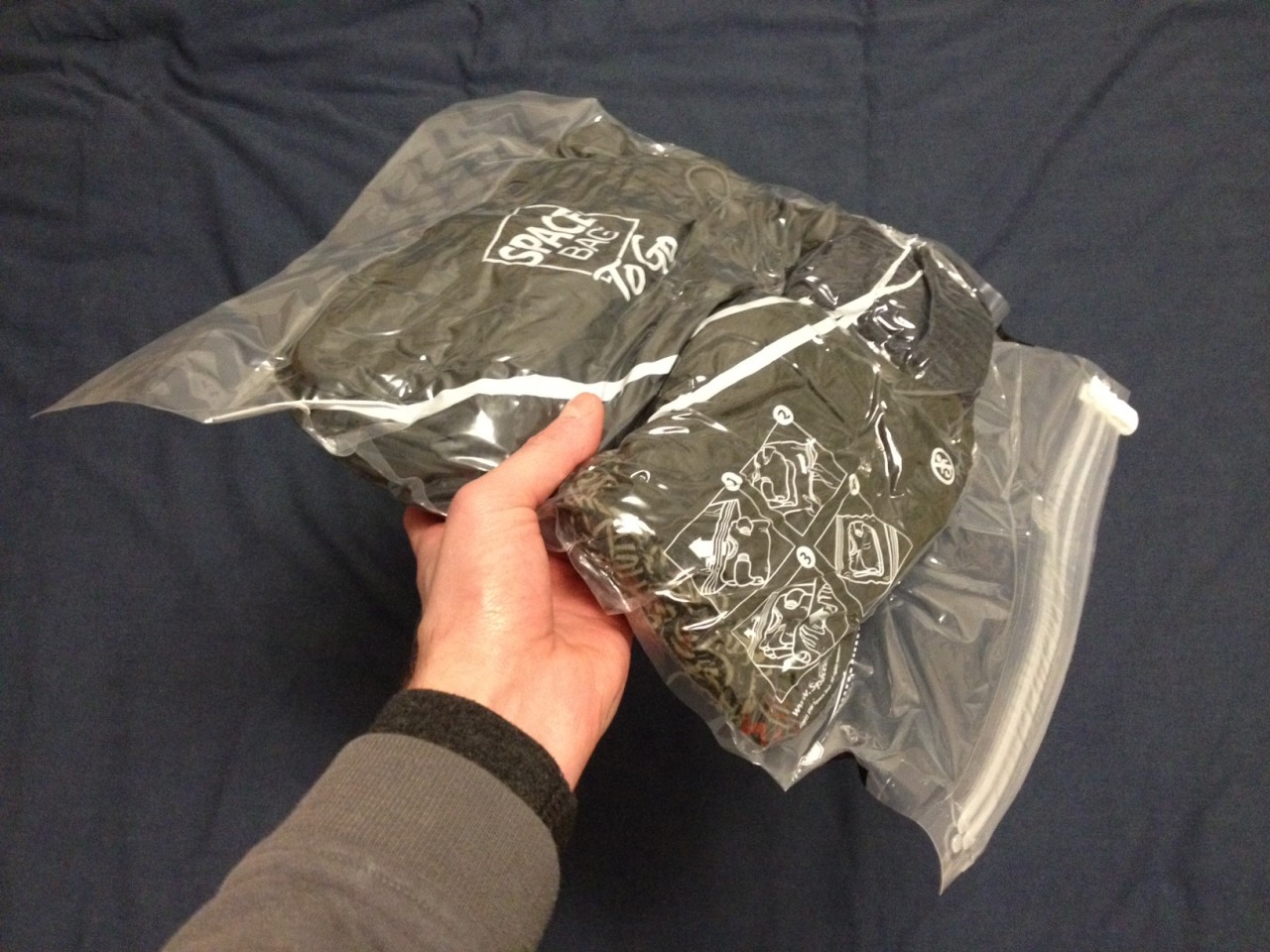 If you fold it in half, it's about the size of a large pair of shoes. It weighs about 2 pounds, or about a kilo. All in all, it's not so bad, and if that's all you need to brave the perils of winter, well then go for it.
I'd recommend waterproof shoes as well, but since it's fairly easy finding waterproof leather shoes, these can also be your "normal" shoes outside of winter, so I don't consider this an additional item, meaning you can still travel with just one pair of shoes. Girls might want to bring an extra pair for fancy nights out, though.
So now you're ready to storm castles such as these: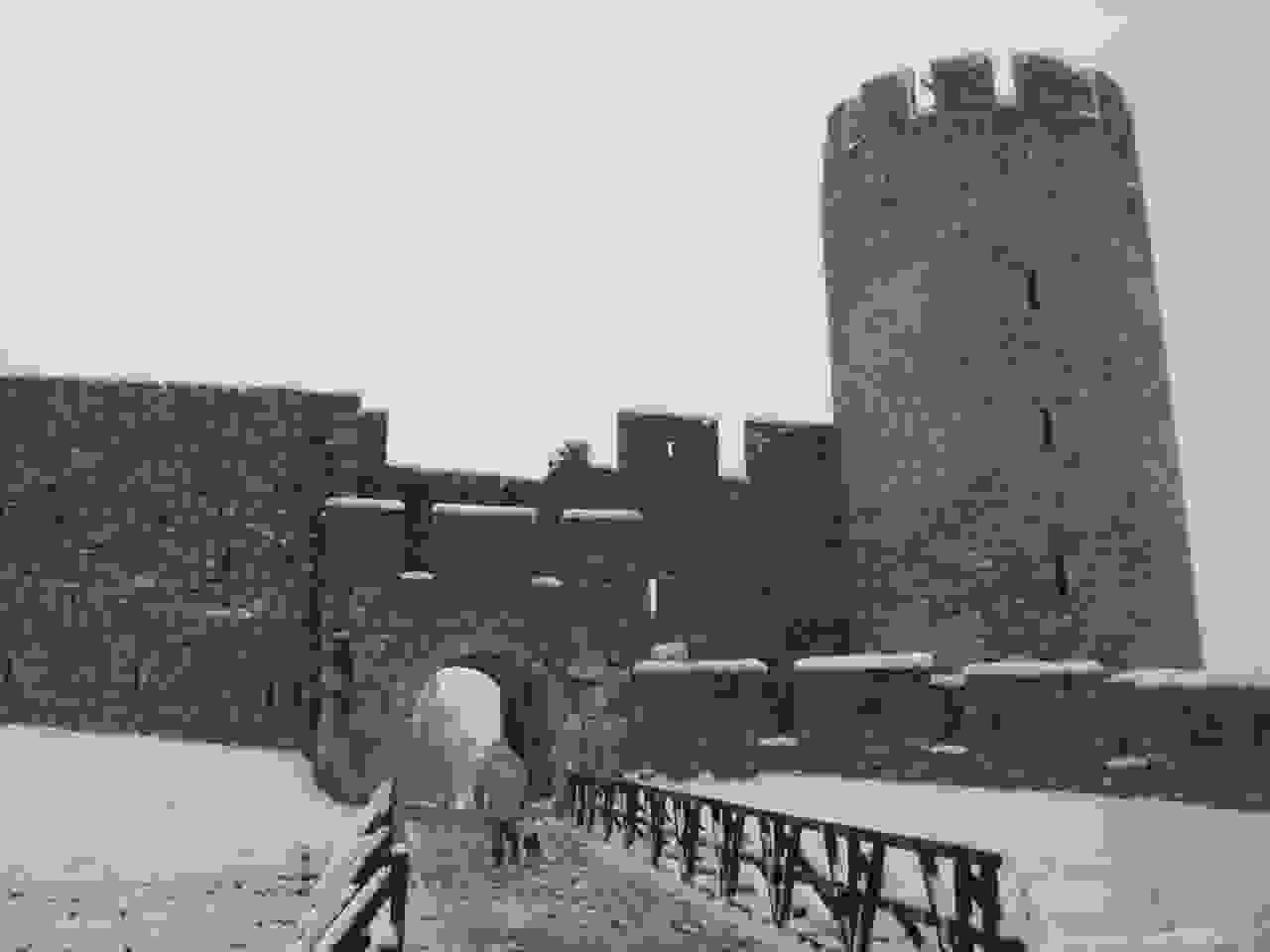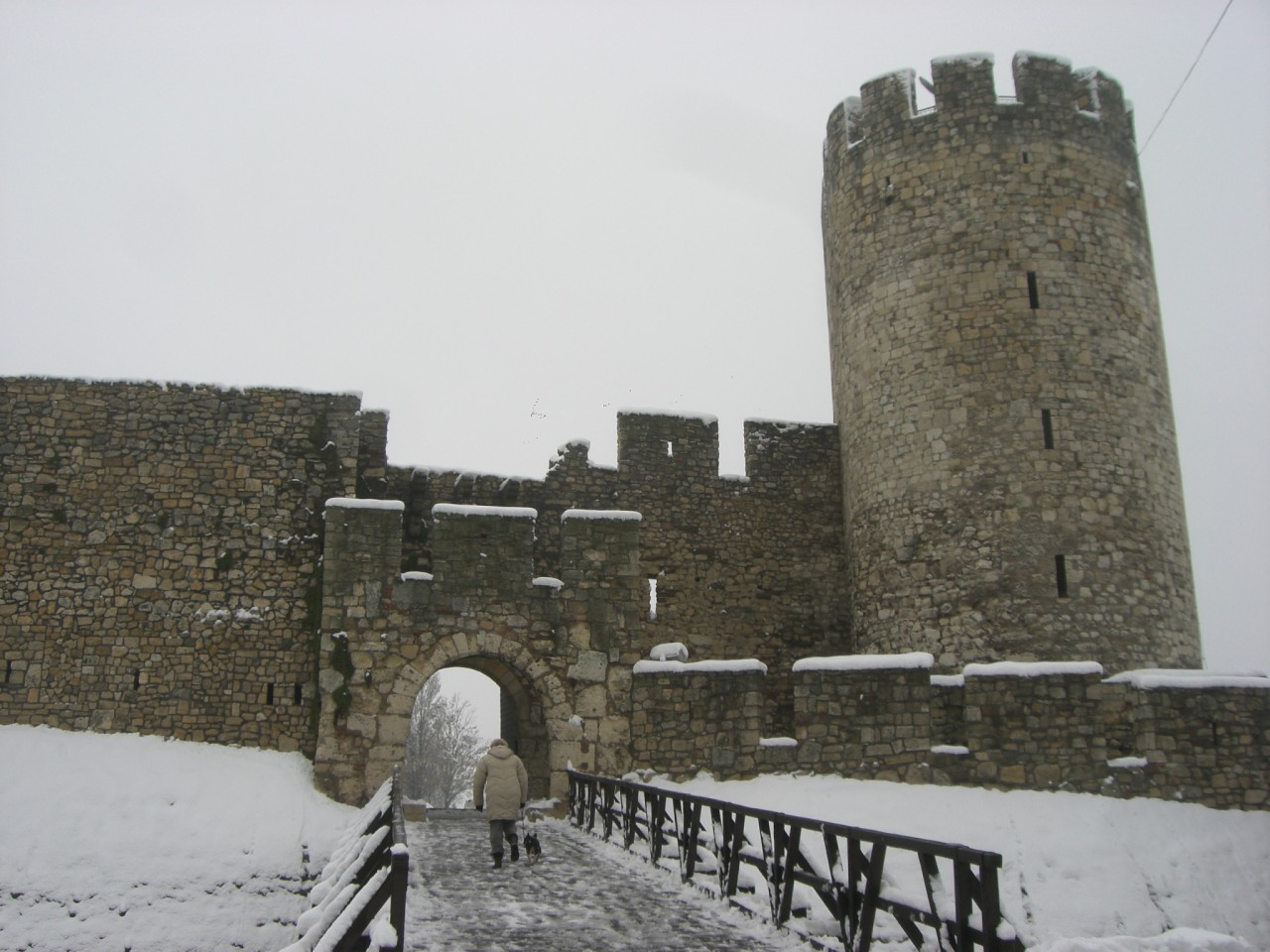 So I hope this can help the backpackers who live in fear of winter travel. You've probably got most of these items already, like t-shirts, sweaters, hats, and scarves, meaning you might only need a couple things to complete the list, which should keep the costs down.
And then you can venture out into the wintry wilderness, and stay cozy the whole time.
Keep in mind that impromptu snowball fights in foreign countries amongst complete strangers are always fun.