Ah, rain jackets. Absolutely essential to any sort of outdoorsy adventure, but utterly useless if all goes well. They're the clothing equivalent of a first aid kit: Always there, but hopefully never used.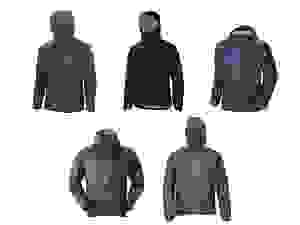 So it seems to me that if anything should benefit from the ultralight gear revolution, it should be rain jackets. If they're meant to be stowed away and deployed only when storms arrive, there's no reason to make them bulkier and heavier than necessary, and with plenty of super lightweight fabrics available, we should have countless gravity-defying options for super lightweight options all over the place.
But while each and every rain jacket on the planet markets itself as "lightweight," they mostly fall into the same general range: 13-16 ounces (370-450g), all packing down to a similar size. It's certainly not bad, but if you're trying to minimize pack size and reduce weight, you can do a whole lot better.
Luckily for you, I am a scrawny weakling with the structural integrity of a stalk of wheat, and have spent the last decade patrolling the gear repositories of the world for the absolute lightest and most packable, but still highly functional options anywhere to be found. They're half the weight of existing alternatives, and every bit as useful.
So! Let's see if they're right for you:
Super lightweight, packable rain jacket pros and cons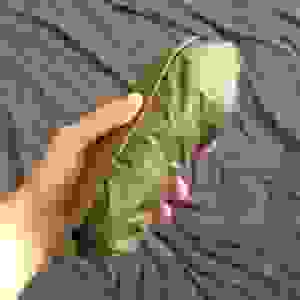 Personally, I much prefer the lightweight options that weigh less, pack smaller, and work just as well as their heavyweight brethren. But it's true that with this reduced weight comes a mild compromise; they won't be as tough as a regular rain jacket, so you'll need to handle them a little more carefully. I've had mine for years and it still looks brand new, so as long as you don't go charging into thorn bushes, you should be fine.
Also, because they're manufactured exclusively by mountaineering companies, they look like mountaineering gear. This might not matter to you so much, but as someone who enjoys traveling, I've always pointed out that casually-styled high-tech clothing is the ideal combination for international travel, as it allows you to pack half the gear, rather than packing dedicated hiking clothing alongside casual outfits. It's great for ultralight travel setups, and allows you to enjoy the benefits of carry-on only travel. But I'm able to let it slide when it comes to outerwear, since there aren't that many alternatives, and no one seems to mind anyway.
And thus, onward we go: Each item on this list comes in at under 10 ounces (280g), which is half the weight of most competing alternatives, and will handle a rainstorm just as well as anything else. I wouldn't have it any other way.
Updated for 2016! A couple options have been discontinued, while some new ones have shown up. I've kept the discontinued ones listed here, since you might be able to find them for a little while, but they're at the bottom of the list.
1) REI Co-Op Rain Jacket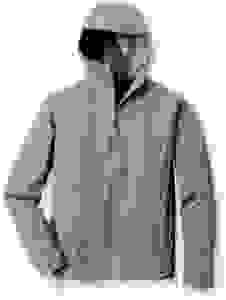 This is a downright bargain, streamlined for simplicity, and coming in just under 10 ounces. REI has been adding new items like this to its Co-Op line, which consists of staples items that everyone needs, in lots of colors, with no flashy logos, and basic features.
It has two hand pockets, and that's it, as far as storage goes. It does an interesting thing with the cuffs, though; it has an internal elastic cuff to block the wind, but has a loosely fitting external cuff that covers your hand, so it doesn't get rained on as much. Kind of a neat feature, though a little unusual. Oh, and the hood is just a bit small.
Pockets: 2 zippered hand pockets
Pit zips: No
Weight: 9.4 oz (~266g)
Price: $80
2) Montbell Versalite Jacket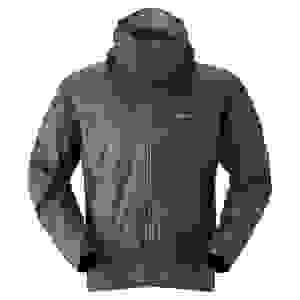 I've been a big fan of Montbell ever since I picked up one of their puffy jackets, which has been my go-to winter jacket of choice for half a decade, and a cornerstone of my lightweight winter travel gear setup ever since. The entire rest of their lineup is obscenely light, which is a strategy Montbell pursues with more dedication than most others.
Despite being one of the lightest jackets on this list, this is the only jacket that has underarm zippers, for extra ventilation. It's incredibly helpful on those long, uphill, backpack-laden, downpour-stricken hikes that'll happen sooner or later.
Other features include adjustments for the hood, hem, and cuffs, as well as two zippered hand pockets, placed high enough that they're still usable while wearing a backpack hip belt.
Pockets: 2 zippered hand pockets
Pit zips: Yes
Weight: 6.7 oz (~190g)
Price: $150
3) Outdoor Research Helium II Jacket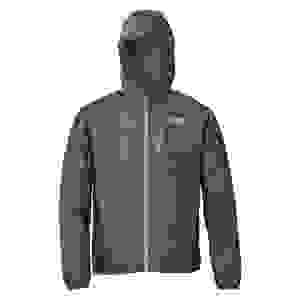 Another just-a-chest-pocket option. Napoleon would be so very proud.
The Outdoor Research Helium II includes an adjustable hood and hem, and elastic cuffs, and is another streamlined, simplified, just-the-basics packable rain jacket. The single chest pocket is what some people prefer, as it's more easily accessible when wearing a backpack with a hip belt than hand pockets would be.
Outdoor Research also makes an upgraded version called the Helium HD, which adds hand pockets and pit zips, and still comes in under 10 oz, and would be great for those who want those extra features.
Pockets: 1 zippered chest pocket
Pit zips: No
Weight: 6.4 oz (~180g)
Price: $150
4) Marmot Essence Jacket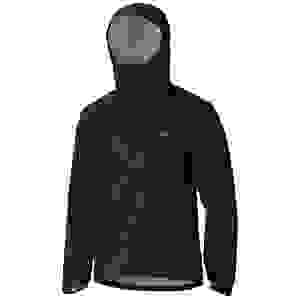 You'll soon come to realize that Marmot is leading the charge in super lightweight rain jackets. Gear manufacturers of the world, take note.
The Essence jacket uses a different fabric that's claimed to be even more breathable, and also manages to be even lighter than the aforementioned Mica.
The Essence features just a single chest pocket; personally, I much prefer hand pockets, so I have somewhere to put my hands when it's raining, but some people prefer the chest pocket, which is more easily accessible when you're wearing a backpack with a hip belt. Take your pick.
It also differs in that it has elastic cuffs, which I think work nicely, and 360° reflectivity, for greater visibility, which may or may not be what you prefer. Other features include an adjustable hood and hem. Very basic, very light, and very useful.
Pockets: 1 zippered chest pocket
Pit zips: No
Weight: 6 oz (~170g)
Price: $200
5) Arcteryx Norvan Jacket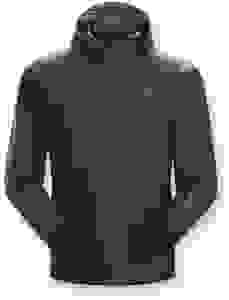 Arcteryx always seems to have fifty different jackets at any given time, but this ultralight one is actually quite new. It trims weight with basic features, such as elastic cuffs and hood, but adds some reflective elements to increase visibility if you're cycling or jogging.
It has no hand pockets, though; just a single internal pocket for storing small items. It's intended for running, which is probably why it skips the hand pockets, since runners wouldn't use them. But it does have underarm vents, which, in the version I've seen, are permanently slightly-open.
Pockets: 1 internal
Pit zips: Yes
Weight: 7.5 oz (~212g)
Price: $325
6) Marmot Mica Jacket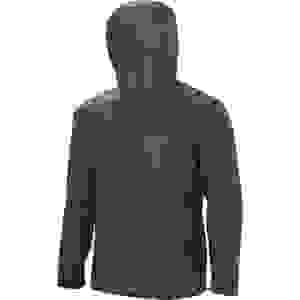 (Discontinued)
This is the one for me. I somehow managed to snag it on sale for $82 a few years back, and pretty much never bothered shopping for anything ever again. It's got everything I'd want in a lightweight rain jacket, and nothing I don't.
With two hand pockets and pretty much nothing else, it's a basic, streamlined, lightweight, packable rain shell, with very little else going on. I much prefer this sort of simplicity when it comes to outerwear, particularly when traveling, as it doesn't look like a fluorescent construction worker safety uniform, like plenty of other jackets so often do. It looks about as classy as a technical rain shell can get, especially in medium grey. The fabric is also a lot quieter than others, which is a nice bonus.
It includes an adjustable hood, hem, and cuffs, and does a nice job of covering my face in heavy rain. It works as advertised, and breathes quite nicely, though the lack of pit zips mean you'll eventually want to remove it, though I've been quite happy with its performance. For a variety of reasons, from the price, to the capabilities, to the basic-but-just-enough features, I'd just replace it immediately with the same thing if I ever lost it.
Two things I'd change, though: The main zipper pull is just a cord, but would be a little easier to grab if it had the metal pull like the hand pockets also do; and I'd add elastic to the cuffs, which currently have none, so they'd be easier to get on and off when adjusted snugly.
Pockets: 2 zippered hand pockets (one of them doubles as a stuff sack)
Pit zips: No
Weight: 7 oz (~200g)
Price: $150
Get it for men here. For ladies, it's known as the Crystalline.
Update: Looks like this one's discontinued. Sad times…
7) Mountain Hardwear Super Light Plasmic Jacket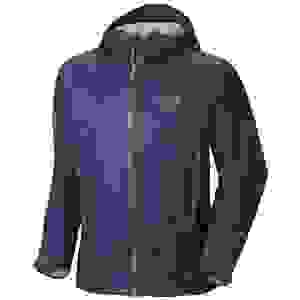 (Discontinued)
Minor note: Mountain Hardwear makes a bunch of jackets with the word Plasmic in the title, so make sure you get the one that also says Super Light. Or not. The others are pretty cool too.
This one is the lightest of the lineup, and uses the trick of placing its hand pockets higher than a hip belt, so you can use them while wearing a pack. Since they're mesh lined, they can also fulfill the function of pit zips, though to a lesser degree.
It includes the standard rain jacket adjustments, but doesn't load it with any features besides the basics. Extra points for subtle colors options, too.
Pockets

: 2 zippered hand pockets

Pit zips

: No

Weight

: 7.7 oz (~220g)

Price

: $200
Looks like this one's discounted as well…check out the regular Plasmic Jacket in the meantime, which is just a few ounces heavier.
Alternate plan: Get an umbrella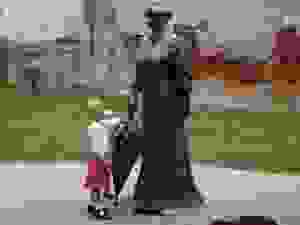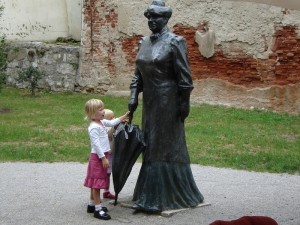 For all the technical wizardry on display in an ultralight rain shell, nothing beats the breathability of a good ol' fashioned umbrella. And while they do have downsides, it's a dirt-cheap alternative that's perfectly functional.
On the upside, it'll protect your legs, breathe better, and let you take pictures, or open up a map, without worrying about water damage. They'll protect your backpack too, meaning you can skip the rain cover.
On the downside, they're sensitive to strong wind, require one hand at all times to operate, and you'll probably also want some sort of jacket anyway.
It's just worth taking into consideration that you don't need to get a high-tech rain jacket, and this is a good place to cut corners if you're looking to keep the budget to a minimum. I generally prefer jackets, but it's easy to see how the umbrella alternative could be great too.
Oh, and in either case, you'll have a ready-to-go answer for those people who ask "what do you do when it rains?"
Keep right on going, dammit.