"I can't pack light the way you do. I want to look good!"
I've never understood these people. What does quantity have to do with beauty?
I've always been an advocate of carry-on only travel, mainly due to the daintiness of my physique, and my disinterest in waiting in long lines for hours just to find out that my bag didn't show up. At this point, I really don't know how to do it any other way.
Yet no matter how many times I point out how easy this is (just bring a week's worth of clothing, do laundry once a week, and travel forever), they all still look at me like I'm a crazy person. Surely they'll need some nice outfits for fancy social occasions, yes?
So I ask them…why not bring only nice outfits?
Better yet, why not own only nice outfits?! What are these people doing owning ugly clothes in the first place!??!
Building an immaculate travel wardrobe
So, to shame them publicly better inform everyone of the great options available for stylish travel clothing that's both functional and fashionable, I've put together a series of head-to-toe outfits that'll handle whatever you throw at them, and look great the whole time.
You'll notice that I tend to seek out high-tech items, as I suffer from a biologically stupid condition that combines a scrawny lack of bodily insulation with a tendency to become ridiculously overheated with even the most leisurely of physical activities. Fancy techwear isn't entirely necessary, especially in mild climates (and it can be painfully expensive, so don't worry about it if you're heading somewhere pleasantly temperate), but it can be especially useful in extreme weather conditions, and also allows you to pack smaller, by enabling hand washing and hang drying.
I've also highlighted some of the dressier options available, not because I care one way or another about snooty fashion concerns, but rather because I want to silence the nonsensical "I just want to look good" weirdos once and for all. Good travel clothing should look nice, as it allows you to skip the "just for fancy occasions" outfits, and thus pack down to half the size.
Which means, and I cannot stress this highly enough:
When it comes to travel, beauty is actually a performance advantage.
So let's see how great we can look. I've organized these outfits by manufacturer, so you can get the whole outfit all in one place, and have pointed out which ones have supplied me with free samples, for transparency reasons. Here we go.
1) Outlier
Outlier has been making quite a name for itself as everyone's go-to brand for stylish performance clothing, despite what appears at first to be a limited selection; the strategy consists mainly of designing just one product per category (one pair of jeans, one pair of work/dress pants, etc) and getting it just right, instead of churning through trendy designs all the time.
"Upscale casual" is what I'd call the aesthetic, with items that work perfectly well for casual situations, but can often blend right in for a night out: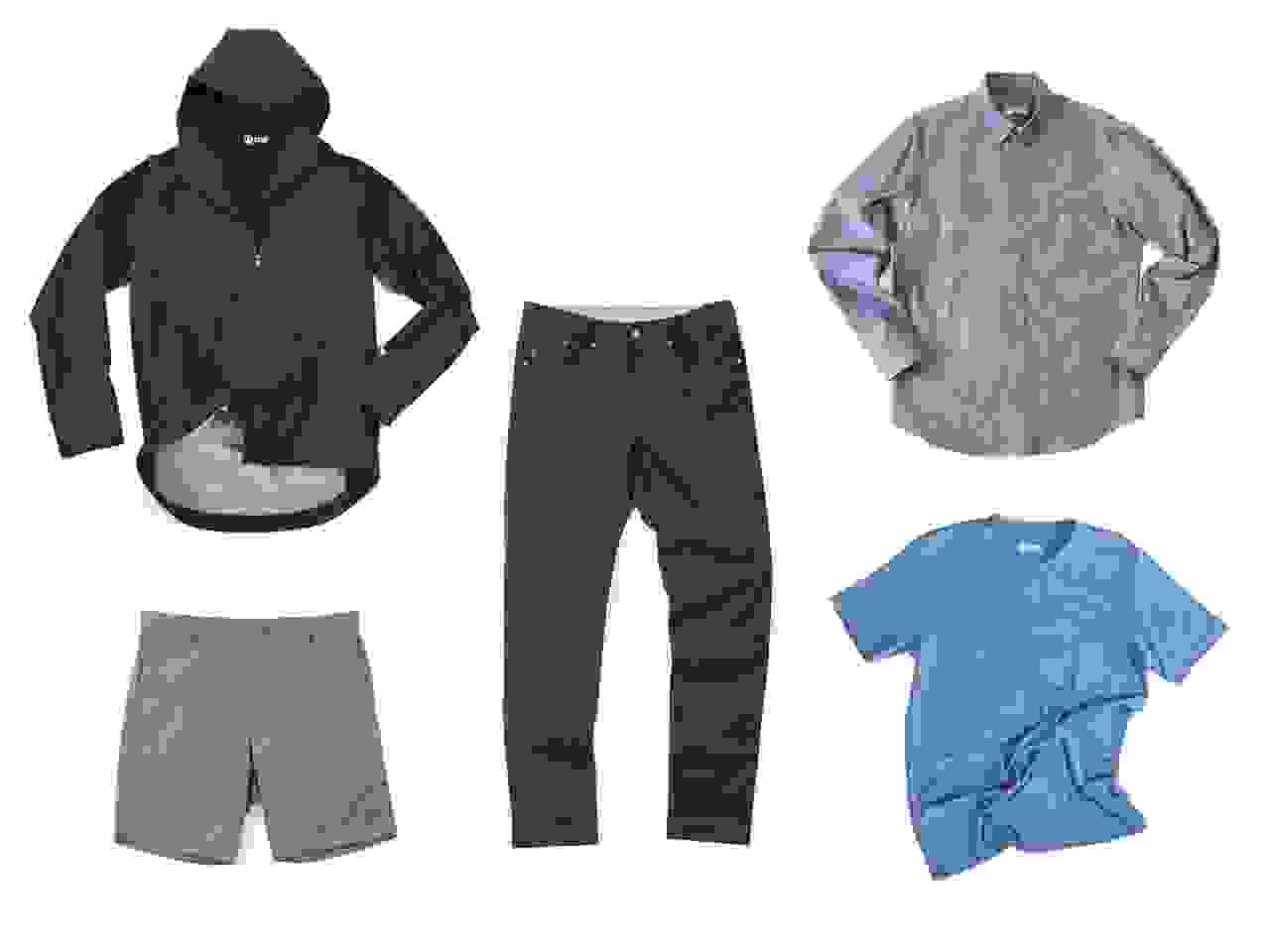 Pictured:
Freeshell: A seasonally-available, water-resistant jacket for light weather protection (often available in different fabric variations).
New Way Shorts: Quick-drying, and with a drawstring waist, so they can double as swimwear.
Slim Dungarees: Perhaps their most well-known product, this is a soft shell jean (reviewed here), offering stretchy comfort, tough fabric, quick-drying performance, and weather resistance.
Merino/Co Pivot: One of the few merino wool dress shirts out there, blended with cotton for a bit more structure.
Ultrafine Merino T-shirt: A merino wool t-shirt, though with a finer grade fiber than most others.
(Outlier has provided me with some free samples)
2) Outerboro
Outerboro is a lesser-known Taiwanese company whose products range from casual streetwear to fancy dress clothing, all of which incorporate high-tech materials or finishes to make them more versatile than ordinary clothes. The outfit shown below happens to include the more casual items, but they've got dress shirts and blazers for fancier events as well: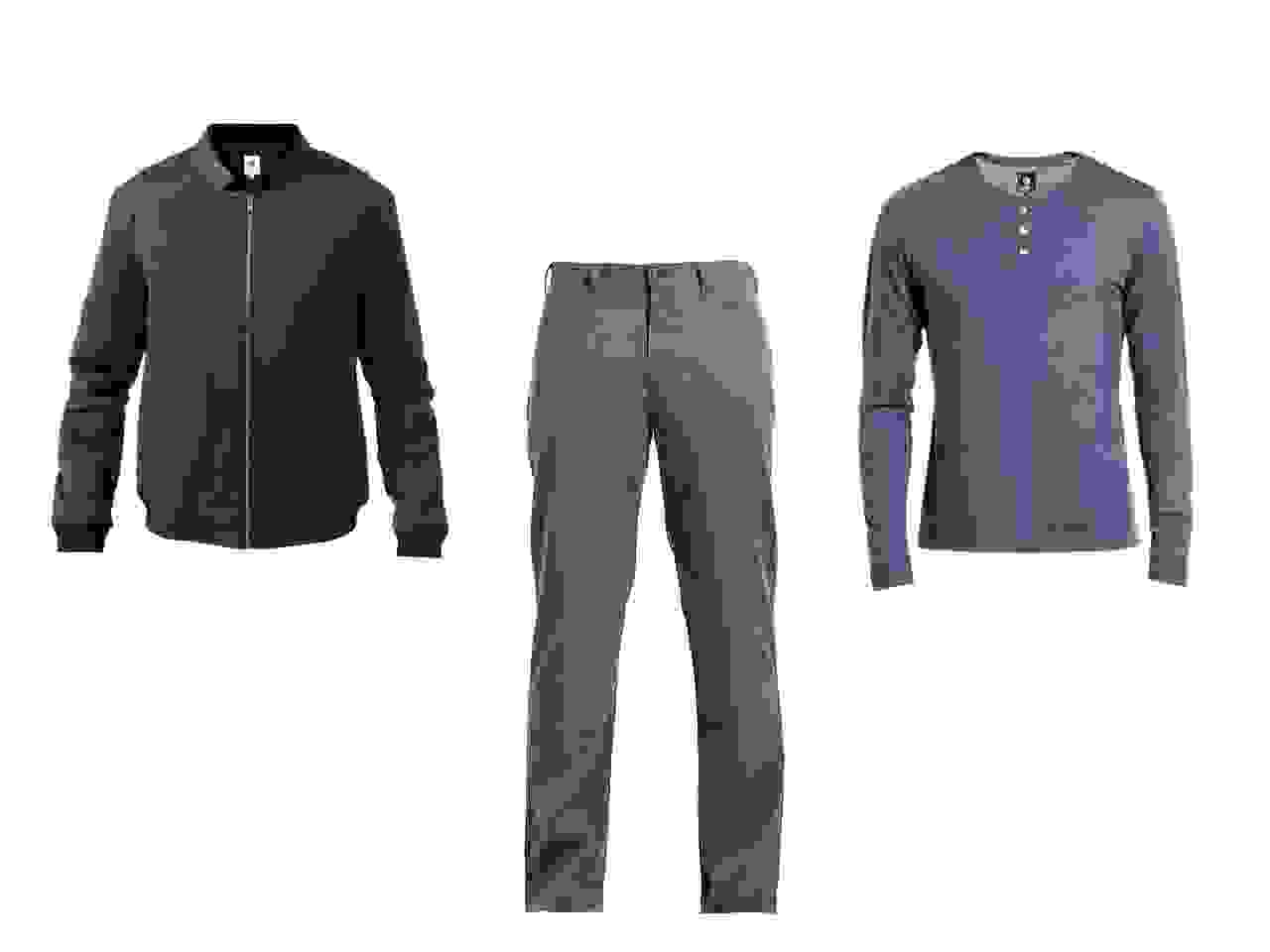 Pictured:
Pursuit Bomber Jacket: A semi-performance jacket with light weather resistance, Thinsulate insulation, and stretchy fabric.
Edge Pants: Cordura nylon incorporated into a pair of stretchy, weather-resistant casual pants for super tough performance.
Merino Core Henley: Cozy merino with a bit of adjustability with the henley buttons.
I've found Outerboro's sizing tends to be more appropriate for shorter, slimmer people; it's a Taiwanese company, after all. You'll notice this from their size charts (especially the one listed for their Motile Pants, which includes very specific dimensions of all sorts), where the inseam length sounds ideal for someone maybe 5'8″ or below. It's a good idea to spend some time reviewing these details, as returning items via international shipping tends to get pricey.
(Outerboro has provided me with some free samples)
3) Ministry of Supply
Of all the companies listed here, Ministry of Supply focuses most clearly on office-appropriate clothing, and with a greater variety of colors and patterns than you're likely to find elsewhere. They even have the option of slim and standard fits on just about everything they make, so it almost feels like you're getting customized items when you pick out an outfit.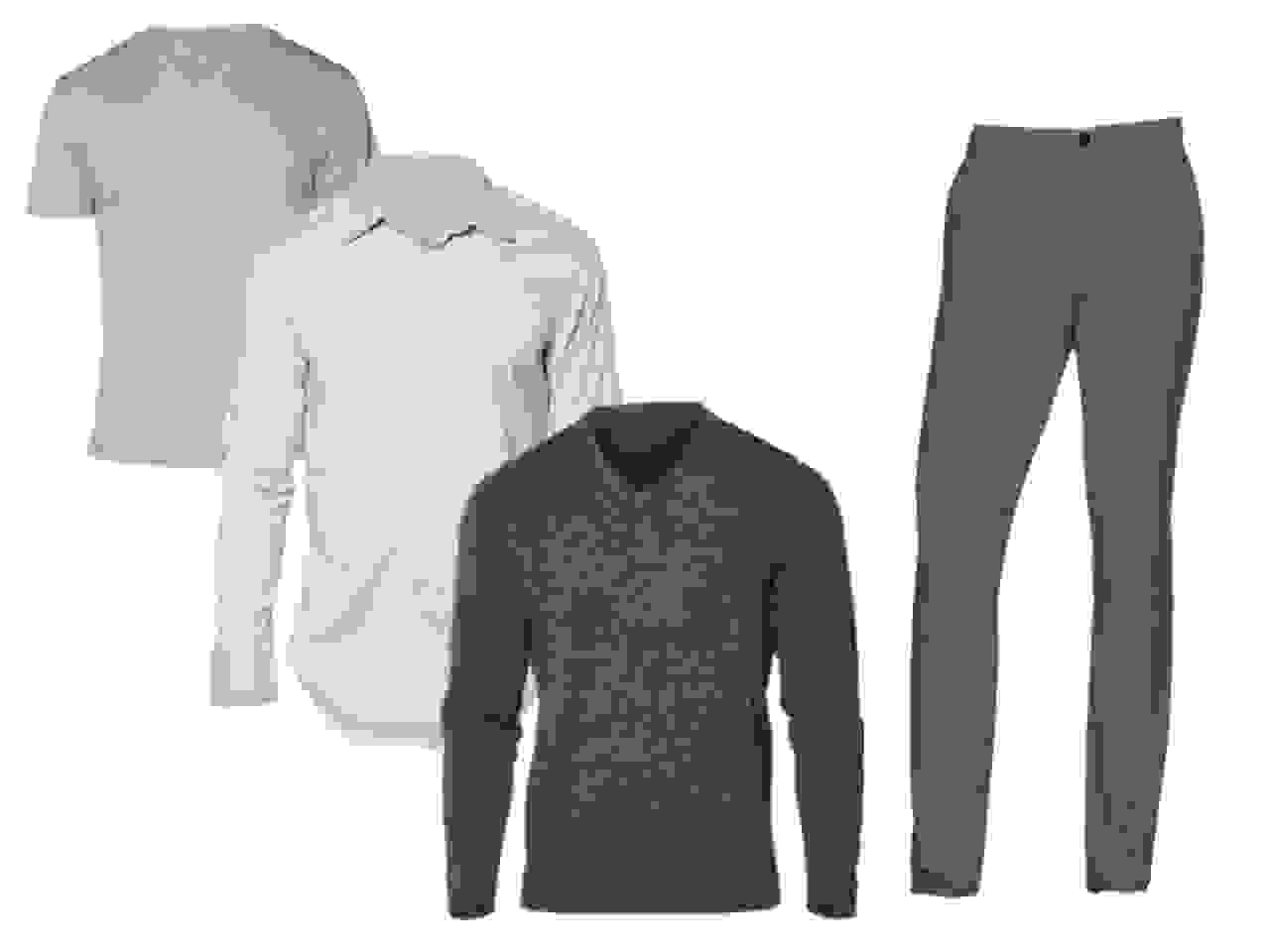 Pictured:
Core V-Neck: Moisture-wicking, odor-resisting synthetic undershirt (which could also double as a regular t-shirt or a workout shirt).
Archive Dress Shirt: A stretchy, wicking, quick-drying dress shirt. I'd recommend this over their Apollo, as the fabric on this one is far dressier.
Mercury V-Neck Sweater: Merino wool, combined with phase change materials, for even more temperature regulation.
Aviator Chinos: Stretchy, quick-drying, coffee-resistant dress pants available in all sorts of colors.
(Ministry of Supply has provided me with some free samples)
4) Mission Workshop
Though mostly known for their waterproof messenger bags, Mission Workshop has been delving into the world of high-tech performance clothing as well, with what I consider especially good examples of outerwear. The selection is quite limited at the moment, but the dark colors, subtle designs, and performance materials give them a stylistic and weather-protective versatility that's worth checking out. The aesthetic is more casual than dressy, but it's refined enough that it looks great in all situations but the suit-and-tie sort.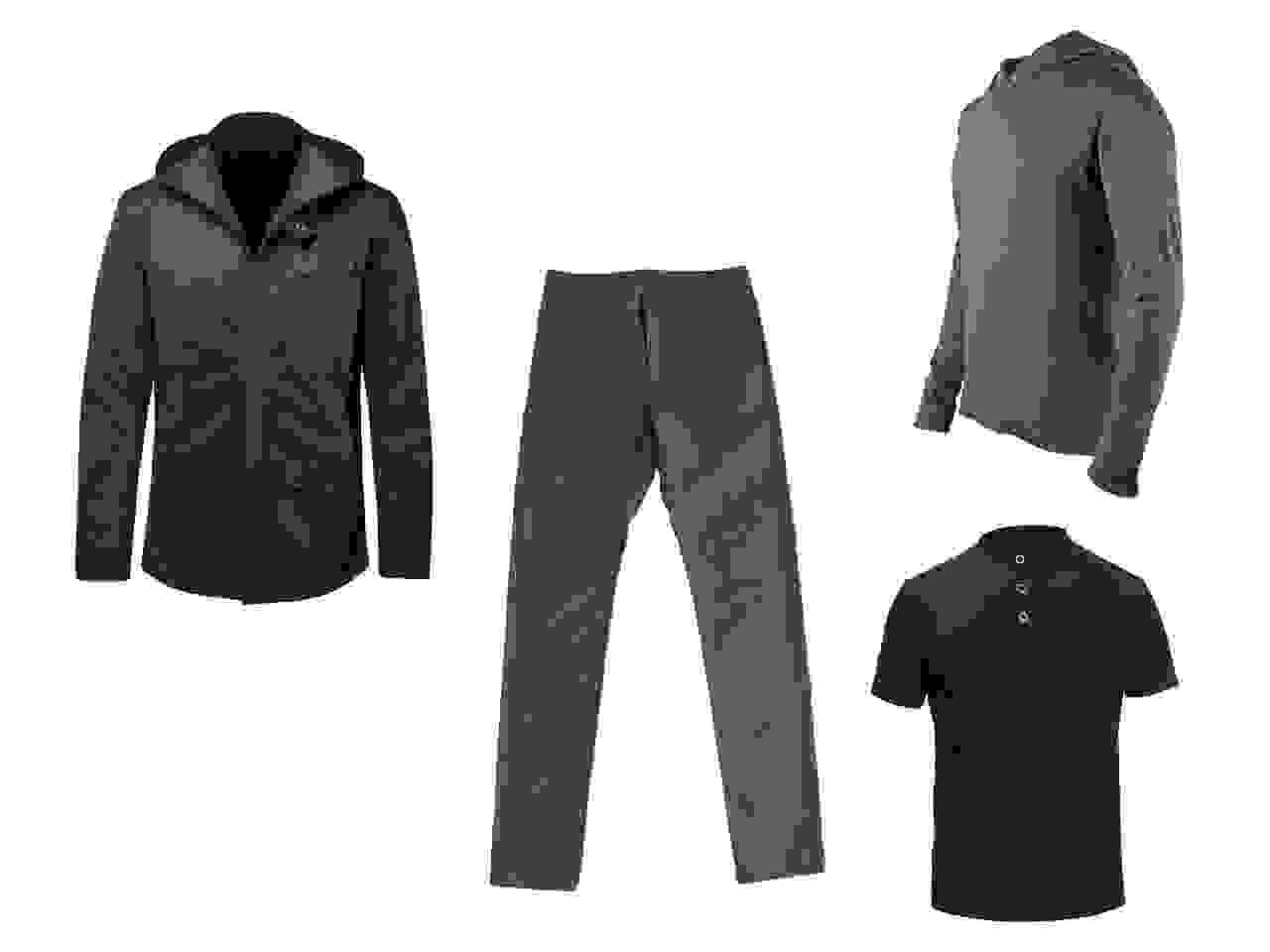 Pictured:
Remi Waterproof Hooded Blazer: Looks like a blazer with the hood down, works like a rain jacket with the hood up, with temperature-regulating materials so you don't overheat.
Division Chino: A good example of soft shell pants, which are probably the best kind of pants.
Faroe Merino Wool Pullover Hoody: Stay cozy.
District Merino Henley: A little different than just a typical t-shirt.
5) Rohan
Rohan makes a variety of gear, from travel-friendly clothing with hidden security pockets (and I do mean hidden), as well as outdoorsy gear for mountaineering adventures.
But here I'm highlighting the classiest item they make, because practically no one else is doing this: A high-tech, moisture-wicking, fast-drying, wrinkle-resisting, stretchy, machine washable business suit that looks 100% indistinguishable from a regular suit. And it's not overly techy; it's blended with wool, so it still looks and feels like wool. Why does anyone make anything else?! ARGH!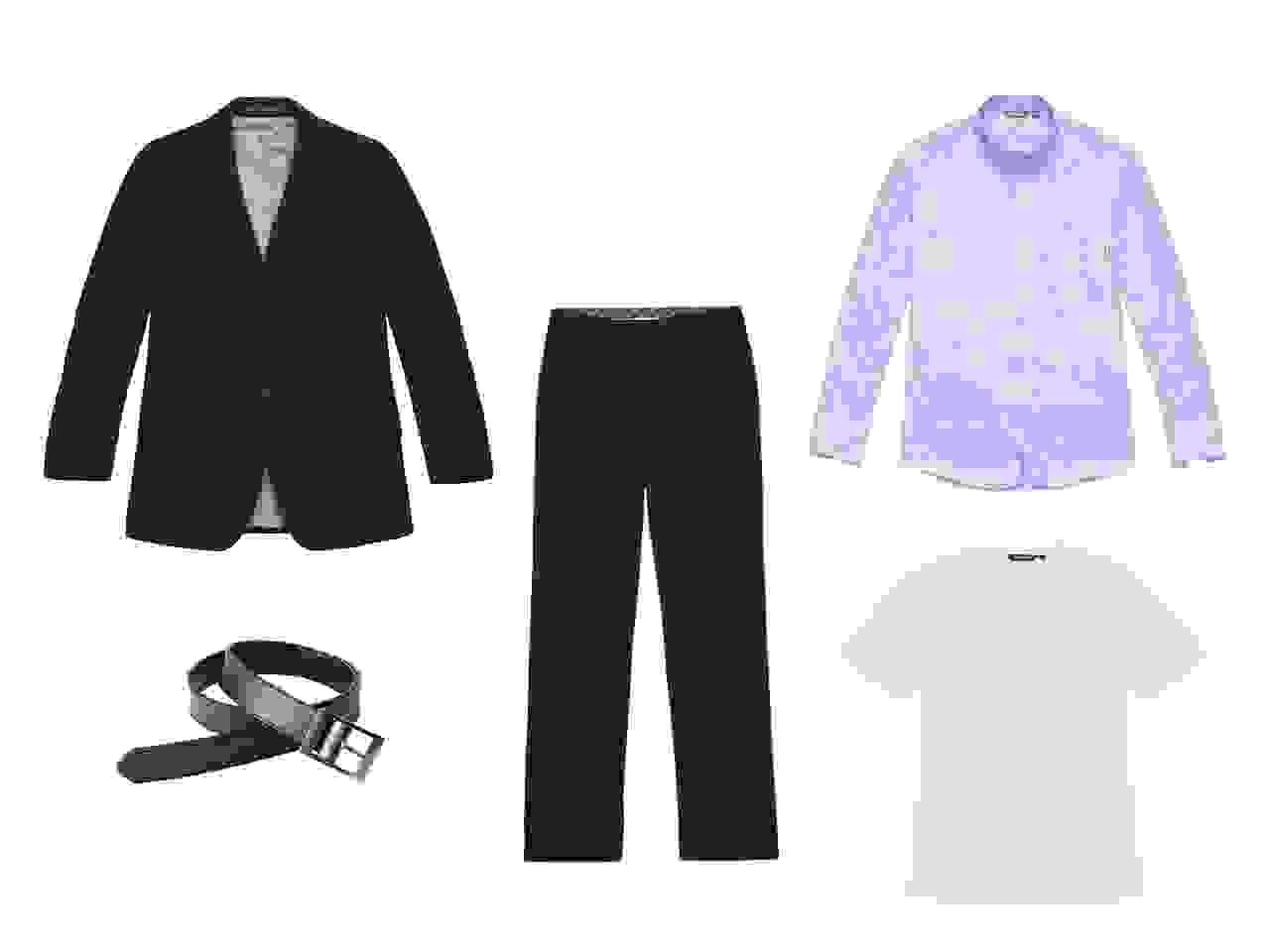 Pictured:
Envoy Jacket: A high-tech business suit that'll resist wrinkles, stains, and odor, but still looks just like a business suit. The stretch fabric is likely to keep you more comfy than a regular jacket ever could. Lots of interior pockets, too.
Envoy Trousers: The corresponding pants, which also have a zippered security pocket.
Envoy Shirt: Quick-drying, crease-resistant fabric, with an odor-resistant treatment. There's a logo tag on the pocket, but it's the type that can be cut off.
Ultra Silver T: A synthetic undershirt with odor resistance.
Switch Around Belt: Black on one side, brown on the other.
(Rohan has provided me with some free samples)
6) Proof NY
Proof NY is another small company, recently founded, with the intention of improving on wardrobe staples, by incorporating high-performance materials for increased durability, breathability, and weather resistance. They're also one of the extraordinarily few companies doing this with a pair of jeans (pictured below), while still maintaining the look and feel of ordinary denim, which most others don't bother doing. They often change the color to flat khaki or something…which is fine, but shouldn't we have options that can pass for regular jeans too? Yes, we should.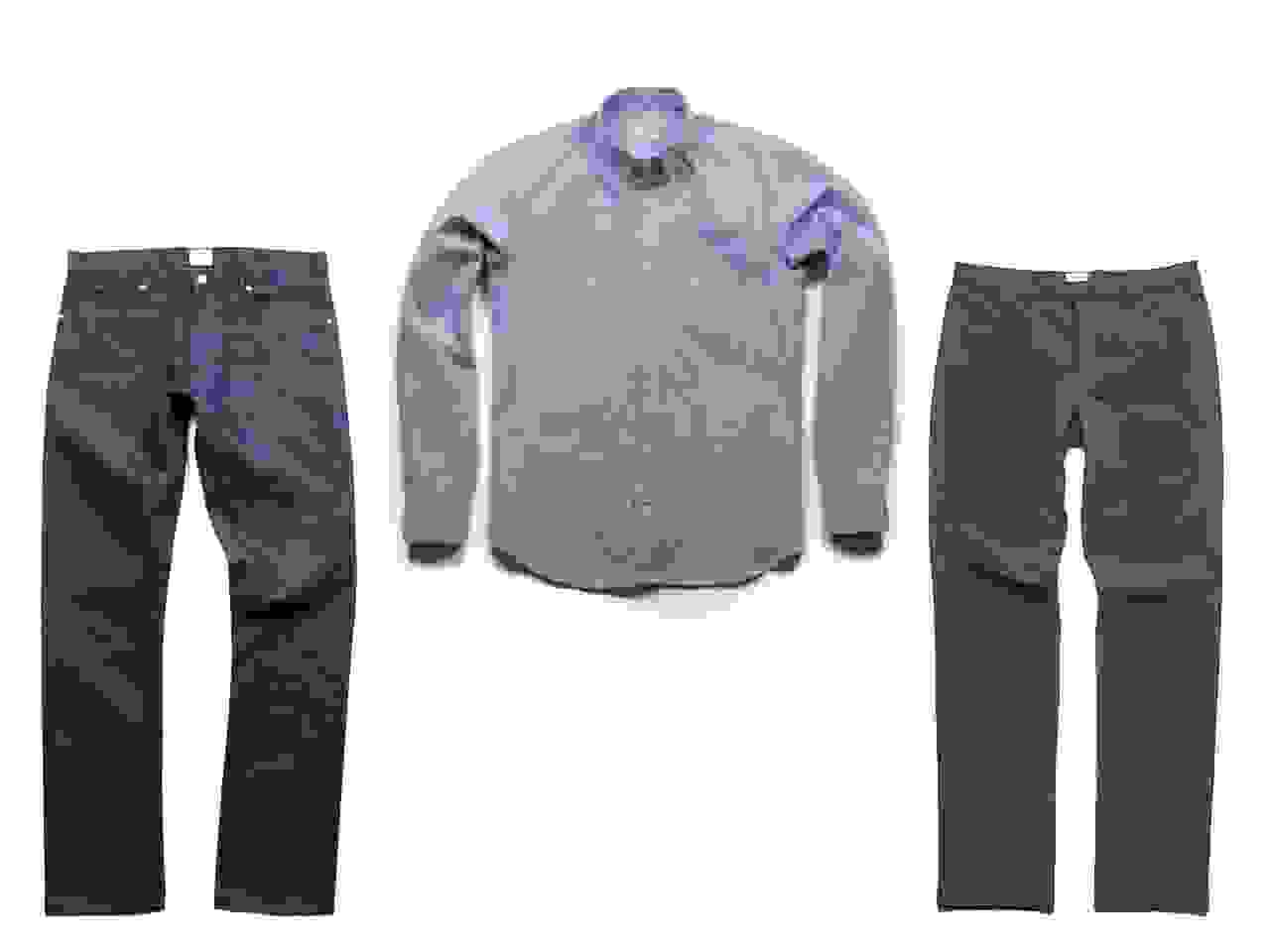 Pictured:
Blueprint Denim Jeans: Cotton combined with Cordura nylon for durability, polyester for additional quick drying time, and stretch fibers for extra comfort and mobility.
Iron Ox Shirt: Cotton blended with nylon for easy care and greater strength.
Nomad Pants: Soft shell pants (stretchy, weather resistant, breathable, quick-drying) that look like dress pants.
7) Ninox
Another tiny company, this time from Colorado, is Ninox. They've recently expanded from…like, one product, to several, and although they're still quite new, they've got some good examples of dressy clothing and casual outerwear that'll be right at home in a wide range of circumstances, rather than just a hike: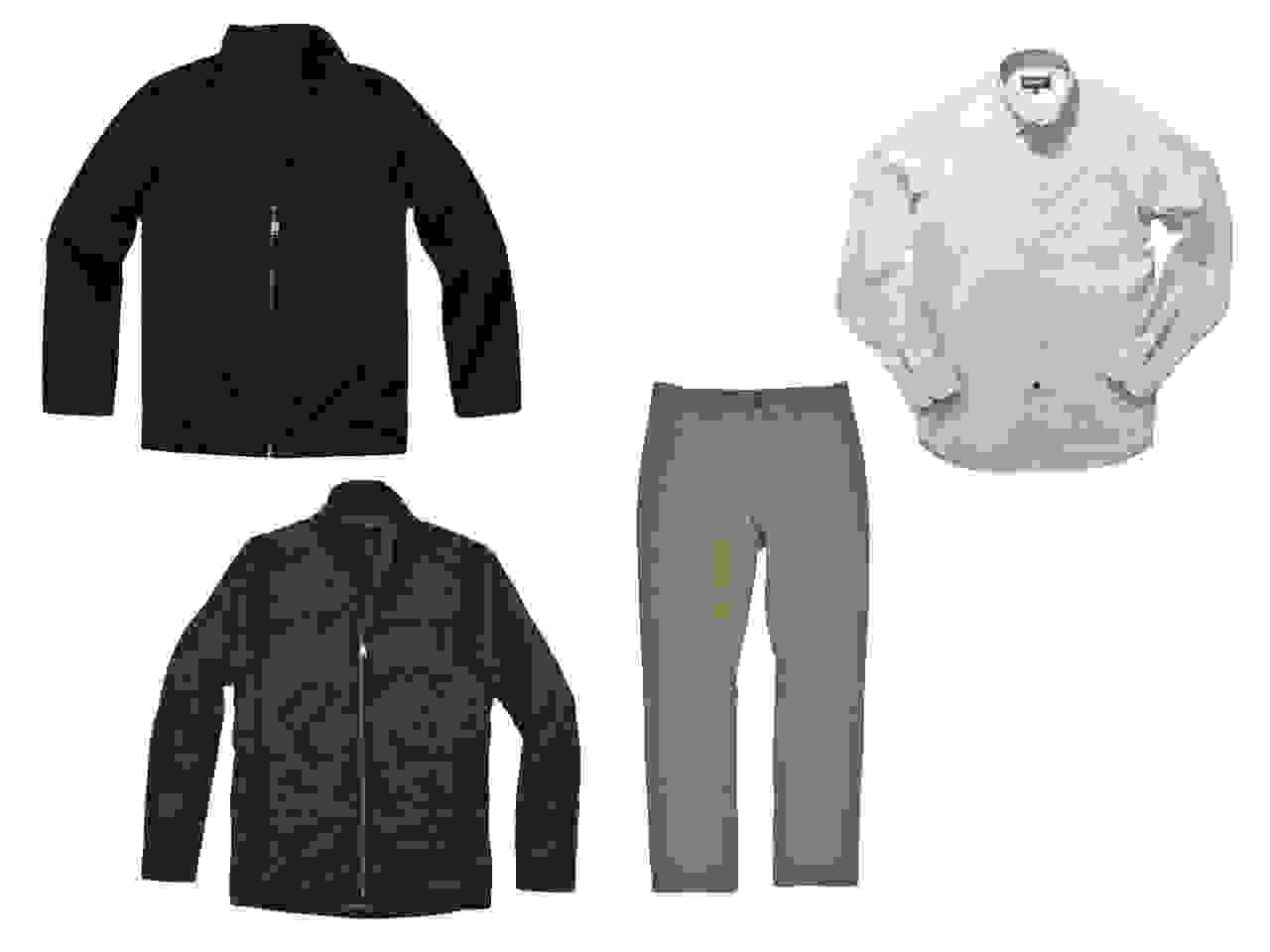 Pictured:
Dillon Merino Soft Shell Jacket: Merino on the inside, weather-resistant polyester on the outside.
Stratton Synthetic Insulation Jacket: Like a puffy jacket, but without the puffiness.
Carson Chinos: Soft shell pants: Stretchy, comfy, breathable, and weather resistant.
Aspen Dress Shirt: Merino wool for moisture management and wrinkle resistance, and cotton for extra structure and familiarity.
8) QOR
I don't know how the hell this one slipped beneath my radar, because they've got such a wide selection that it seems insane that I had never heard of them until recently. QOR's selection is easily the largest of anything listed on this page, with items of all sorts; they've got a lot of workout and fitness clothing, but with an understated appearance that can pass for casual clothing, along with upscale items for fancier occasions: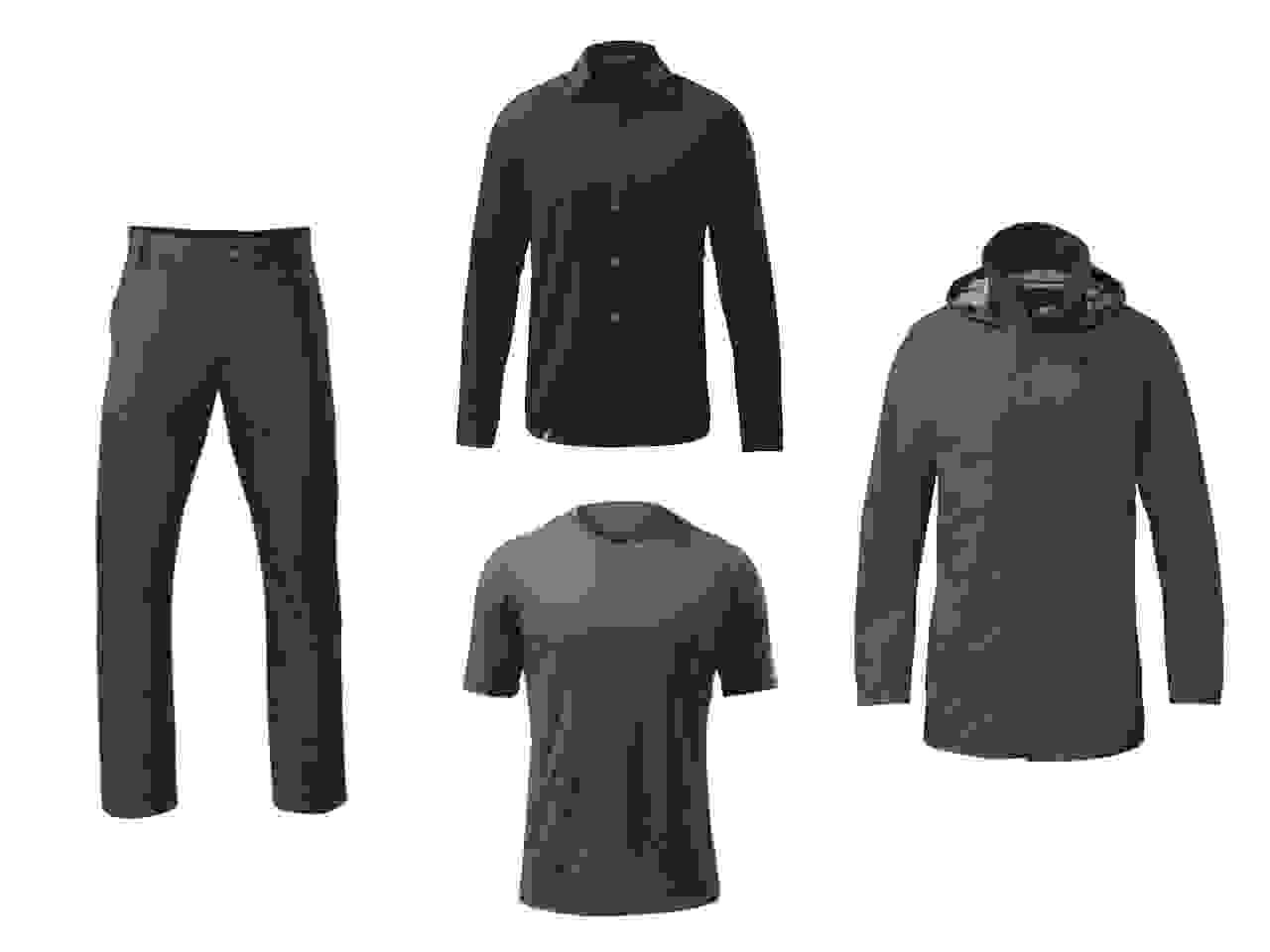 Pictured:
Performance Suiting Pant: Viscose for absorbency, polyester for quick-drying performance, with an additional fabric treatment for weather resistance, and some zipped pockets.
QOR Shirt: Yes, that's actually the name; it's the merino button-up, which also has a semi-concealed zipped pocket.
QOR 17.5 Merino V Short Sleeve: Comfy merino t-shirt.
Neoshell Trench: Neoshell promises hard shell performance with soft shell comfort (AKA it's waterproof but comfier than most rain jackets), in a nice trench style.
9) Alchemy Equipment
These guys are down in New Zealand, and from the emphasis on darkly-colored outerwear, this would be a great place to look for cold-weather travel gear that doesn't scream "I dress like a mountaineer, even when walking on flat surfaces." And here I was thinking that all New Zealand ever does is make Lord of the Rings movies. I'm still pretty sure it's mostly true.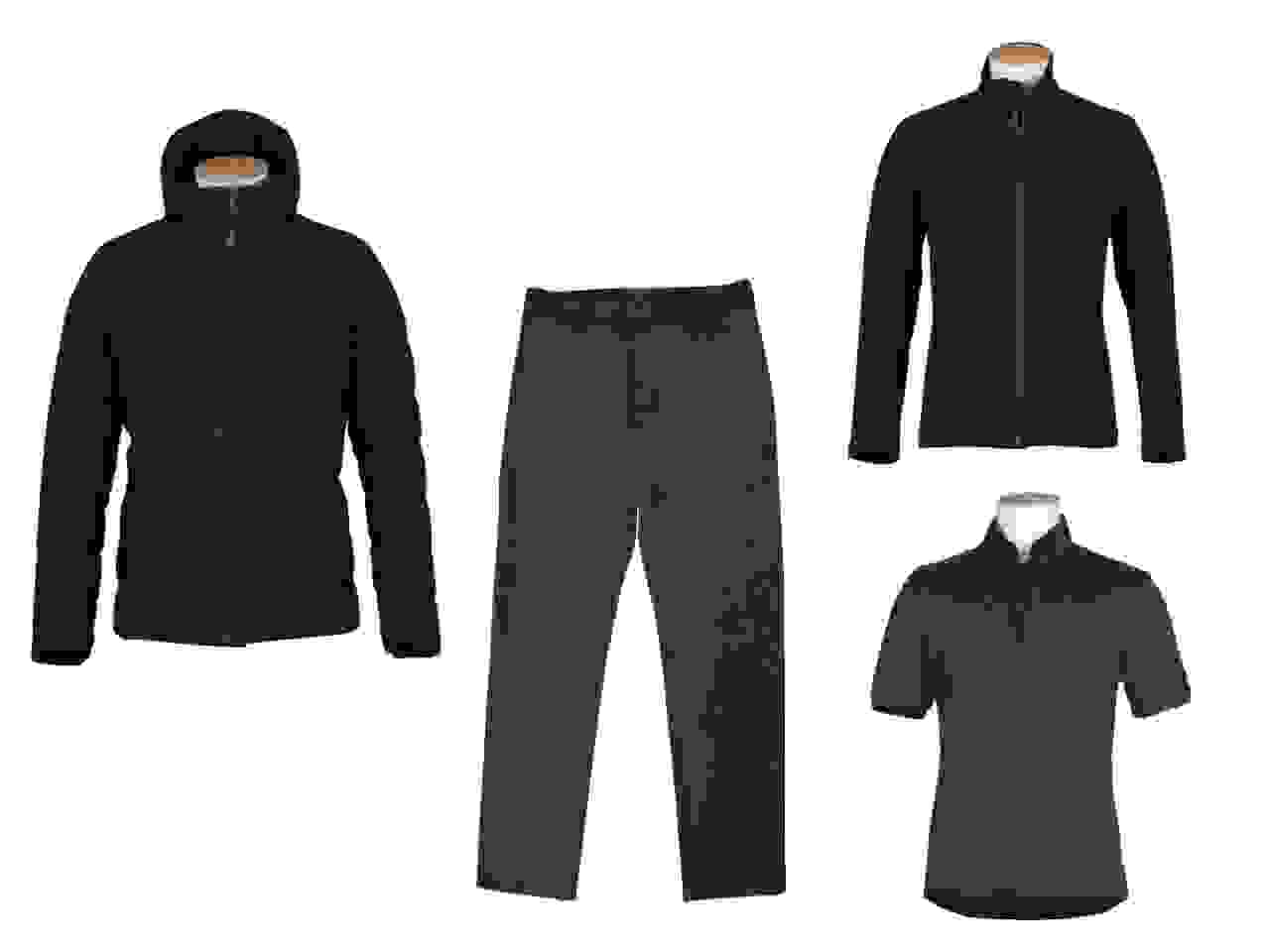 Pictured:
Wool/Waxed Cotton Down Jacket: Understated colors and fabrics typically not found in down jackets, with rainproof shoulder panels and a Teflon treatment for the rest of the fabric for extra rain resistance. Probably a little bulkier than a typical packable down jacket, but of course it'll work fine if you're not stowing it that often.
Stretch Wool Blend Chino: A nice-looking wool pant with a zippered, waterproof cell phone pocket.
Ceramic Coated Stretch Jacket: Treatments and extra-durable shoulder panels will lengthen the life of something that looks really great and thus will be worn a million times.
Single Jersey Merino Short Sleeve Polo: Name says it all. Comfy merino, polo style.
10) Mix and Match
Here I've compiled a couple outfits from tiny companies that pretty much make just a single product, but which do them especially well: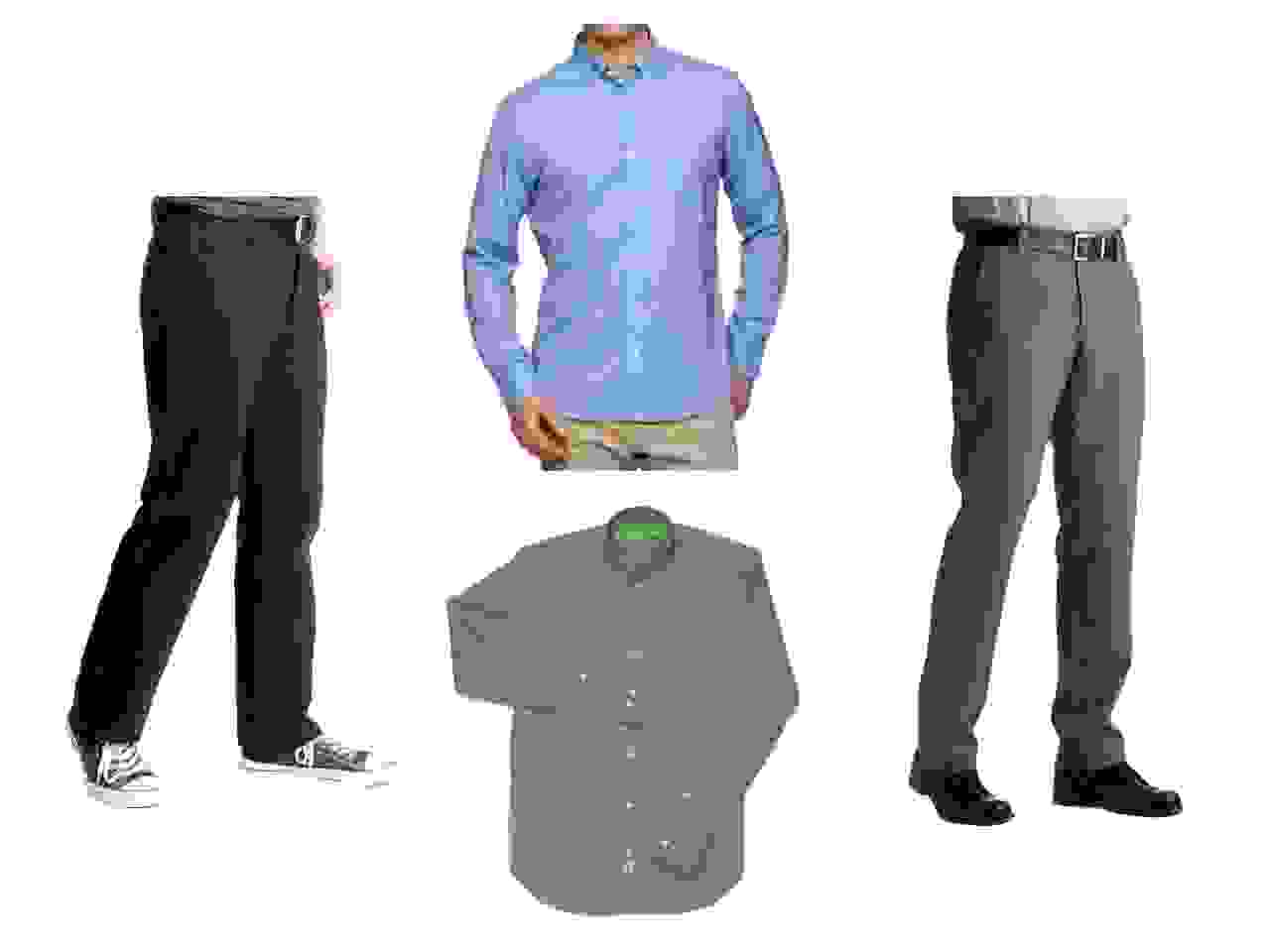 Pictured:
Thunderbolt Jeans (on the left): A perfect example of soft shell jeans, and one of the few that also has a hidden zippered security pocket, in back.
Wool & Prince Better Button Down (the blue one): A 100% merino wool dress shirt, and thus super comfy and wrinkle-free, because ironing clothes is just objectively stupid. How many hours of our lives must be spent drawing a slab of heated metal over wrinkly fabric so it won't look like garbage when we could just use non-wrinkly materials instead!?!? ARGH!!!
Fairwear Belmont Gingham Shirt (the grey one): A blend of bamboo and polyester for comfort and performance.
Bluffworks Khakis (on the right): Great travel pants, reviewed here.
(Wool & Prince and Bluffworks have provided me with some free samples)
By the way, you can find quite a few of these brands (often on sale) at Huckberry, which offers a good range of style and substance all in the same place.
I don't know why travel clothing has been so ugly for so long, but now that it looks this good, we might as well just look great all day, every day, wherever we go.
Happy (stylish) travels!