As perhaps some of you may know, I am a scrawny weakling with embarrassingly atrocious upper body strength huge fan of minimalist travel, and the unhindered wandering it allows. I haven't checked a bag onto a flight in a decade or two, and my spine hasn't crumbled into oblivion under the weight of an immensely overloaded pack that smashes my bones into a fine powder to be whisked away shortly thereafter by a cool breeze. Not anymore, anyway. I have learned my lesson.
And yet, despite the innumerable advantages of minimalist travel, everyone seems to think I'm a crazy person. "Where's your real bag?" they'd ask, along with "I could never do that." I've given up trying to convince them by now, but I still look with bewildered confusion at their gigantic luggage, wondering what on Earth could possibly be inside. I don't even know how to pack something that big, let alone carry it.
So, after having returned just days ago from a month in Guatemala, I wanted to provide a concrete example of a streamlined packing list for backpacking through Central America, or really anywhere, with a tiny little pack that'll fit in the overhead bin on the plane, or conveniently underneath the seat in front of you.
That's me on the left: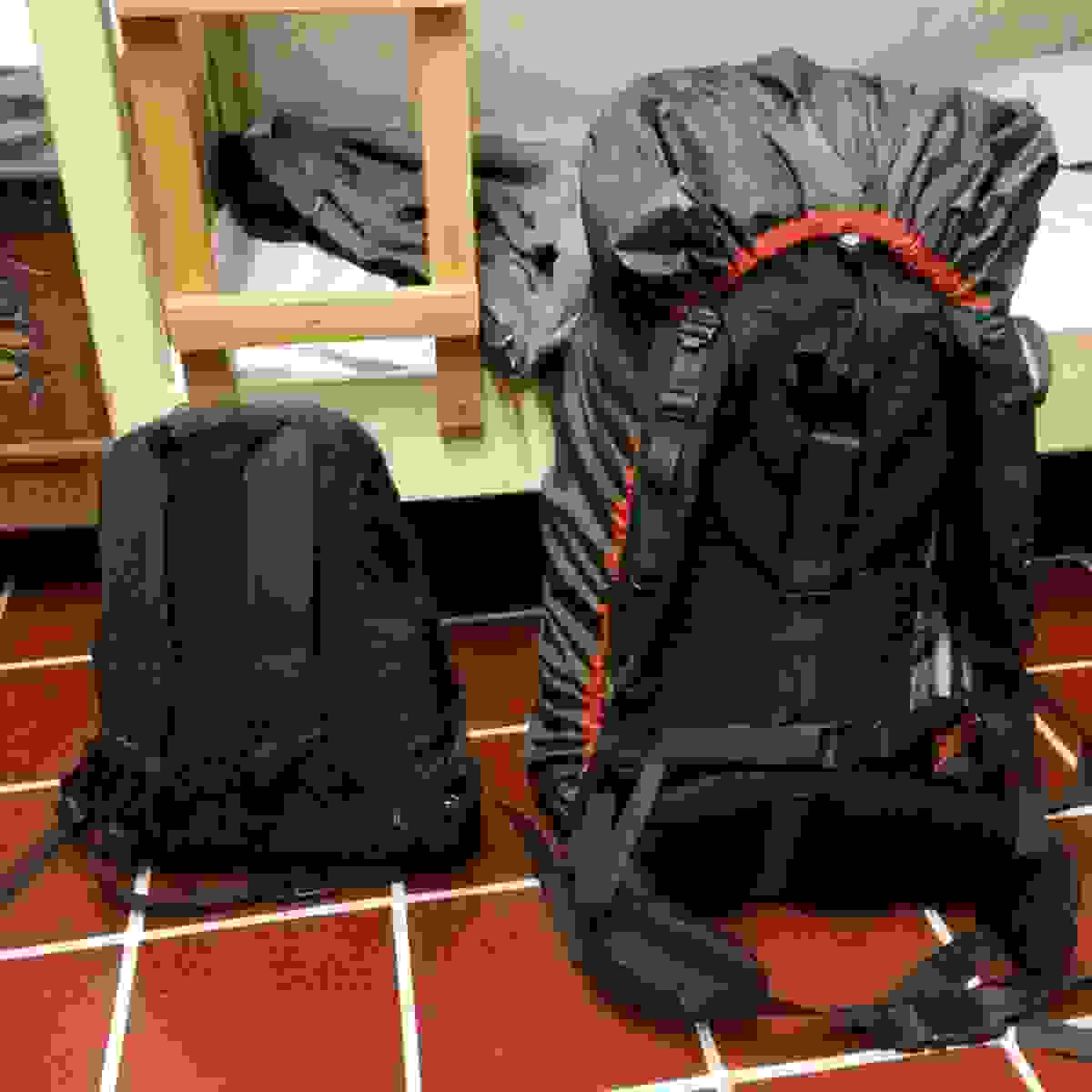 That guy was old, too. I don't know how he did it.
I've already written about what to pack for ultralight travel, which is more about how to accomplish this, whereas this list focuses more on the specific items used, and why. Hopefully it'll provide specific details about what to include, and how this is a whole lot easier than most people think.
A minimal packing list for backpacking Central America
Here's a photo of absolutely everything I took for a month spent in Guatemala (except for a couple things I forgot to include in the photo), which included everything from jungle treks to city walks; torrential rains, to burning sunshine; and high-altitude chill, to body-temperature heat in 100% humidity. Argh, I hate humidity.
And here's the gear:
Packs:
A Tom Bihn Synapse 25, (reviewed in ridiculous detail here) which is actually supposed to be a "normal" backpack, but if you're an ultralight travel junkie, it's juuuust big enough for everything you might need, and it's quite a nice pack that I thoroughly enjoy. I was especially interested in it because of how it places the water bottle in a centered and zippered pocket, meaning it's never off balance, and can never fall out. My water bottle is also a filter, so this was a big deal to me, as I don't want it getting lost. (Normal people will likely prefer a larger pack, so check here for some favorites of mine that are still carry-on sized, and highly functional.)
A ChicoBag Daypack 15, which is a packable backpack that stuffs down to the size of a t-shirt or two, so it can hide away in the main pack until you need it.
Basic clothing:
4 t-shirts, 2 of which were made of merino wool (both from Nau, a company which does a good job making travel clothes that are still fashionable), and 2 of which were polyester. Merino wool is generally better (read why here), but it's pricey, and it's nice to have at least one or two cheap shirts that you can really beat up and not feel bad ruining.
4 pairs of underwear, all of which were Uniqlo Airism polyester boxer briefs. I refuse to wear anything else (read why here). Certain alternatives could potentially work, but it's just such a hassle trying non-returnable undies that I just don't care to bother trying anymore, and these are great.
3 pairs of ankle socks, made of synthetic materials. Merino is probably a better choice, but these are what I happened to have, and they worked fine.
2 pairs of pants, one from Bluffworks (reviewed here), and one from Royal Robbins (another company that thinks travel clothing doesn't have to look silly). Both were made from synthetic materials, with velcro or zippered pockets so nothing falls out, while still looking quite like normal pants.
2 pairs of shorts, one from Columbia, and one from Royal Robbins, both with zips or velcro for safety. Both were made of synthetic materials, which allowed them to double as swimsuits.
So, if you have only 4 changes of clothes, you could travel indefinitely if you do laundry twice a week or so, even if you only wear each outfit just once (which, given the 100% humidity I was encountering, was exactly the case).
But if you bring 7 or 8 changes of clothes, you can travel indefinitely if you do laundry once a week, which I think is a good sweet spot in terms of variety, packability, and not-too-often laundry errands, which basically anyone should be able to do, and that's what I generally recommend.
All those people who say "Ah, I see, you're only traveling for a month, so you don't need much" simply don't know how laundry works.
Sweaters and jackets:
A lightweight merino wool sweater from Ibex, known as the Shak Lite Full Zip, which I adore (though mine is an older version than the current one). Fleece works fine too.
A super lightweight rain jacket, known as the Marmot Mica (the women's version is known as the Crystalline), which is one of the lightest rain jackets I've ever found. Check out a list of others here.
That's all the warmth I needed on this trip, but if you're going somewhere really cold, add a down jacket over the sweater. They're the absolute best for lightweight compressibility.
Footwear:
1 pair of Tyvek shoes, discussed here. Tyvek is water resistant, super breathable, and light weight, so they work nicely as travel shoes (and I only ever travel with one pair), although the particular model I had wasn't particularly comfortable for all-day wandering on concrete or cobblestones, but I expect others could be.
1 pair of sandals, which are the Chacos Updraft 2. These are lighter than the regular Chacos that everyone recognizes, but they use the same exact strapping system, so they're just as comfortable. All other currently available Chacos screw up the strap layout (including the original version of the Updraft) and they're awful and I hate them. Argh. But these are great. Get these if you think Chacos are awesome, but a little too heavy.
Toiletries:
I have a full list of toiletries here. This list is long enough as it is. Just take mini bottles of everything so you can take them on the plane with you.
Papers and stuff:
2 books. I'm probably going for a Kindle on the next trip, but I was being cheap.
The Guatemala chapter of a Central America guidebook, cut apart and taped like this so it fits into a back pocket so I don't have to carry around a giant guidebook all day.
Passport. Duh.
Post-it Notes, because I was being too cheap for a real notebook.
Business cards, though I didn't bother using them.
A tiny wallet, only big enough for an ID and a credit card or two. I only carry one card with me at a time, and hide the other one somewhere else, and carry cash in a separate pocket anyway. Eggs, baskets, all that.
1 pen and 1 mechanical pencil. Check out JetPens for great writing utensils.
I didn't bring a money belt, because I had pants with zippered or velcro pockets, which are pretty safe, but more comfortable.
Electronics:
An iPhone 5S. I upgraded to this model because it had the best iPhone camera I could get at the time (because it was going to be my only camera), and the fingerprint ID is a million times faster than typing in a passcode. Oh, and switch to T-Mobile to get free international roaming with no stupid fees (if you're primarily living in the US, that is). Really, no roaming fees.
A phone charger. Weirdly enough, you could probably travel without one, and just make new hostel buddies by asking other people if they have one. Sneaky!
A universal travel adapter, which wasn't necessary, since Guatemala uses North American plugs, but I had read that it sometimes uses others, so I figured I'd bring it along.
Headphones, in a "protective case," which was a breath mints tin.
I didn't bother taking a laptop, because I'm paranoid about traveling with pricey electronics, and I figured I'd just catch up on "real" work after I got back (it was just a short trip), and since I could roam internationally on my phone at no extra charge with T-Mobile, I could handle basic communications with friends and family without visiting an internet café.
Other snazzy gear:
A Grayl water filtration bottle, reviewed here (using the purifier unit, rather than the standard filter). This meant I could fill up from the sink or the river without worrying about silly viruses and what have you. Now I just need to figure out a better way to deal with scorpions than by stepping on them, and I'll be all set.
Sunglasses, in a case. I am utterly blind in broad daylight, as I am apparently part vampire.
A Scrubba manual laundry bag, reviewed here. It allows you to manually wash your clothes without having to use a dirty hostel sink, and generally gets things cleaner than a shower wash, though not necessarily faster.
2 energy bars, for reducing the need for pricy airport meals during transit.
A 100% linen towel from Outlier. I will be reviewing this in more detail soon, but the short version is that it's just objectively better than any other travel towel you can possibly find, and if you can handle the price, get it. If you can't, just pick up 2 yards of linen fabric from any fabric wholesaler and take it to a tailor to sew up the edges. The reason it works so much better than a regular travel towel is that it's naturally odor-resistant, and even more absorbent, yet still packs just as small, and, shockingly, dried just as fast as a 100% polyester towel I had. I was utterly bewildered when I tested that out.
Packing cubes and other pouches:
1 large-ish packing cube for clothes, from Tom Bihn. This was quite useful in making the pack more functional, because the pack was a "regular" pack, rather than a lay-flat-and-open-all-the-way-around sort of pack.
1 bag for toiletries, known as the Tom Bihn Side Effect. It has just enough organization to keep things in line, and a detachable shoulder strap for hanging from bunk beds or whatever.
2 smaller organizer pouches, both from Tom Bihn; one clear-sided for liquids for stupid airport security protocols, and one solid, both of which can attach with little clippy straps to the interior of their other bags, so you don't lose them.
1 drawstring shoe bag, so if my shoes are dirty, nothing else gets dirty.
Things I forgot to include in the photo:
The phone, as mentioned previously, because it took these photos.
A tiny LED flashlight. I could have used my phone instead, but this one had a little clip so I could hang it on a t-shirt color and use it in the bathroom, kind of like a poor man's headlamp.
A collared, button-up shirt for classy occasions. Just a cheap cotton/polyester plaid button-up. The polyester helps it stay non-wrinkly and helps it dry faster if you do a sink wash. I never wore it, because I am not a classy person. But I have hope!
One other tiny organizational wallet-sized pouch, also from Tom Bihn.
A photocopy of my passport, laminated with packing tape so it'll last forever. Or rather, until the date expires, and I have to make a new one.
An S-biner, which I clipped onto a pant belt loop, to which I clipped my camera. I used one of those point-and-shoot camera wrist straps, hooked onto my phone's case. That way it couldn't fall out or get pick-pocketed without yanking me along too.
My immeasurable sense of wonder and devilishly infectious charm, because why bother traveling without them? The world would mourn.
Alright, that's it! Here's what it all looks like when it's all folded up and stuffed away into packing cubes and other organizers, with the outfit I'd be wearing unpacked along the right: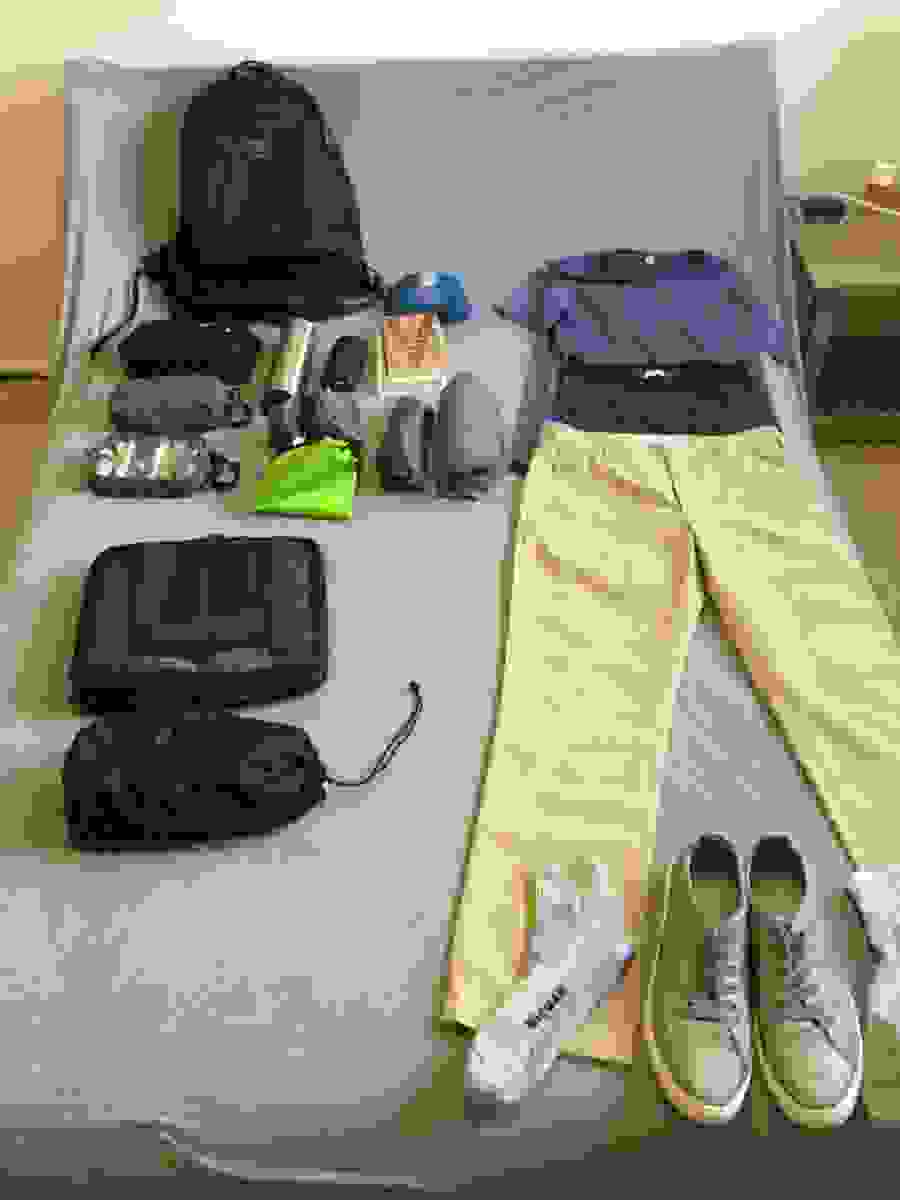 You can start to get a sense of how small all this stuff can be once it's all packed up, and see just how easily it'll fit into a tiny bag, even though there's enough gear for traveling long-term, if you do laundry twice a week or so.
And remember, even if you bring twice as many clothes, you still don't need a pack twice as big, because you're only bringing twice as many basic clothes, rather than packing twice as many rain jackets and sandals, and so on…so look at that photo above and imagine doubling just the packing cube full of clothing and nothing else. It wouldn't be that much bigger overall, because only part of the gear list is doubled. So even if you can't possibly travel with just 25 liters of gear, you could still carry twice as much basic clothing, in a pack of maybe 35 liters, which is still well within carry-on limits.
And here's what it looks like when it's all packed up and ready to go, reflected upon what I later realized was a very poorly cleaned bathroom mirror: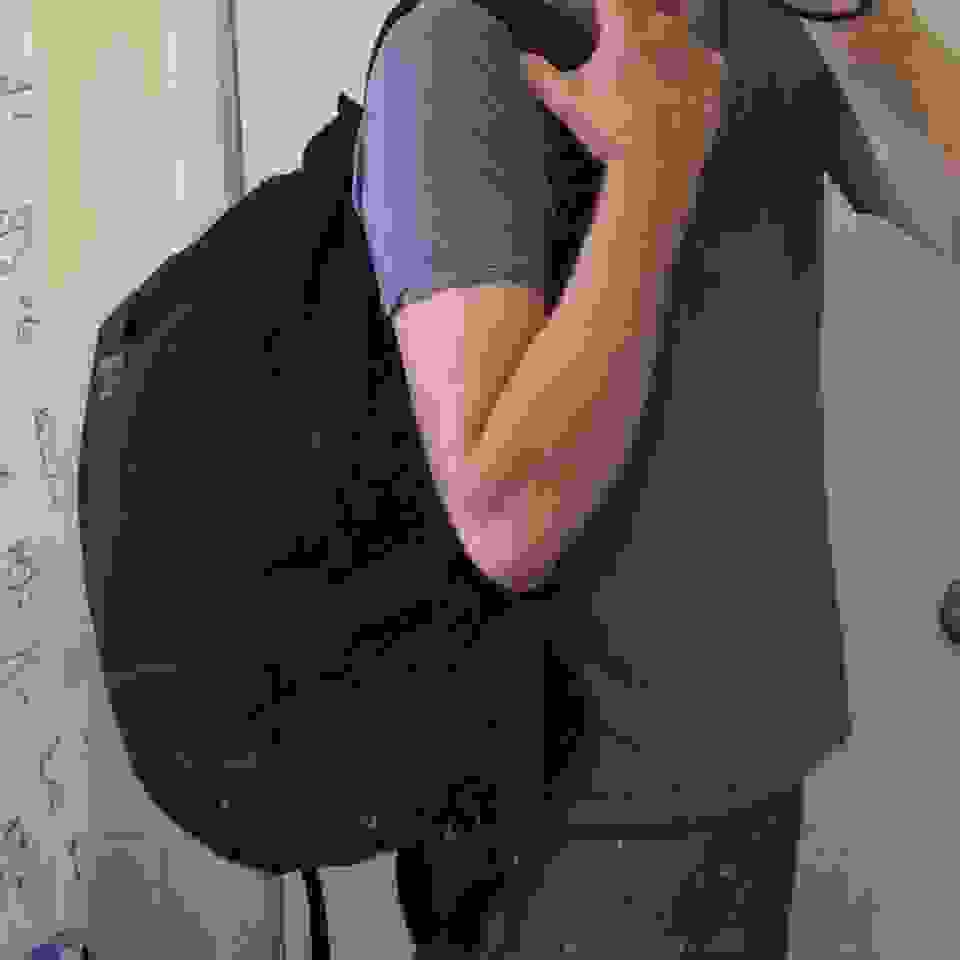 I refuse to retake the photo again under cleaner conditions, because I am of such noble character that I choose to accept my self-inflicted failure and render myself unto public scorn. Or I'm just too lazy. One or the other.
But yes, that's all there is to it. A minimal quantity of items, and frequent laundering. That's the "secret."
Stuff I got for free
In the interest of full disclosure, a few of the items were graciously provided for free, for testing and review purposes. These were:
All the Tom Bihn gear, which included the main pack, the packing cube for clothes, the hanging toiletry kit, and a couple smaller organizer pouches.
The Bluffworks pants.
The Grayl water filtration bottle, and the purifier unit inside.
The Outlier linen towel.
All this gear was great, and I wouldn't have traveled with any of those items if I didn't love them.
Minor objections, and counterarguments
"But I want to look good!" is usually what people say. I've never understood this, as looking good is about the quality of clothing, not the quantity. Instead of bringing along 4 scruffy outfits like I did, just bring along 4 classy outfits, and you'll look good all day, every day. Shouldn't that be easy? Especially if it's regular clothing you just plan on throwing in a laundry machine anyway?
I actually met a girl towards the end of the trip, who was on an even longer adventure than I was, with a pack just as tiny as mine. But she brought nothing but fashionable clothing, so she looked ready for a fancy night out at all times. So not only can girls do this too, but they can look every bit as nice as they want. Just don't bring ugly clothing! Done and done.
Well, hopefully this'll help someone, even though I've never managed to convince anyone of any of these ideas at all. But somewhere, someday, I shall meet a loyal disciple, who packed one less thing than usual, and I shall rejoice.
And though I usually travel just so I can accumulate awesome travel gear, I also had lots of fun there. Here's a list of things I enjoyed in Guatemala, which you probably will too.