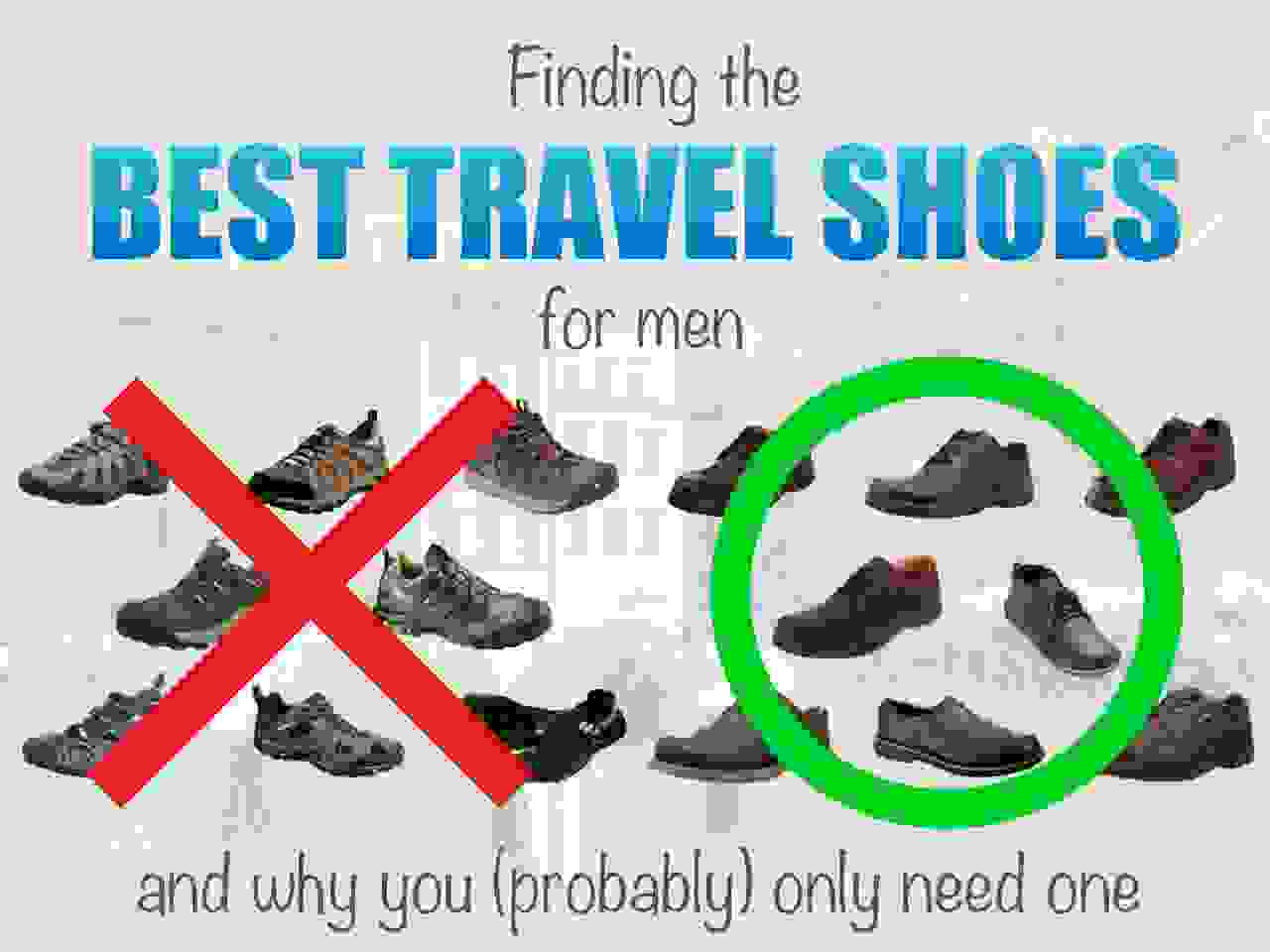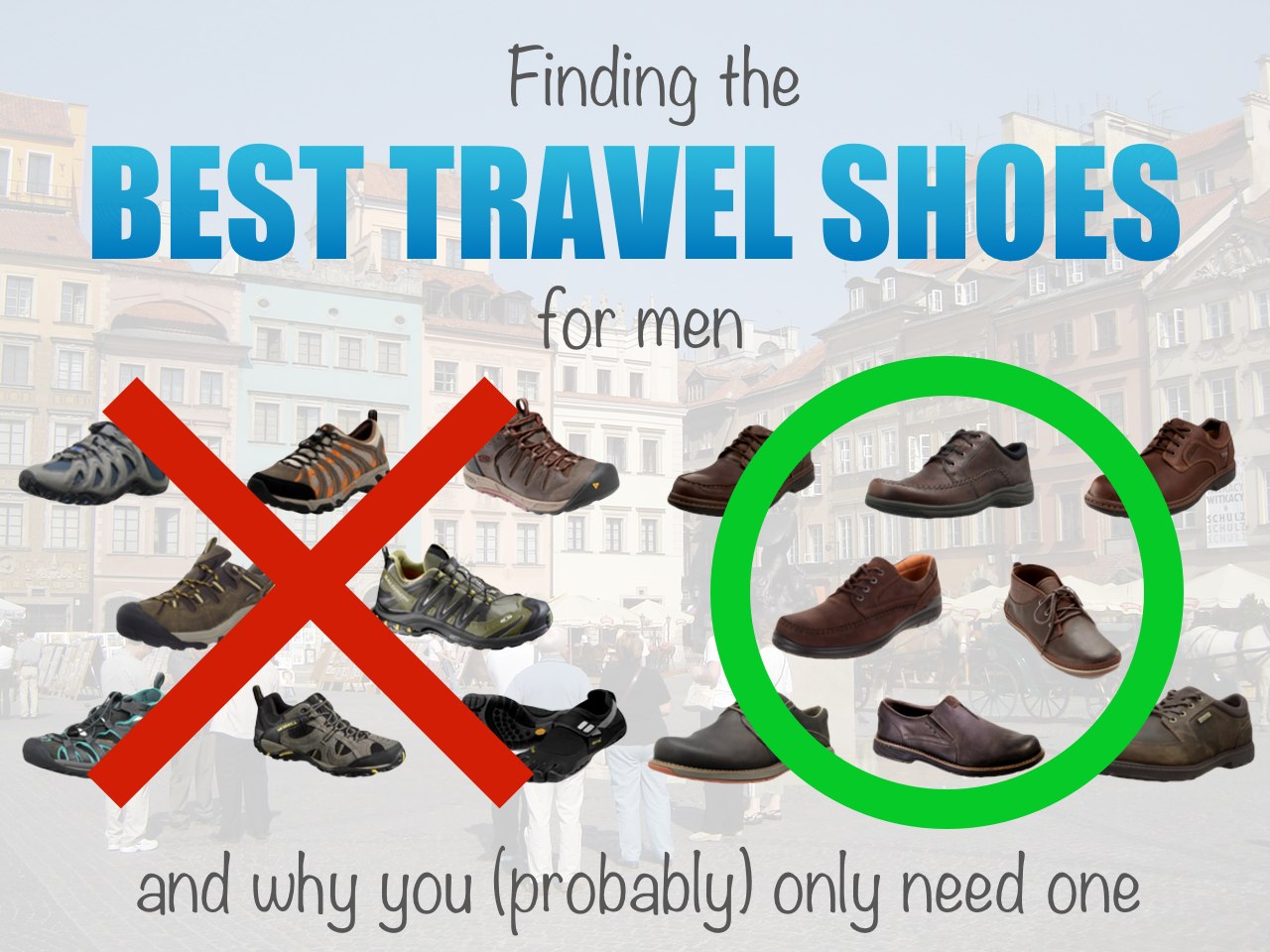 I've seen a million products claiming to be "perfect shoes for travel," and 90% of the time it's laughably inaccurate and deserves a smack upside the head. Finding travel shoes should be incredibly easy, and it just goes to show these marketers have no idea what travel shoes are, or just want to play pretend.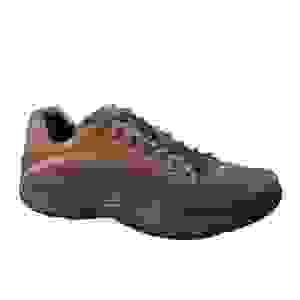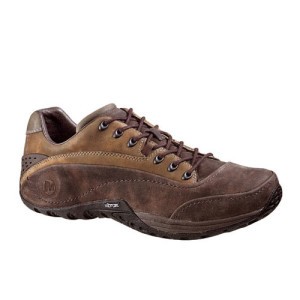 Now it's not that they're terrible; much of the time they're fine, and will last for a decade and stand up to all sorts of trouble and still be comfortable. That's fine for hiking, but travel shoes aren't just for hiking. They're also about pretending to be a classy person whilst attempting to project some semblance of respectability. And this is where so-called "travel shoes" fall tragically short.
It's not all their fault. Many travelers think they need hardcore, do-it-all, super-tough hiking boots to take them through the wilderness and come out the other side with nary a scratch on them. So they buy them every year, and encourage outdoor companies to keep making more. But you don't need hiking boots for travel. Even if you're going hiking.
Allow me to elaborate.
And/or rant.
Qualities of the perfect travel shoe
The world's most spectacular travel shoe will perform magnificently in the following categories:
Comfort: Sooner or later, you're going to get stuck walking around all day in these things. And I mean all day. In fact, you might even have to run. You'll want a pair of shoes that'll give you all-day comfort, on cobblestones, gravel roads, and unforgiving concrete.
Durability: It's unlikely that a pair of shoes will fall apart after a few months of use, but, obviously, you want something that'll stand up to frequent use. This also means it's nice to find shoes that'll be easy to clean, since you'll probably get mud all over them sooner or later. Imperviousness to puddles is also a plus.
Style: That's right, I said style. What's a scruffy backpacker doing talking about style? Shouldn't we care about function rather than form? Well, yes. But if you're working to pack as little as possible, form is function. If your shoes look good and feel good, you only need a single pair of shoes, whether it's for a night out or an all-day hike. Win win.
And so, what does the outdoor industry offer us when it comes to "travel shoes?" Well, pretty much this: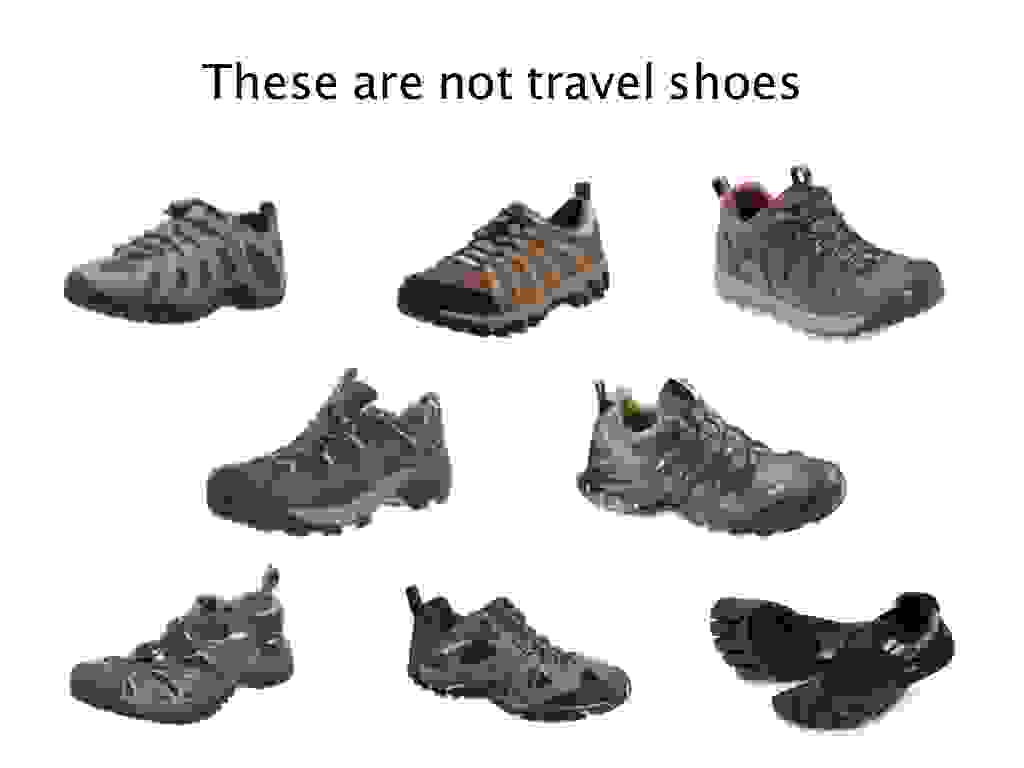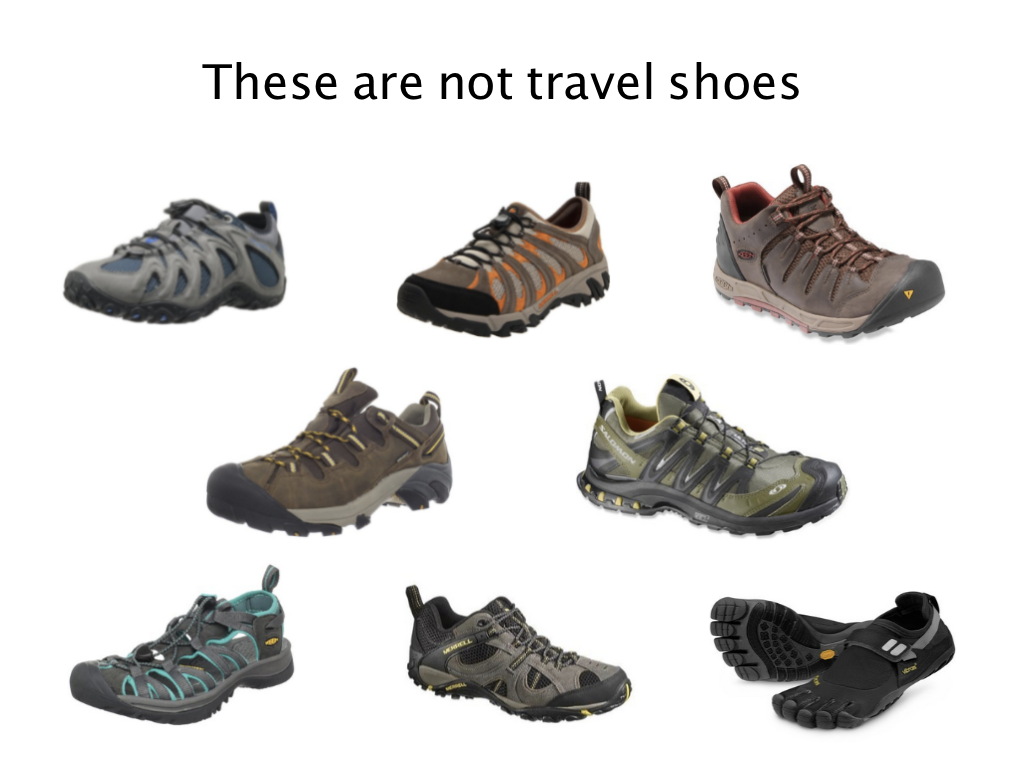 Ask yourself (or someone else) if any of the above options pass the style test.
Beauty is in the eye of the beholder, of course, and I'm not saying you have to look like you're going to prom, but when you're traveling, you're eventually going to go out for the evening, and you'll want to look presentable. I don't particularly care about looking really fancy, but at least presentable.
If your "travel shoes" only work for hiking or daytime walking, then they're not really great travel shoes. They'll only suit certain purposes, when they could very well suit all of them.
Case in point: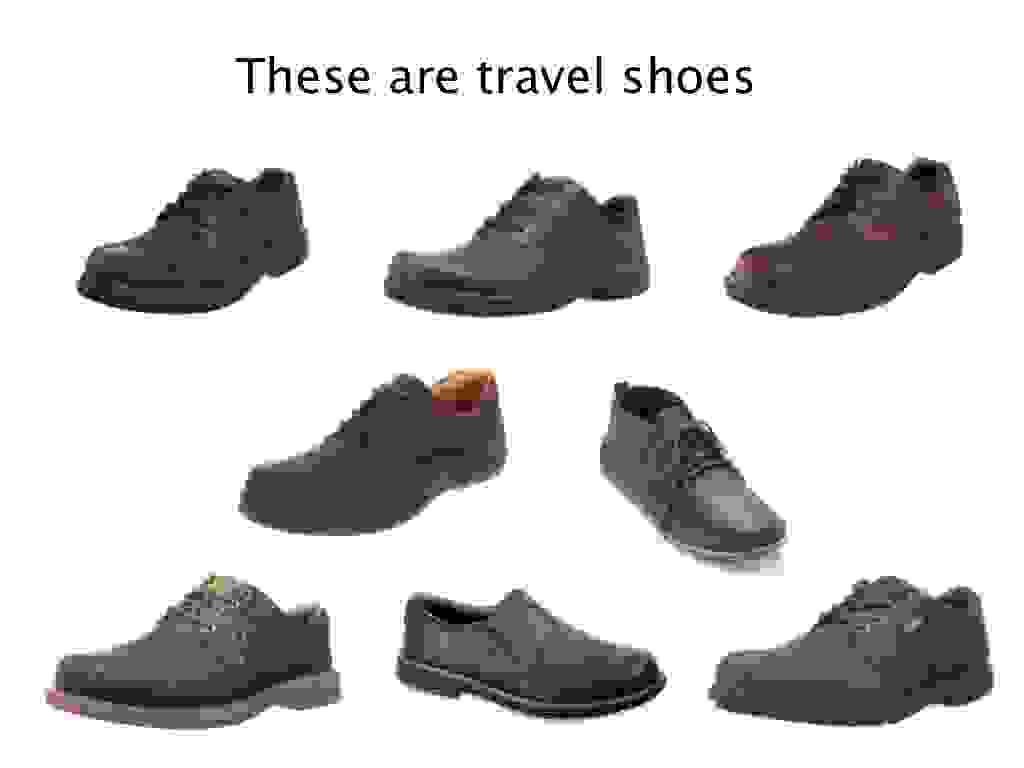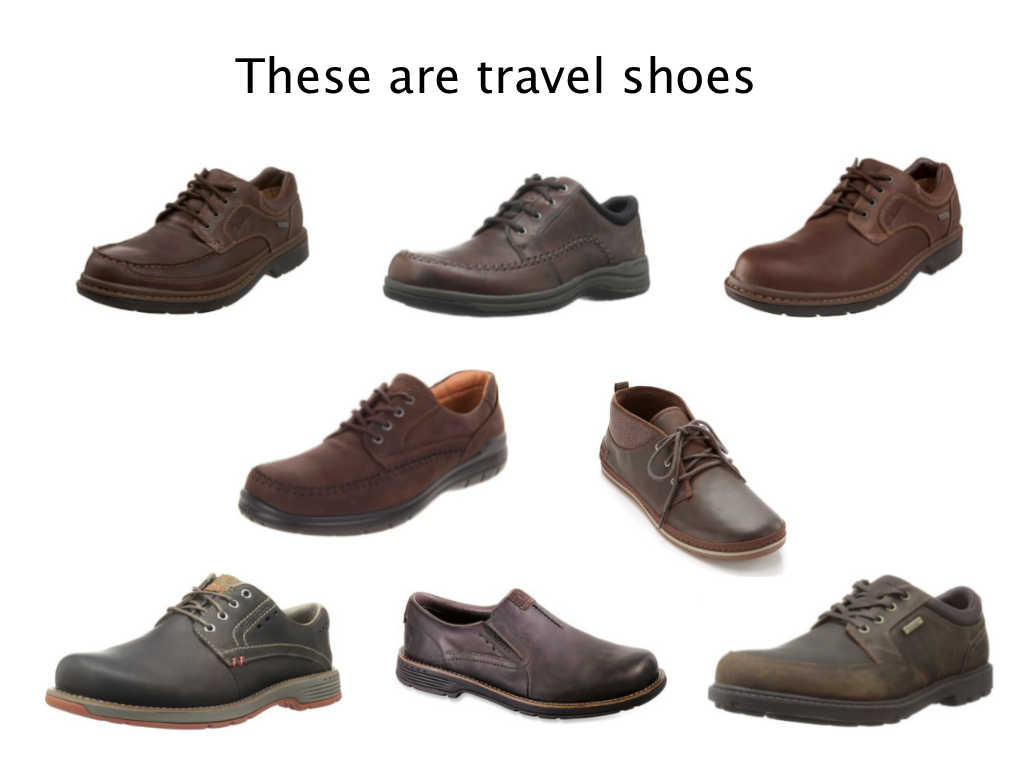 Now again, I won't bother to point out favorites, since it'll be up to you to pick out which travel shoes look and feel the best, but my point is that you don't need outdoorsy shoes for travel. You only need casual shoes.
And if you bring casual shoes…you only need one pair of shoes.
Why casual leather shoes are the best travel shoes
Remember the list of qualities we'd like to find in a perfect travel shoe? Casual leather shoes do it all:
Comfort: Find something that fits nicely and feels good, and these'll be your new favorite shoes. Plus, any high-quality leather shoe will handle a hike just fine. In fact, that's the only kind of shoe that was used for hiking back in the days before fancy high-tech stuff. It's the sole that matters most for comfort anyway.
Durability: I will make the case that leather shoes are actually more durable than certain outdoor shoes. The smooth surface has very little that can get snagged, and can be wiped clean with a wet towel. No meshy outdoor shoe can do that.
Style: There's nothing more stylish for a guy's feet than a nice pair of leather shoes. Go ahead, I'll bet you a beer.
Two caveats:
Don't I want sneakers? Well, maybe. Some people just really, really want comfy, soft, pliable sneakers, maybe resembling Converse canvas shoes, and if you really enjoy having those too, go ahead. I'm just here to make that point that you can easily get away with having just one pair of shoes, and it makes a very, very big difference in terms of pack weight, with practically no downside.
What about breathability? It's true that leather shoes will be warmer than meshy hiking shoes or light sneakers, but in my experience, no shoes are breathable enough for me, and sooner or later I'll slip them off to air out anyway. The ladies love it.
(Pro tip: Turn any pair of shoes into a pair of slip-ons with Synch Bands. They're elastic laces that don't need to be tied, and they make it a lot easier to kick shoes off and yank them back on, and fit is still really good. Great for slipping off a pair of shoes on a long bus ride in hot weather to air out, for example.)
One final point of debate:
Should they be waterproof? Maybe. Although I definitely love waterproof shoes, you might not need to worry too much about it. Some people stay inside when it's raining, and if that's you, then waterproof shoes won't do much for you. But if you're the type who adventures out into the rainy wilderness because you'll only be in Italy once, then by all means, go for the waterproof ones. Also, puddles and snow will be powerless against you. Powerless I say!
So there it is. High-quality, nice-looking casual leather (or fake leather) shoes are hands-down the best travel shoes for men anywhere to be found. And luckily, there are just about a billion of them out there. And they'll allow you to travel with just one pair of shoes. It's part of how I managed to get by for 9 months with just a 20 liter daypack.
I'd certainly recommend a pair of sandals as well, for hot days, beach visits, and shower trips. Flip flops are fine, if you can find comfy flip flops…but I prefer a little more security. I like to go hiking in them too.
And thus:
Ultimate travel shoe setup: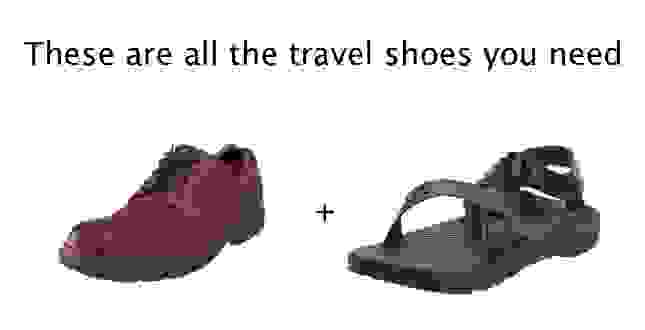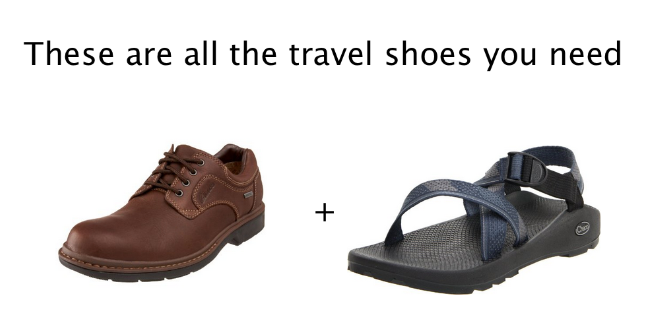 I actually met a guy who was traveling with one pair of dress shoes, one pair of walking shoes, one pair of hiking shoes, and one pair of sandals.
You can do that if you want, but as long as you find a great pair of comfy, classy, do-it-all travel shoes, you won't need to. They'll do everything you'll ask of them, and your back will thank you for it. Have fun!