This has been a long time coming. After years of back-and-forth emails full of awkward diagrams and sanitized anatomy references, the boxer briefs I designed in collaboration with Wool & Prince have finally arrived!
And let me tell you, after a decade of digging around all over the place for something even halfway decent, the satisfaction of seeing these come to life has been great.
I wanted some merino underwear––or really any underwear, to be honest, that fit me exactly right. But even with a million different options, most of them just ended up in the trash. They'd have front pouches that couldn't keep anything in place, legs that would climb up, and a seam layout that made no sense at all, if you know what I mean. Even worse, I felt like I knew how to do it right––and figured someone, somewhere, had already done it.
Well, they didn't. I went through a few dozen different brands over the years before I finally gave up and started bugging Wool & Prince to just make it for me. We talked about all the different options out there, going over what worked and what didn't, before we finally just met up for coffee, dumped a bag full of underwear out on the table like a bunch of weirdos, and got to work.

And I kid you not––the day these arrived, I put them on in the morning, and didn't rearrange them even once by the time I went to bed. They are that good.
Let's have a look.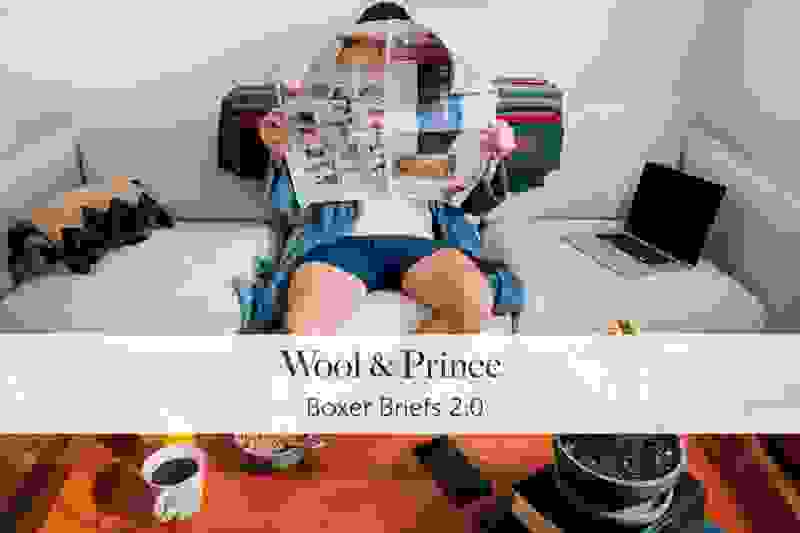 The Wool and Prince Boxer Brief 2.0
You won't really notice a whole lot going on at first glance––just a 3D front panel on a classic boxer brief layout, and that's about it. Good fashion sense never goes out of style.
The front pouch is also narrower than on the original design, providing a proper surround. You'll hear guys talking about support when it comes to boxer briefs, but it doesn't make any sense. You really want to be surrounded. If the contents of the front pouch ever make it into the leg chamber, you'll start chafing. Surrounding everything on all sides is critical to keeping everything in place, and narrow side-to-side containment, when combined with a 3D front pouch, does it the best.
But that seems to be about it…until you start to zoom in: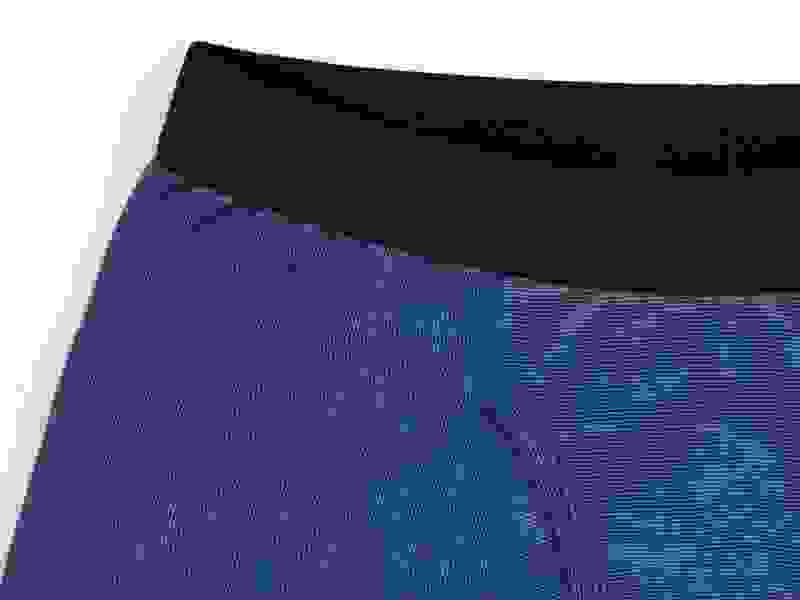 What's up with those lines going in different directions? And who even knew fabric had little lines like that anyway?!

The 90-degree game changer
Grab a t-shirt, and stretch it around. You'll notice it stretches horizontally by quite a lot, but vertically? Just a bit.
Same with most underwear. They can accommodate wider hips, which is great and all, but then…spelling doom for boxer briefs everywhere…you'll take a step, and those legs will just shoot right up.
Every time you squat, lunge, climb a stair, or even just sit down, the horizontally-stretchy fabric is pulled vertically, beyond its capacity to handle the distance, forcing it upwards and requiring constant rearranging all day long, driving you slowly insane and taking years off your life.
I've seen a few solutions: extra-long legs, or fabric with a super-high spandex content. But they either look a little funny, or feel like a rubber band.
But what if we just…and stick with me on this…rotate the fabric?
All day comfort. No downside.
With the super-stretch now going vertically, those leg chambers can stretch up to double their length, meaning they don't move up at all. Even better, the horizontal stretch is minimized, so they hug the legs much more closely, instead of loosening up over time.

Here's a little diagram Wool & Prince put together to illustrate what's going on. You can see the regular fabric is trying to stretch, but can't: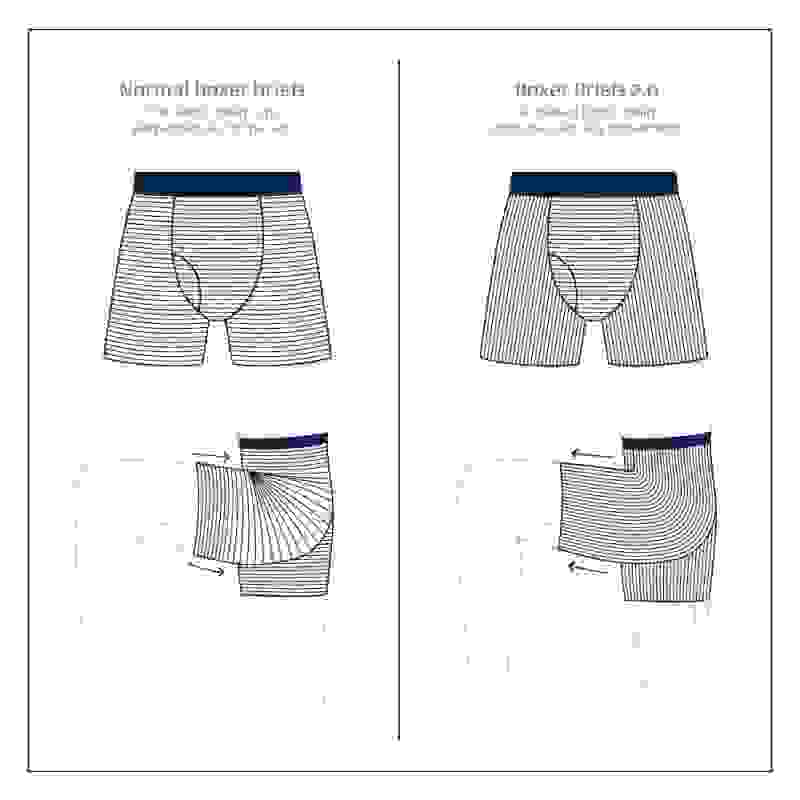 It works beautifully. And it was totally my idea and I'm super proud.
The day they showed up, I pushed them in every direction imaginable, and the only time I could even get them to budge was with a head-height kick from my Tae Kwon Do days––an even then, they moved up just half an inch.
Still, you need at least some horizontal stretch to accommodate different hip widths, especially when moving around, and the team over at W&P wanted a way to maintain this sort of flexibility. Here's what they came up with: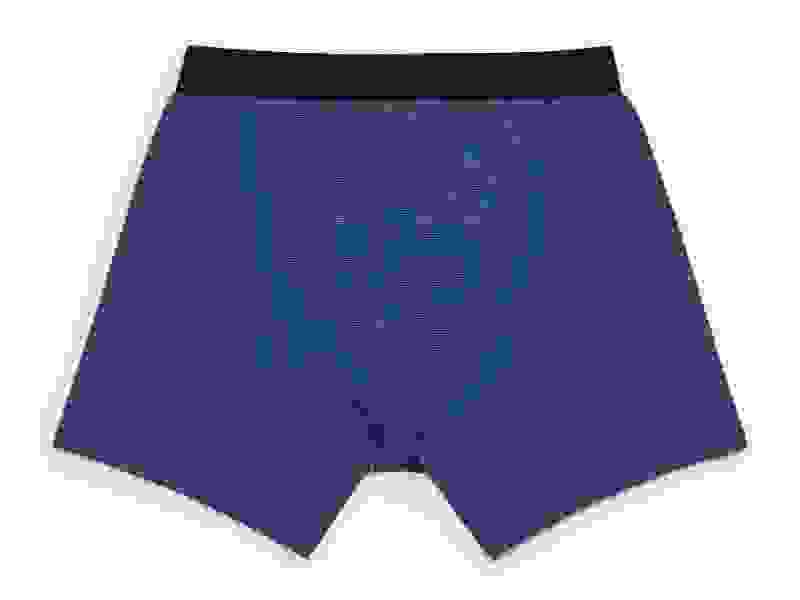 That's the back, and the V-shaped center panel uses the standard rotation, making it horizontally stretchy, to accommodate variable hip widths. It's just those leg cylinders that have the vertical grain, giving you exactly the stretch you need, right where you need it.
Think of it like this: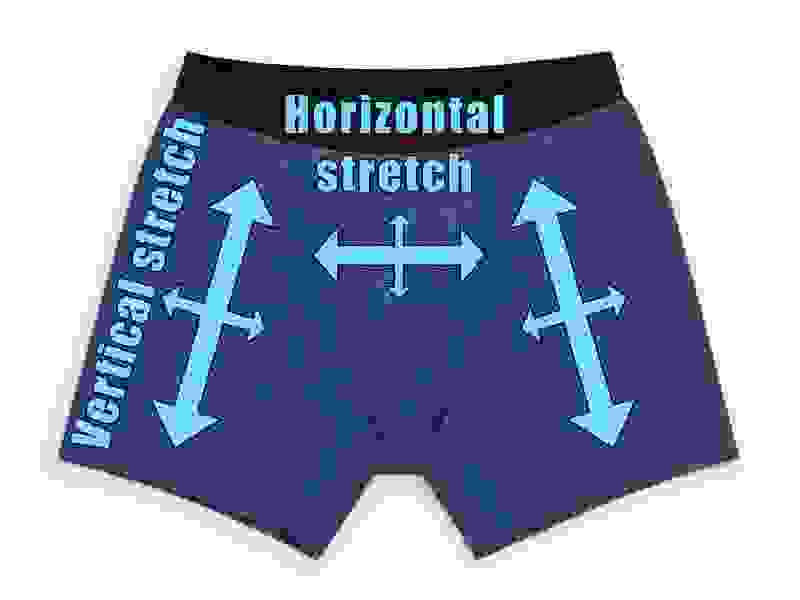 Also, that horizontal seam at the base of the front pouch is offset just slightly from the bottom; by bringing it up just a bit, it means fabric will be stretched when you move your legs apart, rather than the seam itself. This is something I hadn't quite thought of, thinking the seam could just go right in the middle to be out of the way; but seams aren't nearly as stretchy as fabric, meaning the higher seam helps prevent each leg from pulling on the other when you step widely apart. This makes the front pouch a little shorter, meaning it'll work better for guys who don't need quite as much room, but it'll work especially well for them.
The height from the top of the waistband to the bottom seam of the front pouch (in a size medium) is 9.5 inches. Compare that to something you've got at home, and keep in mind a 3D front panel will feel like it's offering more height than a flat panel, since it won't be getting pulled every which way to make room. If you've never "hit" this seam when it's sewn that far down, you'll be fine.
Why this fabric?
Half the reason I kept bothering Wool & Prince about all this was so I could use their fabric. Everyone knows merino is amazing, thanks to the temperature regulation, odor resistance, breathability, and naturally soft and cozy comfort. There is simply nothing like it out there, especially for long-term travel in variable weather conditions, worn over multiple days. But it's not cheap, and it's not very durable, either. You need a way to protect it.
So Wool & Prince developed a custom yarn with a pair of nylon filaments, wrapping them around a merino core like a DNA helix, trapping the merino inside and preventing it from getting easily worn down:
Wool & Prince have said the nylon wrap has solved the durability issues they'd typically see with regular merino, and you really want durability when it comes to underwear, given how much damage a thick jean seam can do to wispy fabrics. Aside from the added spandex, this is the same fabric as their t-shirts, which quickly became my favorite. Even after a few years, they still look brand new.

Here's the breakdown:
75% merino wool (17.5 micron)
21% nylon
4% spandex
160 grams per square meter
3 oz (85 grams) per pair, in a size medium
The high nylon content may seem like a lot, but I can't really tell the difference between this and pure merino in terms of texture, and I much prefer the durability that comes from the nylon. They still feel soft, thanks to the superfine 17.5 micron fibers, and they're just the right thickness to handle all sorts of weather. I wouldn't have it any other way.
So how do they fit?
Wool & Prince provide a greater selection of in-betweens than you might find in other brands. Notice how the intended waist measurements line up a little differently: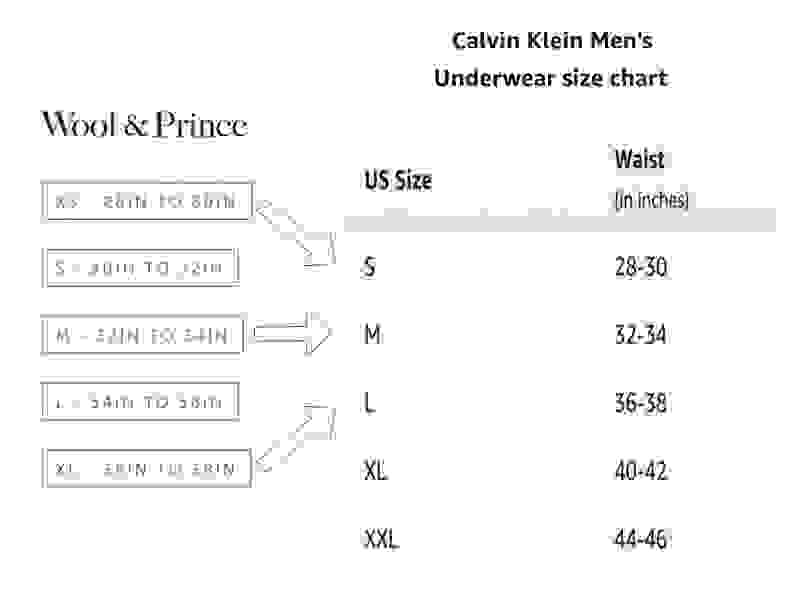 See how there's a whole "extra" size between what you'd get with other brands? That'll make for a finer fit.
I would say to get the size corresponding to your measurements, but if you're on the fence, I would size down. It'll keep everything in place quite nicely, as the regular size isn't super compressive. It also means that if you're just outside the upper limit of the XL…give 'em a try anyway.
For the record, I wear a medium in Tommy John, a small in Saxx, and generally wear pants in a size 32, including from Bluffworks and Outlier (although occasionally a 33 or 34 in other brands), and the medium fits me quite nicely. It's not quite a compression fit, but it's not loose either.
How do they look?
Like this: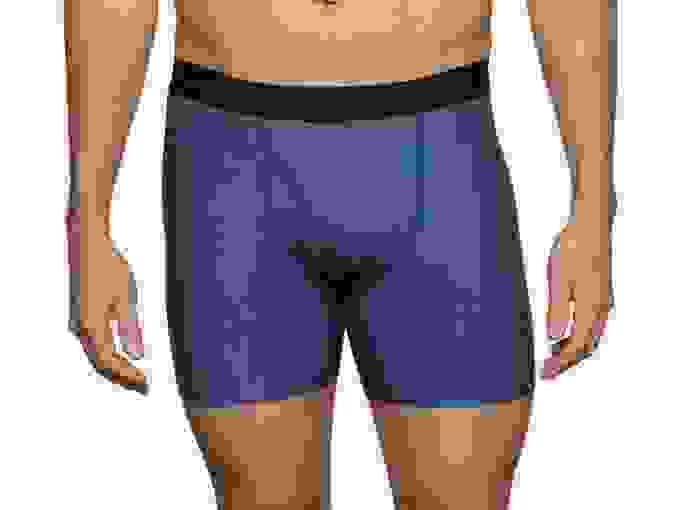 You might also notice those legs seem a bit longer than they did before, thanks to that vertical stretch.

That guy has a 32″ waist, and is wearing a medium, though a small works too: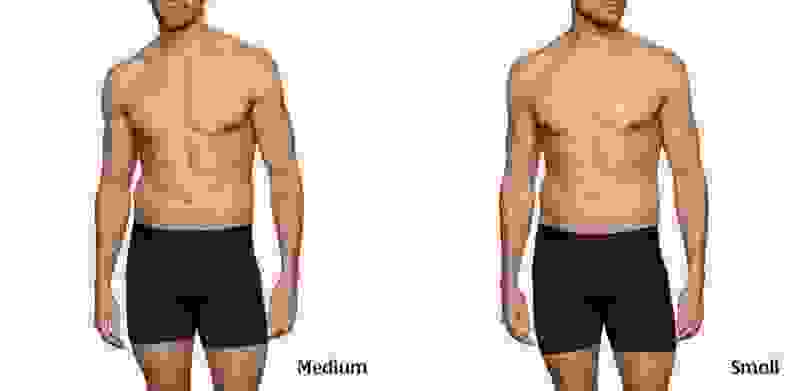 You might have to zoom in, but there are just fewer extra fabric folds on the small, since it has more of a compression fit this way. It was a little too tight for me (as I'm on the higher end of the medium range), but if you're right on the fence, it works. Especially if you wear it for a couple days in a row, since natural fabrics have a tendency to expand over the course of a day.
So did anything go wrong?!
I'm happy to say that I've been really excited with how this turned out, and I wasn't kidding when I said I wore them literally all day without touching them once. The feedback has been really great so far, and it was a lot of fun working with Mac (the owner) and Ellie (the designer) to see this come to life.
If I had to say anything as a caveat, it would be how the slightly-shorter front pouch is going to work better for guys who don't need a huge amount of room in front (read this article for a detailed explanation), as well as the tendency of natural fabrics to stretch out just a bit, especially if worn under scratchier fabrics. Still, it took wearing them for multiple days in a row for this to even start happening, and it was rarely noticeable even then––and, being merino, it's going to be a bit of an investment, but that's why we threw in the nylon.
That said, I've been kind of overjoyed with how this all came together. I knew how good it could be from having worn a million competing alternatives, and I didn't want to use any fabric aside from this one. Merino wool has a reputation that's second to none, and it took making it ourselves to give it a fit that could do it justice. It's right up there at the top with the best alternatives I've found, merino or otherwise, even after a decade-long continuous search, and I'm really excited to see it out there.
If you want to check this out, take a look at Wool & Prince's boxer briefs page. That'll include the old and new versions, but I would definitely recommend this new one, currently labeled the 2.0.
And here's a little souvenir of how this all got started: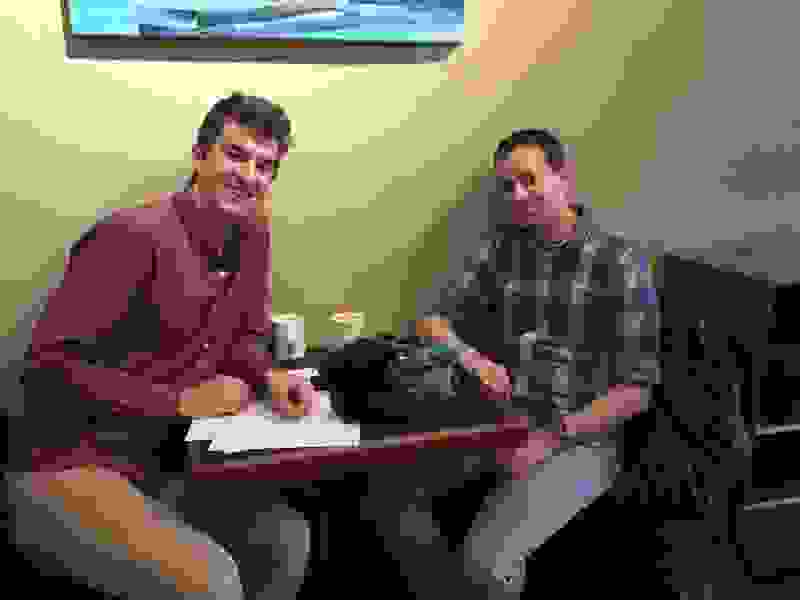 For the record, Wool & Prince has offered to provide me a share in the revenue from this product, but at a fixed amount, meaning there's nothing in it for me to get more people to buy it. I'm just super happy with how it turned out, and I think you will be, too.

If you pick these up, definitely come back here to let me know what you think.